Welcome to this survival guide, enjoy reading about how to survive! Of course, all you gotta do is have fun and survive your way! Here are some tips and tricks on surviving!
Locations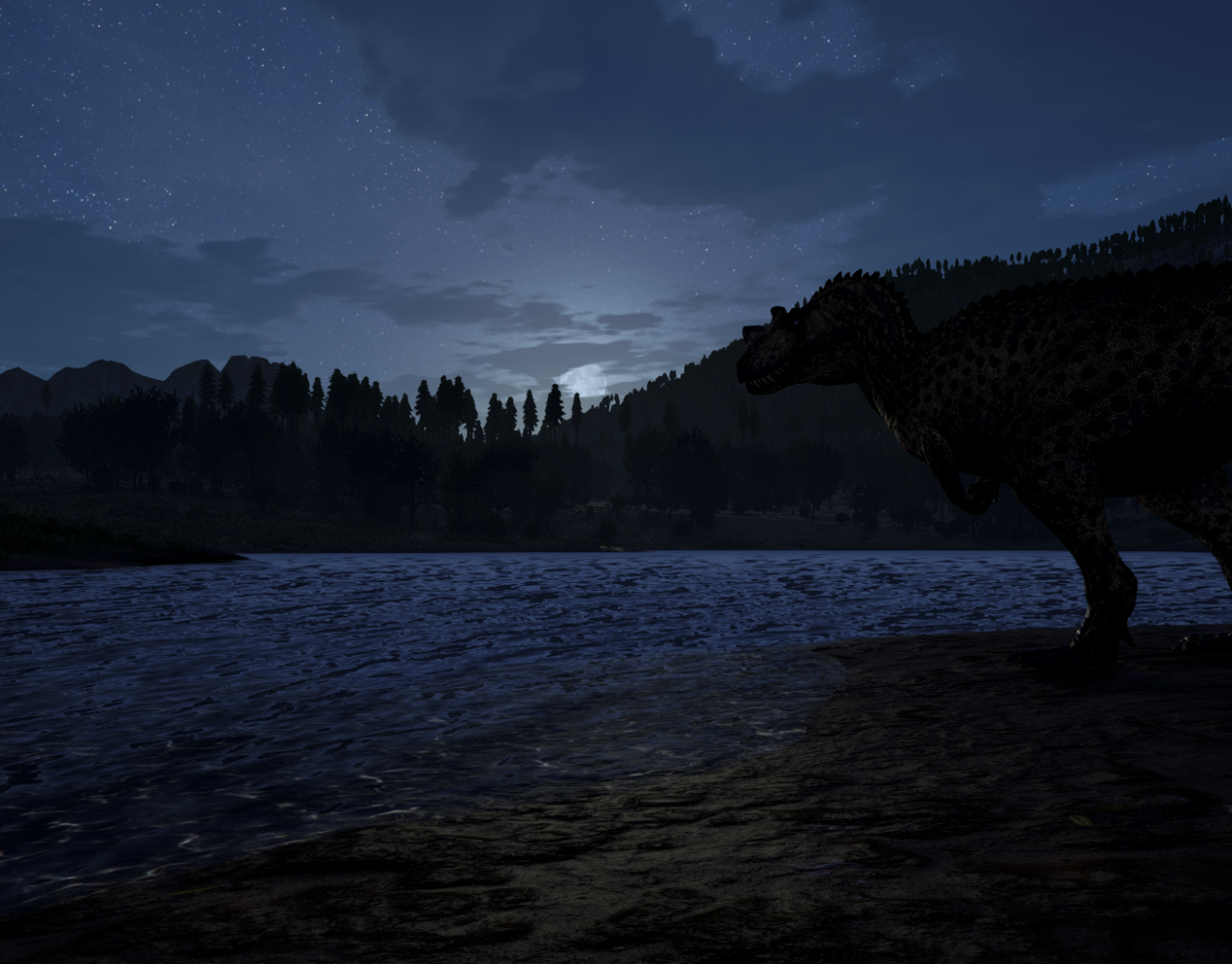 Locations, what do you mean? This is very important for surviving! Here are some tips on where to stay for a perfect location! Make sure your location has these 3 things:
Shelter. Such as a lot of trees and bushes to hide in, in case if a carnivore comes along wanting you for a snack.
Water. Such as a small pond or a very dead river where no one stops by.
AI. in case you're a carni, you want plenty of AI spawns that shall be in your area.
Bushes. In case you're a herbie, make sure there are tons of bushes around you.
Let's get to some ideas! Tips are listed below!
Stay at a water source, make sure it's small tho. Don't go to big water sources like Twins or Titans Lake, or busy rivers like Great Falls! Go to a water source that has shelter and a good amount of AI/bush spawns!
Is there a forest loaded with trees and bushes, or maybe even some rocks to hide behind? Great! make sure that the forest and those bushes and rocks are very close to your small water source! If a carnivore comes, you can hide in those low-hanging trees! Those trees cover up your body! You should be small enough in order to hide in a bush so if a carnivore comes by, and you're in a bush, make sure that carnivore passes by without noticing, that way, you succeed in hiding! And the rocks should be big enough to cover your whole body, head to tail! Or the rocks could be tall and you could jump on them as any dinosaur that can jump like a Utah!
Lastly, make sure your location isn't noticeable or popular! You don't want to get eaten. After you're done growing, go ahead and travel if you'd like or stay at your safe spot and try not to get bored of it, or you can travel with a group!
Don't have a map to Isle V3 or Thenyaw Island? Here are the map links below! These maps for me are so great and helpful! Easy to use as long as you understand how it works!
Here are the locations that are safe and nonnoticeable, nor popular! These are great areas for me to survive in! I bet you can survive in one of these areas, as long as you're not a vocalizing dinosaur or making a bunch of noise, that gives it away most times.
Isle V3 Locations
Thenyaw Island Locations
Coast Pond
Bean
Hermit
Sanctuary Pond
Puddles
If you like dead servers and have no worries about who might be joining, go anywhere or stay at one of these locations! Also, Give me your feedback on how you survived in one of these areas down below in the comments!
Grouping
Yes, grouping! We all might've grouped before, right? Well, maybe not all. If you wanna a group, make sure your group with friends that you know in real life or any trusty person that you're close with, or have fun with your online friends or siblings! Either way, you can have LOADS of fun! Discord comes in handy when grouping, only voice chat if they're trustworthy tho. But hey, I don't make your declensions on who to group up with or voice chat to. I'm just saying when grouping with strangers, it isn't the best. Anyways, what was I trying to say? Oh right! Groups! Know why grouping comes in handy? I have tons of reasons why! The reasons are listed below!
Way more help you get when there's someone with you than going solo. When solo, you could have a lot of struggle fighting or hunting, a group could help you with that! Even if it's just you and one person.
This is an opinion here but I think it's more fun when you group up than being solo, when I'm solo I sometimes get bored very easily since I have no one to talk to. Before chatting with someone on Discord or in-game chat, make sure they're trustworthy or you know the person in real life as I do.
This could just be another opinion but I find it better when making decisions. You can talk to your group or a group member about something that you need help with, for example, maybe you need help because you're not sure whether you should do it or not and you probably need reasons to go with it. A group member doesn't make your decisions but can help or clear up things. Comes in handy if you want to fight a rex, for example, you want to fight it but you don't know where to start and you're very stumped because you know you can die in one hit if it goes wrong. What should you do? Go ask the group or a group member and share some fighting skills and then you can go ahead and defeat that player or if your group has good reasons not to then don't go.
Here's a warning for all you chatters out there: Be careful when grouping! "Why should I be careful?" you may ask. Well here is a reason listed below
Safety. Very important! If you group up with strangers, they could be very creepy people talking to you on Discord chat/voice chat or in-game chat. They could ask you weird/incorporate questions that you don't want to answer at all. Or even personal questions too. All you do is not respond to them, leave the group or log out. Just remember that your safety comes first before answering a question that you are not sure about. If you are just going solo then you won't want a group or when you're in a dead server.
Combat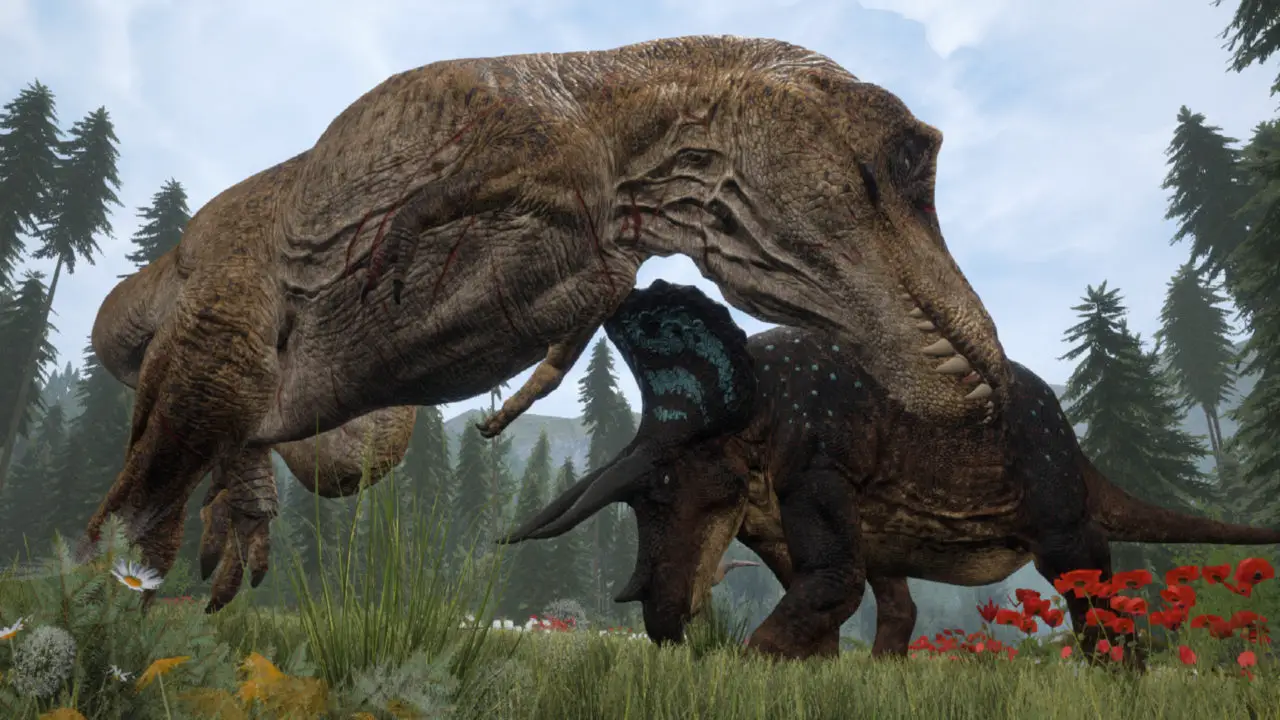 Wow, you actually read all the way through, and you're very close to the end? Congrats! This is the LAST tip but the longest of ALL time! This is very important in case you're in a very packed server or came across someone wanting to challenge you, or maybe you want to practice fighting but don't know how to or don't know where to start. All these problems are gonna be solved after reading this very, very, VERY, long guide! Well if you're gonna be on a dead server, mine as well skip this unless you're interested in PVPing. Here are some tips in piping down below!
Ride a player. What on earth do you mean by riding? Sounds a bit odd at first but it also means tail riding. This means, going behind a player and endlessly biting them.
Bait check. What does this mean? This means if someone starts chasing you and you trying to run away from them but they keep riding you, just run in a straight line and keep running and if the player keeps running at you, stop, and then they end up running through you and then you can bite them and ride them instead.
Alt turn. In order to do this, hold "Alt" and walk, this makes you turn in place and it helps when in a fight so you can turn faster than walking or trying to run while trying to bite the player. This is helpful when fighting off a pack or when someone tries to come up behind you. Sometimes, it isn't activated on the server, meaning, you can't do alt turn at all.
Jump. What? Why jump? Let me explain this, for example, if you're a utah and a rex crouches and is gonna ambush you in a couple of seconds but you don't have enough time to ambush and run away but they come and can 1 hit you. When this happens, just press the space bar to jump right over the rex and they miss you! That way, you have time to run or ride them. Also, you can jump over and bite down at the same time and hit them while they can't bite you. This only works if your jump is low enough to reach the dinosaurs back so you can be able to damage them a bit.
That's really what I know for battling, so if you know some tips, please share them with me in the comments so I can add them! That would make the guide more helpful, thanks!
I do have some negative feedback on riding, bait check, alt turn, and jumping. The negative feedback is listed below!
Riding. Be careful because, with one wrong move, you can die. Even if you're challenging a bigger dinosaur than you or a dinosaur that has more damage than you, or has more bleed, you can die in a few bites or in 1 hit or from bleed.
Bait Check. Tho some players stop then run, stop and run, those players can be hard to bait so when they run, stop instantly and see if that works. If you're a small dinosaur and a big dinosaur is trying to kill you but can 1 hit you, meaning they can kill you in 1 hit, then don't try it.
Alt turn. Again, don't do this if the player can 1 hit you or do a lot of damage/bleed to you.
Jumping. 100% doesn't work if you can jump high and a dinosaur crouches or is a bit too low and you miss the bite by biting in the air. Also, try not to jump a lot because you can lose a lot of stamina that way.
I also have one last trick for you when fighting against a pack, a player, or in a packed server and you want to be very wary and careful of your surroundings. Here are great areas to fight at when in a 1v1 or PVP. Areas are listed below!
Cliffs/Mountains. Why this, this could lead you to a chance of death if you're not careful about what you're doing! This helps when fighting a pack or when you're outnumbered in some cases. Fight closely to a cliff/mountain so when a player keeps running at you, bait check, and they can fall off or when they try jumping over you, run to the cliff/mountain and they can fall off from there or take fall damage. This can help you make the player do damage to themselves or can cause them instant death.
Don't fight in open areas! In open areas, there's no cover for you in case you're gonna die! Also, if that player that's attacking you can bring unwanted attention, and more players can come and attack you because they could've seen you in the distance or heard you and you can become a feast to them.
Fight in a forest or no? Let me tell you the helpful ways when fighting in a forest. When fighting in a forest and someone chasing you, you can hide in a tree, bush, or even behind a rock when they've lost you and you can heal there! Here's the bad side when fighting in a forest. You can become dino velcro to trees and rocks! You can get stuck on a tree and that player can easily begin to ride you, same goes for the rocks, they can do the same thing! Rocks can also make you have fall damage, depends what rock it is too.
Fall Damage. Many things can cause fall damage, cliffs, mountains, rocks, and depends on what height you fell. But the good side of it is when there's a server that doesn't provide alt turn, you have time to turn at your target and slowly turn their way and you can easily bite them when they come. It helps when your enemy is far away but chasing you, you have time to turn before they can ride you! The bad side of this is that it decreases your health 15% sense fall damage does 15% damage.
That's it for fighting tips! Have some even better tips when in a fight? Tell me in the comments so I can add it and make this guide more helpful!
And that concludes this The Isle guide. Do you have any suggestions to improve this guide? Please let us know by leaving a comment below. For any other concerns, please reach us using the contact details found on the contact page.