Title: The Cenozoic Era
Release Date: January 21, 2023
Developer: OpendixStudios, LLC
Publisher: OpendixStudios, LLC
The Cenozoic Era is currently in its early-access phase, so if you opt to download the game, please be aware that it is still a work in progress. I've created this guide to assist newcomers, sparing them the frustration of navigating the game blindly as I had to.
Joining a Game
Assuming you've successfully navigated to this screen (by clicking on "servers" in the game menu), you can join a game. To do this, click on the server name to view its information on the right, and then click on the name again or select "join" at the bottom of the window to enter the game.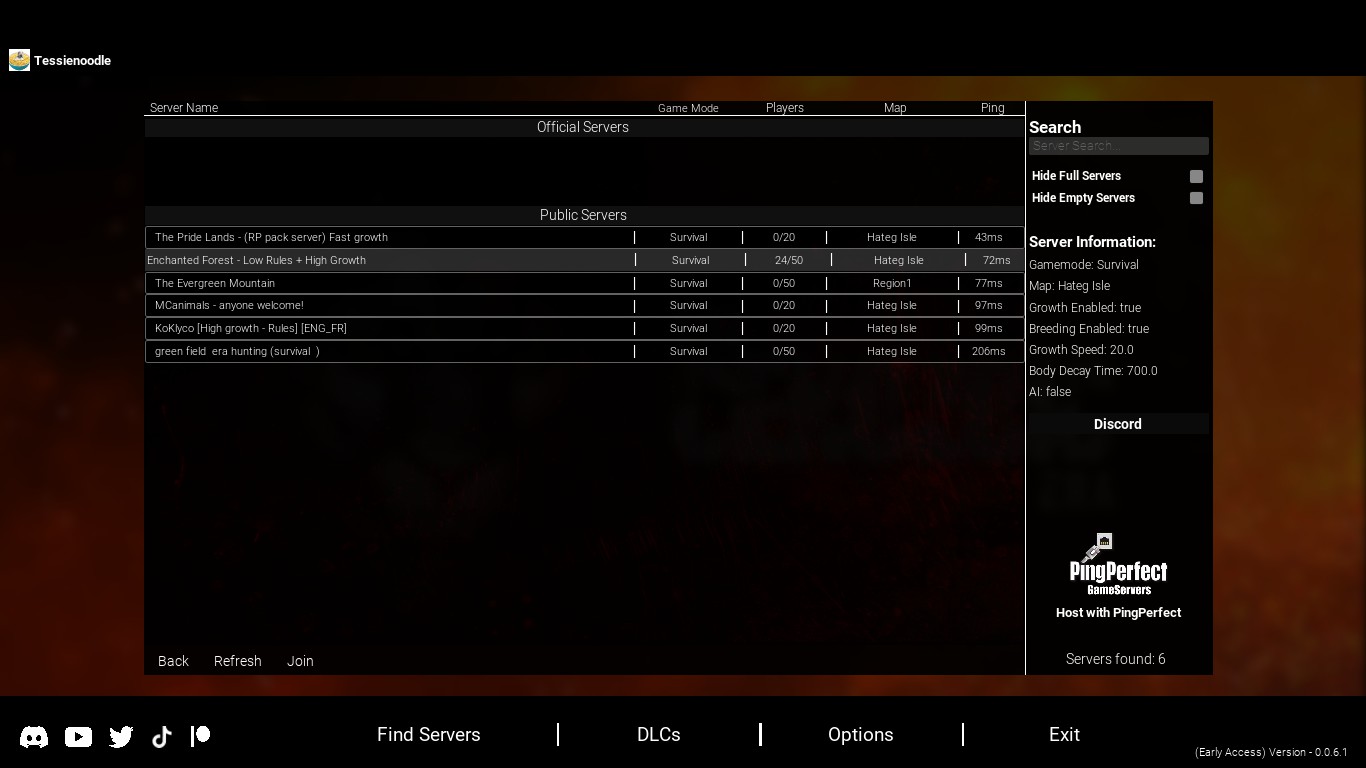 Sometimes, when you first load into the game, you might notice that the textures appear glitchy, especially in my experience. Fortunately, this issue usually resolves itself once you've selected an animal and spawned, which brings us to our next topic.
Character Creation
Now, let's delve into my favorite part – character creation! Character creation is a menu where you can pick a species (such as sarco/gator, wolves, cougars, deer, and more), customize your animal (if you have the DLC or a separate purchase), and select your gender. This page is quite self-explanatory, but I'll provide a few tips for those who are new to gaming.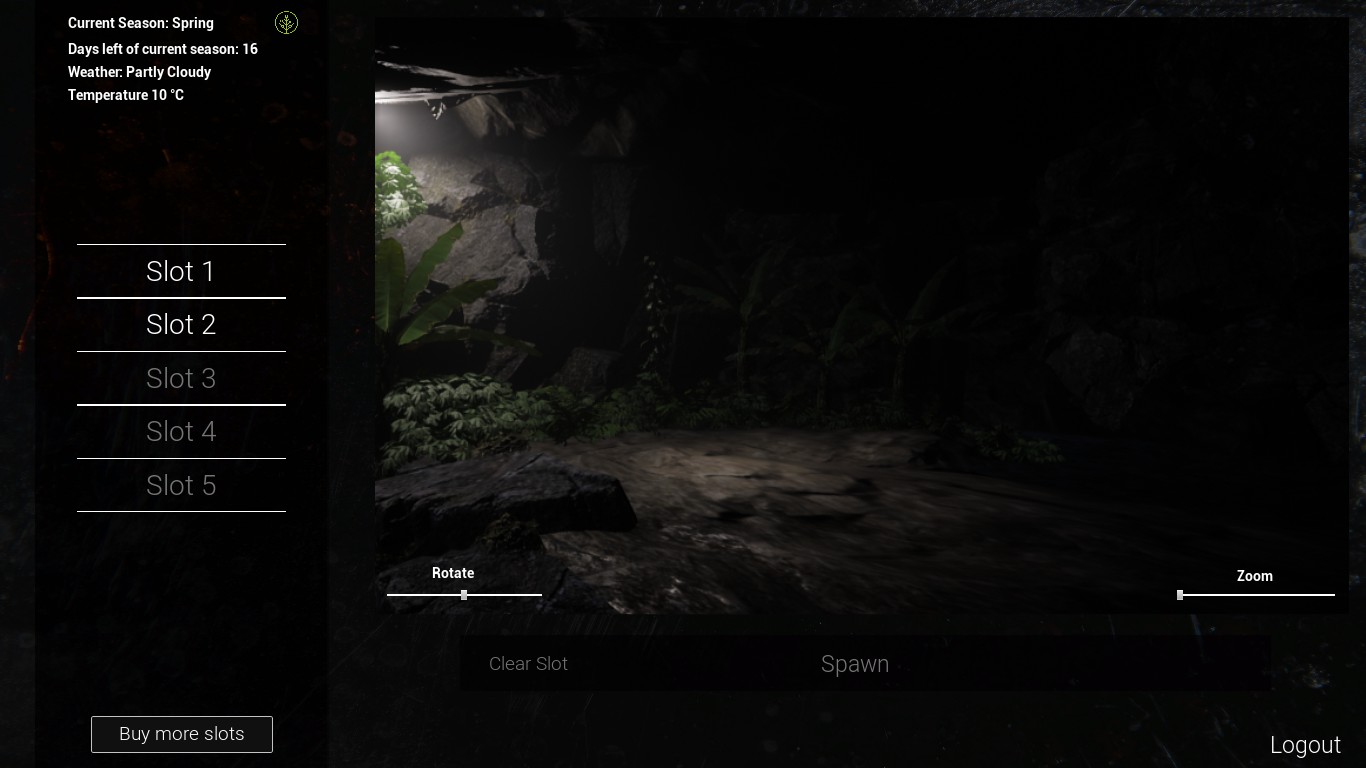 On the left side of the screen, you'll notice slots labeled 1-5. These slots are for each animal you create, and you can delete or create new ones within this menu.
If you haven't purchased the DLC for additional slots, slots 3-5 will be dimmed and inaccessible. You can find the DLCs on Steam by searching for the game title you're interested in.
When you choose a slot, a screen will pop up, asking if you want to create a carnivore or an herbivore. I've discovered that herbivores are the easiest choice for beginners, provided you pick an area with the right food. After making your selection, you'll see a list of creatures in the left box, making navigation straightforward.
After customizing your animal, at the bottom of the screen, you'll find a button labeled "Spawn." Clicking this (sometimes it may take a few clicks) will transport you into the game, leading to the most challenging part – survival.
User Interface Guide
In this section, I'll walk you through the User Interface within the game after you've entered a server and chosen your mammal. The UI I'm referring to is located in the bottom left corner of your screen and displays information such as hunger, stamina, thirst, and more.
If you're curious about the top left corner, it displays weather, outside temperature, and the current season. The season is particularly crucial as it determines the outdoor temperatures and, subsequently, what you need to do to survive.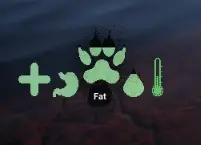 The most prominent icon (the paw) represents your stamina. Running will deplete your stamina, eventually forcing you to walk and catch your breath.
Just below the paw, you'll find "fat," a unique aspect of the UI. So far, I've discovered that fat can be obtained by eating during the summer and spring. Fat acts as a food reserve, helping you get through the fall and winter when food is scarce, especially for herbivores.
In the very left corner, there's a plus (+) sign indicating your health. This instantly reflects how close you are to death, and other creatures can damage you (but I'll cover that in another guide, wink wink), reducing your chances of survival.
Next to health is an image of a stomach, representing the amount of food your animal has stored. I've noticed that hunger decreases fairly slowly, and you usually only need to eat once a day, if that.
To the right of stamina, you'll see a raindrop, symbolizing thirst. Thirst operates similarly to hunger.
Adjacent to thirst is the temperature gauge, a feature not commonly found in other games. This gauge indicates how cold your animal is, and from what I've observed, it depends on the season, species, and possibly age. For example, in the wild, animals like bears tend to have thicker fur and stay warmer than mule deer.
Survival Guide
The FINAL section of this guide focuses on survival, where I'll delve deeper into the mechanics of food, water, and warmth.
FOOD
Food is represented by the stomach symbol.
Carnivores can obtain food by finding a carcass, usually an NPC fish or one that another player has hunted. To eat, hold down the "E" key.
Herbivores, on the other hand, can use the scent feature (I can't recall the specific button for this, but you can find it in the control center of settings/options – I recommend reviewing this before playing). By using the scent feature, leaves will appear on your screen in suitable areas, indicating where to find food. Simply head to those leaves and hold "E" to eat.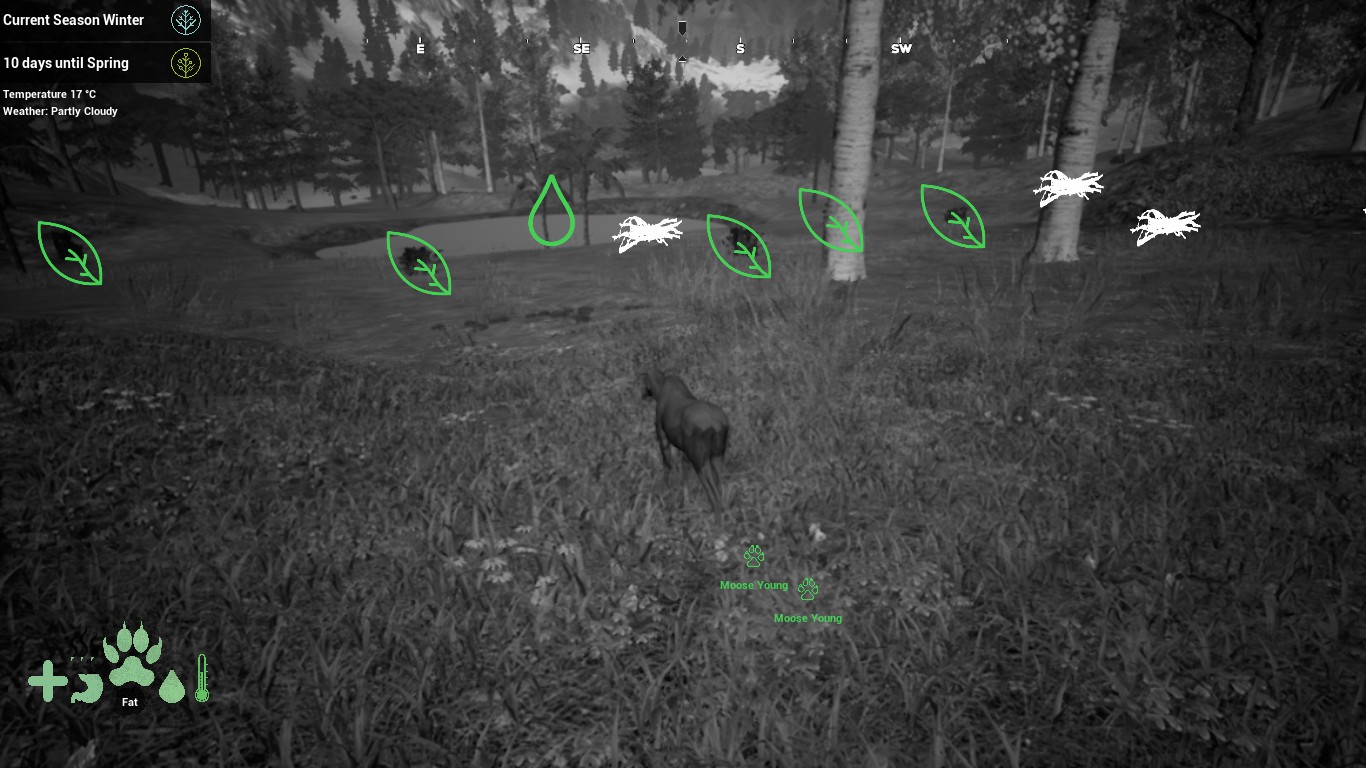 THIRST
Quenching your thirst is relatively straightforward. Find a body of water and hold down "E" if you're deep enough to reach. Some of the animal drinking animations are quite adorable too!
WARMTH
Warmth varies with the seasons, and the lower the temperature gauge, the colder your animal becomes. The best way I've found to stay warm is by storing up fat through overeating and keeping that reserve full during the winter. To be honest, I'm not entirely sure how this function works. That moose in the picture does look rather comical holding the bush like that!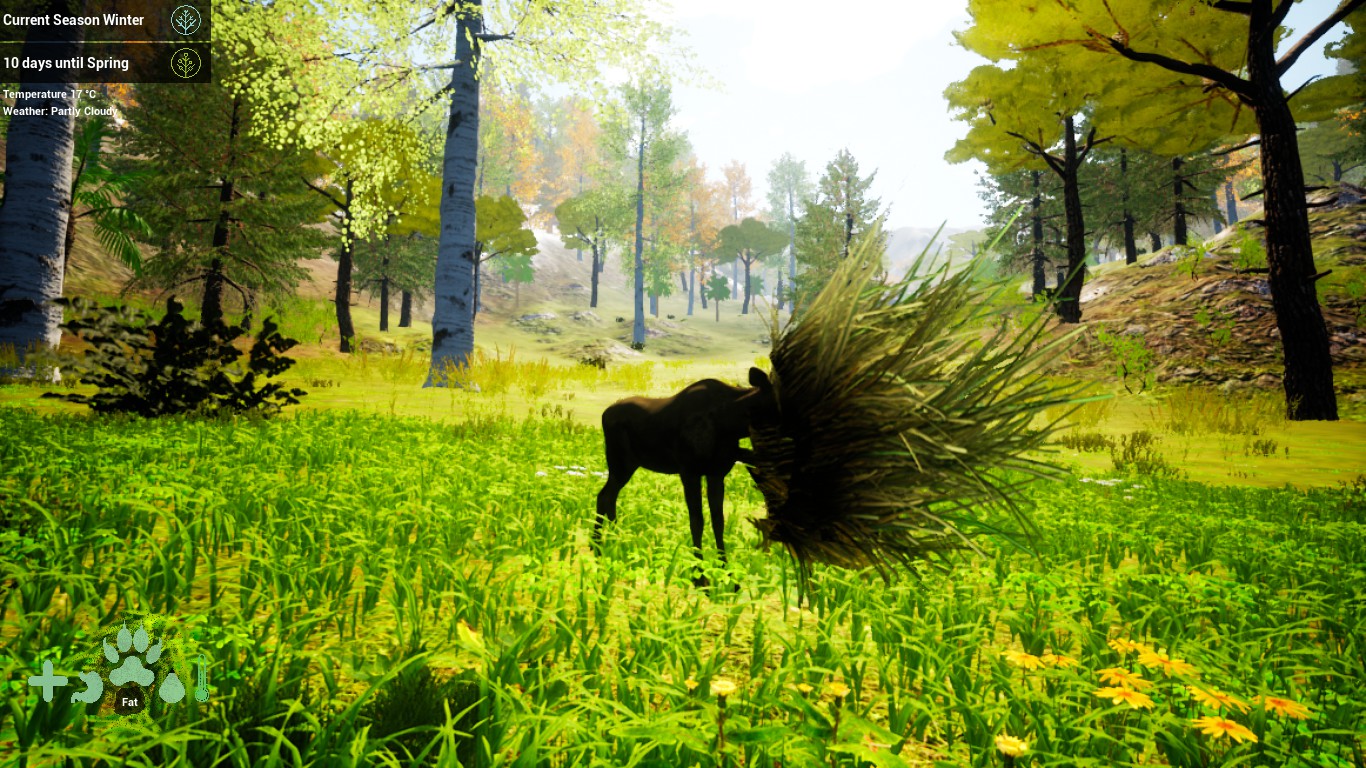 That's everything we are sharing today for this The Cenozoic Era guide. This guide was originally created and written by Tessienoodle. In case we fail to update this guide, you can find the latest update by following this link.
If you believe that any of the content on this site violates your rights, including your intellectual property rights, please contact us immediately using our contact form.