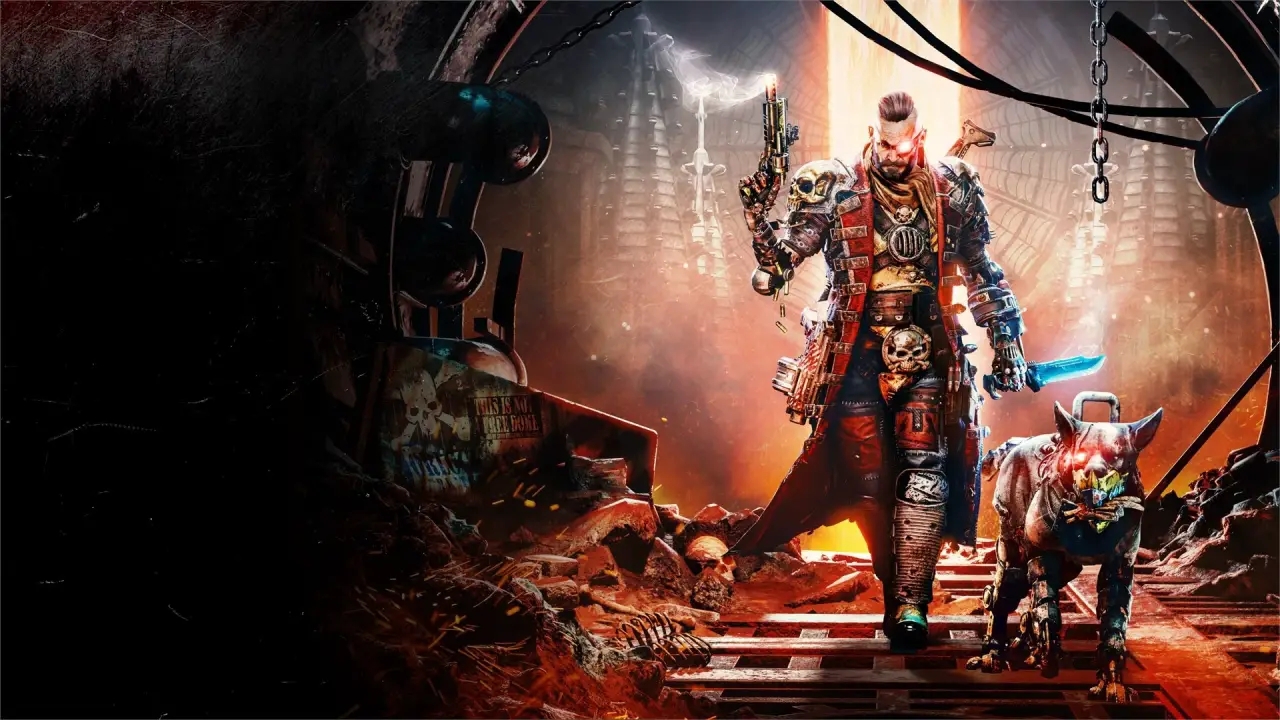 Here is the complete list of Necromunda: Hired Gun achievements and how you can obtain them.
Necromunda: Hired Gun Achievement Guide
Here are the story-related achievements. You won't be able to miss them as long as you finish the game:
The Bounty – Finish Level 1
The Captive – Finish Level 2
The Beast – Finish Level 3
The Ambush – Finish Level 4
The Escape – Finish Level 5
The Siege – Finish Level 6
The Dark – Finish Level 7
The Stair – Finish Level 8
The Meeting – Finish Level 9
Gang war – Finish Level 10
The Scent – Finish Level 11
Martyr's End – Finish Level 12
The Past – Finish The campaign
Here are the secret achievements:
Future best friend? – Let Brickjaw live in Koloss 44

Don't Kill the NPC towards the end of the 2nd level. Minimal story influence.

Ruthless – Kill Brickjaw in Koloss 44

Kill the NPC on the 2nd level. Do it as soon as they open the hatch, only chance. Minimal story influence.

Man's best friend – Buy an upgrade for your Mastiff
Who's a good boy? – Pet your dog in Martyr's end
Bull's Eye – Complete the shooting training in Martyr's End

Finish the shooting range at Martyr's End. It's above the gun store.

God speed – Place five bombs in less than three minutes in Escher Lab.
The one and only – Finish Kaerus with only the Ironfist.

Only use your default weapon on level one. I suggest a replay after it's been upgraded.

Kill it with fire – Kill a Genestealer with a grenade launcher

 Kill the new enemy type on this level with a grenade launcher.

Pedestrian – Finish Avarus without using the grapnel.

Don't use the Grapnel on this mission. Wallrunning and double jumping for the win.

I hate walking – Travel 5km using the grapnel

Use your Grapnel to travel over 5km.
Implant kills related achievements:
Bionic master – Kill 100 enemies by using Augmetics powers
Who needs weapons – Kill 5 enemies in one use of Strength Booster
Zap – Kill 30 enemies with the Blast module
It's not cheating! – Kill 60 enemies with the Perfect Aim module
Kaboom – Kill 30 enemies with the Crush module
Other kills related achievements:
Death comes from above – Kill 100 enemies while wallrunning
Sadistic –

You have performed 100 Takedowns

Who let the dogs out – Kill 30 enemies with your Mastiff
Headache – You have killed 100 enemies with a headshot
Sniper – Kill 10 enemies in a row with headshots only
Weapons lover – Kill an enemy with every weapon
The list of known weapons in the game:
Pistols
Scars Machina
Epitaph
Ironfist
Escher's Kiss
Firebird
Basic
Doghammer
Death Bringer
Vpanther
Pious Legacy
M'Ma
Striker
Special
Hashin's Eye
Burningsun
Wrath
Funeral Ball
Heavy
Scatter
Iron Rain
Tempest
Levels completion related achievements
Who's the boss now? – Finish a mission with an S rank

Can be done in Side Missions. Make sure you find chests, avoid using medkits and kill few enemies.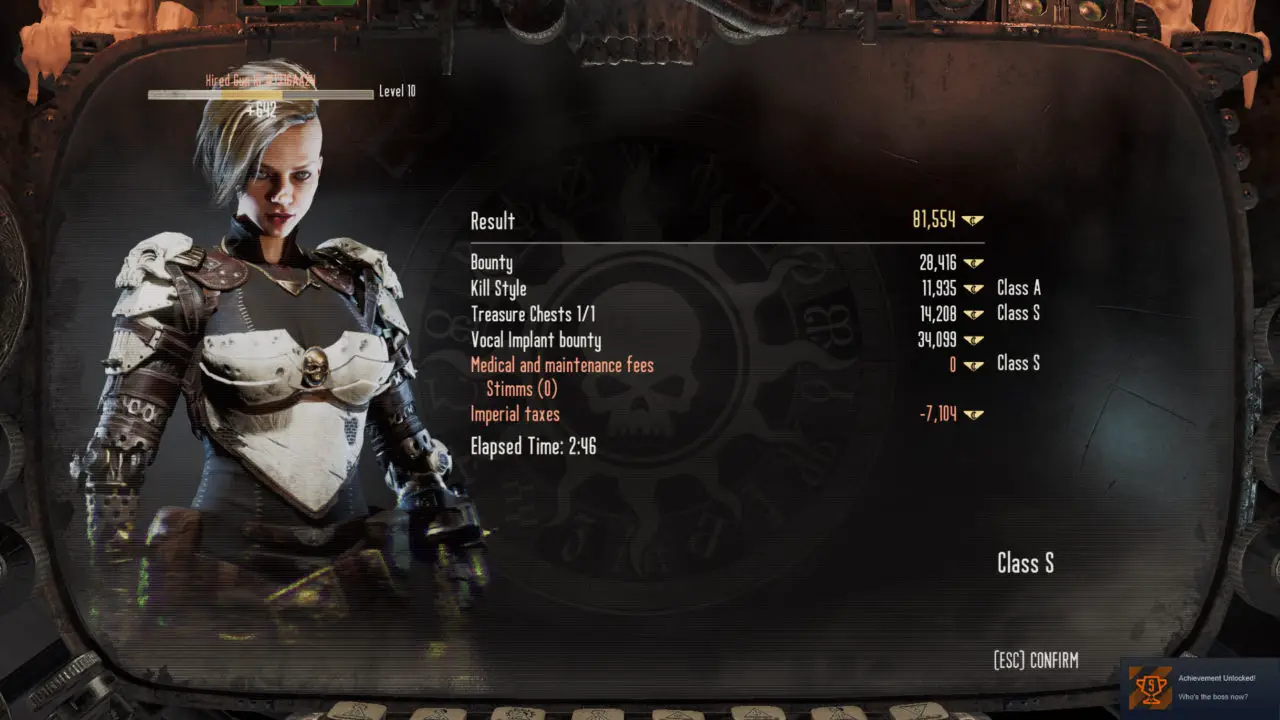 The best student – Finish all main missions with a rank of A or more

You may replay main missions from the Hub

New allies – Fill one faction bar

Complete missions from the same contractor. The white bar tracks your progress: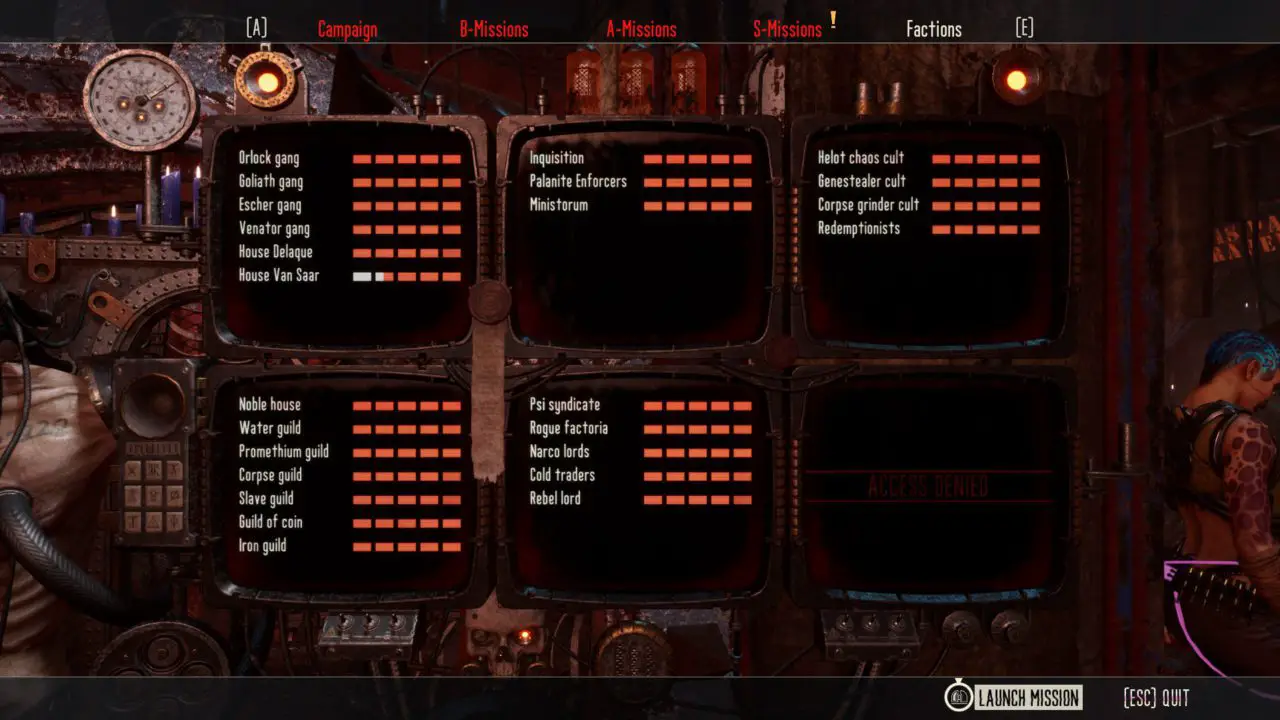 The specialist – Finish a mission using only special weapons.

Special weapons are Hashin's Eye, Burningsun, Wrath, and Funeral Ball.

Defuser – Trigger all mines on Steel way
Other remaining achievements and how to obtain them:
Additional income – Finish your first secondary mission

That will be your main income. Side missions are extremely easy and can be done in under a minute, earning you over 30-60k in one run.

Still human? – Upgrade one implant to the class 4

A lot of your earnings will be gone into implants. Worth investment though!)

Gecko's feet – Wallrun 2500m
Now I see you – Take out 50 shields with the grapnel

You need these guys. Just shoot them with grapnel.
Perfect weapon – Customize every aspect of a single weapon

Customization is available before accepting a mission or in the hub, from Artificer.

Explorer – Find a +3 weapon
Treasure hunt – Open 20 chests

You may open the same chests at the same level, they will count!

Banker – Amass 100.000 credits

Counts as OVERALL credits. You may spend them!
That's everything we are sharing today for this Necromunda: Hired Gun guide. This guide was originally created and written by Lord of War. In case we fail to update this guide, you can find the latest update by following this link.
If you believe that any of the content on this site violates your rights, including your intellectual property rights, please contact us immediately using our contact form.