This guide will be teaching you how to get the Monster Train achievement called How to Deckbuilder. To obtain this achievement, you need to win a run with 0 cards at the end of the run.
Setup
Clans: Melting Remnant & Umbra

Starting cards: Dreg & Shadesplitter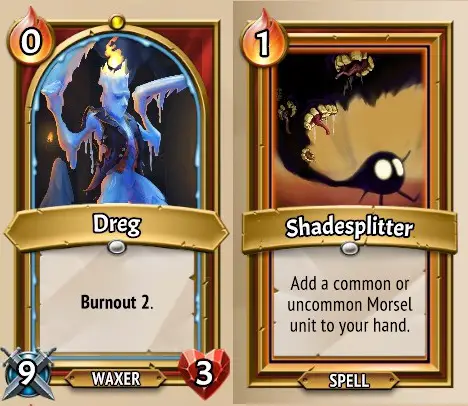 Mutators: Fallen Champion, Protect the Pyre, Permadeath
Concepts
These are the basic concepts for the achievement of this setup. Hopefully, they will remain relevant even if the maps get changed up.
Permadeath will purge unit cards when they die, so you don't have to hit every Vortex or spend a lot on card removal. Don't let important units die. Take all unit rewards to use as throwaway one-shot shields or bombs (Melting has some good units for this).
Skip all spell rewards and before the final fight make sure all your spells are purged. You'll need a unit to tank and a unit to do sweep damage to kill backline problems. I used Crucible Collector and Shadoweater for those roles, on separate floors. You'll also need Morselmakers to fuel your units in the final fight. Heaven's Gold artifact helps a lot (+1 Pyre damage per 10 gold stored).
During the final fight make sure the boss kills all your units, and make sure your units take the boss low enough for your Pyre to finish him off. You can take the base setup and clone challenge until you find a good map. Or you can use the map I used for my step-by-step guide below – it's not perfect but it worked for me.
Brief Walkthrough of Winning Run
This is a brief step-by-step of the run I used to get the achievement. Feel free to find your own approach or a different map, I'm sure this far from perfect.
Basics:
Grab all unit cards, skip all others
Take "Light of Seraph" major enhancements (+ floor capacity)
Take all fight Trials except Ring 7
Buff Crucible Collector HP, save other gold
Save Remnant Hosts for Final Fight
Ring by Ring:
Forever Flame (unit cost -2)
Right, unit Crucible Collector
Right, unit Shadoweater, fight reward Morselmaker
Right, unit CC
Right, copy Mm, fight keep Mm off floor 1 to avoid boss
Left, Trinket shop (+5 health, reroll for floor 3 daze), Vortex
Right, Hoard + Cave, fight no Trial, reward Devourer of Death
Left, purge all spells, don't shop save gold, copy DoD
Final fight:
Floor 1:

CC + Mm (they get too buff higher up)
Use trash units to tank rough waves
Remnant Host in front of DoD = strong combo

Floor 2:
Floor 3:

Enemies are stunned
Any permanent units are good, especially high attack
And that concludes this Monster Train guide. Do you have any suggestions to improve this guide? Please let us know by leaving a comment below. For any other concerns, please reach us using the contact details found on the contact page.