Title: Jagged Alliance 3
Release Date: July 14, 2023
Developer: Haemimont Games
Publisher: Haemimont Games
Here's a really simple trick that lets you have unlimited time, money, and experience in order to train super-soldiers at any difficulty level. This method makes it incredibly easy to complete the game and earn most achievements, even if you're playing in ironman mode.
Unlimited Time
To make time unlimited, all you have to do is avoid triggering enemies to start moving. This lets you take your time and do whatever you want until you're ready to finish the game. Here are the key points:
Don't train militia in Ernie Village or approach the Outpost on Ernie Island.
Avoid liberating outposts or mines. It's okay to defeat most enemies, but leave at least one opponent alive.
Keep your soldier count low, as having too many soldiers will limit your income without mines.
Here's how you can do it: Start by hiring any team to quickly recruit Flay. Go straight to Ernie Village and then to the Poacher Camp. The specific team doesn't matter, but you need someone with high Wisdom to hire Flay. Once you've done this, you can take your time to train your IMP and Flay, boosting their attributes to the maximum. Let the contracts of your other mercenaries expire while you're at it. Meanwhile, make sure to obtain at least two Dragunovs from the Poacher Camp. These come with Thermal Scopes and restock every few days.
I suggest having an IMP with high Wisdom and Teaching skills. This will allow you to learn skills more quickly and teach them to your other mercenaries. Below is the IMP I recommend starting with, along with their attributes after training with Flay.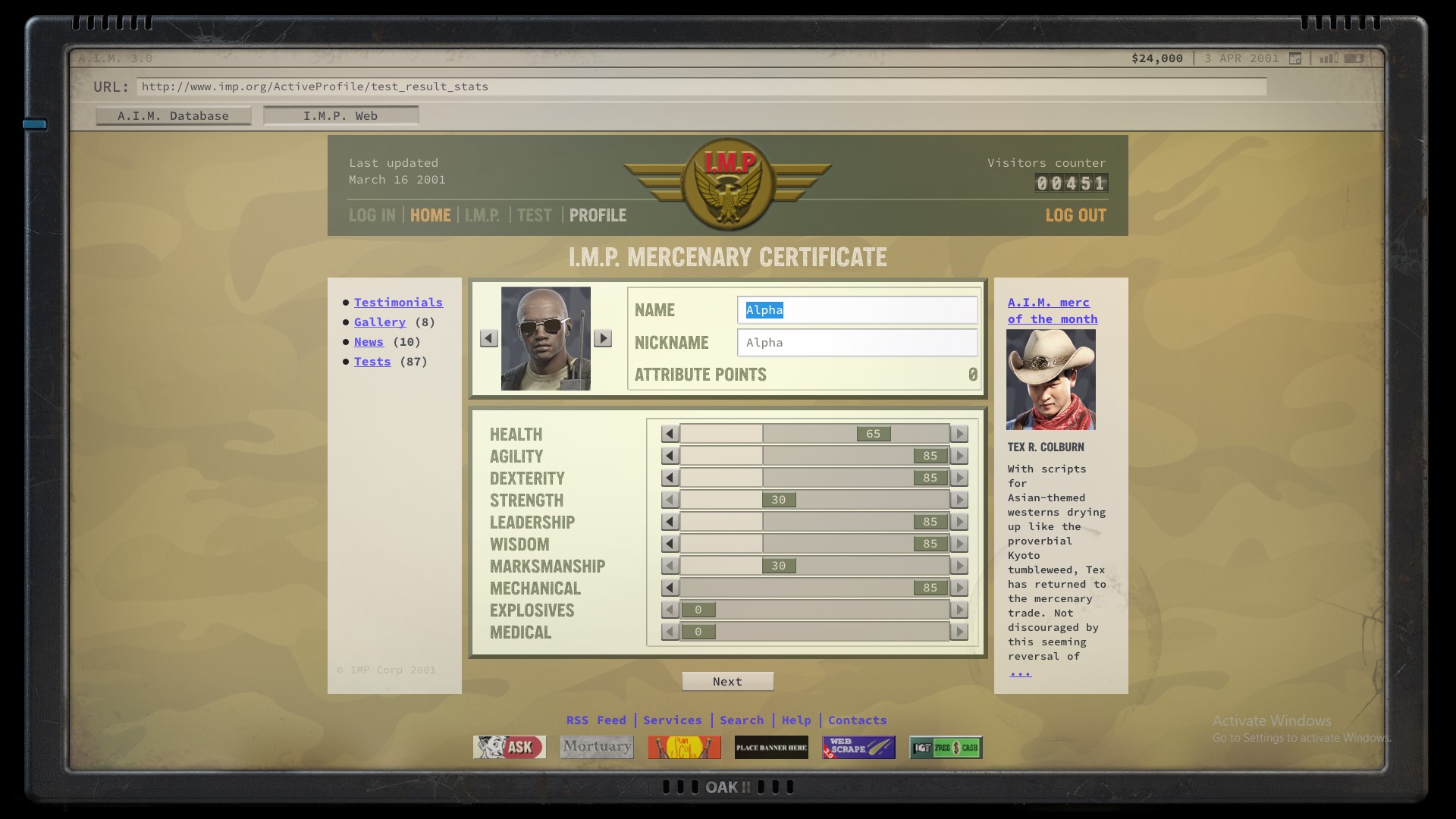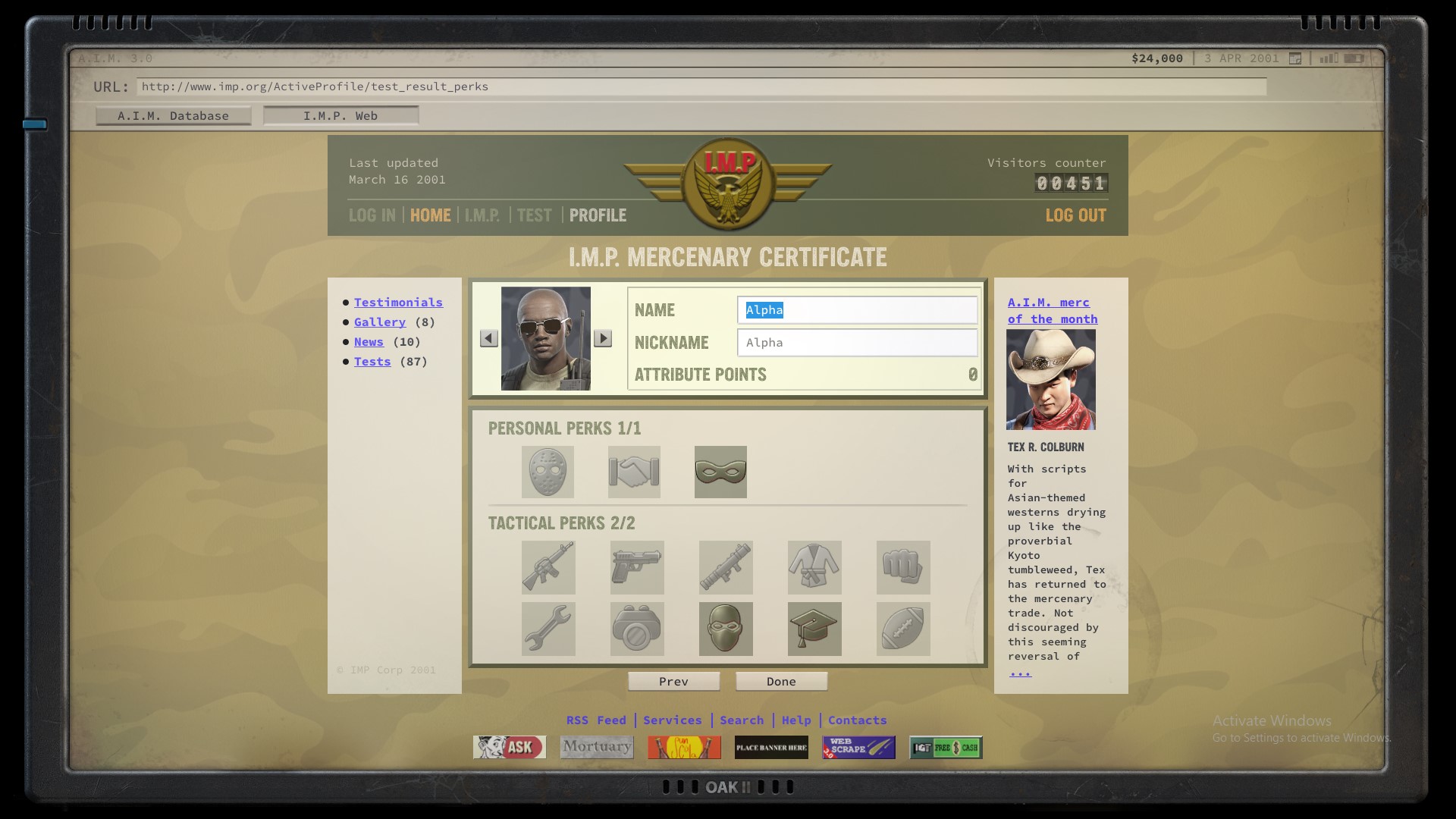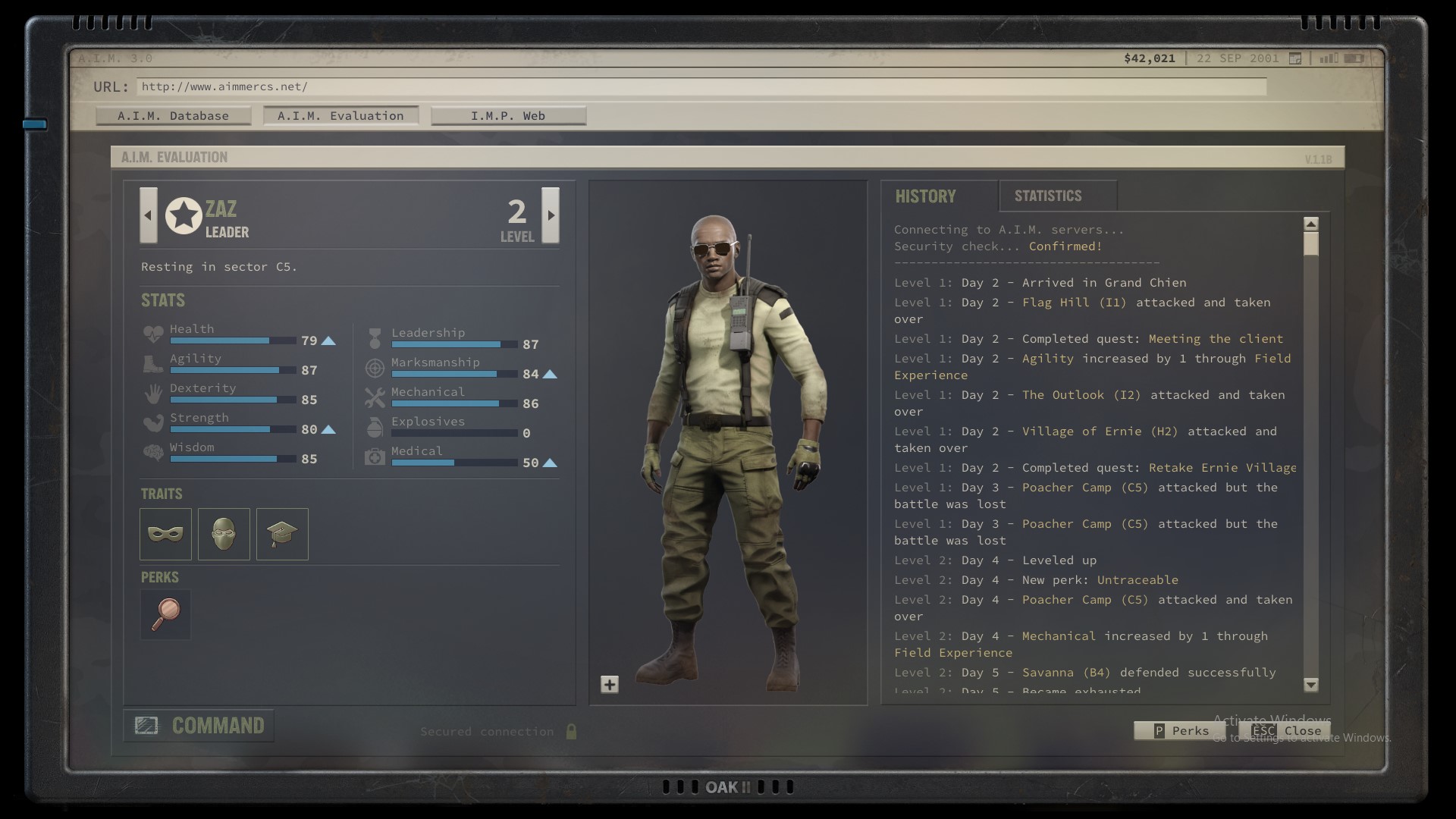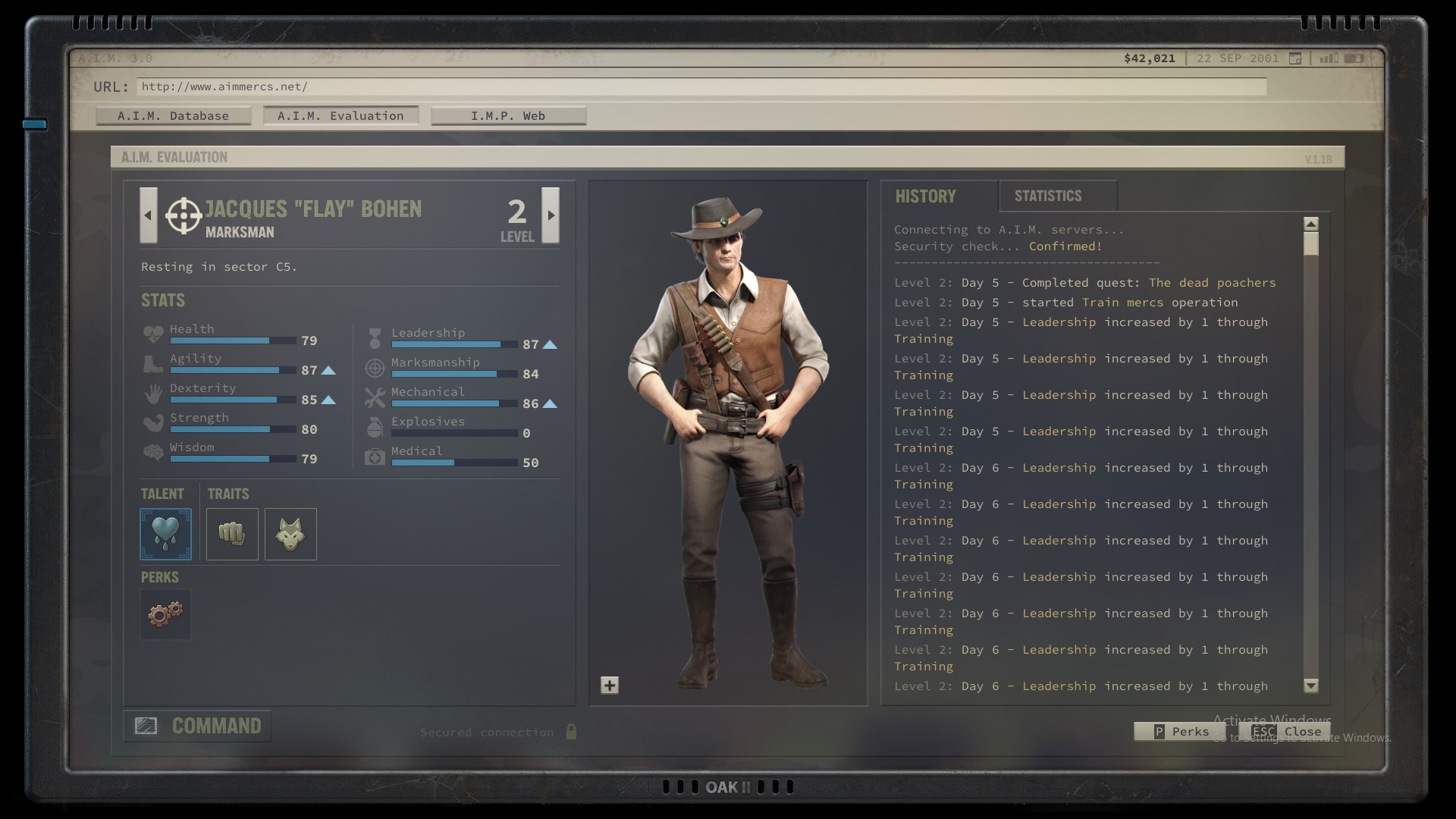 To recruit Larry at Camp Savane, you'll require an individual with high Medical skill and a Metaviron. Ensure that you leave at least one enemy alive before you withdraw from the outpost and come back to converse with Larry. To obtain a Metaviron, you can purchase lootboxes at the Flea Market. If you've followed the game's progression correctly, you should possess a minimum of 7 diamonds (4 from Bastien in the initial map and 3 from Luc for liberating Ernie Village), which is generally sufficient.
While you have the option to hire a team to assist in liberating the Flea Market, due to your limitless time, you can achieve this task with just two soldiers utilizing hit and run strategies. In brief, enter the map, take cover, eliminate two or three soldiers from the map's edge (where you can retreat), and depart once you're spotted or enemies draw near. You can retreat after using up all your Action Points (AP), even if enemies are in close proximity, as long as you remain within the designated retreat zone.
Here are the attributes of Larry subsequent to enlisting him and training him to his maximum potential, alongside Flay and the IMP.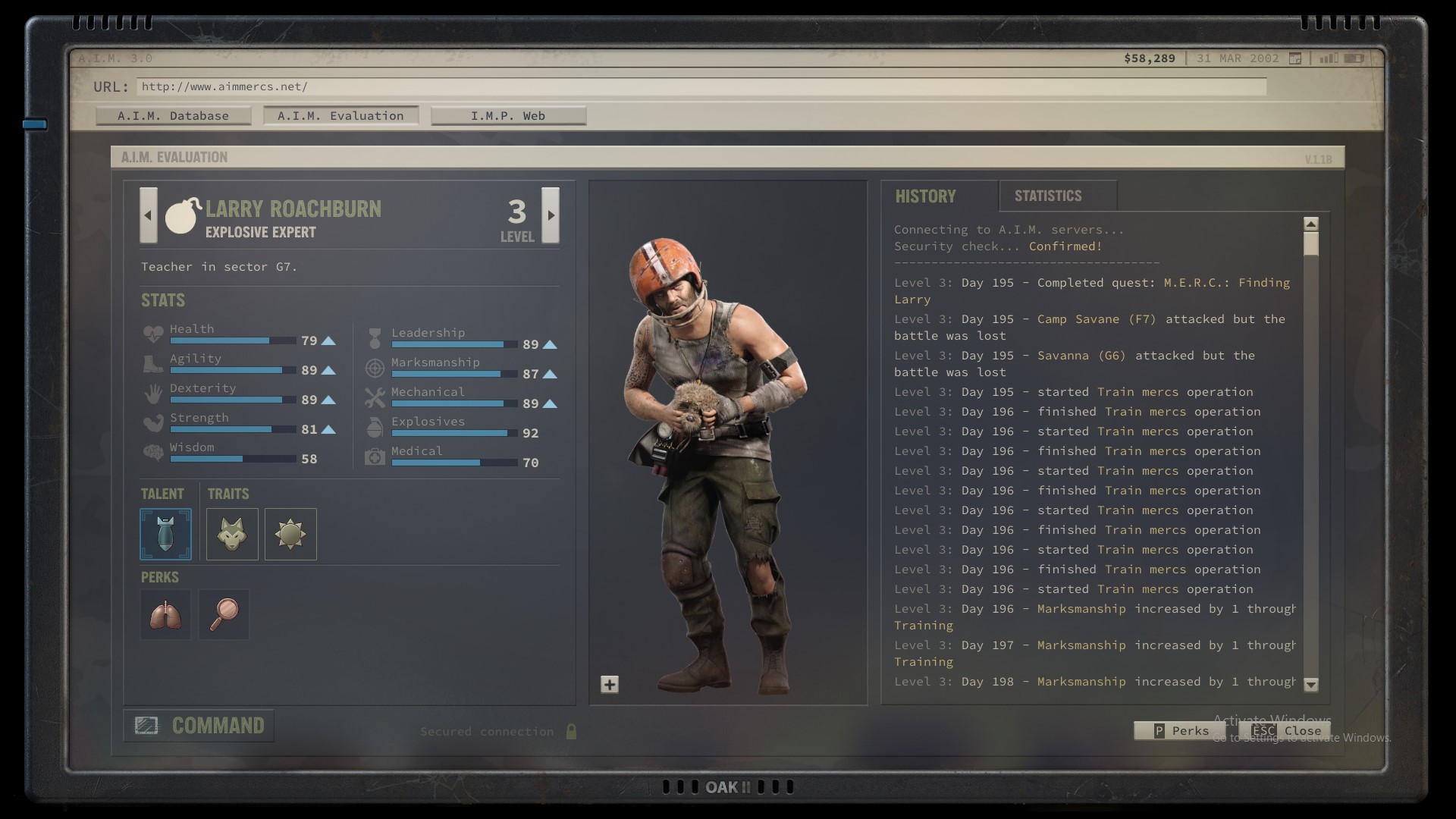 If you enhance Larry's condition, his Agility, Dexterity, and Marksmanship stats will readily surpass 95. Consequently, you'll have the capability to raise Flay and IMP's attributes in those areas to 91. Armed with three exceptionally capable mercenaries, you can begin the game in the typical manner and effortlessly conquer any challenge, even within ironman mode.
Unlimited Money and Experience
To attain boundless experience and money, your objective is to initiate enemy movements without triggering the world flip events (specifically the quest to rescue Biff). This can be accomplished by seizing any outpost while refraining from capturing any mines. Afterward, intercept diamond caravans for monetary gains or defend your outposts against adversaries to amass experience. This strategy can be employed for as long as desired, permitting you to recruit mercenaries and train them to your heart's content. Once your preferred mercenaries are sufficiently formidable, equipped with numerous attributes and perks, you can then begin capturing mines and smoothly conclude the game.
Conclusion
Feel free to share in the comments section the duration it took you to assemble your formidable team prior to initiating the final quest. If you possess knowledge of any additional techniques that make the game significantly easier, please share them in the comments. Enjoy the process and don't forget to leave a thumbs up if you found this guide beneficial!
That's everything we are sharing today for this Jagged Alliance 3 guide. This guide was originally created and written by ZaZ. In case we fail to update this guide, you can find the latest update by following this link.
If you believe that any of the content on this site violates your rights, including your intellectual property rights, please contact us immediately using our contact form.