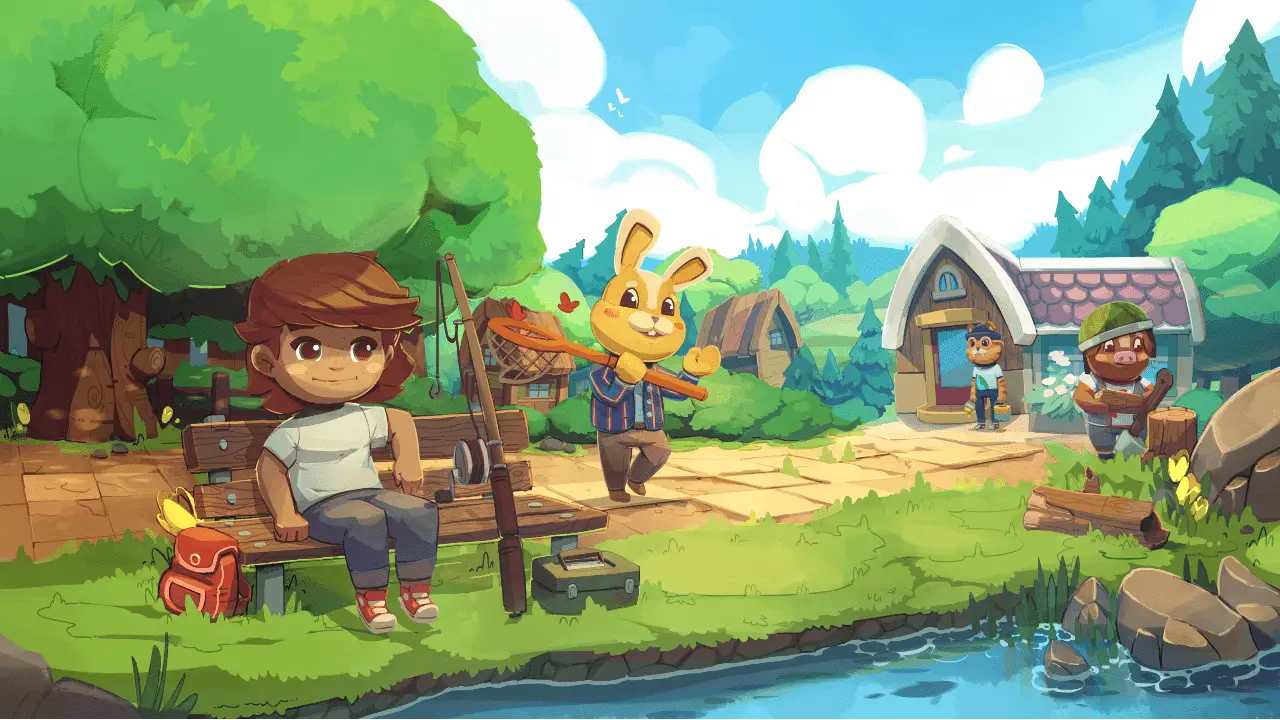 This guide will teach you how to get the fishing rod in Hokko Life. In addition, you will also learn how to get some bait and where to fish in the game.
How to Get Fishing Rod
When you arrive in town, you must go on a fishing rod quest for Oma. They will request that you clean up the beach. Return to the inn as soon as it's finished, talk with Oma again, and then sleep. When you wake up, return to the beach, where Derris should be waiting with your new fishing rod and some advice.
To unlock Derris's mini fishing quest, you must catch 10 fish and then talk to him. He will then instruct you to catch 5 fish (of any type) in 5 minutes. Derris also holds a competition on the 15th of each season that awards trophies.
How To Get Bait
After completing a few quests for them, Zea/Timothy will give you bait recipes. You'll need to purchase the recipe from Sally and make a bucket of bait. To obtain Timothy, you must complete 5 fishing quests for Derris on the 15th of each month. (Not the competition, but the little quest he gives you before each competition in which he asks you to catch 5 fish in 5 minutes).
How To Add Bait
How do you add bait? If you have bait in your bag, make sure your fishing rod is in your hand, then click the bait to add a bait toy to your fishing rod. Remember that if you cast the rod and then pull it back before hooking a fish, you will lose your bait.
Where to Catch Fish
You can fish in three bodies of water. The three bodies of water are the river, the sea, and the pond. The river runs north of the inn where the villagers live. The sea is located to the east/right of the villagers' houses. The pond is located on the west/left side of the waterfall, north/up through the wood archway. Each fish has its own set of requirements for capture. Some require a specific time of day, others require specific weather, and still, others require a specific season.
Fishing Using a Controller Tips
The A button is used to launch your fishing rod into the water. When a fish bites, press A to hook it and reel it in. You can keep spinning until the mini-game bar turns red with exclamation points. If exclamation marks appear, let go of A for a moment or your line will snap. When the mini-game instructs you to pull LEFT or RIGHT, release A and pull left or right (If you pull left or right and reel, the line will snap and you will lose your fish). Pulling to the left or right will automatically reel in your line. Hold A again as soon as you don't see it pull left or right, and begin reeling in the line until you catch the fish.

Yet another fishing suggestion.

If you reel in the line and the mini-game bar turns yellow or red, it will tell you whether to pull left or right. That means it's more difficult to catch or rare fish. This may help you save time during the competition. If you reel all the way to red and the mini-game doesn't prompt you to pull left or right, it means you've caught a common fish and can recast your line.
If you believe that any of the content on this site violates your rights, including your intellectual property rights, please contact us immediately using our contact form.