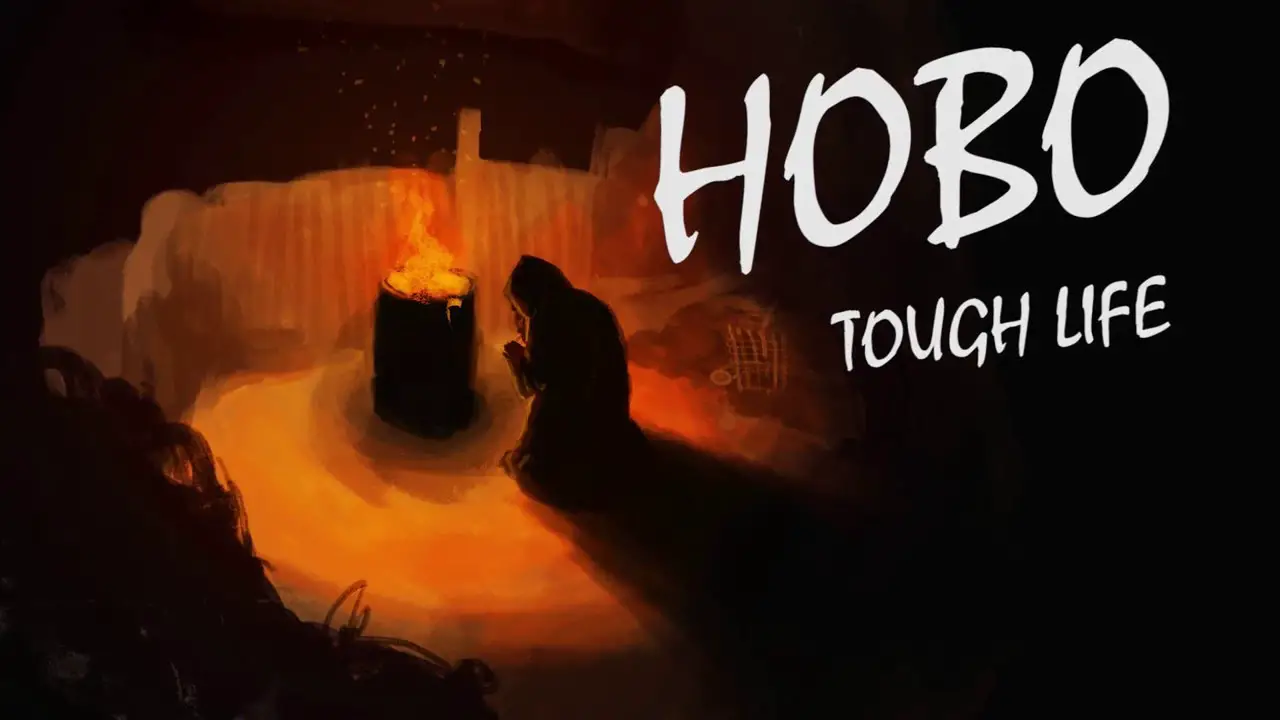 This guide will be teaching you how to obtain the Urban Explorer achievement in Hobo: Tough Life. In order to get this achievement you just have to talk to every "mappable" NPC and interact with every point of interest.
The NPCs
Not all NPCs have to be interacted with, only the ones that will appear on your map after you have talked to them. I call these "mappable" NPCs. and you can point them out because they have a name and you will enter conversation mode, just like a successful attempt to talk to a stranger.
If you have progressed through at least one season, you will have most likely interacted with the majority of those. However, some of them are easily missable because they don't have a character model, but instead, they are talked to by interacting with a tent/door/bar/whatever. There are some exceptions: Mikey, Stink, Ylona, etc.
The easiest way to check if you have gone through all is to count them. You should have 83 NPCs (quick count: 4 full pages of NPCs on your map-> characters + one page with 15 NPCs).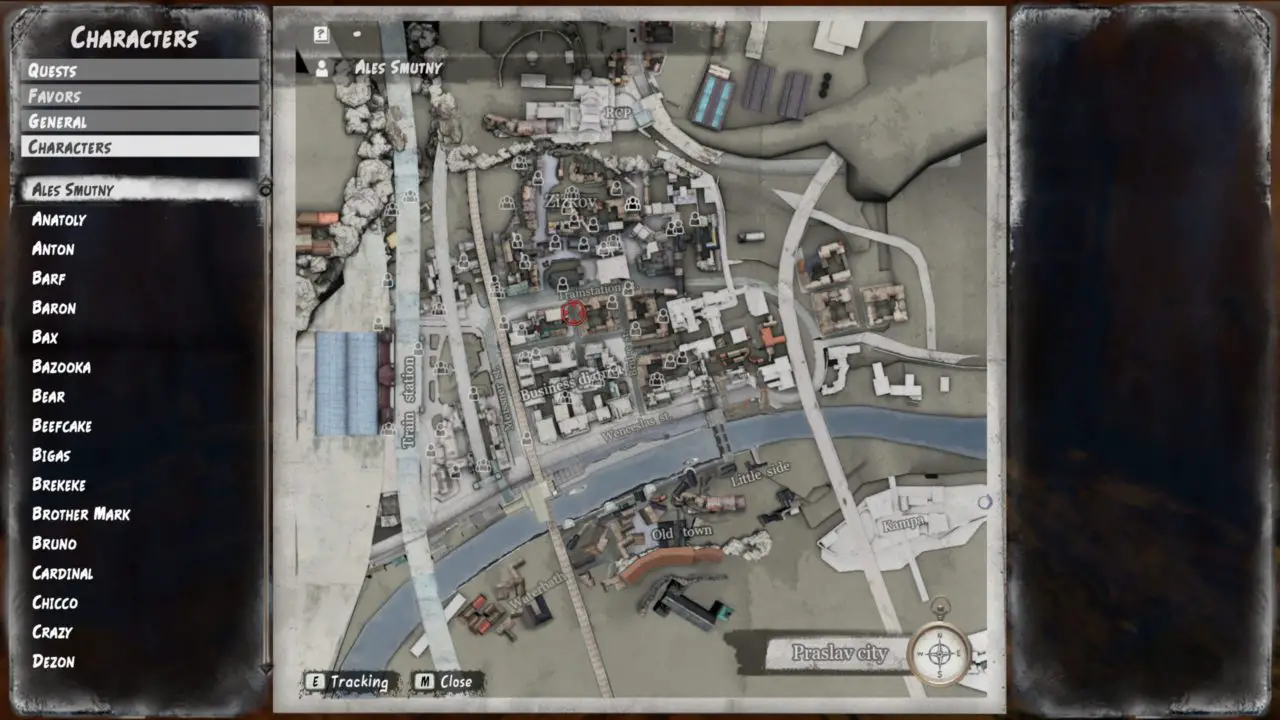 To make it easier, I'll separate them into small areas:
The Pit, where you wake up
The hobo camp in the Pit
Drax (downstairs), Ferenz (upstairs)
Leos, Beefcake, Kashee (missable, doors next to the barrel)
Next-door neighbors in the Pit
Victor, Mako
Fester, Barf, Doughnut (missable, red shacks)
Camp in the pit
Langos, Yolanda and Vanga (missable)
The Displaced in the Pit (tent)
Zizkov west
Bear (missable, shack outside the Fort)
Doc Handsome (missable, take the ramp up left of the recycling containers, first door on the left)
Zizkov central
Struk, Sergei, Mazal, and Mahoney (hobo camp, one in a cardboard tent)
Baron (bar, upper part), Mr. Kadlec (missable, white door close to the bar)
Sister Agnes (charity)
Ales Smutny and Homola (tent in front of charity)
Zizkov, hideout area
Bruno (bar)
Brother Mark (missable, upon exiting the bar look left, turn left and follow the street)
Anton (behind the bar)
Ghaul (sewers)
Furgrim (next to hideout)
Father Burian
The Fort
Fin (next to a barrel outside the fort towards Trainstation st)
Razor (next to a sitting thug)
Zizkov east
Professor Muller and Rabbi Eck (missable opposite doors on a plaza)
Zbyshek (the missable, back door of Prof. Muller's house)
Gas station and surroundings
Master, Ruda, Payour (east of gas station)
Mr. Kotler (missable, scrapyard door)
Hannah and Ivan (gas station bar)
Kroll (junkie camp west of the gas station)
Train station park and underpass
Dezon, Ferguson, Rocky (three Guzzlers drinking outside)
Rasken, Rita (camp in front of the train station)
Chicco (south of the park, on top of a couple of kiosks)
Henry (begging closer to Wenceslas st)
Crazy, Snot, and Monty (underpass)
Inside the train station (Guzzlers hideout)
Cardinal, Peppe, Bazooka, Zachy
Jenkins (missable)
Business district
Anatoly and Mrs. Spurna (northeast)
Irena Skrabisova, Lieutenant Hajek, Officer Kvapil, and Police officer on duty (police station and temp office)
Dory (dealer, east)
Shrug, Bax, Gramps, Frix (Shrug's hobo camp)
Mr. Pohlrecht (Hotel President back door), Nugget and Brekeke
Libor Petula (missable book shop on the northwest side of Bridge Street)
East of Bridge street
Mr. Schmelar (missable tobacco shop on Trainstation st.)
Mrs. Emka (missable house, take the alley on the left of Mr. Schmelar shop)
Mrs. Loudova (missable house, cross the street from Libor Petula, flook right and take the first alley to the left)
Ramsay, Maisner, Don Kitty (junkies base, metro station)
Starky (dealer on a bench just outside the metro station)
Marty (satanist on a sewer across from Starky)
The POIs
This part is the easiest if you have a complete map like mine: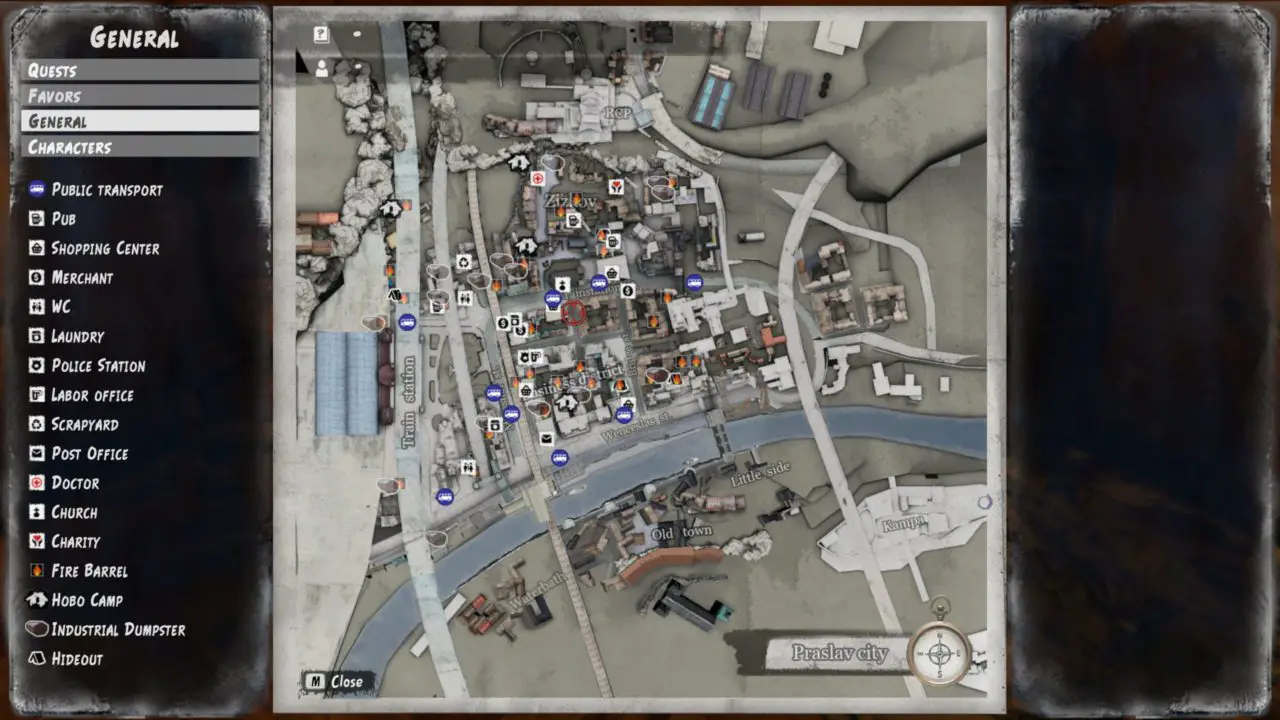 Just open the map and visit the locations listed. You just have to interact with the POIs for them to appear on the map with the notorious exception of the barrels. You must burn something in the barrels in order for them to appear.
That's everything we are sharing today for this Hobo: Tough Life guide. This guide was originally created and written by Killin el MC Pirata. In case we fail to update this guide, you can find the latest update by following this link.
If you believe that any of the content on this site violates your rights, including your intellectual property rights, please contact us immediately using our contact form.