Title: X4: Foundations
Release Date: November 30, 2018
Developer: Egosoft
Publisher: Egosoft
I extensively searched online for information regarding the specific quantity of materials required for teleporting the headquarters and utilizing it as a weapon. Unfortunately, my search yielded no relevant results. As a result, I have taken the initiative to compile the necessary information here. If you find this compilation useful, I'm glad to be of assistance.
Necessary Components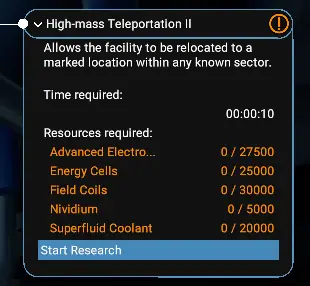 Below is the comprehensive list of materials essential for this teleportation procedure. By establishing a robust defensive perimeter around the headquarters and implementing adequate storage to accommodate materials for multiple teleportation rounds simultaneously, you can effectively leverage the headquarters as a potent tool to annihilate enemy stations.
Advanced Electronics – 27,500 units
Energy Cells – 25,000 units
Field Coils – 30,000 units
Nividium – 5,000 units (This particular component might present the most challenging aspect for acquisition)
Superfluid Coolant – 20,000 units
To streamline the acquisition process, it's advisable to instruct your station manager to procure twice the quantity of all the materials required. This preemptive approach ensures that you won't need to manufacture the materials on-site while you're engaged in combat against the Xenon faction. Notably, Nividium cannot be produced locally, so securing an adequate amount is imperative. Additionally, ensure that your station has no subordinate entities and communicate to any ships collecting resources to temporarily dock at a safe location, as this will prevent them from venturing into hostile territories.
Advance preparations are crucial. Set up your entry and exit navigation beacons well in advance. If you possess control over a sector, it's advantageous to designate it as your destination after neutralizing the Xenon threat. However, if you choose to jump into a sector owned by another faction, be prepared to incur expenses for station placement. Opting for a sector with no designated owner is a prudent approach. Nippo Fortune stands out as a relatively vacant sector, conveniently located only one gate away from the highway. Additionally, its proximity to Grand Exchange facilitates the acquisition of a substantial quantity of Nividium.
That's everything we are sharing today for this X4: Foundations guide. This guide was originally created and written by Master David. In case we fail to update this guide, you can find the latest update by following this link.
If you believe that any of the content on this site violates your rights, including your intellectual property rights, please contact us immediately using our contact form.