Title: Wandering Sword
Release Date:
Developer:
Publisher:
Are you one of the new players of Wandering Sword? Well, this guide is for you to help you get started in the game.
Basics
Weapon Selection: To start, a sword proves to be the most advantageous choice. However, sabers, concealed weapons, polearms, and bare fists are equally viable. The primary benefit of using a sword is the availability of effective techniques and weapons early in the game through quests. In the late game, you can accumulate more martial points to switch to a different weapon.
Martial Points: This resource takes center stage, acquired through reading books and emerging victorious in battles. It's best invested in cultivation methods, enhancing health, stats, and various useful buffs. Whenever possible, prioritize learning additional cultivation methods.
When it comes to combat techniques, concentrate on mastering 1-2 moves during the early stages. Each weapon category boasts commendable techniques. As a sword practitioner, there are moves and cultivation practices that enhance evasion in the early game.
Lightness techniques are situational but valuable, offering improved mobility for real-time battles against formidable foes.
Meridian Map: Enhance your stats by accumulating points, primarily gained through mastering cultivation techniques—another compelling reason to prioritize cultivation methods.
Life Skills: In the early game, there's no pressing need to develop life skills. Instead, learn from companions and experienced mentors in Wudang whenever the opportunity arises.
Equipment: During the initial stages of the game, consider teaming up with characters like the girl in red or Mowen to engage in a few side-quests and random encounters. This can lead to the discovery of valuable equipment.
Gifts, Sparring, and Consultation: Presenting gifts typically adds 4 affinity points, occasionally 12 if the recipient particularly appreciates the gift. To spar with someone, you'll need a minimum of 20 affinity points, which can yield 1-3 items. While sparring provides some benefits, it's worth noting that you can obtain more valuable items and additional martial points by engaging in random battles at specific locations.
In consultations, focus on acquiring knowledge of cultivation methods.
Companions: Look out for the tiger sign, indicating the potential for companionship. Keep gifting them until the companion mission triggers. Typically, there are several side-quests to complete before you can reach 60 affinity points and invite them to join you. If a companion rejects your gift, it signifies that certain missions must be completed before further gifting is possible.
Companions accumulate martial points alongside you, and they offer opportunities to learn cultivation techniques and combat moves. Obtaining companions early in the game is highly advantageous. Always prioritize cultivation methods when interacting with them.
Battle Modes: Real-time battles are the most effective way to amass martial points through random encounters since companions are AI-controlled, and everyone acts in unison. Turn-based battles are generally better for closely contested fights due to the enhanced control they offer.
However, the game features many 1-vs-1 battles with the protagonist. In these situations, opt for real-time combat, allowing you to time your moves when the enemy is about to strike. This strategic approach enables you to completely evade their attacks, retreat to a safe distance, or strike from behind. Real-time battles are particularly enjoyable and often the only way to emerge victorious in challenging fights.
Companion Guide
In this companion guide, we'll walk you through the early stages of the game, highlighting key companions and strategies to strengthen your team.
Yuwen Yi:
The main protagonist, starting with mediocre stats, but with immense potential.
Learns the best cultivation techniques in Mount Wanzi prison.
The only character capable of switching between any martial arts and mastering all cultivation methods.
Learning from squad companions is straightforward, requiring you to return to the starting village to rest, learn, and rest again. Companions can only learn from textbooks, making Yuwen Yi's development unique.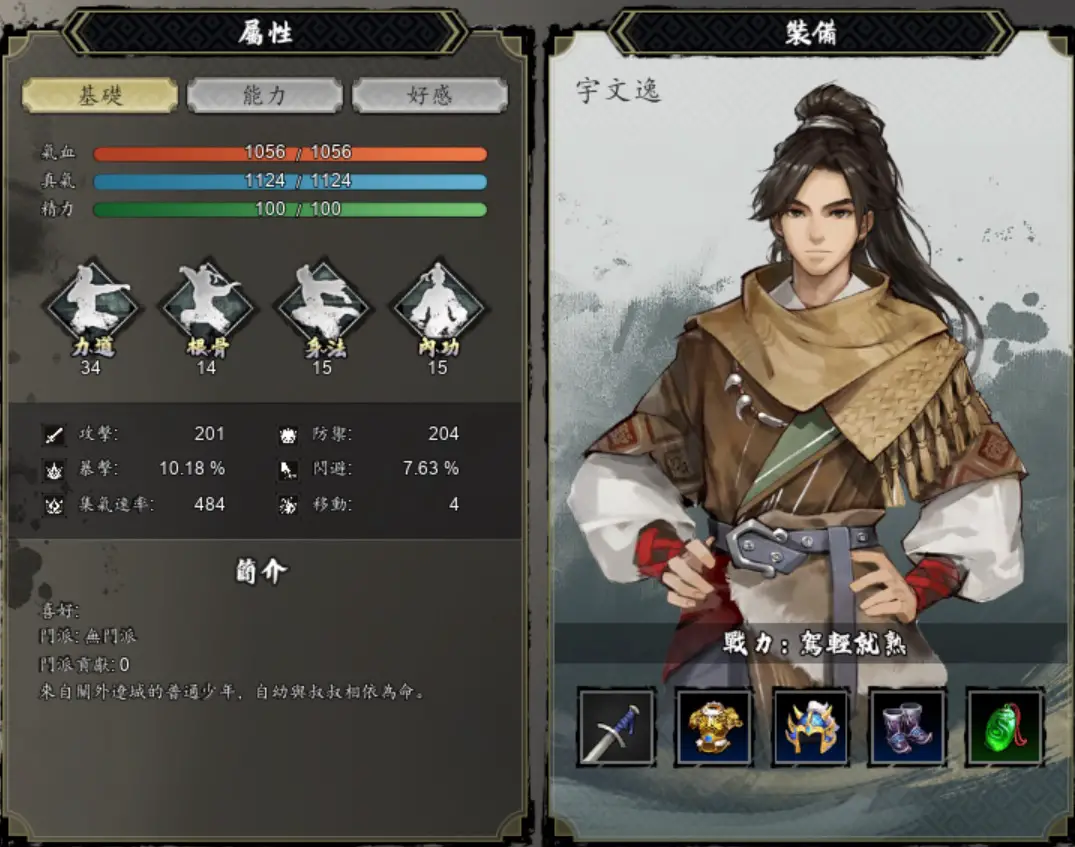 Wei Huo:
Recruit Wei Huo in the starting village.
Begins with similar weaknesses as the main protagonist, and polar-arm skills are underwhelming in the early game.
Boost his affinity rapidly by gifting him eggs.
Completing all of Wei Huo's companion quests will significantly enhance his strength.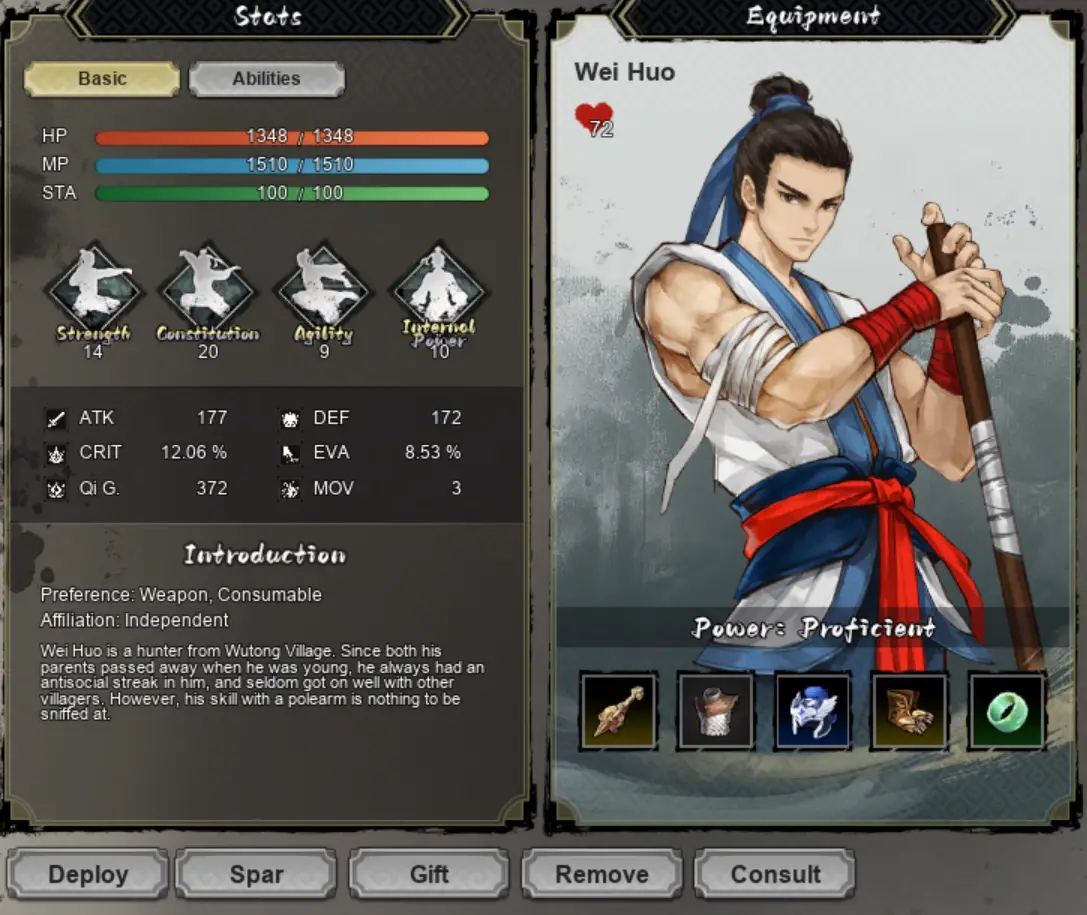 Girl in red:
Once the world map becomes accessible, head to Luo Village and then to Mount Wanzi.
Encounters the Girl in Red after exiting the prison.
She is exceptionally skilled, making it worthwhile to return to the world map and have her assist in random grinding and recruiting Shangguan.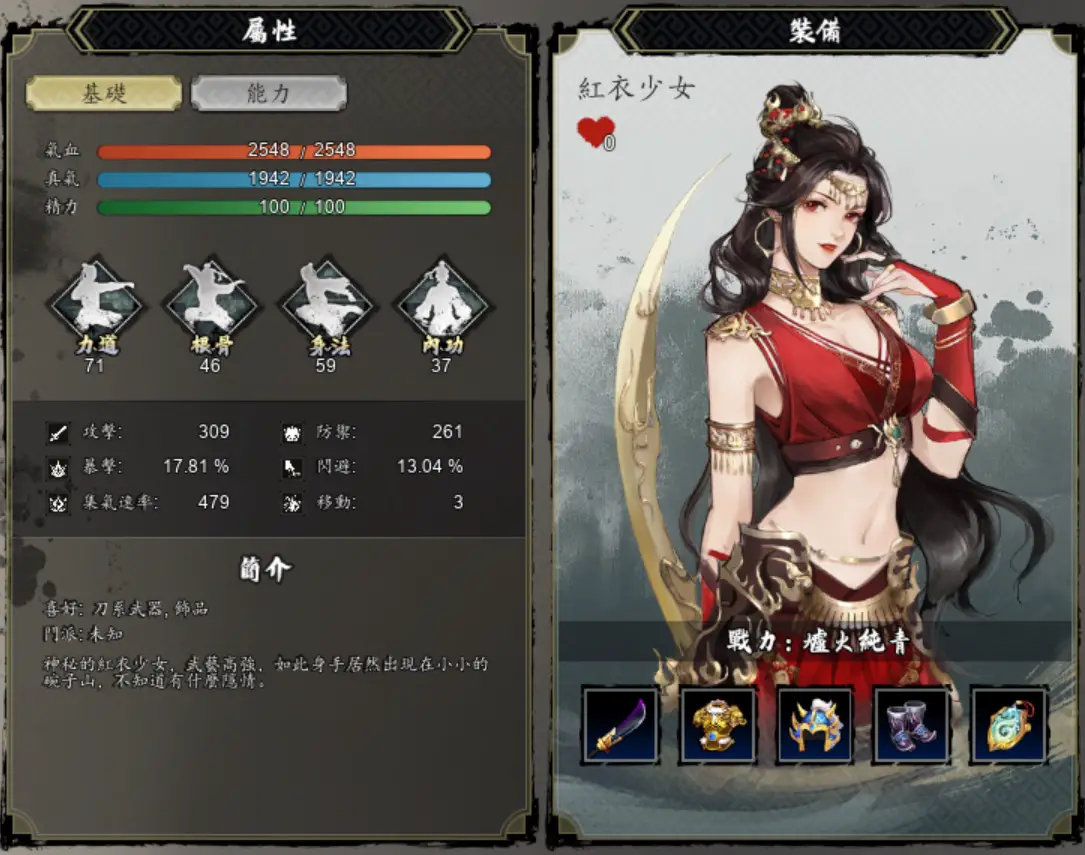 Shangguan Hong:
Possesses excellent stats and mastery in sword combat, making her one of the top companions in the game.
After recruiting the Girl in Red, return to the world map.
Proceed to PingKang city for the "Wealthy Beggar" quest.
Completing this quest and gifting Shangguan until her affinity reaches 40 will trigger her joining quest at Qingmu Sect (east of the world map).
It's crucial to have the Girl in Red in your team, as there are formidable enemies along the quest lines.
After completing two more side quests, engage in a 1-vs-1 battle with Shangguan, which is achievable in real-time combat.
For sword players, recruiting Shangguan early is a wise investment, as you can learn valuable sword techniques through quests and from her.
After securing Shangguan, return to finish Mount Wanzi, which will reward you with a powerful weapon move based on your weapon choice.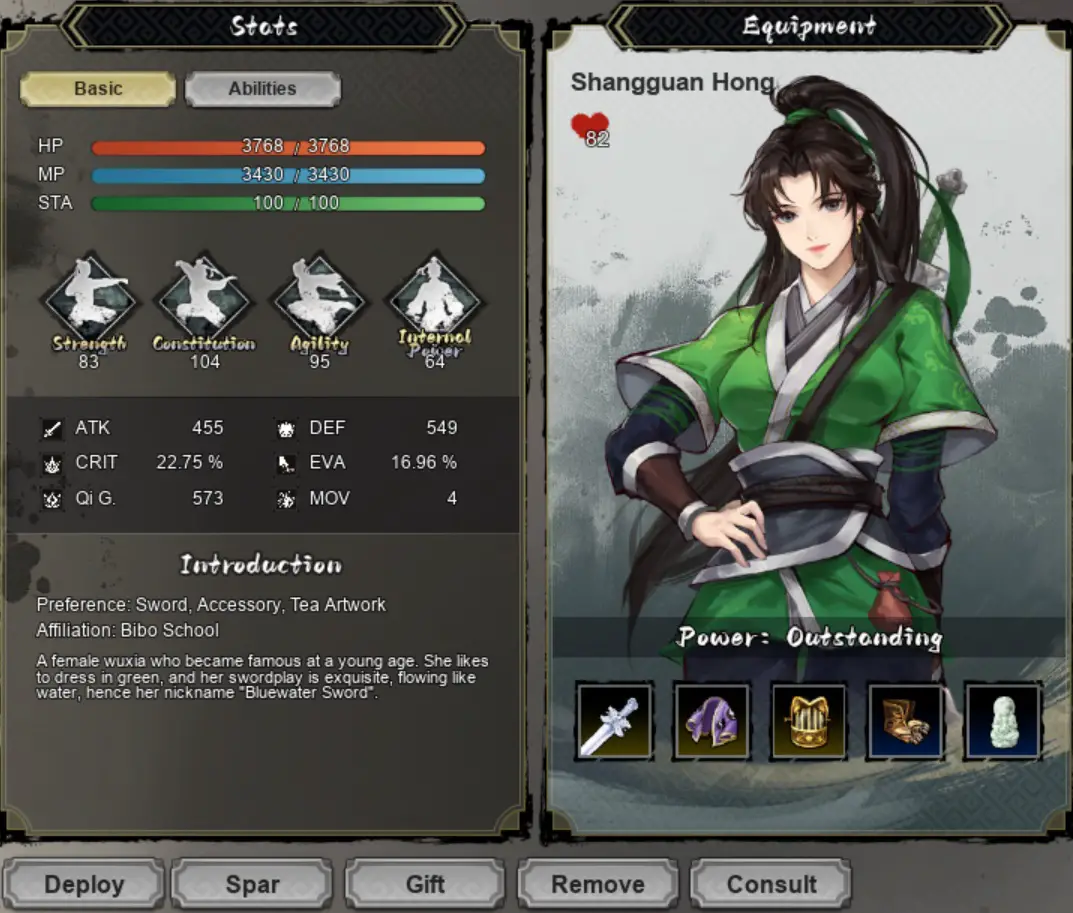 Bai Jin:
After completing Mount Wanzi, you'll encounter Bai Jin in Luo's village.
To recruit him, complete two side quests, which should be manageable with Shangguan on your team.
While not exceptionally strong, Bai Jin wields hidden weapons and is a decent addition to your squad.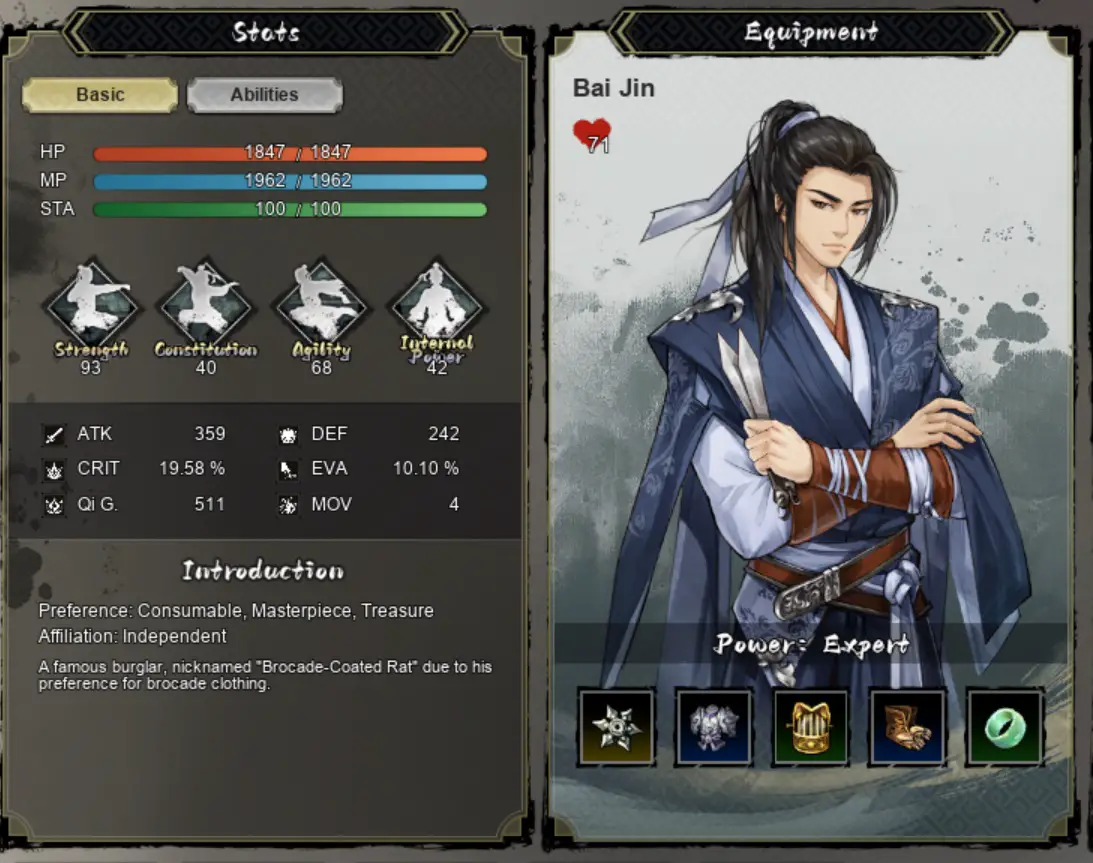 Sima Ling:
After Shangguan joins your team, raise her affinity to 70 to trigger another companion mission at Qingmu Sect.
Complete the Baidi trial for Shangguan.
Return to Qingmu Sect and speak with Sima Ling to initiate her joining mission.
Sima Ling is considered the second-best companion in the game, right after Shangguan.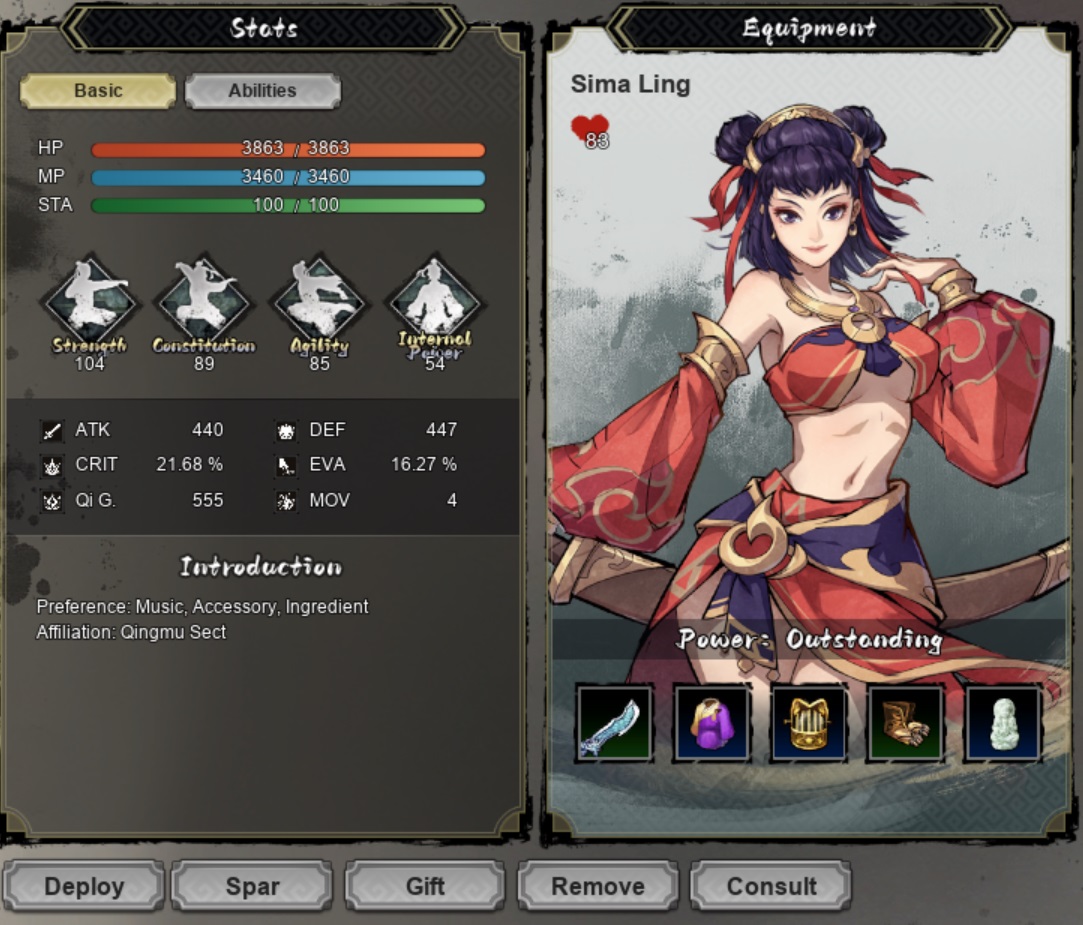 Mowen:
After completing Mount Wanzi and the Girl in Red departs, visit Wudang.
Mowen will temporarily join your team.
This marks the beginning of the main quest line.
From this point onward, more side quests and companions will become available.
Missing companions from side quests won't affect the game's ending.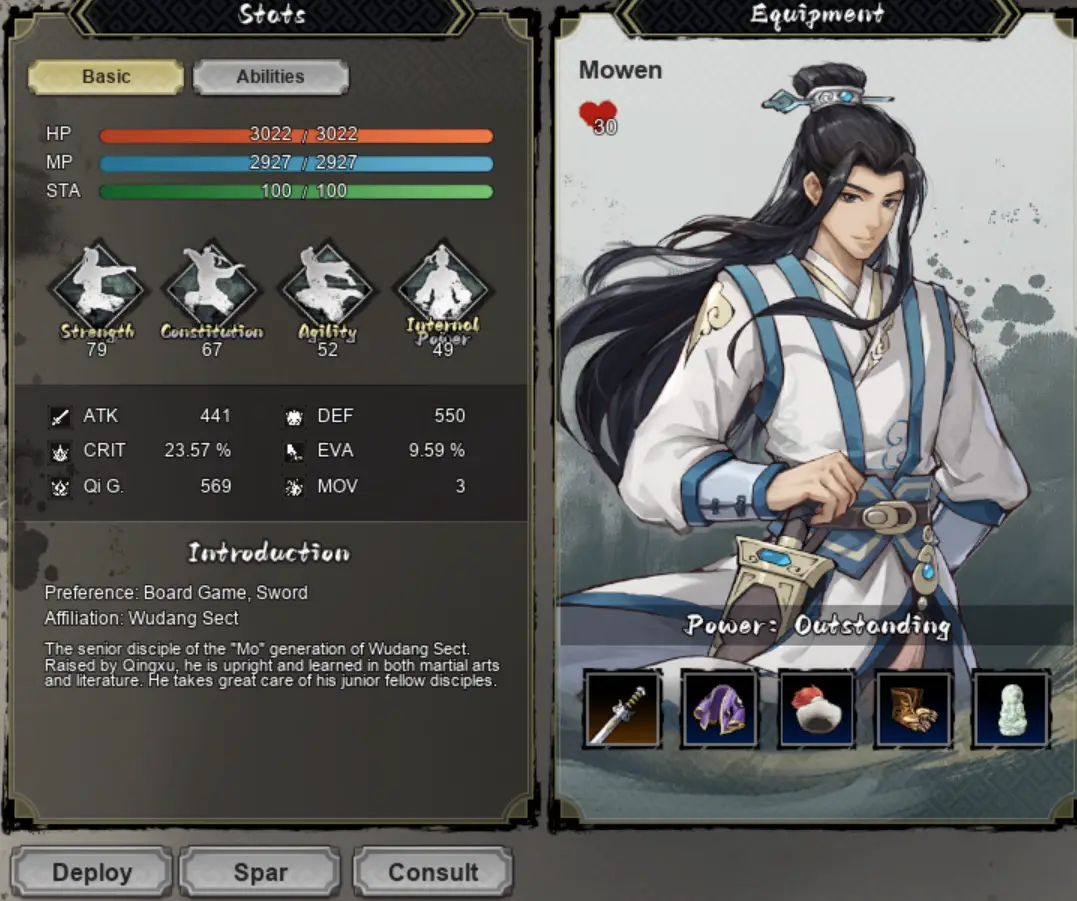 Conclusion
The game isn't flawless, and there are aspects that could use some enhancements, including the mechanics related to sparring, energy management, food and medicine, and life skills, among others.
Nevertheless, the game offers a comprehensive experience. The storylines are superb, the companions boast captivating narratives, and the vibrant, immersive world truly encompasses everything I appreciate in an outstanding RPG.
My primary grievance centers on the ending. What I truly desire is a concluding cutscene that revolves around Shangguan and Sima, and ideally, it would incorporate all the companions from the side-quests to make the ending even more memorable!
That's everything we are sharing today for this Wandering Sword guide. This guide was originally created and written by BAGHolder. In case we fail to update this guide, you can find the latest update by following this link.
If you believe that any of the content on this site violates your rights, including your intellectual property rights, please contact us immediately using our contact form.