Title: Volcanoids
Release Date: January 29, 2019
Developer: Volcanoid
Publisher: Volcanoid
This guide will be showing you how to get the Volcanoids achievement called Grounded, where players are required to destroy a large drone using your pickaxe.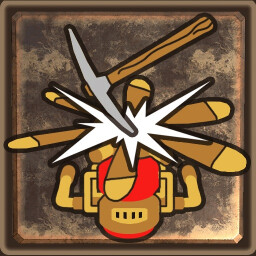 Grounded
Destroy a large drone with your pickaxe
The Easy Way
Start by shooting the drone a few times to lower its HP, making the entire process easier and quicker.
Throw a Tesla Grenade at the large drone. Once the grenade successfully hits, the drone will fall to the ground.
With the drone now grounded, use your pickaxe to strike it until it's defeated.
The Hard Way
Begin by shooting the drone a few times to reduce its HP, simplifying the process.
Lead the large drone to the top of a steep mountain or cliff.
If the drone starts to "fall" off the mountain or cliff and is not too far horizontally from you, you can jump after it and attempt to strike it with your pickaxe while in mid-air.
To lure the drone, approach it slowly. The drone will move away from you in the direction you're heading. To explain it more simply: picture the player as a pool cue and the drone as a pool ball.
That's everything we are sharing today for this Volcanoids guide. This guide was originally created and written by RB Staff. In case we fail to update this guide, you can find the latest update by following this link.
If you believe that any of the content on this site violates your rights, including your intellectual property rights, please contact us immediately using our contact form.