Title: Undisputed
Release Date: January 31, 2023
Developer: Steel City Interactive
Publisher: Steel City Interactive
This guide will be showing you how to unlock and get the Undisputed achievement called I Could Do This All Day, where players are required to win a fight after getting knocked down 5 times. If you're having a hard time getting this achievement, this guide is for you.
Rule Setup
To make things a little bit easier, we will be using the following Quick Fight rules. Please refer to the image below: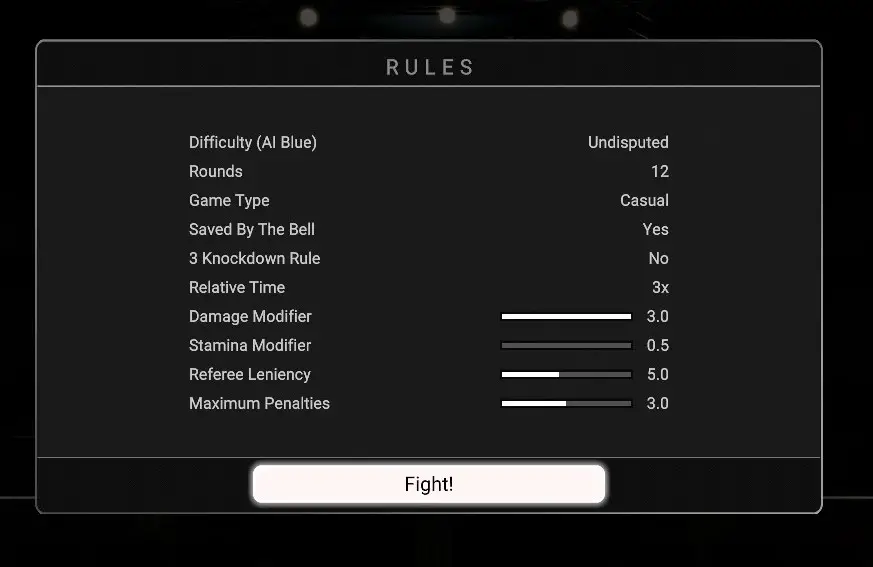 Important
Before you start, make sure that saved by the bell is enabled. This is the key rule for this achievement guide.
Also, make sure to disable the 3 knockdown rule since the achievement requires a total of 5 knockdowns.
Suggestions for Adjusting Additional Settings
When it comes to fine-tuning your gaming experience, consider these recommendations for the other settings:
AI Difficulty – In my opinion, it's enjoyable to set the AI's difficulty to a higher level such as Pro or Undisputed. This choice increases the aggression of CPU opponents, adding an extra layer of challenge to your gameplay.
Rounds – Opt for a higher round count if you want to create more opportunities for victory. This extended match duration allows for more strategic gameplay and a greater chance to secure the win.
Damage Modifier – Increasing the damage modifier can lead to quicker knockdowns during matches. This adjustment can intensify the action and make each hit count for more.
Stamina Modifier – Lowering the stamina modifier results in punches costing less stamina for your fighters. This can lead to more sustained and dynamic fights as your fighters can maintain their energy levels more effectively.
Relative Time – Setting a high value for relative time will accelerate the pace of rounds, making the gameplay more fast-paced and exciting. This can add an element of urgency to each match.
Fight Strategy
With the fighters primed, the rules set, and the venue awaiting the showdown, it's time to engage in the match!
Here's your strategy: aim to be knocked down towards the end of each round. If you time it just right, the round will conclude while you're in the process of getting back on your feet.
Assuming you have the "Saved by the bell" rule enabled, you'll automatically rise once the bell signals the end of the round, bypassing the recovery bars mini-game.
Depending on your chosen Relative time settings, you should be planning to hit the canvas with less than 10 seconds remaining at normal speed (1x) or less than 30 seconds at an accelerated pace (3x).
Should you miss the timing early in the match, don't fret. The recovery bars are generous in size and move at a manageable pace.
While waiting for the opportune moment, continue to fight as you normally would. If an opportunity arises, go for a knockdown – it could prove beneficial for the second part of your achievement, which is winning the fight.
Once you've secured 5 knockdowns, the final step is to defeat the CPU. It's advisable to avoid further knockdowns on your end during this phase. With a successful victory, the achievement should pop up during the winner announcement, marking your accomplishment.
That's everything we are sharing today for this Undisputed guide. This guide was originally created and written by MacATK. In case we fail to update this guide, you can find the latest update by following this link.
If you believe that any of the content on this site violates your rights, including your intellectual property rights, please contact us immediately using our contact form.