So you got into a fight? You were travelling on the road from one place to another when several men with sharp sticks held you up and demanded your Herbs, how can you stop them? Well, I have good news and bad news. The good news is, fighting's not that hard. The bad news is, you have to have guards.
Placement
So, to get started there are four quadrants around your cart that enemies can attack you from. When you first load up a fight, there will be red swords to indicate how many enemies will be present. A lone sword means only one enemy, while three swords mean two enemies or more.
Every fighter in your party requires Deploy Time to… well, deploy. Lighter fighters tend to cost less while better soldiers cost more. Try to balance your deployment tactics with the number of enemies in each quadrant, at least try to match their numbers.
If you mistakenly deploy a troop somewhere they don't need to be, you can click the red X next to their name to undo it!
Movement
After Deployment, you can choose to move your troops between quadrants at the cost of 1 Deploy Time each. It is also in this phase that the enemies' exact numbers and strength are revealed. There's not too much to this phase.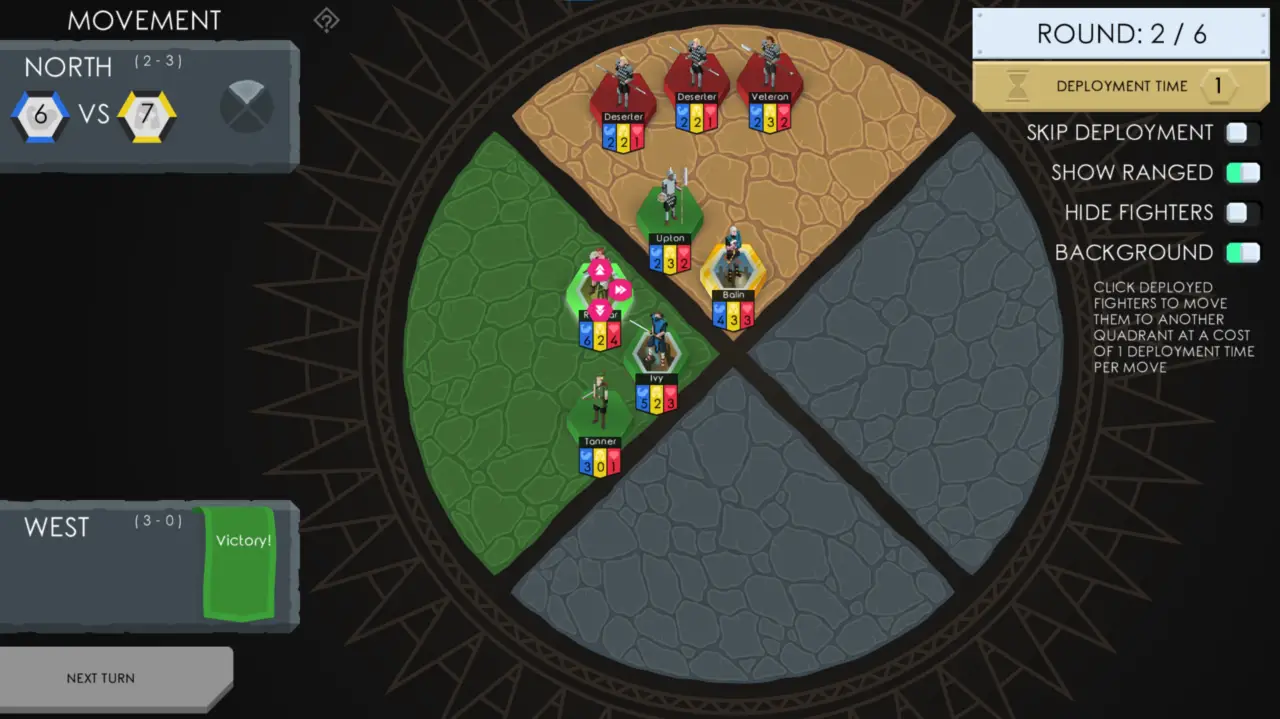 Actually Fighting
Oh boy, the actual fighting phase. This is where it gets confusing. Fighter stats are rated between Security, Defense, and Health.
Security: Attack damage. The combined values of all soldiers and enemies are rolled against each other, plus a 1d3 die to determine damage dealt. The excess value will be applied to the other side's Health as damage, randomly assigned to any combatant. They could all take damage equally, or have one just tank, or anything in between.
I.E. (Security + 1d3) – (Enemy Defense + 1d3) = Damage Dealt.
Defense: Defense value. The same thing happens as with attacking, just the other way around.
I.E. (Enemy Attack + 1d3) – (Defense + 1d3) = Damage Taken.
Health: Damage that can be taken. If reduced to 0, you lose the troop! If a Hero dies, you'll have to hire them again.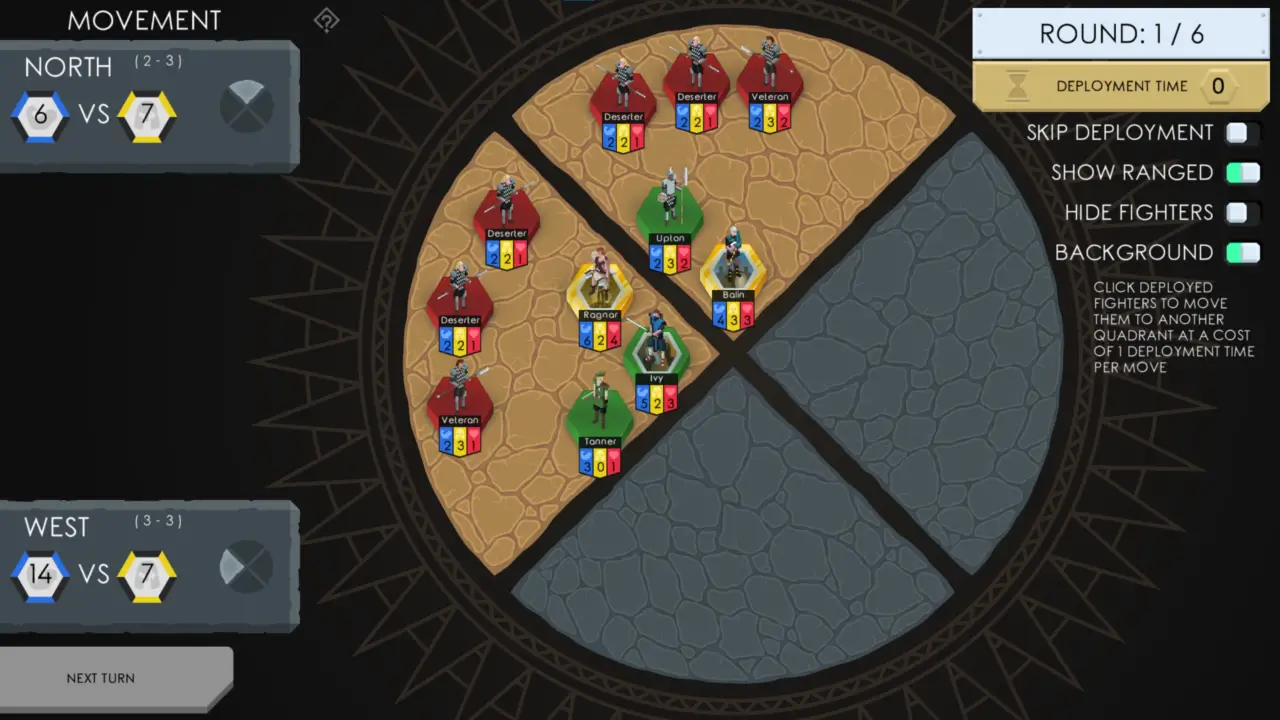 Winning, Losing, and Mitigating Damage
When no troops are present in a quadrant while there is at least 1 enemy, that quadrant is lost and the battle is also lost. Your cart itself will be attacked in this case, and the defense value associated with it will determine how much merchandise you lose. Keep in mind you don't get the benefit of a 1d3 die in this case, and the combined enemy attack overall lost quadrants is accounted for!
I.E. If (Combined Enemy Attack + 1d3) > Cart Defense, you lose a lot more goods!
When no enemies remain or you outlast them for 6 combat turns, you win! When you win, you get a certain amount of random goods, ranging from common to exotic (assuming you have it unlocked in the first place). This can certainly be lucrative, but only when you have free space in your cart before the fight itself!
General Tips
Try to keep at least 4 mercenaries on hand so you can be ready for most encounters. Generally, enemies appear with a lone enemy in one quadrant, with the rest appearing in another. Bring a fighter that fights well on their own so they can join the main fight later!
A viable strategy is to have many guards with very high defense values, so you stall out the enemies and win by default.
Heroes also have bonus abilities that can directly impact combat!
Everything that adds to a mercenary's performance (stats) increases their rate of pay, including special abilities.
Certain enemy types are weak to different strategies. It doesn't hurt to diversify the lineup!
Auto-Resolving Combat is generally a sure bet if the game gives you a rating of Very Easy. Anything above that has a chance of failing.
Heroes leveling up will increase their stats, and may also increase their Deploy Time cost!
While you can go without guards and hope the bandits don't see you, it's really not recommended.
If you believe that any of the content on this site violates your rights, including your intellectual property rights, please contact us immediately using our contact form.