Title: Starfield
Release Date: September 6, 2023
Developer: Bethesda Game Studios
Publisher: Bethesda Softworks
This guide will walk you through the process of replacing the in-game FSR2 with DLSS/XeSS in Starfield.
Installation
To enable this mod and configure DLSS or XeSS in Starfield, follow these steps:
Extract the mod to the game's root folder, typically located at C:\Program Files (x86)\Steam\steamapps\common\Starfield.
While in the game, press the END key to open the upscaler menu, where you can select DLSS or XeSS.
In the game's settings, ensure that FSR2 is turned on because this mod replaces FSR2 with DLSS/XeSS.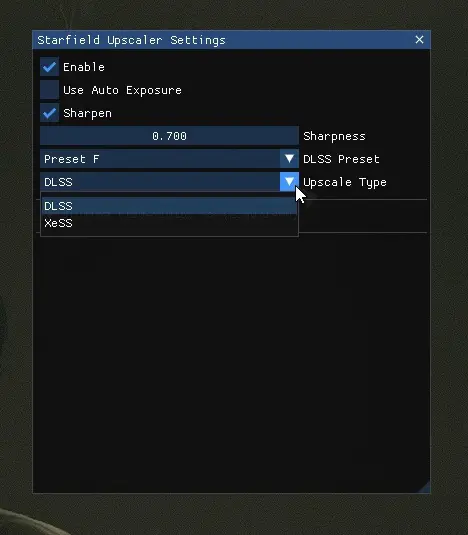 Adjust your render resolution in-game according to the following percentages for the corresponding DLSS Presets:

77% for ULTRA QUALITY
66% for QUALITY
59% for BALANCED
50% for PERFORMANCE
33% for ULTRA PERFORMANCE
For the ULTRA PERFORMANCE setting, you can also set the render resolution scale factor in the StarfieldPrefs.ini file located at C:\Users\Documents\My Games\Starfield\StarfieldPrefs.ini. Set "fRenderResolutionScaleFactor" to 0.3300 in that file.
These steps will help you configure DLSS or XeSS with the specified render resolution percentages in Starfield.

v1.0.2
Fixed upscaler disables randomly
Notes
The increase in performance you experience with DLSS largely depends on whether your system is GPU-limited or CPU-limited. If you don't notice significant performance gains, it's quite common, and it may indicate that your system is primarily CPU-limited.
In situations where you are CPU-limited and can't achieve higher FPS, it's important to note that you are still benefiting from the superior anti-aliasing (AA) provided by the DLSS pipeline. Alternatively, you can opt to use DLAA (Deep Learning Anti-Aliasing), although it may come with some performance costs.
That's everything we are sharing today for this Starfield guide. This guide was originally created and written by GosuDRM. In case we fail to update this guide, you can find the latest update by following this link.
If you believe that any of the content on this site violates your rights, including your intellectual property rights, please contact us immediately using our contact form.