Title: Space Haven
Release Date: May 22, 2020
Developer: Bugbyte Ltd.
Publisher: Bugbyte Ltd.
This is going to be a short guide about the research mechanic. You could just open the wiki but it's much easier to just open the Steam overlay while playing.
The Research Lab
Research is done by building a research lab, and having a crew member with a Research skill of 1 or higher prioritize research in the crew management menu. You can also just start researching a module and an available crew member will sit down and research for a little bit.
Keep in mind that it is possible to build more than one research labs, and have multiple crew members researching. This will speed up the process.
The Research Workbench
Some research modules require experiments, these can be done by crew members at the Research Workbench. A few resources is allocated for these experiments, depending on the technology that is being researched.
But be careful because accidents may happen when research experiments are carried out, with possibilities of fire or injuries as a result.
A good rule of thumb would be to have 2 research labs and give 2 crew members some priority on research in the crew management menu.
The Research Tree
The research tree is divided into different categories, with a certain amount of research modules in each category.
You are free to research technology from any category, but some dependencies exist from left to right.
You can also queue your research modules. The queue will automatically try to optimize how work is done at both the Research Workbench and the Lab. If the Research Workbench has already completed its task on a research module high in the queue, it will move on to allocate crew members to a research module lower in the queue.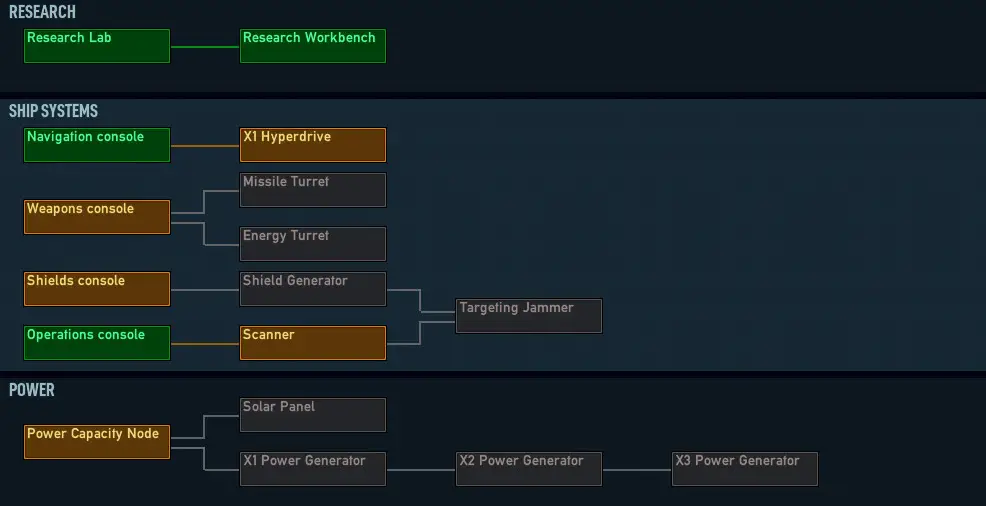 Stages
Any research module may consist of one or more stages. They all need to be completed in order to unlock the research module.
Every stage has a certain amount of research points and/or experiments needed.
Crew members will first work on stage 1 and move on to the next stage once the first one is completed.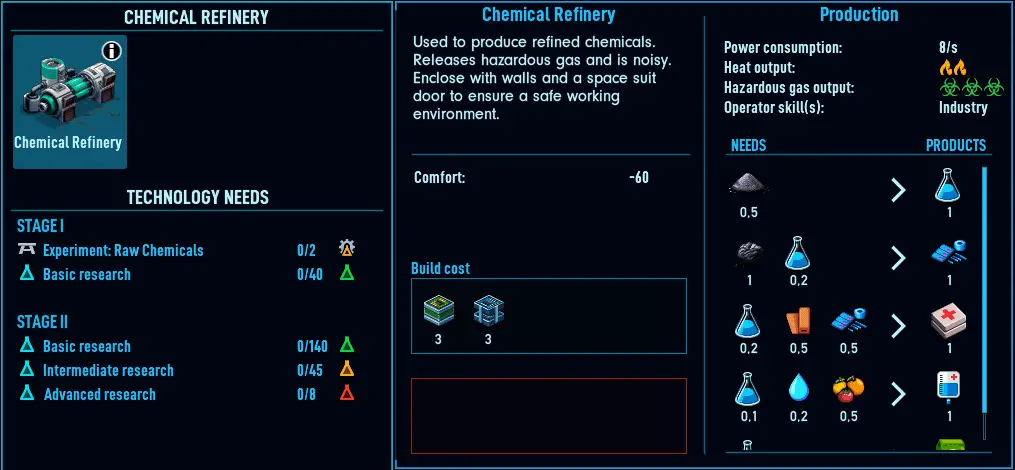 Research points
Each module can be unlocked by completing 3 different tiers of research points.
Those 3 different research points are:
[1] – Green Laboratory Flask – Tier 1 Research points. Can be completed even by crew members with low research skill
[2] – Yellow Laboratory Flask – Tier 2 Research points. Requires a moderate research skill to have a good success rate
[3] – Red Laboratory Flask – Tier 3 Research points. Requires a high research skill to have a good success rate
Even if a character has a very high research skill it does not necessarily mean they will succeed every iteration. It means their chances of succeeding are significantly higher than those with a low research skill level. So don't get stressed if it doesn't work first try 🙂
Experiments
In some research modules experiments at the research workbench are also required. Once a research module with experiments needed has been marked for research, crew members will carry the needed resources to the research workbench and a researcher will carry out experiments.
As I mentioned earlier accidents may happen so be prepared!
Research Iterations
A research iteration is when a crew member sits down at the research labs and does one cycle of researching. The research iteration will focus on unlocking a higher tier research point first, and continue on to a lower one if the higher failed. Ultimately, if the iteration did not succeed at unlocking any of the research tier points the iteration itself has failed. After this the crew member will continue on to try again in another iteration.
That's everything we are sharing today for this Space Haven guide. This guide was originally created and written by Patrick Bateman. In case we fail to update this guide, you can find the latest update by following this link.
If you believe that any of the content on this site violates your rights, including your intellectual property rights, please contact us immediately using our contact form.