Title: Shadows of Doubt
Release Date: April 24, 2023
Developer: ColePowered Games
Publisher: Fireshine Games
A comprehensive guide covering all facets of Non-Player Characters (NPCs) found within the "Examine" section, along with instructions on how to locate "Unknown Citizens" using the provided information.
Getting Started
Each NPC possesses a dossier, informally referred to as a file, which can be affixed to your investigation board. In instances where a supplementary task requires you to pursue an NPC, they will be denoted as an "Unknown Citizen." This designation entails a set of random particulars that are provided. In the following discourse, I will juxtapose a randomly generated NPC from the current game progress against an entirely unfamiliar target associated with a supplementary task: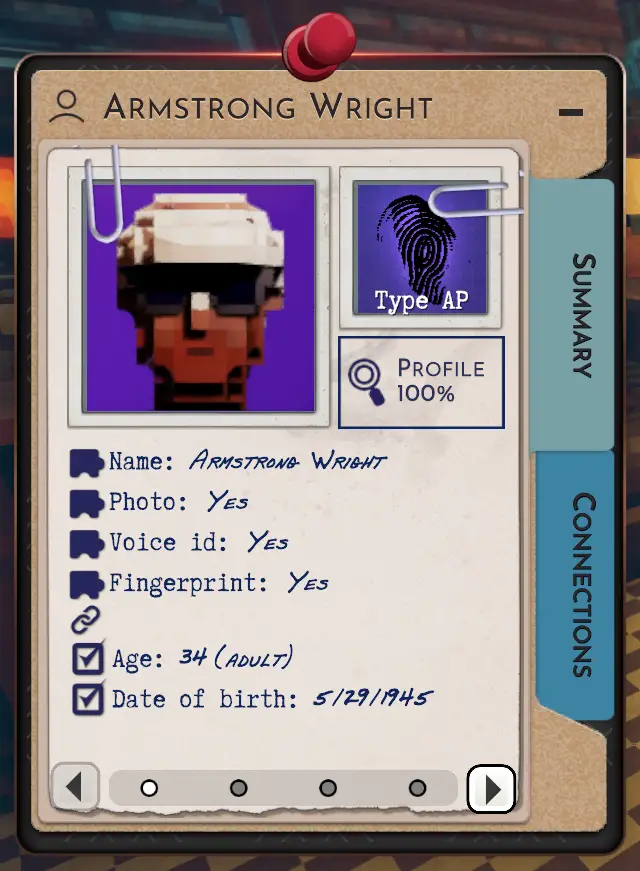 Identification and visual recognition are the predominant factors to consider. Primarily, having the name of the individual is crucial, although in certain cases, acquiring their facial appearance could be possible through surveillance footage, as we will explore in the subsequent sections.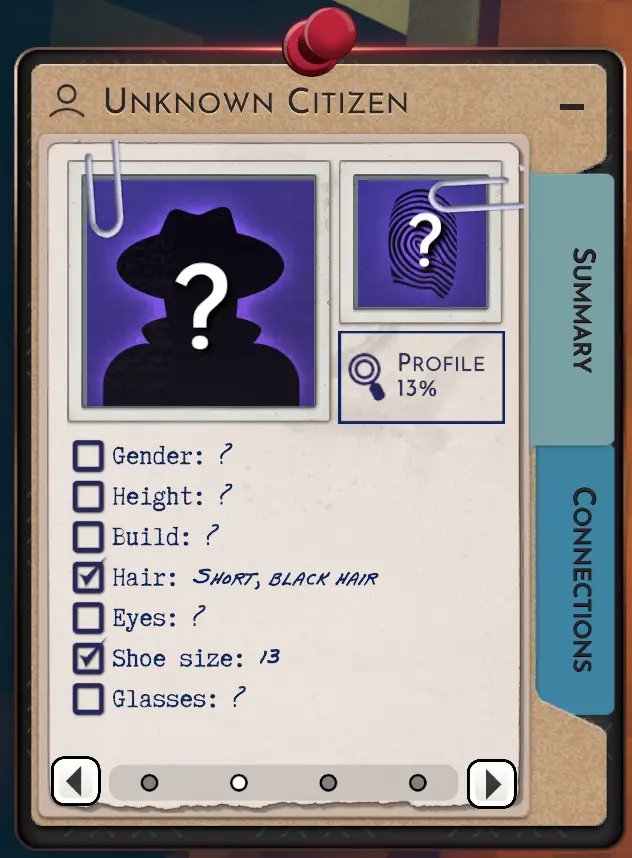 Virtually minimal information is available. The given task outlines that the subject is 49 years old, possesses short black hair, and has a shoe size of 13. These arbitrary attributes are typical examples of the data often provided in supplementary tasks.
A person's profile could encompass a total of 23 distinct particulars. In the ensuing discussion, we will elaborate on methods to trace each detail individually, assuming it is the sole piece of information available. These approaches will be categorized as either actionable or non-actionable.
Name
Congratulations, you've acquired a name! Fortunate indeed, as this single piece of information can significantly advance your investigation.
This leads us to our primary resource for confirming all aspects related to suspects, excluding the murder weapon itself: City Hall.
On the map, City Hall consistently maintains a distinct shape that can be freely rotated: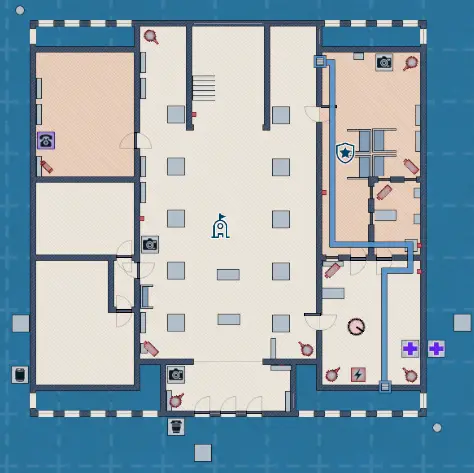 The front of it always looks like this: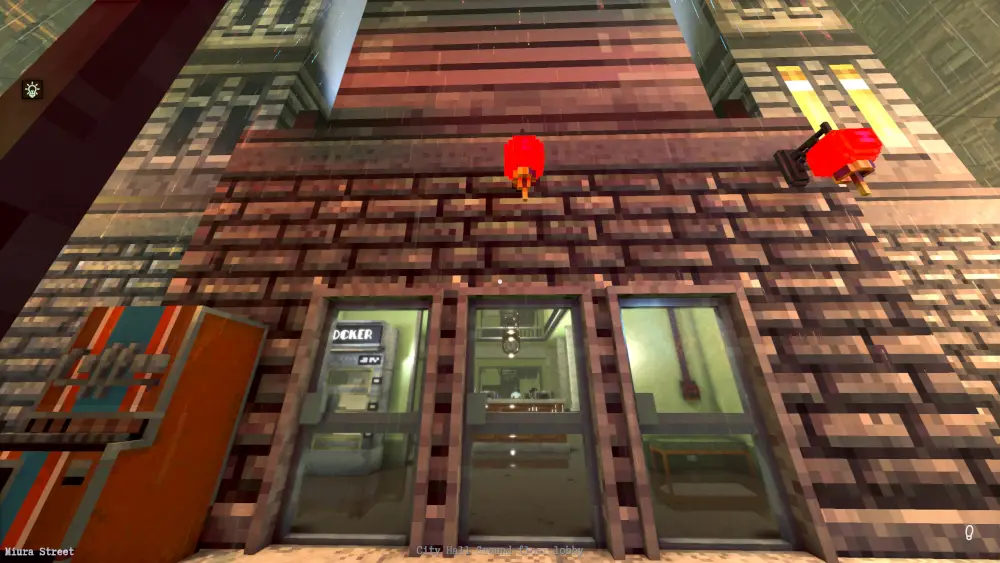 Where inside, you go to the first door on the right: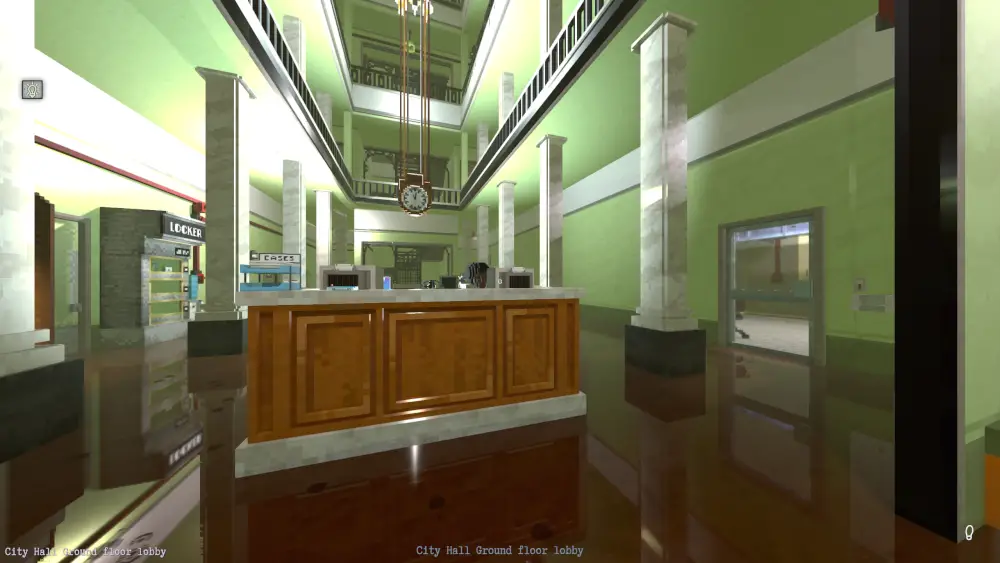 …And you enter a room with a computer.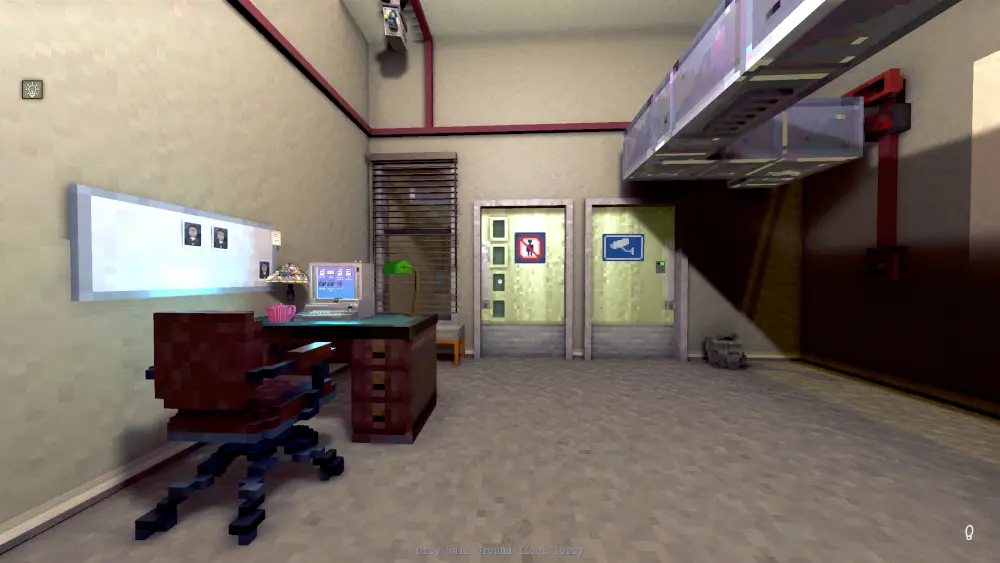 Typically, this computer will remain powered on. If it happens to be operational, access the "Profile" section and extract the password. This action ensures that the password is stored and will be automatically reinstated should the computer shut down. Conversely, if the computer is turned off, you can find the password written on a sticky note affixed to the employee bulletin board. Occasionally, the note might be situated on other walls, but in this context, it will be positioned adjacent to the computer. While it might be labeled as a door code, it also serves as the terminal password.
Once you've acquired the password, this terminal offers the most convenient means of accessing the Government Database.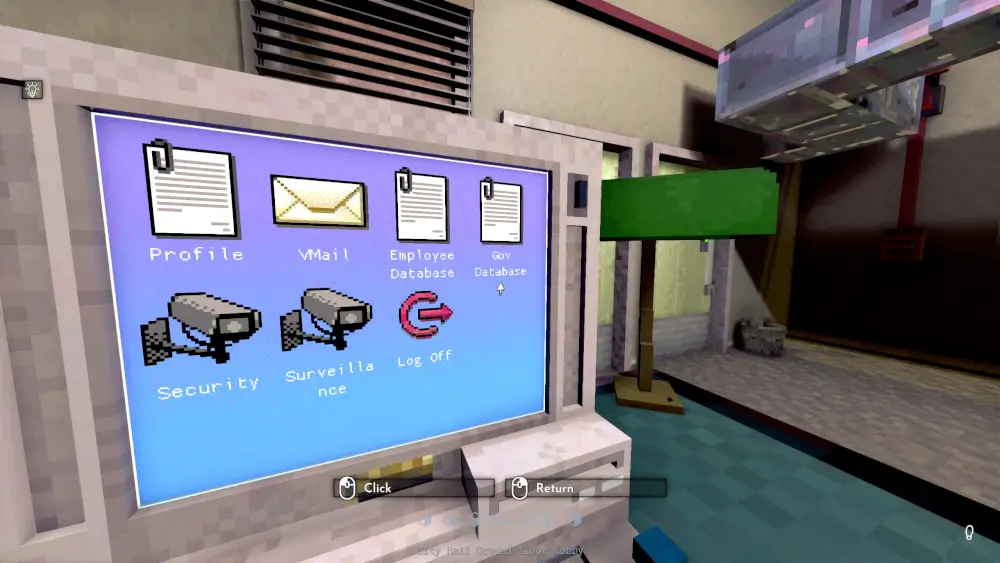 To initiate a search, you must input a minimum of two consecutive letters from the name of the individual you are seeking. In cases where the person's name includes special characters, such as accent marks or dashes, do not include those in your input. The game's recognition system does not accommodate English letter equivalents for these special characters. For instance, if a name starts with "Ç," typing "C" will not be effective for searching it. Therefore, select any two letters from the name that correspond to English lettering and use those for the search. Now, let's revisit the details pertaining to Armstrong: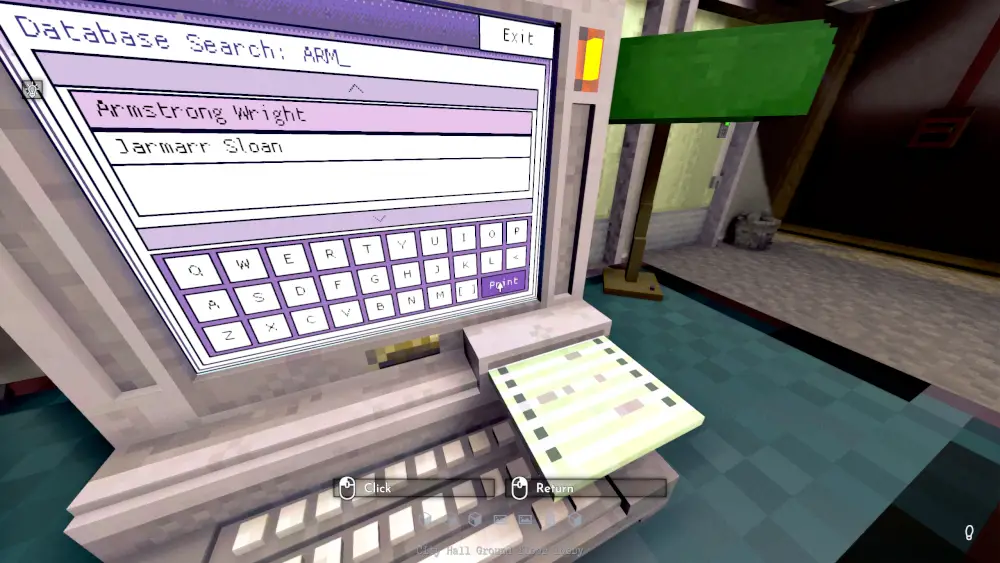 When we utilize the printed document, we obtain what is referred to as a "Printed File." This document contains the individual's name and their fingerprint, both of which are presented on the initial page.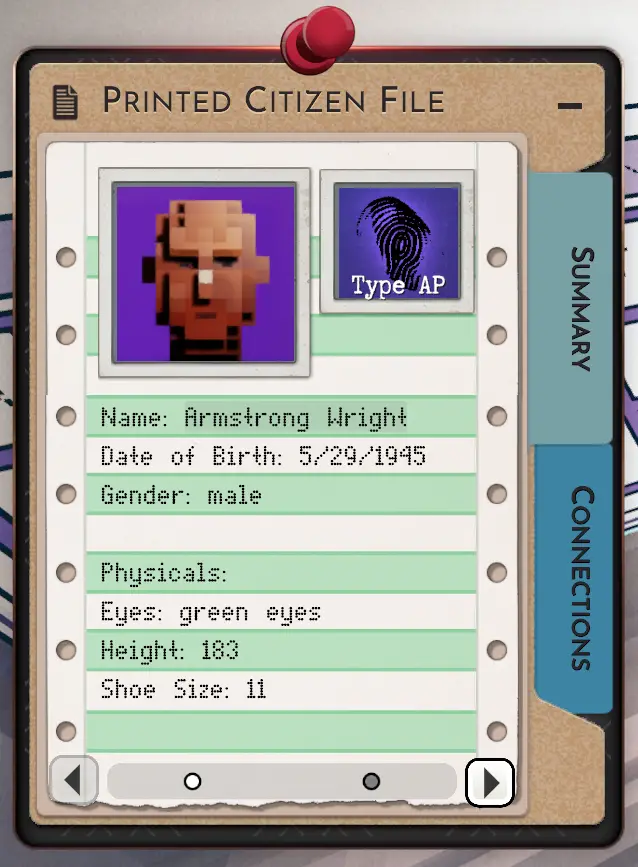 And their home address on the second page: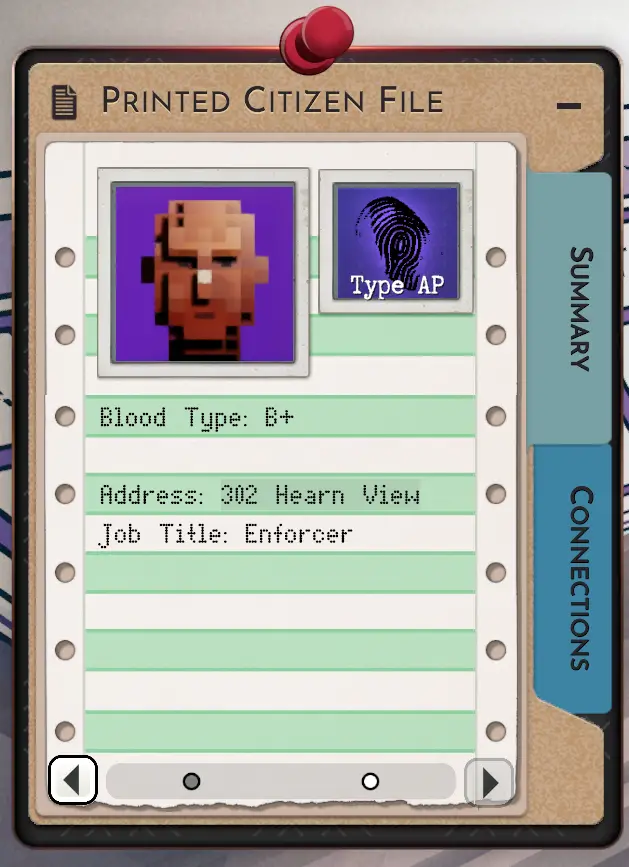 If you're hunting down a killer, you might have a sales receipt from someplace that sold the murder weapon listing their last name:
Alternatively, during the examination of the residence of the deceased victim, you might come across their "Address Book." This compilation contains a roster of individuals they are acquainted with socially. However, this list tends to be extensive and should be treated as a final option. To streamline the process of checking names, you can minimize the number of individuals to investigate by linking a handwriting sample to the victim. In such a scenario, you would exclusively focus on the names written in the identified handwriting, disregarding any additional contacts associated with the victim's roommate: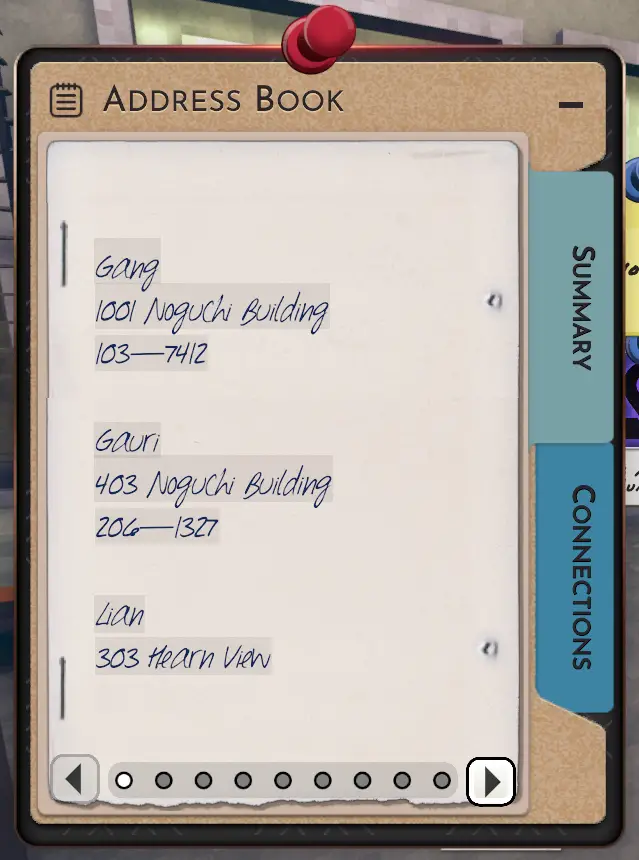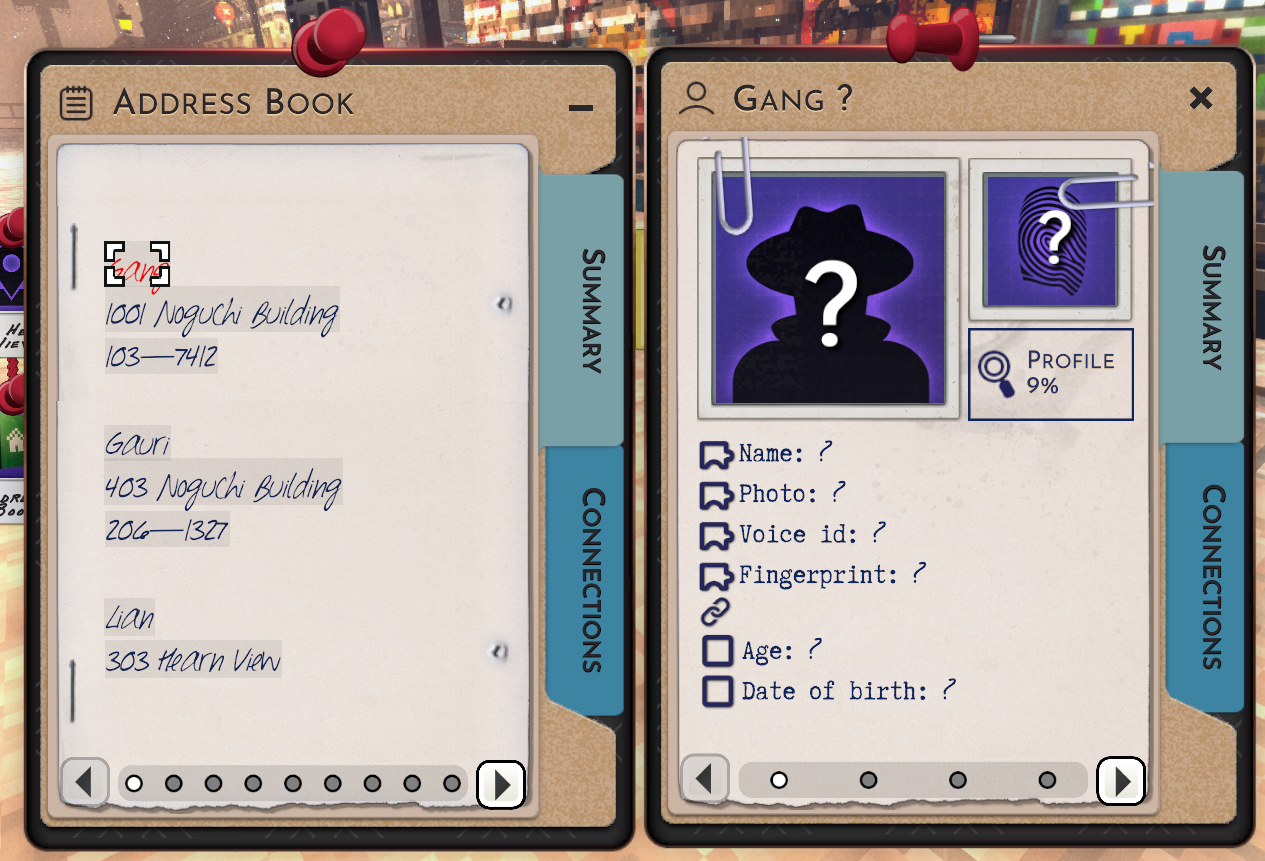 There are other good ways to catch killers, but there are other guides for that. Onto the next detail!
Photo Part 1: Using Photos
Now, imagine you've encountered the rare side job that provides you with a photo ID as part of the details. Alternatively, you might come across an individual who appears suspicious for various reasons, either leaving the crime scene or lingering in the vicinity. Let's delve into the process of tracking down this unidentified NPC from the streets. For the purpose of research, of course. The following section will outline where you can acquire photo IDs if you haven't already obtained one: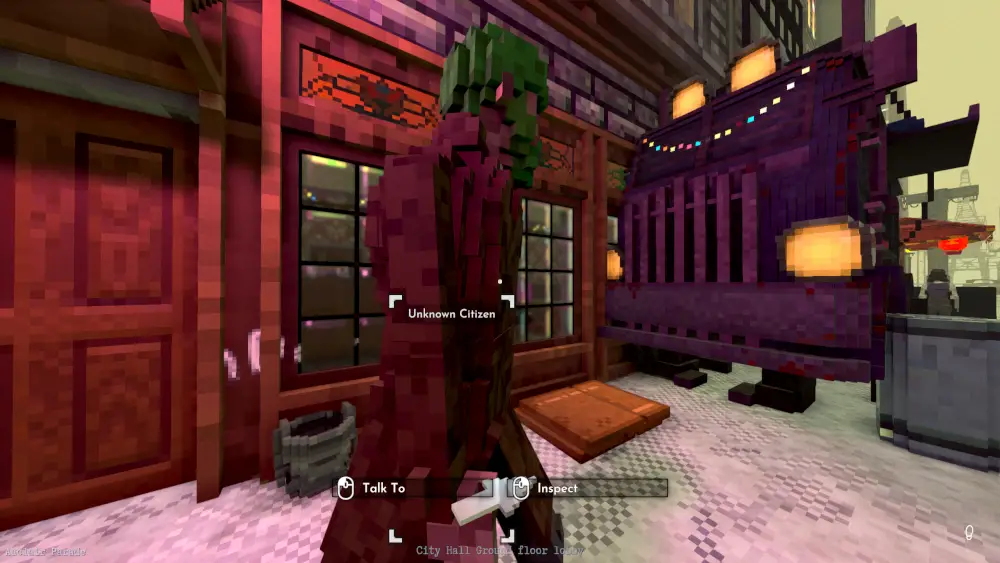 By right-clicking on this interface and selecting "Inspect"…
You will access their comprehensive profile, which contains various pages. However, on these pages, you will primarily find their photographic data and additional descriptions.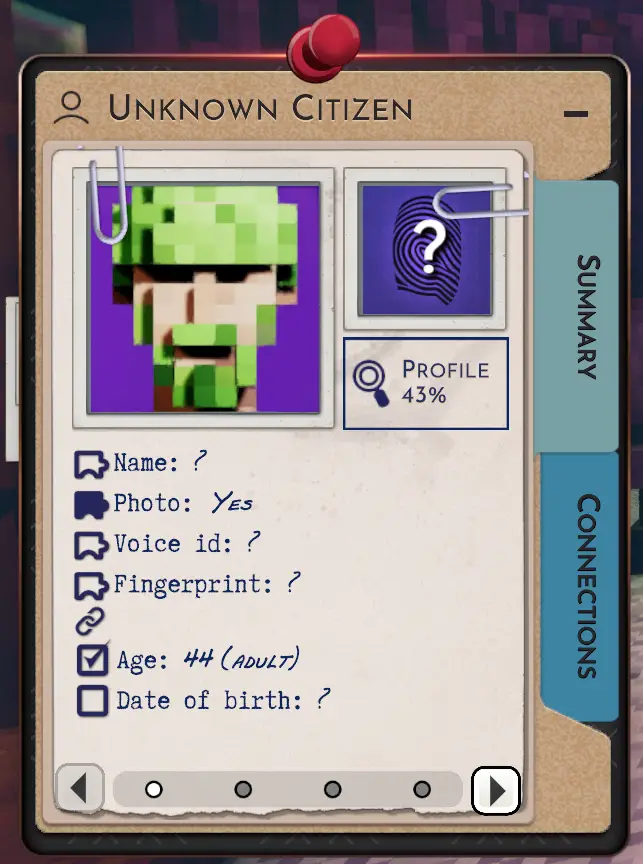 Regrettably, it's not feasible to conduct a photo search through the computer. Nevertheless, you do have the option to inquire with individuals if they recognize someone from a photograph you possess. For instance, you might approach someone and speculate, "I believe this individual might be acquainted with this other person!"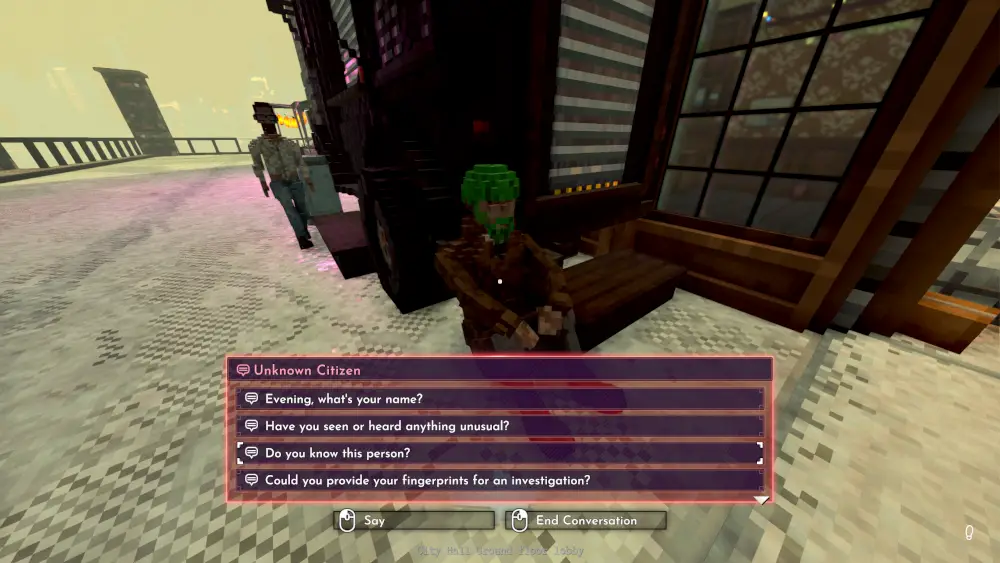 Sure thing! You can definitely approach someone and ask them directly if they're aware of their own identity. This can lead to a funny and successful interaction, as long as the person is open to playing along. If they're not willing, you could try incentivizing them with a bribe. Alternatively, using the Charm sync disk might enhance your chances of obtaining information without any hassle.
If someone isn't cooperating, especially in cases involving murderers who have strong reasons to resist questioning, the situation can become challenging. Similarly, situations where you've gathered a face for investigative purposes, either from a security camera near a crime scene or elsewhere, can lead to complications if the individual is no longer available for direct interaction.
In scenarios like these, you might consider approaching a random individual from the general public and inquiring if they recognize the face you have. This approach can be helpful in gathering information or leads.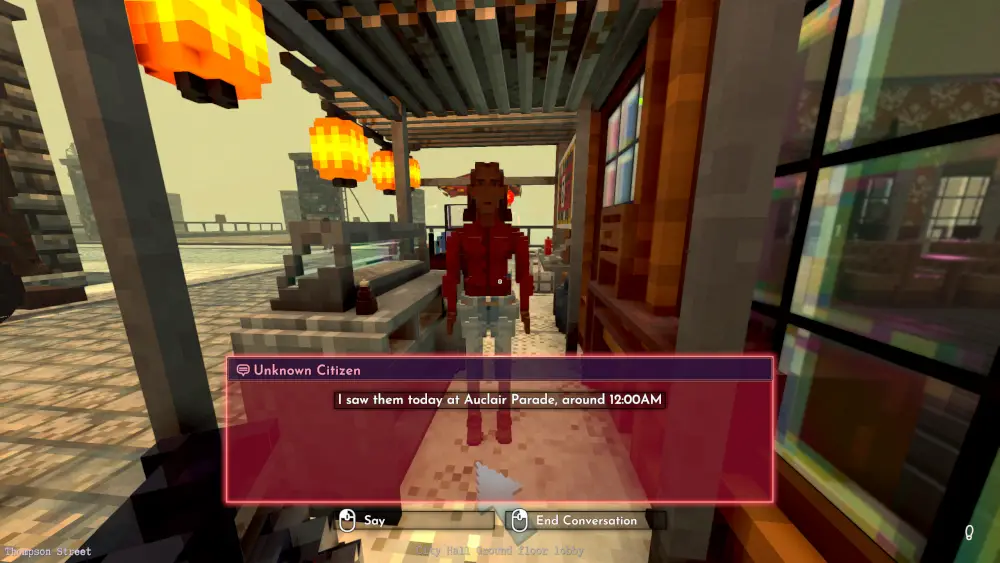 Ol' Tom Greenhair seems to be without a home, I'm quite certain. However, generally speaking, individuals tend to share information about someone's whereabouts. They might mention where they've crossed paths, specific buildings they frequent, and one of these places could be their workplace, while the other could be their residence. It's common to see them around these two buildings quite often.
If you pay a visit to these buildings, you can inquire with the people there if they have encountered Ol' Tom Greenhair. Often, knowing where they live can help you narrow down the search to a particular floor, and their neighbors could recognize them by name. This applies to their workplace too, especially if they are employed in a multi-story office building. However, I've had better success in finding information from their neighbors at home.
Once you manage to obtain a name, you can refer back to the initial section for guidance on how to locate their home address and gather additional details using their name. This is usually sufficient for apprehending a suspect in a murder case. Now, let's move on to the other particulars!
Photo Part 2 and Address: Management Offices.
So, you've managed to acquire an address! That's quite an uncommon occurrence. Typically, you might receive a more ambiguous hint in the "Extra Notes" section, such as "They reside in This Building" or "They inhabit This Floor in This Building." The former is rather unhelpful as it doesn't offer actionable information. It's not practical to break down every door in an entire apartment block just to rely on brute force tactics.
However, there's a chance for luck to be on your side. Most buildings feature a Management office, which can be located through the phonebook, although your chances are better if you physically explore the buildings. These offices are generally situated above ground level, often beyond the third floor. Let's investigate Armstrong's building to determine whether such an office exists.
Armstrong resides in a building that comprises several apartments but is predominantly occupied by offices. The Management room can always be identified by a camera sign on the door. In this type of building, the sign has the following appearance: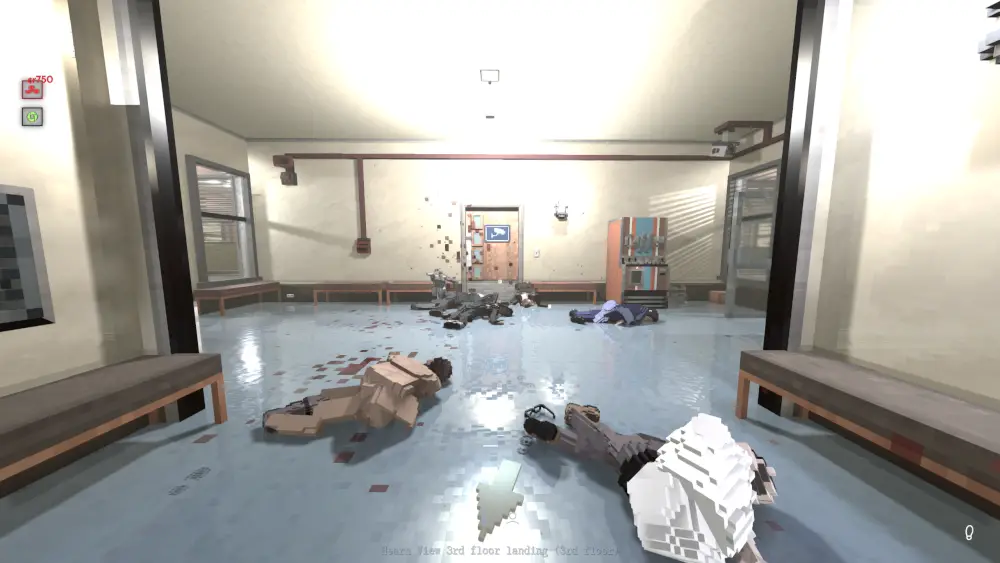 Please disregard any disturbing incidents involving bodies. Those certainly did not occur due to any mishaps on the AI's part, resulting in a guard being perpetually trapped in a loop of entering and exiting the management room. Nor did it require me to fend off a series of challenging encounters on this floor to finally gain access for the purpose of creating this guide.
With that aside, let's proceed into the management room!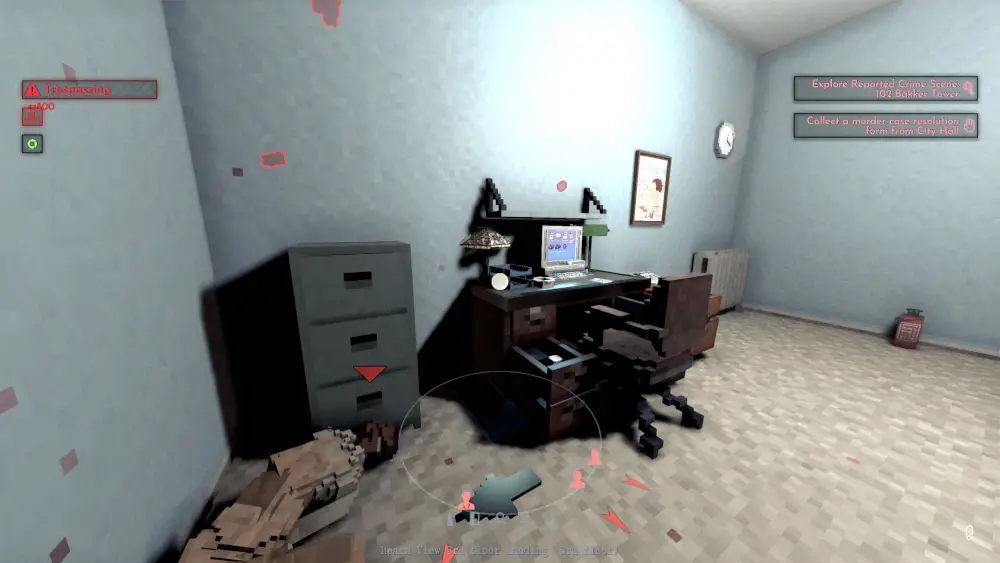 Within the Management room, you'll find a computer terminal dedicated to controlling the building's security cameras. This terminal can be quite valuable, especially if you're lacking substantial leads and need to extract a face from the information provided in the previous chapter. If the terminal is already accessible, which is often the case, that's fantastic! Proceed to access it, select the "Profile" option, and retrieve the password. This password can be stored for future use if necessary.
However, if the terminal is not already unlocked, don't worry. While you're in the room, take the opportunity to collect the employee records for the security guards. Afterward, you can engage in a bit of investigation to uncover their passwords by snooping around their residences. Once you've acquired these passwords, you can return and use them on the terminal. Alternatively, you could opt to utilize a code-breaker for this purpose.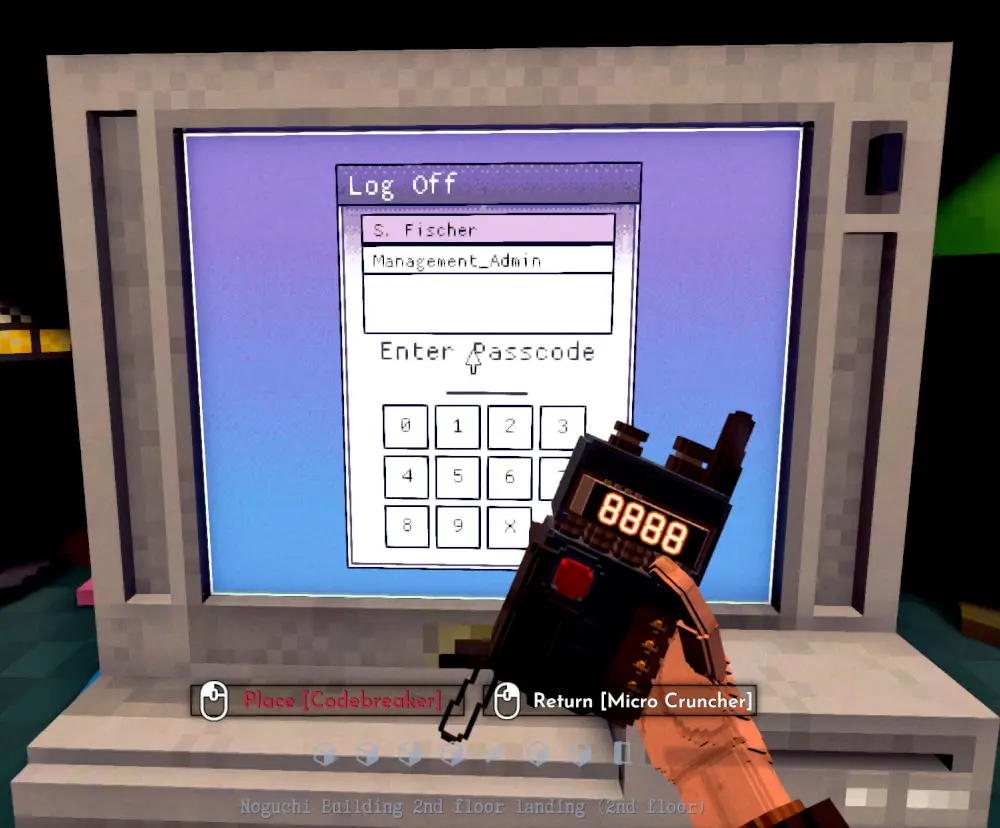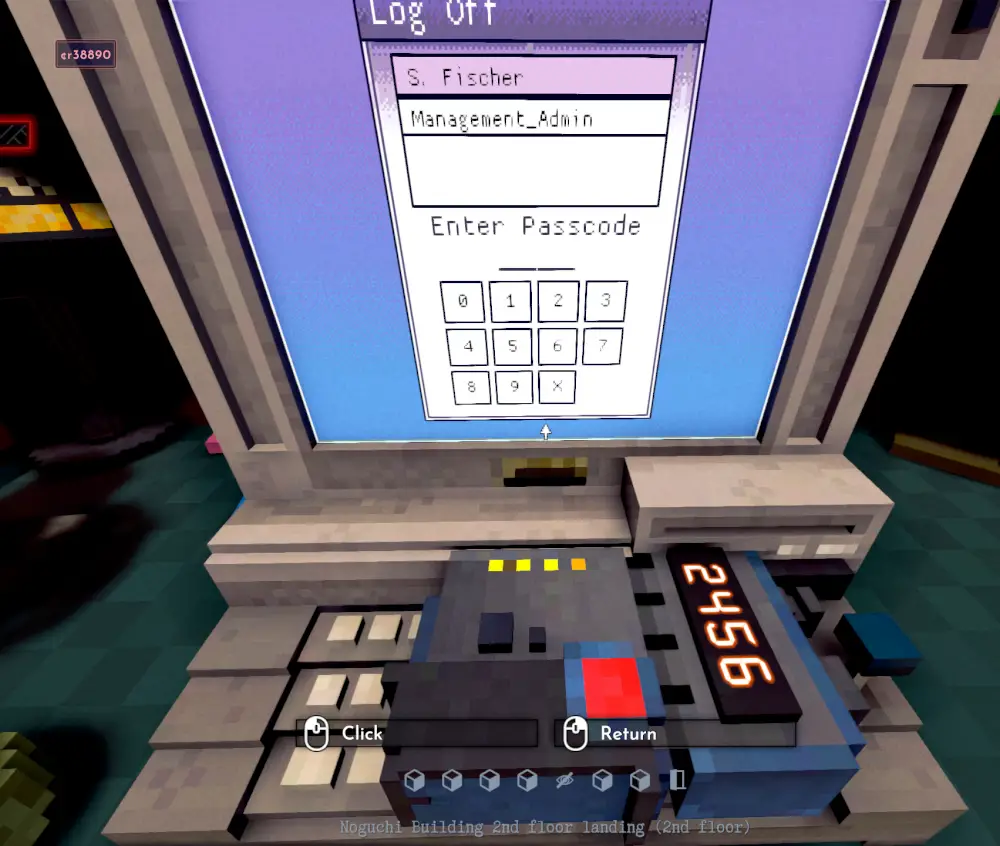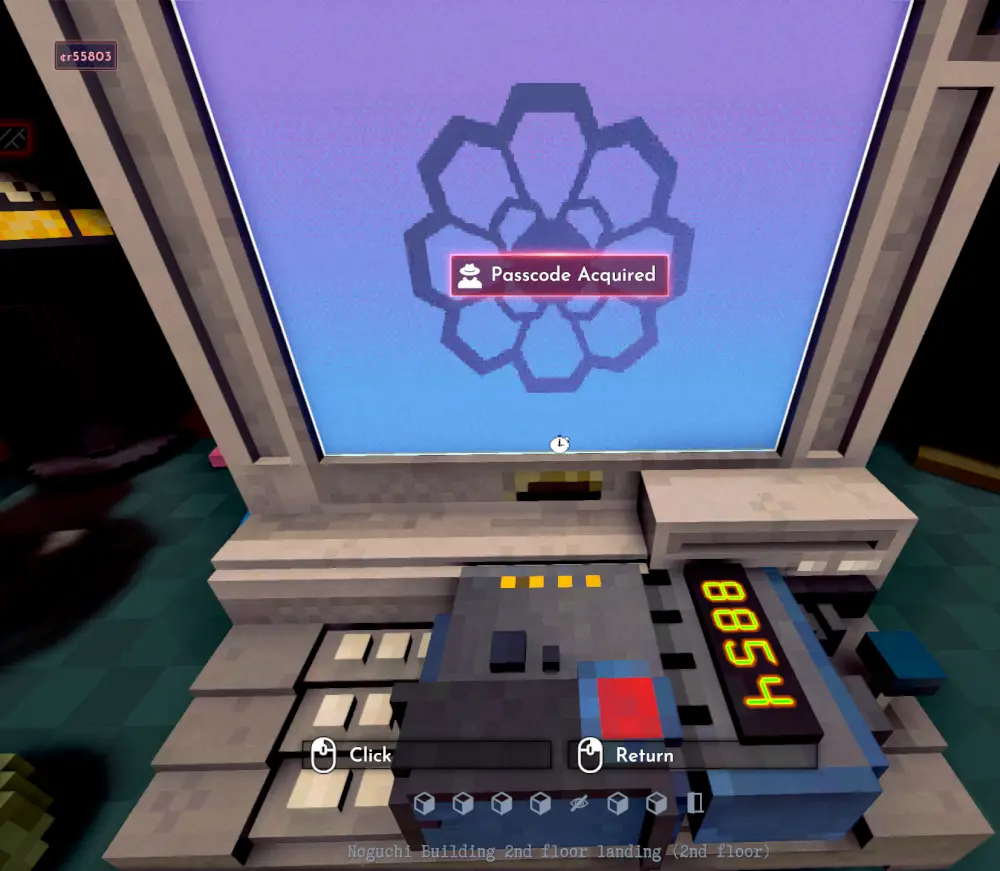 Assuming you've managed to get the computer ready for you one way or another, click Surveillance.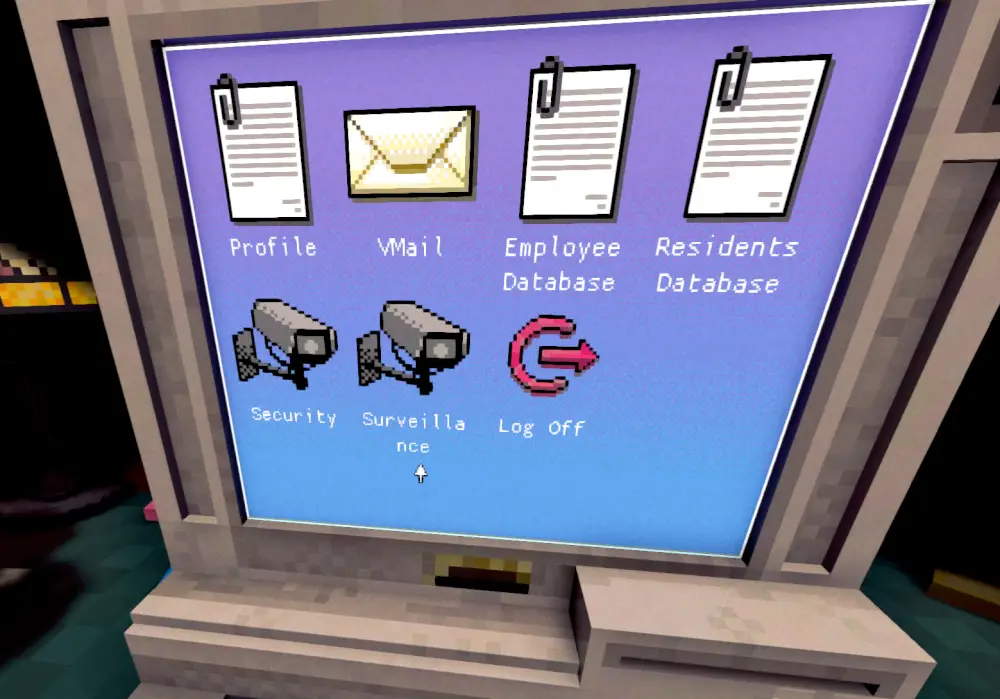 In this section, you have the capability to examine faces captured around the time and location of the murder, which can be particularly useful when you have limited leads to work with. It's important to note that these snapshots are taken only every few minutes, resulting in potential gaps. To navigate through these snapshots, you can use the arrow keys, or you can drag the white bar located at the bottom to roughly match the estimated time of the murder. Once you spot a face of interest, hover your cursor over it and press the F key (by default) to bring up the corresponding profile.
Once you've successfully identified an individual, you can refer back to the previous section for guidance on how to proceed with the process of tracing photo IDs once they've been obtained.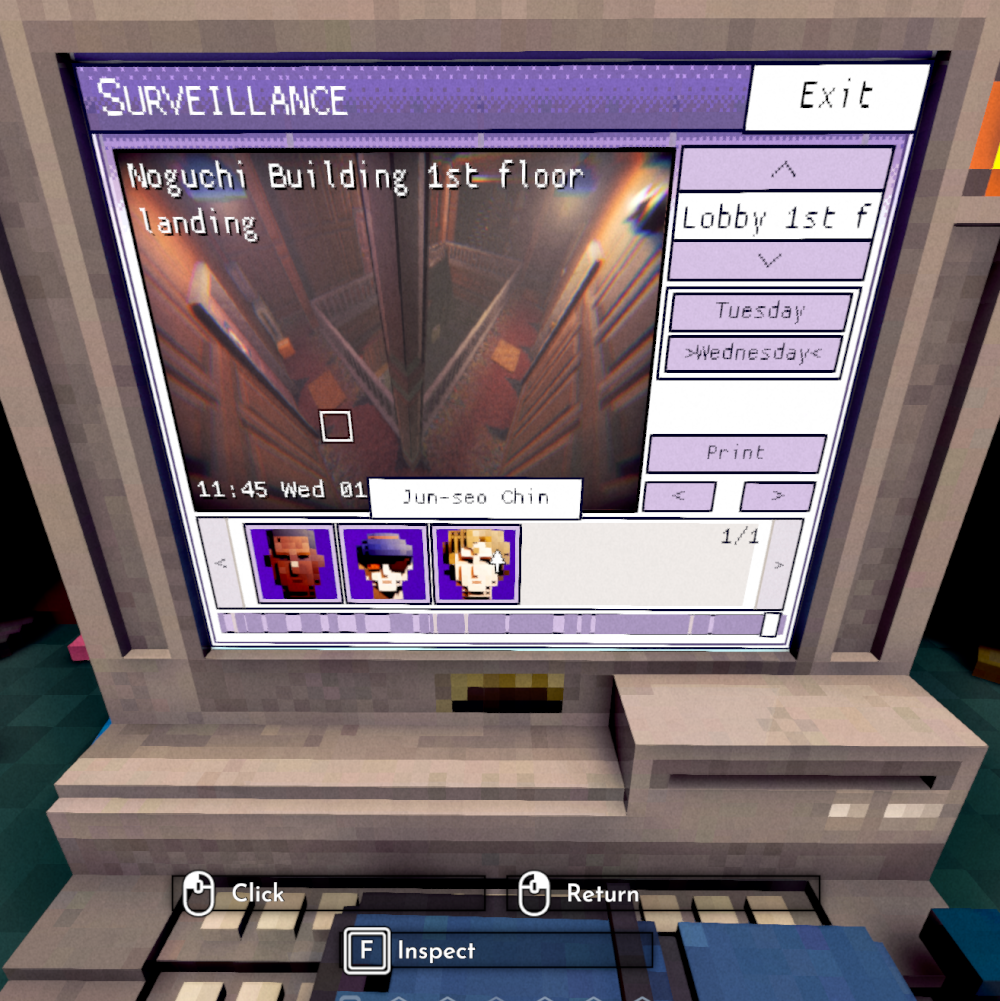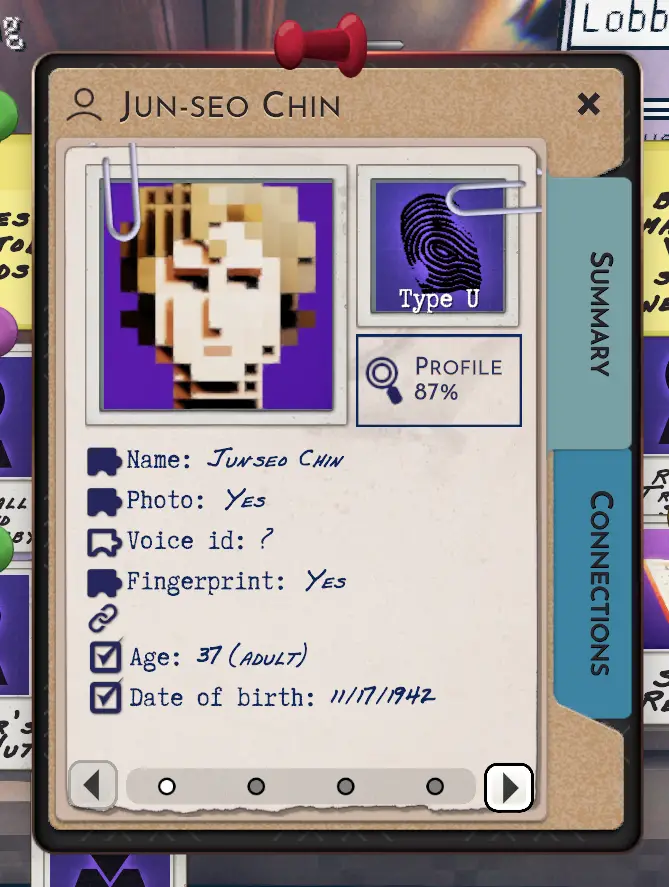 In the scenario of a homicide investigation, it's advisable to check a newspaper for a statement from a nearby resident. Typically, this neighbor might have witnessed something significant. Approach them and inquire if they've noticed any unusual activities. Take note of any details they provide regarding appearances. These details can aid in filtering through the CCTV footage, helping to identify potentially relevant individuals. Keep in mind that the neighbor's memory may fade within a day or two, so it's important to act promptly.
Additionally, a management office usually contains a filing cabinet as well.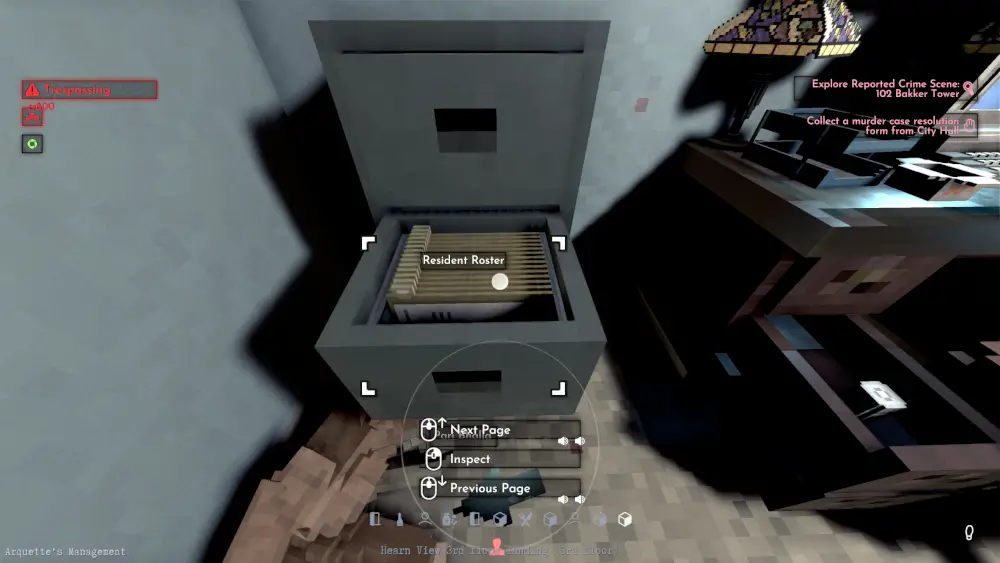 This shows a list of every worthwhile human being that lives in the building! Hey, it's Armstrong again!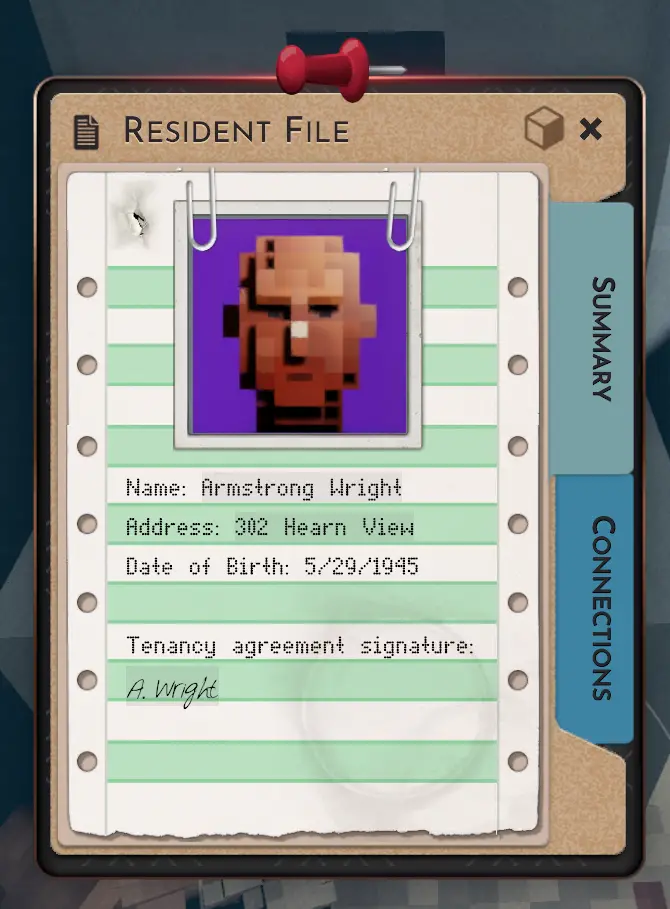 Regrettably, as previously mentioned, this approach relies on luck and is applicable only to individuals of significance. The resident files exclusively document those who are considered valuable members of society, typically those who pay rent. Regrettably, if your target is someone's roommate, they won't be recorded here, given their perceived lack of value. Consequently, merely knowing "They live in this building" is insufficient to proceed.
If your target occupies a specific floor, there's a chance that the situation might be more favorable. For instance, that floor could have just one apartment, three, four, or perhaps six to eight. While the latter scenario may require persistent attempts at identifying the correct apartment through trial and error, it's still more manageable than searching the entire building. In more extreme cases, it might be necessary to manipulate security measures, such as disabling cameras, lowering security barriers, and neutralizing alarm panels, especially if forceful entry is intended. It's important to note that such actions are illegal and unethical.
Assuming we've located Armstrong's apartment, let's proceed with the investigation.
It's unfortunate that they're not present; that would have been the optimal scenario. Nevertheless, let's thoroughly examine the surroundings for potential clues using our fingerprint scanner.
When you possess prior knowledge of a fingerprint's owner, the scanner will display their name. This proves especially valuable when examining a weapon, as it allows you to ascertain the owner of the weapon. In murder cases, this can be particularly useful to distinguish between the victim's owned weapon and any weapon left behind by the perpetrator.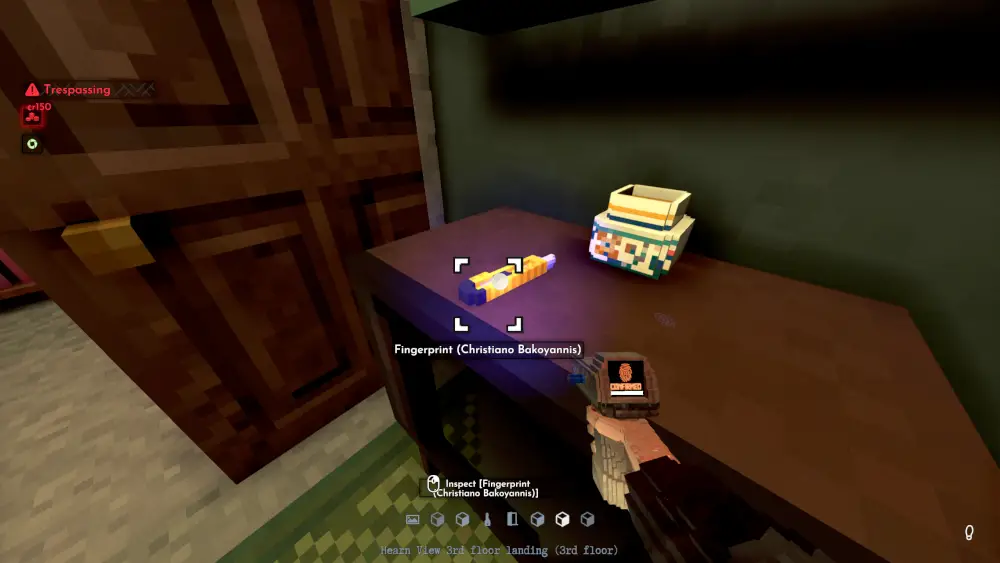 Certainly, if fingerprints from two individuals are widespread throughout the area, it's likely that they belong to the occupants of the residence. However, there's a more straightforward method to confirm this: by examining their personal files. Typically, these files are stored in a container resembling the one shown, although they could also be located in any filing cabinet or compartment capable of holding standard-sized files.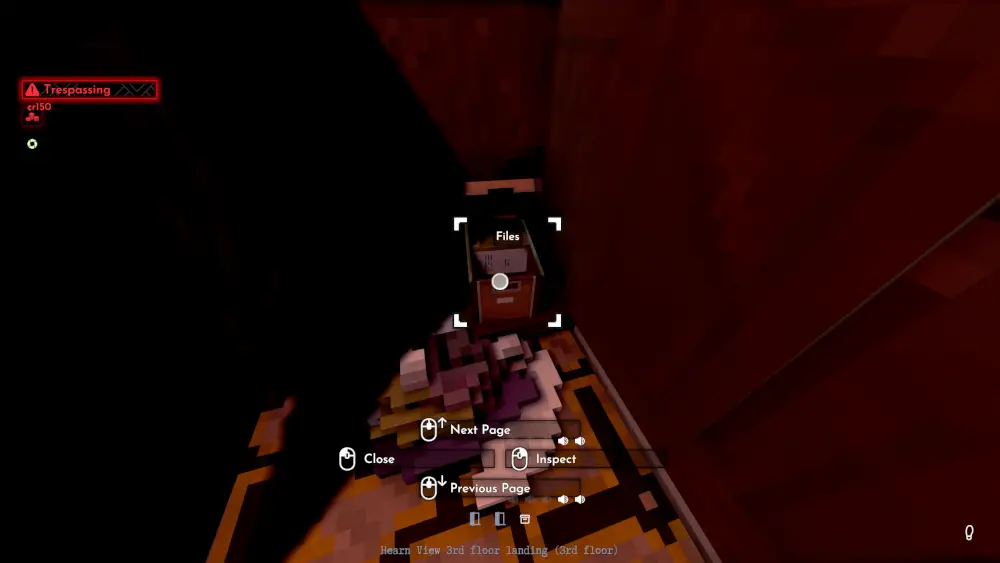 If you're some kind of incorrigible snoop, you can find out who their landlord is, and their medical prescriptions, and their employment and all that… But let's just skip right to the end of the files for their birth certificates.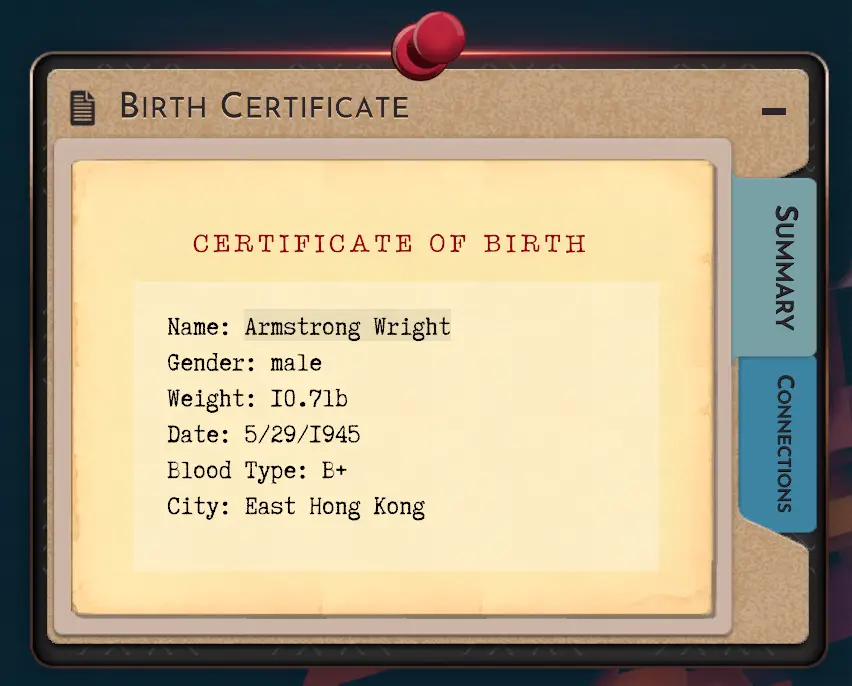 Now, I'm
sureI don't know why you'd be breaking into random apartments potentially full of loot if it's not in the pursuit of justice, but if you happen to find an apartment, this'll ID who lives there if you need that.
Let's find some other apartment with someone who's home. When people go home, they put their wallets and work IDs down around the place. Let's pretend I found an apartment with someone home, and didn't just find a random civilian and beat them unconscious with my sword: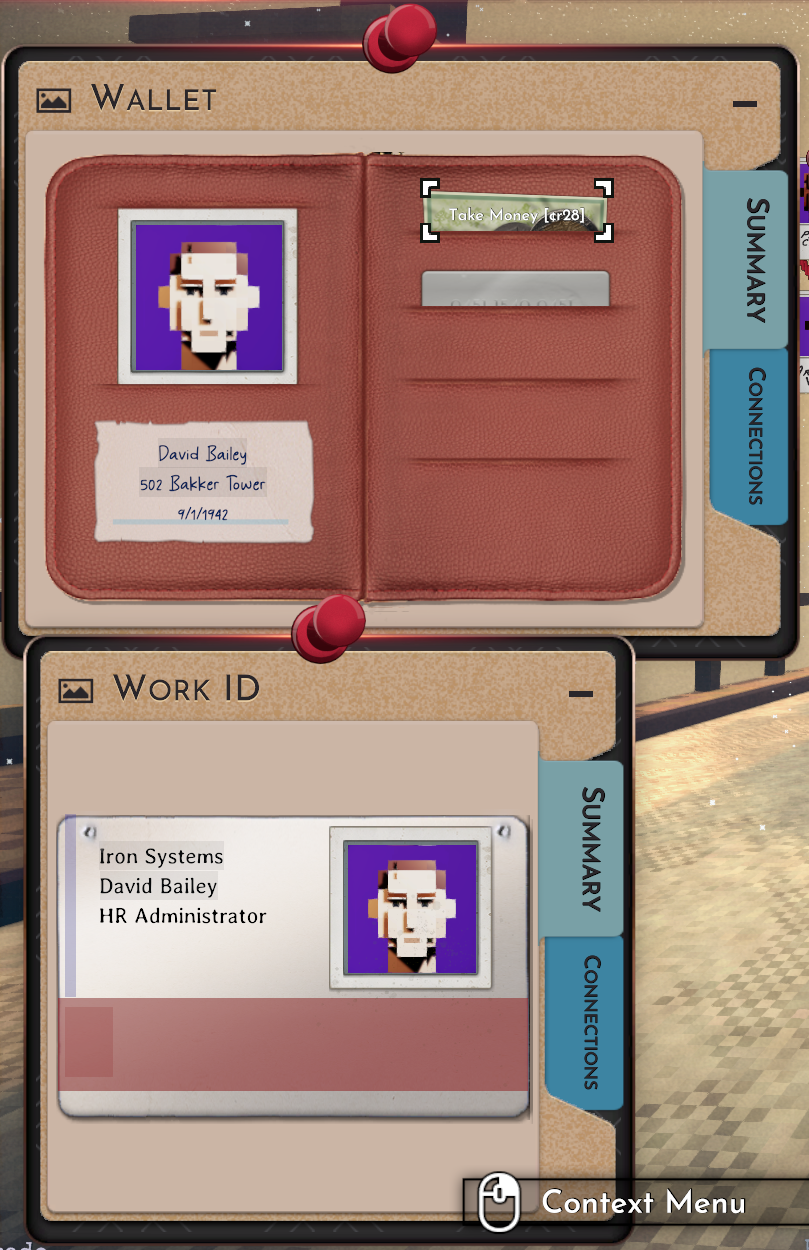 Finding a wallet will give you a name to go with a face, and finding a work ID will always have the fingerprint on it, and automatically give you the fingerprint for that person. So if you see someone suspicious in front of you, and want a name to track them down later, I'm not saying you should beat them unconscious and rifle through their pockets for loose change and incriminating evidence.
But I am saying you could, if they're not at home for you to loot peacefully. Onto the next!
Phone Number part 1
On occasion, a side job will give you a phone number. You can also get a phone number from address books, as seen in the Name section, but since address books also give you names and apartments, you'll definitely be checking those instead.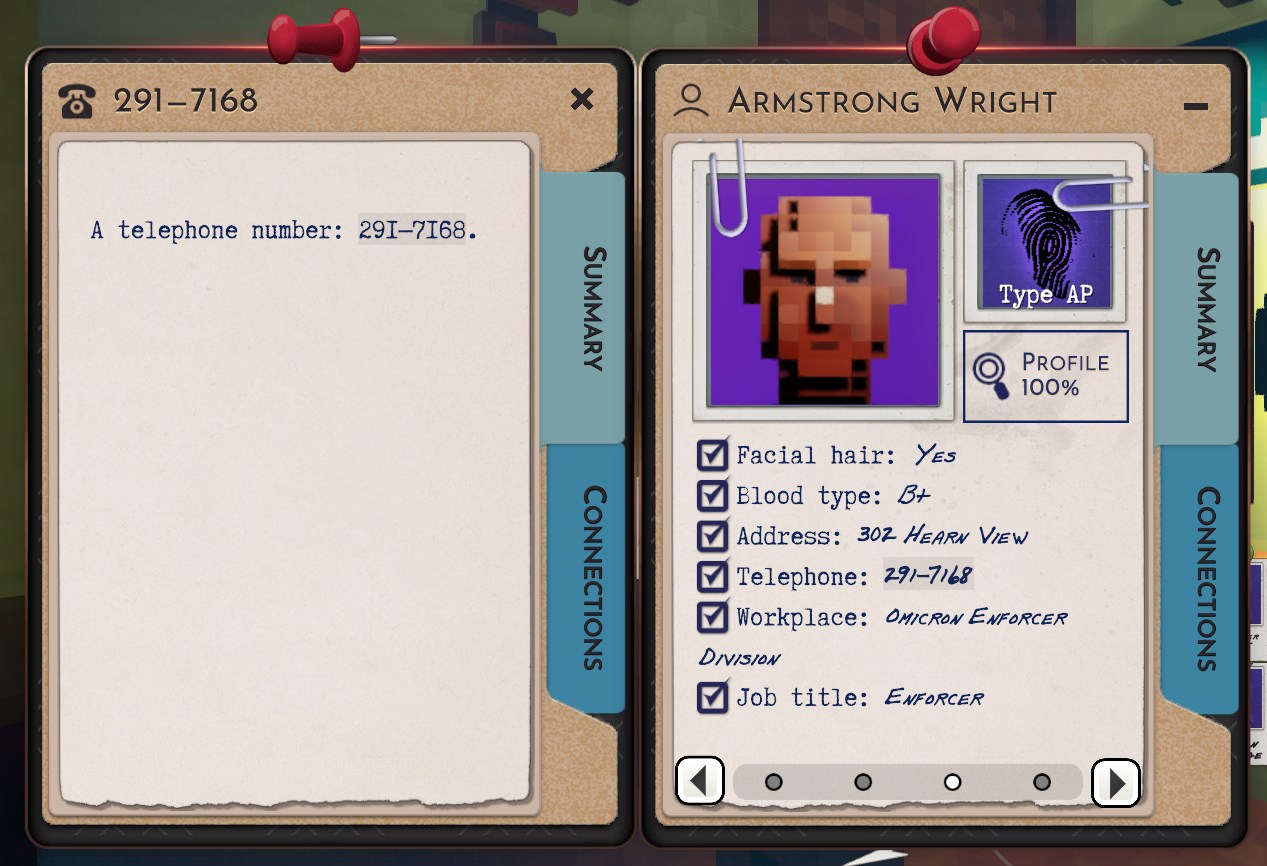 You can track a phone number from virtually anywhere, but the best place to do so is in city hall. If we go back there…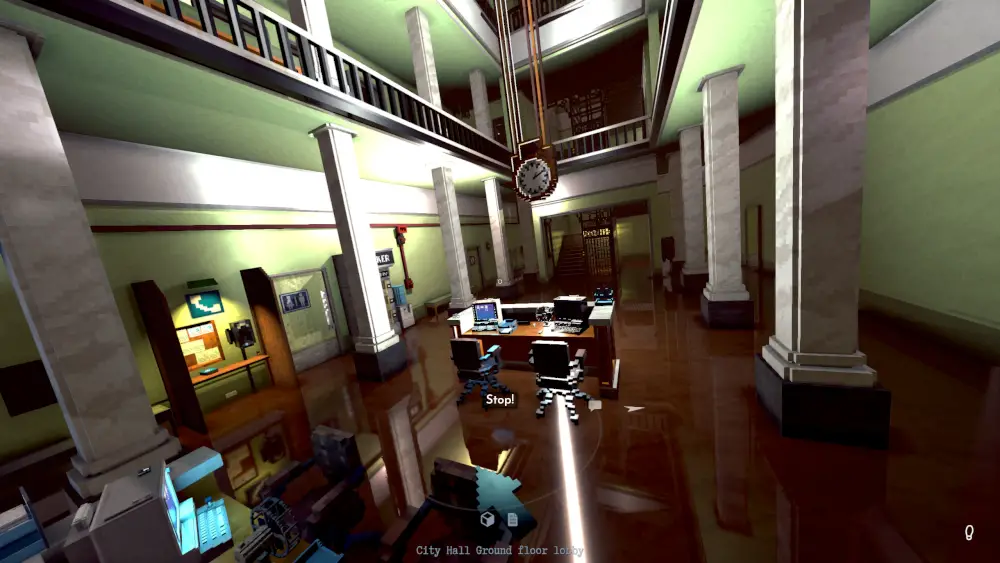 …On the left side of the building, we have the pay phone, a side-job board, and a power room.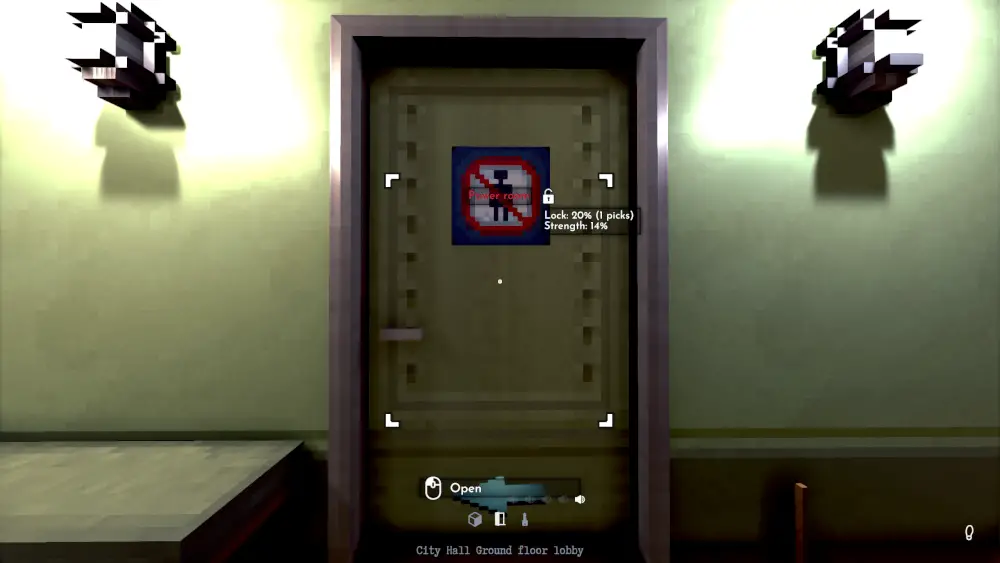 In most building types, power rooms are found in the basement layer of building. They contain Phone Boxes that have records of incoming and outgoing calls. Unfortunately, they also have…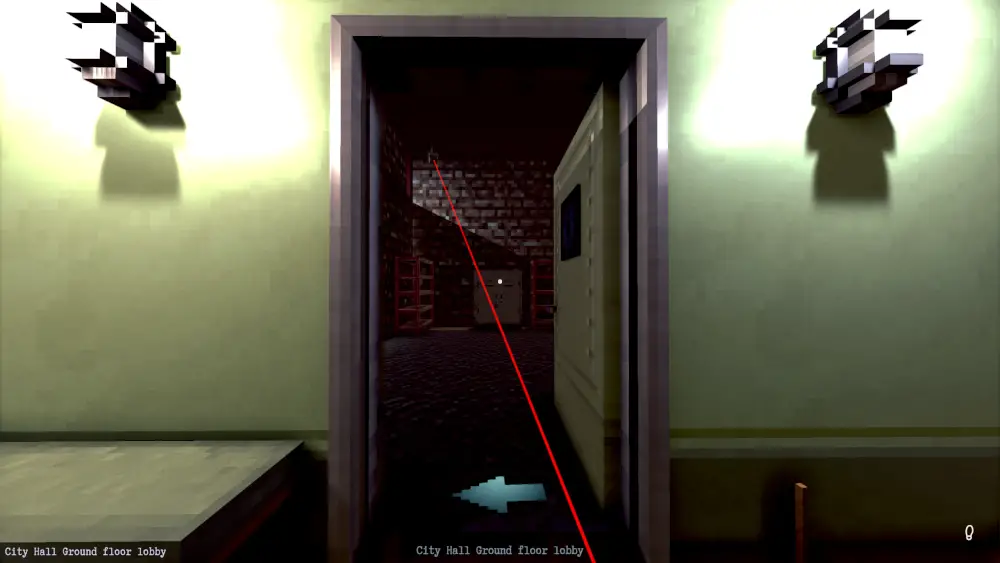 …Laser emitters. Or motion detectors. These aren't tied to security stations, so you can't turn them off at terminals like you can cameras. They're too tall for you to reach standing by yourself, so if you want to disable them by sabotaging them from undernearth, you'll need a step stool or something to stand on underneath it.
But that's risky. Let's not do that.
For City Hall, there's usually a power box it wires into. You can follow the red wires to the box that controls it, and temporarily shut it off there. Disabling it this way is temporary, but you can do it indefinitely, while disabling it from underneath is reset when you load a save.
In my City Hall- And I believe, in general, in the same right-most room with our favorite terminal, we have the box.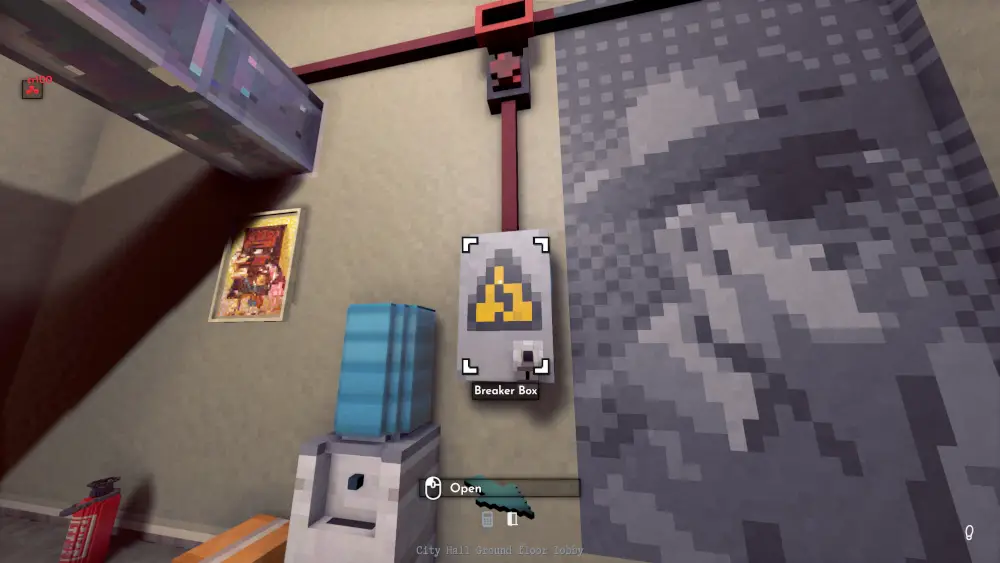 A quick lockpick and lever-throw later…
…And our power room is free to access without security interference.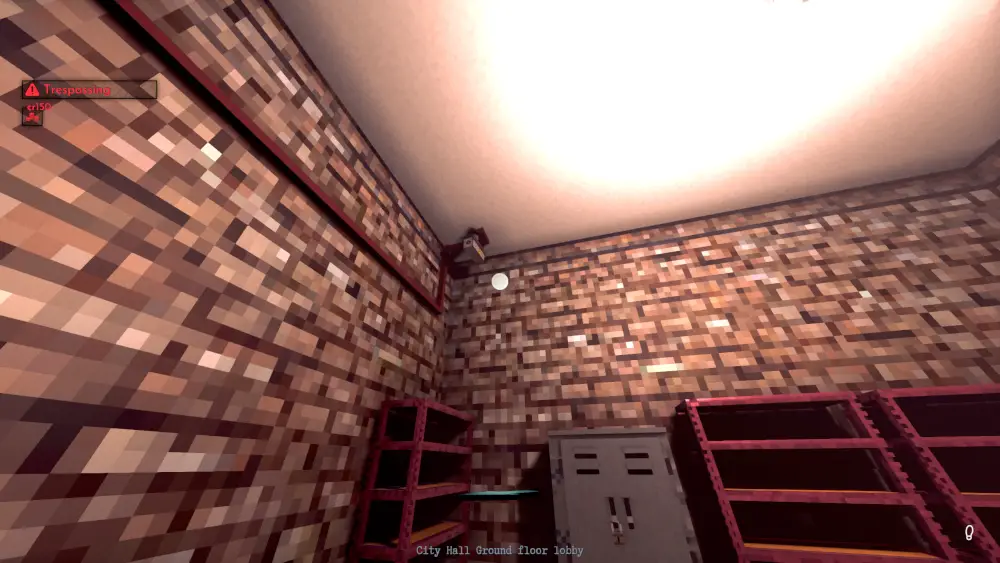 Of course, there's another way to disable motion sensors, if for some reason you have a pressing need to disable security in a place that is full of cameras and laser emitters between you and the
valuablessecurity terminals. And this is the other reason it's convenient to do this at City Hall, if you can't find the power box for some reason: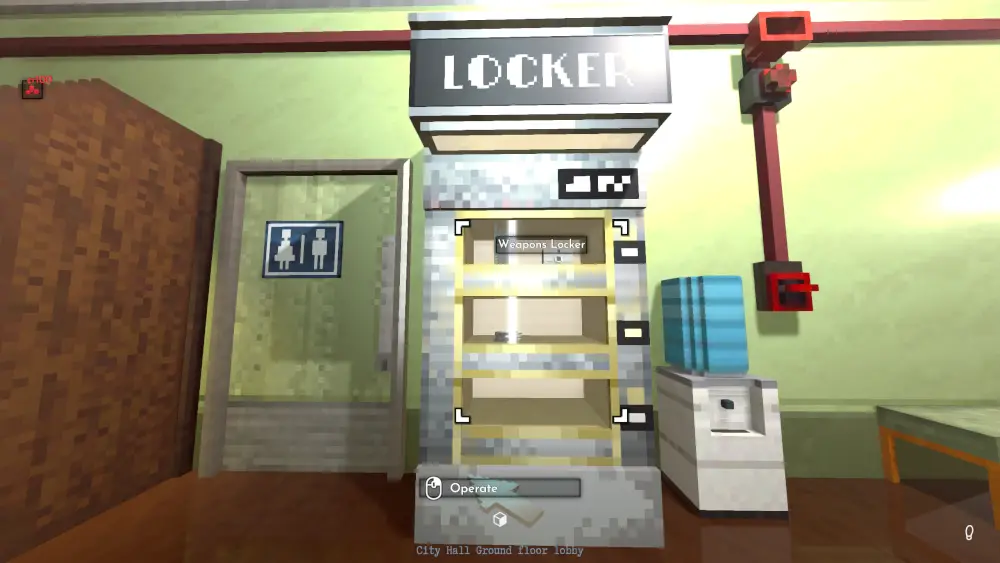 …Ready access to Flash Grenades.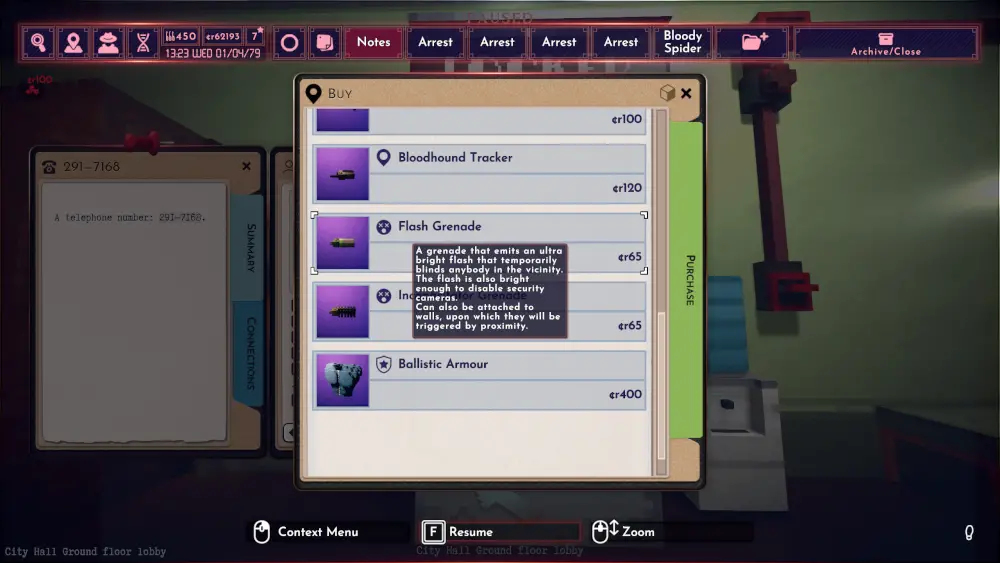 Flash Grenades are quite powerful, and emit a wide radius that overloads security devices- It acts more like an EMP in that regard. They aren't super useful against human targets compared to the Incapacitator grenade, and they're fairly expensive as disposable items go, but if you're in a hurry…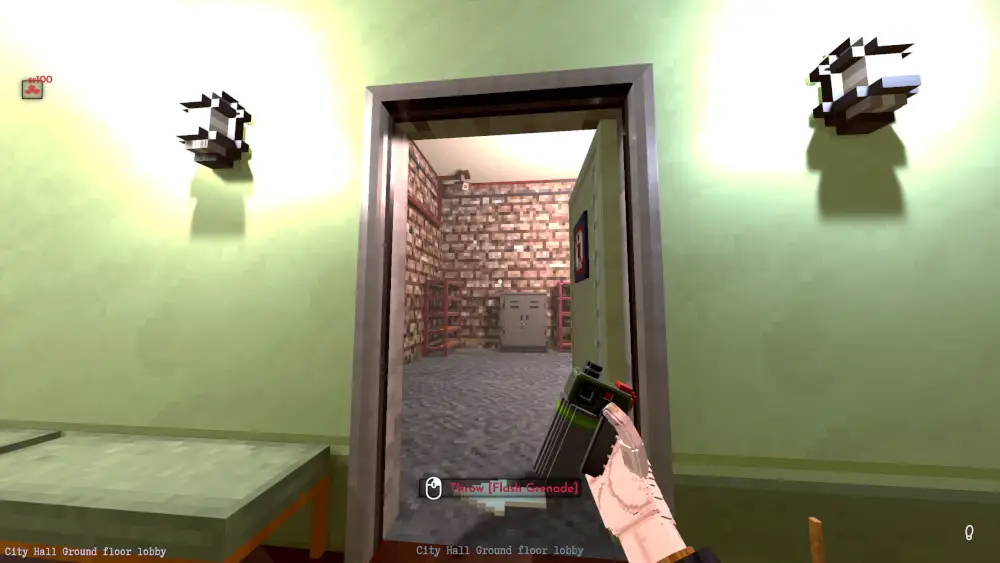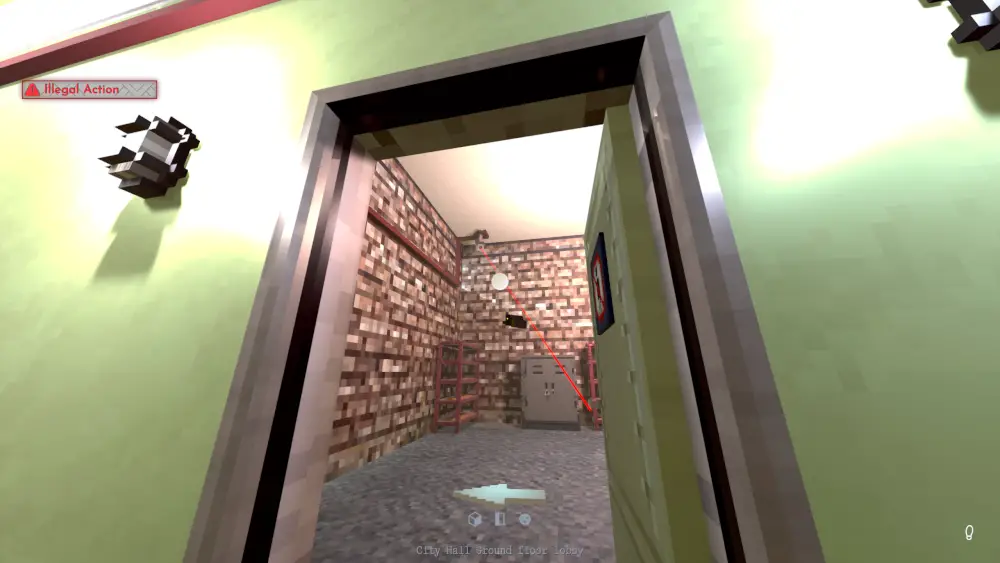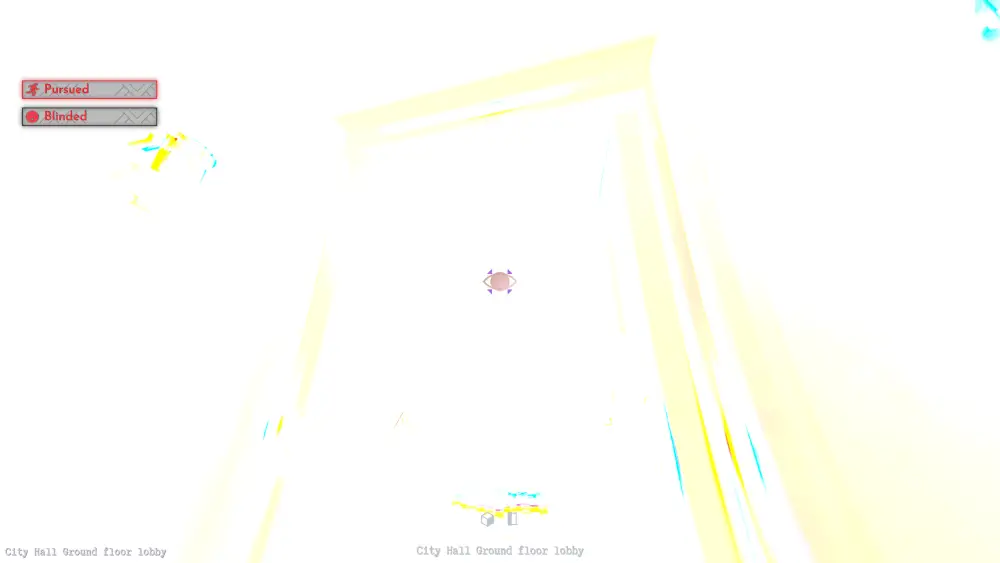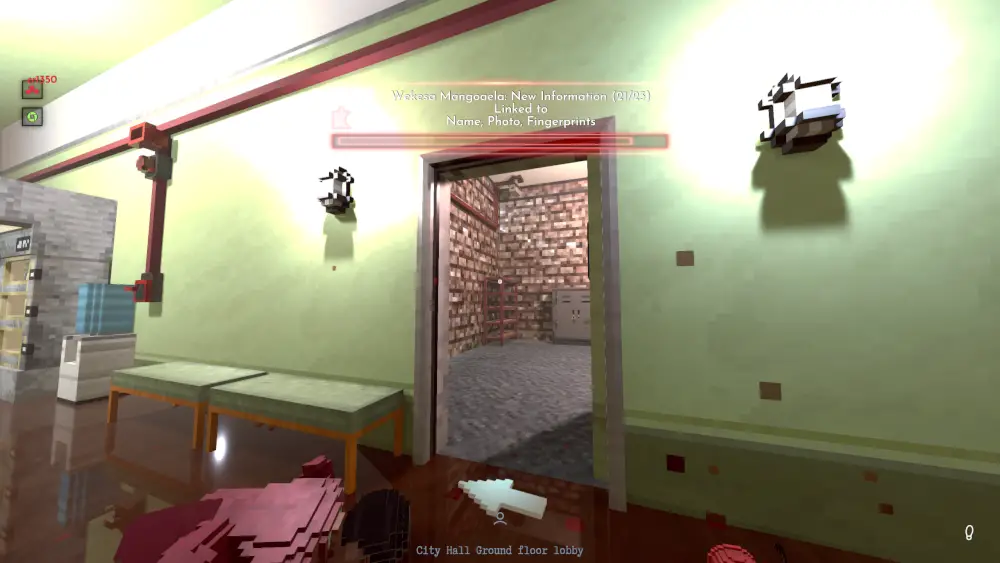 …It'll do the trick. It's loud, though- You may notice the gentlemen laying on the floor; He and his silenced pistol took offense to me catching him in my flashbang radius while disabling security. I and my huge sword took offense to his taking offense, and I won. Anyway, be aware that if people see you throw the thing that hit them, they'll aggro on you.
Anyway.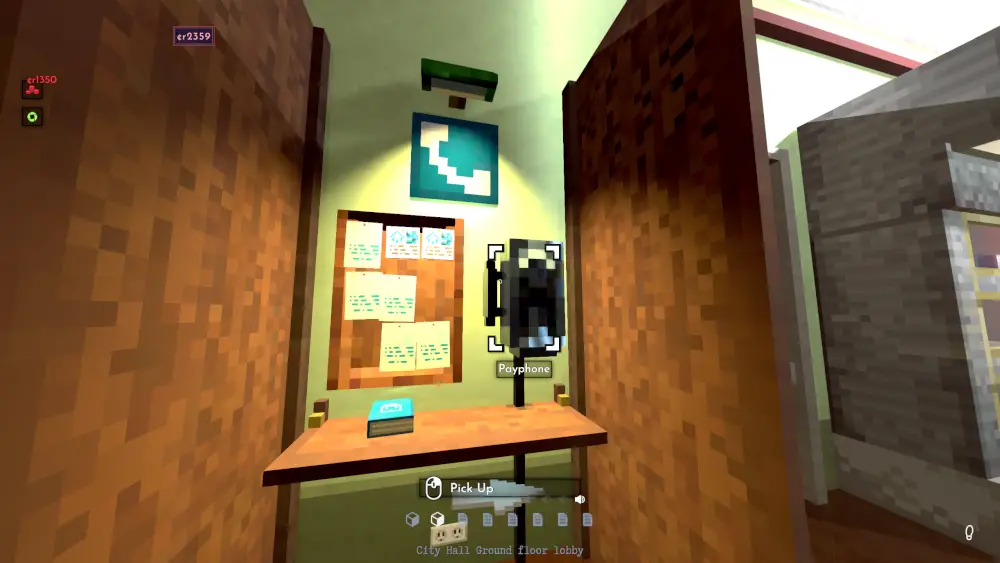 Unlike most buildings, there's a phone right next to the power room with the phone box. (A lot of basement apartments near the power rooms are too poor to have phones, and unfortunately cannot play Iiablo Dmmortal.) Pay phones cost a credit to use, but let's be honest, you can afford it. Let's call the number- You can type it manually, but if you're in the phone dial menu you can also click it, like so: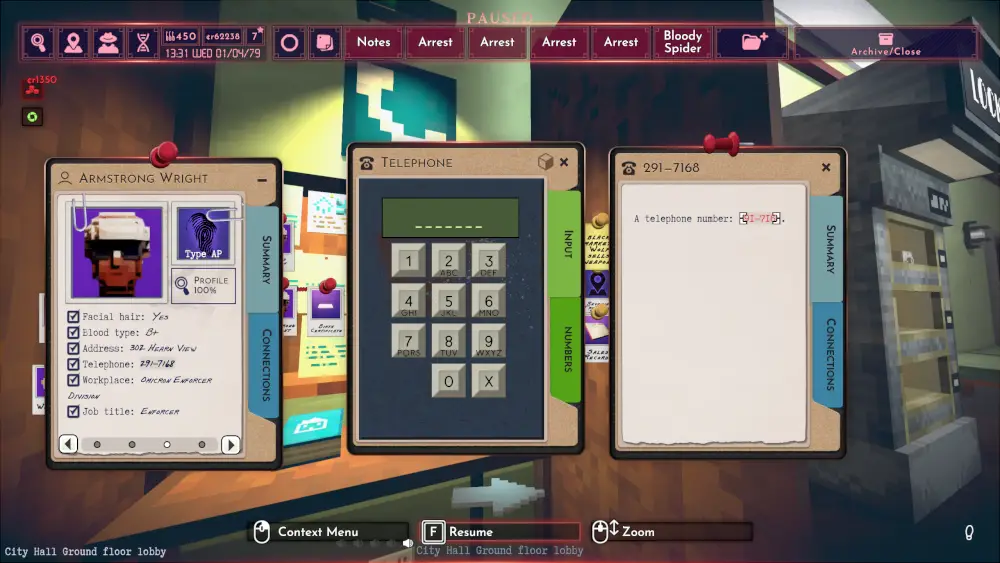 This works for entering safe codes and door codes you have as pinned notes as well, by the way.
Weird, nobody picked up. Maybe that's related to the fact I broke in earlier, and saw that no one was home to answer me?
No, they're probably just antisocial and think they're too good to answer random payphone calls. Jerks. Well, that's okay, I don't need them to answer. Let's visit the phone box instead.
IM PICKIN' THE LOCK.
And there.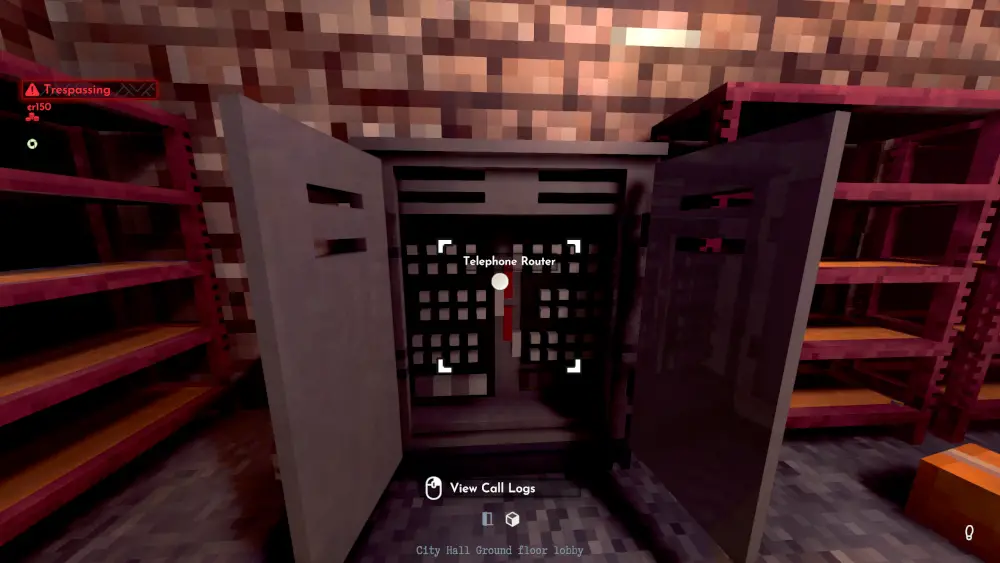 We were the ones who called, so let's check the outbound calls.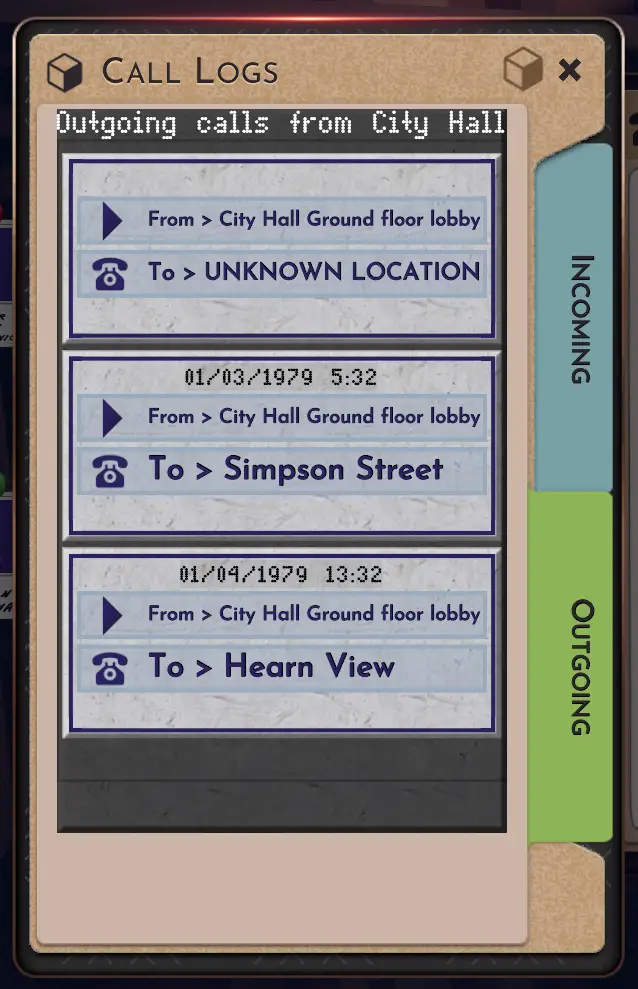 Unfortunately, calling the phone number only shows us the building the call was routed to, and not where IN the building. But it's close enough. Let's grab a flash grenade on the way out and visit Herne View.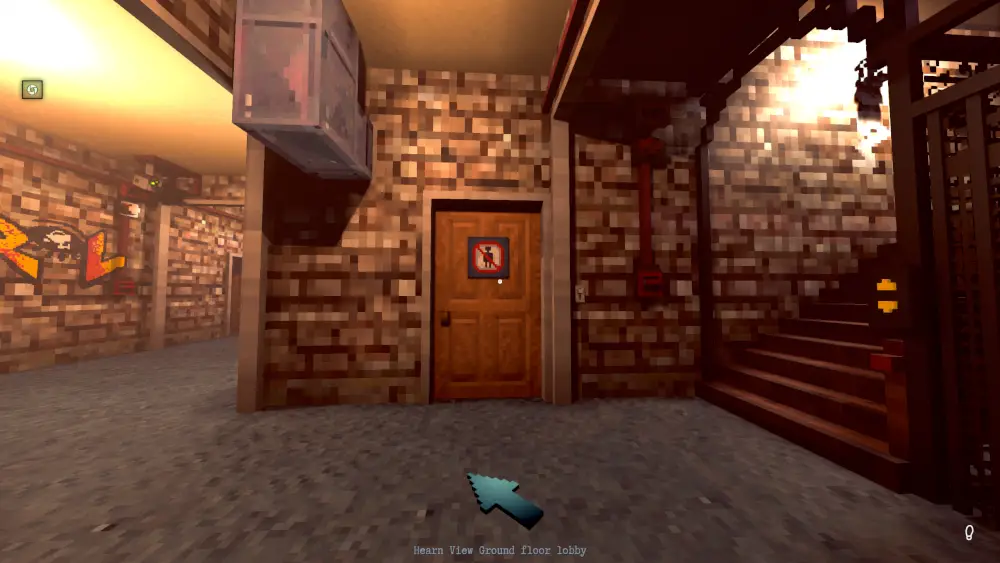 Down here in the basement of this building, we find the sign that marks the power room again. This one's a little different, though.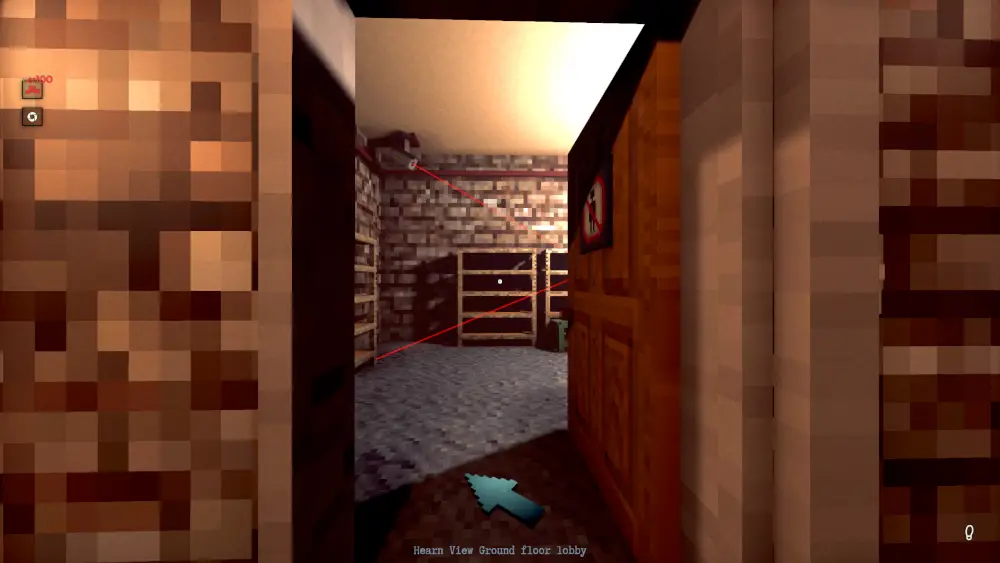 Yes, some power rooms have TWO motion detectors, so standing underneath one and picking it is not a good idea, because you'll get caught by the other. In the hallway is the breaker box for the security system to shut down both… And if you couldn't find that for some reason, that's what the Just In Case flash-grenade is for.
We've already done all this, so lets skip to the box here. We called this building, so let's check Incoming Calls.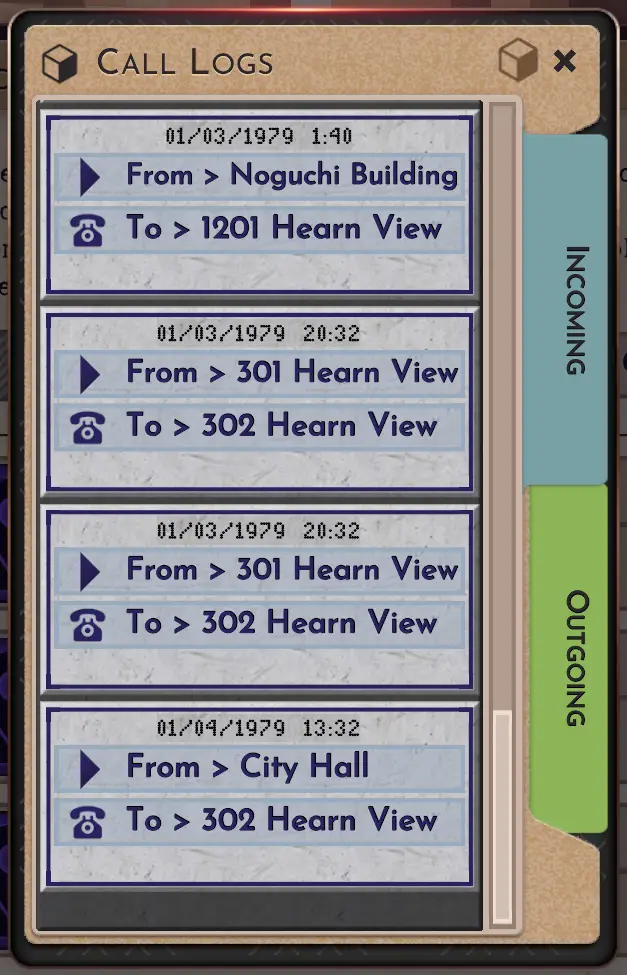 Much like outgoing calls, it'll only show you the building incoming calls came from, not which specific phone. But for ones in the building, it'll show you what room it was routed to. And, as you can see at the top of this chapter, the phone number matches the room we were looking for, and that room belongs to ol' Armstrong.
Phone Number part 2
Before we go, let's cover one last trick- Where you might get a phone number. Lets say your murderer called the victim because they were a stalker or wanted to threaten them or to do a good old fashioned villainous monologue or something. Let's check our 'victims' phone.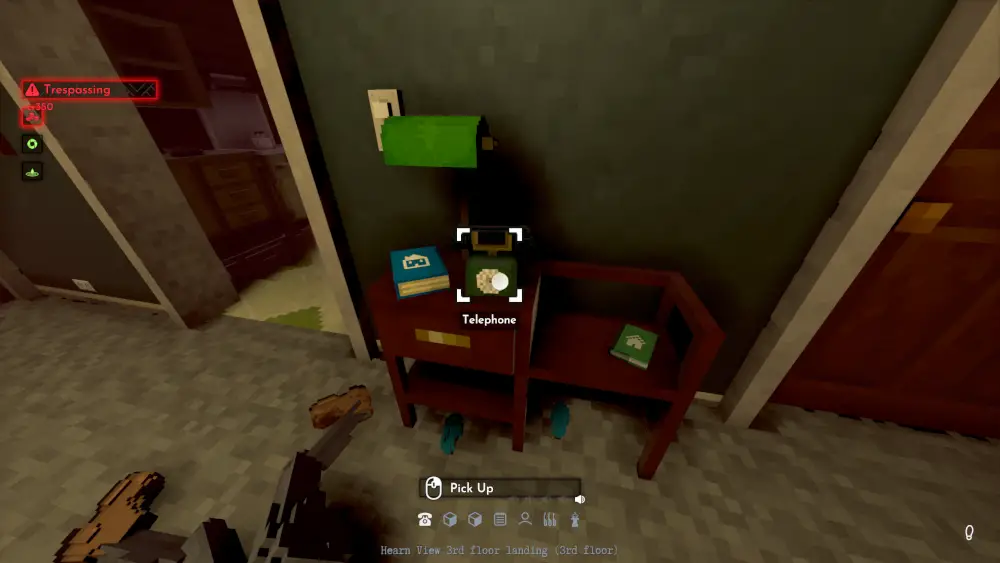 Don't mind the guy who opened the door on the floor. He's just taking a nap. If we open our Dial menu, we can check the Numbers tab.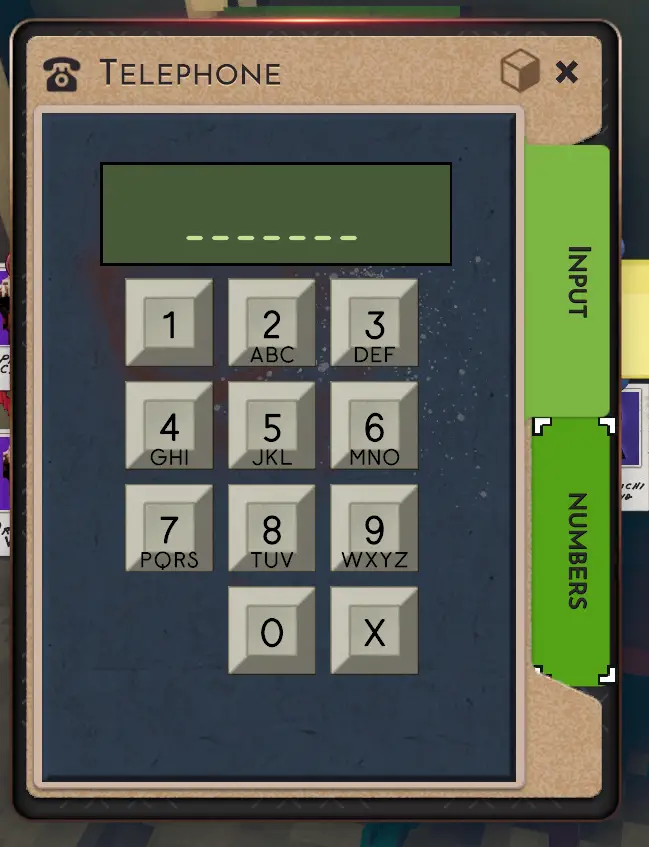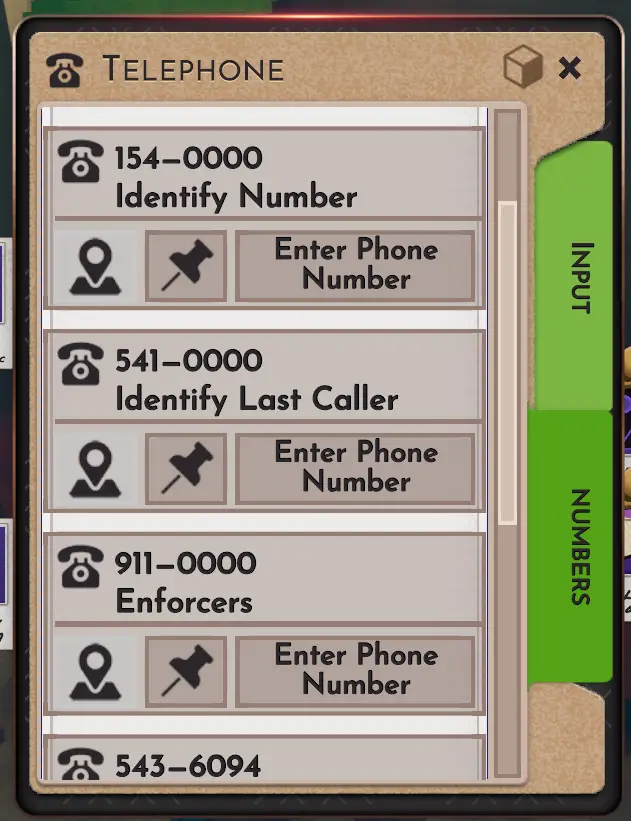 Every phone has these options. Identify Number will tell you what phone number you're calling from, if for some reason you want to know the number of the apartment you're currently in. Call Enforcers will send the Enforcers to your location- But this won't divert Enforcers from crime scenes I don't think, and they'll fight you if they catch you tresspassing, so there's no known reason why you'd want to do this.
But there IS Identify Last Caller. Let's call that one. It shows who the last caller was, when the call happened.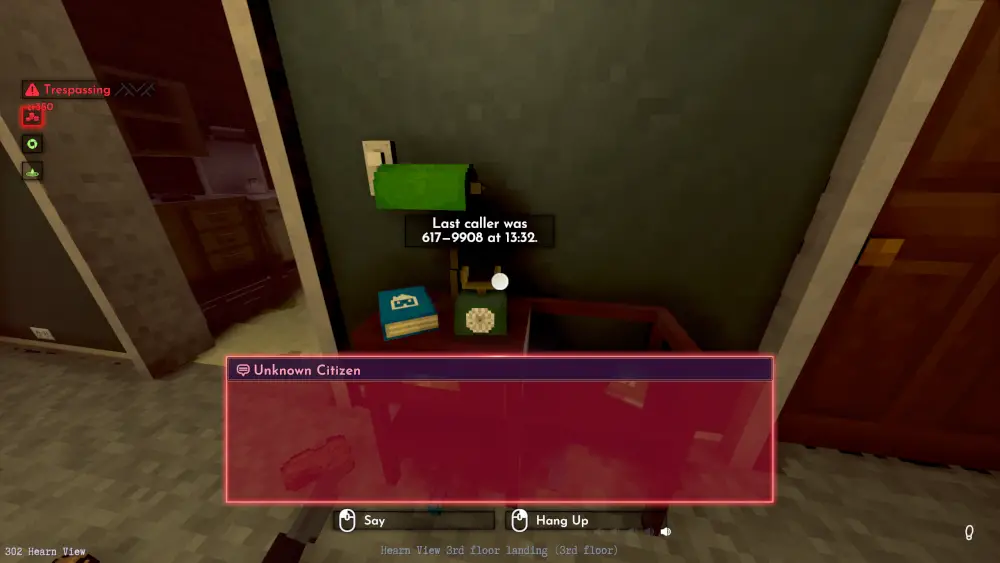 …And then, immediately opens it in note-form for you to pin to your caseboard. You now have a number to follow! Maybe it's the murderer! Or maybe it's a dead end, because NPCs just… Call each other, sometimes.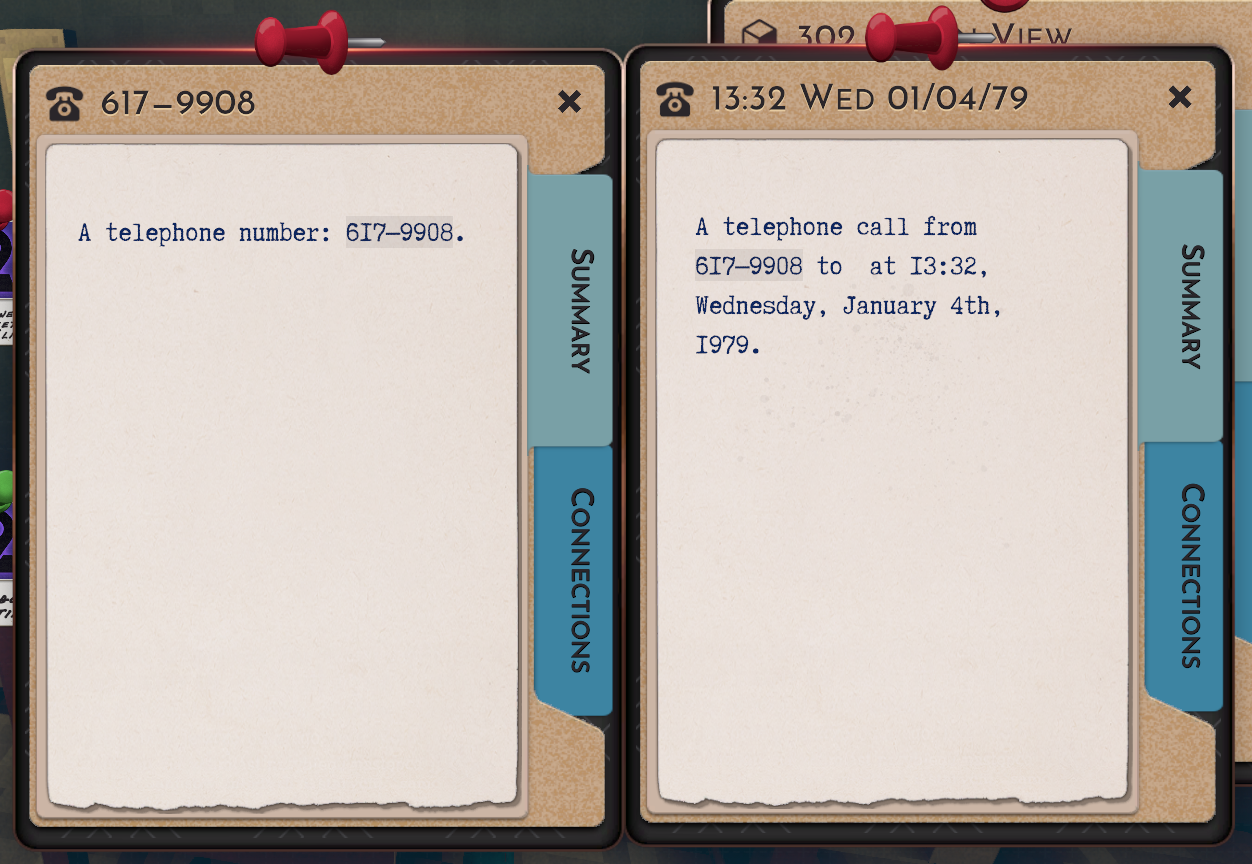 If you got no other immediately obvious leads in a murder case, you might as well give this a shot. And once you have this number, you can go ahead and follow up on it with the above tricks on stalking phone numbers. If you're lucky, you might not even need to: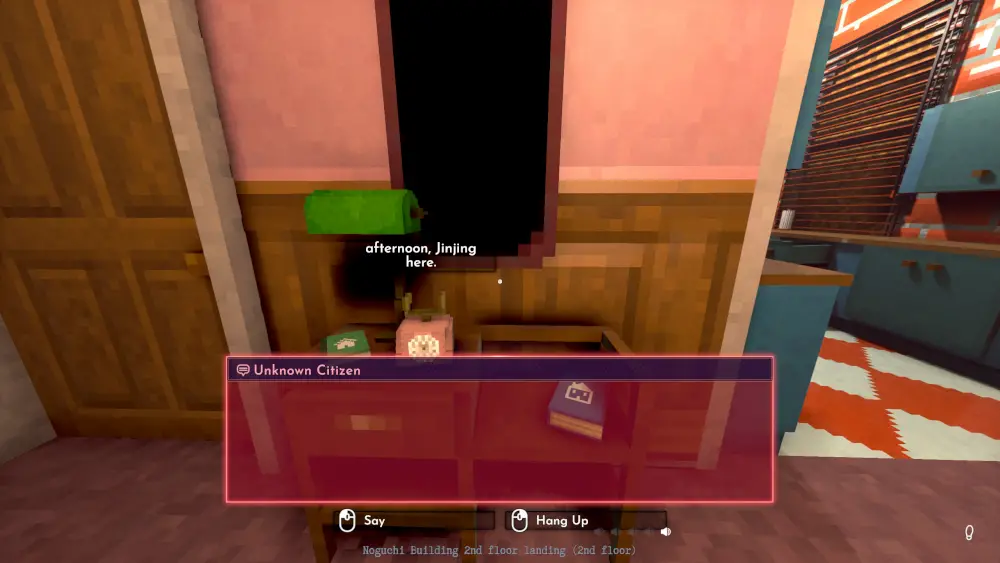 …Even if they won't give you their full name, they'll answer the phone with who they are- You can keep calling until they do.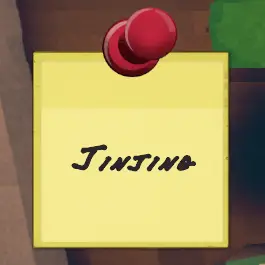 Make a note of what first name you got…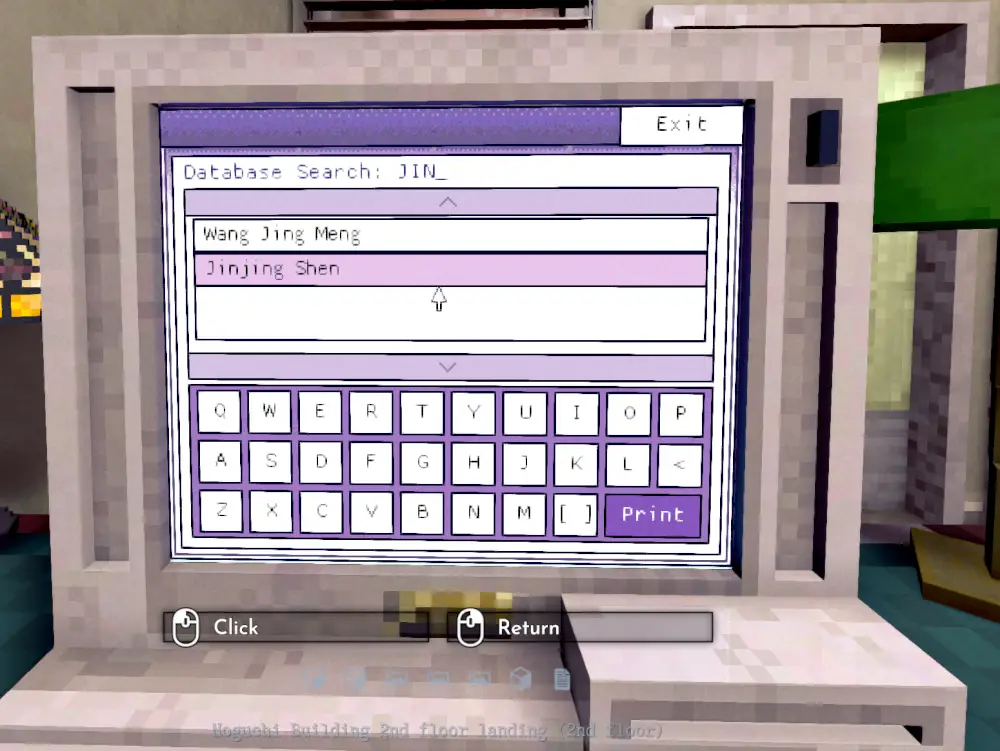 …And look that up. Might be the killer, might be their roommate, but either way, it gets you an address full of more evidence to loot through.
Onto the next!
Workplace
This one's pretty easy. If you get a job where the extra notes tell you "Works at X", then you just go to X and take a look. Armstrong works at Omnicron Enforcer Divison, which may look familiar: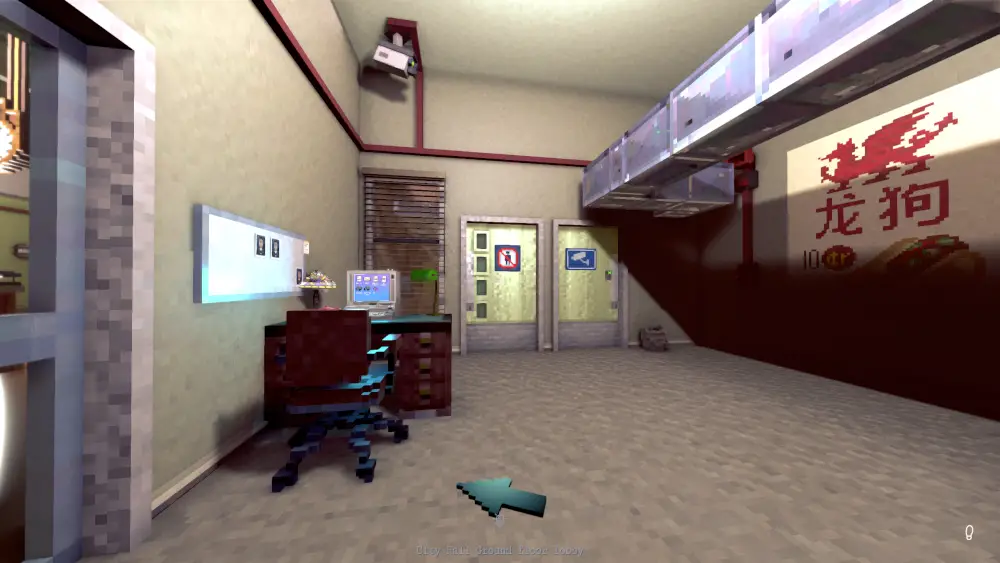 Yep, that's right: He works in our favorite room in City Hall. And probably the game. But let's go over and take a look into that camera-marked door. Since we have the password from the sticky note, we'll just unlock it. If we didn't, we could just Bash it down.
Businesses will have filing cabinets. Often it'll be in the security room, like it is here.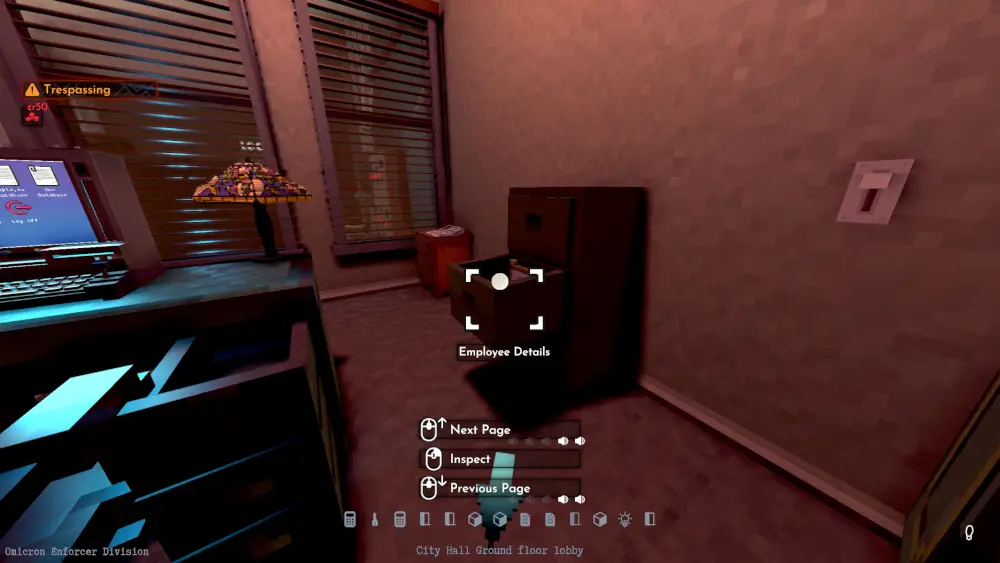 If a business has a storeroom, however, it'll be in there.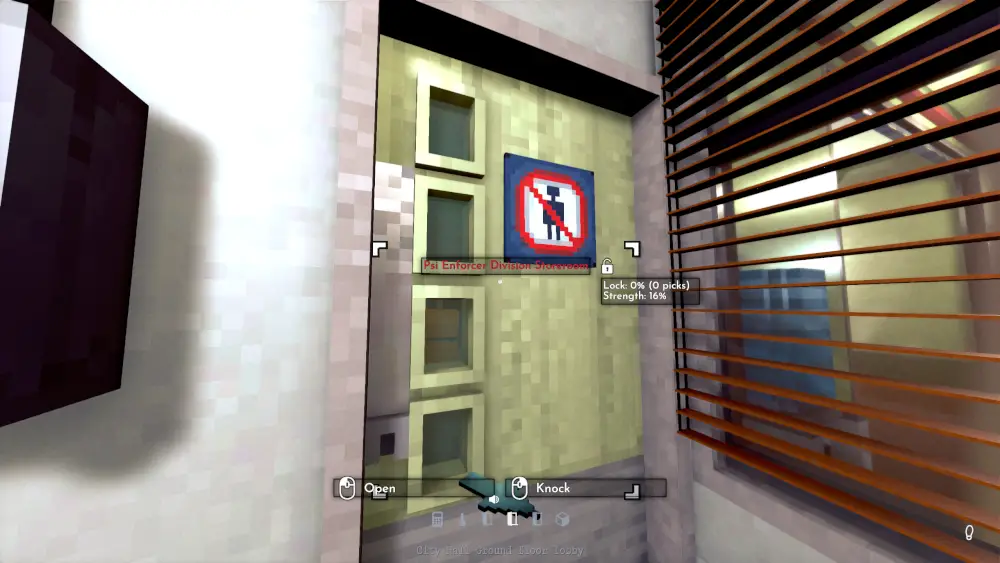 Security offices have door codes that are often found on sticky notes around the place, either publically or inside. Or can be bashed open. Store rooms have keys that are always found somewhere in security offices… Or, again, can be bashed open.
If it's not in either, which is more rare, in office settings you can find the desk of the administrator among the regular desks instead of in the secure room, and the employee files will be in their desk drawer instead.
Once you find a filing cabinet in each, you can go through employee files.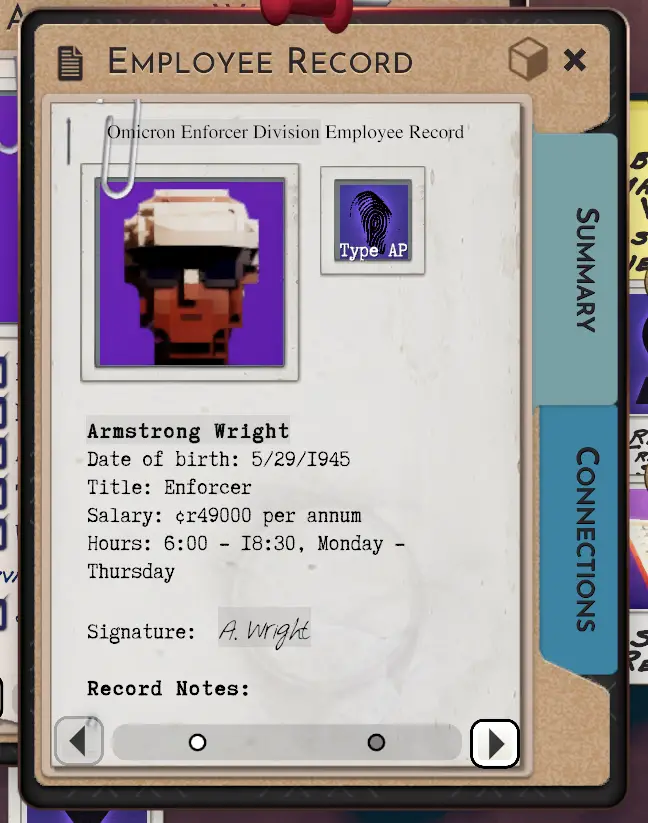 This'll give you a name, a face, and a fingerprint for everyone who works there- More then enough to follow up through other means. Onto the next!
Fingerprint
Ouch. That's it? You've got just a fingerprint to work with? What are you gonna do, check everyone in the city for prints? How many people do even Small cities generate with, anyway?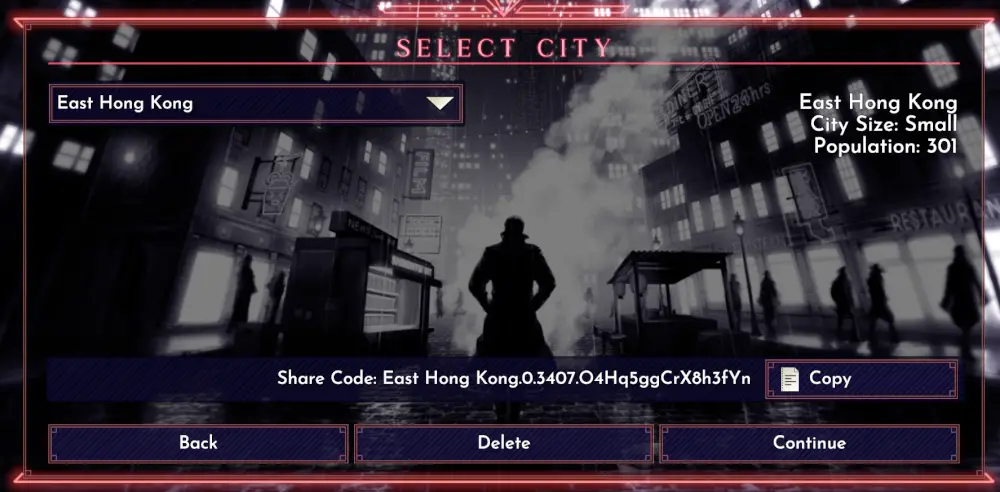 Yeah… No. No, you're not gonna investigate 300 NPCs in anything like a meaningful time frame. If it's a murder case, you'll get infinitely more lucky just investigating people the victim knew instead- Their neighbors, their fellow employees wherever they work, and everyone in their address book. Check the security cameras for anyone nearby. Or just wait for the killer to kill again and make new evidence. I would not try to follow up on
justa fingerprint. This is barely out of "Non-Actionable" territory.
But.
But, if you absolutely must… There is one place where you can find a gigantic collection of fingerprints tied to addresses, if you really have no other leads.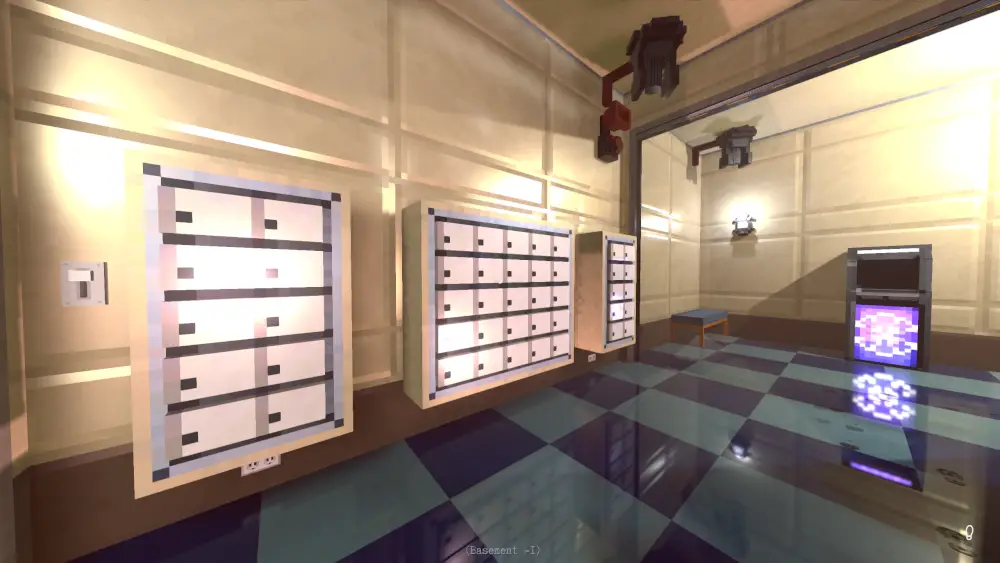 Mailboxes.
Every mailbox will have fingerprints on it, from people checking their mail. These fingerprints will be on the front, or the top, or the bottom, of the edges of the door. Sometimes the insides, but that is a LOT of lockpicks to burn for what is almost certainly no gain.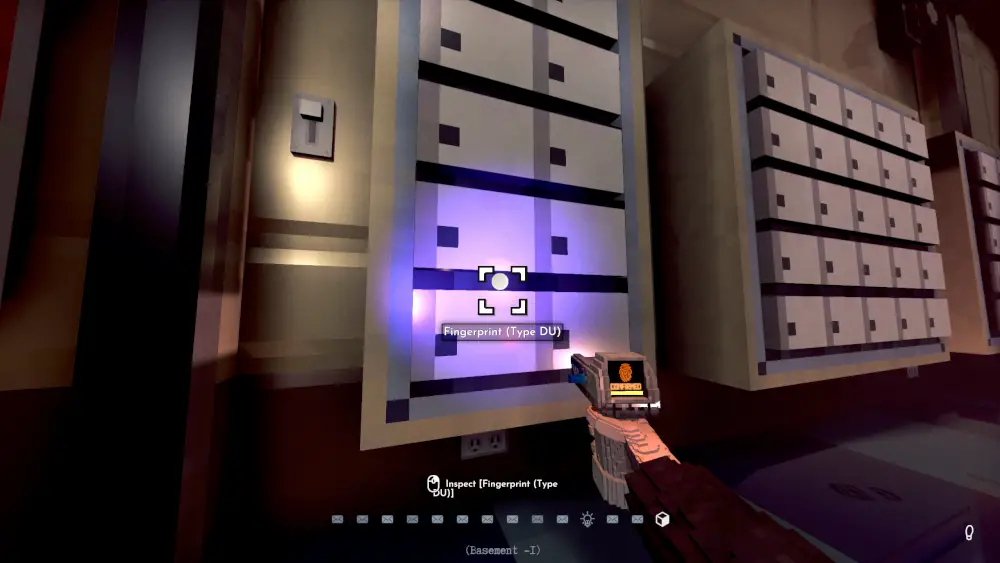 …And there's a lot of them. That's only half the mailboxes of this building.
This is, technically, something you can try. But I'd really chase every other lead- Any other lead. Onto the rest, unfortunately…
The Rest: Non-Actionable Intel
And then there's the rest.
Voice ID, Age, Date Of Birth, Gender, Height, Build, Hair Color/Type, Eye Color, Shoe Size, Glasses Status, Facial Hair Status, Blood Type, Job Title, Work Hours, Salary, Handwriting Type, Pass Code…
All worthless for identifying them. Salary can be used to narrow down their job type with an external list, but how are you gonna track down one janitor or one secretary or one head of HR short of brute forcing it by memorizing every business in town and their employees? It's not gonna work through anything short of brute forcing it by having already looked them up.
The only actionable jobs are Enforcer, Nurse, and Security Guard, because Enforcers and Nurses only work in City Hall, and Security Guards only work in Management rooms in buildings. Well, those and Black Market workers, but if you get those I assume you have the IQ to visit each of the three black market locations in the entire city, assuming you haven't already been there and skimmed their files.
You can show Face IDs to random people. Unfortunately, even if you know their height, build, hair color, and all that, if you don't have a face ID…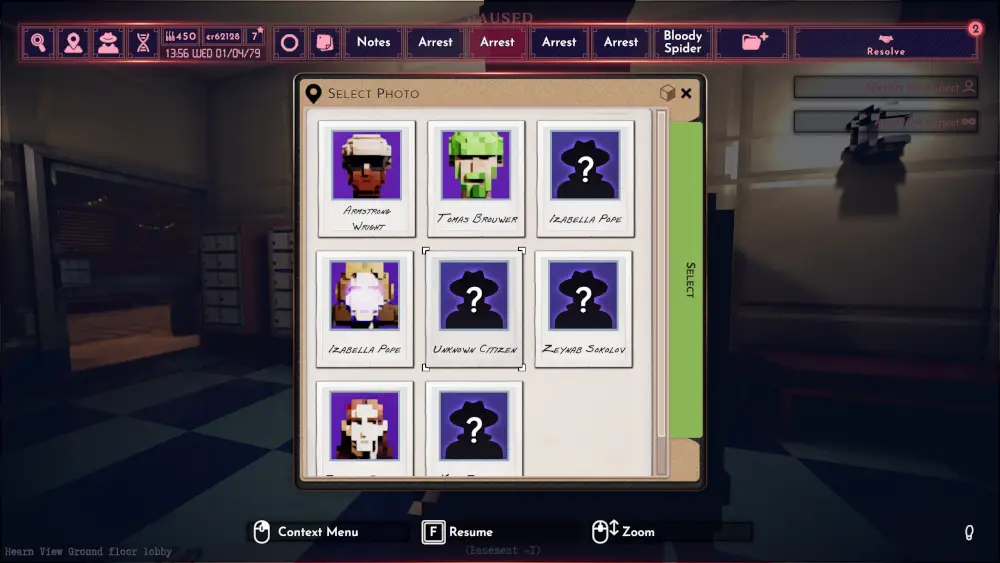 …There's no way to look for those specifically.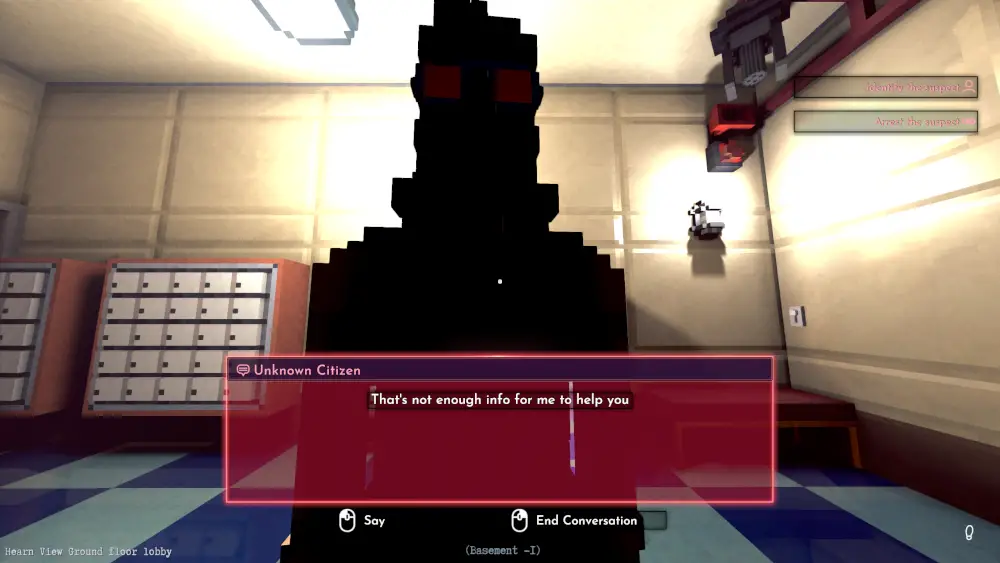 And forget ones where the extra info is just "Hard of hearing", "has asthma", or "Likes baseball". You're not finding anyone with those- You'll get more out of having a workplace for them. You're not breaking into every apartment in the city to find people's hearing aids or asthma inhalers- If you're systematically breaking into every apartment in the city, I assume you're doing it for completely unrelated purposes.
Only side jobs give you completely non-actionable clues like this. And there's only one thing to do: Completely bin the mission and give up without looking back. In this state of early access, there's absolutely nothing you can do with these. Pick up a different mission or go to bed until a murder happens or something.
That's everything we are sharing today for this Shadows of Doubt guide. This guide was originally created and written by Anker. In case we fail to update this guide, you can find the latest update by following this link.
If you believe that any of the content on this site violates your rights, including your intellectual property rights, please contact us immediately using our contact form.