Title: Rogue: Genesia
Release Date:
Developer:
Publisher:
How to acquire infinity survival in the most recent patch (Duelist and World C) as at the time this article was written because the current approach didn't work for me.
The Strategy
The setup I used to obtain the accomplishment employed knockback and a ton of HP gates (Evasion, Duelist, Sage's leaves, Troll's Blood) to stall out the timer rather than depending on an instant kill, which is now much less dependable.
Here's where I started.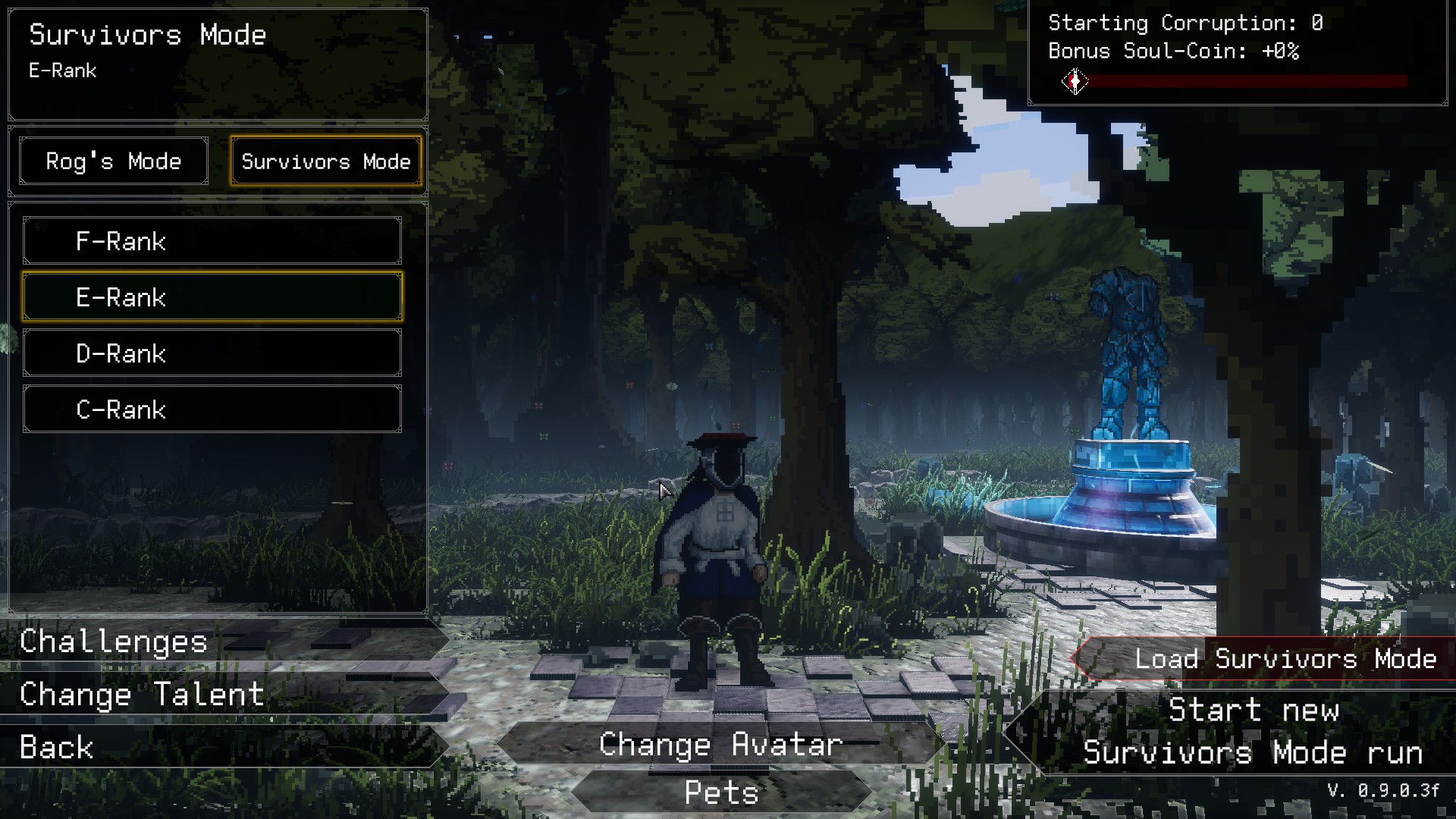 The Duelist class introduces a new HP threshold while limiting our weapon slots to a maximum of 4. The rationale behind this choice is to avoid unnecessary lag and the increased risk of crashes associated with having too many weapons. Moreover, opting for additional weapons can clutter our soul card selection with unwanted weapons, potentially obstructing the discovery of vital soul cards.
Selecting E rank survival provides a generous window of time to establish our build and ensure it's running smoothly before the fast forward phase begins. This safeguards against the appearance of particularly bothersome enemy types.
In terms of talents, our strategy involves maximizing all the stats crucial to our gameplay. We kickstart our journey with the swordrang talent, primarily due to its rarity within our desired build. It's worth noting that while my talents weren't fully maxed out, they were at a commendable level.
The Build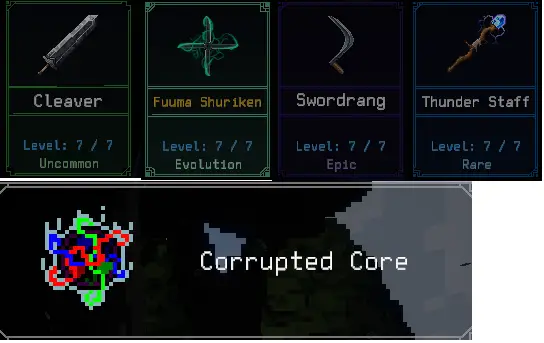 In my successful run, I relied on a specific set of weapons. It's crucial to aim for level 8 upgrades on these weapons, as indicated by the corrupted core symbol. Notably, the cleaver and swordrang should remain unfused, with the unfused cleaver being one of the best options for achieving effective knockback. Remember to activate auto-aim in the keybindings for optimal performance.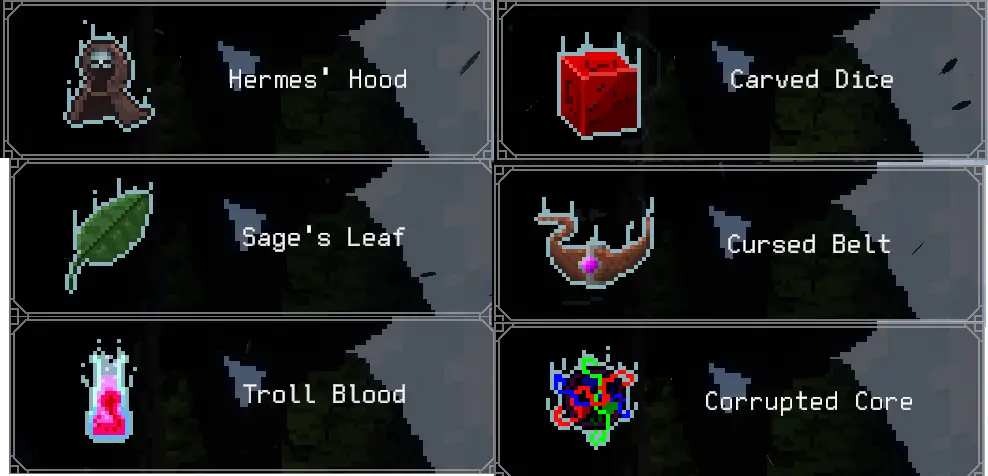 In terms of artifacts, six of them hold particular significance in this build:
Herme's Hood: This artifact significantly facilitates reaching the attack speed cap.
Sage's Leaf: Another HP threshold to consider, adding an extra layer of defense.
Troll's Blood + Cursed Belt: This combination allows us to effectively utilize our HP gates in tandem, rendering us nearly invulnerable.
Carved Dice: A valuable tool for fishing out the essential cards we need.
Corrupted Core: A cornerstone artifact that enhances the entire build's power.
Additionally, there are a few other artifacts worth considering, although they are of somewhat lower importance:
Old Coin and Magnifying Crystal: These aid in accumulating XP, which can be advantageous.
Lightning Boots: Enhances evasion, further boosting your survivability.

The crucial soul cards prioritize evasion and maximizing your dash stats for optimal effectiveness. Beyond that, here are the essential stats listed in order of importance:
Attack Speed
Knockback
Additional Projectiles
Projectile Piercing
Projectile Lifetime
Health Regeneration
Keep in mind that there are caps on these stats. When you reach your attack speed cap, consider taking abilities like Overloaded and Accumulation. Additionally, cards such as Pyromaniac and Revolution, which provide HP recovery, can theoretically be beneficial but may not be necessary.
The End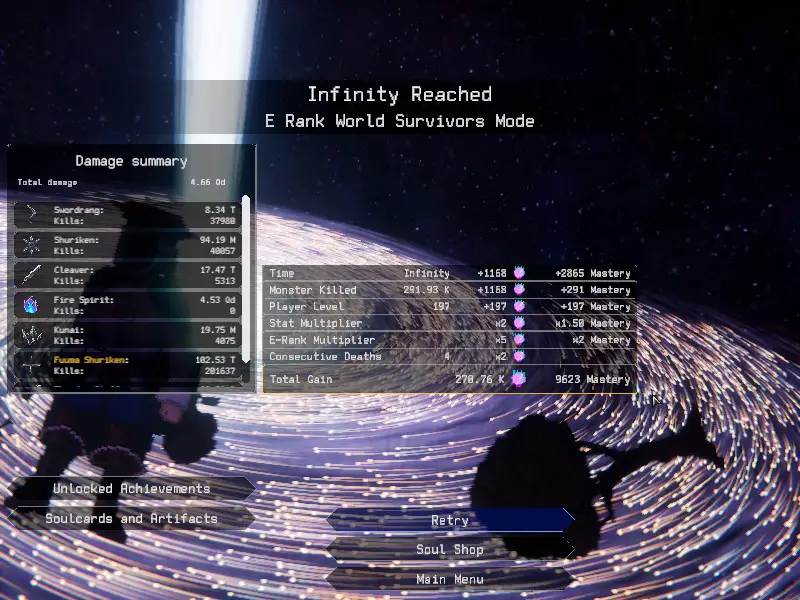 If you've followed the recommended steps correctly, you should be well-prepared. In my playthrough, the knockback was so efficient that I didn't sustain any damage once the build was fully operational. Therefore, the HP gates weren't even needed. However, if you have fewer upgrades or less favorable talents, your experience might differ.
That's everything we are sharing today for this Rogue: Genesia guide. This guide was originally created and written by CJTheInvader. In case we fail to update this guide, you can find the latest update by following this link.
If you believe that any of the content on this site violates your rights, including your intellectual property rights, please contact us immediately using our contact form.