This guide focuses on the combat aspects of the game and is the first, one of the most potential materials of the Combat Education project, tentatively planned for the future, as an ambitious collection of articles and, more likely, potential modifications in the future.
Introduction
The game has many interesting aspects, but how to protect our settlement and results of our harmless activity from the enemy? The local ragamuffin tribe is always ready to take the last thing you have – your last valuable Component, and the Swarm of Mechanoids – to burn all living settlements to ashes. If you understand what this is about, then you are probably an experienced player, however, if you have no idea who is the Component and who the Mechanoids are, then all the surprises are yet to come!
You can always choose an easy difficulty, but how then can you enjoy the battle thick and triumph of victories? A series of Combat Education chapters will tell you about many secrets of the combat, reveal the main aspects of the weapon and armor mechanics, will provide advice on how to form your battle squad, and also will give tips on how to make raid of your base a real disaster for enemies.
Yes, I agree, it is always more interesting to learn and study new things by yourself, with this in mind, I prepared the material in such a way that you do not lose interest in the independent learning game aspects. My goal is to tell you about things that will help you to remove the blockades of misunderstanding and to set springboards on the way of your own process of learning the mechanics of the game.
First Steps
To begin with, there is no casual damage mechanic in the game – "100 damage per 100 health points" does not work here. A bullet, projectile, or weapon can damage a specific part of the body with a certain chance and with a certain degree of severity. An attack accuracy is also affected, which depends on a number of factors: ranged and melee skills, weapon accuracy, distance, and availability of covers. How many things … how can all this be taken into account?
The degree of understanding about the influence of these factors and the correctness of their assessment can prepare you for the most difficult special operations and fight with a significant advantage, and also increases chances of keeping safe your Medicinal Herb in the early stages of the game. I am here to tell about the whole thing in detail, but in a nutshell, for ease of understanding. How can I do this? I agree that a task is not an easy one, only a bold point at the end will summarize.
It`s time to look at the basic elements of the game, in particular the classification of damage in the game. There are 3 types of damage: Sharp, Blunt, and Heat.
Sharp damage is inflicted by all firearms, pointed projectiles, and melee weapons.
Blunt – mainly by melee weapons: clubs, fists, explosions, and even by the wood log!
Heat and the corresponding damage are generated primarily by sources of fire, whether as a result of natural fires or from a Molotov cocktail.

Increasing the effectiveness of the combat and a unit as a whole is facilitated by progressive skills such as Shooting and Melee skills. Skills primarily increase the interaction with weapons. All weapons in the game, as in any alternative universe, can be conditionally divided into two classes – ranged weapons and melee weapons. Melee – knives and clubs, shooting – bows and rifles, elementary! You are right, what else can be said here? Indeed, in principle, this may be sufficient. But our main goal is to improve efficiency and introduce the basic mechanics of combat, isn't it? Go next!
Melee Traits
Come and hit – this is the main motto of close combat at the apogee.
True, it is worth noting that due to the presence of ranged weapons in the game, it is not always possible to approach, and especially unharmed. However, with the correct tactical move, this is not a problem, but about it in the next episodes.
The Melee skill is responsible for mastering a melee weapon. The higher it is, the greater chance of an attacker to hit a target and dodge a retaliatory attack. However, there is no 100% chance of attacking or dodging, even at maximum melee mastery. So, the maximum chance to hit a target, in accordance with the maximum skill level, is 90%, the chance to dodge is 30%.
In addition to skill, traits such as Nimble and Brawler give an additional bonus to these indicators. Nimble trait increases the chance of dodging at the current skill level, Brawler trait – the chance to hit a target. And that is not all! The game allows you to increase the chance of dodging up to 50% by introducing various body modifications and by using special drugs, but more about that in another episode of Combat Education.
Our advice – to try to use the settlers with these traits for their intended purpose, it will increase the effectiveness of the overall melee level of your combat squad. Let's look!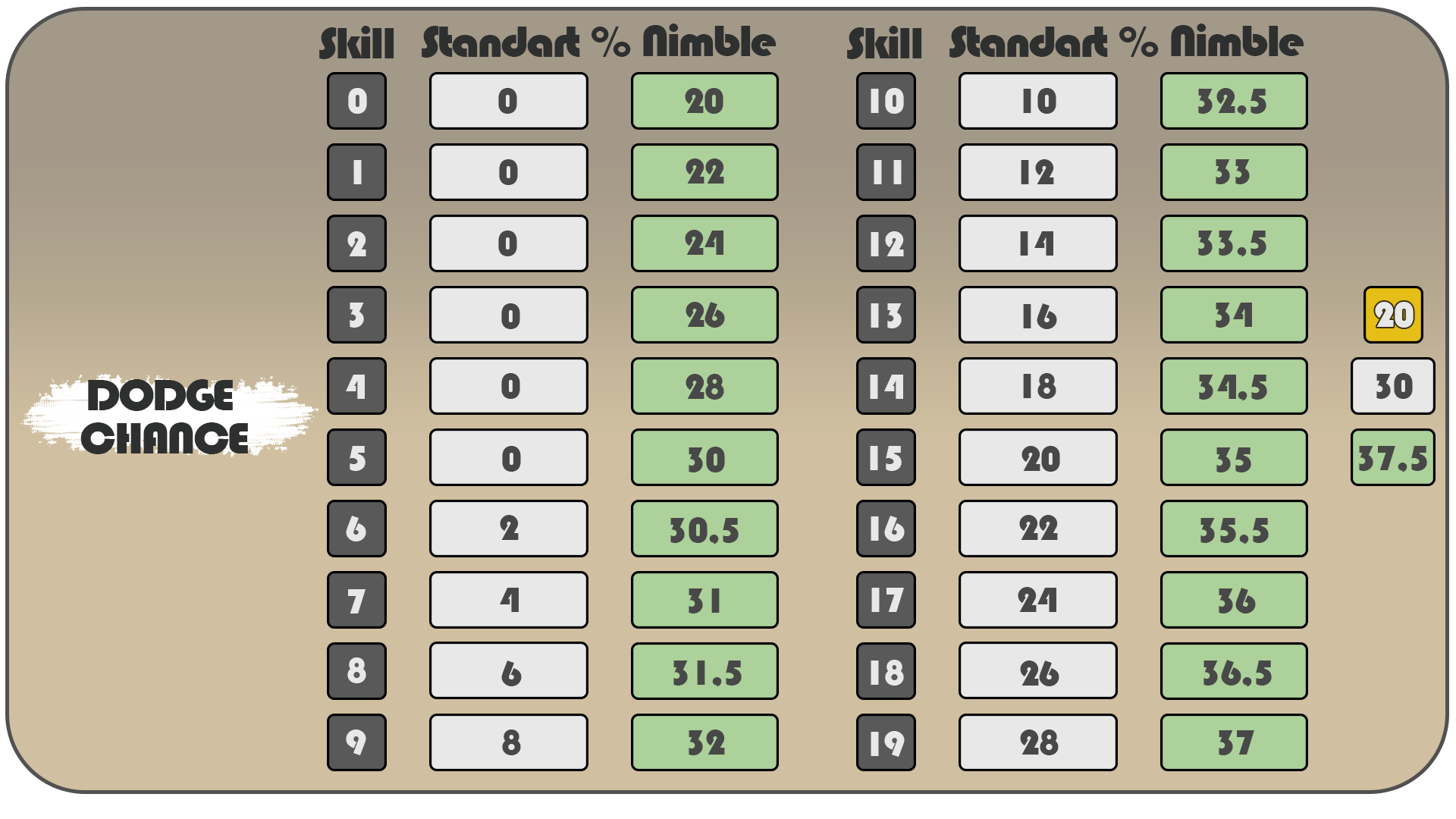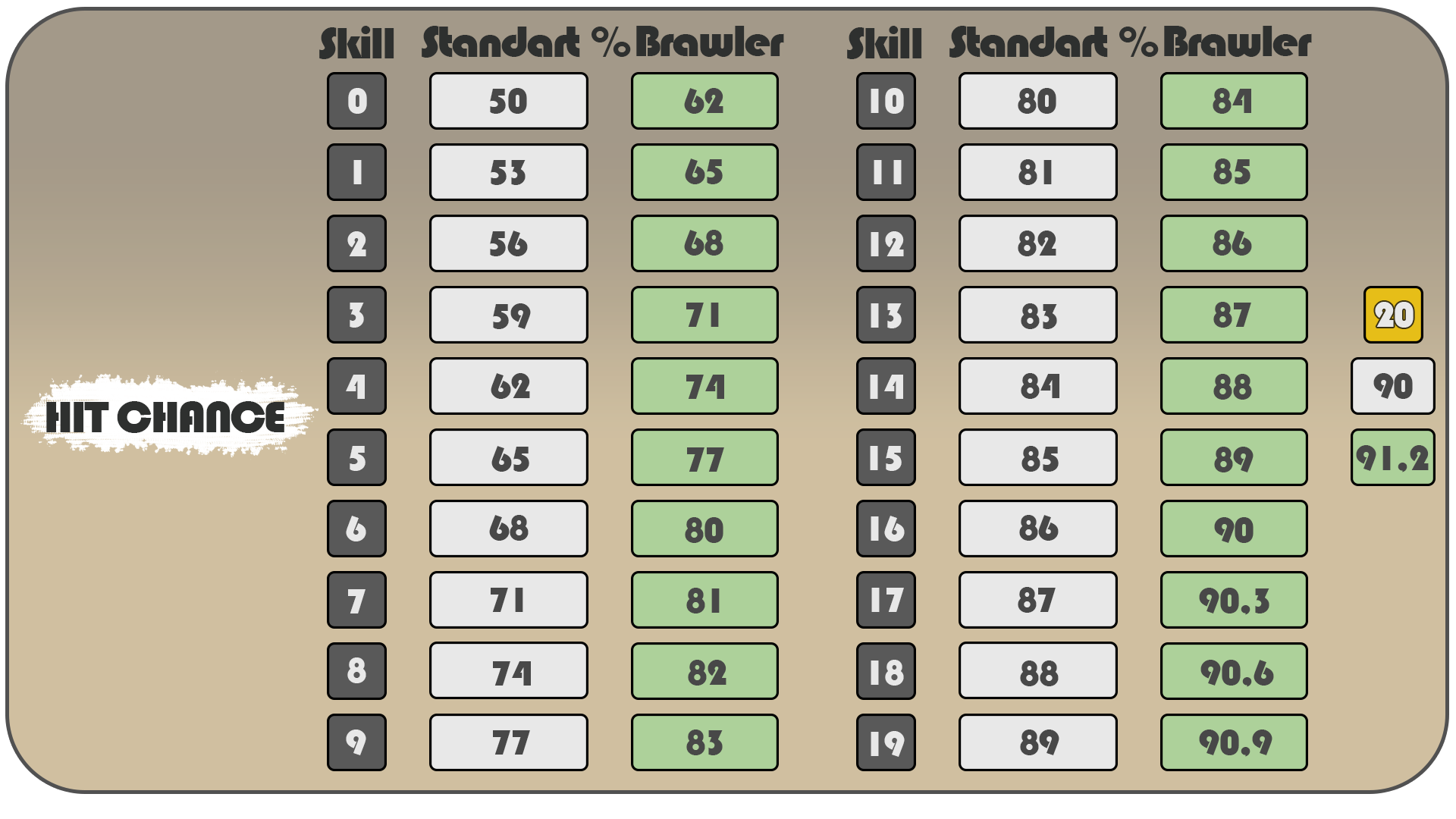 In general, you can use this information, if necessary, in order to assess your chances of winning in close combat with the enemy, but this is where the usefulness of this information is cut off.
Melee Weapons
There are 15 variations of melee weapons in the game (no DLC).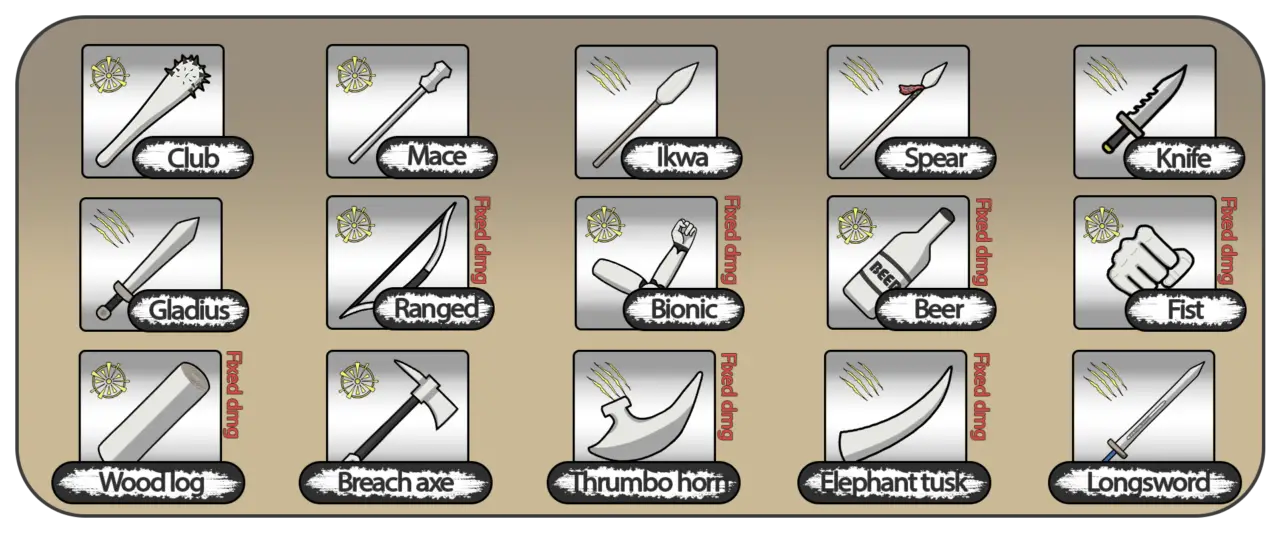 The assortment is not very large, but not so modest. The game allows you to fight for your life with whatever you have to, whether it be an unfinished bottle of beer or a wood log that has not waited for its turn to kindling. Some of the items presented, in particular, the entire list of ranged weapons, an elephant tusk, a thrumbo horn, a bottle of beer, a wood log, fists, and a bionic hand have fixed damage, that is, it is not possible to increase their damage in melee in any way, which cannot be said about the rest of the presented collection. The main factors affecting weapon damage are primarily Quality and Material.
Weapon Quality
The first thing we come to is the quality of the weapon. The higher quality – the more damage, I think everything is logical here. Let's look at how the damage and armor-piercing of weapons change depending on a quality … let's say … using the example of a Mace made of steel.

Legendary things make themselves felt, as always … That's why they are legendary, right?
For general reference, the higher the skill level of your Craftsman, the greater chance of making better quality weapons. Weapons of Masterwork and Legendary quality can often be obtained as rewards for quests or in caches on the world map.
Weapon Material
In addition to the variety of melee weapons in the game, there is also a variety of materials from which to make them. The material affects durability, the attractiveness of the weapon, and most importantly, damage, armor-piercing, and attack speed. Rarer and more expensive materials will make your melee weapons more deadly!
Almost all melee weapons in the game are forged, with the exception of the Club, one of the most primitive weapons available at the early stage of the game, rocks (granite, marble, limestone, sandstone, shale) can be used for creating the Club, but rocks do not lend themselves to processing in the forge to create forged weapons. But here it is worth noting that the quality of the Club is invariable; it is impossible to make the Club of excellent quality, masterwork, or legendary.
Let's draw the same analogy as for the interconnection between quality and weapon damage, and consider this function using the example of the Club made from the different materials.

Haven`t you forgotten that damage is inherently divided into 3 categories? So … this is where another fact comes up. Each material not only has its own damage modifier for manufactured weapons but also affects the increase in damage of a certain category in different ways. Here, check it out!

I suppose you thought that, probably, this information will not be very useful to you and practically may not be useful at all, so let's write it off as a background fact, nevertheless, it can be useful.
For example, you can at any time refer to this comparative characteristic and quickly assess the degree of lethality of your weapon in the framework of the upcoming choice of material for manufacturing or the corresponding comparison of melee weapons.
In general, just keep in mind that the material tends to increase Blunt damage rather than Sharp, and the rarest materials such as Jade, Plasteel, and Uranium allow for maximum damage indicators.
There is something else! You probably did not think, but involuntarily noticed that the attack speed of melee weapons is different. Interesting? Of course! I myself became interested when I first heard about it! Let's try to figure it out.
Attack Speed
Let's start simple! Imagine two clubs, the size of a hand. One is made of wood, the other is made of stone. Which one do you think will be easier to make pirouettes? Of course, and I think so! Wood is inherently less dense than rock, so it is easier to wield weapons made of lighter materials. But everything is not so simple regarding all the materials offered in the game … I think there should be a picture with an attack speed modifier … Aha! Here she is! Let's look.

Fortunately, the quality of the manufactured weapons does not affect the attack speed, and you will not have to familiarize yourself with these numbers. There are already a lot of them. Although, if you became interested in how the attack speed will change depending on the weapon used, then I think I have something else to show you. I will emphasize that these indicators are presented for weapons made from the most common material – Steel. Don't forget that the same weapon made from different materials will have different attack speeds!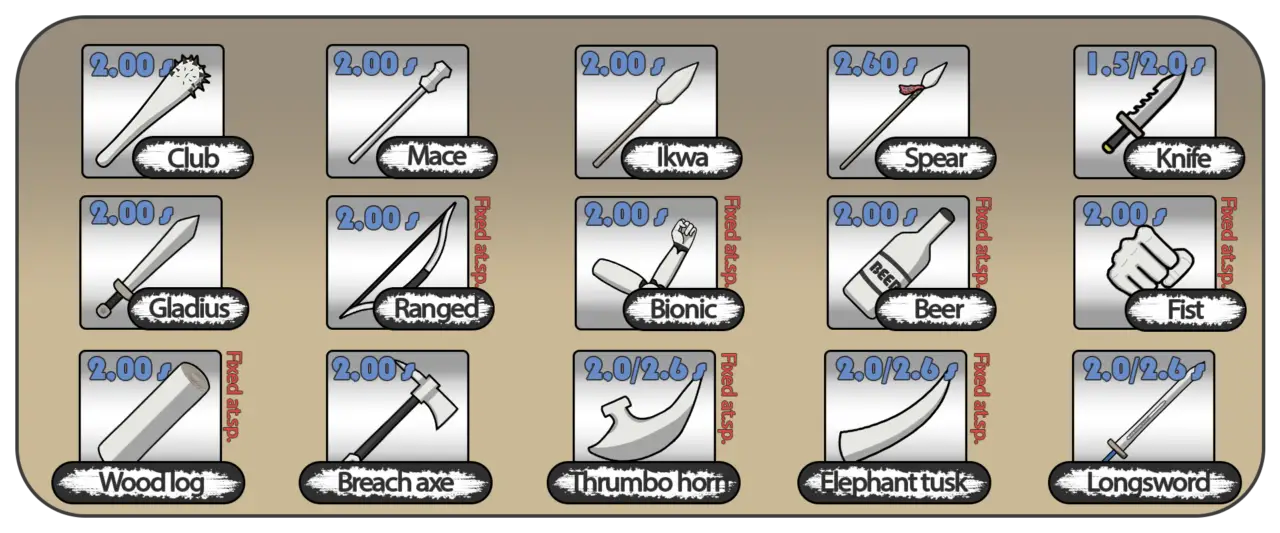 Here! Here is a complete list of melee weapons, we have already seen a similar picture with you earlier, but here instead of the damage category, we have the weapon attack speed.
For all melee weapons, it is worth noting one more fact: melee weapons can inflict different damage, it all depends on what type of attack falls out randomly (chopping, crushing, piercing, striking with a staff or a sharp point, etc.). For example, a Mace of Steel (normal) can deal 9 damage per hit for 2 seconds with a poke attack, or 15.7 damage per hit for 2 seconds with a blunt attack with a pommel. In addition, all sharp-edged melee weapons have a chance to inflict damage of the category Blunt.
A certain part of the weapon has a so-called powerful attack, which is more deadly, but the time for which is relatively longer than that of the usual one. This attack cannot be initiated, it, like a regular one, is chosen with a certain chance.

More details about these figures can be found for each weapon individually in the game itself, for this, in the weapon reference, select the Melee Damage per Second indicator. It is extremely inconvenient to constantly monitor these damage indicators and is not even necessary at all, besides, you cannot control them in any way, these values are for reference. For simplicity, you can use the average damage value.
It is enough to know that the damage from melee weapons, as discussed earlier, varies depending on the materials used and on the quality of the weapon made, as well as what category of damage (Sharp or Blunt) the weapon generates, for its effective use in battle, of course. The game has its own formulas for calculating the parameters of weapons, but we want to play, not do calculations, right?
Conclusion
So, what melee weapon will do the most damage in the least amount of time? The question is not easy, since we know that each type of weapon has its own attack option with the corresponding damage category, armor-piercing, attack speed, and its own amount of damage depending on the material and quality.
There are so many factors that it will be easier to sell all your melee weapons to a trade caravan passing through your settlement, arm yourself with rifles, and keep the enemy out of the battlefield. It's a good plan, of course, but what if we don't have ranged weapons? What if our combat squad members are born masters of melee combat? What if you have a legendary plasteel sword (fantasy, not otherwise) in your floor-warehouse, waiting in the wings? What if the environment and conditions do not allow ranged weapons to be used as effectively as melee weapons? Personally, I don't often send my comrades to a meat grinder … But this is subjectivism? No matter! However, melee skills are really important on the battlefield, tactic – the main friend of effective combat!
At this stage, it is too early to assess the effectiveness of the weapon, since it is important to consider the availability of armor and the variability of the enemy himself. I will tell you about this at one of our next meetings.
If you believe that any of the content on this site violates your rights, including your intellectual property rights, please contact us immediately using our contact form.