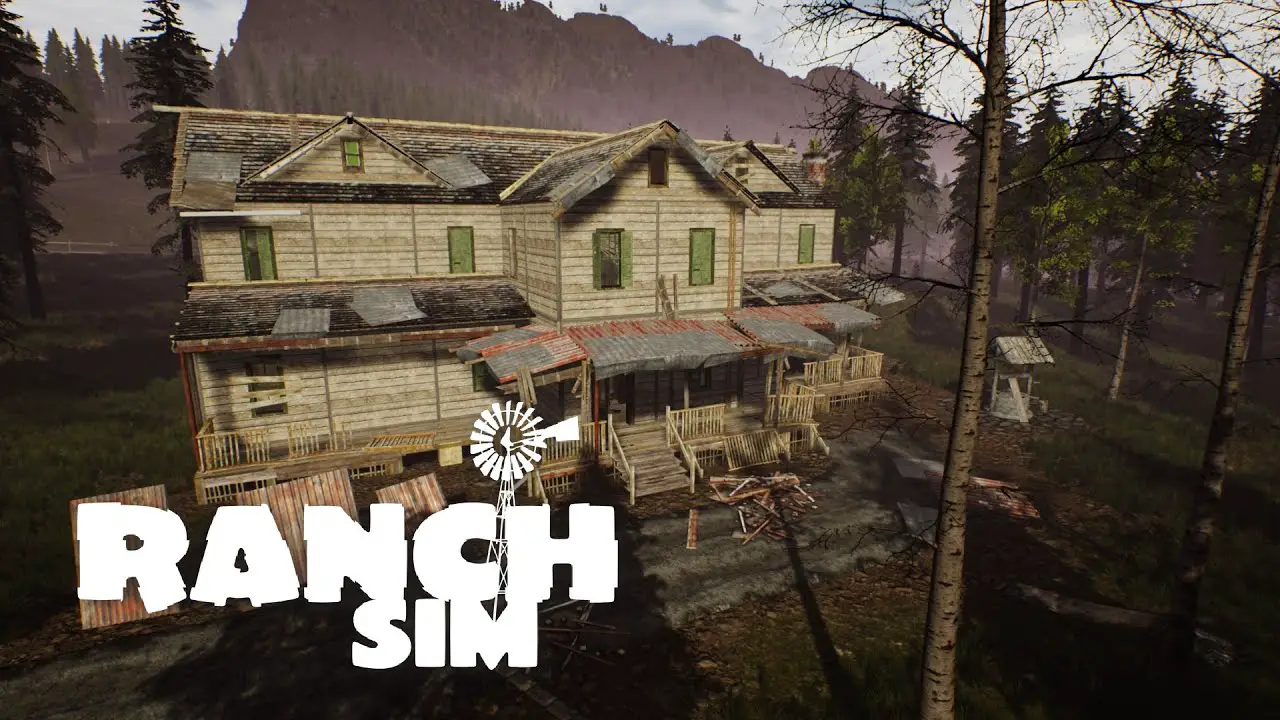 Included in this guide are the fundamentals of horses currently in the game. I'll go over how to pick horses that you'll get a profit off of, efficient ways of training, overall horse husbandry, and all the currently available color options in the game.
This guide is a work in progress, if you see any mistakes or want to add a suggestion please feel free to comment! I will be updating it as I figure out better statistics!
Getting Started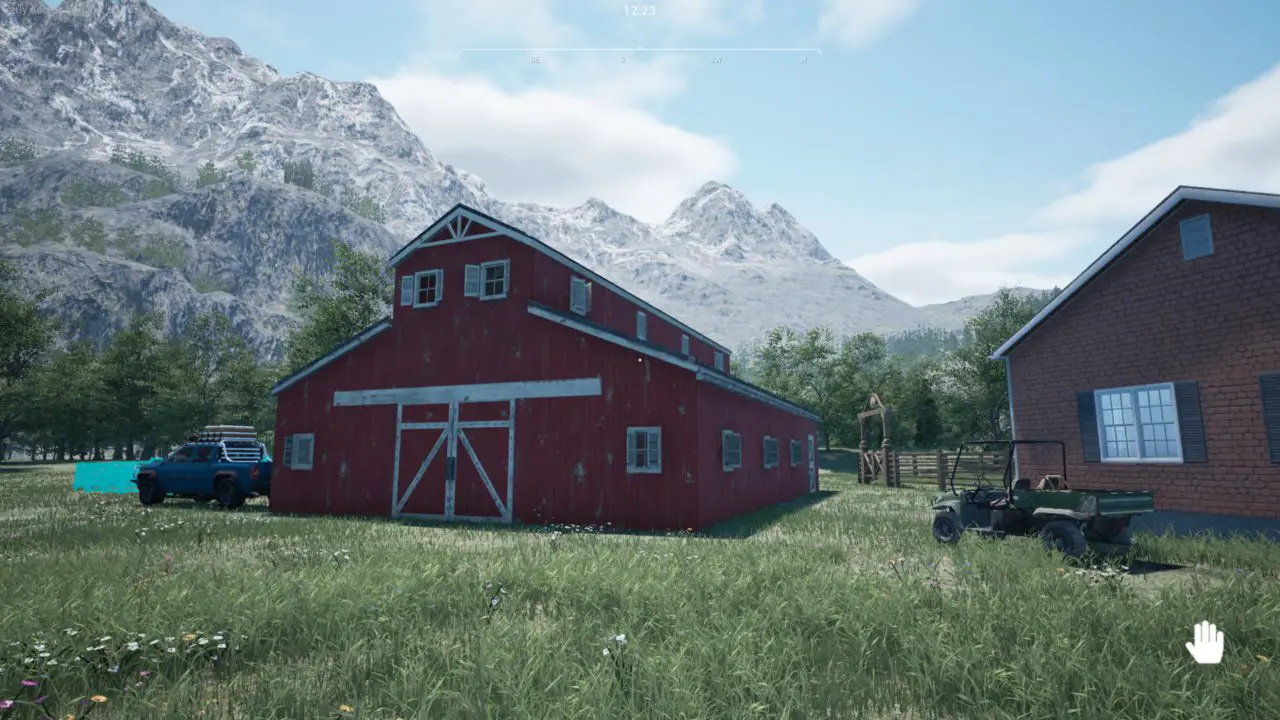 First, you need to prepare to house your horses. If you don't have one already, build a pen or barn with some stalls to keep the horses in. You'll also want to build the training pen as it does give a significant boost for training. Don't forget food and water sources.
Once you've built up a place for them to stay you'll want to save up at least 5k for your first horse. They go for cheaper but 5k is a good place to start.
Auction House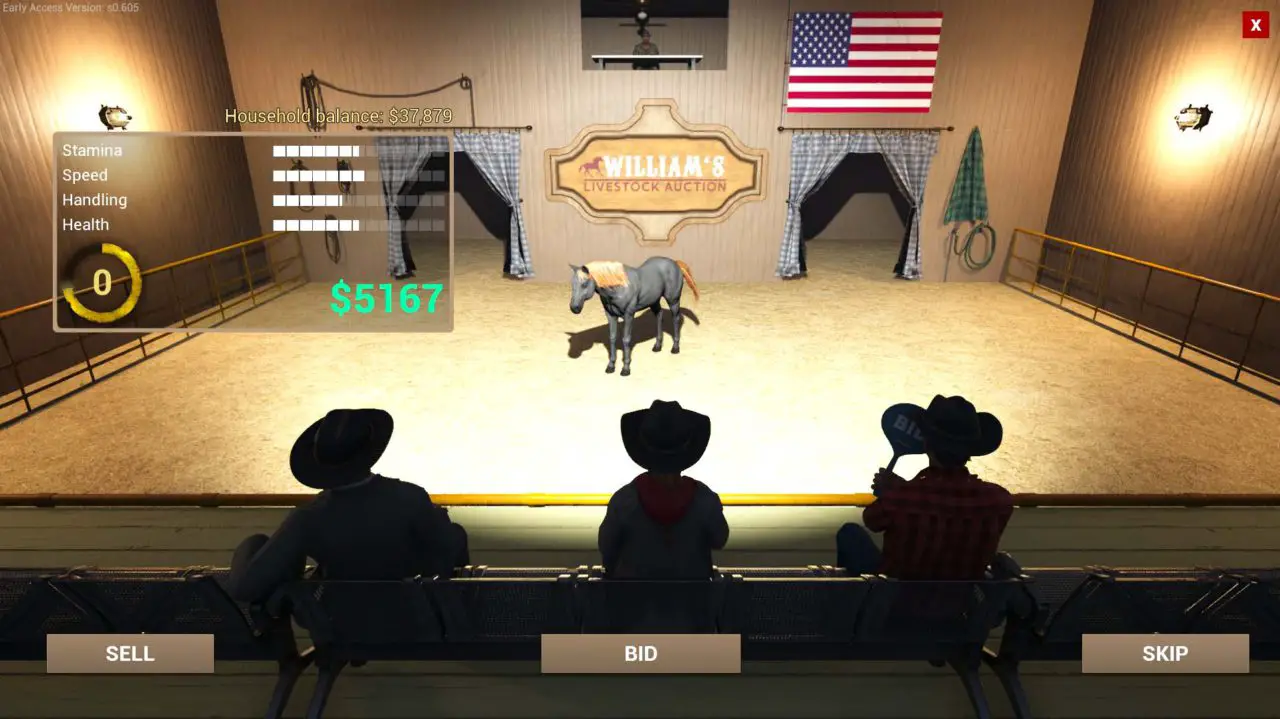 When you're ready head over to the auction house, get there by going to the bus stop.
Upon entering you'll be shown the first horse available to bid on. Next to your rancher are two npcs that'll bid against you. Every horse is unique as the dice are rolled on stats, mane/tail color, and coat color. You can either Bid on each horse or Skip to the next one, to my knowledge beginning costs are based on skill points alone. Keep in mind these stats are when the horse is fully trained, upon buying the horse you will lose 3 points of each skill. Overall you want to look for a horse that has balanced stats, something in all 4 skills or at least above a 5-6 in 3 of the skills.
Each horse has a maximum of 52 potential skill points, here is a grading scale based on the averages of 50 auction horses.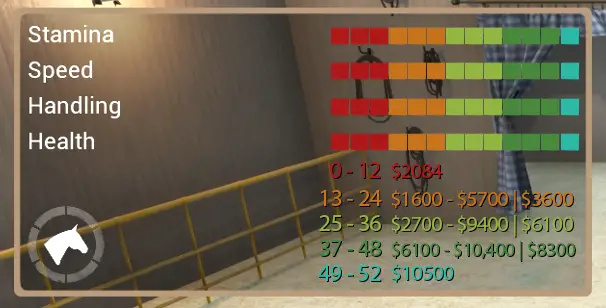 In my study 1/50 of the horses had a grading of "Poor" and was sold for $2,084 so I do not have enough data to back up the price range. However I do not think they are worth more than 3k.
Horses that were graded "Okay" sold between $1,617 and $5,700. The difference in price being higher point count, or 1 of the 4 skills was spiked into a range above 9. The median cost was around $3600 for a horse of this grade.
"Good" horses sold between $2,700 and $9,400. Yes, this is a wide range. I haven't been able to pin point exactly how much each skill point is "worth" as the system is based off of percentages. It is widely based off of skill point count though, as long as you count quickly and use this grading scale, I've had good success with making a profit off of them. However the median for this range was $6,100.
"Great" horses sold between $6,100 and $10,400. These were horses that had mildly balanced stats and often ended 2k over their beginning costs. The median cost for this range was $8,300.
I did not have any horses that fell into the "Excellent" grade so I do not have any data to back costs up but they are worth around 10K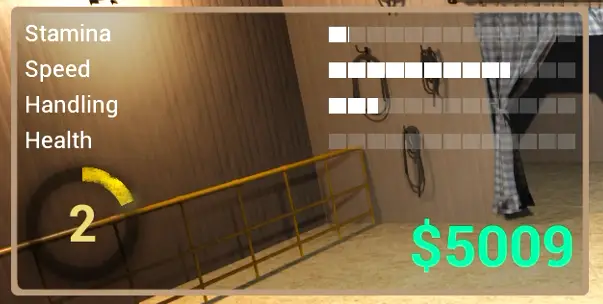 Beware of trap horses, there were a few that overall had low skill points but sold much higher than their worth. This was because 1 of the 4 skills was either maxed or higher than 9. In this example, this horse only has 13 (borderline poor) points but is being sold for 5K. That's 3k over the average for that point range.
Horse Color Combinations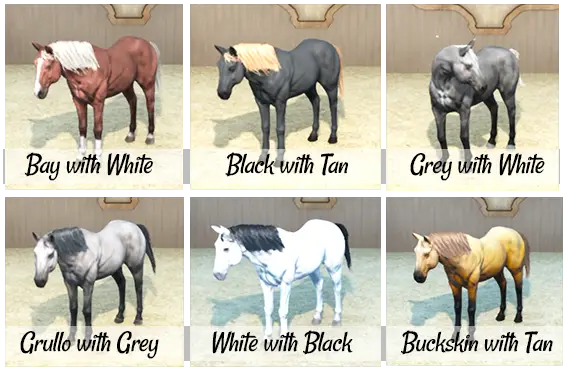 Currently, there are 6 coat colors and 4 mane/tail colors in the game. These are chosen at random and can make some really nice-looking combos!
Training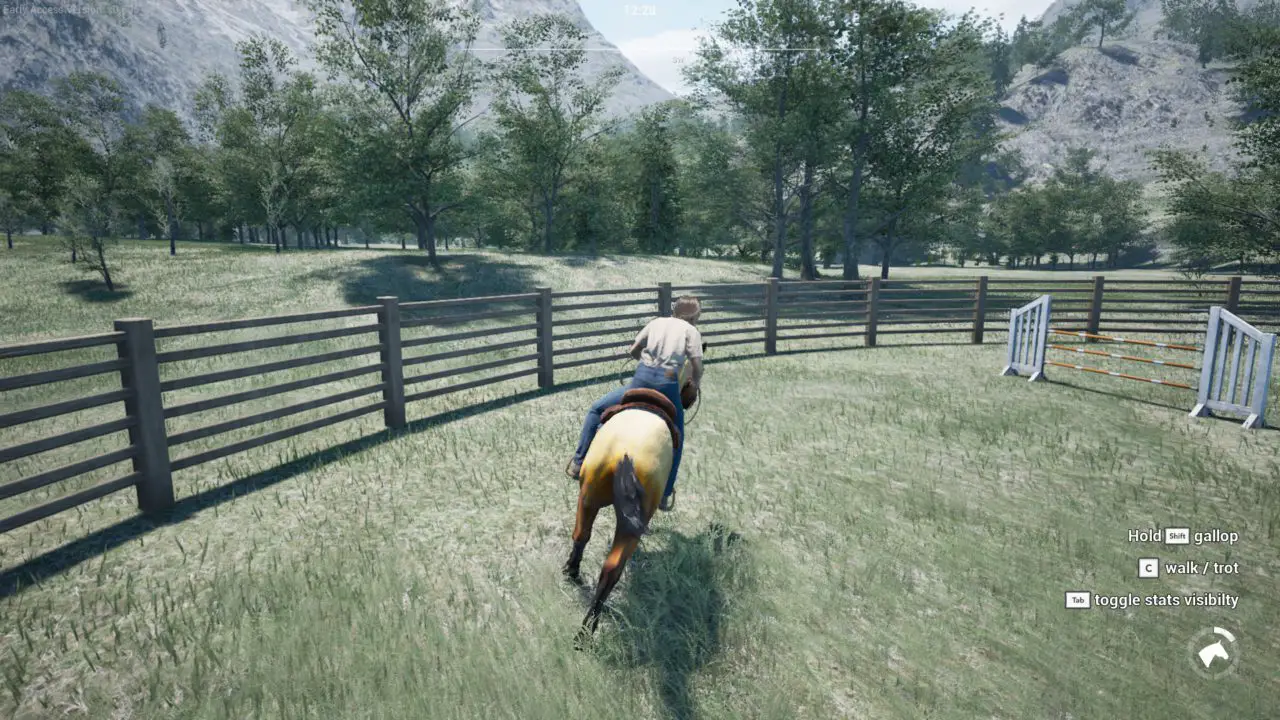 There are only two ways to currently train your horses; jumping over the standards and moving your horse. You're able to level your horse up to 6. Every time your horse levels up, each skill increases by 1/2. There are about 50 ticks per level, if you're constantly training efficiently you can have a horse fully leveled in about a half-hour or so. With each level you train, your horse's value is increased by a small percentage of the immediate value of the horse (not the amount you purchased the horse for, this is the amount your horse is "worth" immediately after buying it.) By the end of level 6, you should have gained roughly 50% of that immediate value.
Jumping
In order for you to gain the training tick, you need to successfully jump over the middle poles without touching them or the standards (posts on the side). I've found the most efficient way to do this is to gallop into the pen fence and when you're approaching the jump turn off of the fence and jump over the pole. This kind of controls the gallop a little, this way you get the speed and you have an accurate jump. Otherwise, use your horse's stam until you get to a "canter" (the speed just under a gallop) and jump over the poles at a more controllable speed. You can trot them too but it doesn't seem to be as efficient. If you can get the pattern down you're able to get a tick every 4 seconds and earn a level in about 4 – 5 minutes of consistent jumping.
Cantering / Galloping
The most efficient way to train your horse without jumping is to gallop in circles around the pen (boring, I know). While galloping you earn a tick every 6 seconds while in the training pen. If you're consistent you can get a level in about 5 minutes or so. Outside of the pen, you earn a tick every 13 seconds at a canter/gallop, and at a walk/trot, you earn a tick every 40 seconds.
Selling
Once you have your horse leveled up you can choose to keep it or sell it. If you choose to sell it simply just go back to the auction house and in the lower left-hand corner you'll see the option to "Sell" and your horses will be listed on the right and side by price. Unfortunately, they are sold at a set price based on your horse's skill level/training level, the price cannot be raised by bidding.
That's everything we are sharing today for this Ranch Simulator guide. This guide was originally created and written by Toad. In case we fail to update this guide, you can find the latest update by following this link.
If you believe that any of the content on this site violates your rights, including your intellectual property rights, please contact us immediately using our contact form.