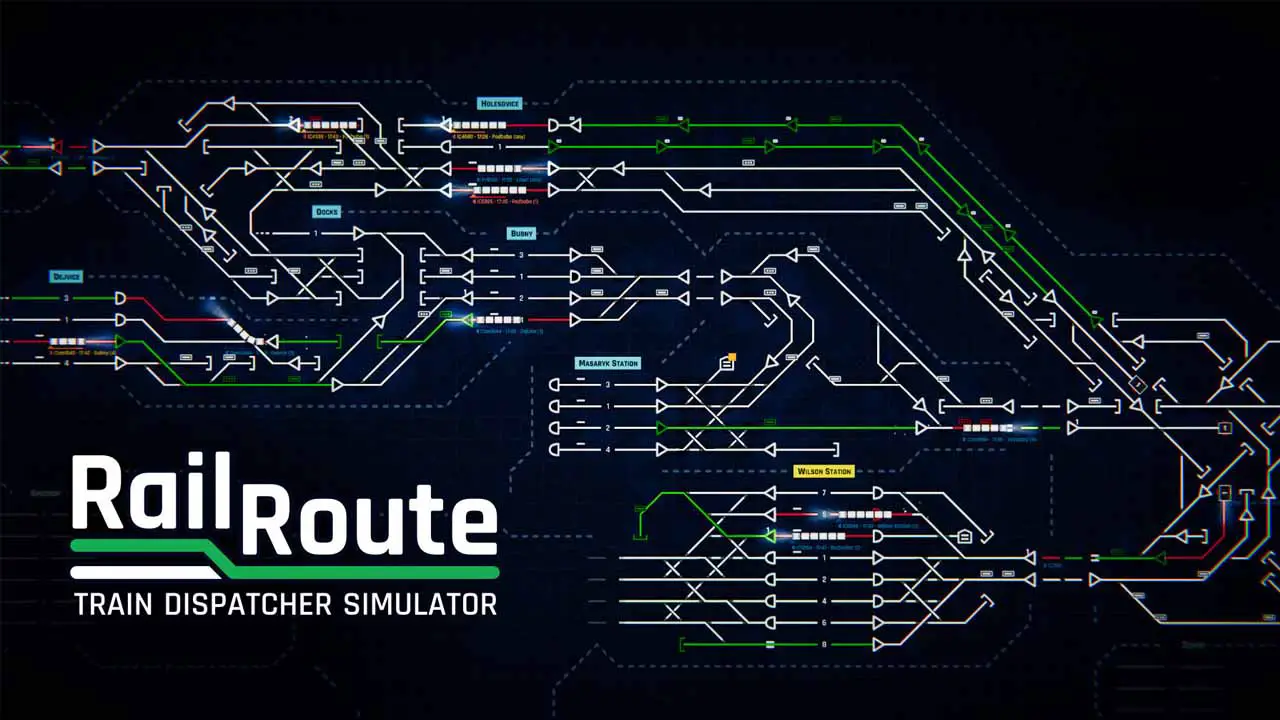 This guide is about how you can start and expand a good working rail network. It is not a step-by-step tutorial but gives you insight at a more global level, so you can apply it to any endless play network.
Take it Easy
When you first start playing an endless game, you get a very small network and soon all kinds of tempting contracts start to roll. What I did (totally wrong), was add more track, accept contracts, try keeping all trains running. This worked out like this:
Poor payment because I could not meet speed requirements
An increasing number of mistakes due to wrong switches, delays, trains waiting to dispatch
Lack of money
Not enough red experience points to do automation
So this is not the way. I will explain what is the best order to keep control over the network and in the long end progress much faster. In the next sections, you can read about each step you need.
Reduce the Risk of Mistakes
The very first thing to do is get your first five green experience points. You get them by making five trains complete their schedule on time. If you give it full focus, this is not very hard. It also will give you some additional cash.
You spend the experience points as soon as you get them to unlock automated signals. Where this makes sense, you spend all cash to use them. This makes life a lot easier.
Do not yet be tempted to add additional contracts. These will increase the risk of mistakes. It is better to continue and go for the next five green points. Once you get these, there is an upgrade that allows you to automatically allow trains to enter the network.
This again saves you thinking and again reduces the risk of mistakes. You still do not need new contracts. Just go on and continue. You go for five more green experience points. For any further automation, you need red experience points.
First Expansion
One of the things you need next is to turn the driving direction of trains automatically. It happens so often you just forget this. To get this, you need red experience points. So, what we do is we spend five green points to allow for one-time freight train contracts.
There is an issue, the trains will stay for a long time on a platform and you do not want to allow them to block a platform you need for other purposes. So wait for the first contract to appear and study it carefully. Where does this train want to stop for a long time?
Note, you do not need new stations, wait for a contract that uses your existing stations. Once you see a suitable contract, buy an additional platform, lay some track to reach this platform, and accept the contract at a suitable time.
You continue to play, till you collected the first red points. Use this to buy the feature to automatically turn the trains. Now you are ready for further expansions to increase the cash flow. In between, keep running these one-time freight trains. They generate red experience points and a nice amount of cash.
Increase Cash Generation
You now have the first round of automation in place. You still need to treat each train individually, but it is relatively easy. It is now time to increase revenues a bit. I recommend now doubling the tracks for the passenger route. You separate traffic for both directions. This reduces the risk of long waits. This will require some track and probably one or two automatic switches.
Once you have done this, take some time to make sure it is all working as intended. If not, fix it first. Once this is done, there is room for additional contracts, but I recommend doing something else first.
Unlock the 80km/h track speed. You now can accept trains that need a bit higher speed, to maximize the cash for each additional contract. Since it is a long way till you have enough experience to change the schedule, you need to do it now, before you run the trial for a new contract. You should not exaggerate, adding two contracts may increase the cash flow by 8000 per hour, which is quite good and you also just continue to use more freight trains.
A Coach Yard for More Red Experience Points
Now you generate cash a bit faster, it is time to unlock the coach yard. To unlock you only need green experience points. It is a bit expensive but worth the money. Add it to one of the stations in your network, or unlock a nearby station. Make sure to have at least two free track sections between the coach yard and the switches to the platform. You will need this later, and you cannot move a coach yard that is in use.
The coach yard allows you to make contracts end at the station and you can put the train in the coach yard. Later you pull it out for another contract, starting at this station. Always make sure to have the same amount of contracts storing trains and retrieving trains, otherwise, you will be in big trouble.
The contracts leaving from the coach yard generate red experience points. This is great because with say two trains every hour you generate a nice continuous flow of red experience points. You need those for the next step: full automation.
Full Automation
Before adding lots of additional contracts, it is time now to fully automate your tiny network. This will be your "cash cow" as marketeers would say it. Unlock Routing queues, departure sensors, arrival sensors, and routing sensors. Departure and arrival sensors are the most interesting ones, especially in a small network.
Afterward, you also should unlock automatic coach yards. watch the tutorials to find out how to use this stuff. It may look a bit complicated. It is important to do it in small steps, each time playing a while to see if there are no errors. Errors can be very expensive if they go unnoticed.
The end result is that your little network is running fully automated and generates experience points continuously. Set speed to 15x and watch the money flowing.
Grow Your Network
Now, and not before this you are ready to grow your business. You can easily unlock all upgrades now and add new stations and tracks as you see fit. I tend to do it contract by contract. Build a piece of the new route (eventually completely separate from the current network. Add a commuter service, automate this service fully, then add the next one, and so on.
You now can upgrade track speeds further, to 120km/h or higher and this is good for intercity services. Still, keep focus and avoid accepting contracts that do not fit into your growth strategy. Be patient.
That's everything we are sharing today for this Rail Route guide. This guide was originally created and written by Rudolf Jan. In case we fail to update this guide, you can find the latest update by following this link.
If you believe that any of the content on this site violates your rights, including your intellectual property rights, please contact us immediately using our contact form.