Title: Pekoe
Release Date: June 29, 2023
Developer: Kitten Cup Studio
Publisher: Kitten Cup Studio
Greetings to the newest member of our picturesque town and the esteemed owner of the charming teahouse! Allow us to share with you our extensive knowledge of the art of tea.
Discover an array of new customs and tea-making techniques that will allow you to concoct an infinite number of delicious recipes. Forge meaningful relationships with the city's amiable inhabitants and venture into their teahouses to procure unique teaware and exquisite ingredients.
Controls
Navigation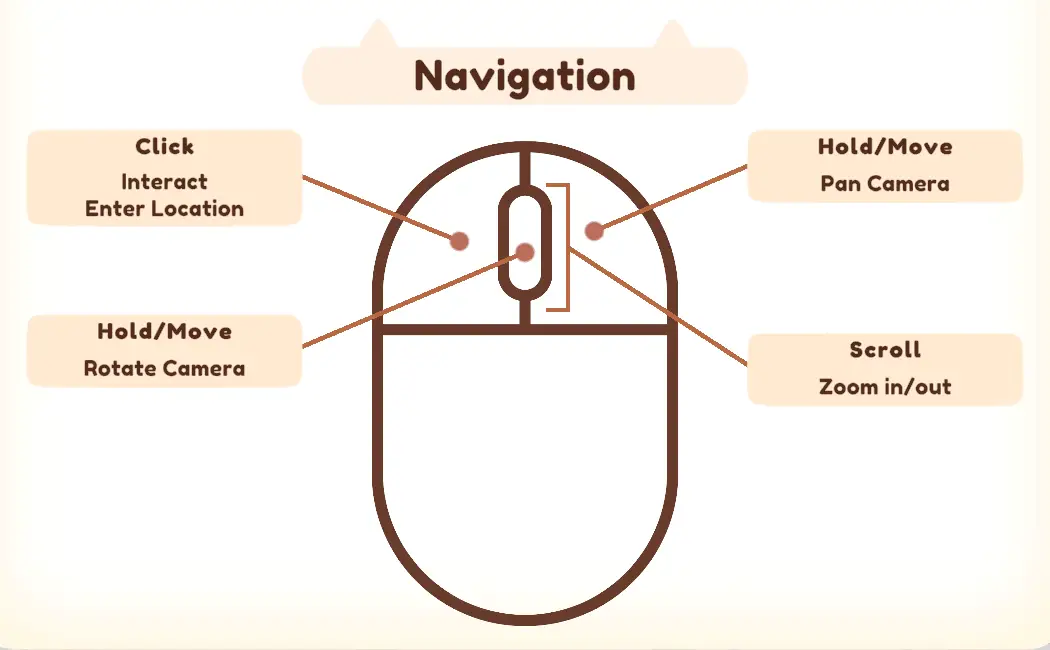 Tea Making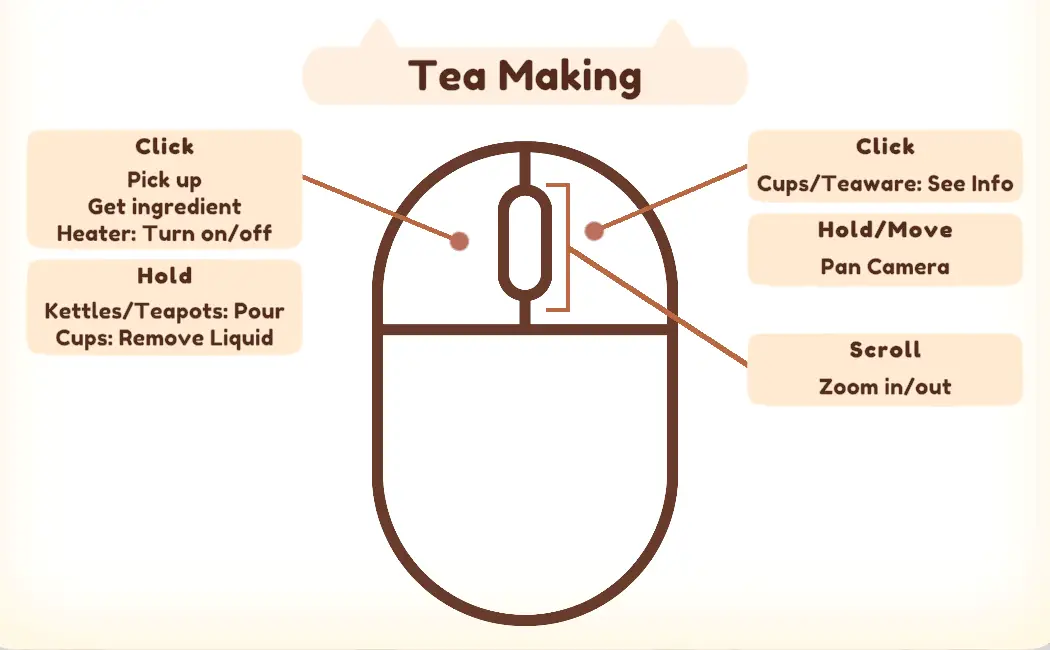 Keyboard Controls
Camera
WASD – Pan camera
Left/Right Arrow Keys – Rotate Camera
Up/Down Arrow Keys – Zoom Camera
Dialogue
Space/Enter Key – Continue
Left/Right Arrow Keys – Select Response
Tips and Clarifications
Please ensure that you save your progress at least once to select a save slot, as the game will begin auto-saving at the end of each day. The saving option can be found in the Journal menu, accessed by clicking the gear button in the top right corner of the screen, then navigating to the Options Panel (gear icon ribbon-toggle), and finally, clicking on an Empty Save File.
The Tutorial Mode, which can be accessed through the "Tutorials" button in the Start Menu, is designed for replaying tutorials as a helpful reminder. We highly recommend starting with a New Game to experience the tutorials in their proper context initially.
When attempting to add an ingredient to a cup and it vanishes without being added, several potential reasons could explain this:
The cup might be full. To address this, click and hold your cursor on the cup to gradually remove any tea or water present.
The cup may already contain the maximum allowable number of ingredients. A cup can hold up to three "grabbable" ingredients, such as teabags or fruit slices. Should you desire to swap ingredients, try removing some from the cup.
If an infuser basket is already on the cup, certain ingredients cannot be added. In such cases, the infuser basket needs to be removed before adding more ingredients.
Concerning adding an infuser basket to a cup:
Currently, it is not possible to add infuser baskets to cups that already contain "grabbable" ingredients. This measure is in place to prevent potential issues that might arise from placing infuser baskets alongside teabags or infuser balls already present. Unfortunately, this also restricts adding infuser baskets to cups with smaller grabbable ingredients like herbs or fruit. To work around this limitation, ensure you remove any ingredients already in the cup before adding an infuser basket.
If you find that there are no customers coming to your shop:
Under normal circumstances, there should be a chance for a new customer or resident to appear at the beginning of each hour. If you are experiencing a lack of customers, please report this issue to us so we can address it appropriately.
In case you run out of ingredients:
Not to worry, you can purchase more ingredients at any of the shops available in the game. For detailed information about the shop timings, refer to the Residents section (heart ribbon) of the Journal Menu. It's important to note that each shop's inventory should refresh every day, giving you the opportunity to restock your supplies regularly.
Tea Making
The preparation of tea serves as the primary core gameplay element in Pekoe and plays a pivotal role. With an extensive array of ingredients and teaware options, players have the ability to create a wide variety of tea blends to suit both their personal preferences and the tastes of the town's inhabitants.
The process of making tea generally involves combining ingredients and hot water in a teacup. Afterwards, you can either offer the tea to a cat or enjoy it yourself. During the tea-making process, ingredients are consumed, but fear not, as additional ingredients can be obtained by purchasing them along with beans from various shops run by other townspeople. Brewing tea for customers will also earn you beans, which can be used as currency in this delightful tea-filled world!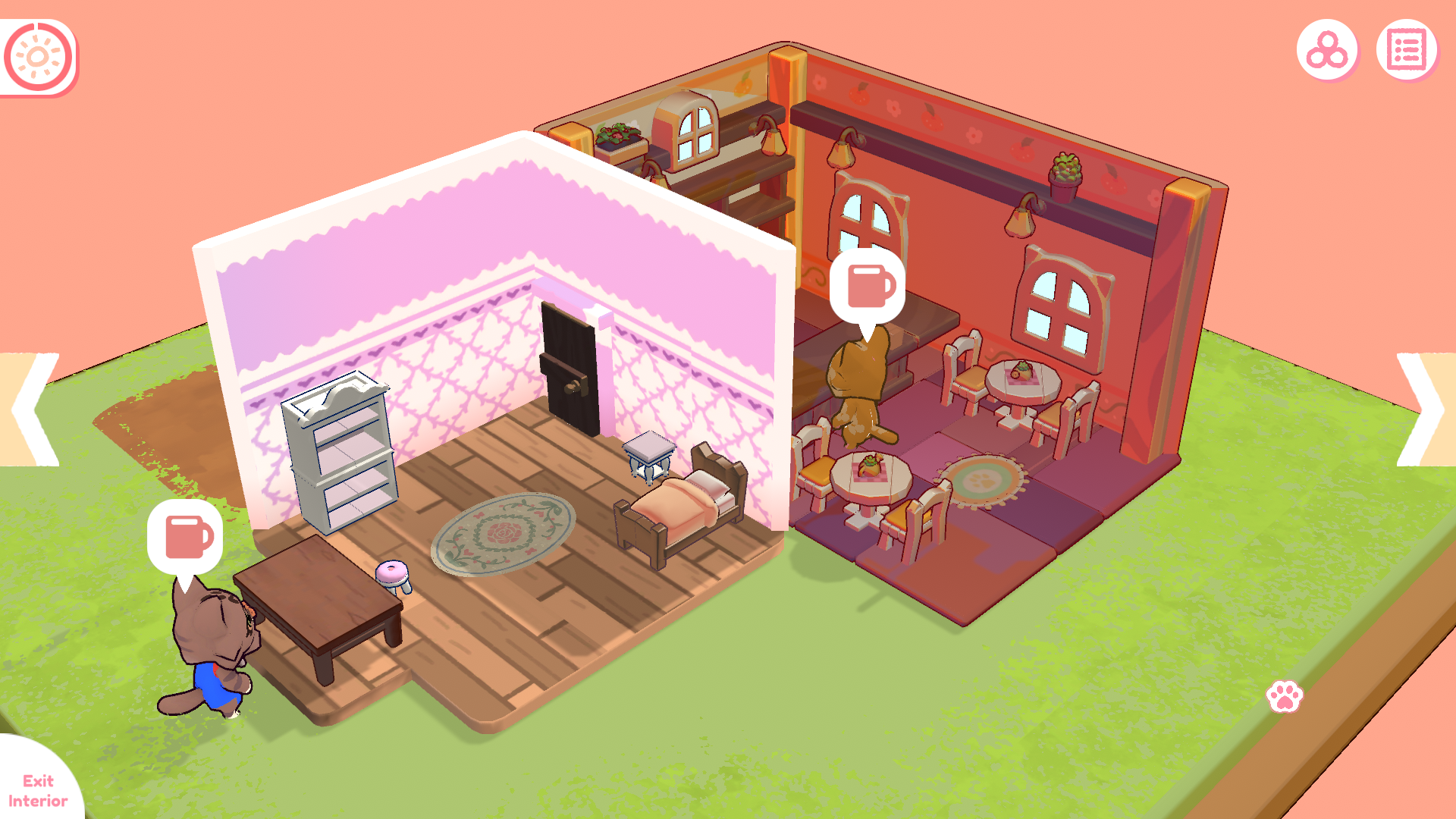 In Story Mode, the process of making tea involves three primary methods:
Solo Tea Making: This method involves making tea for yourself by interacting with the tea table in either the bedroom or the shop. It provides an opportunity to practice and refine tea-making skills or explore new recipes. Although making tea for yourself does not earn you any Friend Points or Beans, it does earn you Tea Points and the First Cup of the Day bonus.
Resident Request: In this approach, certain residents may visit your bedroom window asking for a cup of tea and engaging in conversation. By making tea based on their specific requests (Whims), or catering to their unique preferences as found in the Journal menu (Preferences), you can strengthen your friendship with these individuals.
Customer Order: In this scenario, both residents and generic NPCs visit the tea shop to either place a specific recipe order or make a general whim-based request. This is an opportunity to earn Beans, the in-game currency, which can be used to purchase additional ingredients.
For those who wish to experiment without depleting their hard-earned ingredients, Freeplay Mode is accessible from the Start Menu. This mode provides unlocked access to all teaware and ingredients.
As for the types of tea, different preparations require specific equipment:
Tea Bags: No special equipment is required; users can simply click on the lid of a tea bag box to retrieve a tea bag and place it in their cup.
Loose Leaf: Steeping loose leaf tea requires an infuser basket or ball. The tea container usually includes a scoop to place the loose tea into the infuser.
Powdered Tea: This type of tea is scooped directly into a cup or bowl, but a whisk is needed to stir it thoroughly.
Blooming tea: Larger bulbs of tea require placement in a teapot for steeping before the tea can be poured into a cup.
Various ingredients, such as sugar, milk, and toppings, exhibit a wide range of forms:
Grabbable Ingredients: These ingredients, like tea bags, can be easily taken from a container and placed directly into a cup. After being steeped for a certain duration, they can be clicked to be removed. Among other examples, some types of fruits, herbs, and flowers fall into this category.
Note: Due to their size, there is a current restriction of adding only three grabbable ingredients into a cup simultaneously.
Dissolvable Ingredients: Similar to tea bags and grabbable ingredients, these can also be taken from a container and added directly to a cup. However, they cannot be retrieved and simply dissolve into the liquid. Sugar cubes and certain types of toppings are some examples of dissolvable ingredients.
Scooped Ingredients: These ingredients, like loose leaf tea, come with scoops and can be directly added to the cups without the need for infusers. Some scooped ingredients, such as powders, dissolve instantly in the tea, while others, like flower petals, will be visible in the cup.
Liquid Ingredients: These ingredients, such as milk and cream, are already in a liquid form and can be poured directly into the cup from a creamer or bottle.
It's important to note that ingredients cannot be added to a cup that is already filled with too many other ingredients or water.
Additionally, to gradually remove water from the cup, you can click and hold your cursor over it. If you wish to acquire more information about the content of your cup, such as steep time or brew temperature, you can Right Click the cup to access further details.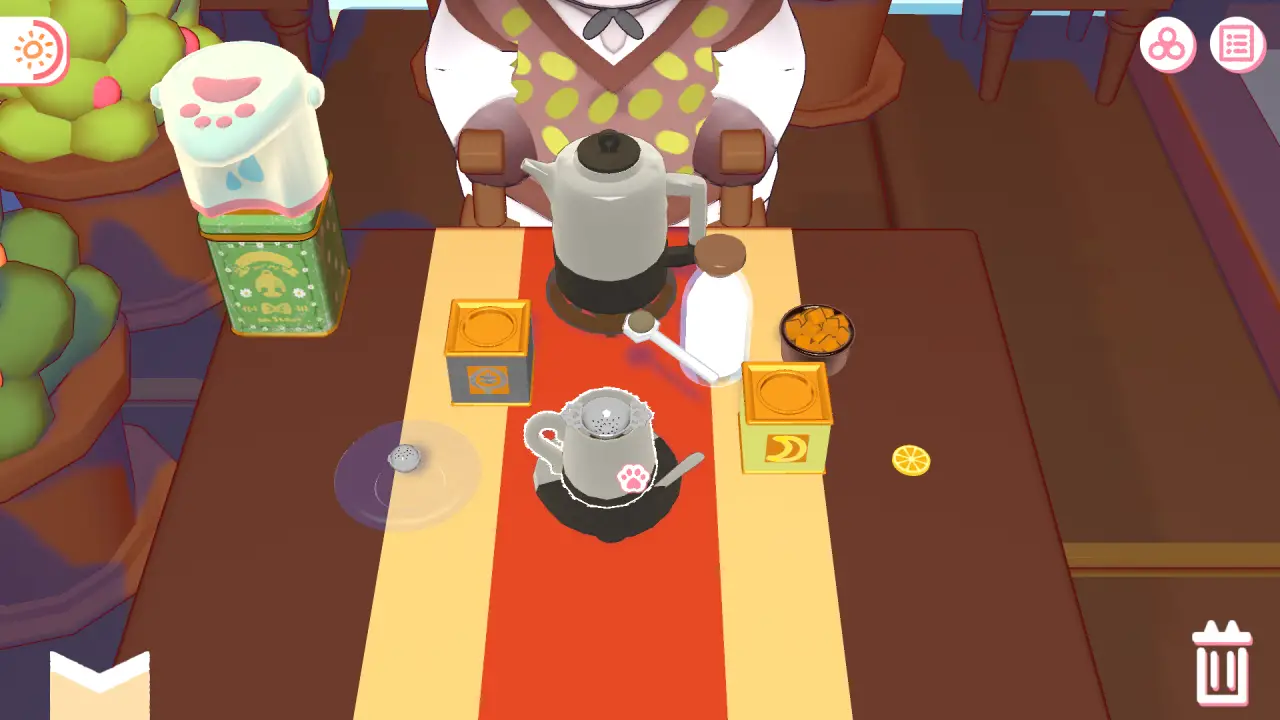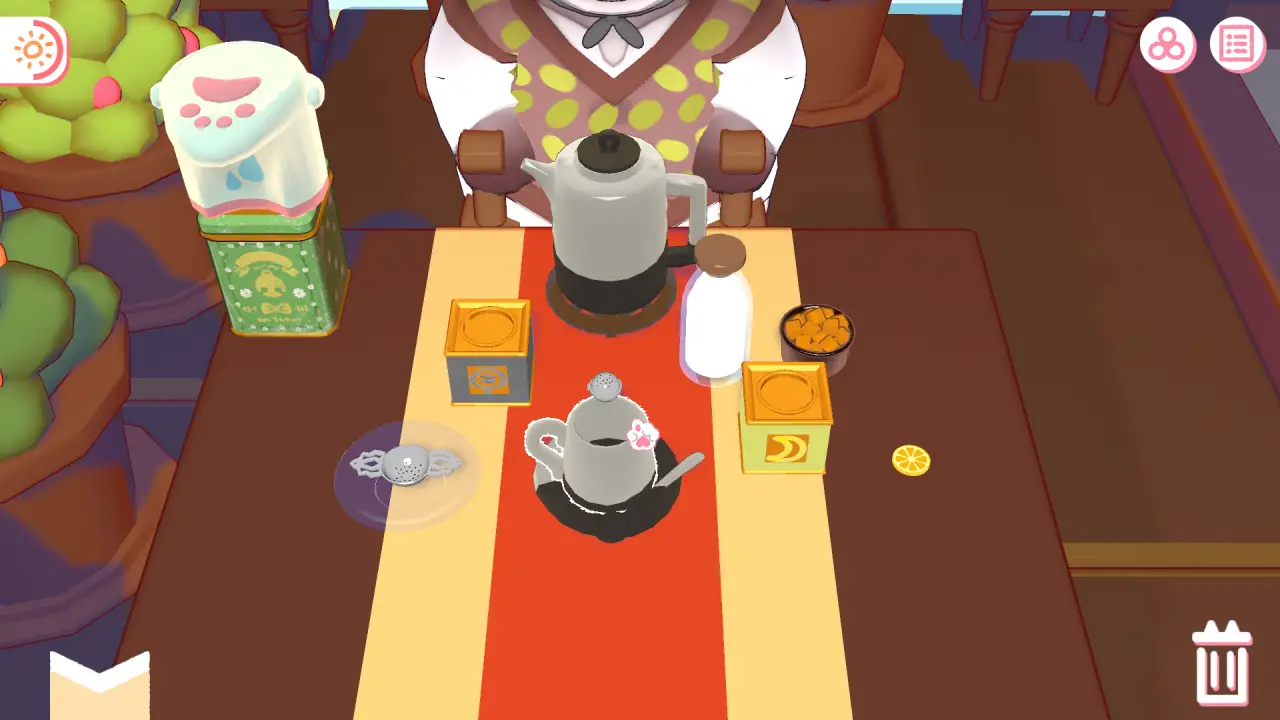 Loose Leaf Tea stands out as a rather distinctive ingredient, necessitating its use with Infusers. Presently, there are two types of infusers available:
Infuser Baskets: These are picked up and attached to the top of a cup. Players can then take a scoop of tea from a loose leaf tea tin and insert it into the infuser (up to three scoops!). Afterward, hot water is poured into the cup to allow the tea to steep.
However, it's important to note that Infuser Baskets cannot be added to cups that already contain other grabbable ingredients due to the size constraints of some of these ingredients. Nevertheless, these ingredients can still be combined by steeping the loose leaf tea in an infuser basket and subsequently removing the basket to add other ingredients. Similarly, other ingredients cannot be added to a cup while an infuser basket is attached to it.
Infuser Balls: These are pre-filled with loose leaf tea and can be directly placed into a cup, much like teabags. When the infuser ball is removed, the steeped tea inside automatically vanishes, leaving the infuser ball empty. Once it's empty, more loose leaf tea can be added to the infuser ball using a scoop from a loose leaf tea tin, and the infuser ball can then be used in another cup.
Residents and Friendship
Pekoe hosts a community of Residents with whom you can foster relationships through engaging conversations and shared tea sessions.
Each Resident has a quantifiable metric known as "Friend Points" that can be increased or decreased based on certain dialogues and tea offerings that align with their likes or dislikes, especially when fulfilling Resident Requests.
Keep in mind that there is a limit to the number of Resident Requests that can be completed in a single day, so you will need to be patient until the next day for additional opportunities to earn Friend Points.
Similarly, please note that there is a limit to the number of subsequent "Friendship Change" conversations per day for each Resident. However, during this interim period, engaging in conversations with other Residents remains a viable means of advancing your relationship with them while you wait for the next day's opportunities.
As you earn Friend Points, your Friend Level with each Resident will increase. When you reach certain Friend Levels (indicated by different colored hearts in the Residents panel of the Journal menu), you'll gain access to exclusive cutscenes with each cat. These cutscenes will automatically trigger the next time you visit them in their house.
Unfortunately, not all Residents currently have Friend Levels and cutscenes available. You'll notice that the Friend Level progress bars for these residents are grayed out.
Tea Points and Town Levels
As you brew your tea, you earn Tea Points, which are indicated by a progress bar with a flower icon in your Journal menu. There's also an interface that appears at the top center of your screen. These Tea Points play a crucial role in the overall prosperity of your town, as they contribute to the town's level progression. You can also unlock various new features, such as the ability to decorate your bedroom, by reaching certain Tea Point milestones.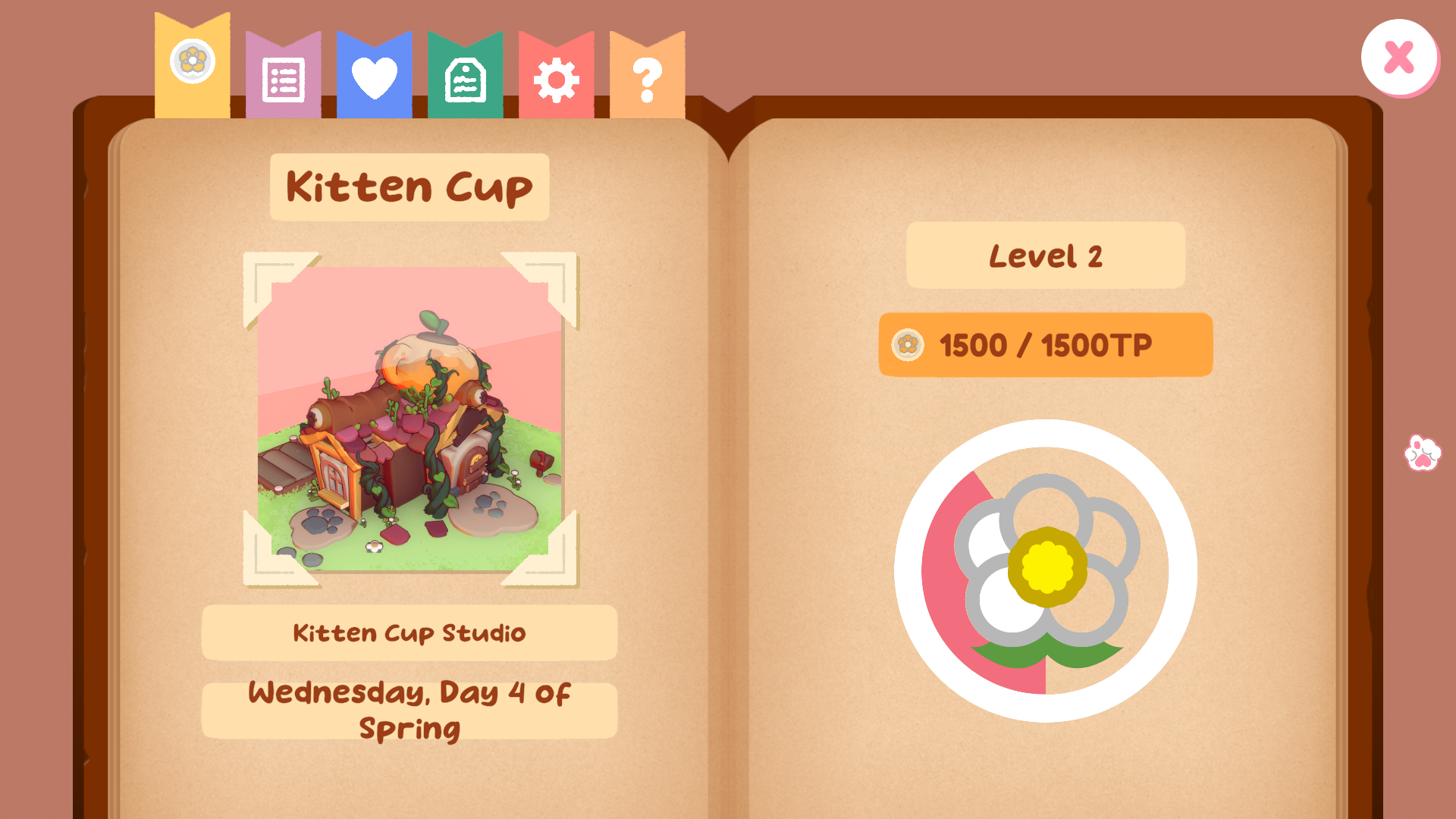 There are currently 5 different city levels available to players. Once you have accumulated enough Tea Points to advance to the next town level, the changes will take effect during the night. It is important to note that it is not possible to accumulate additional Tea Points during this time, so it is advisable to retire for the night in order to achieve the desired progression. The next morning, a short celebratory cutscene will greet you for your remarkable progress.
Once you have successfully reached Town Level 5 and experienced the cutscene at the Tea Tree, it is imperative that you pay a visit to Mayor Pambeh in his office to officially mark the completion of the story! Rest assured, despite this accomplishment, you will still be able to brew tea and continue to explore your relationships with the townspeople.
That's everything we are sharing today for this Pekoe guide. This guide was originally created and written by justinsparked. In case we fail to update this guide, you can find the latest update by following this link.
If you believe that any of the content on this site violates your rights, including your intellectual property rights, please contact us immediately using our contact form.