A brief overview of the Patron's basic concepts and gameplay mechanics. The goal is to assist you in getting started, not to explain everything. For a more detailed overview, please refer to the manual. If you prefer an offline version, consult the manual, which is accessible via the game launcher. There is also a quick start guide.
Introduction
We've put together a quick-start guide to ease you into the game and explain the basic concepts for those of you who are eager to get started. Once you've crossed that line, you'll have no trouble grasping the game's more advanced concepts. This short guide follows the in-game guided tutorial, with a few extra tidbits thrown in for good measure. To make it easier to follow, we've divided the guide into numbered steps.
Basic controls
Of course, moving around the map is required. This can be accomplished by using the WSAD keyboard buttons or by holding down the right mouse button and dragging the mouse. Finally, if you move the cursor to any edge of the screen, the camera will move in that direction. If this last bit bothers you, you can turn it off in the options menu.
Use the mouse wheel to zoom in and out of the camera.
To rotate the camera, press QE on the keyboard or hold down the mouse wheel

and drag it.

To interact with objects in the game world, use the left mouse button

to click on them.
Basic gameplay concepts

At the start of the game, your citizens are in desperate need of housing. Owners of homes are happier and pay less in taxes. Taxes are your primary source of income from coins. Only one family can live in a single house, and if they have more space and are happy in your town, they will have children. Building several tents to provide basic housing is a good first step.

There is nothing free on the website. While things do not always require money, they do necessitate the use of other resources. Lumber is a fundamental construction resource. The quickest way to obtain lumber is to cut down the trees that are already marked on the map. Mark a few trees for collection. Your workers will fell them and transport the lumber to your stockpile.

It's also worth noting that nothing in Patron happens instantly. Everything takes time to complete. Resources can be used only after they have arrived at your stockpile, warehouses, and depots. Excessively long transportation routes can cause serious issues. Create new resource drop-off and pickup locations by constructing depots (and later warehouses). Aside from the aforementioned benefit, depots and warehouses increase the maximum size of the overall stockpile. Excessive resources will rot away and you will lose them.

Food is likely to be the most important of your citizens' basic needs. Gathering berries and other wild fruits are the most cost-effective way to produce food. We recommend that you construct a gatherer's shelter as soon as possible. Remember that this type of food production is highly dependent on the weather, season, and local flora.

Almost every building requires citizens to operate it. In the preceding example, the gatherer's shelter necessitates that the gatherers go out and forage for food. To accomplish this, workers should be assigned to the profession. You can do this through the Gatherer's shelter's info panel, or if you prefer to look at the big picture, through the job board. You can assign workers to a profession only if there are any available workers. But be cautious! A worker is perhaps the most "basic" of professions, but it is also the most important. Your city will be unable to function if there are insufficient workers. They serve as the foundation of your entire economy and construction.
Production Chains

As a result, we arrive at production chains. Patron is all about supply chains, so moving resources between buildings is essential. Workers and carriers perform this work, with the latter specializing in such tasks and thus completing them more quickly. Place roads and connect your buildings to make it even easier for them. It is not required, but it will expedite their work and improve the appearance of your city, which is always a plus.

Winter, as it always does, will arrive. Remember that your citizens must stay warm or they will become ill and die. Your citizens use firewood and/or coal for this purpose. Make sure you have a sufficient supply of both of these resources. Your citizens will use coal if it is available; otherwise, they will use firewood. Build a sawmill to turn lumber into firewood. Make sure you have a good stockpile of lumber so they don't run out, and don't forget to assign workers!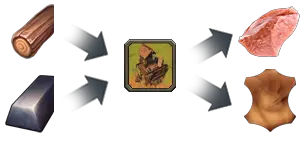 Great! Your citizens are comfortable and well-fed. At the very least, there's food. Let's work on that a little. Having enough food is great, but your citizens need more variety in their diets to be healthy and happy. Let's give them something to eat. Build a hunting lodge and assign a worker to the hunter's job. He'll get right to work, but keep in mind that hunters use lumber and iron to make traps and arrows! They are also unable to hunt without them. You already know how to get lumber. Later on, you'll build Forester huts to ensure a consistent supply of lumber. But what about iron?
Iron can be obtained by collecting it from exposed metal deposits, such as when cutting down trees for lumber. You can locate them on the map and mark them for collection. The same is true for stone deposits. The other, more sustainable option, which you will discover sooner or later, is to construct iron mines in ore-rich areas, which brings us to the next section.
Slightly More Advanced

When you've taken care of the essentials, you'll want to expand, grow, and advance. Examine the various research projects available on the Research panel, which can be accessed via the button on the top right of the screen. It takes resources and time to conduct research, but it is well worth it. Before you can build an iron mine, for example, you must first research it. The research panel provides a plethora of new buildings, passive bonuses, and another important aspect of Patron: social policies. Because social policies are a more advanced topic, we will not cover them in this quick-start guide. We recommend that you start by getting your feet wet before moving on to more advanced gameplay concepts.

Everything in the Patron, as previously stated, takes time. And, at times, it may appear that there isn't much for you to do, especially if you're a master of organization. You can use the time controls to speed up, slow down, or pause the passage of time to allow you to jump ahead a bit.

A key component of developing a sustainable city is to plan ahead of time and to use whatever information you have. One such fundamental tool is available via the HUD buttons on the top right. One option is to cycle through various overlay view modes. More specifically, you can see where to find good soil fertility for your farms and orchards, as well as ore-rich ground where to best place ore mines. Finally, there's the "grid" overlay, which clearly shows where you can build buildings, etc., etc.
The quick start guide has come to an end. The fundamentals taught here to provide you with all of the tools you need to get started with your quaint little community. Take care of your citizens, and your community will thrive. Ignore their pleadings at your peril. Best wishes, Patron!
Patron Tips and Tricks
Here are just a few tips to get you started:
Prioritize getting your essential products in order first: food, firewood or coal, construction materials, and housing.
As your Citizens become a more diverse group, social issues and tensions will gradually escalate.
Do not overlook bonus and social policy research. It is important to unlock new and more advanced buildings, but we try to maintain a balanced approach.
Your stockpile is global in scope. Don't be concerned if a single warehouse or depot runs out of storage space. Keep an eye on your global inventory space, and equally important, optimize the location of your depots and warehouses so that your citizens do not have to travel far.
Your people will not be happy or healthy if they only eat meat, fish, or vegetables. Maintain diverse food storage. At the very least, provide them with options.
Keep in mind that a single housing unit (tent, house, stone house, or two-story house) can only be occupied by ONE FAMILY! It may appear that you have enough space for new residents, but a new family will always want their own home.
And that concludes this Patron guide. Do you have any suggestions to improve this guide? Please let us know by leaving a comment below. For any other concerns, please reach us using the contact details found on the contact page.