Title: Oxygen Not Included
Release Date:
Developer:
Publisher:
Some general information on the DLC's new meteor showers. Includes some basic measures against Ice, Oxylite and Slime+Gold.
Introduction
When starting a new colony, several asteroids will be assigned to have one or more meteorological events.
The meteors on the starting asteroid will be easy to deal with than in other locations. To know the type that a place will get, select the asteroid on the starmap and look at the information subpanel. Some asteroids will never have meteors.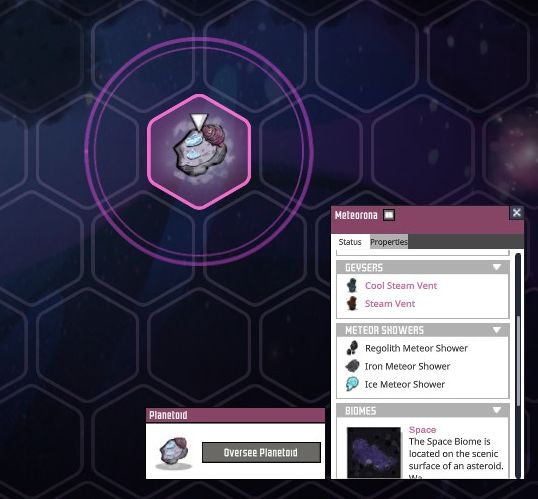 Meteor showers are spawned in waves from the edge of the starmap and will target all planetoids -that you have landed in- and reach them at the same time, though they can individually have a different duration.
Meteors will start unidentified until scanned by a nearby telescope, though you'll always know their destination. Scanning reveals their type and lets you look at their composition as showers include different types of "projectiles" within them.
Meteor types
Oxylite (1/2 Oxylite, 1/2 Dust Fluff)
Creates a couple tiles of oxylite.
Doesn't damage tiles.
You can receive over half a dozen tons of oxylite.
Oxylite will disperse unless it lands on a liquid.
Ice (7% Ice, 93% Snow)
Creates tiles of extremely cold snow and crushed ice.
Doesn't damage tiles.
Snow and ice may stack up to extremely annoying heights.
May cause flooding.
Slime
Solid tiles of slime.
Doesn't damage tiles
Other meteor types will heat slime until it becomes dirt.
Gold (57% Gold, 14% Rock, 29% Dust Fluff)
Leaves small amounts of gold debris.
Will greatly damage tiles.
Shower type would have little economic value if it wasn't for it including regolith.
Uranium (45% Uranium, 18% Dust, 36% Dust Fluff)
Creates tiles of uranium.
May damage tiles.
Could be melted into Liquid Uranium.
Asteroid surface requires maintenance to avoid uranium build up.
Can't be mined by Robo-Miners.
Requires a dupe with the skill "Superhard Digging" (Tier 2).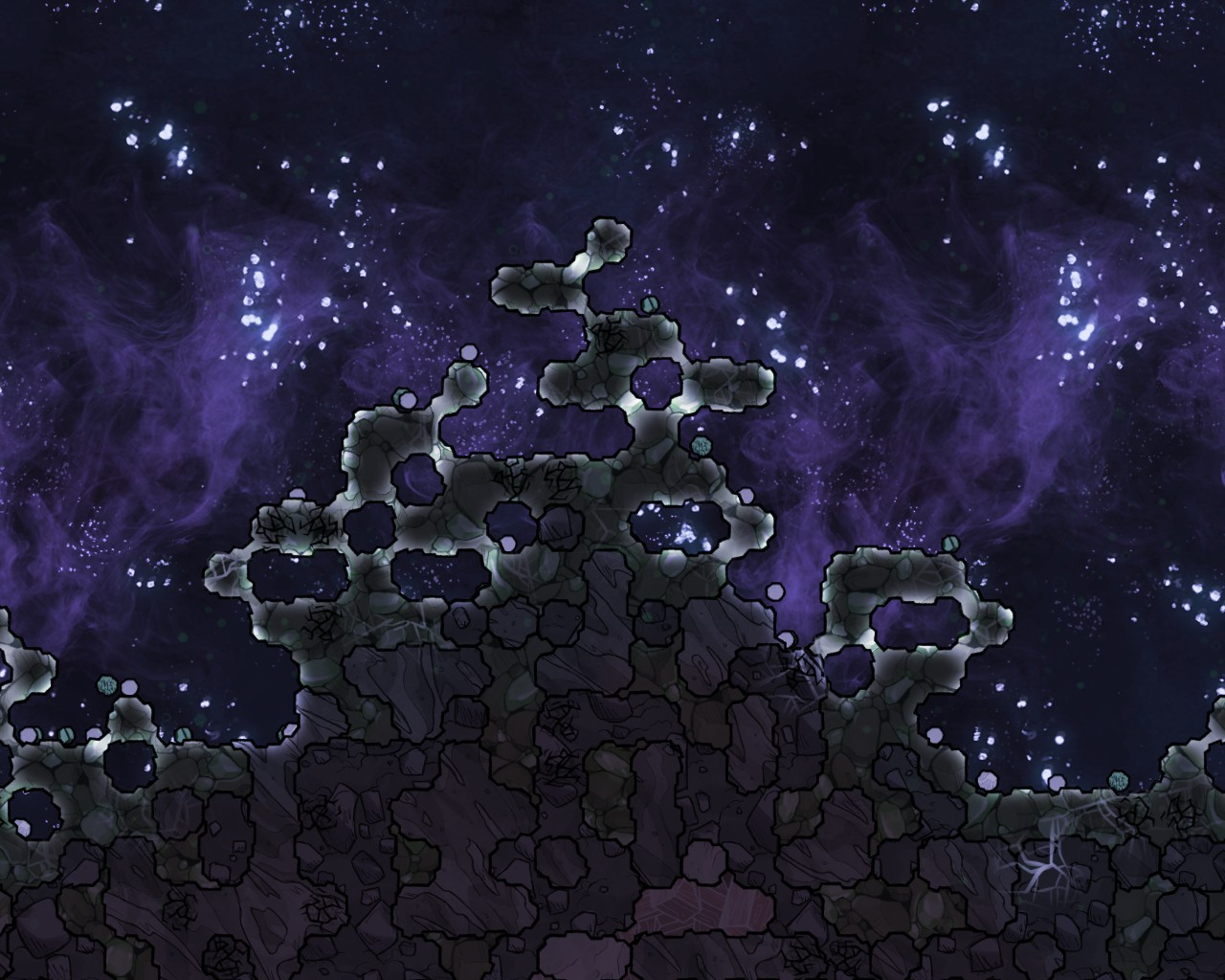 Mooteors
Several Gassy Moos arrive.
Won't damage tiles
Moos may be turned into meat or ranched.
Regolith
Massive amounts of hot Regolith that is affected by gravity, much like sand.
Will fall through open bunker doors.
Meteors will damage tiles.
Iron
WIP
Will greatly damage tiles.
WIP
Ways to deal with them
Ice
Run radiant piping through the surface of your asteroid, pipes should contain a fluid that's between 3C and 100C as to melt the ice and so that you can still get some cooling out of it, but not so hot that the water flashes to steam and is completely lost to space.

Oxylite
Build horizontal "trays", place robo miners that cover each other, auto sweepers inbetween then conveyor loaders above every other robo miner. You can use glass for the bottom then place solar panels underneath. Afterwards flood them (tried 100kg/tile but it was overkill).

Slime
While harmless, they can be paired with dangerous gold showers.
As robo-miners currently won't work through bunker doors and slime meteors are harmless, you'll want your bunker doors to be open so that they fall through.
Gold.
Block them with bunker doors. Only leaves behind debris.
Shower includes really hot regolith tiles which will turn slime tiles into dirt.
Uranium
Block them with bunker doors or, due to their relatively low chance to deal damage, airlocks.
Have someone mine them; alternatively run extremely hot liquids through bunker tiles so that the uranium touching them melts.
Regolith
Block them with bunker doors.
Regolith will fall after opening doors which makes the cleanup easier than slime or uranium, though the resulting regolith debris has to be dealt with.
Iron.
WIP – See Gold.
Mooteors.
WIP
All Meteors
You can turn petroleum and refined metals into blast-shot (bullets) that can be used to destroy meteors.
Notes
Weather follows a sequence such as:
[Slime Slime Gold] [Slime Slime Gold]
so you can keep your bunker doors open for harmless meteors (ice or slime) then closed otherwise (regolith/iron or gold).
That's everything we are sharing today for this Oxygen Not Included guide. This guide was originally created and written by POWER WITHIN USER. In case we fail to update this guide, you can find the latest update by following this link.
If you believe that any of the content on this site violates your rights, including your intellectual property rights, please contact us immediately using our contact form.