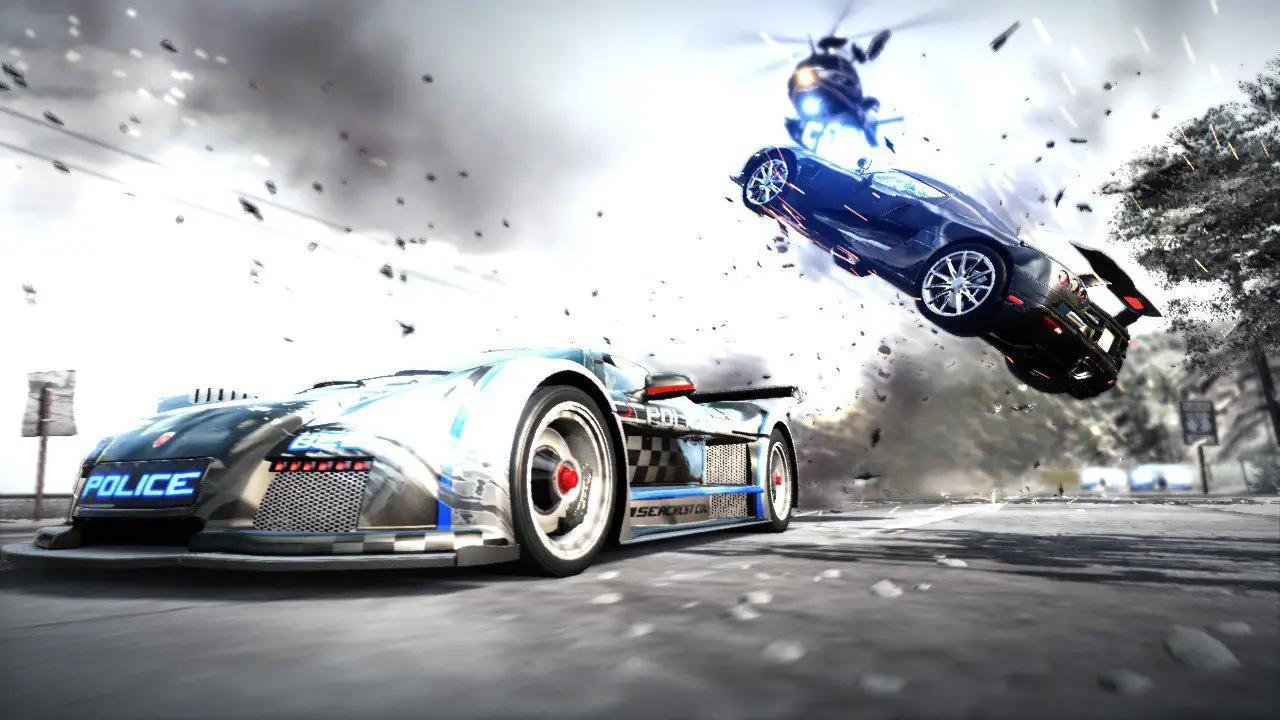 After clocking in around 300 hrs into this game, I've decided to share my skills and experiences with other players, be it complete beginners or seasoned veterans. This guide covers barebones basics and knowledge to know about.
Storyline
Unlike previous Black Box era installments, Rivals' focus on story is minimal and it's mainly told in form of cinematic cutscenes. It takes place in the year 2013 and follows the rivalry between Cops and Racers and their respective leaders.
RACER FACTION
As a Racer, you'll be playing as an illegal street racer known by the codename Zephyr – once a lone wolf that gains more respect and influence by beating other racers, becomes the most wanted in Redview County later on in the story.
Zephyr's personal "hero" vehicle is Ferrari F12berlinetta or every car that is at a player's disposal. During the events of "Grand Tour", he is seen driving McLaren P1.
COP FACTION
Playing as a Cop, you're a recruit known as F-8 (Fate) – angered by the lack of action against Racers' reckless havoc in the streets of Redview County, he is known to be a merciless officer who later on goes rogue and turns a vigilante by the end of the story.
Fate's personal "hero" vehicle is Koenigsegg Agera R (Enforcer variant) and later on in the story – an impounded Enzo Ferrari when he turned rogue – or every car that is a player's disposal. During the events of "Zero Hour", he is seen driving Hennessey Venom GT (Enforcer variant).
Getting Started
During your first start-up of the game, you'll be given a choice to play the tutorial either as a Cop or Racer faction. Can't decide which side to pick? Find out more below about the rivalry between the two factions.
COPS VS RACERS
Racers live by risk and reward earning Speed Points (SP) by entering Races with each other and escaping the pursuing Cops.
The goal of Cops is to track down and bust Racers using any means necessary; taking whatever (SP) the Racer earns for themselves. Cops focus on teamwork, helping their fellow officers in the pursuit of Racers, and busting them before they can return to Hideouts and bank their (SP).
SCORING & HEAT
Heat is your notoriety as a Racer with the Cops combining your car model and Heat accumulated from earning (SP). Your Heat continues to rise until you enter a Hideout, where it diminishes as your (SP) is banked.
The more your Heat rises, the bigger target you become for the Cops who earn bounty upon your Heat level when busted.
MULTIPLIER
Racers earn Multipliers by completing events and escaping Pursuits. The Longer you stay out the higher your Multiplier can reach up to a maximum of X10. When you are busted, wrecked, or enter a Hideout, your Multiplier is reset.
HIDEOUTS & COMMAND POSTS
There are the hubs of your driving experience where you can buy and change cars, add upgrades, pursuit tech, and customize their appearance. Hideouts also give Racers a safe haven when pursued by Cops where you can bank your session score.
Banked score is saved and cannot be taken by Cops. When you want to leave you can select a different starting point to where you entered, helping you move quickly around the map.
Game Modes
There are many different kinds of events Cops and Racers can enter across Redview County, with new ones to discover as you increase Rank. Every Event in Need for Speed Rivals except Racer Interceptor can be started as a Single-Player or Multiplayer Event.
To play an Event with a Friend, just make sure you are both in the Start Area and playing the same Faction when initializing the Event and you can complete it together.
RACE
Compete with other Racers to be the first across the finish line. The race route is defined by checkpoints along the way, and be on the lookout for shortcuts that could gain you an advantage against the competition.
HOT PURSUIT
Hot Pursuits are organized Street Races that attract maximum attention from the Cops. Drive up to the Start alone or with friends and compete to be the first across the finish line while evading the pursuing Cops.
The better your finishing position the more (SP) you will earn.
Play as Cops and bust all the Races before they can finish their Race. Hot Pursuits require Cops to make full use of their Pursuit Tech to stop all the Races before they cross the finish line.
The more Racers you bust the more (SP) you will earn.
INTERCEPTOR
Interceptor is a cat and mouse game between Cops and a single Racer. Start it alone as a Racer and your goal is to escape as quickly as you can. Play as a Cop individually or with Friends, and bust fleeing Racer as fast as possible using every means at your disposal.
RAPID RESPONSE / TIME TRAIL
In Rapid Response, Cops need to drive fast and clean while rushing to answer a simulated request for backup. Every collision is penalized by adding 0.5 seconds to your total time, stacking up to a maximum of 3.5 seconds for each hit afterward.
Time Trails for Racers are all about high-speed precision driving. No penalization is in effect if a player collides with an environment or traffic. Play alone or against Friends – anyone inside the Start Area when the Event begins can participate, with the chance of earning Gold for everyone.
Nonlinear Events
HEAD TO HEAD
Head to Heads is open route Races that can be started by two Racers anywhere in the world. Just drive close to another racer, press the button prompt to initiate a challenge, and wait for them to accept.
PURSUIT
As a Cop, you can start Pursuits with any Racer at any time in any event. When you spot one, drive up close and turn on your sirens, or slam a Racer to active them automatically. Once started, if you spot more Racers they are automatically added to the Pursuit, and any Cops that cross paths with the Pursuit can join in.
Racers escape by putting distance between them and the Cops and making sure the Cops can't see them. Cops Bust Racers by forcing them to Wreck or performing Lockdowns.
Once started, you will find many EasyDrive functions unavailable until the Pursuit is over or you abandon it.
Autolog
With the power of Autolog, you can view your game progression, unlock new items and interact with Friends.
AUTOLOG RECOMMENDS
When you unlock an event or collectible Autolog Recommends keeps track of your score against your friends. Want to see if a Friend is ahead of you, or if you've left them in the dust? This is the place to come.
SPEEDWALLS
Speedwalls show who's best at every event and collectible in Redview County. Who raced the fastest, jumped the furthest? Who has the highest speed through every Speed Zone? Speedwalls tell it all.
Need for Speed Network is not covered in this guide as the service is no longer available along with its' companion modes: Playlists and OverWatch as it was shut down on 15th March 2018.
Collectibles
Set the longest Jump, record the fastest speed through a Speed Camera or average through a Speed Zone. There are many collectibles to be found across Redview County.
JUMPS
There are Jumps to be found all over Redview County. Use them to confuse pursuing Cops and log your furthest Jump on the Speedwall to compare to Friends.
SPEED CAMERAS
Speed Cameras are found along all the main routes through Redview County. Passing one registers your speed on its Speedwall – but beware, every time you are captured the Cops are alerted to your location, increasing your risk of being found.
SPEED ZONES
Speed Zones are short stretches of road where you compete to set the highest average speed. Perfect your run-up then blaze through as fast and flawlessly as possible to secure your top spot on the Speedwall.
Map
Your Garage and Mini Map helps you find your way around Redview County and logs every Event and Collectible you unlock so you can easily find them again.
GPS
Need help finding your way to an event? Simply select it and your GPS will plot the fastest route to it on your Garage Map or Mini Map.
GARAGE MAP
Your map of Redview County doesn't just show roads. Attempt a Jump or Speed Zone, find a Hideout or Command Post, they will all be logged here. Your map also shows you all the events you've unlocked, with new ones to discover as you increase in Rank.
MINI MAP
Your HUD features a Mini Map that works with your GPS to route you between events, then to the finish line once they begin. It also shows the direction of the closest Event or Collectible you've unlocked, plus the nearest Hideout or Command Post.
Triangular icons show the positions of any Cops or Racers nearby plus the direction they are driving.
Racers are shown as orange triangles – if they are in the same race as you, their icon will turn a darker red.
If any Cops are in Pursuit their icon will show this too and will flash blue and red additionally. Their icon while on patrol and not in Pursuit is light blue.
Multiplayer
Learn about the different Matchmaking settings you can choose from in Need For Speed™ Rivals, letting you pick who you want to play with.
PUBLIC GAME
Setting Matchmaking to Public will connect you with players of similar ability from around the world. If any of your Friends are online they will be joined too.
FRIENDS GAME
Set Matchmaking to Friends if you only want to play with people you have added to your Friends list.
PRIVATE GAME
Set Matchmaking to Private if you want to focus on Single Player. However, you will still receive updates from Autolog and can send invitations to friends to join you in the world.
That's everything we are sharing today for this Need for Speed Rivals guide. This guide was originally created and written by HansolPK. In case we fail to update this guide, you can find the latest update by following this link.
If you believe that any of the content on this site violates your rights, including your intellectual property rights, please contact us immediately using our contact form.