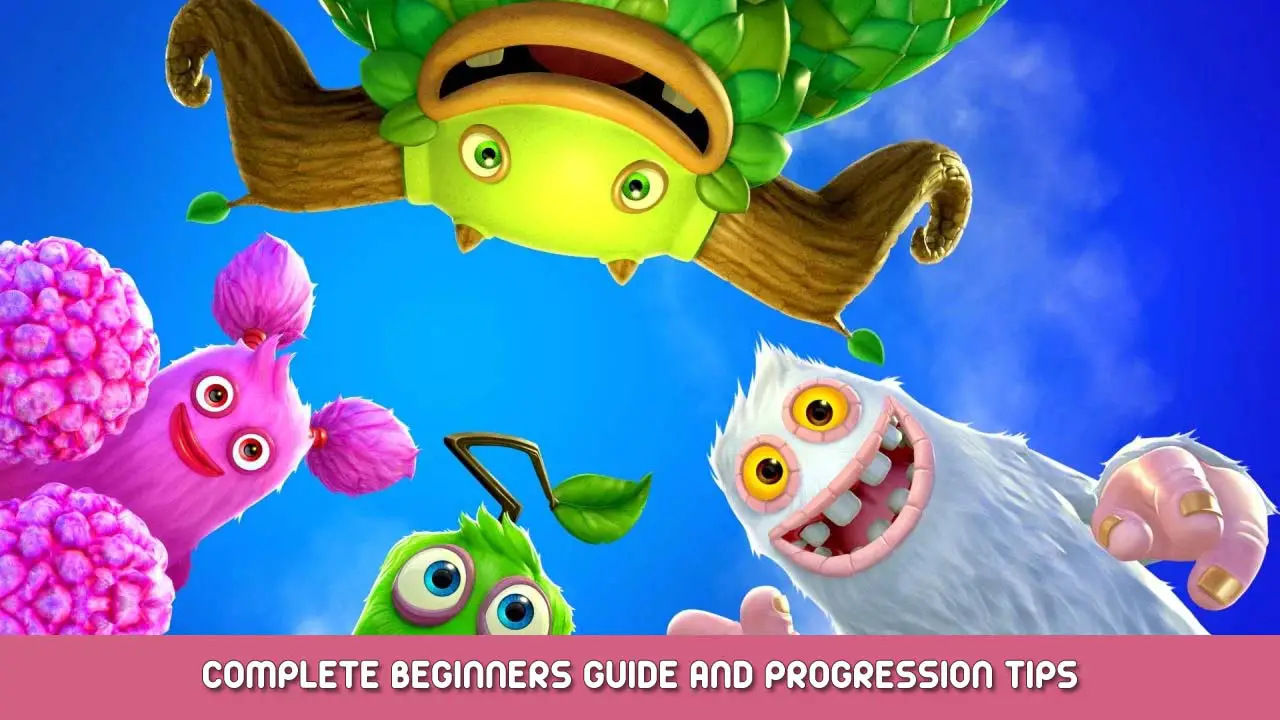 Those who've played My Singing Monsters know that progression in the game is lengthy. If you're new to the game, you may end up making some early mistakes that will inevitably delay your overall progression. This relatively short guide outlines the steps for progressing fast, with tips essential for those new to the game. While this guide is geared towards beginner players, these tips are also useful for players with more experience, and even veteran players of level 50+.
I don't own any of these images.
Baking
Bake, bake, bake! Always be baking, as it dramatically multiplies your monsters' coin income. Ensure that your monsters are levelled evenly, as higher levels experience diminishing returns in revenue.
Coins are used for baking, purchasing new islands, structures, castle upgrades, and many more. They are also essential for farming XP. These uses make baking one of your main priorities, and you should ensure that a large portion of your coins is used for baking treats.
Levelling your monsters to >= 15 gives a chance for them to produce Bonus Items, which can be one of the following:
10,000 Treats
1 Diamond
3 Relics
5 Starpower
1 Key
The amount of food you earn from baking is always 0.1x the number of coins you spend for that type of treat, while the XP earned is equal to 0.5x the coins spent.
All players benefit from baking, regardless of their point in progression (unless everything is level 20, and the player is level 100). Don't underestimate its potential.
Mini-Mines and Maximum Mines
Diamonds are the premium currency in the game and incredibly valuable. Mines allow you to earn diamonds daily and are essential for all players.
Mini-Mines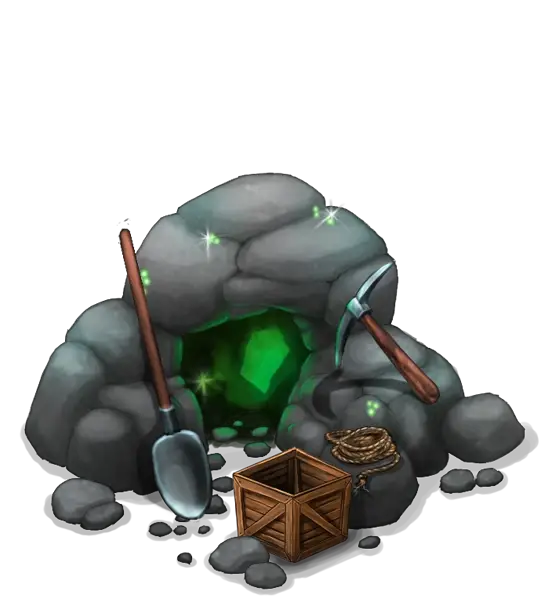 Mini-mines provide one diamond every 24 hours and cost ten diamonds to purchase on islands other than Plant Island and Mirror Plant Island, where it costs 500,000 coins. You earn back the cost of the mine within ten days.
If you ever have the opportunity to acquire a mini-mine, do so as soon as possible.
Maximum Mines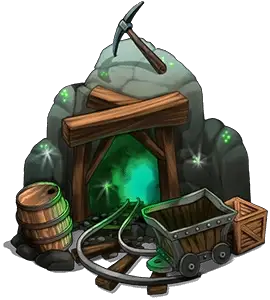 Maximum mines produce two diamonds every 12 hours, which provides a maximum of four diamonds per day. They are only available on the Plant and Mirror Plant islands for 40 diamonds (20 diamonds if you already own a mini-mine), and are a premium structure, meaning they are only purchasable if the user has ever purchased a currency pack or Island Skin.
The diamond income from having all mines bought is vital for progression.
Zynth Farm
Wublin Island is the best source of reliable diamond income in the game.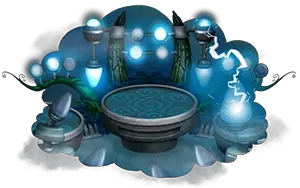 All Wublins (including the Wubbox) have a 7% chance of producing two diamonds every 6 to 12 hours, so if we want to maximize income from these monsters, we must fit as many of them on the island as possible.
Why the Zynth?
Wublins have three possible sizes: 2×2, 3×3, and 4×4.
2×2 Wublins are the best for diamond income as they are the smallest size, meaning we can fit many of them on the island.
Of the two 2×2 Wublins, Zynth is by far the easiest, which is why Wublin Island diamond farms will almost always use the Zynth as the farming Wublin of choice.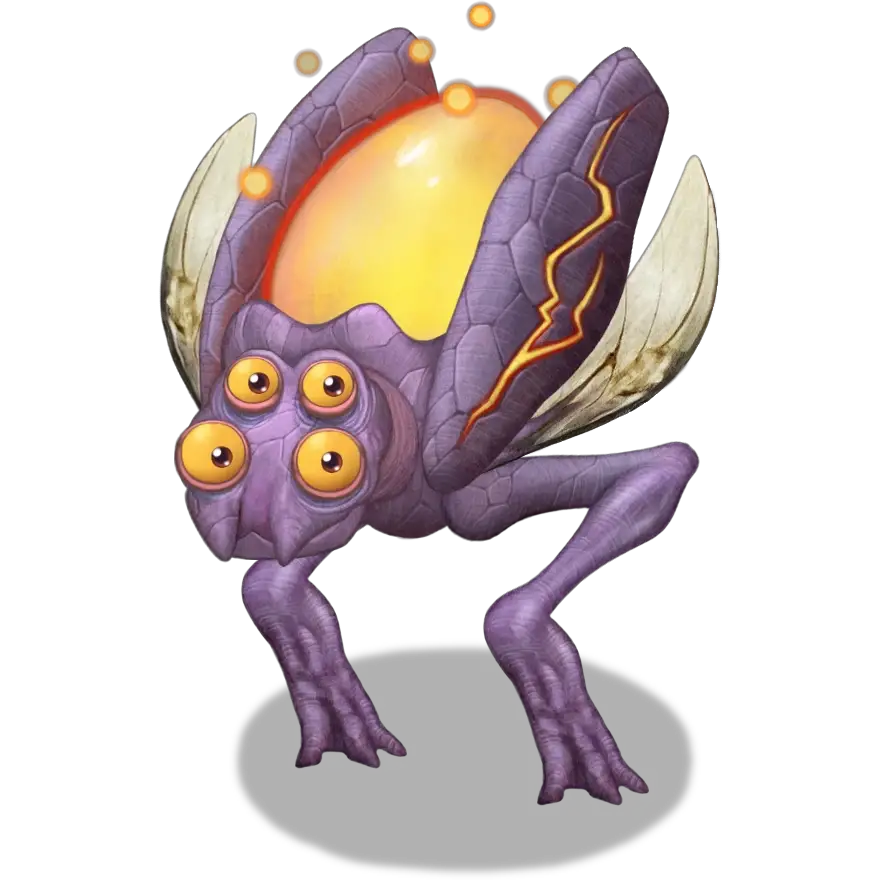 Powering a Zynth
To power a Zynth, the following eggs are required:
1x Congle (Cold, Air, Oasis)
1x T-Rox (Plant, Air)
1x Oaktopus (Plant, Cold, Water, Psychic, Shugabush)
1x Pango (Cold, Air, Earth, Oasis)
1x Drumpler (Plant, Air, Earth, Faerie)
1x Maw (Plant, Cold, Air, Oasis)
Some tips for powering Zynths:
Only start the Zynth timer once most monsters (especially Congle) are finished breeding and ready to zap.
Have at least the Plant, Cold, and Air islands unlocked before starting your Zynth farm.
For Congle and T-Rox, use the rare to breed with a 100% chance if you have it; otherwise, breed with the quad-element monster.
Zynth Farm Island Layout
The most efficient Zynth farming layout is the following, which allows for the maximum amount of wublins to fit on the island (109):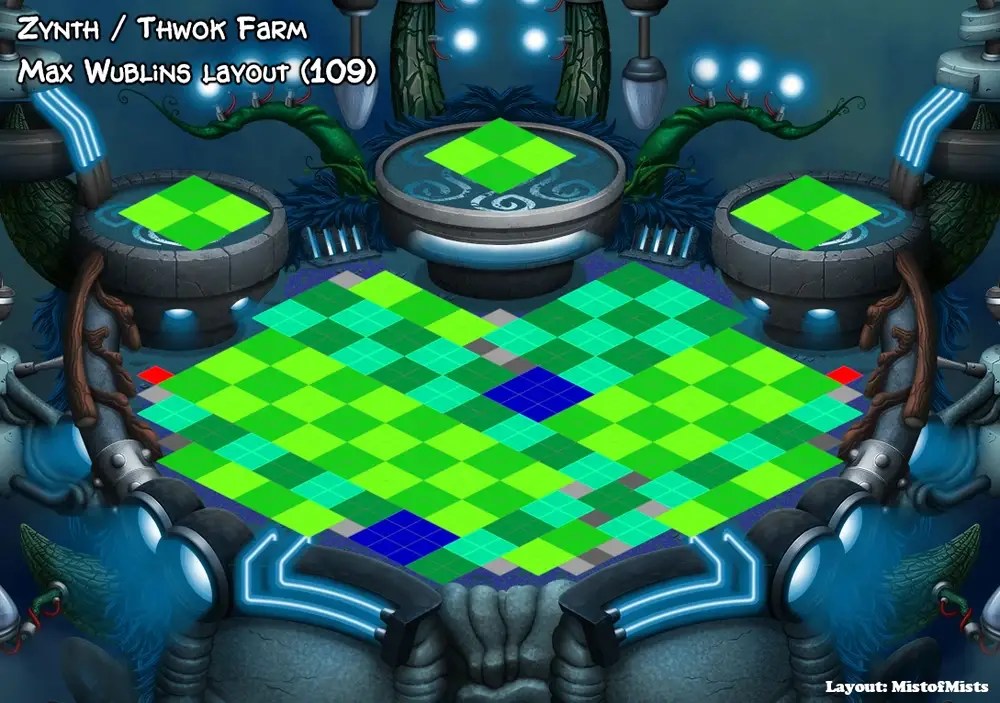 With a full Zynth farm, you can expect earnings of around 200 diamonds per week, assuming you collect from the island every 12 hours.
Spending Diamonds
With all these diamonds earned from mines and a Zynth farm, you may be wondering what their best use is. One of the biggest mistakes new players often make is spending their diamonds carelessly. It doesn't matter if you spend great time and effort to maximize your diamond income if your diamonds are wasted.
These are some of the best ways to spend diamonds, in order of rough priority:
Mines whenever they are available
Extra breeding structures
Cheap diamond castle upgrades and upgraded breeding structures
Mirror islands, recommended only on sale
Extra nurseries
Upgraded nurseries
Expensive diamond castle upgrades, recommended only on sale
Permanent torches, recommended only on sale (depending on your playstyle, you may want to prioritize this more)
What Not to Do
In most cases, it is not optimal to spend diamonds on speeding up breeding.
Do not spend diamonds to purchase monsters (with some obvious exceptions, like Epic Wubbox).
Do not spend diamonds to power up Wubboxes.
Breeding Monsters
The topic new players ask about arguably the most is breeding monsters.
Breeding is the main method of obtaining new monsters in the game, and it is important to know what factors affect the chances of breeding special monsters, especially those with low breeding chances like Ethereals and Epics.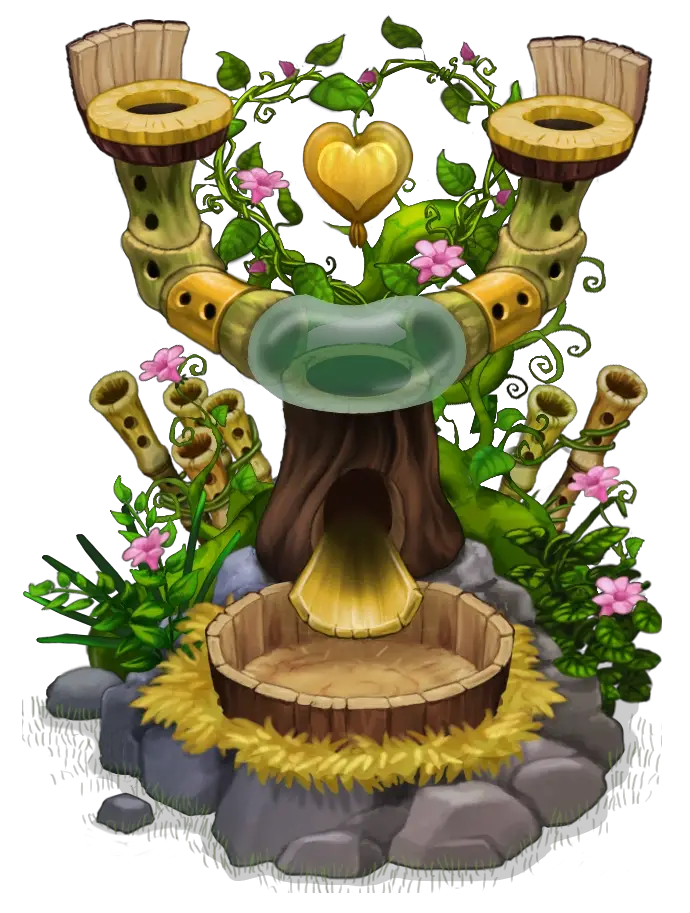 Breeding Combinations
To find the breeding combination or other information of any monster, search for it on the My Singing Monsters wiki.
Wishing Torches
Wishing Torches can be lit for 24 hours with two diamonds, or lit forever with 100 diamonds (less with a sale). They can also be lit for free with the help of a friend.
No breeding chances are stated in the game itself, however, tests have been done and it is known that Wishing Torches provide a chance boost of about 1% each, consequently resulting in a +10% chance if all 10 torches are lit.
This buff is essential for monsters with incredibly low breeding chances, and many players underestimate how important torches are for completing monster collections. Use torches if you are having trouble breeding a prized monster.
Monster Level
Monster level is stated in the breeding help menu to increase the chances of breeding special monsters. It is currently unknown what this buff is exactly, however, it doesn't hurt to level the parents up to a reasonable (but not unaffordable) level before breeding.
Breeding Time
Monsters vary in their breeding times, so choosing the breeding combination with the lowest times upon failure can increase the amount of breed attempts possible within a time frame. For example, a Ghazt can be bred with an Entbrat and Bowgart, however, Entbrat and T-Rox is a better breeding combination due to the lower breeding time of T-Rox (8 hours compared to 12 hours). All breeding times for monsters can be found on the My Singing Monsters wiki.
Coin Production
Besides baking, here are a few extra tips to help with your coin production.
Use quad-element monsters. The ideal monster for coin farming depends greatly on how often you collect coins, however, quads are a great starting place as they have high maximums and rates while also being relatively easy to obtain, compared to other high coin producers like Ethereals and Werdos.
Don't buy the Wubbox until you can make the money for it quickly. Many new players decide to save their coins and buy the Wubbox early, at around level 20-25. Wubbox has low coin production and will not pay off its cost for quite a while. Don't purchase it too soon unless you are willing to slow down your progression as a consequence.
In-Game Purchases with Real Money
While many advantages come from purchasing currencies in-game with real money, this section will help you find the best value when it comes to spending.
It is highly recommended to purchase at least one item from the game, as this unlocks premium structures and removes the limit on the Collect All button. Because the cost of the purchase does not matter, you can
buy the cheapest currency option to obtain all the premium benefits.While the bonus structures, Maximum Mine, and Collect All button are not necessary for progression, they can help you obtain new monsters quickly and easily collect coins.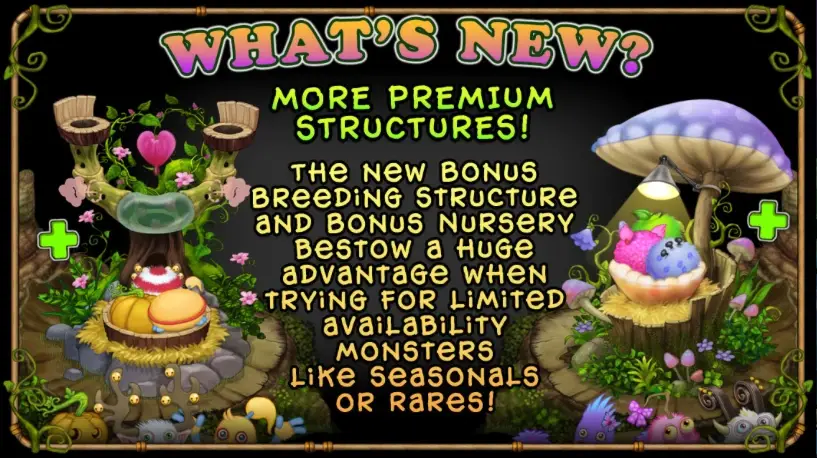 Buying diamonds is also not necessary for progression.The diamond income from mines and a Zynth farm is already enough for the diamond costs in the game, and you will eventually reach a point where all important diamond items are already bought. Speeding up breeding is convenient, but the game is meant to be played long-term and you will find yourself having to wait for the majority of breeding attempts and Crucible Evolution.
The starter pack available for a limited time at the beginning of the game is also a quite valuable purchase you can make to speed up progression early on, but it is not obligatory.
Currencies
There are a number of currencies in My Singing Monsters that are all used for various purposes. This section outlines the uses of each currency, and the methods used to obtain them.
Coins are an essential currency, especially early on in the game. It is required to bake Treats for levelling monsters and purchasing Islands, Castles, and Structures.
The main source of coins is collecting from Monsters.
Diamonds are the premium currency and are extremely valuable. They are the overall most important resource. Diamonds are used to:

Purchase or upgrade structures
Speed up time-based events
Buy special monsters (not recommended)
Buy other currencies
Light or permanently light Wishing Torches
Replay the Spin Wheel (not recommended, except for Relics), Memory Game (not recommended), or Nursery Ticket (not recommended)
Buy Obstacles as Decorations
Wake up Supernatural Monsters (really not recommended)

Without paying real money, Diamonds are mostly obtained from Wublin Island and mines, but can also be obtained via other less consistent methods, like Goals, Bonus Items, exchanging Shards, and winning them from the Spin Wheel or Memory Game.

Treats are another currency that are only used for feeding monsters. It is mostly obtained from baking, but can also be collected from Wublins, Celestials, or monsters >= level 15.
Shards are a currency mostly obtained from and used on Ethereal Island and Magical Sanctum, while being the most effective currency for levelling your monster on Tribal Island. Wublins and Celestials can also produce Shards.
Starpower is almost entirely obtained weekly from Tribal Island, but can also be earned as a prize from the Colossingum. It is used to purchase items from the StarShop.
Keys are a currency used to purchase Dipsters and evolve monsters at the Crucible on Amber Island. They are mainly obtained from Friends and the Daily Login Bonus, but can also be earned through the Spin Wheel, Colossingum, real-life currency, and as a Bonus Item.
Relics are a currency used only for Werdos and Amber Island. Relics are mainly earned through Amber Island monsters, the Spin Wheel, Daily Login Bonus, and Diamond exchange, but can also be earned through goals, the Colossingum, and as a Bonus Item.
Medals are used to buy Costumes and Decorations on the Colossingum, earned from Battle Quests.
That's everything we are sharing today for this My Singing Monsters guide. This guide was originally created and written by Valiant. In case we fail to update this guide, you can find the latest update by following this link.
If you believe that any of the content on this site violates your rights, including your intellectual property rights, please contact us immediately using our contact form.