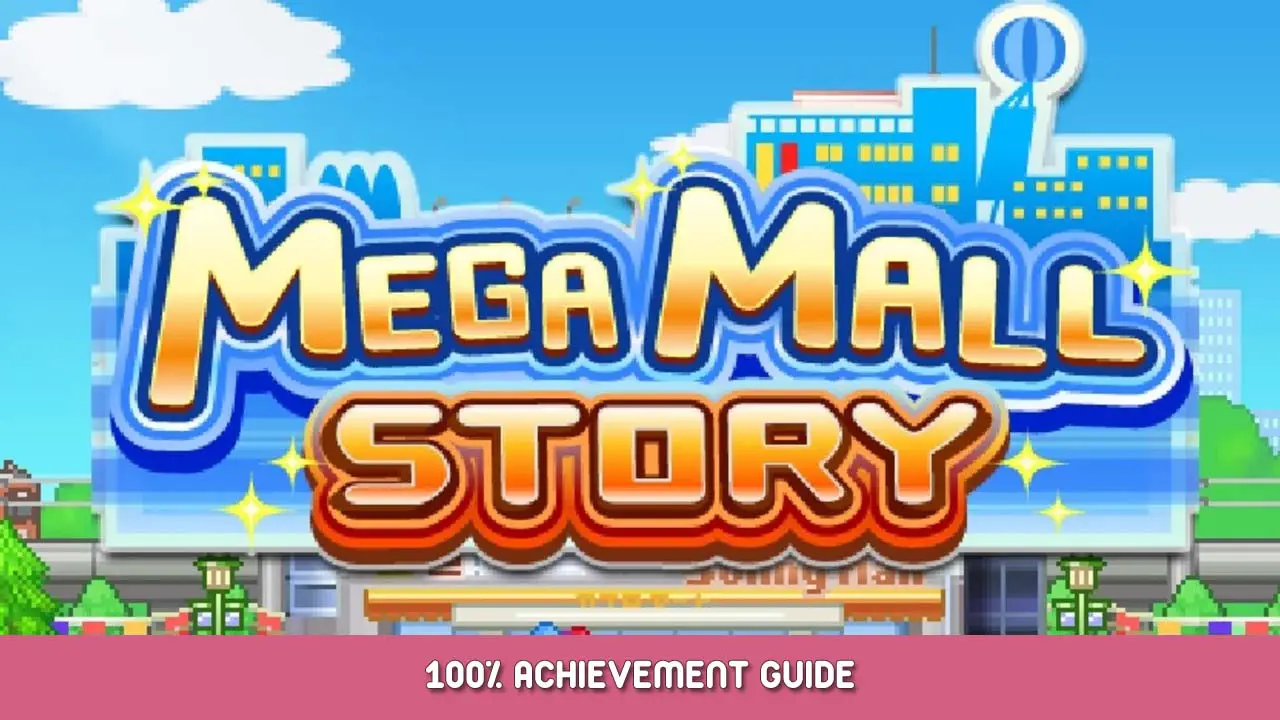 Kairosoft's Mega Mall story is a rather simple and straightforward game with equally simple and straightforward achievements. Although it lacks confusing ones, a couple of achievements are rather time consuming. In addition of just explaining them, I'm going to add some tips that might help You complete this game faster.
01 – A nice place has been created.
"Proof of making the first store combo."
For this achievement, You'll have to use 1 combo. This can be done after the first year after the Pumpkin Products Salesman first appears.
Bonus Info
Combos are created when you have 3 different specific stores/facilities next to each other on the same floor. These then give a boost to each of these stores, such as Reputation, Price, and/or Quality increase. You can have as many of any combo as you can make, even though having more than one of the same is usually unnecessary.
There are a total of 31 known combos. Pumpkin Products will sell the formulae for all the combos listed up to Seniors at varying points in your mall's progression; the last eight in the list are not notified in any way until the player actually sets the components together.
The "Ideal Floors" column indicates floors where all components have floor compatibility, with ∅ signifying a lack of overlap somewhere.
02 – A 5-Star Mall recognized by the world.
"Proof of becoming the highest ranked mall."

You'll start the game with a 0-star mall. You'll get a list of objectives, and by completing them, You'll get 1 star. Each time You finish a list of objectives and rank up, You'll get a new list. You will unlock this achievement when You reach five stars.
03 – If you notice, it became a splendid skyscraper.
"Proof of running a shopping mall for many years."

This is pretty simple achievement. You just have to play the game for 20 in-game years. In the game settings, You can switch the game to
fast. It should take a maximum of 5-6 hours.
04 – Customers are coming from all over the country.
"Proof that ranked first in the national rank."

At the end of the Year, Your mall will be ranked on the national list based on Your sales. For this achievement, You'll have to become
#1. After year 7 seven, Your sales should be good enough to achieve this.
05 – Purveyor of Kairo family.
"Proof that Kairo family became regular."

For this achievement
Kairobot and Sally Prin have to become regulars. You will unlock them by investing in the Kairo Building in the par area. Click in the characters to check what You have to do to make them regulars.
06 – Dream and longing mega mall.
"Proof of discovering 25 combos."

For this achievement, You will have to buy (or find) and build 25 combos. You will have the chance to buy 2 combos at the beginning of each year. For more information about combos please check section 1 of this guide!
That's everything we are sharing today for this Mega Mall Story guide. This guide was originally created and written by BLASTON. In case we fail to update this guide, you can find the latest update by following this link.
If you believe that any of the content on this site violates your rights, including your intellectual property rights, please contact us immediately using our contact form.