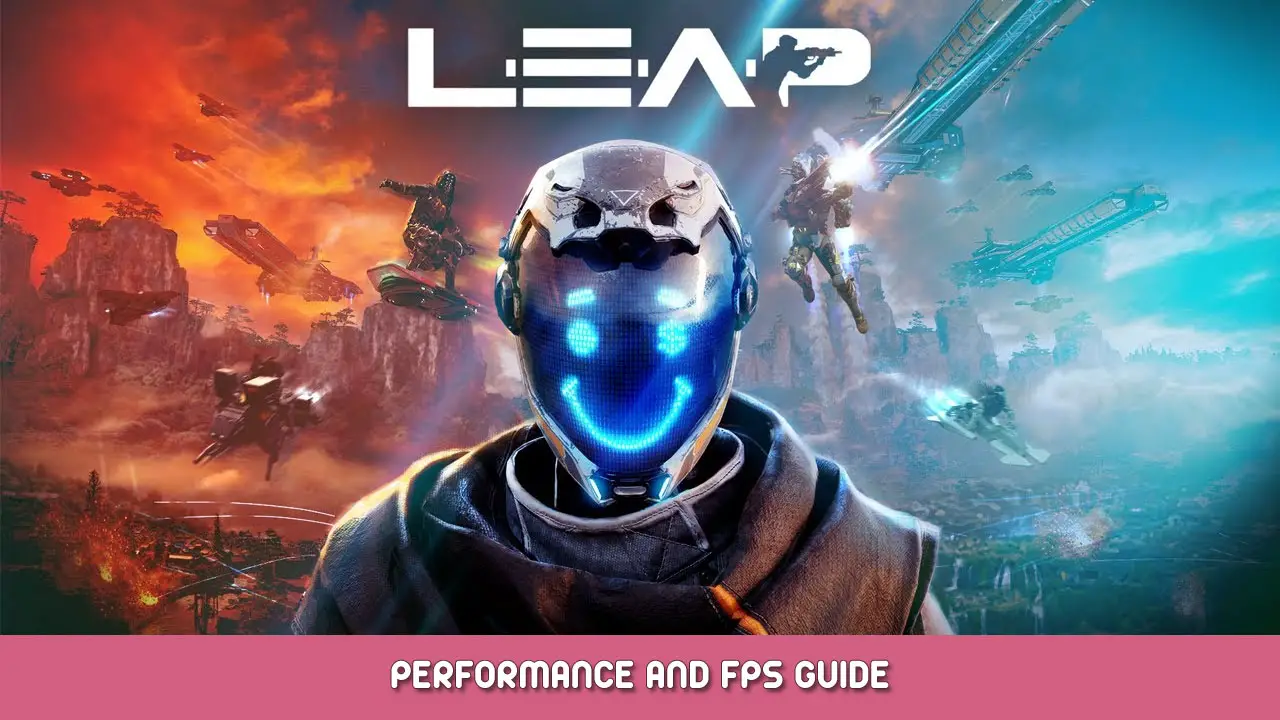 This guide aims to help you improve the performance and overall FPS while playing Leap on PC. I have a GTX 1070, INTEL I5-6600K, 16GB, Windows 10 Pro.
Steam
Search Leap in the Steam library. Right-click and go to Properties. Add -d3d11 to the startup options.
Go back to Properties. Locate local files and click browse. In the Leap folder look for the Leap.exe. Right-click and check Disable Full Screen Optimizations.
I'm having massive FPS issues with the Steam interface. I recommend minimizing STEAM before starting the game. Go to the system tray and click on the steam icon and press right click: then click on "close window". (Steam remains open but minimized)
NVDIA
Desktop: Press right Click. Go to Display Setting: Go to Graphics Settings. Find Leap.exe and add it. Then click on the exe and select high performance.
Go to Nvidia Control Panel: Manage 3D Settings. Click on Program Settings. Add the Leap.exe. Make the following settings:

Anisotrope Filtering = Application controlled
Preferred Refresh Rate = Highest Available
CUDA, GPUs = All
Power Management Mode = Prefer maximum performance
Maximum frame rate = 145 FPS capped
Texture Filtering Quality = High Performance
Trilinear Optimization = On
In-Game Setting
Gameplay:
Camera Animations = Off
Hit Marker Visual Effects = On
3D Incoming Damage Indicators = On
Mouse smoothing = Off
Field of View Scaling = Off
Personal Vehicle Camera Smoothing = Off
Autoclimber = Off
Graphics:
Picture mode = full screen
Resolution Scaling = 100 – 91% (Depends on your system.)
Visibility =100 – 70% (Depends on your system.)
Brightness = I like it dark (It's up to you.)
Nvidia Reflex = Off
Anti-Aliasing = Ultra (Otherwise the game will look blurry.)
Post Processing Quality = Low (Depends on your system.)
Shadow Quality = Low (Depends on your system.)
Texture Quality = Low (Depends on your system.)
Effect Quality = Low (Depends on your system.)
Environment Details = Low (Depends on your system.)
Others:
V-Sync = Off (Limits the FPS)
Motion Blur = Off (Better performance, clear, sharp image)
Bloom Effect = Off (Better performance, clear, sharp image)
Camera Movement Effect = Off
Optional: Sound setting
Overall volume = 100
Music volume = 90
Volume Effects = 100
Ambient volume = 90
Volume menu = 100
Announcer volume = 100
Subtitles = Off
That's everything we are sharing today for this Leap guide. This guide was originally created and written by Dirty Sánchez 严重死亡™. In case we fail to update this guide, you can find the latest update by following this link.
If you believe that any of the content on this site violates your rights, including your intellectual property rights, please contact us immediately using our contact form.