Title: Random
Release Date:
Developer:
Publisher:
This is an optimized guide on how to get "All Achievements" easily in the game "Hangover " while showing you the paths to complete the story as well.
Introduction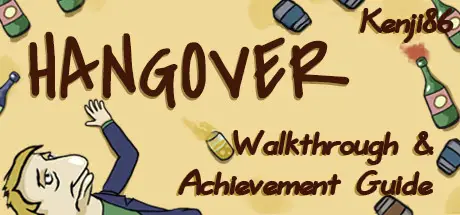 First of all welcome to my "16" guide and still English is not my first language. So typos might occur here and there.
'Hangover' is a short game, with 21 achievements with no description of how to get them.
The purpose of this guide is to focus the player (you) on how to achieve those achievements without problems.
Special Notes :
Basically, the game completes from one playthrough, which I call the "BAD ENDING". You don't need to get the "GOOD ENDING" to get the achievements. But We both know as achievement hunters, we won't stop until we get to the bottom of it. So I have posted both paths to get them.
So let's do this.
Bad Ending?
Basically start the game which triggers, Flames (Life is simple) achievement & LUF33k (Old school) achievement, all together.
After the first display of text information, press space to begin which gives you Brain in a box (This picture makes me feel smarter) achievement.
In the first bathroom area, you will find wet paper (on the floor) and a screen cleaner (top shelf on the cupboard). It will trigger Screen cleaner (Rip headphone users) achievement.
Move to the next area, there should be a set of glasses (on floor) which will give you, Glasses (I feel even more smart!) achievement. Now once it is in your inventory drag the glasses to wet paper, it will make you read the paper, which is something about destroying a CD for work or something. Right click to close the message which will give you Eww, disgusting (I've touched something disgusting)achievement.
In the same area (room) there is a picture of a brain on the wall, clicking it will give you Pink (I love pink!) achievement.
Move to next area, with the clock. Nothing to do much here yet. So move to next area, with the TV and the CD player.
There is a screw driver on floor, will give you Screwdriver (Screwed it!) achievement. There is the wallet near by as well, Wallet (I'm poor) achievement will pop up. Also in the same room you will find a piece of chalk (near the door to next area, on floor) getting it will give you Trolled (I'm certified troll) achievement.
Next Argh! (Stop that noise!) was kind of a glitched for me or I think it was. The developer stated that you needed the CD first to get the achievement but for me it triggered by giving couple of clicks on CD player under the TV and then mute (just click) it with/by the right speaker above the TV. If this method didn't worked for you come back and do it once you get the CD.
Move to next area which is kitchen. Nothing to do yet here. So move on. Next area there is a duct dape on a small cupboard in the middle, grab it. Duct Tape (Ehm, what should I write here?) achievement.
Moving to next area (dinning room) there is a key on the table. Grabbing it will give you Keys (I like steam keys more tbh) achievement. Next 2 areas are basically nothing to do and the last area door is locked.
So now we back track and use items on each other.
Now go all the way back to the first area (bathroom) now use the wallet (drag it) to the mirror. This will give you, Creep (I'm a proud creep) achievement. Now move to the next room (with the PC) and use screwdriver on locked drawer. Will get you the CD and make sure to use cleaner on CRT monitor. Now once cleaned use screwdriver on it, will give you CRT Monitor (How I hate these! Let's smash one!) achievement.
Now move the way all the back to, area where the TV was. use CD on player. Underta . . il? (This doesn't fit here) achievement will pop up. Also previous mentioned "Next Argh! achievement" can be triggered if it was glitched earlier.
You will probably see a leg on left side of you screen on the same area. click on it will show you two legs. Use Duct Tape on the legs. Duct tape (I decided to be a villain) achievement is unlocked.
So move on, go to kitchen area now. You can click on the stove, and start it. You can place the CD on it, not much though, but I recommend turning down sound before doing that. Move on to the next room after kitchen (where you found Duct Tape) and to the right side of the small cupboard there is a small switch. click on it. Sads (I decided to end it fast) achievement will pop up.
Now move to all the way to the end, at the locked door. Use Key.
You will now have unlocked the "BAD ENDING" of this game.
Good Ending?
To get the "GOOD ENDING" here's the fast & compact version.
Get the Cleaner, Glasses, Wet Paper,Screw Driver, Wallet and Keys.
Clean the CRT monitor with Cleaner. Use Screw Driver on locked drawer and get the CD. Move to kitchen, start stove, place CD on it and leave with keys.
That's all no achievement for it though. 🙁
So now you are back on main menu. Click on "Credits" on the bottom right side. Which will grant you the remaining Credit (I'm one of the 3 people who read the credits!), Personal! (One of our friends!) & The god! (:)) achievements.
That's everything we are sharing today for this Random guide. This guide was originally created and written by KENJI86. In case we fail to update this guide, you can find the latest update by following this link.
If you believe that any of the content on this site violates your rights, including your intellectual property rights, please contact us immediately using our contact form.