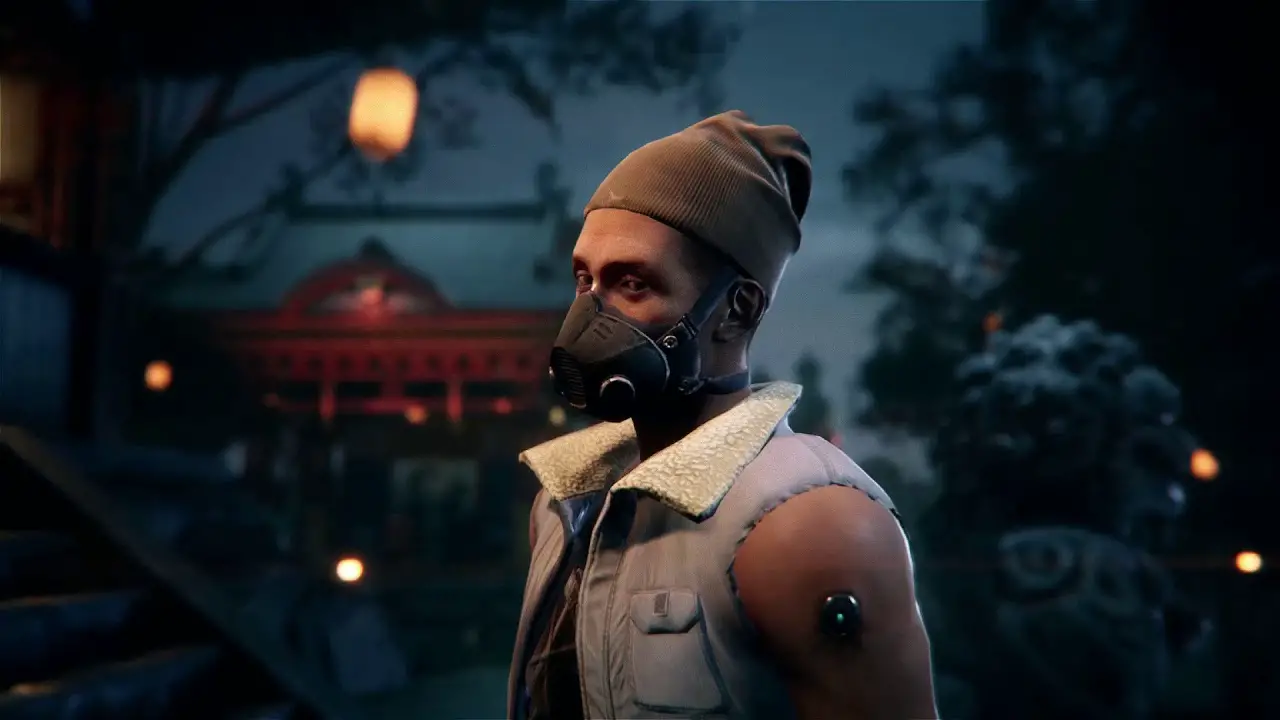 This guide is primarily aimed at players who understand the basic notions of the game and have a few hours under their belt. It goes into detail describing each extractor in the game based on the context of my own experiences which may help you out somewhere down the line. I have 500 hours in GE and have been playing since the betas.
Extractors – Who should I pick?
So you played a few games but can't decide which extractor best fits your playstyle. In this section, I will discuss each extractor in terms of strength and how they can be best utilized.
Shadow – Overview

A strong extractor with multiple pros and no cons whatsoever. Shadow is a top-tier extractor for multiple reasons. Let's look at his unique passive skill, Decoding Master:

This is easily the best passive skill in the extractor roster. The 25% increase in upload speed is quite substantial, allowing you to get gens done very quickly if left alone by the Watcher. As a result, Shadow can carry games pretty hard if played correctly. The 25% data extraction on cubes is just okay. You'll be doing gens primarily over extracting cubes as smart teammates will drop cubes for you (as you can do gens way faster than they can).
You would think that because Shadow is a number one gen rusher that he would have an appropriate downside (e.g being weaker in chases) but this isn't the case. Shadow is actually ok when being chased by the watcher as he has a kiting tool in the form of his smoke grenades:

Clicking M2 as Shadow will throw a smoke grenade. This is primarily used to play a mind game with the Watcher when he's almost about to hit you. You can run off at a 90-degree angle while inside the smoke instead of running straight through the smoke to confuse the watcher, potentially causing him to whiff a hit. This is the ideal outcome, allowing you a few more precious seconds to transition to a stronger kiting area. With some practice, this can confuse even experienced watchers, just make sure to switch up what you do while inside the smoke (doing a 180 turn, standing in the smoke). Most Watchers will just keep running through the smoke in a straight line, but a smart Watcher will wait inside the smoke so he doesn't lose ground in the chase.
While the smoke bomb is nice, most of the time you'll get hit anyway as the Watcher's attack hitbox is fairly generous, so don't be too disheartened if you get hit. Smoke bombs also have a small amount of support potential. They can be used to assist other extractors who are being chased or just to reveal the position of the watcher (the Watcher's outline will be revealed to everyone for a few seconds when hit by a smoke) which is nice. Smoke bombs can also manually detonate (not disable) Scarecrow mines, so you can minesweeper fairly well against a Scarecrow player.
Shadow's shareable skill is Memory Module: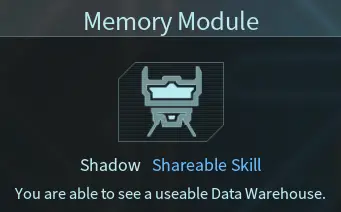 If you are new and don't know where data warehouses can spawn, this is semi-passable. If you are experienced and know where all the data warehouses can spawn on every map, it's useless. The data warehouse which gets revealed won't change until it's completed and a new one will be revealed once the currently revealed one is complete. Ultimately you'll switch this out for Digital Form Module (Punch's shareable) as soon as you get it and you'll never look back. Extractors can also 'mark' data warehouses in-game which will temporarily reveal them to the other extractors, so this perk is kind of redundant.
Playing Shadow
You should be doing gens and practically nothing else to be effective. Pick a generator spawn in a favorable position and work to stretch the Watcher at all times. Shadow's fast upload speed makes him the number one target of the Watcher and an experienced Watcher will target you over the other extractors if there isn't a Crow present. You can easily get one gen done every minute if the other extractors are kiting well. Always be aware of where the Watcher is and make rotations to be one step ahead of him. Let your teammates set up walls around the map, only alter the walls in the immediate area of the gen that you are working on.
Has your escape planned out ahead of time, as soon as you hear the Watcher just leg it and try to waste as much time as possible if he chases you? A smart Watcher will tunnel the living daylights out of you early game, so try and keep him busy as long as you feasibly can. Crow is your best friend as Shadow. Try to stay together and use the teleporter to get a free escape when the Watcher inevitably arrives to halt your progress. A strong Crow + Shadow combo is very difficult to deal with as the killer. If you die early on, your team has an absolute mountain to climb so ensure your survival and don't make unnecessary risky plays.
Shadow's play style remains the same regardless of the Watcher that is being played, you want to rush your first-gen ASAP to proc the effects of Digital Form Module, ensuring you can take another hit in a chase before going down. Scarecrow is your biggest threat from the Watcher cast as he can apply damage directly to your health, causing problems for you in the long term. Be very wary of an experienced Scarecrow player who is patrolling heavily and consider waiting it out if your health gets too low.
Overall, Shadow is a really strong extractor and he's a must-pick in every game if you are serious about winning games.
Godfather – Overview

Another strong extractor with no weaknesses. Godfather is a good survivor for multiple reasons. Let's look at his unique passive skill, Treatment Master: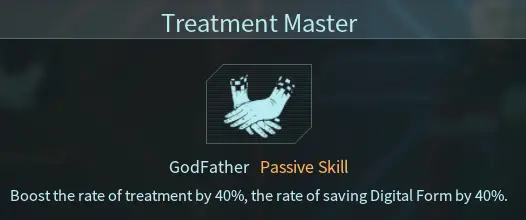 Basically, Godfather can heal people faster. This is just okay. Most of the time you will be using energy to heal people who are in digital form anyway which makes this passive less useful. Ultimately, everyone on the extractor roster can heal quite quickly anyway so don't fall into the trap of trying to heal everyone just because you can do it faster. Against Scarecrow, this is more useful because people will be injured often and you can ninja heal people being chased so they take less damage over time.
As well as being able to heal others faster, Godfather can also heal himself:

This skill allows Godfather to potentially extend chases and buy more time for his team if he is being chased. The heal takes around 1 second to complete and Godfather will be stuck in animation for that time. Against Scarecrow, this ability is extremely strong if paired with the perk Everyone is a Hero (Dancing Girl shareable) as you can heal immediately after being hit by Scarecrow and you'll take a whopping 1 HP of red damage. As a result, Godfather is the strongest counter to Scarecrow in the entire game and an experienced Scarecrow will just ignore you if you are running EIAH.
Against other killers, this perk is just okay. It can be useful if the Watcher decides not to tunnel you as you won't need to waste time running to teammates for healing. If the killer is hell-bent on downing you, it can potentially buy you an extra 10-20 seconds in a chase which is nice. If you are being supported by a Punch, Godfather can kite for quite a long time due to his self heal so stay near Punch if possible.
Godfather's shareable skill is Street Spirit:
This perk is laughably bad and is probably the worst shareable available to extractors. It gives you a tiny portion of healed HP after going into digital form, so you won't die if no-one comes to heal you in digital form. People should always be available to heal you and to make things worse, this perk won't proc when you are under 15 max HP which is exactly when you need it to activate if anything. Realistically, you will be swapping this out for either Digital Form Module or Everyone is a Hero ASAP. Don't ever use this, it's situational (if you don't ever go into digital form, it does absolutely nothing) and provides an extremely negligible benefit when it does activate.
Playing Godfather
Godfather is a very well-rounded extractor who can do a bit of everything but is best played for his kiting strength. You should be running Digital Form Module or EIAH ideally. Focus on doing gens and proccing DFM ASAP if you are using it. You should also be doing your fair share of blocking/unblocking walls when transitioning to get cubes or going to gen. The ideal watcher match-up for Godfather is Scarecrow, a smart Scarecrow will just ignore Godfather for the entire round. If Scarecrow is dumb enough to chase you, try to self-heal immediately after being hit to minimize the red damage on your health bar. If you are using EIAH, you'll be borderline immortal against Scarecrow.
Godfather really shines as an extractor when he is being supported by Punch when kiting. Punch's team dead hard combined with Godfather's self-heal can extend chases for quite some time. Punch can also help you transition to a safe area mid-chase so you can self-heal without the watcher being right on top of you. Stay near Punch as much as possible and don't try to heal everyone all of the time, everyone should be pulling their weight in healing others. The fortress is arguably Godfather's worst matchup as he can land a ranged attack on you during the self-heal animation, potentially ending chases against you faster than other killers. Be wary of an experienced Fortress player and only heal when it is safe to do so.
Punch – Overview
Everyone's favorite baboon who has AI. Punch is a top-tier extractor who provides flexible support to other extractors, synergizing well with other survivors across the board. Let's look at his unique passive skill, Animal Property: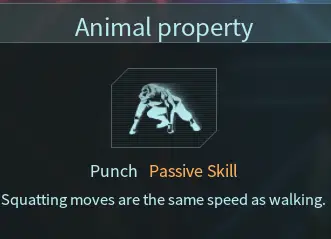 This passive gives Punch the fastest crouching movement speed in the entire game. It's useful during chases when you are either trying to conserve energy or simply don't have enough energy to fast slide. It generally provides a very slight buff to Punch's kiting potential.
Punch is aptly named due to his initiative skill of the same name:

This skill allows Punch to punch the ground, giving everyone dead hard in the immediate vicinity. This is effectively a speed boost which if timed correctly, can allow extractors to accelerate away from the killer, causing the killer to whiff. It can also apply the speed boost regardless of vertical orientation, so extractors above or below you will receive increased speed if they are within horizontal range. This skill is incredibly powerful as although it costs 2 energy, it can be effectively chain spammed near the survivor being chased, allowing them to gain a significant amount of distance when being chased by the killer.
Experienced killers will also tend to block vault openings in strong kiting areas to prevent being looped. This skill also destroys walls, so it can reopen blocked areas after the universal lock has expired, undoing the killer's work in preventing loops. Be careful though, extractors will set up the walls in certain areas to make them harder for the killer to navigate, so try not to destroy walls that are set up in this way.
Punch's shareable skill is Digital Form Module:

This is the best shareable in the game currently and can be considered the meta shareable for many reasons. If you have less than 30 shield and you upload a gen to around 99%, this perk will activate, granting you 70 points of shield. It's important to note that this goes over the 20 point softcap, granting you 90 points of shield in total if you had 20 points of shield when it activated. This equates to the killer needing one more hit to down you in a chase, so it's incredibly powerful in improving your survivability.
This perk can trigger multiple times in a game, so if you proc this and the watcher hits you once for 65 damage and you drop to 25 shield, you can proc it again, rising back to 95 shield. It's important to note that you don't have to complete the gen for this to activate, despite the description. You can stop uploading at around 98-99% and it will proc, allowing you to keep the gen prepped if required.
This has obvious synergies with extractors like Shadow who can reach the proc requirement for it faster than other extractors. Every extractor can benefit immensely from this shareable though other than Crow (she has a 50 point shield, so it will never proc in a traditional fashion). This perk hard counters every killer on the roster except Scarecrow as he will always inflict direct red damage to an extractor's health, regardless of if this perk is used or not. Scarecrow is the strongest watcher in the current meta for this very reason.
Playing Punch
Punch is a very effective support character who can absolutely ruin the watcher's day if played correctly. I recommend running DFM and proccing it ASAP. Once this has been done, you need to position yourself near the extractor being chased, punching the ground to allow them to extend their chase with the watcher. Ideally, the other two extractors will be working on a generator. Keep an eye out for any Energy Battery chips that spawn on the map. The tier 3 Energy Battery chip will allow you to spam M2 4 times before running out of energy. A bad watcher will continue to tunnel the person that you are supporting, causing them to waste a huge amount of time if the kiter is competent at chases, to begin with. An experienced killer will realize he is being led and will often try to find and tunnel you instead of his initial target. Punch is a good kiter in his own right (he has a faster fast vault animation than other extractors), but he is far more effective in supporting others, so try not to get chased yourself.
Punch is great at supporting anyone in the cast, but he is most effective in supporting a competent Bard player. Bard has no kiting abilities but is able to upload while kiting. Helping Bard should be your top priority as a Punch player. If this is done correctly, Bard can almost get full gen done from a single chase with the watcher, effectively uploading and kiting at the same time. An experienced Punch/Bard duo is an absolute nightmare for the watcher to deal with. On the contrary, Crow has very few synergies with Punch and will generally benefit very little from his ability due to her teleporter accessibility.
Dancing Girl – Overview

Sadly, Dancing Girl is easily the worst extractor in Gold Express and is the only extractor in the game who I would say needs a buff. Let's look at her unique passive skill, Machinery Newbie:

To put this bluntly, this skill is a handicap. The 50% slower energy recovery during interactions is bad but the 25% slower gen speed really invalidates Dancing Girl as a viable extractor in high-level games. This upload speed is the lowest in the game and is painfully slow. On the flipside, Dancing Girl's energy recharges 50% faster while in chases which is good. The problem with this though is that Dancing Girl can often be ignored by the killer because of her low upload speed, meaning that she will be in far fewer chases against an experienced watcher overall.
This skill really needs to be reworked to be more in line with other extractors. You can definitely main Dancing Girl and win against experienced killers, but you'll always provide more value to your team playing as someone else.
As a famous dancer, Dancing Girl is capable of acrobatics:

This is a fun skill that allows Dancing Girl to roll under walls, gaining iFrames for the duration of the roll. If you time this correctly before the watcher hits you, he will whiff the hit. Despite not mentioning it in the description, this skill also reveals the aura of the watcher for a short time if you roll near him. The main issue with this skill is that the watcher can be right on top of you and can simply land a hit on you instantly before you can react fast enough to use this skill. The watcher can also bait you into using it early and then follow up with a hit after you have used it.
This skill is more useful in gaining distance in a chase, allowing you to reach a vault a little bit faster when transitioning. It can also be used just after vaulting, using the roll immunity to avoid a potential vault catch by the watcher. You can also fake the vault and roll instead, which the watcher might fall for. Try and use this skill unpredictably, an experienced watcher will know you have this in your locker and will pretty much always wait for you to make the first move before acting. It's worth mentioning that the roll is locked into a particular direction and can't be changed mid-roll.
Dancing Girl's shareable skill is Everyone is a Hero:
Before Digital Form Module came out, this was the meta shareable which was used by almost everyone. Nowadays, it's used far less, but it's still a decent shareable in many ways. It's very good on characters like Godfather if he's up against Scarecrow as he can heal immediately after being hit, using the energy from this perk to doing so. This perk also activates when being hit by Scarecrow mines/Fortress bombs which can be semi-useful if you desperately need the energy. It can also be used by Crow to balance out her reduced energy generation in chases.
Most of the time though, this perk is simply outshined by Digital Form Module so expect to see it less often. The main issue with this shareable is that it drops in value significantly when you are low on health. To explain this, when extractors are low on health, they can be one-hit downed by the watcher, so the energy you gain from this to help extend chases is ultimately wasted. Digital Form Module on the other hand is always effective even later in the round, regardless of your health.
Playing Dancing Girl
Dancing Girl is clearly designed as a kiter but is probably best played as an unconventional support type role. Gather data cubes for your team and drop them for Shadow/Crow. If the watcher gets stunned by a Soul trap and drops a cube, go and grab it. Go around the map setting up walls and cleaning viruses. You want the watcher to chase you in an area that you have set up specifically to waste his time, in an effort to buy time for others. Look out for Construction Manual chips and pick them up to speed up the time it takes to set up walls. You can use Digital Form Module, but I don't really recommend it because you are a very low priority target for the watcher. It also takes a very long time to proc it if you are working alone on a generator. If someone needs healing urgently, you should be the extractor who stops what they are doing to go and heal them. Crow's Requiem is a good shareable to pick on Dancing Girl for this reason.
You can definitely upload throughout the game if you feel like the watcher is ignoring the state of the walls on the map. Do not pick up cubes and hog them though, this is the worst thing that a Dancing Girl player can do. Make sure that you drop them for others. If the watcher decides to chase you, try and waste as much time as possible. Most experienced watchers will simply switch targets in prolonged chases with Dancing Girl, fearing the uploading prowess of Shadow/Crow.
Soul – Overview

A good extractor with no weaknesses. Soul is a good survivor for multiple reasons. Let's look at her unique passive skill, Portable Battery: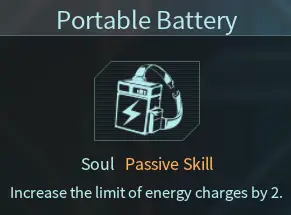 Basically, this passive is the equivalent of having the tier 2 Energy Battery equipped at all times. On its own, this is just okay. It allows you to conserve more energy for chases, allowing you to potentially kite for longer periods of time if the walls are set up well around the map. This passive really shines if you equip the tier 3 Energy Battery chip (the chip stacks with this passive) which can give you a whopping 10 energy. You always want enough energy to use your electric trap and fast vault during chases, so this passive complements Soul's initiative perk quite well:

Clicking M2 as Soul will throw a small airborne trap. The trap takes a few seconds to arm itself and once armed will produce an electrical sphere in a short radius around the trap. Pressing M2 when the watcher is inside this electrical sphere will stun him, causing him to drop a cube and revealing his aura to the other extractors. This skill is effectively Soul's main kiting tool and good map knowledge is definitely required to use this skill well. Positioning the trap in key areas that the watcher cannot avoid can effectively force the watcher to eat a stun when chasing you. It can also be used to support other extractors who are being chased by the watcher. A well-positioned Soul trap in your kiting route is a welcomed aid to any extractor currently being chased.
It's important to note that if the watcher physically collides with the trap, it will be destroyed, regardless of if the trap is armed or not. As such, you often need to plan your kiting route carefully when playing Soul, often throwing the trap quite a distance away when kiting so the watcher can't destroy it before it arms. The trap can also stick to walls and ceilings, making it far more difficult for the watcher to destroy in conventional ways. A Fortress bomb can also destroy the trap, so be aware of that when up against Fortress.
While this skill is a nice kiting tool, don't rely on it heavily. The stun duration is relatively low and most experienced watchers will simply eat it to avoid long diversions/mind games with you. It's best used to buy you a few precious seconds in a chase to transition to a stronger kiting area. An extractor like Crow will also gladly pick up the cube dropped by the watcher after the stun, so there is some support potential in successfully stunning the watcher.
Soul's shareable skill is Persistent: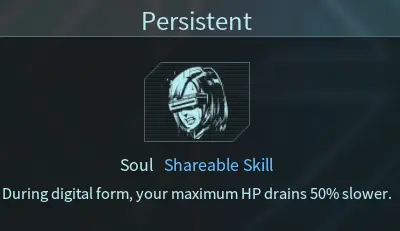 Despite the description, the HP drain of this perk is more like 66%-75% slower while equipped. If you are just starting out and are going down fairly often, this perk is semi-viable because you'll save yourself a fair amount of maximum HP over the course of the game if you are constantly going down. If you are experienced, this perk reduces in value dramatically because you will be generally spending far less time in digital form, to begin with, making this perk practically redundant. It's entirely possible to go entire rounds without going into digital form (especially as Crow) and against Scarecrow this perk only gets worse as he can inflict maximum HP damage with every hit which this perk can't mitigate.
This perk can also backfire in some scenarios:
Only two extractors remain in the round, You go into digital form (with Persistent equipped) and the watcher chases the remaining extractor. The extractor being chased heals you to around 80-90% HP. As your maximum HP reduces at a slower rate, you are still in digital form when the last extractor gets downed so the watcher wins the round. This is because the watcher automatically wins if all extractors are down or in digital form.
You go into digital form (with Persistent equipped) after the flying trucks have been called in. An extractor heals you to around 90% HP so you can recover from the digital form beneath the spotlight of a flying truck. The delay in recovering from digital form allows the killer (by chance) to be near the spotlight when you recover, preventing your escape. A faster recovery would have allowed for a successful escape.
Realistically you will be swapping this out for Digital Form Module ASAP, it's almost always better to take an extra hit in a chase and avoid digital form entirely, compared to reducing the negative effects of the digital form (which this perk provides).
Playing Soul
Soul is a very well-rounded extractor who can do a bit of everything, offering a fair amount of utility to the team. You live and die by trap placements so I would only really recommend playing Soul after you know the maps inside out and where to place traps so the watcher cannot destroy them easily. You should be running Digital Form Module or EIAH ideally. Focus on doing gens and proccing DFM ASAP if you are using it. You should also be doing your fair share of blocking/unblocking walls when transitioning to get cubes or going to a gen. Place the trap ahead of time in a strong kiting area that you plan to transition to if the watcher arrives. New Soul players often place the trap in close proximity to the generator, but this acts as a dead giveaway that extractors are working on that generator due to the trap's large electrical sphere.
The ideal watcher matchup for Soul is either Geisha or Scarecrow as they don't have any clear-cut ways to destroy the electrical trap, so they will have to eat it most of the time if it's placed correctly. Experienced watchers will try to bait you into detonating the trap early, so get comfortable with the mind games that will surely ensue here. Warden can Dash directly into your trap and ignore the stun while Fortress can destroy the trap simply by hitting it with a ranged attack. As a result, Soul falls off a fair amount against these watchers and you are better off using the trap with the intention of making the watcher exert energy to destroy it, rather than actually landing the stun.
Bard – Overview

A strong extractor if supported correctly, Bard is a good survivor for multiple reasons. Let's look at her unique passive skill, Impatient:

Every extractor except Bard can carry 2 data cubes, so this skill can be seen as a handicap. However, Bard will only ever drop her cube when executed by the watcher. It's imperative that you have a cube at all times as Bard, as you can't use your main ability without one. Experienced teammates will understand this and will drop a cube for you. The way to work around this skill is to work on generators without actually expanding your cube and completing the gen. Other teammates should expand their cube to complete the generator if they desire. An example of this is Bard working on a generator with another player and uploading to 99% before stopping. The other player then expends their cube and completes the generator, allowing Bard to retain her cube.
As you have to be executed to lose the cube, watchers might be inclined to tunnel you a fair bit harder than other extractors in an attempt to deter you from using your initiative ability,

Clicking M2 as Bard with the watcher in view will 'stalk' the watcher. This will reveal the watcher's aura and contribute to uploading progress to Bard's internal generator. Using this ability will slowly drain your energy meter so be aware when using this ability during chases, as you may not be left with enough energy to fast vault. Be aware that using this skill emits faint audio tell which experienced watchers will listen for to determine your location.
This is a fairly strong ability for the following reasons:
You can effectively kite and upload at the same time. It's common for Bard and Shadow to have similar upload numbers. As a result, Bard can be a very efficient extractor if played correctly.
You can stalk the watcher while working on a normal generator, effectively uploading two generators at once.
You can proc digital form module with this ability. This ability is pretty busted in conjunction with digital form module because it procs at 99% AND when the cube is actually uploaded. So you can acquire a 90 point shield at 99% upload, get hit by the watcher, then stalk for the final 1%, uploading the cube and granting you another 90 point shield. If done correctly, the watcher will have to hit you ~4 times to down you.
Stalking the watcher can cause the watcher to play sub-optimally. They might get annoyed at the constant stalking and go after you instead of someone more dangerous like Shadow or Crow.
Revealing the watcher's aura allows for teammates to rotate away from the killer if they notice they are coming towards their location.
Uploading just one cube in this way can help in the end-game where the watcher is tightly patrolling gens to prevent the final cube from being uploaded.
As previously mentioned, it is imperative that you always have a cube as Bard to use the above ability as you are a pretty vanilla extractor without your initiative skill.
Bard's shareable skill is Self Protection Spray Paint Can: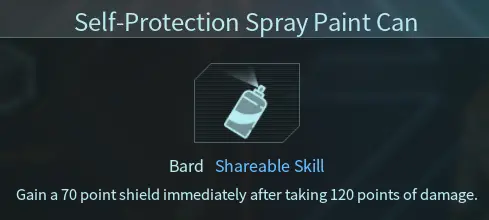 Considering most watchers inflict 65 damage per hit, this skill requires the watcher to hit you twice to activate. The 70 shield is nice but realistically this skill is simply a worse Digital Form Module in many ways. You'll always be a two hit down in your first chase running this compared to DFM where the watcher will need 3 hits to down you on your first chase. I would only really recommend this on Crow as it means the watcher will need to hit you 4 times on your first chase to down you. Taking 120 damage from the watcher as Crow is practically a given if you get caught out in the open, so it's a solid pick. It's important to note that virus damage also contributes to this perk, so it's possible to proc this without any watcher damage by intentionally eating virus damage.
This perk is also reasonably viable on Dancing Girl as you won't be doing gens all that often to get mileage out of DFM, so this is a passable alternative.
Playing Bard
Bard is a rather unconventional extractor who can seriously punish a watcher that can't end chases quickly. Bard's main weakness is that she has no kiting abilities, so you need to know your safe zones very well to maximize your chase time in comparison to other extractors. Punch is your best friend as his ability will provide much-needed support to your kiting potential. Always stay near Punch if possible, an experienced Punch player will prioritize you over other extractors if you get chased while holding a cube.
You should be running DFM with the aim to get a cube ASAP at the start of the round. This ensures that you can stalk the watcher if the opportunity arises in the early game. You should then either help another extractor with a gen or go around setting up walls around the map, stalking the watcher at every opportunity while doing so. Always have a good amount of energy reserved so that you can stalk while being chased, otherwise you won't be able to upload while being chased which is Bard's ultimate strength. It's very easy for a watcher to end chases quickly against inexperienced Bard players who don't manage their energy correctly.
If things are going badly and you anticipate being eliminated, you should prioritize stalking to finish your internal gen if it's near completion. This is because if you die prior to uploading your internal gen, all of the upload progress effectively goes to waste. It's important to note that it is rare to upload more than 1 internal gen in around. If you upload 2 cubes via stalking it's very likely that the watcher is struggling badly and is going to lose anyway, so I wouldn't bother stalking after uploading one cube against experienced watchers.
That's everything we are sharing today for this GOLD EXPRESS guide. This guide was originally created and written by Heliotropic Rose. In case we fail to update this guide, you can find the latest update by following this link.
If you believe that any of the content on this site violates your rights, including your intellectual property rights, please contact us immediately using our contact form.