Complete run through The Refugees on Extreme with no savescumming
Day 1
Select Emergency Shift as your first law.
Put 8 Engineers and 7 Workers on the leftmost Steel Wreckage at the northern resource group and the remaining 13 Workers on the top Wood Crates at the eastern resource group.
Dismantle roads worth exactly 9 Wood, 2 from the horizontal road at the northern resources, 1 from the bottom end of the eastern resources, 1 from the top of the eastern resources, and 5 from the inner Generator ring at the Stockpiles. If you clip the Generator ring roads as in the screenshot below, you will still be able to fully pack the inner ring as well as keep the existing roads functional.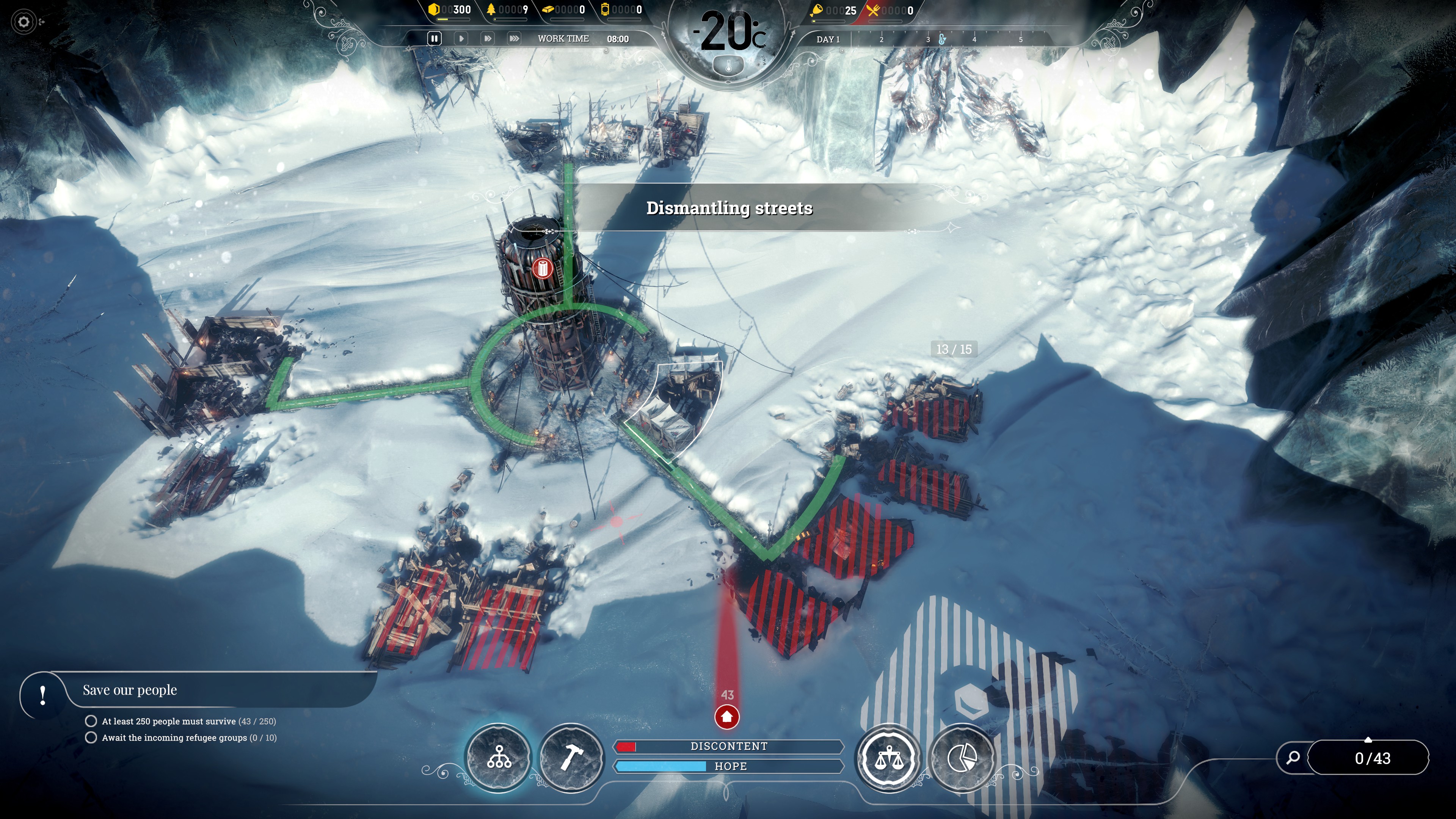 You should have the required 15 Wood and 5 Steel for a Workshop at exactly 09:41, so place a Workshop immediately below the Steel Wreckage and reassign all the Engineers and Workers to Wood Crates. 10 total should be in position to start building immediately, and the rest will collect wood. The Workshop should be completed at 11:30 and 10 Wood to start Faster Gathering will be collected at 11:34, so collect 5 Engineers to staff the Workshop, research Faster Gathering, and hit Emergency Shift.
You'll want to end with exactly 15 Steel at 18:00, which can be done by having 3 Engineers and 9 Workers at the topmost Steel Wreckage until about 15:45, leaving your other 11 Workers on the topmost Wood Crates at the eastern resource piles. At 15:45, move 1 Worker to the Wood Crates. Hit Emergency Shift at the Wood Crates right before 18:00, and at 18:00 move 3 more Workers from Steel Wreckage to fill it and work overnight.
Start a Gathering Post at the northern resources next to your Workshop. Once you have 15 Wood, place a second Workshop immediately below the first.
Turn on the Generator around 18:00 and flip on the Overdrive once it's warmed up. Accept the quest to provide housing for everyone.
The settlement should look like this at the end of the day.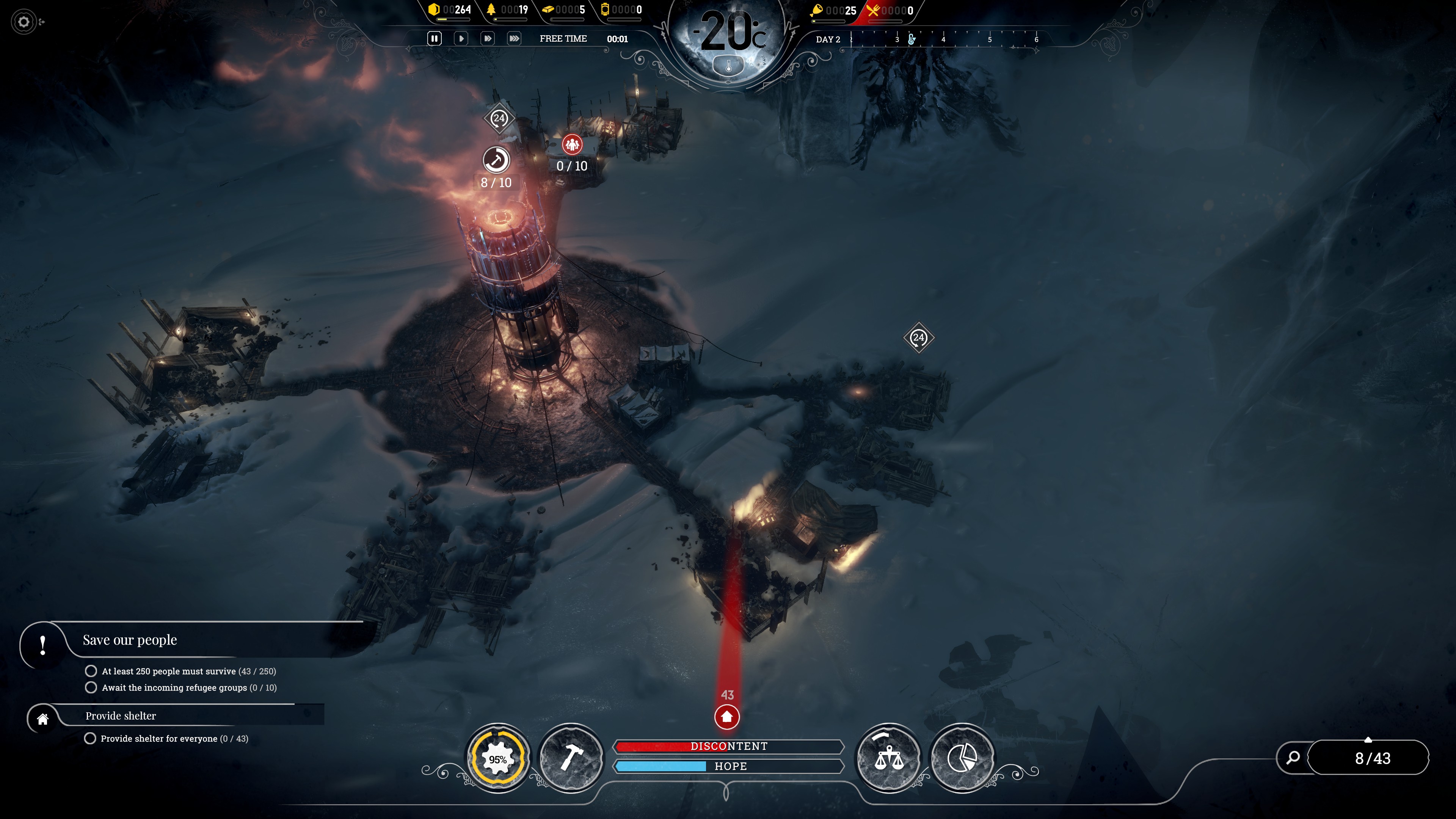 Day 2
Faster Gathering should complete at 00:35, so next research Sawmills.
Your next Law is due at 02:00, so select Child Labour – Safe Jobs. Switch out your Emergency Shift Wood Crates Workers with Children to allow the Workers to build at 05:00. Place a Gathering Post in the inner ring to catch the two Wood Crates and a Cookhouse immediately past it along the road past the stockpiles. Both buildings should be complete before 08:00.
Turn off the Generator and Overdrive at 05:00.
At 08:00, have your 3 free Engineers in the second Workshop and hit Emergency Shift, but then immediately take them out of the Workshop and into a Gathering Post. If you leave the Workshop unstaffed through the day like this, the scripted second Emergency Shift death will not trigger during the day as scheduled, and you can still run the Workshop overnight from 18:00-08:00 without triggering the death as well. Fully staff both Gathering Posts with your remaining Workers and have the last 3 on an open Wood Crates.
Leave the Children on the Emergency Shift Wood Crates until it completes, then move them to another Wood Crates. When the 15 Workers show up, put them all on Wood Crates as well.
Once Sawmills completes at 13:36, research Beacon.
Right before 18:00, move your Workshop Engineers to the second Workshop so that they will work overnight again like the S-tier slavedriver you are.
At 18:00, staff the Cookhouse with 5 Children to keep the Starving you'll develop overnight from eating Raw Food.
At 20:00, sign Food Additives.
Staff the Medical Post with your 3 Engineers as soon as it completes, mostly to stop your sick from the first night from becoming Gravely Ill.
Build 2 Sawmills, one catching the eastern trees and one catching the western trees with roads threading between the resource piles. Build a third Gathering Post at the western Steel Wreckage and 2 Coal Piles and extend the road to the end of that Gathering post. Build a Medical Post and 6 tents around the Generator. Turn the Generator back on and run the Overdrive until your tents complete, then turn the Overdrive off as all housing will now be Comfortable.
Here is a screenshot of the settlement at midnight.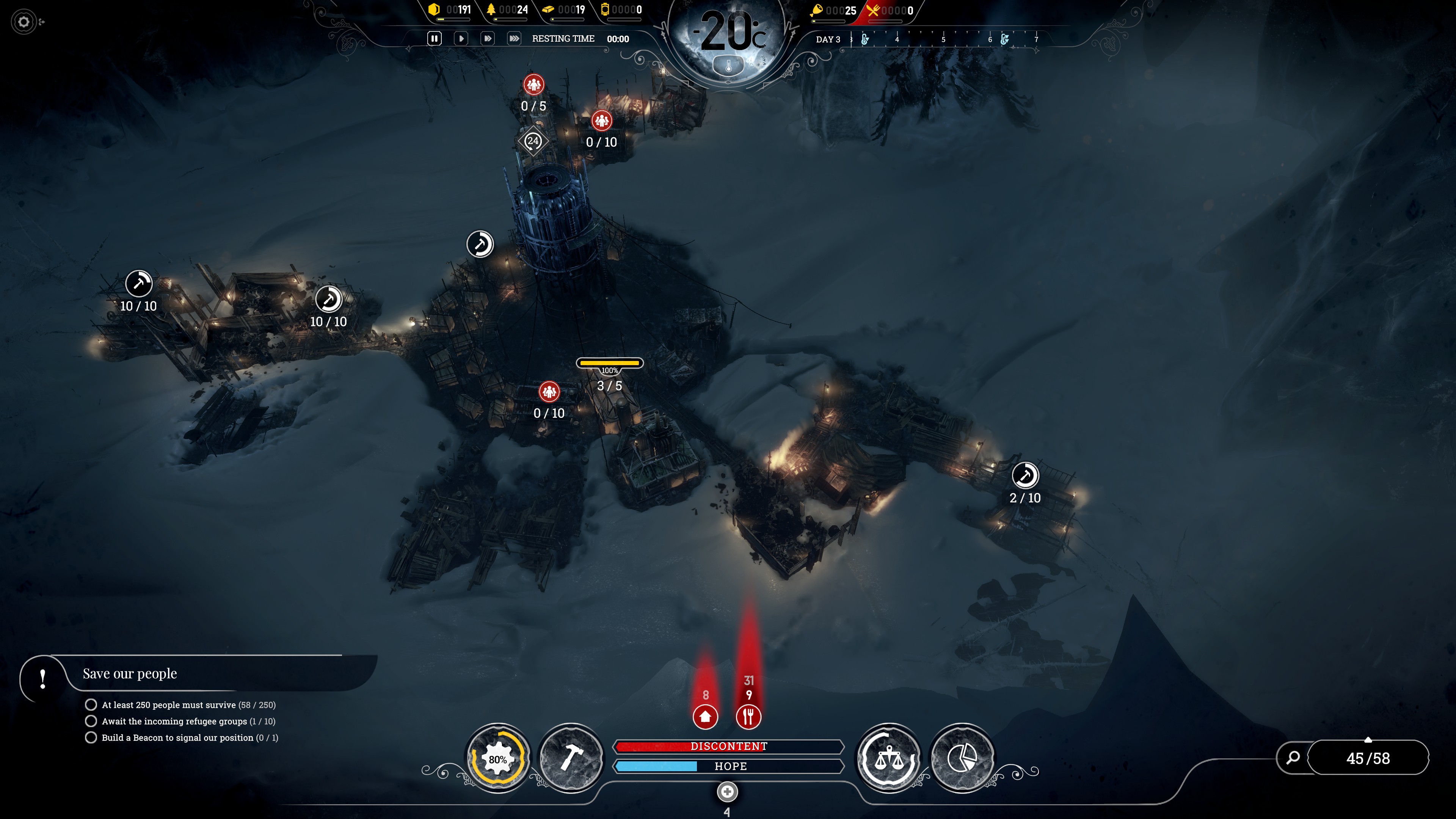 Day 3
Turn off the Overdrive once all your Tents are complete, as everyone will have Comfortable housing even without it. Turn off the Generator at 05:00 once again.
When Beacon finishes, select Hunters' Gear.
All of the night's new sickness will be settled at 05:00, so fully staff both Sawmills and the northern and western gathering posts, staff the southern Gathering Post with 5 Workers, and leave the Cookhouse fully staffed until you've converted 24 Raw Food to Sawdust meals (the last 1 will have to remain uncooked), then move its staff to fill up the third Gathering Post. It's easiest if you staff the western Gathering Post last to bunch up all your sick Workers there (and make sure it's 10 Workers, no kids), as you'll be sending 5 sick Workers from there as scouts later.
At 08:00, move your 3 Engineers from the Medical Post to the empty Workshop. Take 2 other Engineers from the full workshop and move them to the empty one as well, as that will be our next Emergency Shift later. Guess that means 2 poor engineers will be working 3 all-nighters in a row. Anyway, we'll have another 10 Engineers and a second Medical Post overnight plus be offloading 5 sick Workers as scouts, so it will be safe to do so to maximize productivity without risking anyone progressing to Gravely Ill by keeping the Medical Post unstaffed during the day today.
You should hit 35 Steel around 13:00, so when that happens immediately place a Beacon next to your western Gathering Post, fully unstaff that Gathering Post, and the workers will build the Beacon. At 14:00, select Extended Shift and place all facilities on Extended Shift.
Once Hunters' Gear finishes, select Coal Thumper.
You should have discontent high enough to trigger the 2 day ultimatum quest at 15:00, but we've got this.
The Beacon will finish shortly after 15:00, so place 5 Workers back at the western Gathering Post, and you should be left with 5 sick workers to send scouting if you staffed it last in the morning. If not, just make sure you take 5 sick workers off duty from other places and send them scouting. There's some randomness in the scouting locations generated in Refugees, but generally you should always be scouting west and south to make a beeline for the Cannery Workshop with your first scout team.
The marginal amount of Steel and Coal you'd get with 5 workers after completing the Beacon isn't much to write home about, so go ahead and unstaff the western Gathering Post and start building a Hunters' Hut close to the Beacon. It should complete shortly after 18:00, so wait until your other workers are finished at 20:00 and then fully staff it with healthy workers.
You'll get a much needed 10 Engineers around 18:30, so staff your Medical Post, and place another Gathering Post at the final resources to the east, and a Workshop next to it. Complete the Generator ring with another tent and Medical Post. Finally, place another Gathering Post next to the northern one. It won't be connected to a road yet, but it will be prepared for later when we'll need it to support our Coal Thumper, and we have the resources and building time to work on it tonight.
At this point I got the quest to warm Cold Homes around 19:00. Usually it's a bad idea, but this quest is actually doable since we don't have a drop until Day 6, so accept it. Flip on the Generator and you'll get to livable and start the clock running, then just leave it on the next 48 hours, as we'll have the coal supply now to run 24 hours anyway. Hit the Overdrive overnight as well, as we should be back to 0% stress.
Hit Emergency Shift on your first Workshop at 20:00. We'll finally own up and take the scripted death when it happens now, as Corpse Disposal will be our next law anyway, plus we have 18 Engineers now. Make sure to replace the dead Engineer in the Workshop and don't end Emergency Shifts for the day after the death, we can handle the Discontent.
Unstaff all other buildings than the Workshop and Medical Posts, and with the heated homes we should drop below 75% discontent and end the ultimatum.
Staff the second Medical Post when it finishes, and we should have all sick either treated or scouting and head off any Gravely Ill.
Here's the screenshot at midnight.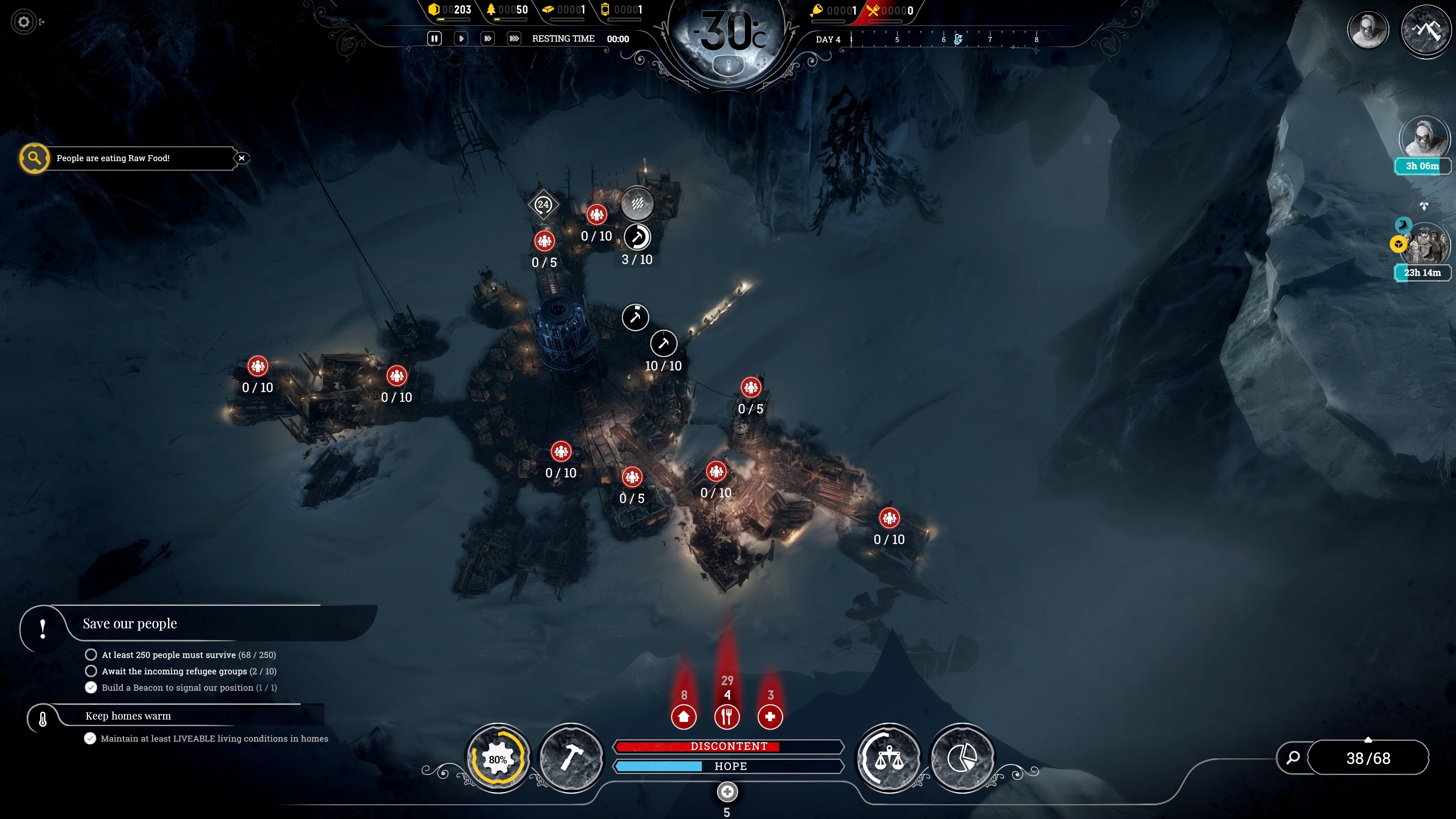 Day 4
Once Coal Thumper finishes, select Steelworks. Go ahead and place a Coal Thumper right below your northern Gathering Post to get a little building done in the morning, but pause building at 06:00 to avoid wasting work time.
Your scouts should find the first spot overnight, so again make sure you're heading in a southwestern direction. I got Abandoned Camp and headed for Snow Dune, but your mileage may vary due to random generation of locations.
We're going to be short staffed today due to having 15 workers hunting (it's solely to prevent starvation deaths prior to discovering Cannery Workshop if you're curious). There's 10 Engineers and 10 Children coming in the evening, so if we can just get over this hump it's all good, though. Priorities for staffing today are first the northern Gathering Post to clear it our prior to getting the Coal Thumper going, second the southern gathering post for wood (use all children so they don't get sidetracked when you reassign them after it taps out), and the remainder at a Sawmill, taking children off gathering duty to cook the 16 Raw Food from the Hunters' Hut when it arrives.
At 08:00, sign Corpse Disposal. You'll have to turn off a couple of Extended Shifts to lower Discontent enough to pass it, but just turn them back on immediately afterwards. Build the Snow Pit between the western Gathering Post and the Generator. We'll move it later, but it will be faster to build there, and it's free anyway. Go ahead and Emergency Shift a Workshop now to get the timer started as well. Total Discontent spikes to 123% after this long train of abuses and usurpations, but we'll have things back in order in no time.
When the Engineer you just put on Emergency Shift demands the day off, deny it. Not a big deal either way, but Discontent will actually be falling dramatically once the corpse is disposed of and prior Emergency Shifts continue to bleed away. It's actually advantageous to keep triggering the 2 day Discontent ultimatums as much as possible, as each success raises Hope. They won't actually be any concern at all until the temperature drop, and even then it's manageable. To this end, go ahead and put a single sick person in every building you have but aren't using that can be Extended Shifted to temporarily maximize Discontent, even though they won't be in operation. You should trigger another 2 day ultimatum at 15:00. Take out all the excess people.
Once Steelworks completes, start Steam Hub.
Your southern Gathering Post should tap out late afternoon, so transfer all the kids to the eastern Gathering Post to scrape up enough Coal to get through the night.
Your scouts should find another location, so keep heading southwest.
At 20:00, make sure your Emergency Shifted Workshop is fully staffed, and otherwise unstaff all Extended Shift buildings, which should drop Discontent below 75% and end the ultimatum.
Place a Steelworks at the location closest to the Generator and build a road to it. Unpause the Coal Thumper, and along the new road and in space where the Steel Wreckage and Destroyed Steam Core Transport piles in the north were cleared today, put up 2 tents. Dismantle the now spent Gathering Post in the south next to the Generator, but it won't get started with all the other building.
Here is a screenshot at midnight.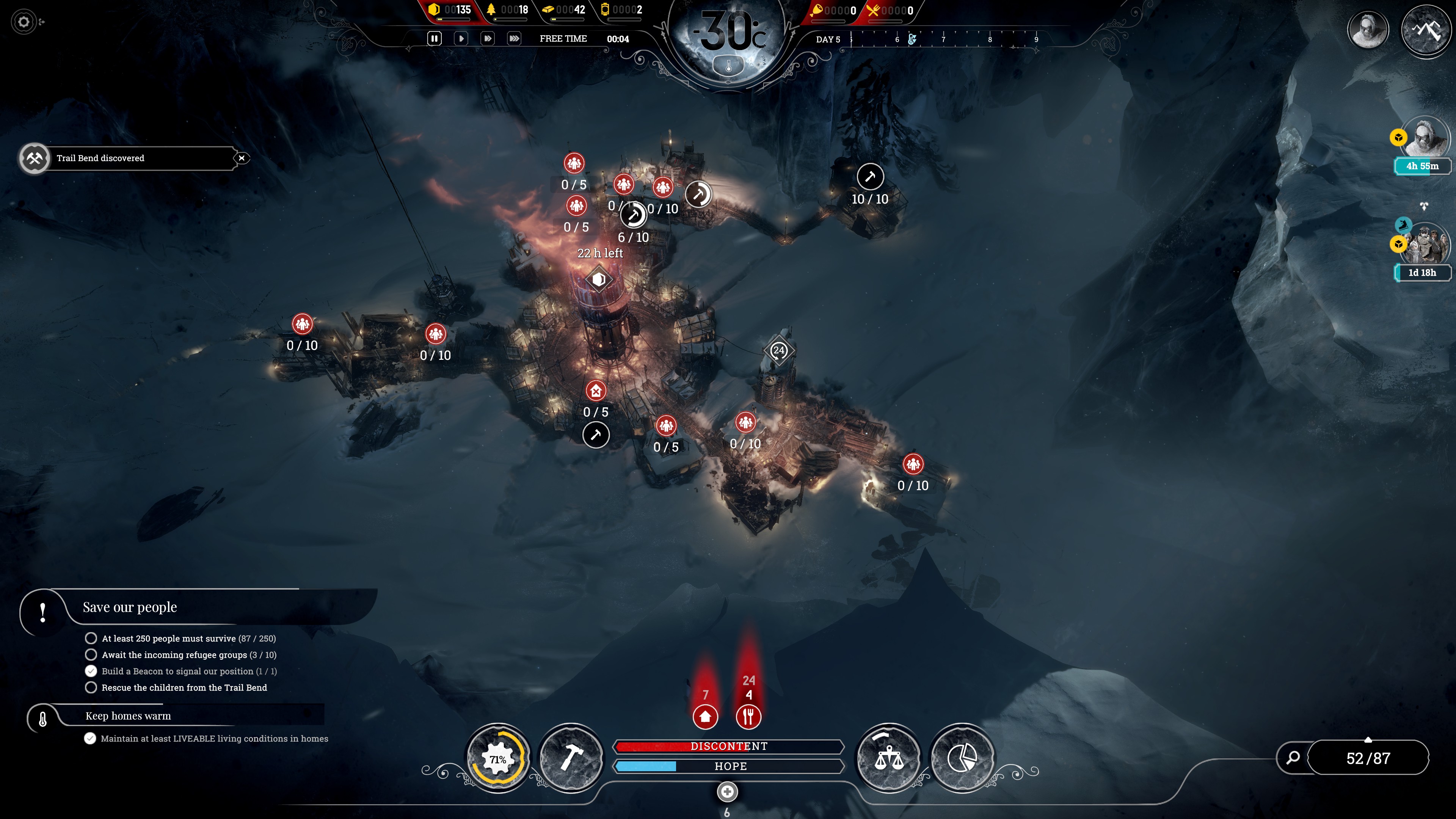 Day 5
At 02:00, select Radical Treatment.
Once Steam Hub completes, start Heaters.
My scouts explored Old Storehouse and opened Cannery Workshop, so food will no longer be an issue soon. You may end up with a longer way to Cannery Workshop, but either way it's best to unstaff and even dismantle your Hunters' Hut once they return with food this morning, as you'll have a large stash incoming either today or tomorrow.
We will finish all Tier 0 research today and will need 50 wood for Drawing Boards, so make sure you have a fully staffed Sawmill.
Turn off the Overdrive at 05:00.
Go ahead and let people continue to finish any building and dismantling even past 06:00 today.
When the popup to give extra rations for Emergency Shifts pops up, select Yes. Once your Hunters have returned and you've cooked the food, there should be enough left over after feeding the starving for an Emergency Shift on a Workshop as long as you don't dawdle too long, either by letting the starving eat raw food or letting rations sit around too long to be consumed.
Take your Hunters off duty. They'll need to rest, but you'll get a few hours of work out of them at the end. Generally the Steelworks and Coal Thumper are best for them, as they're the lowest priority workplaces at the moment.
Go ahead and do the trick of using your sick to occupy every building that can be put on Extended Shift again. It's the only way you'll have enough Discontent to trigger the ultimatum, which we want, as it's manageable now, and will put off it triggering in the -50 coming tomorrow, which will be less manageable. Briefly toggle the Extended Shifts off, which should end the ultimatum, then, resume all Extended Shifts before 18:00. The ultimatum can only trigger every 24 hours, so we're safe for a bit.
We'll now be preparing for the -50 drop, so place one Steam Hub to cover your northern cluster of Coal Thumpers, Gathering Posts, Workshops, and Tents. The best location is to make a 1 Wood road between the Gathering posts and place it there, as it will get all your Workshops, the Coal Thumper, and leave room for a few more things later. Place another at the eastern side to cover the Sawmill, Gathering Post, and Workshop, and set it to run 06:00-20:00. Place a Resource Depot in an unheated area and another Workshop at the edge of the northern group at the edge of the new Steam Hub's heat zone. At 20:00, sign Overcrowding, which should give all of your sick people a spot in the two Medical Posts. If for some reason you have more, place a third Medical Post at the open site near the Generator which used to house a Gathering Post and cancel the Resource Depot.
Leave the Overdrive off overnight, to let it cool down to 0% stress, as we'll need it tomorrow.
Here's the midnight screenshot.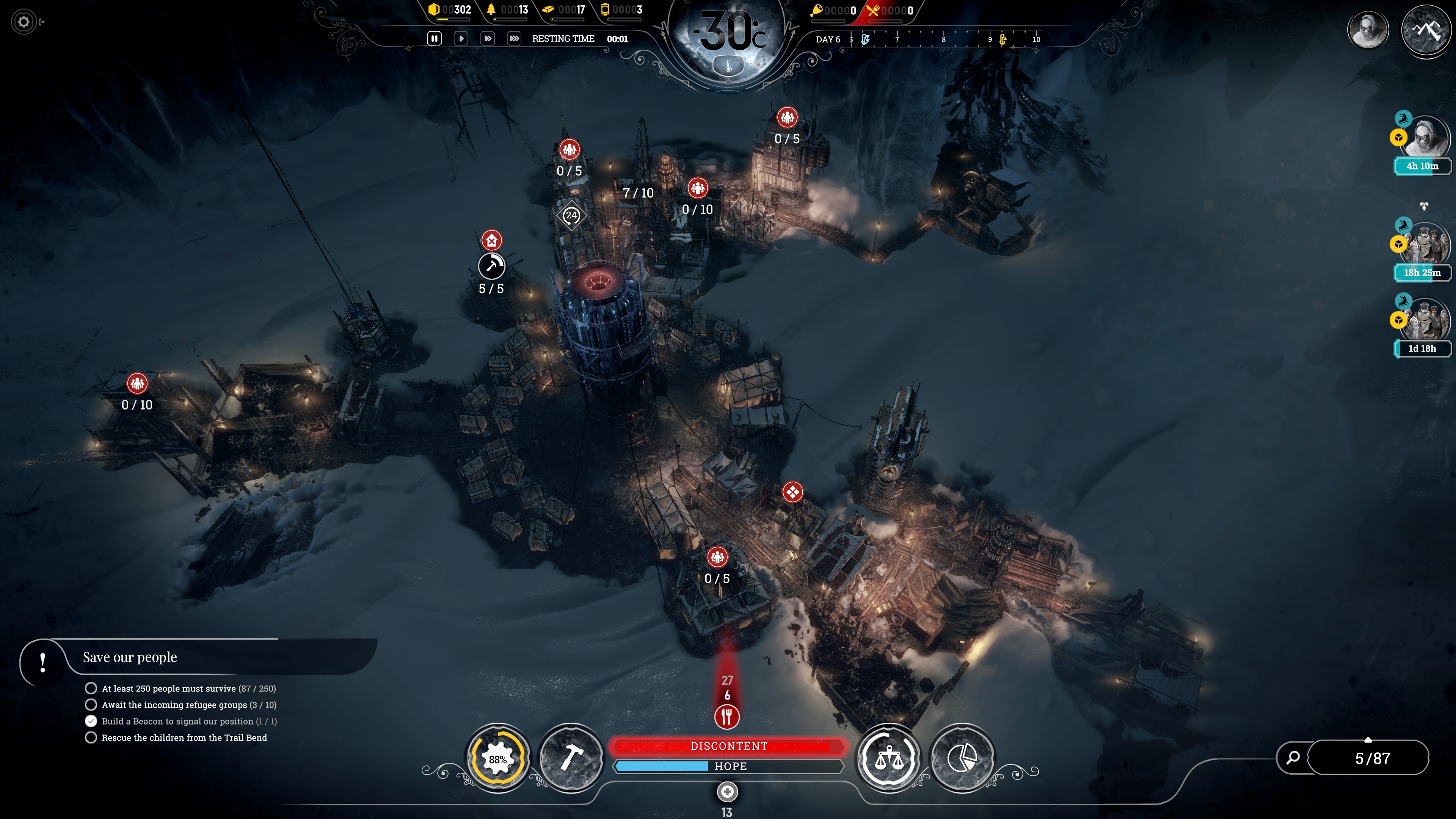 Day 6
If you lucked out like me and got Cannery Workshop early, you should be getting 375 rations this morning, if not it will probably be overnight. The two nights of hunting were enough to prevent starvation deaths either way, and hunters or hothouses won't be needed again until much later. You may end up losing some night time research tonight by not having rations for an Emergency Shift, which would be the only real reason to hunt for a third night, but we're doing very well on research anyway so it's probably not worth the sacrifice.
Once Drawing Boards completes, select More Scouts.
My scouts returned with a nice stash of Wood, Steel, Raw Food, and normal Rations before 06:00, so I sent them to Trail Bend.
The Cookhouse will be out of action for a bit, so if you have any Raw Food, go ahead and cook it from 06:00-07:00, setting your Resource Depot to Food Rations to allow stockpiling. At the temperature drop at 07:00, make sure everyone is working in heat zones and flip on the Overdrive to keep all workplaces at Chilly or higher without needing to switch on Heaters yet.
Once More Scouts finishes, send out 5 of your sick workers out as scouts, either to Trail Bend if you're not already headed there, or towards Fishing Village to be able to set up an Outpost soon. Next research Generator Power Upgrade, so we can let the Overdrive rest before it gets overheated. Wall Drill is tempting to start using our Steam Cores, but it will be hard to heat above Cold for a while, so we'll keep using Sawmills with a Steam Hub for now. If like me sending the scouts out reduced your sick to 10 or less, unstaff a Medical Post and reassign the Engineers to other tasks.
Discontent should be under control even with Overcrowding in effect and Chilly houses, so force the issue once again by sticking extra sick people on Extended Shifts to get the ultimatum, then switch them all off or unstaff the buildings at 20:00 to mollify everyone and buy yourself more time and a free Hope boost.
Once Trail Bend is explored, escort the survivors home.
Once Generator Power Upgrade is researched, select Drafting Machines.
Set up 3 more Tents in Heat Zones, we're leaving the northern one on 24 hours, so it's generally the best place. Also build another Gathering Post at the western piles, another Sawmill, and a Steam Hub set to 06:00-20:00 to heat them all while missing the Snow Pit.
With Generator Power Upgrade, the Overdrive will now bring all places with 1 level of base insulation to Livable, and turning it off will make them Chilly. I think it's generally better to keep Overdrive on overnight to heat housing, so leave the Overdrive on until 05:00 and then turn it off, it shouldn't overheat in that time.
Once again, the midnight screenshot.
Day 7
From this point, there will be minor variations in play depending on how fast you found Cannery Workshop and whether you have the Coal Mine or Frozen Forest outpost. I'll continue to show in less detail the rest of the playthrough, as the settlement is pretty stable at this point and will need some amount of neglect to fail now.
I'll be using Order, as I think it's better suited overall for Refugees, with the smaller physical footprint for Towers vs. Churches and more emphasis on Discontent, which tends to be a bigger issue than Hope with the Lords in the final arc. Faith is a valid choice, too, however, and at this point you'd be better off starting down Faith laws now rather than scooping up a couple more Adaptation laws as I'll be doing.
Anyway, at this point we'll be moving towards Outposts, so once you've rescued Trail Bend, have your two scouts hunting for Fishing Village to the southwest and Coal Mine or Frozen Forest in the north/northeast.
Steel is getting low, so go ahead and have 10 workers at the Steelworks today with the Heater on. They'll be Cold today and more will get sick, but it's only for one day to get to over the hump until Steam Steelworks. By my current buildout, we'll only really need 50 Steel today to have two Steam Steelworks and be working on Outpost Depot research by tomorrow, so it's a good idea to take the workers off the Steelworks and deploy them in warmer jobs once you hit 50 Steel to reduce sickness.
At 08:00, I passed Organ Transplants.
We'll trigger the Discontent ultimatum again this afternoon, but it's trivial at this point, toggling Extended Shifts and Overdrive will fix it on demand whenever it comes up going forward.
Once Steam Steelworks passes, select Outpost Depot and build two Steam Steelworks, as well as 2 more Tents for your newest workers.
Overdrive stress will still be significant, but we have a warm period in a couple of days, so go ahead and run it tonight, just making sure not to run it to 100% and blow up the generator.
Here's the midnight screenshot.
Day 8
Our next goal will be Outposts, so I focused on Wood and Steel with enough Coal to get by. Staff both Steam Steelworks and the two eastern Sawmills as first priority. I temporarily shut down the southeast steam hub and moved all people covered to other sites.
You'll probably have just over 20 sick overnight, but two Medical Posts are still adequate, as with Organ Transplants no one will be untreated over 24 hours and progress to Gravely Ill.
I eventually scouted to find I had pulled Frozen Forest, generally the inferior pick compared to Coal Mine, but it's basically randomly generated. All it really means at this point is I'll need to focus on Coal sooner, if you get Coal Mine just it and your Coal Thumper will be fine for a long while.
Seeing I had Frozen Forest, after Outpost Depot, I selected Steam Coal Thumper to ramp up Coal production, otherwise I would have likely taken Wall Drill.
Next law was Fighting Arena, mostly to help housing planning and put off having to staff Watchtowers another 36 hours.
After Steam Coal Thumper, I selected Lighter Scout Sleds.
Overnight, I built two Outpost Depots, upgraded to a Steam Coal Thumper, added two more Gathering Posts to support the Steam Coal Thumper, and a Fighting Arena.
You should be able to run the Overdrive one more night without totally overheating it, with a temperature drop to let it rest tomorrow night.
Midnight screenshot.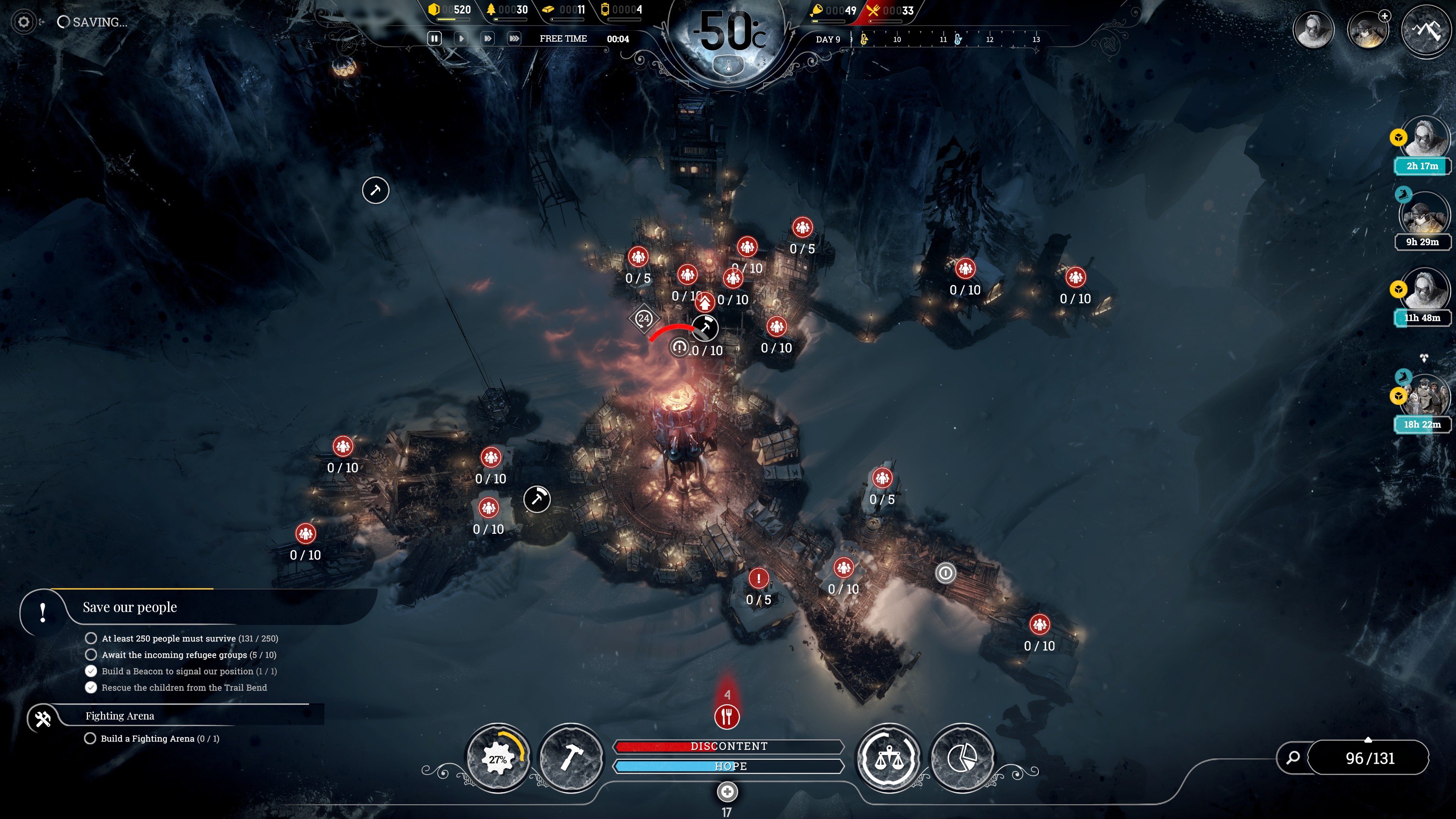 Continuing Save Our People Arc
I had both Outposts set up Day 9. One odd little quirk with Refugees is that it seems if you send sick or even hungry Workers out to set up an Outpost, they'll often die when setting it up, with all the problems involved with that. You still get the Outpost regardless, though. For that reason it's best to send healthy, well-fed people rather than the sick and hungry you usually want to offload as scouts.
Having a Coal Thumper take up space in a 24 hour Steam Hub is not optimal long term, so at this point it's best to set up a dedicated 24 hour Steam Hub with only housing, watchtowers, healthcare taking up space and eventually clear out the housing replace with Workshops or other typical 0600-2000 facilities and change the Steam Hub to 0600-2000. You can do your Fighting Arenas and Churches in heat as well if you want, but as they are unstaffed and people only visit them briefly, it's not as important if you're really trying to economize. There are several places you can and eventually will use; I find the open space between the Generator and Steelworks an ideal place to start.
If you're going Order like me, next order of business is Healthcare, so research Medical Post Upgrade and Infirmary next. For Faith you can lean on Houses of Healing for quite a long while, but be aware that you'll eventually start to run out of space on this cramped map if you want to accept all the Lords in the final arc and probably will want to change to Infirmaries in the end for that reason alone.
Day 9 I built a new Steam Hub with 6 Tents and Fighting Arena, a 5th Gathering Post close to the Steam Coal Thumper to pick up any extra dregs the other 4 missed, and a Cookhouse and 2 more Workshops at the western Sawmills heat zone to further consolidate my laborers into heat zones. I also tore down the Gathering Posts in the west and southeast that had now finished collecting all of the starting resources. I also had enough for another Resource Depot next to the eastern Outpost Depot.
I left the Overdrive off tonight, as tents were at Livable in -40 with Level 2 Generator.
It goes without saying, but I have a Workshop running overnight every night as I have from the first night.
Midnight screenshot.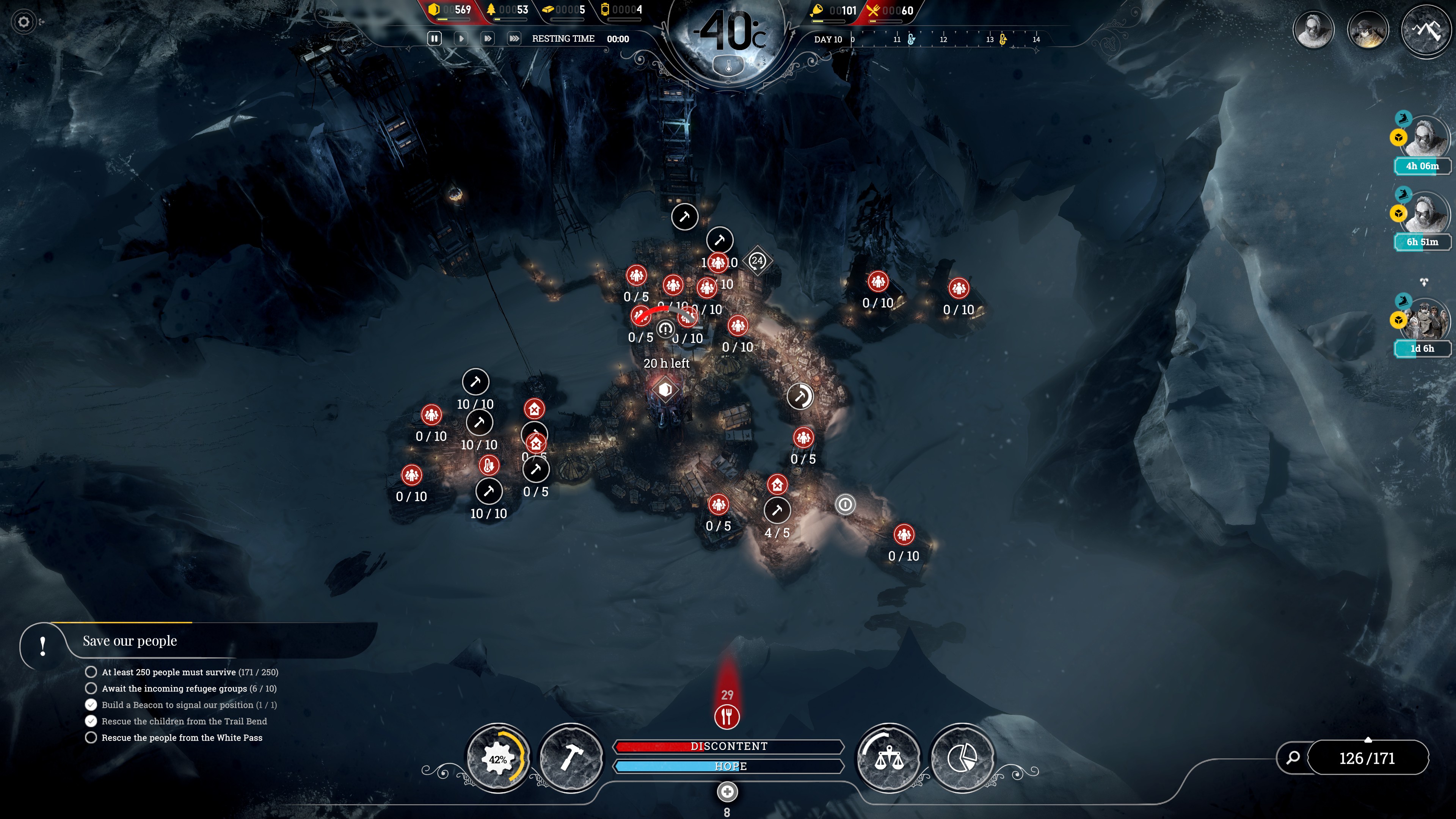 By Day 10 I had all the locations to the north, west, and south scouted, so now it was just cleaning up the east and rescuing any remaining pop up refugees, which need no further comment. The Resource Depots finally came into play with all the scouts brought back.
Once Infirmary was done, I researched Bunkhouse, tore down the Medical Posts, built an Infirmary next to one of the Steam Steelworks within the range of the new 24 hour Steam Hub, and transferred the Engineers there.
I passed Neighbourhood Watch at 08:00 and built two, tearing down a tent at the Generator ring for one and placing the other in my new 24 hour Steam Hub's range.
After Bunkhouse I researched Wall Drill.
With the flush of resources from scouting, I started building new Bunkhouses in my heat zones in range of a Fighting Arena and Watchtower as possible, as well as upgrading Tents, stopping at the point where anyone would be left homeless overnight. I also put up 4 new Resource Depots.
Midnight screenshot.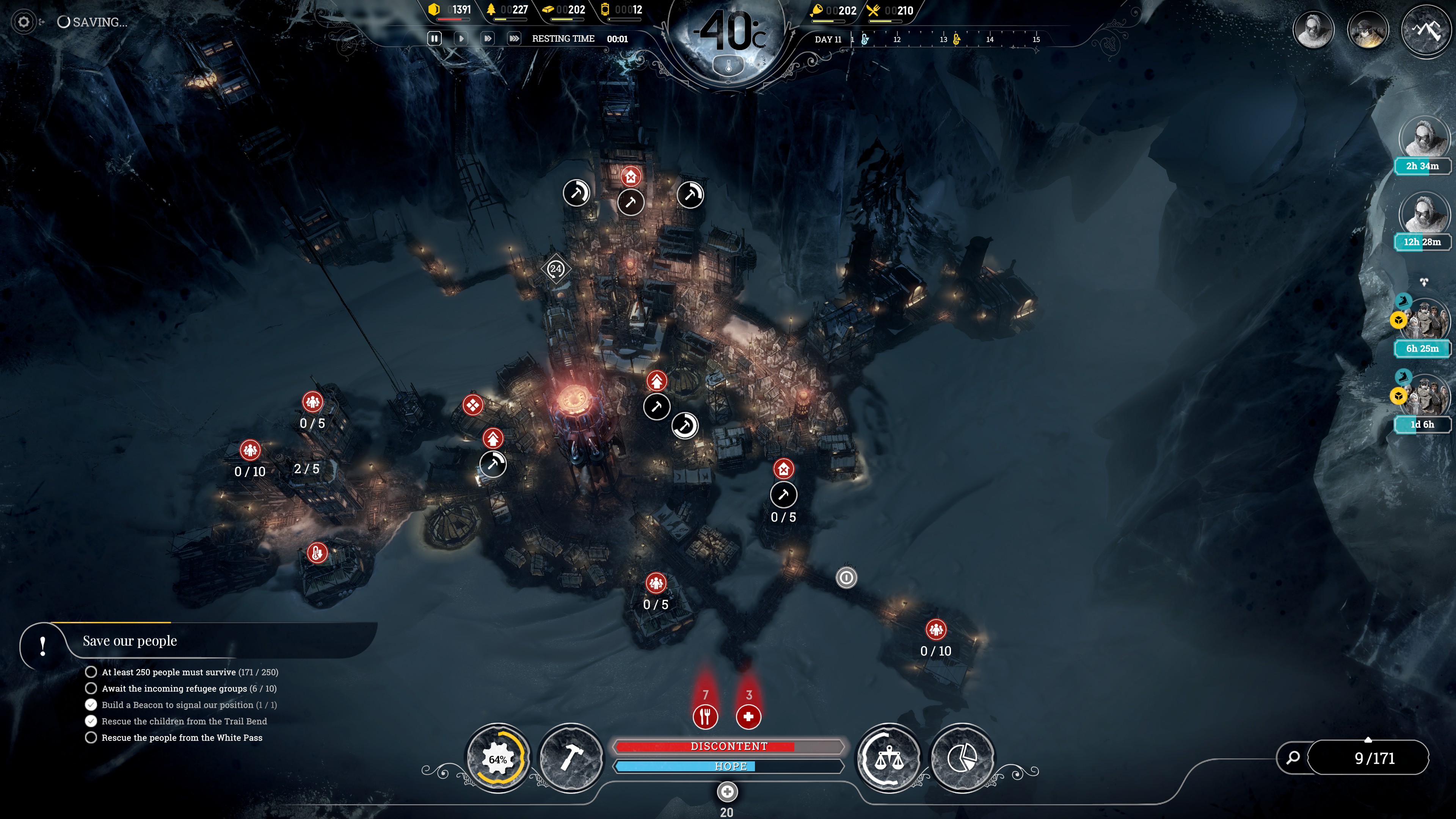 Day 12, after Wall Drill completed, I researched Hothouses. With Overcrowding and Infirmaries, I could easily continue Sawdust until the Lords, but I have 11 free Cores and 56 kids with 20 more coming in a day and only actually really need 45-55 to work the Cookhouse and 4-5 Gathering Posts, so no point in not doing it at this point, after unstaffing the Cookhouse until everyone ate all the existing Sawdust meals, of course. I built the Wall Drill in the morning, allowing the builders to stay off their normal duties to finish it, then staffing it.
The temperature drop triggered another Discontent Ultimatum, which was quickly resolved by toggling a few Extended Shifts at 08:00 and then toggling them back.
After Hothouses, I researched Improved Heaters, then Resource Depot Upgrade.
Overnight I built 2 Hothouses next to the Steelworks, built a Steam Hub in the middle to cover all 4, set to 06:00-20:00, and continued to upgrade Tents to Bunkhouses. Due to the cold, I also turned on the Overdrive. At 20:00, I signed Guard Stations and upgraded the Watchtowers.
Midnight screenshot.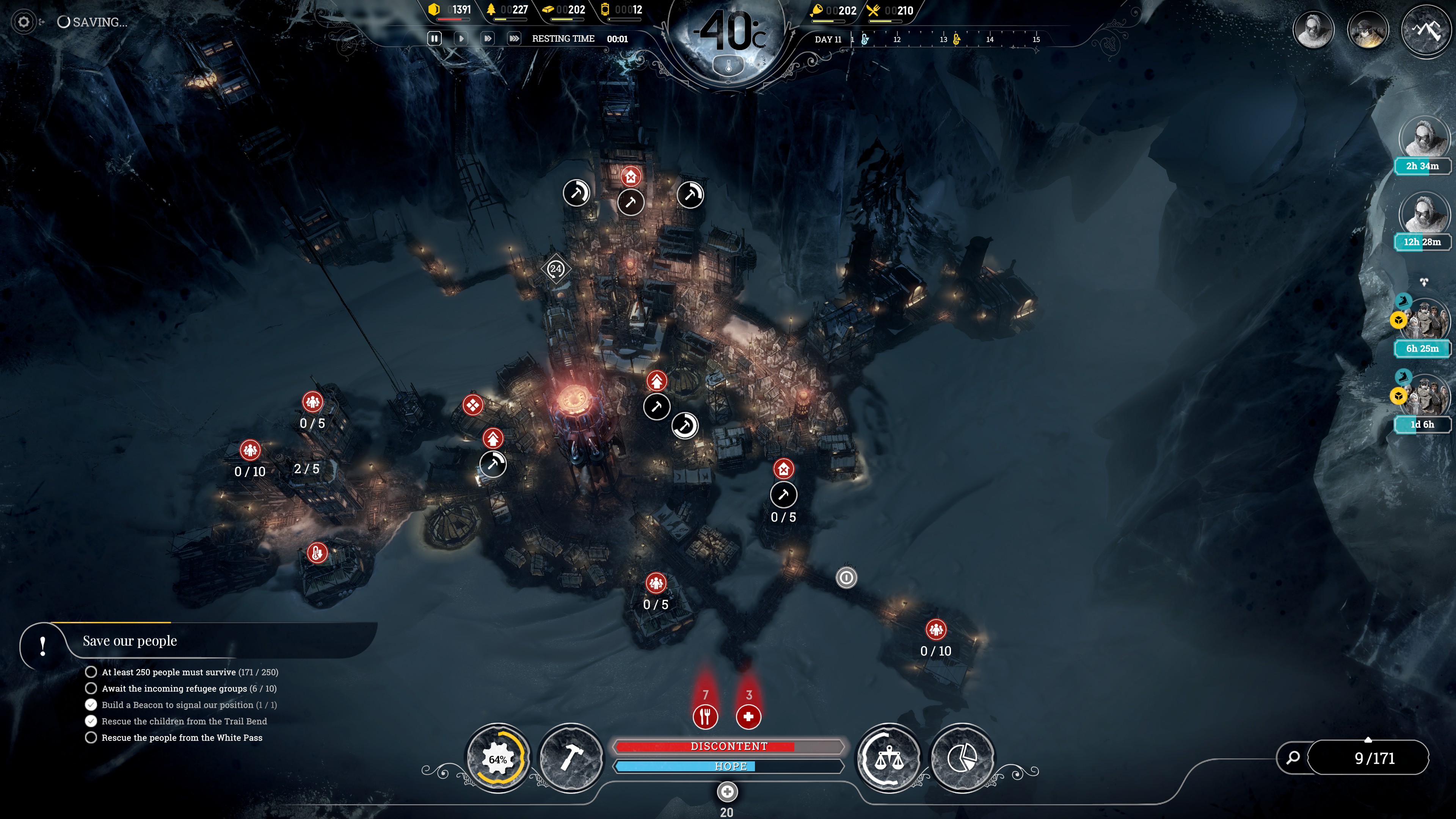 About Day 12, we can truly start to say we have more people than we really need. At this point Order starts to make more sense as well, with all the excess workers there's not much reason not to staff Guard Stations to cover everyone, anyway, and they conveniently fit in the same footprint as a torn down Tent.
With the groups coming in, I needed to put up a second 24 hour Steam Hub for new Bunkhouses and Towers. With all jobs filled and some excess from the 8th group of refugees as well as the people from White Pass escorted in, I used the excess people for daytime building. I also squeezed in a new Workshop next to the new Hothouses at the heat zone and built a new Infirmary next to the old one in the 24 hour heat zone, even though it was not yet strictly necessary. With Improved Heaters, the first Cookhouse was operational at -50 without a Steam Hub, and the Wall Drill was also now Chilly at -50.
Once Resource Depot Upgrade completed, I researched Mechanical Calculators, then Steam Wall Drill.
As I still didn't have Discontent at 100% even with 18 Extended Shifts, I went ahead and hit Emergency Shift on a Steelworks, because why not? I also tore down the tents around the Coal Thumper, as I now had enough Bunkhouses to house everyone, and switched that hub to 06:00-20:00.
Midnight screenshot.
Day 13
Everything is running fine now, so mostly it's just killing time until the last 2 groups come in. I have all of the currently unlocked scouting locations already scouted and the scouts returning home. 2 Infirmaries are plenty to cover everyone now, especially back on normal rations. I disbanded the scouts as they returned and sent a new band of actually healthy scouts to wait at Snowcat for the next locations to unlock, as I had workers to spare regardless.
After Steam Wall Drill finished, I researched Difference Engine, thanks to the Steel from Emergency Shift.
Discontent was high at 08:00, so I toggled a few Extended Shifts to be able to sign Propaganda Centre, then toggled them back on. Thanks to all these Discontent Ultimatums, Hope was at maximum once I build the Propaganda Centre and issued a single Propaganda Bulletin. Not sure how I made it this long, but I also hit my first request to hold Extended Shift for 3 days, but thanks to having Guards was able to force everyone to keep working without issues.
Once Difference Engine was done, I researched Advanced Steelworks.
Overnight I filled in a couple of extra Bunkhouses to have enough room for the last incoming group, plus upgraded to Steam Wall Drill.
Screenshot.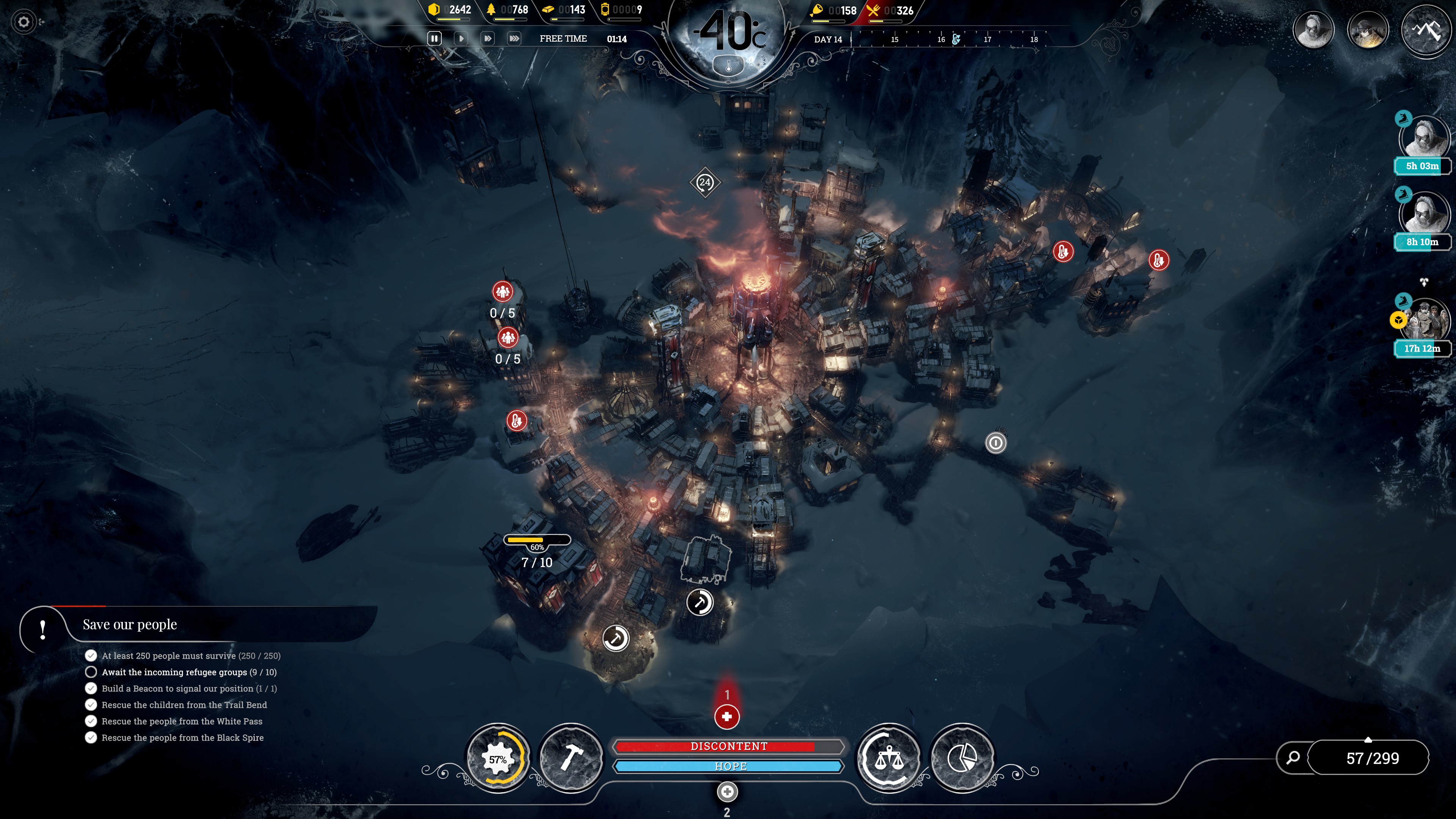 Accepting the Lords
Day 14, Advanced Steelworks completed at 07:30, so I upgraded them on the spot and with excess workers put up another 3 Sawmills to speed up collecting the Frozen Trees with my excess workers. Next research was Factory.
I put up 2 more Resource Depots as Coal and Wood were getting high.
After Factory was Automaton Integration.
The final group of refugees arrived in the evening, my Fishery Outpost food arrived, and my two scouts had several hours to reach Landing Site, so that seemed a good time to finally relocate the Beacon to the periphery. I lost a couple of hours with my scouts waiting at the Landing Site for orders, but that was it. Other than that, only new building was a Factory, and I also relocated the Snow Pit to the periphery for good measure.
I probably should have done an Emergency Shift at one of the Advanced Steelworks at this point to get ever so slightly ahead on steel, but we're well past the snowball point now anyway. I'd go ahead and do that anyway, though.
Screenshot.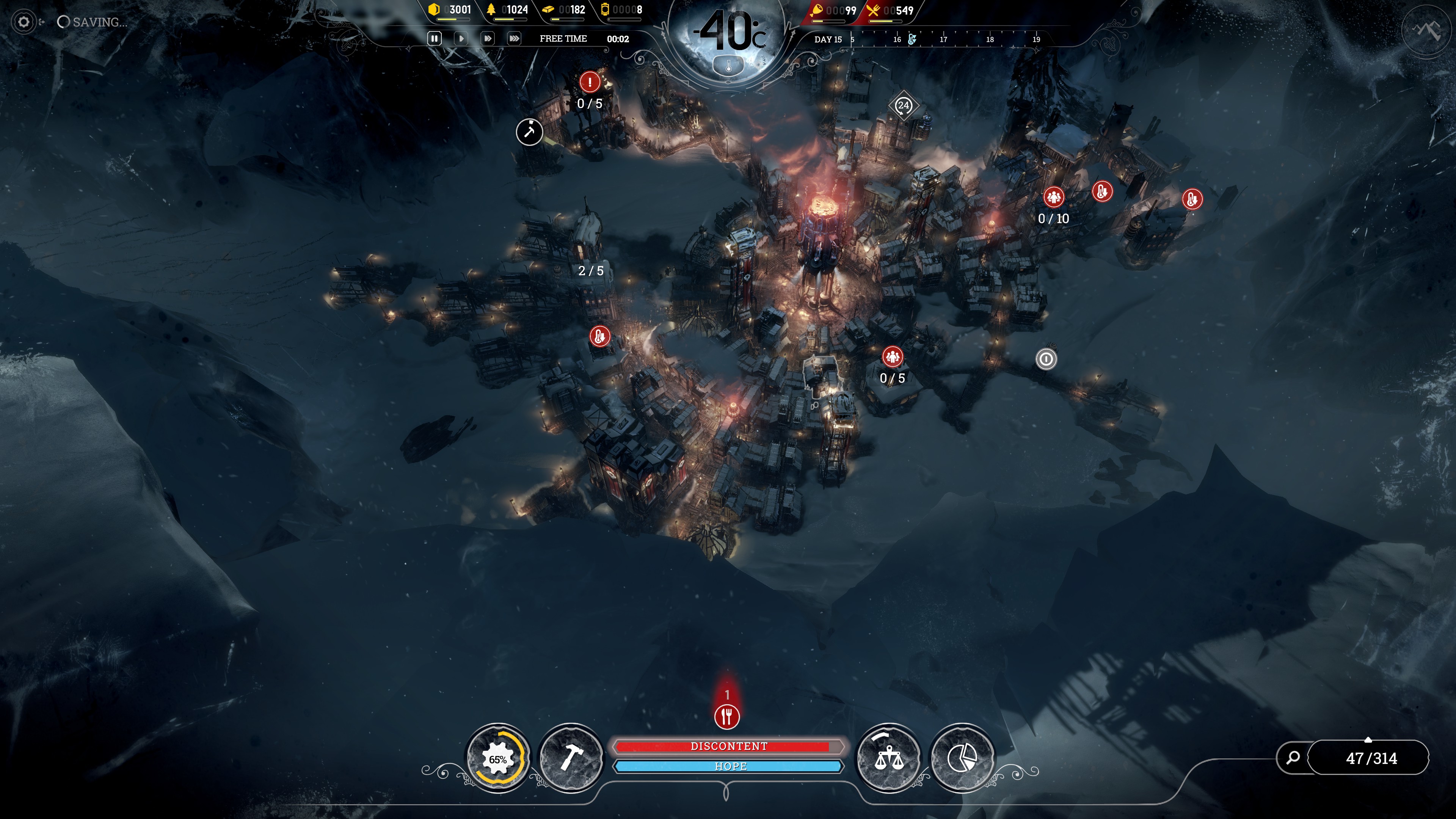 Day 15
Next Law, Agitators, which went up to cover all relevant buildings. Next research Engineer Automatons (at last). After that Advanced Heaters.
Most Sawmills tapped out today, so they were dismantled and a couple more placed to scrape up some more.
No more need for Emergency Shifts on Workshops with Automatons, but I did on a Workshop and Advanced Steelworks to ease the transition this time for old times sake.
I made 3 Automatons and put them all in unheated Workshops, where they'll stay the remainder of the game.
At the end of the day, I got the notice of the first Lords incoming in 2 days.
I'll skip the screenshot, as not much of note changes.
Day 16
Next tech House.
With the dip to -60, Advanced Heaters will be enough to keep buildings with insulation level 1 at Chilly, and the Level 2 Generator keeps the Bunkhouses Chilly as well, which is adequate for now. It's easier to go ahead and upgrade to Houses now before the Lords show up IMO and then build new houses for them as needed, but upgrading the Generator and building another Coal Thumper is a valid strategy as well. Go ahead and flip on the Overdrive at 07:00, by the time it overheats we won't need it anymore.
Next tech House Redesign, then Industrial Hothouse.
I made a fourth Automaton today, which more than covers Workshop, and went ahead and did another Emergency Shift on an Advanced Steelworks to stay ahead of the curve.
Once House Redesign is done, pick Industrial Hothouse.
I had my starting resource area at the west of the generator cleared to build a lot of new housing, and filling that area out plus converting Bunkhouses to Houses left me with 20 Houses the next morning and only 32 sick, less than the capacity of my 2 Infirmaries.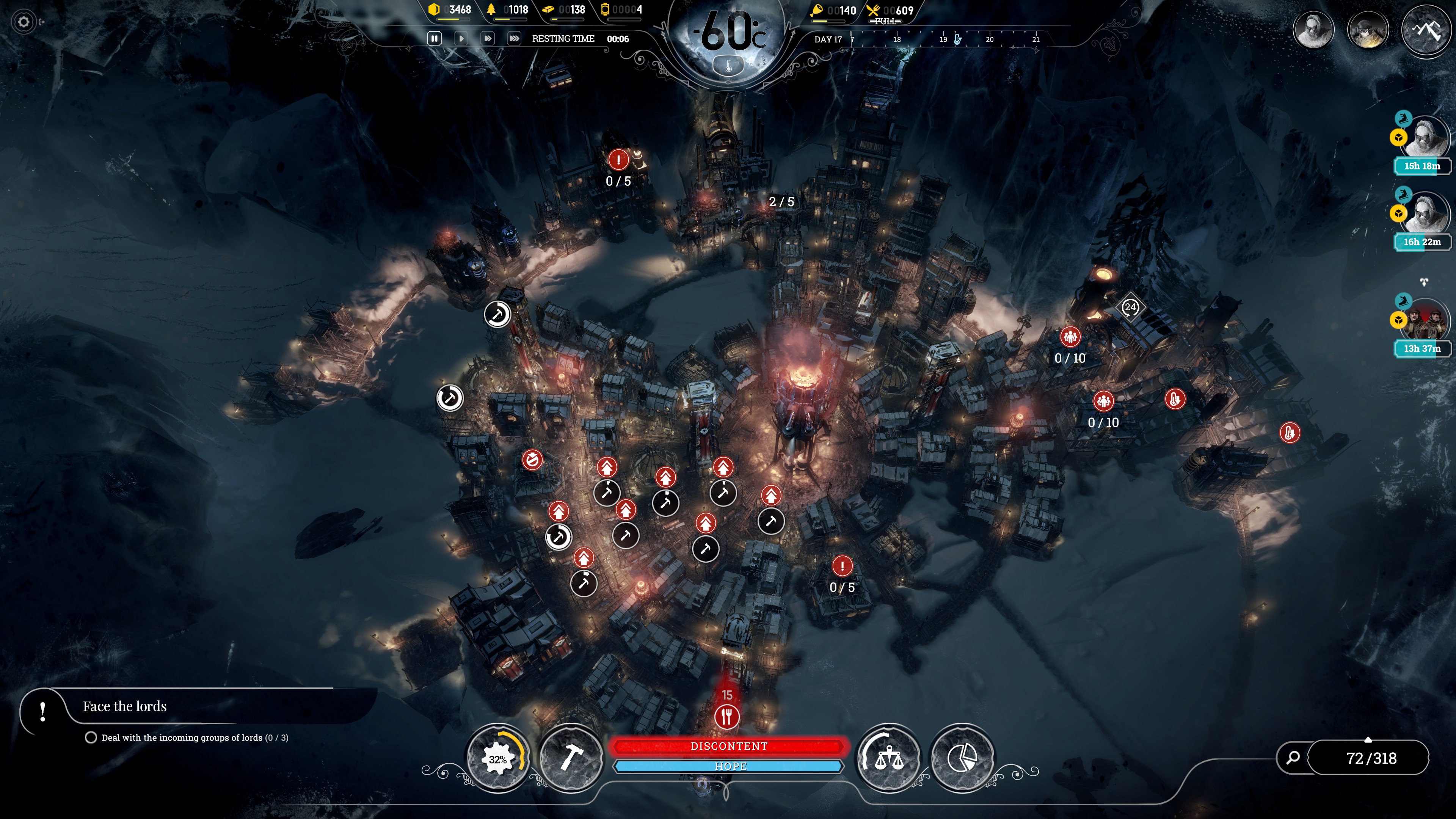 Day 17
Next tech Generator Power Upgrade II, then Infirmary Checklists.
Starting at 06:00 so that only my unemployed workers would build, I upgraded the entire remaining stock of Bunkhouses to Houses. By the time the Lords arrived, I only had 24 homeless due to homes being upgraded, which jumped to 124 with the Lords, but they pitched in to complete building as well.
I selected the option to build infrastructure. Upgrading my two Hothouses to Industrial Hothouses and building a third Industrial Hothouse met the requirement easily, and the housing was all finished that night as well, satisfying the quest far ahead of schedule.
Generator Power Upgrade II finished and the Generator heated up to Level 3 right at 95% stress, allowing me to turn off the Overdrive in time without ever reducing the overall heat.
Next Law, Prison. It's not necessary to do Roundups, but it helps to have the Prison ready to have a nicer alternative to lynching, etc. when the Lords act up.
When the Lord asked for extra food, I denied him, and thankfully had the Prison ready in time by the time he was caught stealing, preventing a lynching.
I put up 6 Resource Depots that night, as Coal, Wood, and Rations were all nearing caps.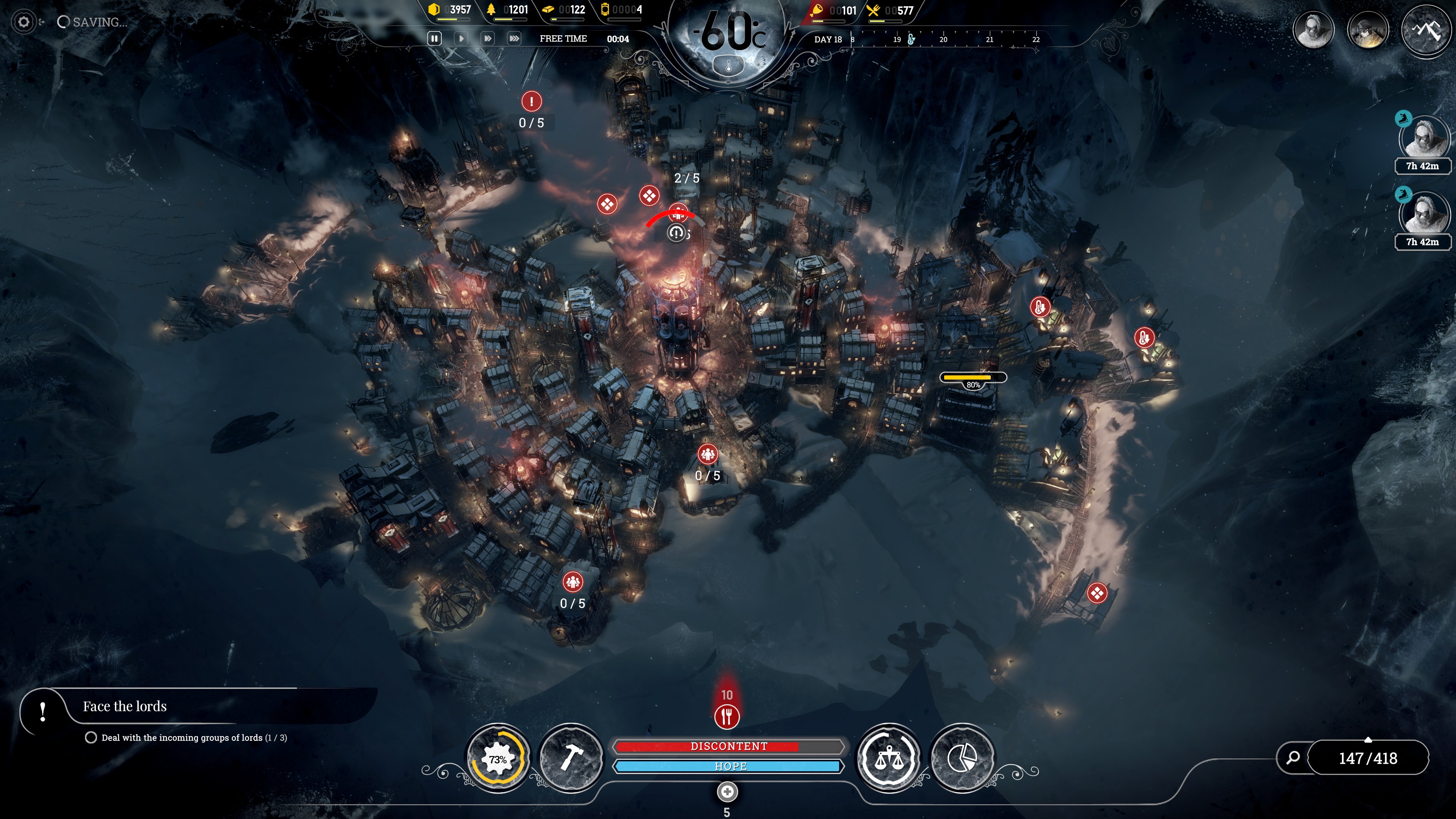 Day 18
Next Tech Steam Hub Range Upgrade (make sure to revert all hubs to Range 1), then Steam Hub Efficiency Upgrade. With all my surplus people I could just make a second Steam Coal Thumper with Gathering Posts, but really the efficiency upgrade is all that's necessary to finish the scenario, and it doesn't take up more space.
I sent 2 Scouts out to Frozen Forest to prepare for the Radio Mast sighting that afternoon.
I went ahead and prepared the next block of housing for the next group of 100 lords, plus 30 to rescue the ones at Red Flag Camp, leaving the Steam Hub off for now until they arrive.
Mostly just killing time until the end now, we're mostly on autopilot. Next tech Automatic Prototyping.
Day 19
Next tech House Insulation, then Coal Thumper Injectors. Scouting should totally complete today, with one scout returning with the Red Flag Camp survivors, and the other collecting the resources.
Next Law Patrol, and go ahead and hit it, not that it's really needed.
When the sick lords arrive, go ahead and agree to open 4 new treatment places. You could probably manage with your two Infirmaries with Overcrowding, but everything's easier with six Infirmaries and you should have the Cores anyway. You can always just unstaff them when not needed and feed the Engineers back into Workshops.
Day 20
Next tech Heater Efficiency Upgrade, as you're probably using Heaters a lot now for your Infirmaries and Gathering Posts. After that Infirmary Mechanization, then Hothouse Selection. Go ahead and build out enough housing for the last group of lords before they get there.
Day 21
Next law Public House. It won't need a heat zone to operate at -70, which is as low as you're ever going to see before the scenario ends, and just the Advanced Heaters you already have researched will get it operational, so don't worry if you've run out of heat zones.
Next research Advanced Wall Drill, then Automaton Integration II, then Automaton Integration III. Yeah, we're just killing time, all necessary techs are already researched.
Next law Moonshine.
Day 22
When the last group arrives, let them in. Hope will dip, but still should be way over 50%, and you should have Patrol and Propaganda Letter cooled down anyway, so hit them because you can.
Next tech Generator Efficiency Upgrade, then Generator Efficiency Upgrade II.
Save Lord Craven, because you can easily spare the discontent at this point.
Day 23
Overnight turn off Extended Shifts until you've dropped Discontent below 25%, and once you've run out the 24 hours from the last lords arriving, you've won, with the best ending, having reconciled the lords and the plebs.
That's everything we are sharing today for this Frostpunk guide. This guide was originally created and written by Shining Hector. In case we fail to update this guide, you can find the latest update by following this link.
If you believe that any of the content on this site violates your rights, including your intellectual property rights, please contact us immediately using our contact form.