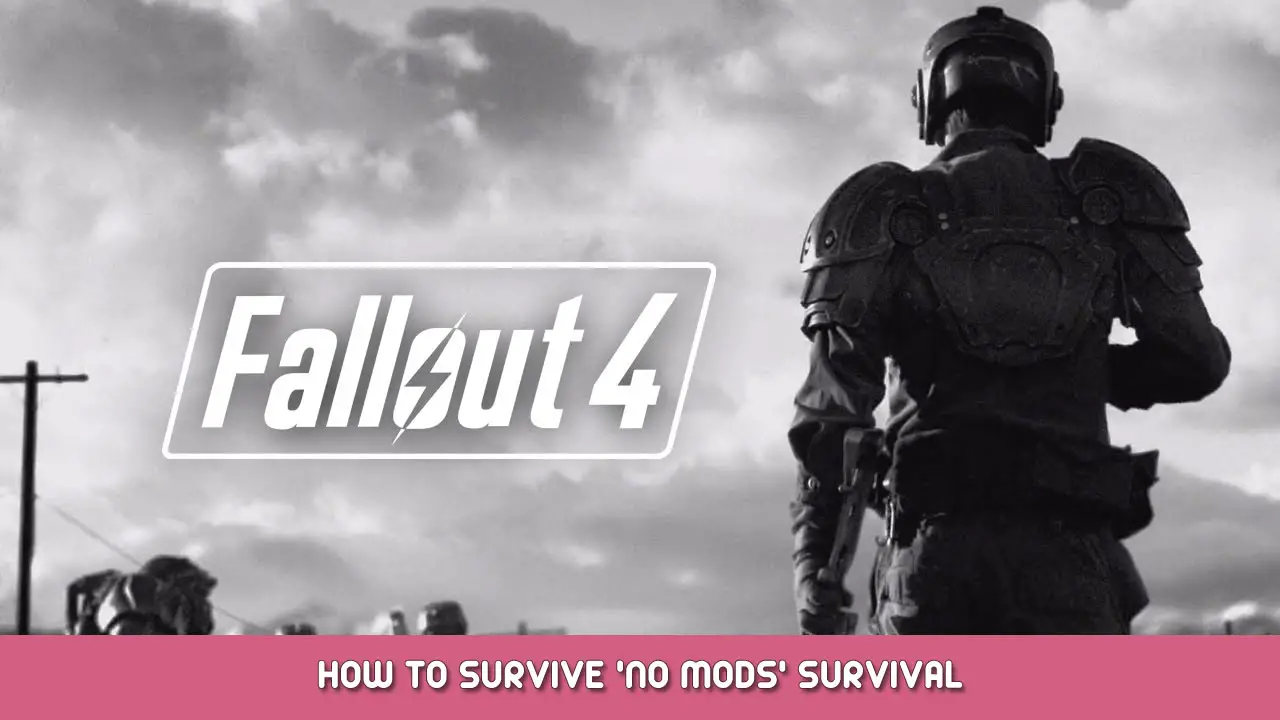 After a few thousand hours of playing No Mods Survival, I thought it was time to write down what I've learned about Survival in the unforgiving wasteland. Here it is. The distilled wisdom of several hundred deaths – some of the slow and excruciating, many of them sudden and brutal.
Introduction
Why Survival? It's worth studying the quote above. It is primarily about the challenge. It is also about more immersion, which means something along the lines of 'realism', bearing in mind it's just a game. Realism when used here may be better defined as "not immersion-breaking".
For my money, the principle of the challenge means not using mods, unless they make things harder, and not using mods, unless they improve immersion. But also, once you start using mods, not only are you getting into a greater risk of hitting bugs, but you are also playing your own game, which is cool, but it takes away the 'level playing field' that gives you bragging rights and common ground for shared experiences. Not everyone is into that, which is also fine.
However this guide takes it as read that you want to play Survival, and you want to play it with No Mods. In which case you are like me because although I like playing around with mods, I enjoy the game most in No Mods Survival. I have played several thousand hours in No Mods Survival (on console, not on PC, so ignore my Steam timers for Fallout 4). I am a significant contributor to the Survival-related information on the Fallout 4 Wiki. So I have got some experience in this.
Your (many) challenges
Here is a quick overview of the challenges you will face in No Mods Survival
Need to attend to thirst, hunger and sleep
frequently deal with the consequences of not doing so
Need to try to prevent disease, but also deal with it when it inevitably happens
Scarcity of resources along with increased need for resources
Limited ability to bring resources to locations for crafting, sale and storage
Constant danger and resource consumption during travelling (due to lack of Fast Travel)
Need to plan game saves and reach specific points to save – can't just save on demand
Combat is lethal and very quick. It ends quickly with either all enemies dead or you dead
Healing during combat is not going to save your life
Many healing options (for health and for rads) will make things worse in other ways
Chem use will almost always come with negative effects that need to be considered
You have limited options for uncontaminated food and water
You have limited options for any transportable food and water
If you get sick you will need resources and it will be difficult or impossible to obtain new ones
More legendary enemies (this can also be an advantage, IF you can defeat them)
Your (few) advantages
You have a very few advantages in this game mode, so it is very important to understand what advantages you do have, and maximise them.
You do a lot of outgoing damage
NPCs who are on your side – or at least, enemies of your enemy – are more lethal and more survivable than you
Friendly NPCs can provide you with things that you can't (initially) obtain, such as food and healiing
If you survive, you should collect more legendary items
Lower respawn rates mean that, once you have cleared a route, it should remain cleared for longer, apart from random encounter points (which you can learn, and prepare for or avoid)
Higher XP awards for some actions (?)
Basic strategies
Before we get into specific tactics, we need to think about overall strategy. You do need a strategy, to survive No Mods Survival. It is generally recognised that certainly the first ten levels, probably the first twenty levels, are the most challenging in Survival. By the time you have made it level 20 you probably know what you are doing and how to handle yourself. Until that time, you need a strategy.
This guide assumes you are attempting this type of playthrough for the first time. If you are experienced in this type of playthrough, of course you can try other strategies and other builds. If you are not experienced, I strongly recommend one of these two strategies, or a combination of the two. The two strategies are: Stealth/Sniper and/or Community Leader. A mix of both is fine, even desirable.
Stealth/Sniper
This is the most obvious strategy and the easiest to play as most people are familiar with it. It exploits the advantage of your high damage output. The essence of this strategy is – remain hidden, strike by surprise, kill with one shot, or at least, kill quickly with one attack, only engage one enemy at a time, always reposition after each attack, always have a cleared safe route back to a place of safety. Initially after every combat – once all hostiles are dead or you are forced to retreat – return to your base to rearm, resupply, heal, rest. Then repeat.
Key SPECIAL for this is Agility, with at least 2 PER and 3 CHA for Rifleman and Lone Wanderer. Agility directly affects your stealth ability, even before getting any Sneak perks. Minimum INT for Gun Nut is also a good idea, as is minimum STR for Armorer, and perhaps LCK for Scrounger. You don't plan on getting shot, but you will. And Shadowed armor will be a game changer.
Community Leader
A more difficult strategy and probably not one for your first playthrough. You do not need to get Local Leader for this strategy, though it is helpful, and high Charisma is helpful. The basis of this strategy is community and economy. You build a settlement around you to provide food, water, fire support and resources. You clear routes to other settlements for access to healing, trading, improved gear, and companions. You make best use of companions, settlers, temporary followers and neutral bystanders to assist with combat. You use the economic power of your settlements to buy supplies, resources and upgraded gear.
Key Special for this is Charisma, for bartering as well as for the Local Leader perks and other Charisma perks. Luck for Scrounger is useful, and some INT for higher level crafting.
First steps
At the beginning of the game you are extremely weak and critically short of supplies. Your first actions are very important, and should include these:
gather ALL supplies and items from Vault 111 before you leave, particularly all bottles
fill all bottles with purified water from the water fountains in Vault 111. This initial stock of purified water will be precious
conserve ammo while killing the radroaches in Vault111. Use melee wherever possible. It does not matter if you don't have a melee build or melee skill and get injured. Healing in Vault111 is free (from the water fountains) and there is no disease risk before you leave the vault.
once you leave the vault you have 2 game hours before you get Tired. Either build a proper bed right away or go to the root cellar and use the mattress right away. After 2 hours you will be Tired and the mattress will be ineffective, so you will need to build a bed.
kill all the insects in Sanctuary on the first day. Let Codsworth do most of the work, he is WAY tougher than you. But do it on the first day because you cannot get a disease on the first day.
– If you are very confident you might want to tackle the mole rats at Red Rocket and the bloodbugs at Concord on the first day, for this same reason. It is not a bad idea to at least run at get Dogmeat, as he is also a more effective fighter than you at this point, as well as being a valuable transport mule.
build a water source immediately. at minimum, build one water pump near whichever house you are gong to be working and sleeping in. move the other workstations to this location.
craft your radroach meat into grilled radroach
scrap everything in Sanctuary Hills
review all apparel and weapons that have been found during looting. in particular look for bonus clothing that helps CHA, or END (hit points) or STR/AGI (carrying / combat).
water
– water will first of all keep you alive, then heal you, then enable you to barter for supplies and gear
– consider building water purifiers. Sanctuary Hills will be your base for a while, perhaps a very long time. You will be "tied to this place", as Mama Murphy put it, by the need for food and water. There are enough supplies in Sanctuary to build several water purifiers and the required generators. Don't overbuild one or the other.
– as an alternative you can spam manual water pumps. It is ugly but it is more resource-efficient and you will be able to create a larger water production capacity sooner.
mod your weapons. the priorities should be
-add a scope to a rifle. There is a guaranteed rifle by the Minuteman statue and usually a rifle on the roof of the house with the fallen tree. It may be an idea to wait to level up (from insect clearance and crafting/building) before visiting these areas, to improve the loot you get
– build a close in last ditch weapon and a short/medium VATS weapon. This could be a Light 10mm for VATS and a 10mm Auto for close in. If you manage to get a shotgun from the corpse on the bridge (not guaranteed) so much the better. If you have the materials, add Tactical sights (reflex sights) to your VATS weapon.
– if you have a second rifle, add a scope to that too. You do not want to be getting into firefights. You want to kill from a distance, or retreat easily to safety if you fail.
Settlers are your only sustainable, reliable, risk-free source of food. (We will worry about the rads later).
– If you are not going to go to the Museum immediately, consider building a radio recruitment beacon now. You will likely have everything except Crystal. If you lack Crystal the best place to get it is from Carla or (more risky) Trudy.
– Always build sufficient beds and water before starting to recruit settlers, It will improve their happiness and thus their productivity.
– You are very short of food crops at the start, with only 1.5 units in the back garden of the workshop house. More gourds can be obtained from the back of the first house in Concord – without tangling with the bloodbugs if you are careful. There are also many valuable items in that house so it is worth sneaking into. There are some more gourds in the woods around Sanctuary if you search carefully.
– Once settlers arrive make it a priority to harvest and replant food crops, so that your planted food crops double on every cycle. Don't be tempted to eat 'seed corn'
– For more food, visit Abernathy Farm. The trip is safe – you can just bypass the bloatflies. There is valuable water and chems at the watertower and your first armor can be found in the chest nearby – still not enough to improve on the drifter outfit from the bridge corpse, but its a start. Don't sell melons at this point – you need to plant them for food and water, particularly if you don't have much water production.
unless you are very confident, don't venture far out of Sanctuary until you have sufficient water production and food production, and adequate defences. If you have water purifiers, focus your beds and defences near them (eg in the bridge house). If not, focus beds and defences on your workshop house. You do not want to spread out defences and settlers – they are better able to defend you, each other, and your settlement objects from attack if they are concentrated together
First next steps
Some 'excursions' you should consider in your first couple of game days
go to red rocket to collect dogmeat, some more supplies, a hard hat, and mole rat meat. Lock yourself in the workshop room (press the button and lock the door) and you can be "hull down" as any molerats who get past Dogmeat, come in the door. Scrap and loot everything and bring it back to Sanctuary, apart from 1-2 circuitry and 50 steel or so for the power armor station. Build at least a manual water pump here – you will do this at every settlement from now on
visit the first house in Concord as noted above
skirt Concord entirely to link up with Carla. Be very aware that a random encounter is likely to spawn there. Be ready to run. Do not worry about bartering with Carla – she will soon be on her way to Sanctuary. Just talk to her with the sarcastic option to get her trading bonus. Do not wear charisma gear, as you are likely to be attacked while in dialog with her. As soon as you have had the conversation with her, get out, sprint away if necessary, and get back to Sanctuary, again skirting Concord
run to Covenant.
– Leave at first light – you don't want to travel at night.
– Mostly stick* to the roads but skirt Concord, skirt Starlight Drivein, skirt Rotten Landfill – go off road at these points. Watch for mines and stay sneaky.
– The trickiest part is midway, going under the rail bridge. To the left are ghouls and to the right a wild dog. You don't want to tangle with either. If the encounter under the bridge is too hard to take, you may have to go back. If not, it is plain sailing to Covenant.
– You now have access to a store, a safe bed (in the bunk house), and most importantly a doctor. It is important to clear this route BEFORE you actually NEED a doctor. You also meet Lucas though you probably cannot afford to trade with him.
– Almost equally important are the corn and mutfruit here. Do not eat them. Bring them home and plant them – if necessary, Store other plants to get your settlers to focus on the mutfruit and corn,
– Note – you do not have the luxury of taking an ethical stance on Covenant. Do that later, when you are more powerful. For now just appreciate the value of a safe place with store, doctor, bed, free water, free food.
[*} Alternatively, run to Diamond City. It is similarly safe if you skirt around all encounter zones, and sprint past the battle between the guards and the supermutants.
– Ideally you want to hang out around this battle, in cover. The outcome you really want, sadly, is for one of the DC guards to die, so you can loot them. Their armor is incredibly good, the kind you will not be able to find or make until you are around level 10 or higher. Even their weapons are a step up on what you probably have early game. However don't get in a fight with the guards or even risk crossfire, as they wil insta-kill you.
Now we begin
So you now have
a renewable safe supply of water
a renewable safe supply of food (with some rads but no disease risk)
a proper bed
some kind of defences, even if it is just armed settlers
a clear route to medical assistance and traders
a trader who will visit you (Carla)
the beginnings of tradeable goods to barter for medical help and supplies
From this secure base (pun intended), you can now begin, cautiously, to progress your Survival adventure – exploration, quests, missions and encounters.
However you have one more important task you must do first…
Obtain a suppressed weapon
This is pretty vital for the Stealth/Sniper strategy. Even if you are using the Community Leader strategy to build up your economic strength, when you venture out you are going to employ Stealth/Sniper tactics.
There are two guaranteed suppressors, both available in the early game. Arturo in Diamond City is guaranteed to have a pipe gun suppressor, and Trudy at Drumlin Diner is guaranteed to have a pipe bolt action suppressor. These are not in the Mods column, they are attached to weapons, so you need to look at the weapon descriptions or even sometimes Inspect the individual weapons (which is always worth doing in case they have valuable mods not advertised in their descriptions).
Ideally get both, but get at least one. Buying this weapon is your top purchase priority, apart from medical care if you have a bad disease / bad rads, or arguably, buying any Charisma gear you are lacking (which you should always buy first, exit barter, equip, then re-enter barter).
If you did not already create a suitable scope, build one, otherwise move it to the suppressed weapon (or move the suppressor to the weapon). Both weapons should be rifles, because you need the stand-off range, mainly so you can run if it goes wrong. Once these suppressed weapons exist, they are your top priority for modding – not to the exclusion of say, a close quarters self defence weapon or armor, but still the highest priority. Add longer barrels, hardened or powerful receivers, better scopes (though Long is overrated compared to Medium), light barrels if you can, better stocks if you can, large magazines if you are lucky enough to get an auto receiver.
Pipe auto receivers are easy to build and easy to loot. The suppressed pipe auto weapon is very powerful. You can tap off single or double rounds outside of VATS to conserve ammo. But the suppressed auto has a game-breaking advantage, which is that is does 'sneak attack' damage for the entire burst. What you can kill in one attack is limited only by your clip size and your ability to control recoil – which the suppressor inherently reduces.
After water farming, this is your next big 'equaliser' to stack the odds back in your favour.
Now you are REALLY ready to begin your Survival adventure!
App – Extra Challenges
If you want even more challenge in your Survival game, here are some further restrictions you can impose on yourself to make the game harder:
melee run (grenades allowed)
melee run (no grenades allowed)
melee run – no Yao Guai Roast
no VATS run (unless you are disciplined you might need a mod to enforce this)
no water farming – you can only build minimum water for each settlement, or one manual pump
laser musket run – laser muskets are the only allowed weapons (go straight to Concord). Revolutionary swords also allowed. Grenades allowed.
Minuteman run – only weapons and armour equipped on Minutemen patrols are allowed. Plus the flare gun and signal grenades. And maybe The Last Minute. 🙂
Caravan guard run – go straight to bunker hill and follow caravans. You can sleep at Bunker Hill once a week but otherwise you need to stay in sight of a caravan. (Ignore main plot).
no settlement building – this is a very hard run as crafting is difficult and getting water is also very difficult
no entering settlements (do not trigger the PoI) – even harder than the above as you will not be able to get any purified water (no returning to the Vault either)
add any suggestions in the comments!
A Note on Challenge and Very Hard Difficulty
In terms of pure challenge, and accepting that well-chosed mods can make the game even more challenging, I want to state clearly why I think Survival is more of a challenge than Very Hard, as some people claim the opposite. First of all, outside of combat, there is no question Survival is harder – just movement alone, with no fast travel, makes resource gathering harder, resource needs are much higher, and the limited saves are a serious restriction. The only area a claim can be made for Very Hard is in combat alone, because of the different incoming and outgoing damage. Advocates of Very Hard will say that with full Adrenaline bonus you match the outgoing damage of Very Hard. These people have not played Survival enough to understand how difficult it is to obtain and maintain max Adrenaline, which is a constant balancing act and tightrope walk against lack of sleep, which leads not just to dangerous debuffs but very increased disease risks. They are also ignoring the much more important differences in healing. In Very Hard you can still bang chems all day with no side effects and healing from all sources is nearly instant. This means you can tank damage in almost real time as long as you don't get one-shotted, with no side effects. In Survival, every chem use is a calculated risk, and healing is too slow to save your life mid-combat – you need to retreat or at least find cover if you want to heal.
I would challenge anyone who things Very Hard – even just the combat – is more difficult than Survival, to turn the tables and try it. They will learn fast that if they think they are the master of Very Hard combat, they are an apprentice at Survival combat – again, even ignoring all the non-combat elements (which of course would determine how well equipped the player was when turning up for a fight). Conversely, once you have mastered Survival, the "Very Hard" difficulty feels like a cakewalk, if a sometimes slightly frustratingly bullet-spongey cakewalk.
That's everything we are sharing today for this Fallout 4 guide. This guide was originally created and written by The Inept European. In case we fail to update this guide, you can find the latest update by following this link.
If you believe that any of the content on this site violates your rights, including your intellectual property rights, please contact us immediately using our contact form.