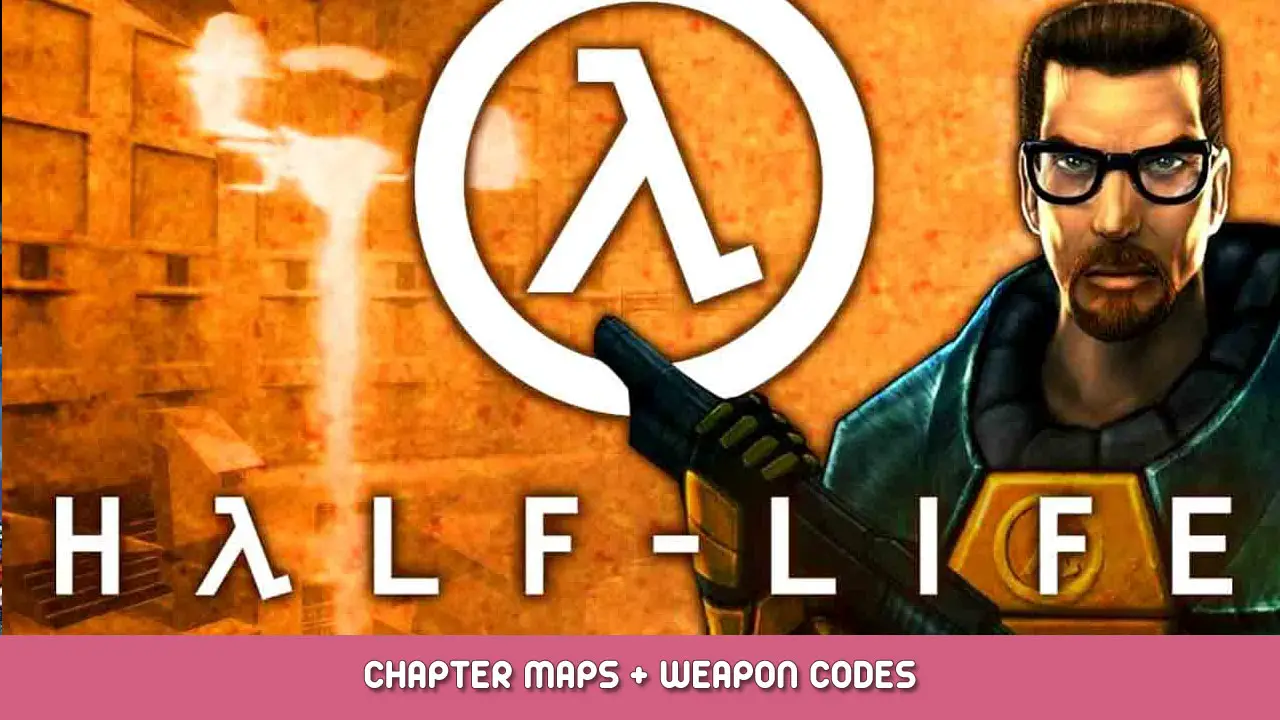 List of all Half-Life chapter maps and all of the weapon codes.
Overview
Though Half-Life was a masterpiece, the one thing it lacked was chapter selection, which was embedded in the Source version and Half-Life 2. However, we are able to select specific maps in the console, which can be very confusing because there are so many of them. And so, I bring you the maps!
Half-Life Chapter Maps
BLACK MESA INBOUND: map c0a0
ANOMALOUS MATERIALS: map c1a0
UNFORSEEN CONSEQUENCES: map c1a1
OFFICE COMPLEX: map c1a2
"WE GOT HOSTILES!" map c1a3
BLAST PIT: map c1a4
POWER UP: map c2a1
ON A RAIL: map c2a2
APPREHENSION: map c2a3
RESIDUE PROCESSING: map c2a4
QUESTIONABLE ETHICS: map c2a4d
SURFACE TENSION: map c2a5
FORGET ABOUT FREEMAN: map c3a1
LAMBDA COMPLEX" map c3a2
XEN: map c4a1
GONARCH'S LAIR: map c4a2
INTERLOPER: map c4a2b (Also the ending of Gonarch's Lair)
NIHILANTH: map c4a3
ENDING: map c5a1
How To Use Chapter Codes
Simply input the "map x" into the console and you're off! The main problem is you don't have weapons or an HEV suit, but thankfully, I know how to get them! To aquire the HEV suit, type "give item_suit" into the console. If you're at a stage where you have all the weapons and there are no more to acquire (e.g. XEN), type "impulse 101" into the console to get all the weapons at once. However, if you're at a stage where you do not have all the weapons (e.g. OFFICE COMPLEX where you only have a Crowbar and a Pistol) there are specific codes to give specific weapons. Please read below:
All Weapon Codes And Console Commands
CROWBAR: give weapon_crowbar
GLOCK 17 PISTOL: give weapon_glock
.357 REVOLVER: give weapon_357
MP5 MACHINE GUN: give weapon_mp5
SPAS 12 SHOTGUN: give weapon_shotgun
CROSSBOW: give weapon_crossbow
ROCKET LAUNCHER: give weapon_rpg
GAUSS CANNON: give weapon_gauss
GLUON GUN: give weapon_egon
HIVEHAND: give weapon_hornetgun
GRENADE: give weapon_handgrenade
SATCHEL CHARGE: give weapon_satchel
TRIPMINE: give weapon_tripmine
SNARK: give weapon_snark
And just to recap:
HEV SUIT: give item_suit
ALL WEAPONS: impulse 101
That's everything we are sharing today for this Half-Life guide. This guide was originally created and written by hea. In case we fail to update this guide, you can find the latest update by following this link.
If you believe that any of the content on this site violates your rights, including your intellectual property rights, please contact us immediately using our contact form.