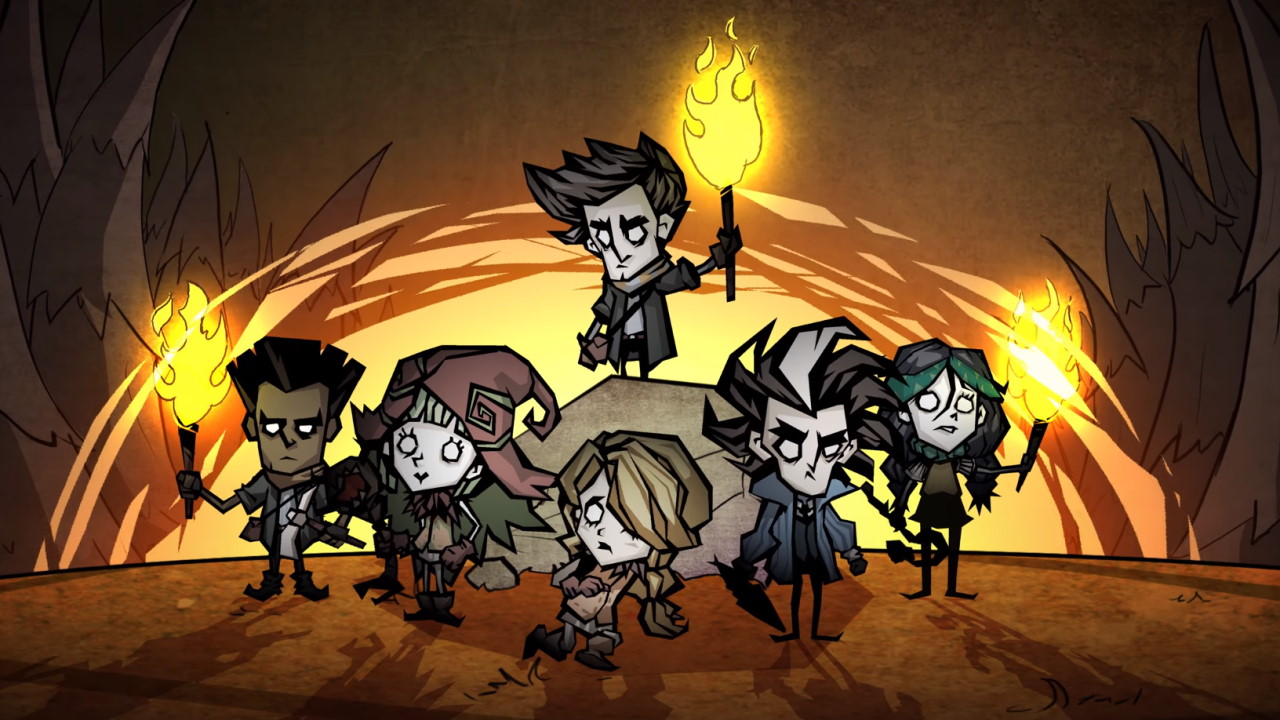 Strategy guide for the mod known as Willow's Starving Floor. Written mainly with regards to the Vanilla version although most everything is applicable to Mayhem too. I might add images and talk more about more stuff if people are interested but I'm not sure how many people who read guides also play Starving Floor/vice versa so please let me know if you want more.
Disclaimer
I'm going to talk pretty barebones since I have no idea how many people will read this guide that plays the mod, and (obviously) my intention by writing this guide is to improve the quality of the players in-game. But if people read it and want more then I'll add more.
Also since Willow's Starving Floor tends to get updated extremely frequently (like, once a day) I'm only going to talk in terms of general advice that I hope will remain applicable no matter how many updates happen.
Classes
A short guide to all the classes:
Builder – base builder & takes care of all crafting needs (armor, weapons)
Pikeman – fighter of some sort… not sure lol
Farmer – in charge of food & puts out fires (backup firefighter)
Trapper – base-building support
Roadrunner (RR) – base-building support & fighter.
Heavy – fighter (tank)
Medic – resurrector, fighter
Escape Artist – resource gatherer. The only person who can exit the arena.
Firefighter (FF) – fire extinguisher, overheating control, & crowd control fighter
Priorities
When choosing a class, make sure to consider what people have already chosen. The way to read this priority list should be:
If you have only one person on the server, you need this.
If you have 2 people on the server and 1 is already taken care of, go this.
etc etc.
For simplicity's sake, I'm going to assume you are beginning at wave 1. Your priorities are:
A combat-suited character and/or class – Wolfgang & Wigfrid are my combat characters of choice but you can go with whoever you're comfortable fighting with. FF, RR, Heavy, Medic, Pikeman, Trapper are all classes that end up as de facto combat so choose what you like.
Builder – The only reason builder isn't priority #1 is because builders can't build if they have aggro. My builder of choice is Wigfrid because she comes with a helm and can also double as a fighter but Winona is also a popular choice due to her catapults. Any character can make a good builder.
After this things are more flexible. You can go:
Farmer – For the food, crockpots, light source/cooking area, fridge, and fire extinguishing.
Firefighter – For the overheat prevention (if it's summer and for some reason, you don't have an endothermic firepit), fire extinguishing, and the ability to double as a fighter.
Escape artist – For access to outside resources.
Eventually, though, you want at least one of each of these:
1 builder
1 fighter (note that this is not limited to heavy & pikemen: many classes and characters can double as fighters)
1 fire extinguisher (either FF or farmer)
1 farmer
1 escape artist (unless it's Autumn you'll want to gather ice & nitre, ice for ice flingomatics, and nitre if summer is coming up)
Everything else is secondary. Personally, my next priority is roadrunner for the turf.
Medic, Pikeman, Heavy, and Trapper are a bit meh to me as classes.
Medic – they don't do much. their role only shines when resurrecting people; otherwise, they're just running around helping with other people and most likely fighting. they are best when you have extra armor for them to fight with but on their own, they are pretty weak.
Heavy – though you are a fighter, it's hard to kite because 1. you're being aggroed by multiple mobs 2. the fancy helmet you wear slows you down 20% and if you're wearing marble armor too you'll be doubly slow. All you do is hold F, get hit, repeat.
Pikeman – tbh this could be the new meta fighter. I just remember having to wear leather armor which is pretty crap. I haven't played enough to really comment more.
Trapper – traps are nice but not really a major necessity. I haven't played trapper enough to really comment more.
I liked musketeer because they could both melee and deal ranged AOE. Alas, they got demoted to a Mayhem-only class. A firefighter looks promising because the water balloons freeze mobs and they spawn weapons over time but I haven't tried it myself yet.
Building Advice
Location is everything. Your ideal base size ranges from 1/4 to 1/5 of the arena. It's easier to start small and then add on, especially if you have few people.
If you have access to land surrounded by water that's ideal for a base because the water is a natural mob barrier.
If you have no access to water it doesn't really matter. Maybe keep an eye out for existing world-spawned mob structures (frog ponds, killer bee hives, the like).
I like building my bases part-land part-boat. Boats have a lot of advantages but are also a bit risky which is why I don't like going full-boat.
Phase 1: Really urgent stuff
Walk around the entire arena to get a lay of the land.
Place the science machine on the approximate side of the arena where you want to base. Doesn't have to be precise, just has to be before anyone else starts basing on to let your teammates know that you will be building in that approximate location. All you're doing is saying "HEY TEAM WE'RE BASING HERE-ISH" so that other roles don't go building on the other side of the arena. Of course, if someone else has already started basing elsewhere go with their spot unless it's an absolute travesty or something. It's usually better to cooperate than to not.
If you have any water on the map/potential for boats, craft a think tank and build a fire pump before your fish dies.
Now that the immediate rush is over, it's time to start planning out the base itself. I'm just going to talk in terms of specific advice now since everything is more flexible and free-flowing.
Actual Basebuilding Strategy
Houndius Shootius Strategic Placement
Stop putting the turrets at the very back of the base. The turret's limited range means that you have to let mobs into the base before the turrets start attacking them. You want the turrets as close to the frontlines as they can be while still being relatively safe. That way they'll kill mobs before they enter the base, not after. As a bonus, your base is less likely to be set on fire by a fire-y mob that dies.
Put the turrets INSIDE the walls.
Put the turrets within range of each other so that if one is getting attacked, the other can help defend it as well.
My advice: wait to place the turrets until after you've built walls. It gives you time to plan out your base better than if you drop the turrets first and then have to plan your base around protecting the potentially very badly placed turrets. You can even hold onto them for a few rounds to make triply sure you're certain about where you want them.
Walls
Never make wood walls. Never! Better no walls than wood walls. They'll burn within a few rounds if not by smoldering then by fire hounds, deer, or lavae. Not only is it a waste of resources but it will spread fire throughout your base. Stone walls only.
Should surround your entire base (including the farm) (excluding boats). I like to make my bases between 1/5 and 1/4 of the arena size.
Should be fortified with emphasis on areas of high traffic & high vulnerability (aka the walls surrounding the turrets). Take note of which walls take damage the most and fortify those the most.
Feel free to double up walls (aka make your walls 2x thick).
You'll notice right outside the walls sometimes builders will place walls in a checkerboard-like pattern (the wall on every other spot). The reason is to prevent mob structures from spawning too close to the base since the game will detect that the open area is too small for said mob structure to appear there.
Boats
The nice thing about boats is that they stop many mobs and can provide safe haven for fleeing fighters. The bad thing about boats is that they are vulnerable to breaking & burning. For this reason, I prefer not to base solely on boats, although when strategically used boats are great.
Don't forget to anchor your boats. All boats should be anchored asap.
Don't build structures on boat edges in areas of likely high traffic as this will cause a lot of deaths by drowning. Really, just don't build structures on boat edges unless the edge is facing the outside of the arena where no one will be coming from.
Unfortunately, if someone has built a structure on a boat edge that is part of the boat, be careful before you hammer it because certain boat structures when hammered will cause a leak (I think anchor and fire pump but not mast).
Fire Prevention
Expect fire-y mobs to be dying against your stone walls so try not to plant anything flammable near the front of the base, always the back. This includes: gates, chests, bushes, grass tufts, saplings, bee boxes, flowers, farms, flammables on the ground, science machines, alchemy engines, think tanks, etc.
No. Wood. Walls.
If you can (and the farmer doesn't mind), use the farmer's scaled chest as flammable resource storage. That way even if the base does burn, the resources won't.
Flammables will accumulate on the ground over time. Try to clean up every so often as to contain potential fires.
Base Entrances
There are generally two different strategies people take, putting the base front/middle or putting it in the very back on the edges. Both have their strengths. I personally put them at the very back. Here are my reasons:
I find it easier to find. If you have the entrance in the middle of the wall, it's hard to find when your camera is at certain angles, which can be deadly if you're trying to escape mobs. Whereas if it's in the back gap where the sidewall intersects the arena border, you'll be able to feel your way in even if you can't see it.
Mobs have to spend a longer amount of time within turret radius before entering the base which means fewer get in.
It also keeps your anti-pathing devices working more effectively (assuming they're at the front of your base and not the back where your entrance is).
Either can work through. Things I definitely don't recommend, though:
Putting honey turf right in front of your entrance such that no one can get in without crossing honey turf: it's obnoxious.
Using gates: they're obnoxious, burn easily, and break easily.
AI Pathing Trickery
You may have seen people use statues, giant crops, and signs on walls. The reasoning is that mob pathing will not go around these objects so mobs instead get tricked into repeatedly running into these objects instead of around them. I have a few words wrt signs but tbh none of these are worth it and I'll explain why afterward:
Signs
If you want to use signs, you gotta place em before you place nearby walls because otherwise, the placement won't allow you to do so.
Don't forget to burn the signs. This prevents them from catching fire later on and spreading it inside your base.
Weaknesses
Statues: expensive and time-consuming
Signs: prone to breaking/burning and cannot be rebuilt due to nearby walls blocking placement
Crops: expensive and time-consuming
Sweetie's infinitely superior alternative to signs, statues, and crops.
Warly's portable crockpot, seasoning station, and grinding mill. You can place any of these 3 in between walls any time. They're indestructible, inflammable, and easily rebuilt. It's doubly useful since often you end up with a bunch of extra crockpots that people keep placing in the kitchen even though every single crockpot after the fourth one was just obnoxious.
Craftables
Keep the log suits inside the base since they're both a fire hazard & useless if they burn. Generally, keep all armor inside the base where it's more easily defended from Krampii.
Keep all helms inside the base and/or in a chest to prevent splumonkeys from getting ahold of them.
Combat Advice
When possible, try to do your fighting within turret range so that you take as little damage as possible while turrets do as much damage as they can.
Don't go for catcoon dens unless you already see a horde of catcoons surrounding them. (I mean if you see a horde of catcoons and you go for the one mob that doesn't hit back you're kinda dumb but this is mainly to prevent people who like to shoot a den and release all 9 at once)
Be strategic about where you kill mobs. Try to lure lavae and co. away from the base. As a bonus, you can use them to set other mobs and mob structures on fire.
Tentacle pillars don't hurt mobs that run through them. Alas!
Prioritize mobs that have major potential to wreck the base. Leave the ones that are slow. Ddon't move til last.
Focus mobs with other people to minimize animation interruption/hits taken.
That's everything we are sharing today for this Don't Starve Together guide. This guide was originally created and written by Sweetie. In case we fail to update this guide, you can find the latest update by following this link.
If you believe that any of the content on this site violates your rights, including your intellectual property rights, please contact us immediately using our contact form.