Title: Deep Rock Galactic
Release Date: May 13, 2020
Developer: Ghost Ship Games
Publisher: Coffee Stain Publishing
Have you ever observed an unusually high number of Cave Leeches? Encountered a seemingly invincible Praetorian? Found yourself wondering why you abruptly succumbed to choking?
What are Mission Modifiers?
You can easily identify mission modifiers by the red or yellow warning symbols next to a mission title or icon on the map. The name of the modifier often provides a clue about its effects. These modifiers can introduce additional challenges or provide small bonuses related to the bugs, dwarves, or environments. If you require a brief description, you can refer to the miner's manual.
In this guide, I will provide a detailed description of each modifier, suggest go-to strategies and preparations, and outline the DOs and DON'Ts. Without further ado, let's begin with the warnings.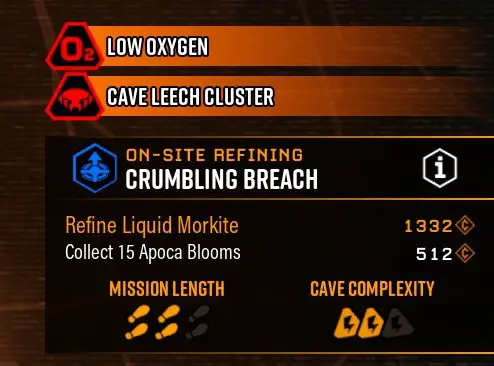 A mission with two harmful modifiers, also called warnings. These will be discussed first.
Cave Leech Cluster
True to its name, this modifier significantly increases the spawn rate of Cave Leeches. Moreover, they tend to cluster closely together, posing a grave threat to an entire team, as all members can become ensnared simultaneously. It is crucial to constantly watch your surroundings, particularly above you. The actual quantity of leeches can vary greatly, with some missions having just a few, while others may see dozens of them lurking about. Exercise extreme caution when navigating large open rooms, as they can become hotspots for these formidable creatures.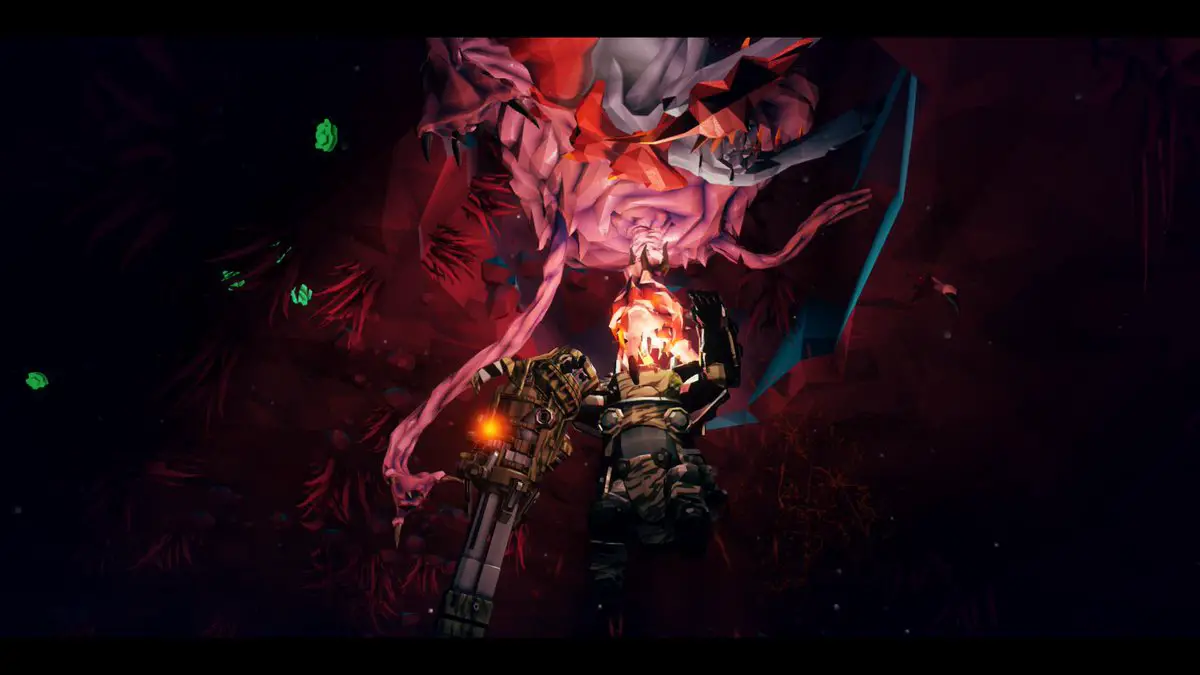 An unfortunate victim.
Keep in mind that when you get grabbed by a Cave Leech, you can call for assistance by pressing the SHOUT key. This will trigger a distress call from your dwarf to either your fellow teammates or Bosco, urging them to come to your aid. If Bosco is present, he will interrupt his current tasks and swiftly come to rescue you. However, it's important to note that this doesn't grant you complete immunity. Depending on Bosco's proximity to your location, he may not be able to save you in time. Additionally, Bosco occasionally takes breaks between firing. Therefore, it is essential to take certain precautions.
DO:
Include a Scout in your team to illuminate the caves with their flares. Properly lit ceilings make it much easier to snipe Cave Leeches from a distance.
Take a slow and cautious approach when entering new rooms. Avoid rushing in and instead move gradually. Cave Leeches have a slow and deliberate movement, and they emit a glowing light and hissing sounds while doing so. These cues can help you detect their presence.
Equip the Heightened Senses perk. This perk not only allows you to escape from a Cave Leech's grasp three times without consuming any resources but also provides an early warning indicator when a Leech is approaching.
Stay vigilant and pay attention to your teammates. A teammate who has been grabbed by a Cave Leech will have a green glowing icon on your HUD and will gradually lose health. They are also marked with a red outline. If you're unable to rescue them in time and they are dropped to the cave floor, make sure to eliminate the Leech before reviving them to prevent becoming the Leech's next target.
DONT:
Avoid rushing too far ahead of your team. By doing so, you increase your vulnerability to being incapacitated, as it will take your teammates longer to reach and rescue you.
Refrain from entering new caves while under heavy enemy pressure. If you are already being swarmed by other creatures, the likelihood of getting grabbed by a Cave Leech significantly increases, turning a potential defeat at the hands of a Glyphid into an almost certain one by a Leech.
Do not mistake a Cave Vine for a Cave Leech. These friendly pink vines can be found in the Radioactive Exclusion zone and pose no harm. Although they may approach you, there is no cause for alarm or fear.
Elite Threat
With this modifier, certain enemies have a chance to spawn as 'elite' version of themselves. They move fast, hit hard and are very tanky. Some even gain new behaviours!
The full list of enemies that can be affected (taken from the DRG wiki) are:
Glyphid Guard
Glyphid Slasher
Glyphid Praetorian
Glyphid Acid Spitter
Glyphid Menace
Mactera Spawn
Mactera Brundle
Mactera Tri-jaw
Mactera Grabber
Bulk Detonator
Quite a list of strong and versatile threats. Glyphid Guards will knock you back with their melee, Mactera Grabbers are lightning fast and Bulk Detonators have an even bigger explosion radius! Extreme caution is advised.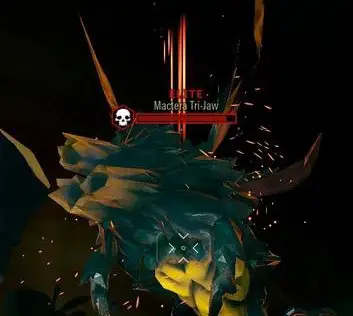 Not a fun sight.
DO:
Exploit weaknesses. Despite being better versions of themselves, these enemies still have all the same faults. Mactera can be frozen (albeit with more effort), Praetorians still cannot move while spraying acid and Glyphids in general can still have their armor broken off. Use this to your advantage to whittle them down!
Take cover. Trijaws and Acid Spitters are incredibly dangerous enemies, even more so when elite. But their projectiles aren't magic, just pure horrors of nature. Make sure to avoid the damage. This is pretty obvious, but do not fight them in the open, and prioritize these enemies above all others!
DONT:
Let them approach. More damage, more speed, more dwarven suffering. This is an obvious tip for any enemy, but elites are really just all about applying what you already know. Just. Harder.
Leave your team. Elites are best taken on together to minimize the time they have to deal damage. Is your Engineer struggling with a Brundle harassing him? Give him a hand! It could spare him the health he needs to get YOU back up later.
Exploder Infestation
In this particular cave, you will encounter an abundance of Glyphid Exploders. Waves of these creatures will periodically spawn, separate from the normal spawning mechanics. It is crucial to detect them early, as they move silently and can pose a severe threat if not dealt with promptly. However, the notion that their larger counterparts spawn more frequently is merely a management-created myth to keep you alert. Nonetheless, it is essential to maintain your focus throughout the mission.
Keep in mind that Glyphid Exploders can be "defused" by shooting them in the mouth or freezing them before they detonate. This knowledge can be particularly useful when an exploder is about to sneak up on a teammate who hasn't noticed it yet. By acting swiftly and using these techniques, you can help prevent potential disasters and ensure the safety of your team.
That's everything we are sharing today for this Deep Rock Galactic guide. This guide was originally created and written by Blundering Rookie. In case we fail to update this guide, you can find the latest update by following this link.
If you believe that any of the content on this site violates your rights, including your intellectual property rights, please contact us immediately using our contact form.