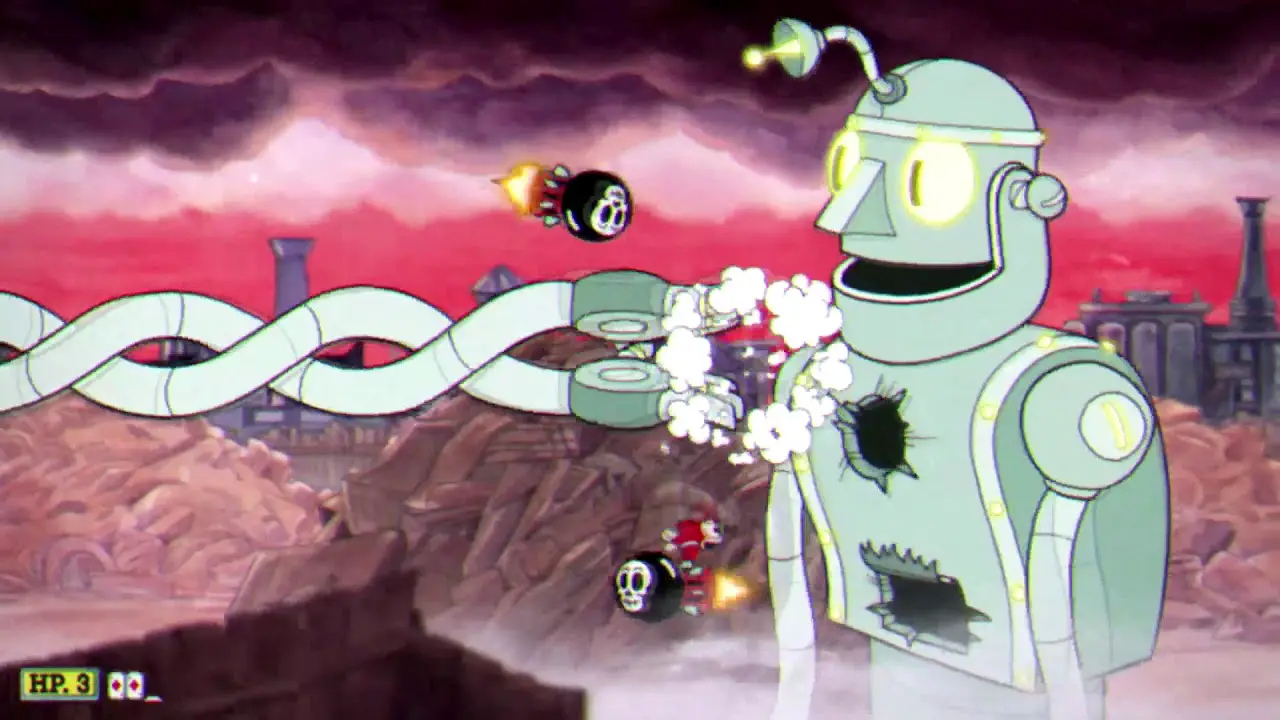 To start off this guide, it is imperative that you are able to do this strategy consistently without rage quitting, as this strategy isn't a free win and requires skill. Disclaimer: This is only the way I used to beat this and might not necessarily be the best way. Before you enter battle, I like to use the extra heart as the bullet hell you will be going through will be less stress when you have 4 hearts. This also gives you the time needed to fight, as the timing for this strategy will be quite tight.
How to Beat Dr. Khal's Robot in Cuphead
Phase 1
When you start up the game, immediately head to the top with the first gun, the one with the rapid-fire. Attack at the laser fire thing and wait just before the beam outline appears. Then, you want to turn yourself small and head down to where the drone things appear. This is a crucial step, as those flying drones are an extremely annoying thing that could instantly lose you the fight. Attack the drone spawner which will also get rid of the drone. Keep attacking it until the beam outline appears once again. (Note: When attacking drone spawner, position yourself at the bottom left.) The pink laser thing will now show up, where you want to parry that. Now, go back to hitting the laser fire thing and keep hitting it until the outline appears. Rinse and repeat the steps above.
Phase 2
When you do this a few times, you will be able to first break the laser fire thing, as well as get enough cards for your super. This is a crucial part that will save you a lot of time. Activate your super and charge at the middle hitbox, which is the one that spawns the pink laser things you need to parry. This allows the bomb to hit both the upper and lower hitboxes. What this means now is you get to the final of the first phase. What you need to do now is go to the bottom-middle left and hang there, where you will be hitting the heart that appears as well as the big explosion bombs that come from the bottom of Dr. Kahl's robot. This will basically allow you to be in a safe spot where you can manage the big explosion bombs(that can instantly end your run) as well as repeatedly damage the robot. You want to pray to get the magnet because that one makes your life easier. If you get slightly unlucky and get the armed attack, just try your best to dodge the small blue orbs it spawns. After repeating this step, you'll be able to destroy phase one.
Phase 3
This phase is absolutely crap, but there's a way to manage it. Keep in mind that the big explosion bombs, when they detonate, could set off other big explosion bombs which are in the immediate radius. If you cant manage the big explosion bombs well, then you can use that trick to get rid of all of them. When Dr. Kahl spawns in from the bottom, you want to start to hit him with the rapid-fire gun. A large explosion bomb comes out, which you want to make a circling movement from the bottom to the top. This is to get the explosive bomb and Dr. Kahl's stupid spinning robot in the same line of sight. What this allows you to do is to detonate the bomb and get a few hits into damage to Dr. Kahl's robot and his demented brain. Another bomb will appear at the right of the screen which can easily be handle by shooting it a few times. You want to repeat this process until Dr. Kahl enters the next phase.
Phase 4
This phase, once again, is not fun and the game designers really just made this while they were at the bar. There really isn't a great strategy for this except for going up and down while you see the crystals come flying at you. Focus more on dodging than hitting Dr. Kahl, because, if you're dead, how can you really damage him? Not to mention that while dodging, you do get hits in. I recommend practicing aviary action if you're having trouble with this, as it also has a bullet hell phase(albeit much easier.) Be sure to parry the pink ones that get close to you. However, DO NOT go out and get the parries if they aren't in the way of your path, because that just puts you in danger of getting hit. When you get a card, do not use it on the normal rocket ones because they will stop you for a second and that could mean life and death. When you get full cards and you can ex attack, wait until the bullet-hell stops and then go in for the damage because that helps you gain invincibility and can actually promise that you hit Dr. Kahl. If you have done these steps in the way that I intended for them to be(sorry if some part is muddled or doesn't make sense I wrote this at 10:30) then you should be able to complete this boss that's harder than the casino manager himself! if you need any other walkthroughs you can always message me.
That's everything we are sharing today for this Cuphead guide. This guide was originally created and written by choco_soy. In case we fail to update this guide, you can find the latest update by following this link.
If you believe that any of the content on this site violates your rights, including your intellectual property rights, please contact us immediately using our contact form.