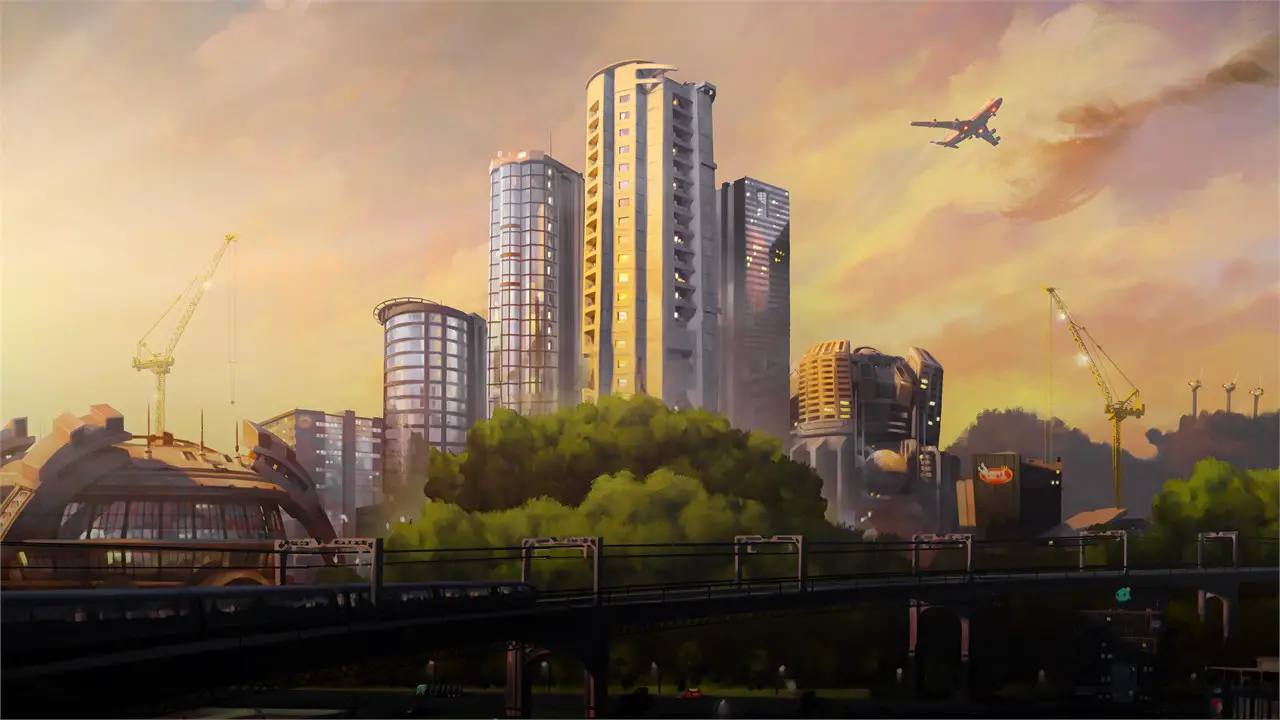 A quick strategy guide to get this achievement without risk. Play normally following a few simple rules!
Introduction
The achievement is to have no water or ground pollution in a city of over 10,000 inhabitants.
Now, this sounds impossible at first glance because there simply are no non-polluting alternatives for some things (like garbage), but the achievement allows for a small amount of pollution to exist, so it's possible without cheats or tricks or weird gameplay to get this achievement.
How to build?
The trick is to be as conservative as you can and follow the following rules (BA = gives bonus achievement, see below):
Use wind power only. Slower start but necessary here (BA).
Zone all stuff you build in districts so you can assign specializations
Get rid of the generic industry immediately when you can specialize, and specialize in farming or forestry. I got this achievement with a decently sized farming area (not the DLC stuff, just normal zoned area farming specialization) (BA).
To do this, first, build a generic industry on a non-fertile/non-forest piece of land, and then the moment you get the specializations, de-zone the industry (so it vanishes) and re-build your industry in a forest or farm zone using only forest or farm specializations. The soil under where the "dirty" industry was to start your city will get healthy again as time passes.
Don't build dumps, build recycling stations immediately. They will cause some ground pollution but not enough to prevent the achievement. I had no issue having a pair (1 on each side of a small road) on one side of the city and a third on the opposite side.
Build all self-sufficient housing and all local and organic commercial. This lowers garbage. (BA).
Educate your citizens when you can. Educated citizens also produce less garbage, so keep your schools available and covering most of your built-up area.
Only use eco sewage outlets and place them fairly close to the edge of your controlled area so the dirty water leaves your map quickly. These outlets are cheap but remove most of the pollution from sewage.
Then just build your city as normal otherwise (go heavy on residential, build one neighborhood at a time). When you hit 10k you'll get the achievement easily.
A Word of Caution
The trickiest bit will be to have all zones be self-sufficient and local and organic (which is also why those bonus achievements have much lower public rates achieved than the Earthloving one).
This is tricky because if you apply the zone specialization to an already built-up area, this will destroy all existing housing/commerce in one go! Your city may become a ghost town if every business folds and every resident leaves, not to mention the huge amount of debt you can rack up by having your residents vanish before your eyes.
So, keep your districts small (say, about 10-12 blocks) and do them one district at a time, giving plenty of time in-between to have the area re-build itself completely before moving to the next.
Bonus Achievements Unlocked
Following this guide you should also unlock the following achievements in one go as a bonus:
Green energy (Produce all electricity without using raw materials)
Greenest city (Have no polluting industry in your city, only Office Zone and specialized zones)
Organistic (Have all commercial zone in your city be specialized Organic and Local Produce)
Super self-sufficient (Have all residential zone in your city be specialized Self-Sufficient Housing)
If you believe that any of the content on this site violates your rights, including your intellectual property rights, please contact us immediately using our contact form.