Title: Baldur's Gate 3
Release Date: August 3, 2023
Developer: Larian Studios
Publisher: Larian Studios
When Baldur's Gate 3 was released, the game developers gave out a clear suggestion to uninstall any early access versions of the game and remove any saved games made during that time. This was done to prevent issues caused by incompatible files.
Unfortunately, some players missed this instruction for different reasons. This resulted in strange problems caused by leftover files from the early access period staying in the Steam Cloud. These files were hard to remove using normal methods. In some cases, this caused extra data to be downloaded from the cloud whenever syncing happened. In worse cases, it even made the game crash often.
This guide helps with these issues by providing a way to get rid of the leftover Steam Cloud files for the game. This process is simple and safe, and you can use it for other games too.
Getting Started
First off, did you already start a new game in the full release version?
If you did, you might want to make a backup of your current saved game first. It could be safer to delete it to avoid problems with incompatible files later on. But if you haven't run into big issues with the game so far, it's probably okay to keep using it.
Here's what you need to do:
Go to %systemdrive%\users%username%\AppData\Local\Larian Studios\Baldur's Gate 3\PlayerProfiles.
Keep your most recent profile and the Public folder safe. You can do this by copying them to your Desktop.
For your convenience, you can just copy and paste the link into the address bar of your Windows Explorer, like you see in this picture:

Let's begin!
Step 1: Turn off Steam Cloud features for the game
Just right-click on the game's name in your Library > Go to Properties > Deactivate Steam Cloud for this game.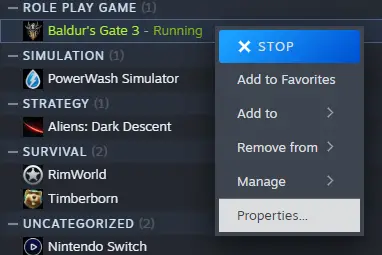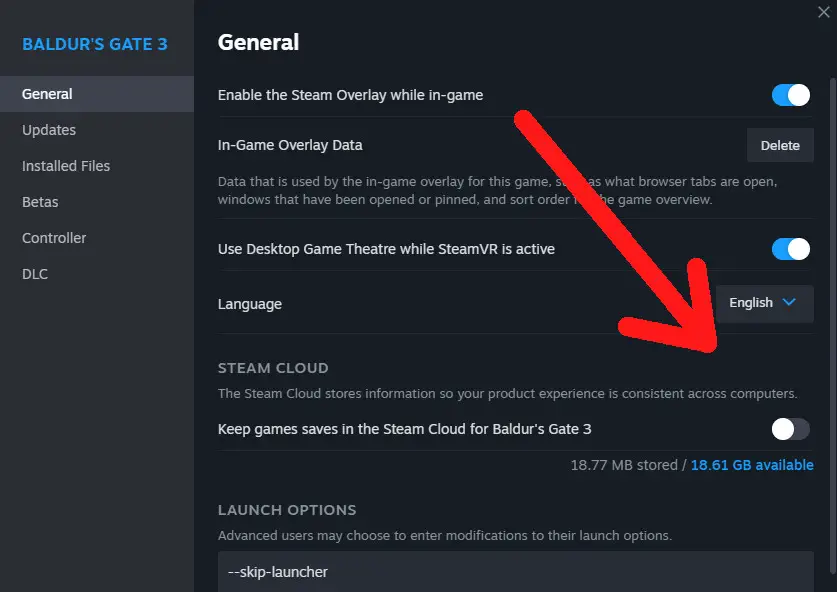 Step 2: Accessing the Early Access Save Game Location
To access the save game location for early access, follow these steps:
Navigate to your Steam installation folder on your computer. If you haven't changed the default installation path for Steam, you can find it at:C:\Program Files (x86)\Steam\userdata\YOURID\1086940\remote

Please replace "YOURID" with your actual Steam ID number.

If your PC is used by multiple Steam users, there will be a unique folder named after your Steam ID (YOURID) in the "userdata" folder. This will help you identify your folder.
Step 3: Making Changes to a File in the Profile Subfolder
Open any file located in the "profile" subfolder using a text editor.
Add some random content or text of your choice to the file. This step is for experimental purposes.
By following these steps, you can access the early access save game location and make changes to a file within the profile subfolder.

It doesn't really matter what the content is. The main thing we're aiming for is to have at least one file – it could be any file – with changed content compared to its previous state. This will cause a mismatch the next time the Steam Cloud attempts to sync up.
Step 4: Close Steam and remove the file located at:
..\Steam\userdata\YOURID\1086940\remotecache.vdf
Step 5: Open Steam and enable Steam Cloud for the game.
Now, let's observe the desired outcome.

Cloud Status: File conflict
Ensure to follow this precisely – not simply "Out of sync" – rather, it's a "File conflict."
Step 6: Initiate the game – HOWEVER, TAKE YOUR TIME!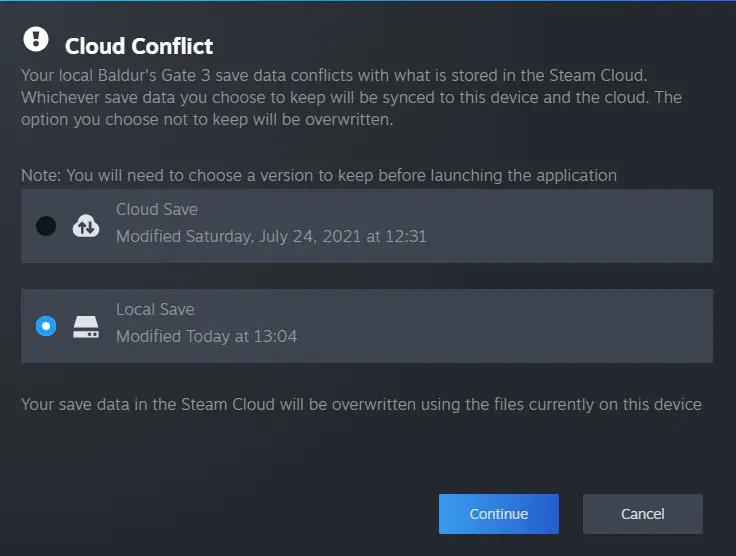 Please make sure to keep this window open for now. Before you proceed, you should first remove the save game folders completely.
That involves going to the location
..\Steam\userdata\YOURID\1086940\
Once there, delete everything present, including the remote folder. If you'd like, you can also delete everything within the new save game folder:
%systemdrive%\users%username%\AppData\Local\Larian Studios\Baldur's Gate 3\
Once you've completed these steps, you can continue.
By following this process, the game will utilize the local save game folder's current contents for synchronization. Since you've cleared all the data, it will synchronize an empty page to the cloud, effectively performing a cloud purge. While the game is still active…
Step 7: Disable Steam Cloud for the game once again.
If all the steps are completed accurately, the situation resembles what's shown in the picture. The Steam Cloud for the game only contains the new files from the new saved game location. In my situation, I completely cleared everything. As a result, there are no stored bytes, meaning the Steam Cloud for Baldur's Gate 3 is empty.

Close the game by ending the process. You can do this using Task Manager or by pressing ALT+F4.
That's it, you're finished!
Recommendation
It's usually a good idea to avoid using Steam Cloud Services unless you really need them, like for syncing games between different computers or using the Steam Deck. While this service has its benefits, it's known to have issues with saving games, especially when the saved data becomes really large.
For example, one player ended up with a whopping 1.8 GB of their storage space taken up because of this problem. Because the data was so big, the syncing process often messed up, causing a bunch of problems.
That's everything we are sharing today for this Baldur's Gate 3 guide. This guide was originally created and written by RB Staff. In case we fail to update this guide, you can find the latest update by following this link.
If you believe that any of the content on this site violates your rights, including your intellectual property rights, please contact us immediately using our contact form.