Title: Baldur's Gate 3
Release Date:
Developer:
Publisher:
Information about Baldur's Gate 3 is still incomplete. Please help us fill the details of the game using this contact form.
Making the Iron Throne encounter better doesn't need tons of getting ready, lots of skill, or tons of luck. You just need a solid plan. SPOILER ALERT for Act III included.
Who and What to Bring
Here's what you'll need:
Party:
La'zel
Shadowheart
Astarion
A Wizard (in my guide, I use my player character)
You'll want at least one of your characters to know mage hand, preferably two. Provide your Wizard with a scroll of dimension door, preferably two. Additionally, equip your Wizard with a Potion of Supreme Healing. Ensure that as many characters as possible have the Misty Step spell. Finally, give everyone except Shadowheart a scroll of haste.
Getting Started
After the arrival cutscene and the conversation with Gortash, you'll find yourself in the Submersible, not yet in a fight.
This is the time to make your party stronger.
First, switch to turn-based mode to make sure your buffs don't run out while you're getting ready.
Have Lae'zel, Astarion, and your Wizard each use a scroll of haste on themselves.
Next, send any character down the hatch to start the action.
Overview
So, we'll have four characters to control, and I promise they'll all come back safe.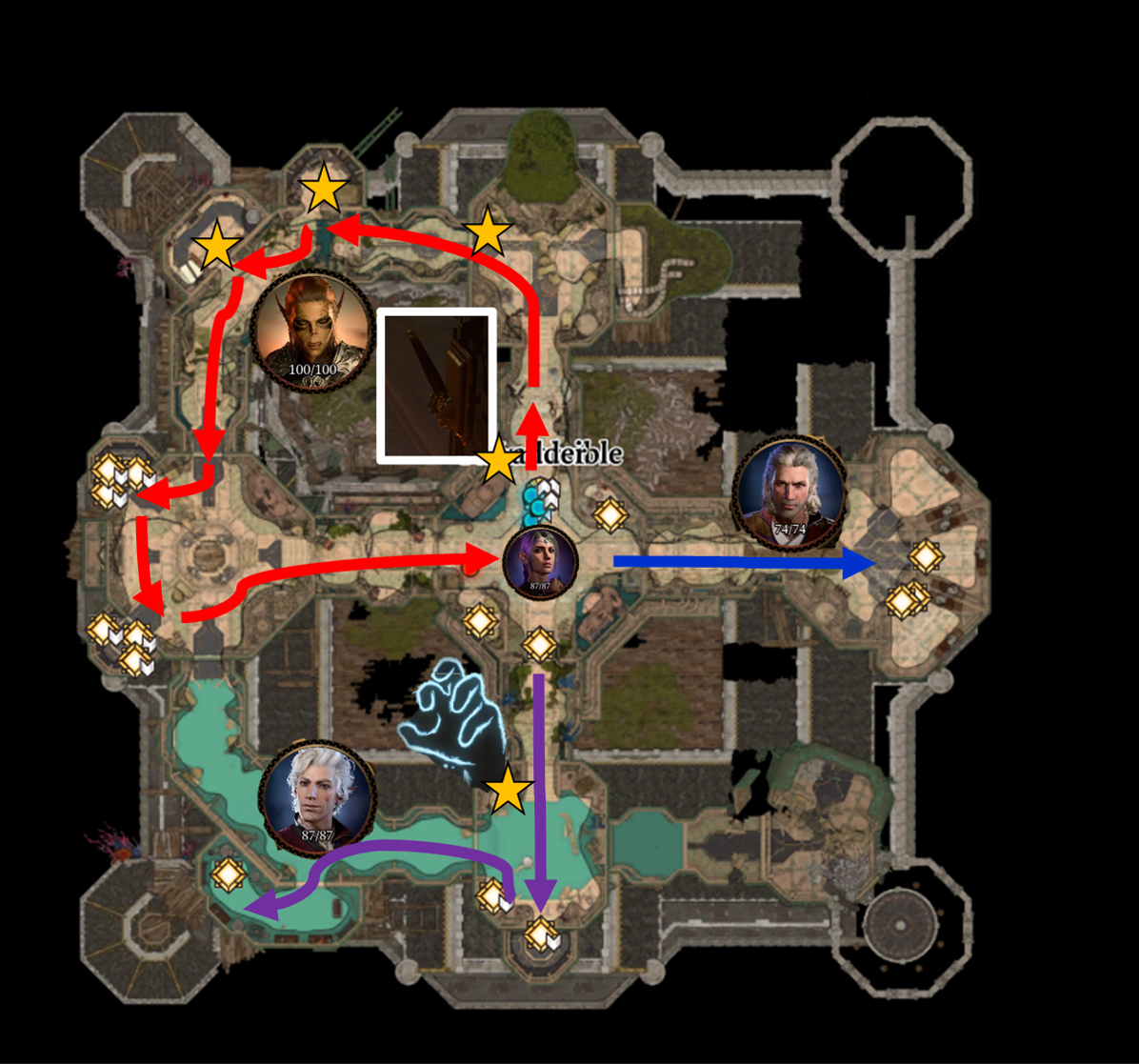 Lae'zel will run north as fast as she can, locking a door behind her and then heading west to grab loot. She'll also free prisoners in the west, take down a couple of monsters, and return to the center around turn 4 for more fighting.
Astarion's path is southward, freeing prisoners, using mage hand, and then heading west. He'll try to free Omeluum (if he's alive) and gather loot. His mage hand will lock doors behind the prisoners once they're out.
Shadowheart will hold her ground in the middle, dealing with a few monsters and possibly moving east if help is needed.
Your Wizard is going east, attacking or damaging monsters, freeing prisoners and the duke, and giving the duke a potion to heal a bit. They'll also use a scroll of dimension door to help the duke escape faster. Mage hand can be used to open doors, but it's not a must.
All your characters, except Shadowheart, should have haste, making them very quick. However, be cautious in the first two rounds to avoid losing concentration and getting fatigued. Also, avoid casting spells that require concentration to prevent the "new" spell from failing and causing fatigue.
Turn 1
Lae'zel:
First, Lae'zel goes down the ladder and uses Misty Step to go North just past the first door. She uses the lever to close the door behind her. Then, she runs North, loots the corpse, and heads West. By dashing, she can reach the lever that opens the door to the room with the chest, though maybe not inside it.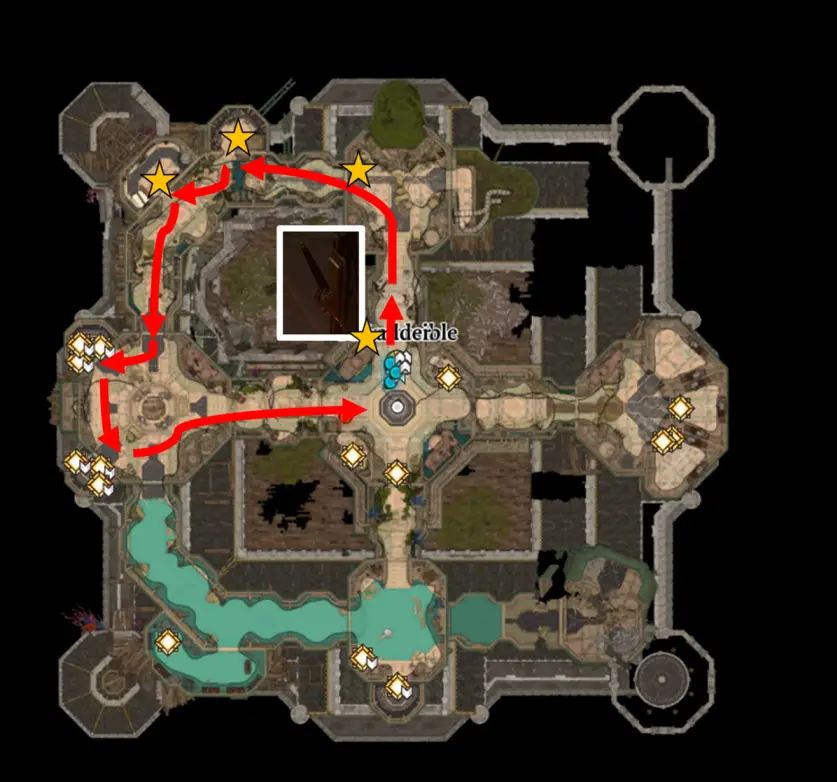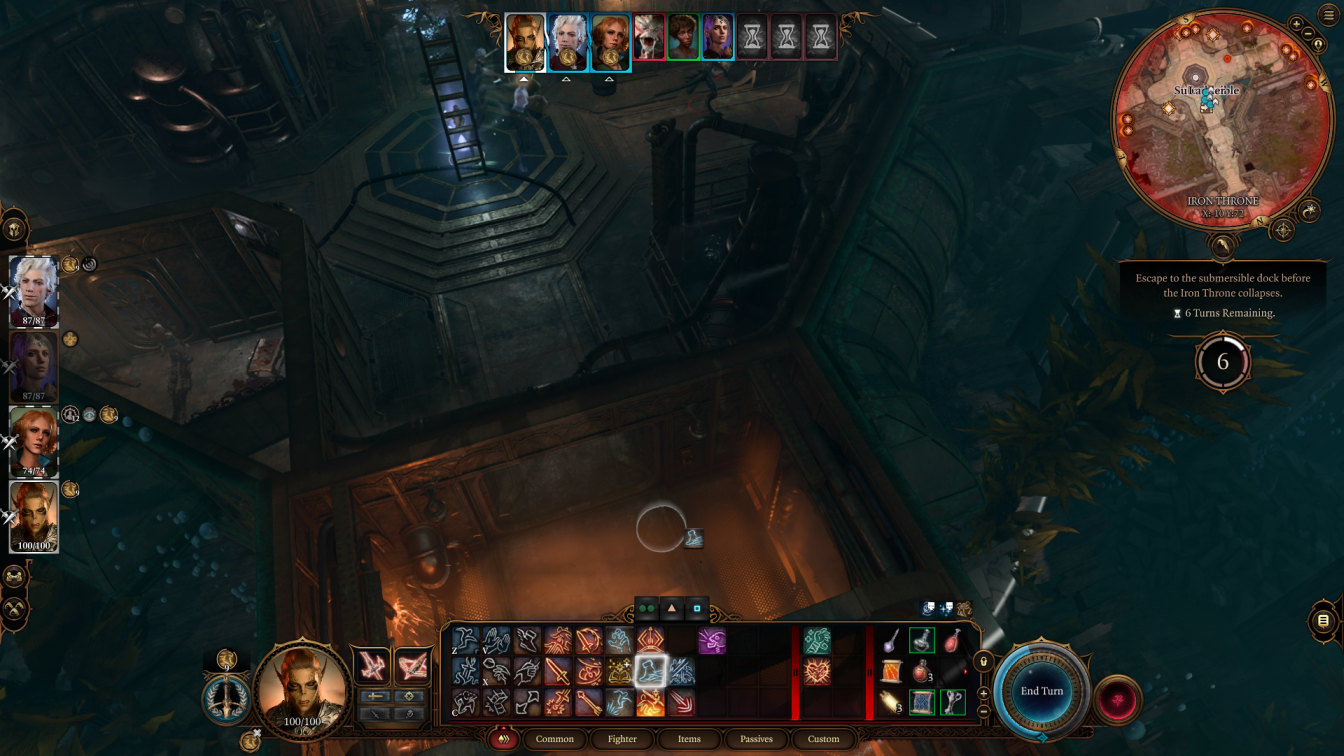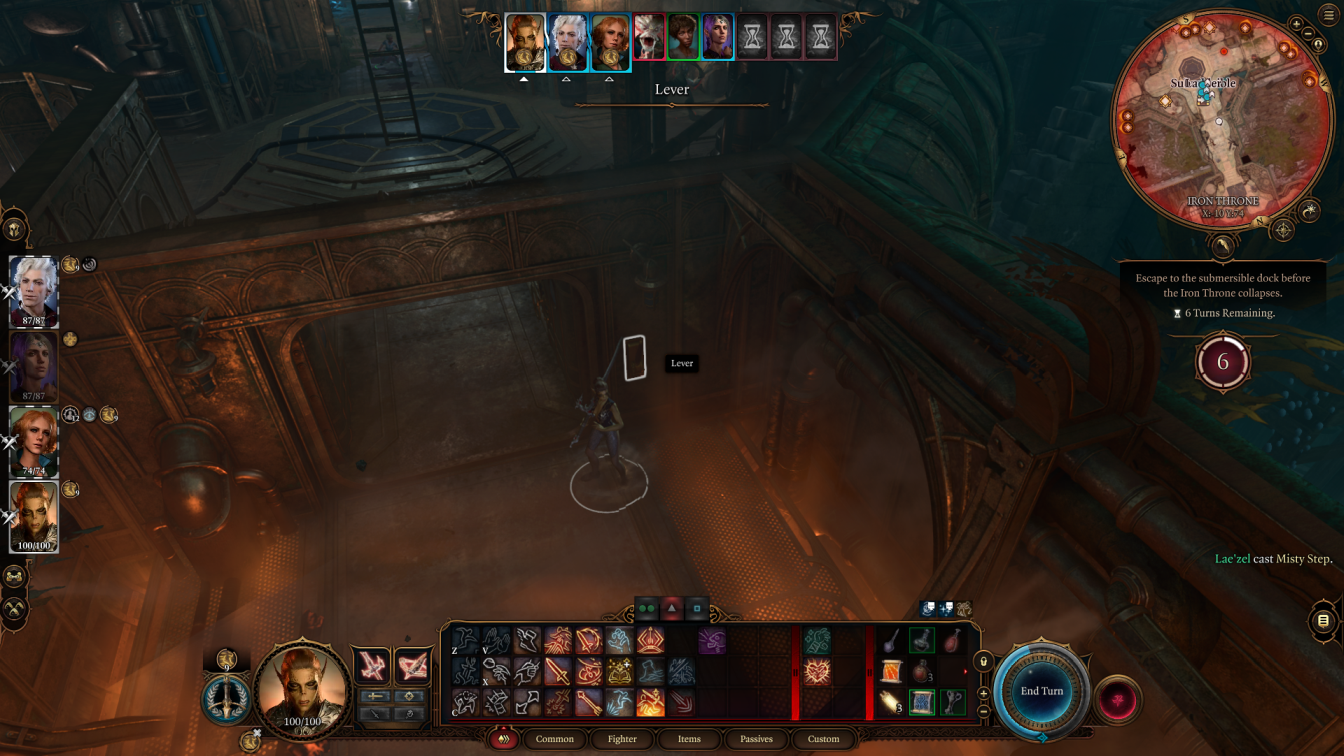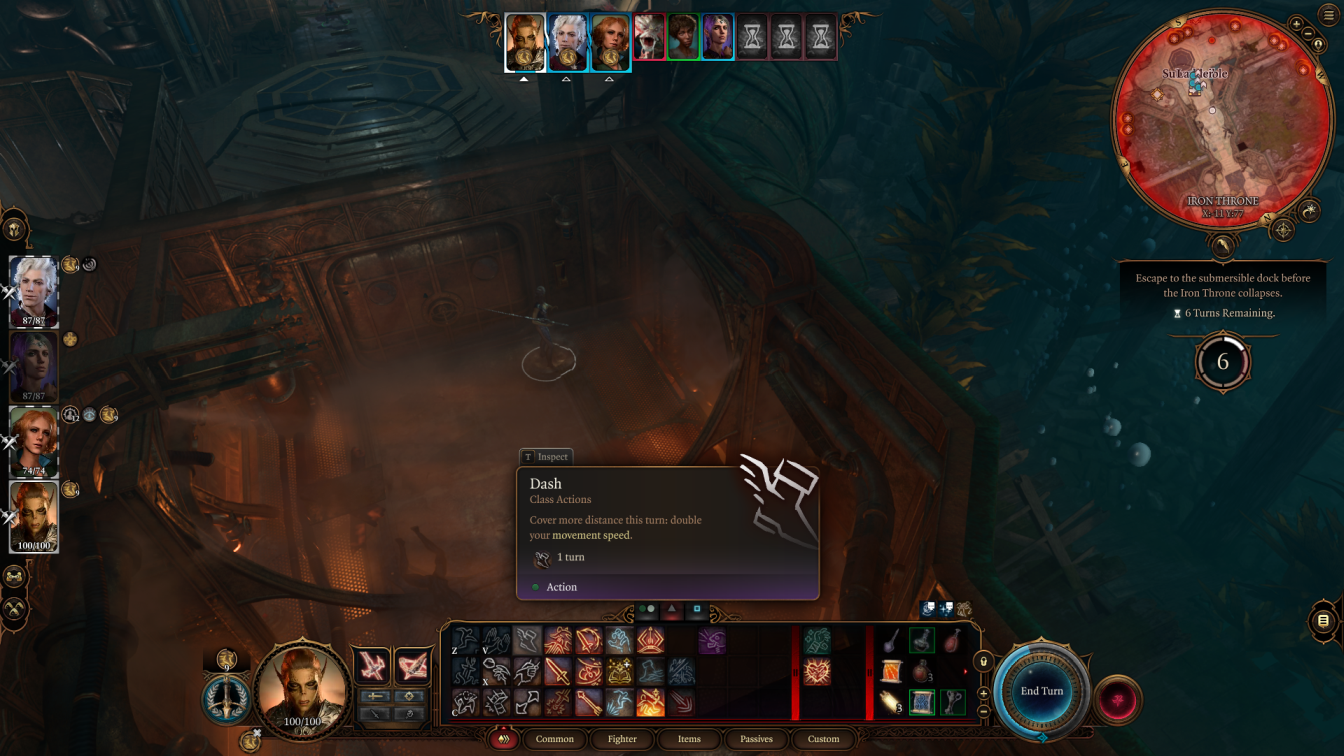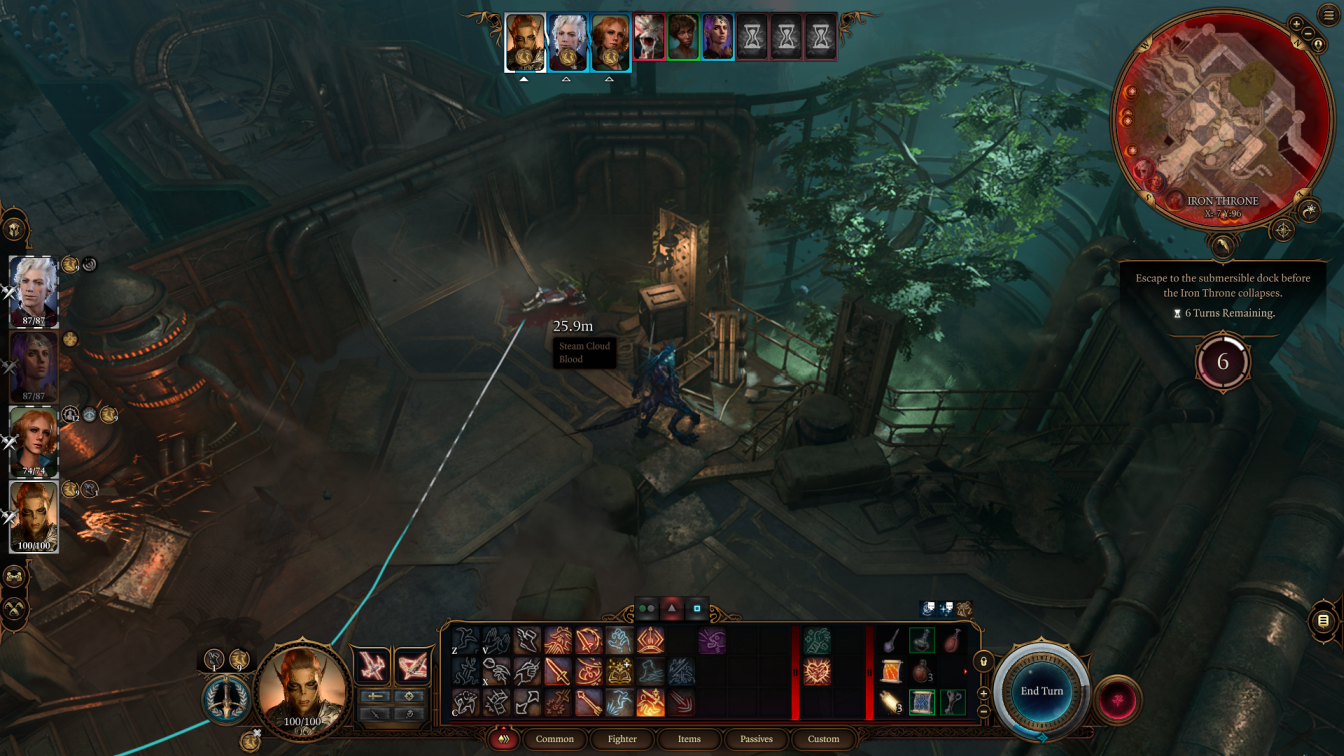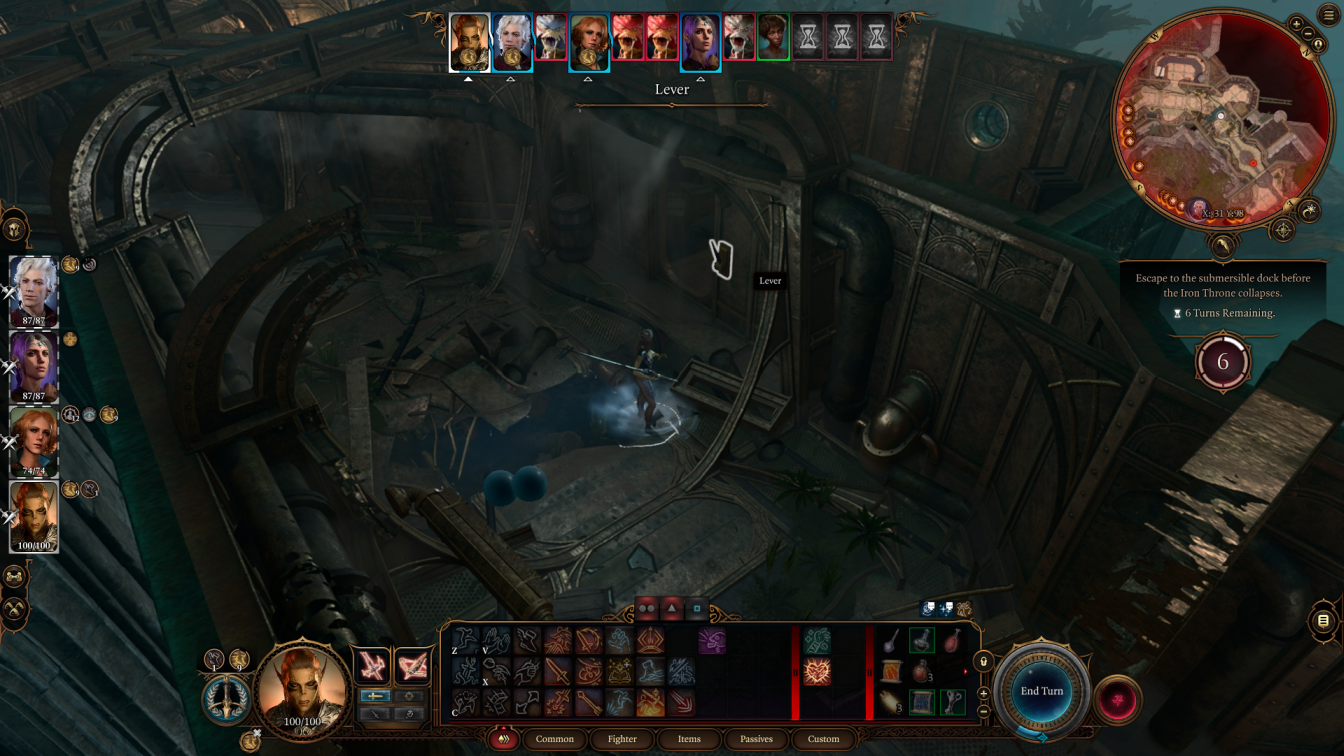 Astarion:
Astarion follows. He heads down the ladder and uses Misty Step to go as far South as possible, then dashes to open the cell. If he can get close enough, he might use 'help' to free the restrained prisoner, but if not, he loots the book and ends the turn.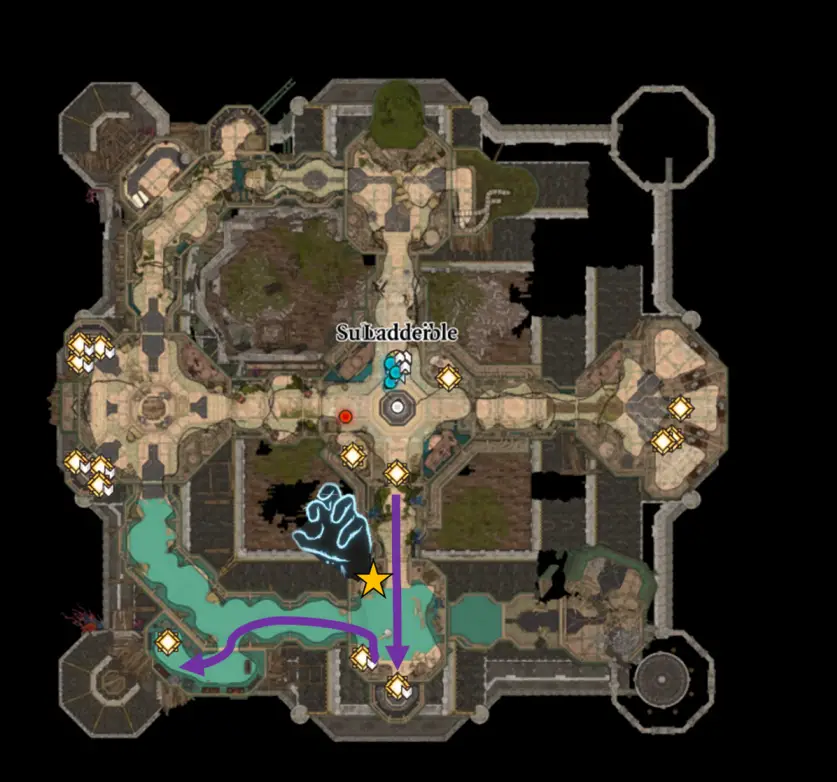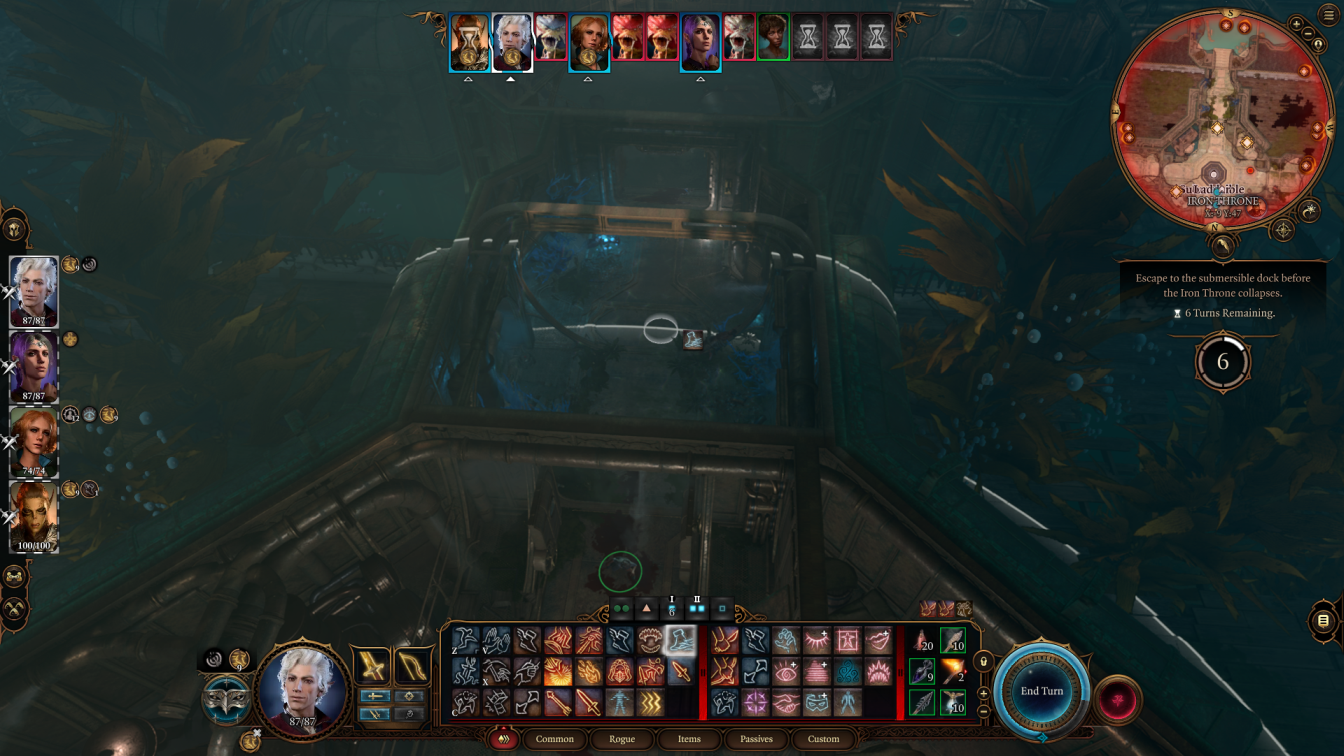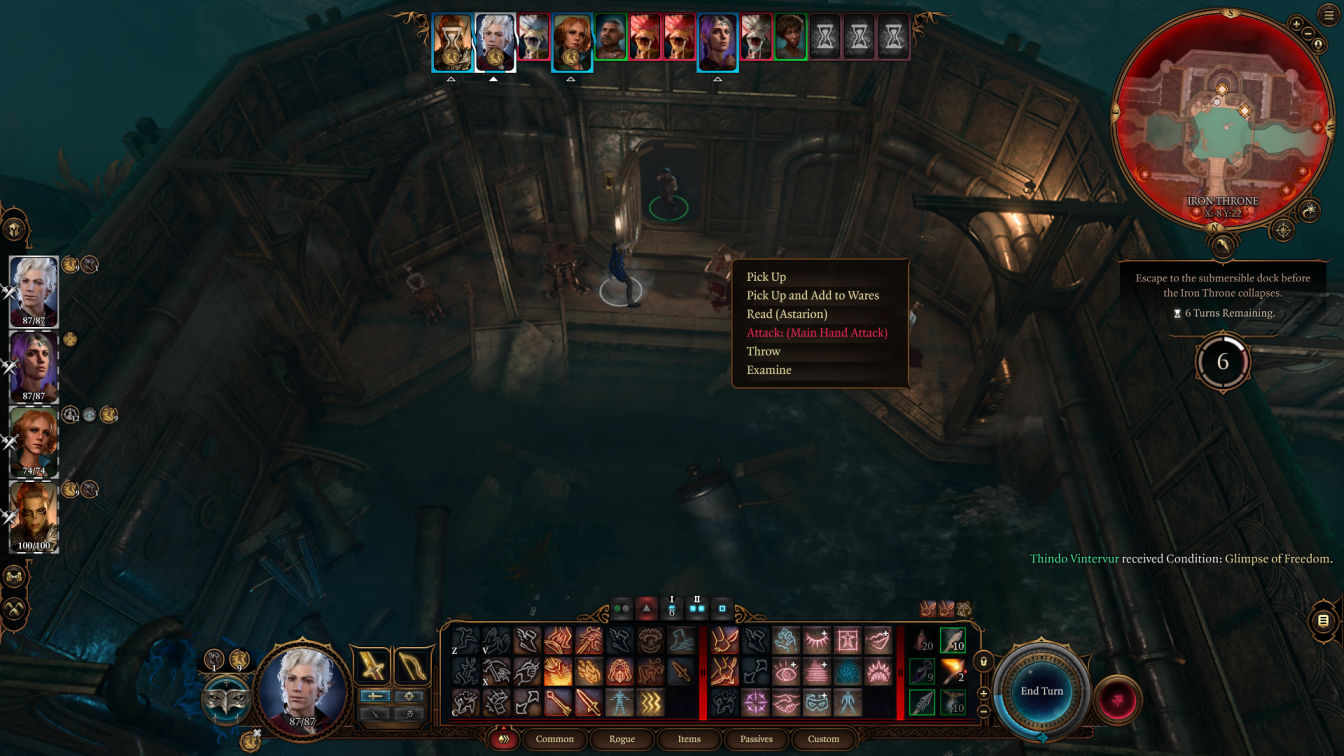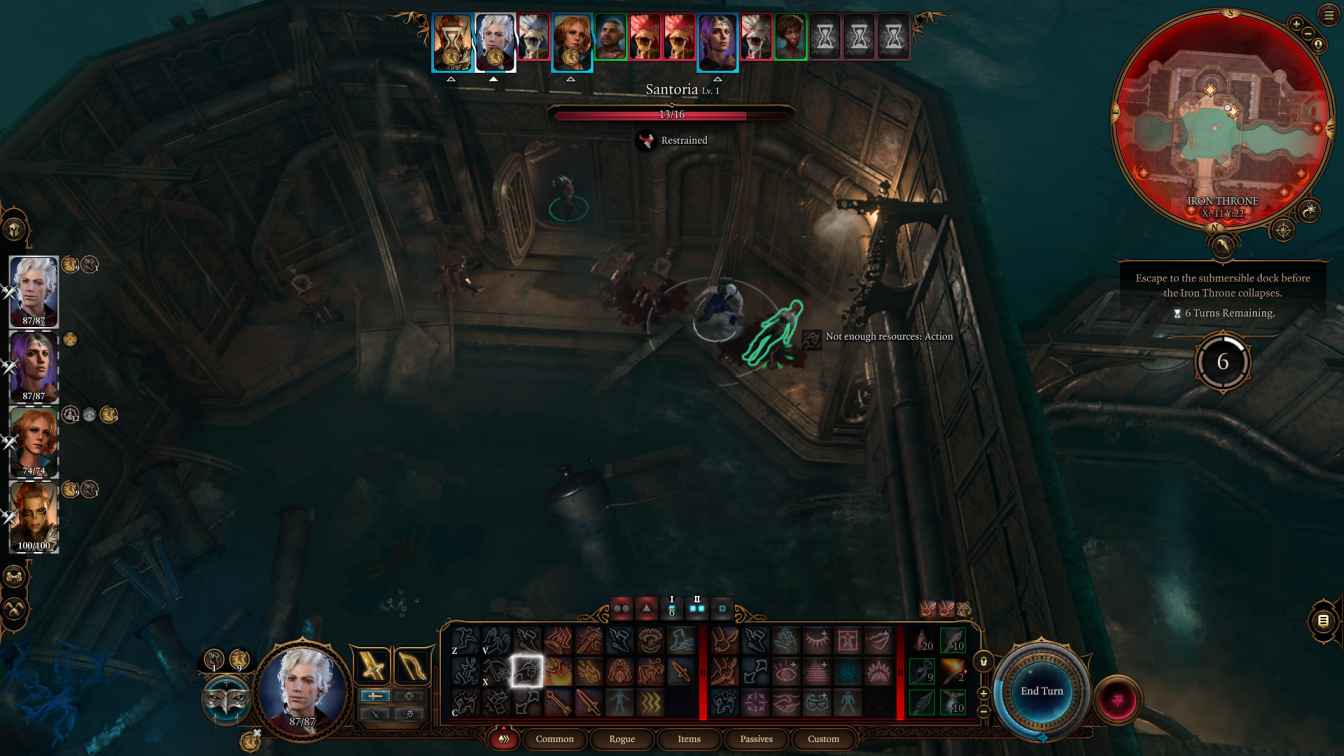 Wizard:
Now, your Wizard, Gale, or your player character. They go down the ladder and cast mage hand near one of the central cells, the one farthest from any monsters. Using Misty Step, they head East and, if possible, use shocking grasp on a monster. They move a bit further into the room and end their turn.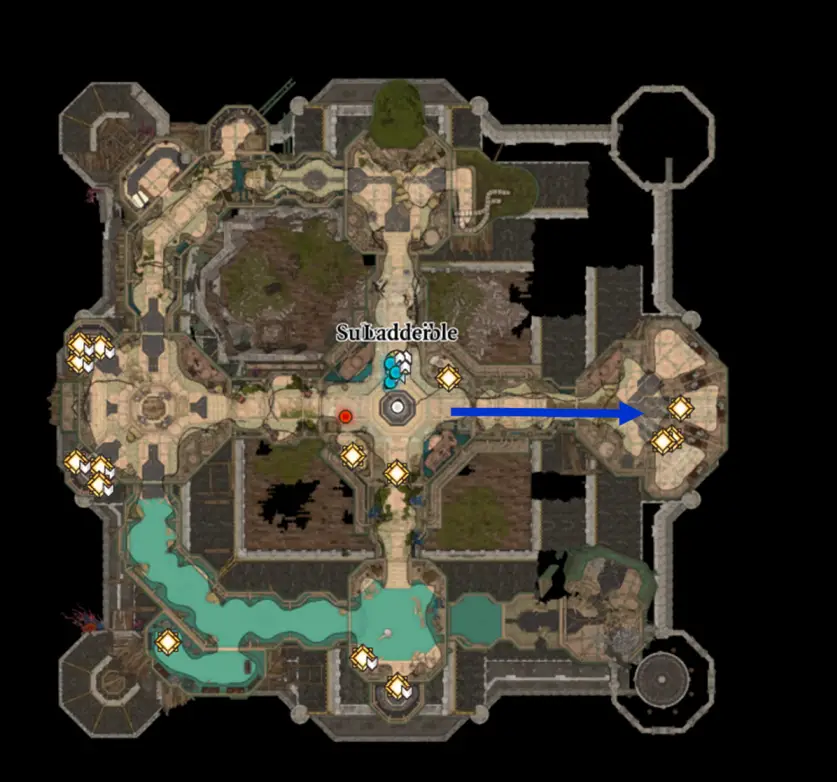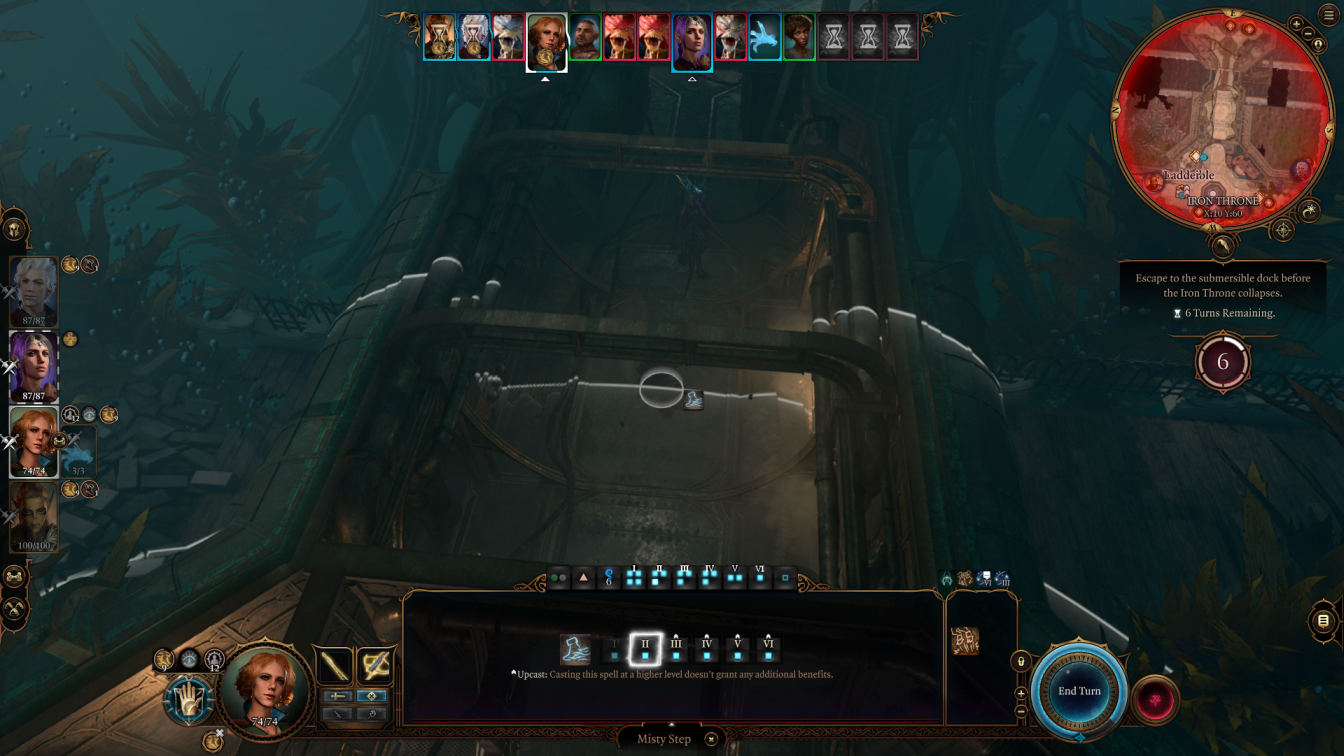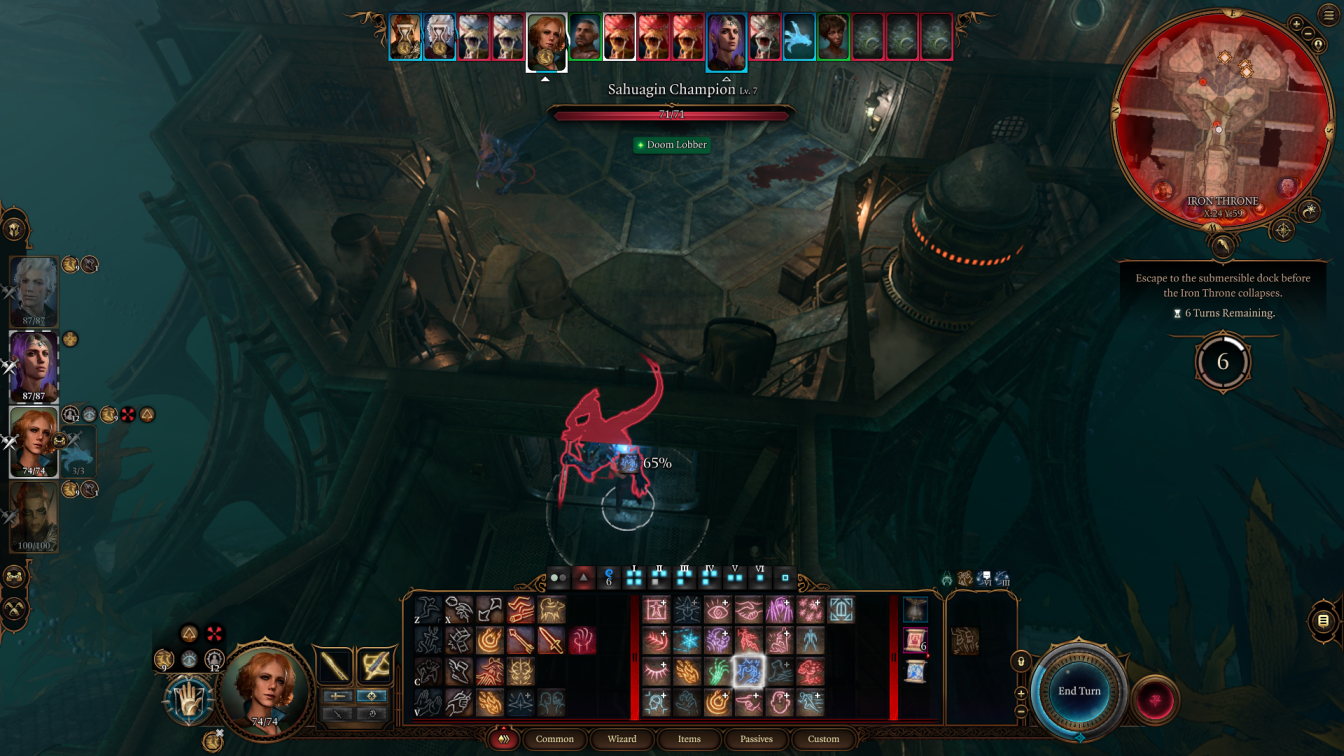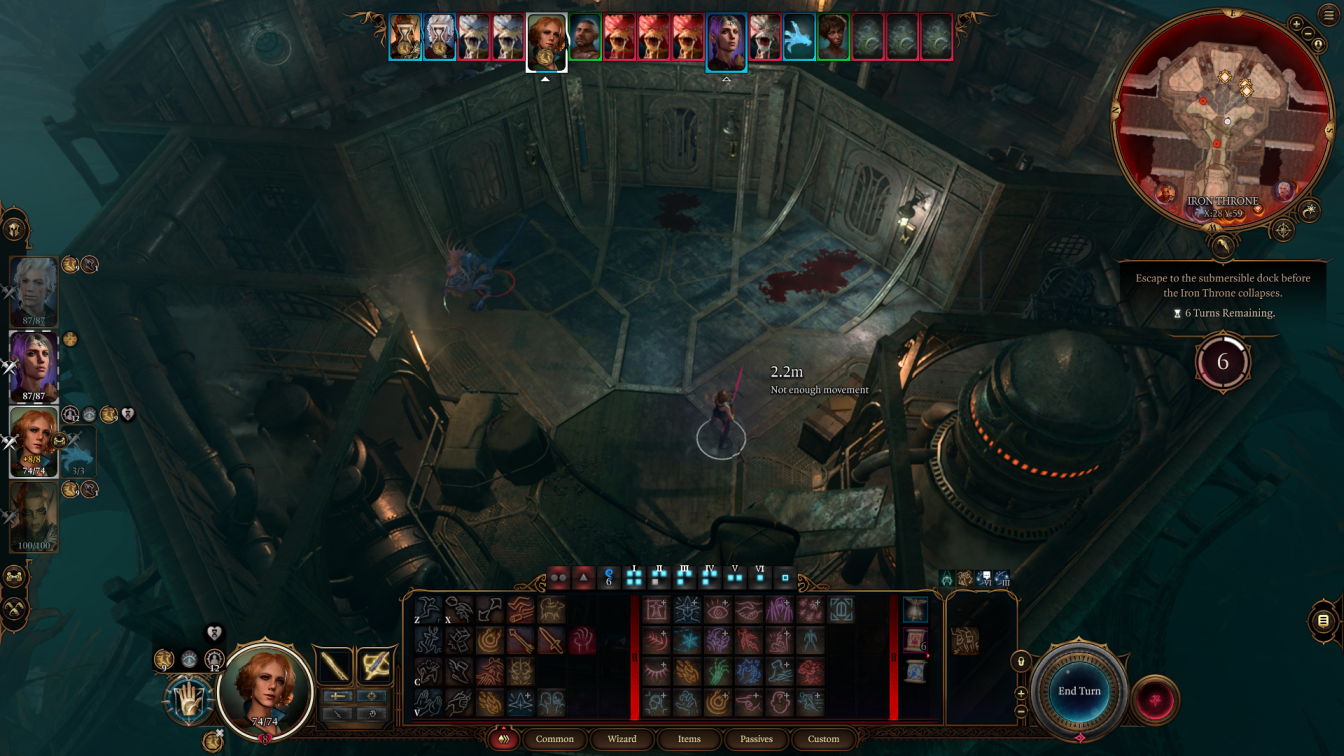 Shadowheart:
Lastly, Shadowheart goes down the ladder. She uses Guiding Bolt on a nearby monster, up-casting it for more damage, and then moves a bit to the East.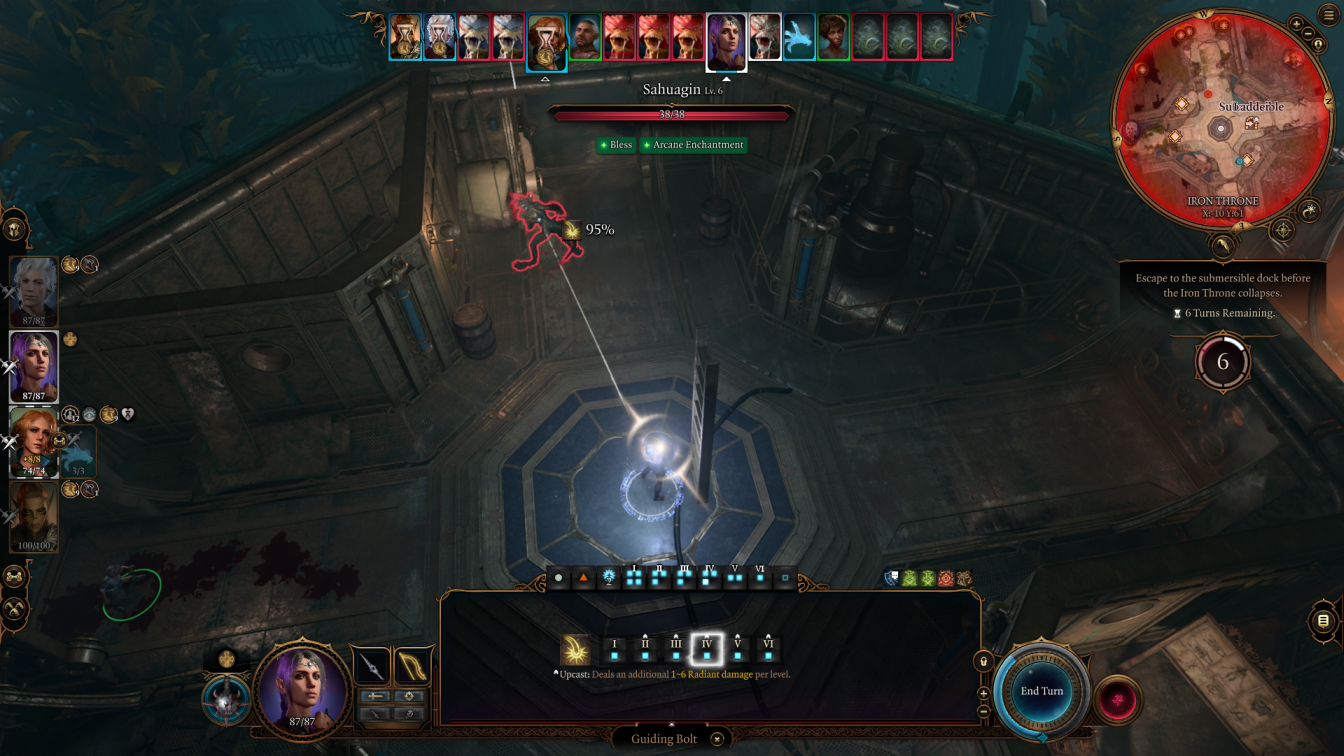 Mage Hand:
Don't forget the Mage Hand. It's used to open one of the middle cells and then moves toward the other one.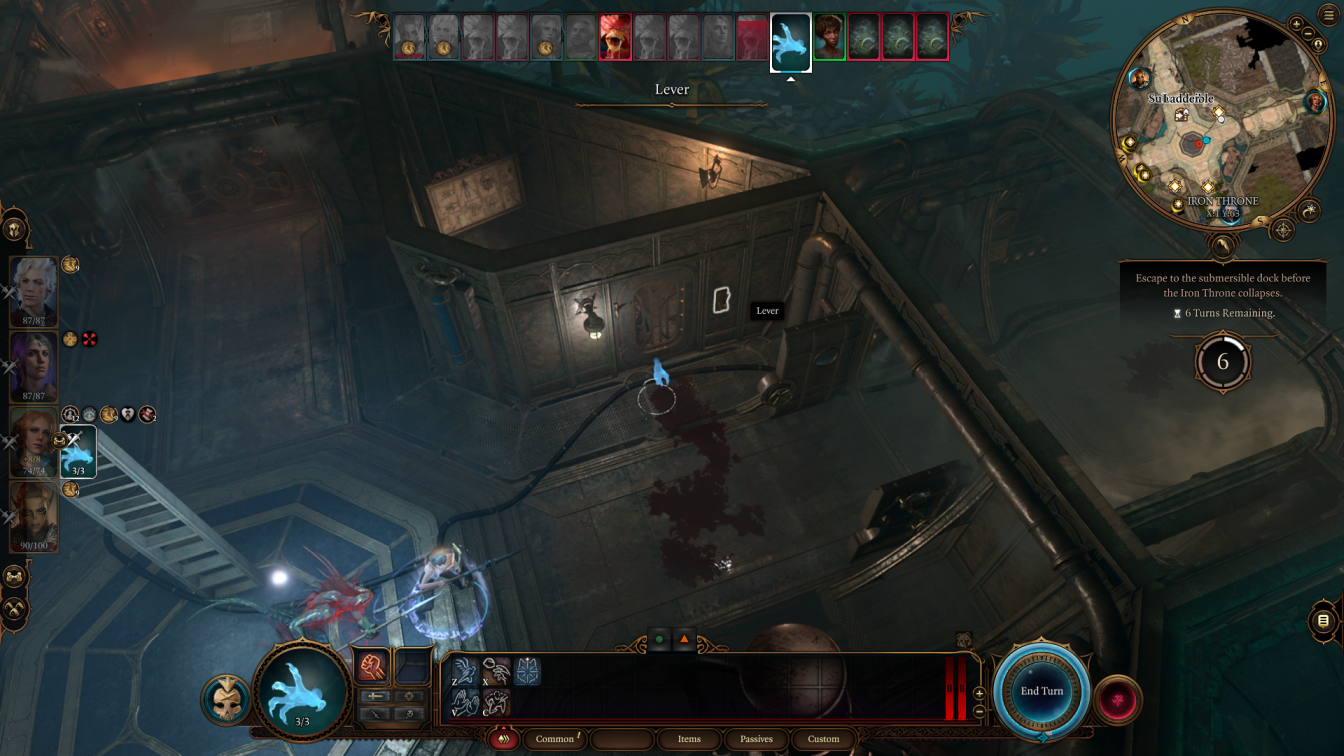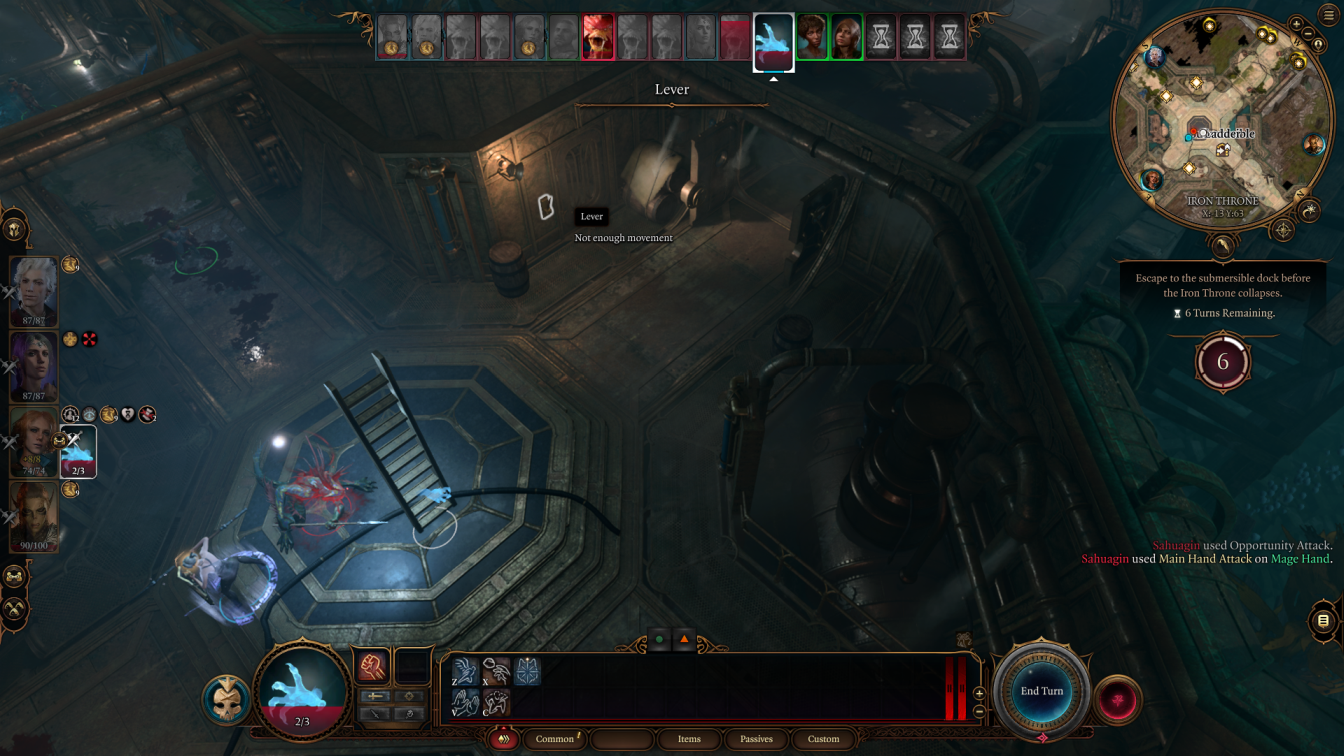 That's the end of turn 1 for our party!
Turn 2
Lae'zel:
Start turn 2 by having Lae'zel make a small jump to enter the room with the chest. Loot the chest.
Run to the next room and loot the chest there, pick up the note on the floor, and then check the wardrobe on your way out.
Continue heading West; you should be able to use the lever and get a little way into the Western room. Use dash to reach it.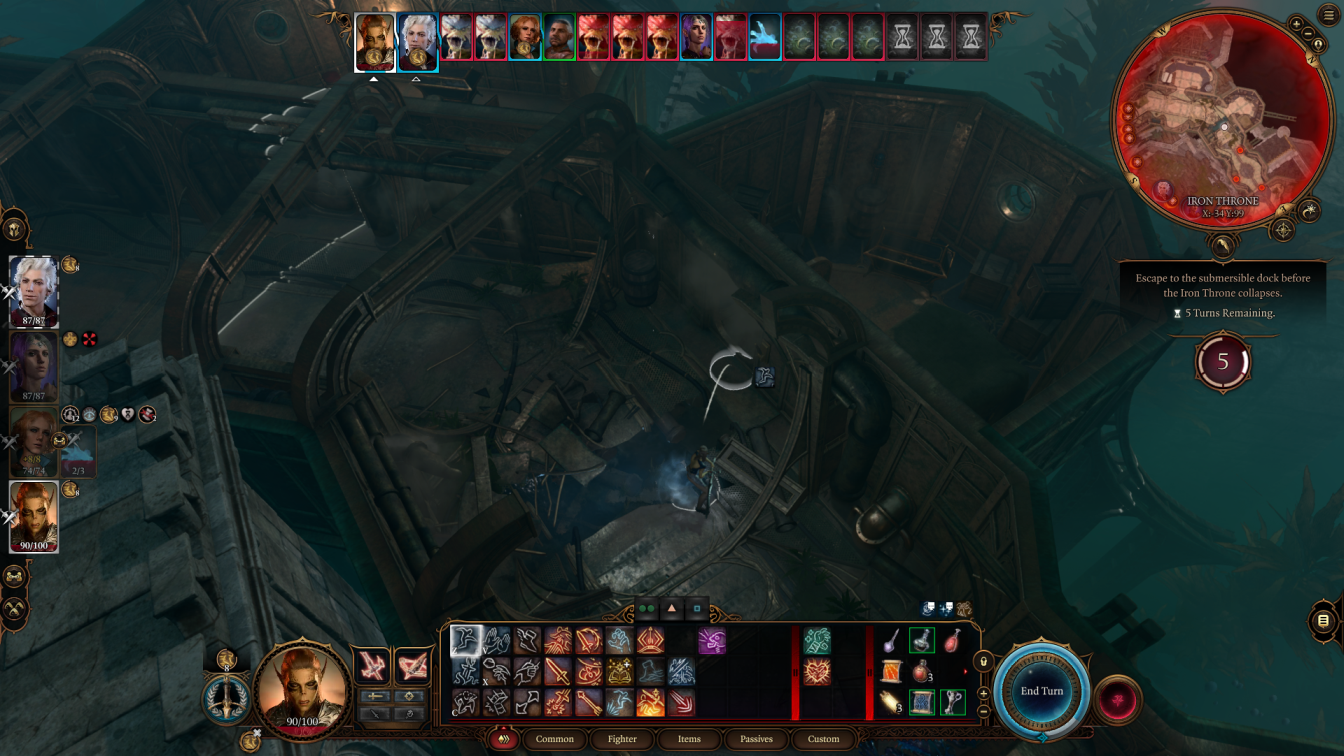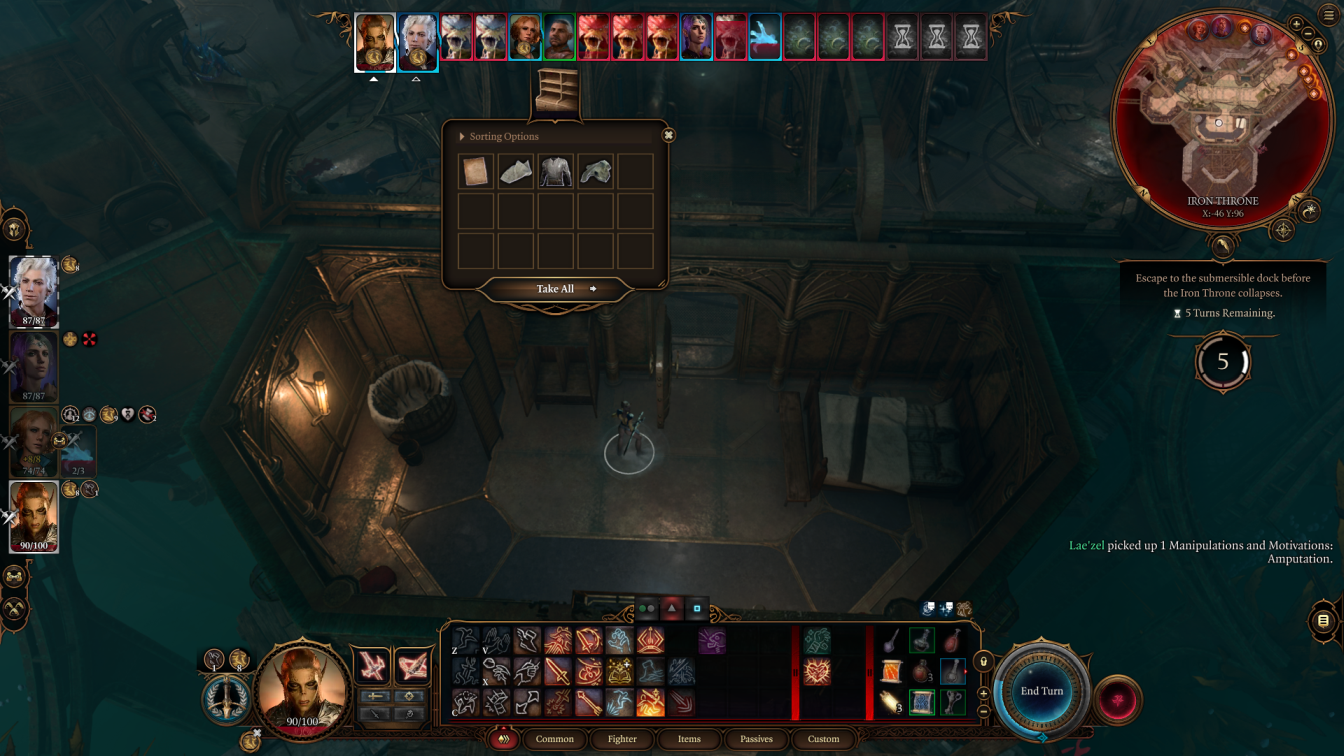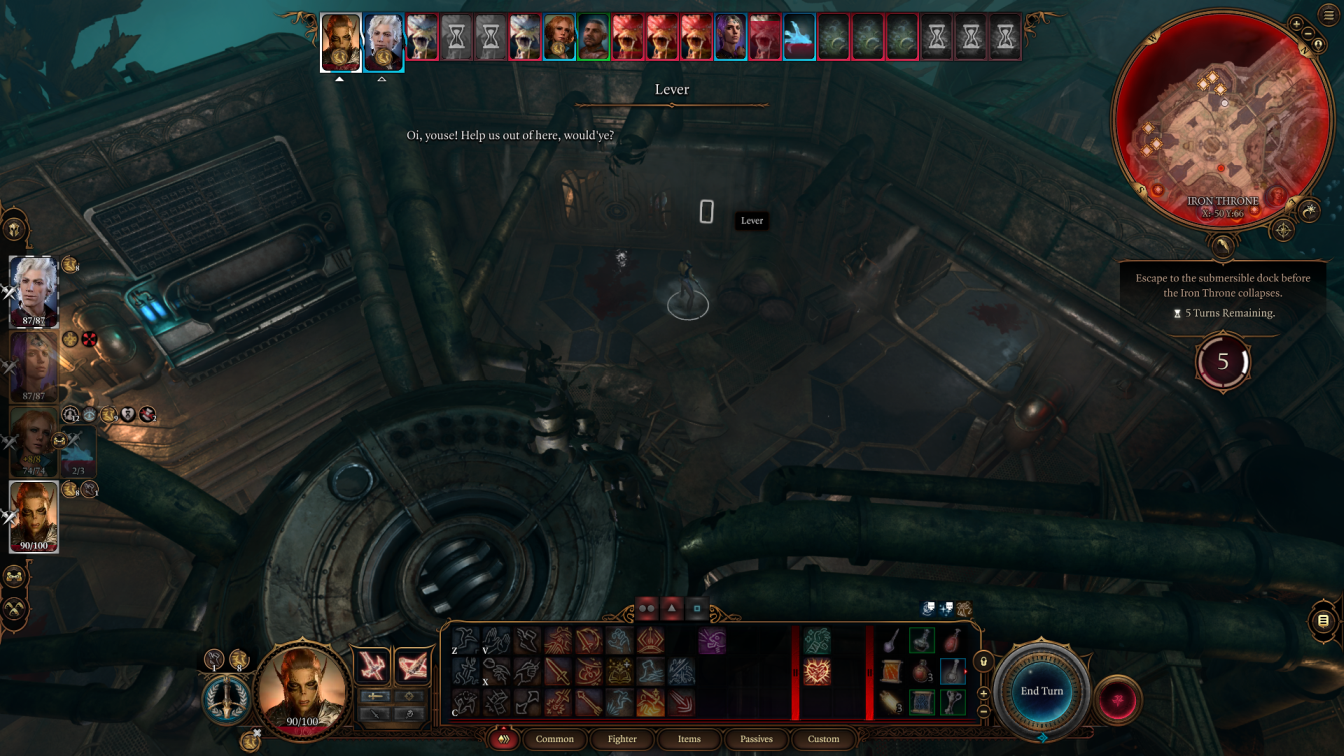 Astarion:
Astarion goes next. First, rescue the restrained prisoner, then cast mage hand just beyond the door you entered from. After that, head West toward Omeluum's room, opening the lever on the outside. Try to get into the room; you might be close enough to loot the chest.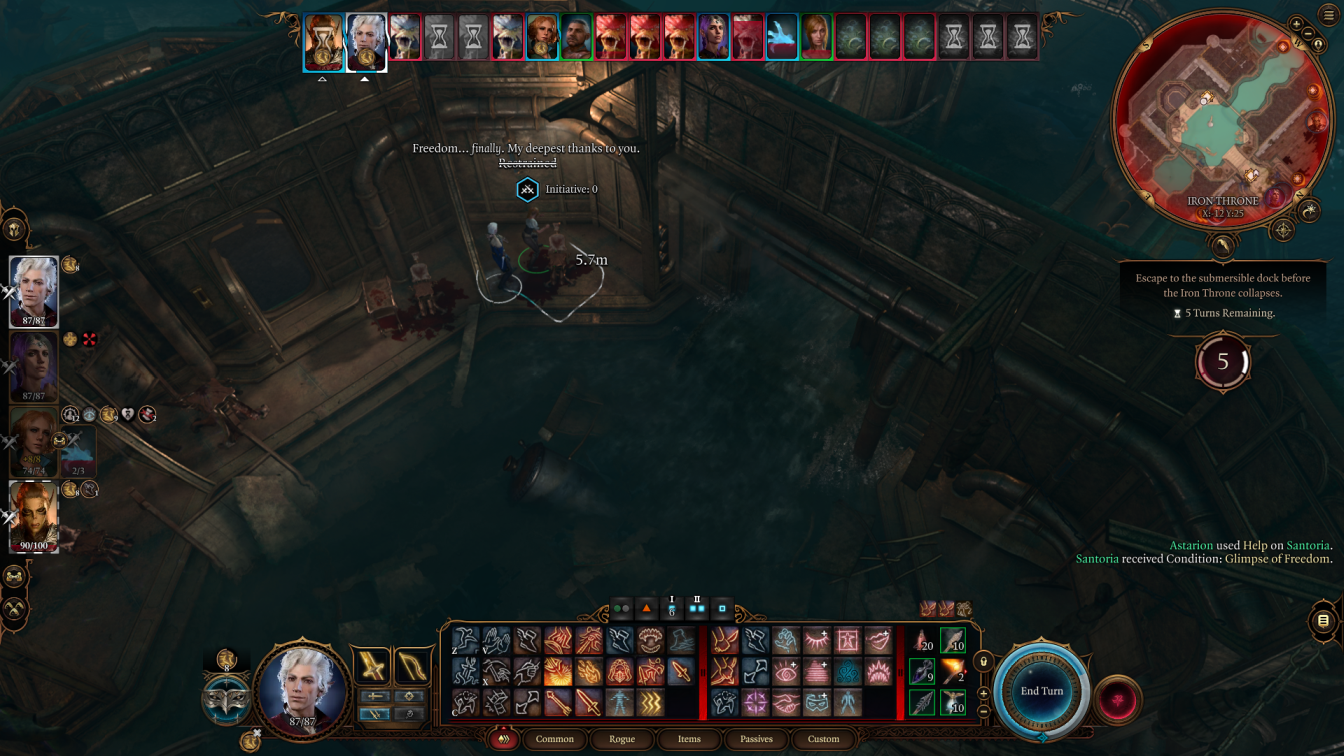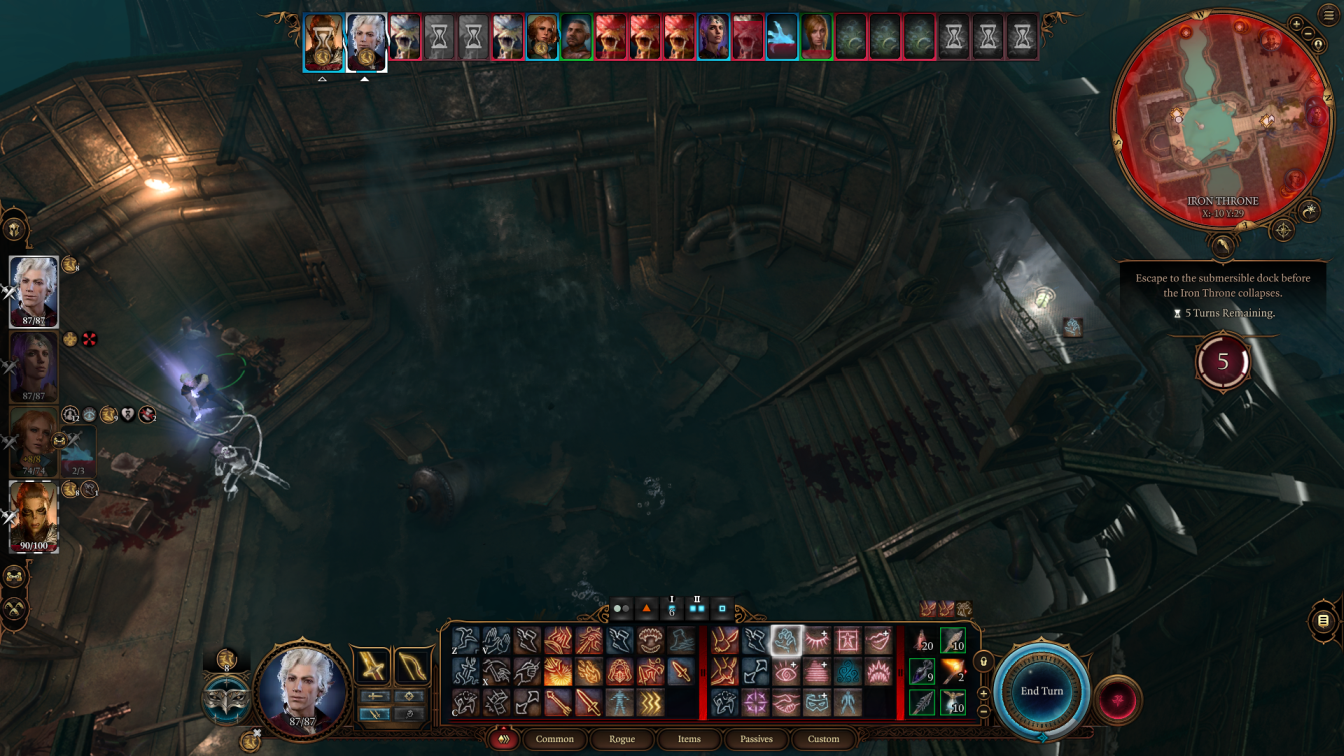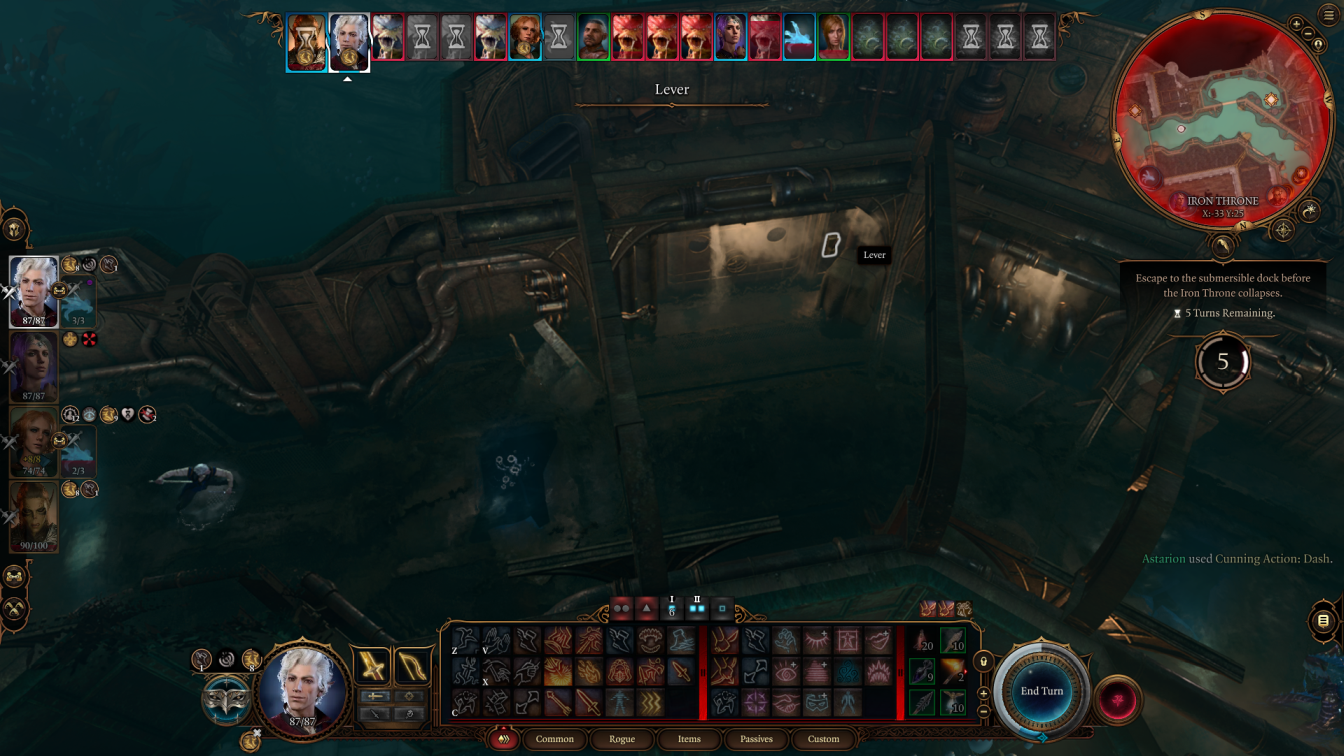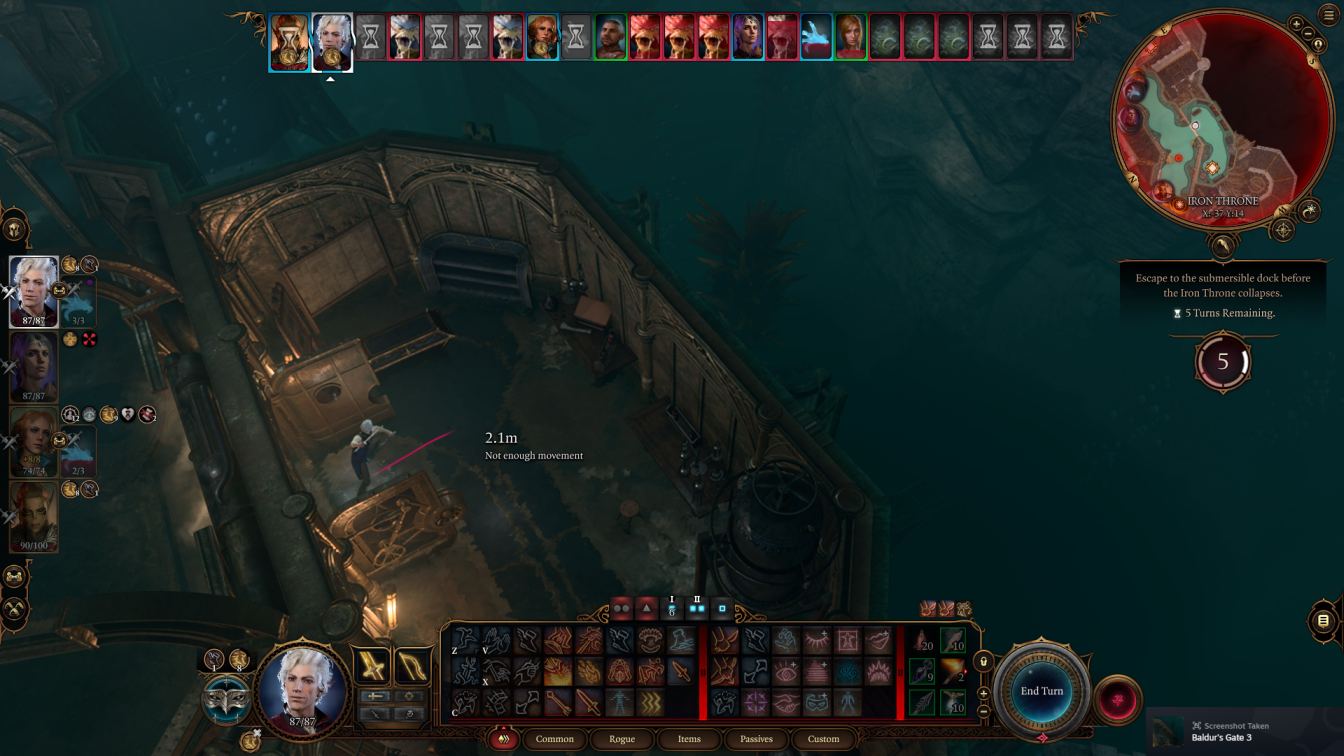 Wizard:
Now, it's the Wizard's turn. If they got ensnared like mine did, use Misty Step to reach the lever to release the prisoners. That's about all you can do. If any monsters are within range, take a shot at them, but in my case, they had moved toward the middle of the map.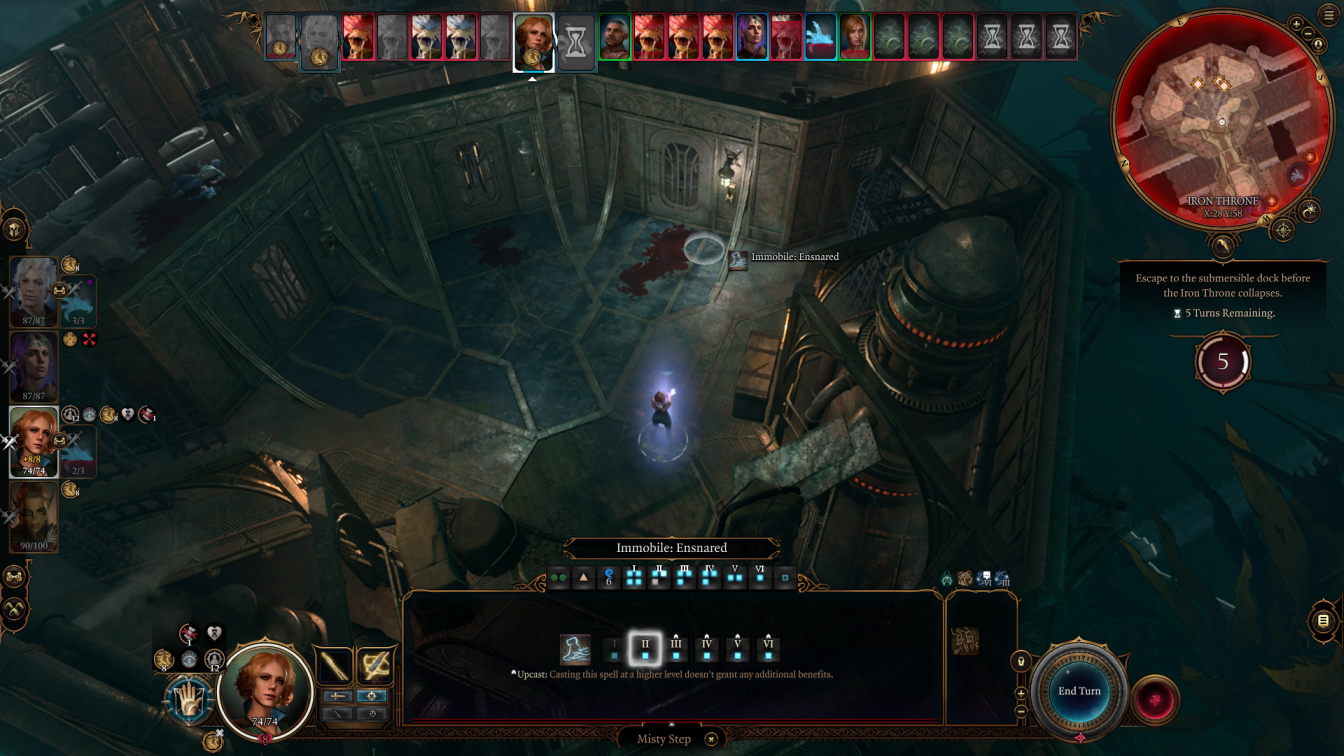 Shadowheart:
Next up is Shadowheart. There are probably two monsters in the middle area by now. Don't worry; they can't harm you much, but we don't want them to kill any prisoners. Use Sacred Flame to finish off the monster you damaged last round, then move a bit to the East, close to where your Wizard and the duke are.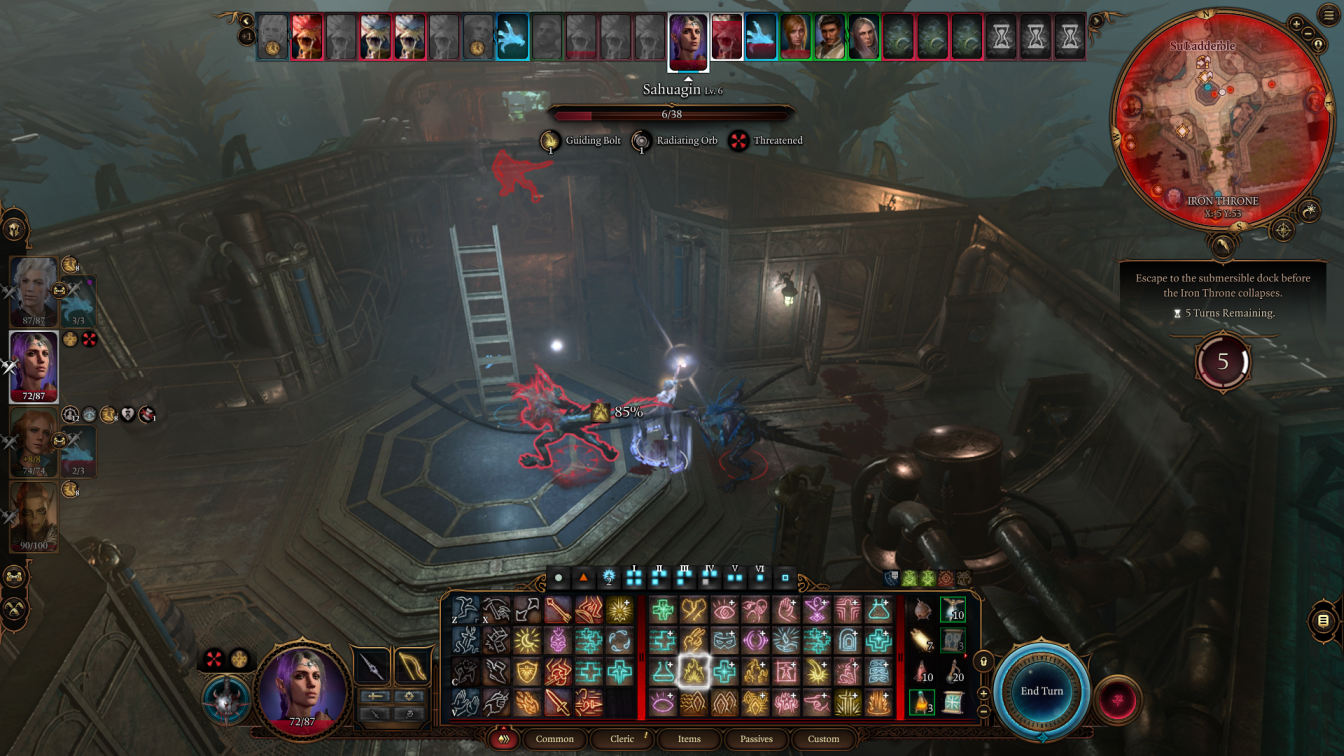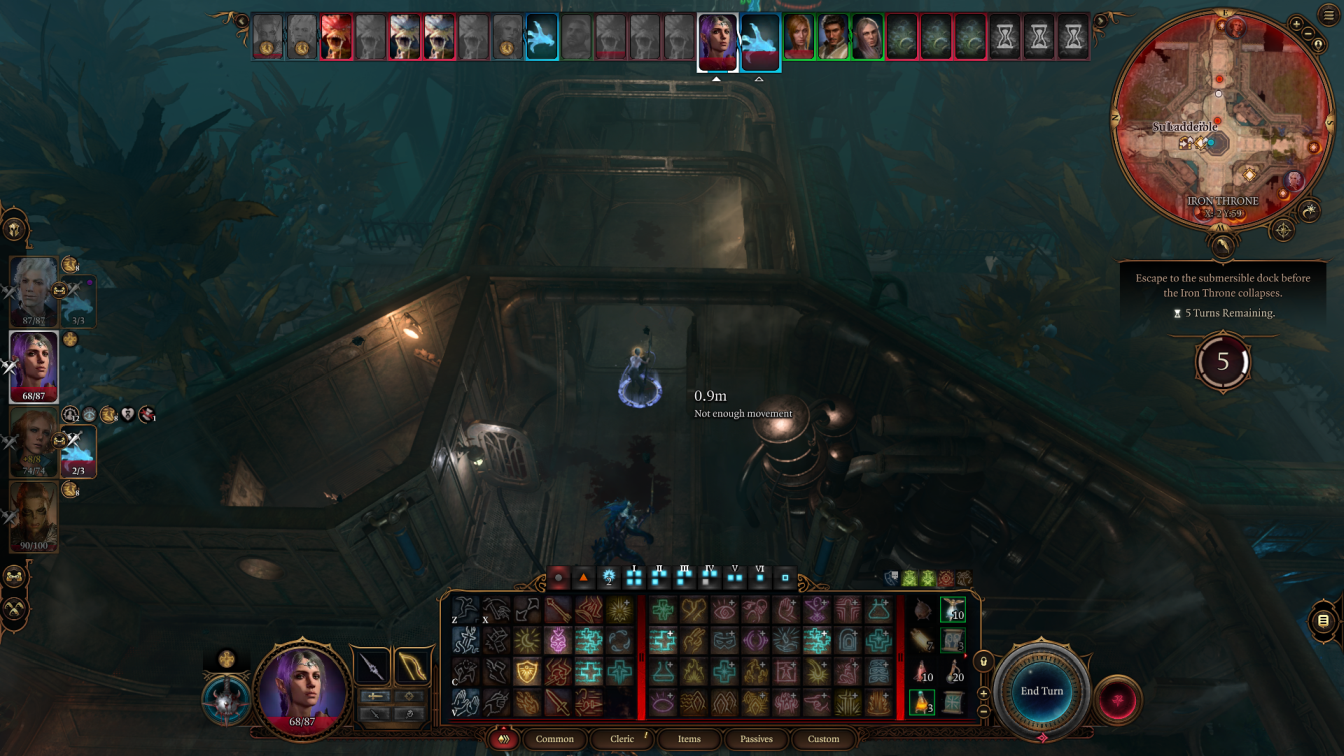 Mage Hand:
Last but not least is our trusty Mage Hand in the middle. If it's safe to do so, open the other central cell. Just be cautious not to let a monster inside!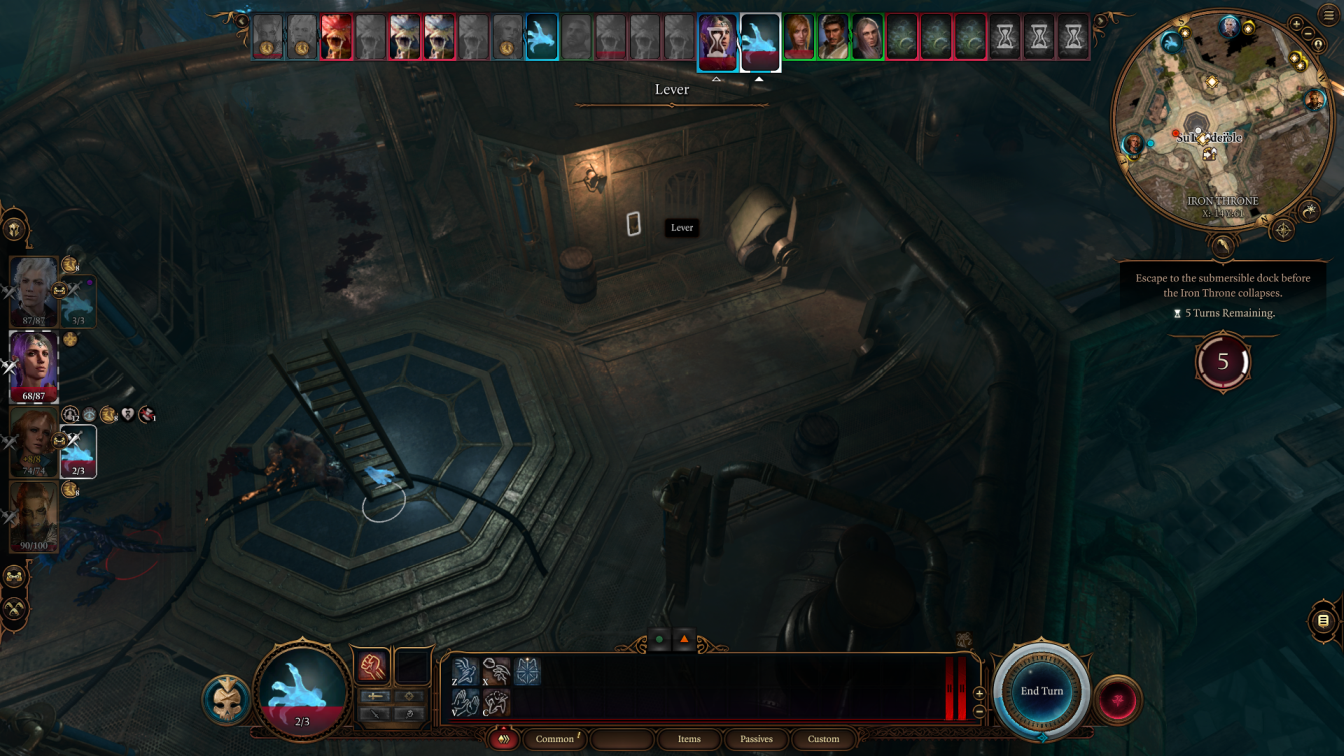 Turn 3
Now, it's all coming together!
Lae'zel:
Begin with Lae'zel. Use her to open the first prisoner cell and then the second.
From there, you should be able to jump into melee range of the closest monster and take them out without much trouble. Loot them.
Then, use your ranged attacks and action surge to eliminate the second one, and your turn is done.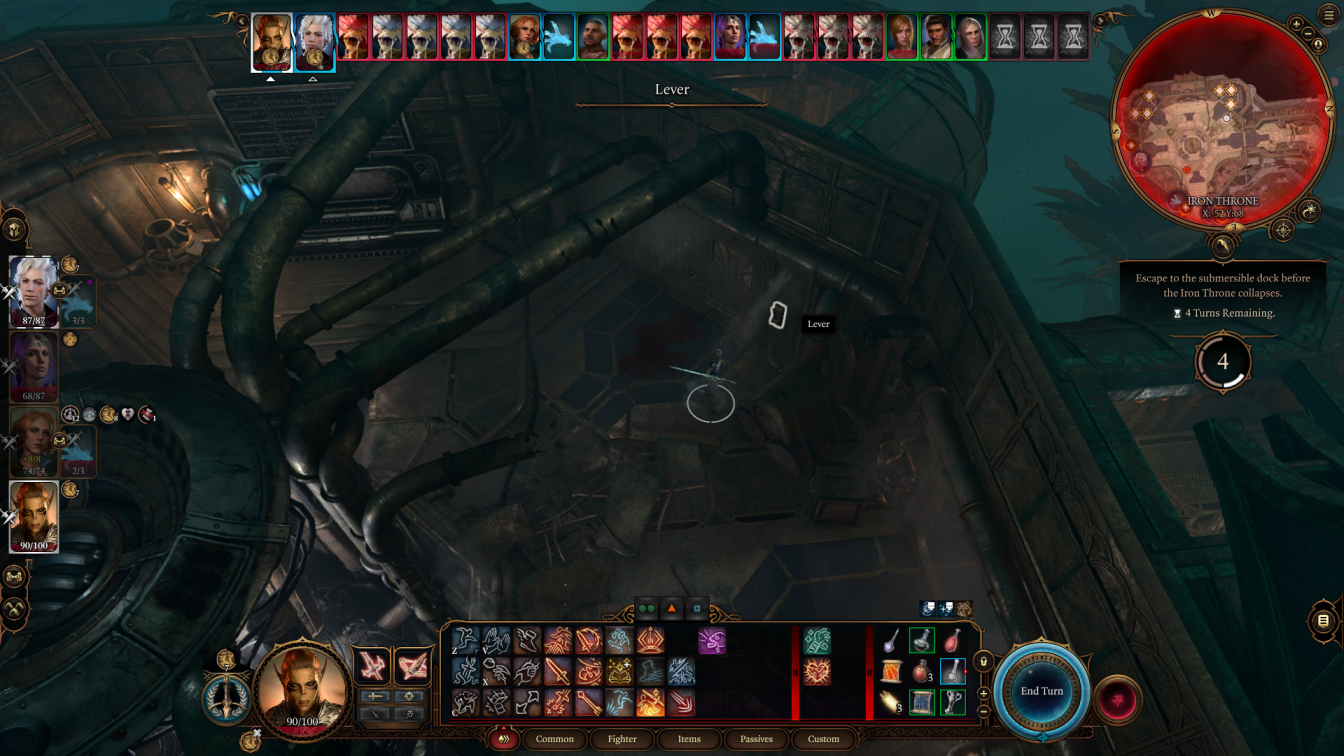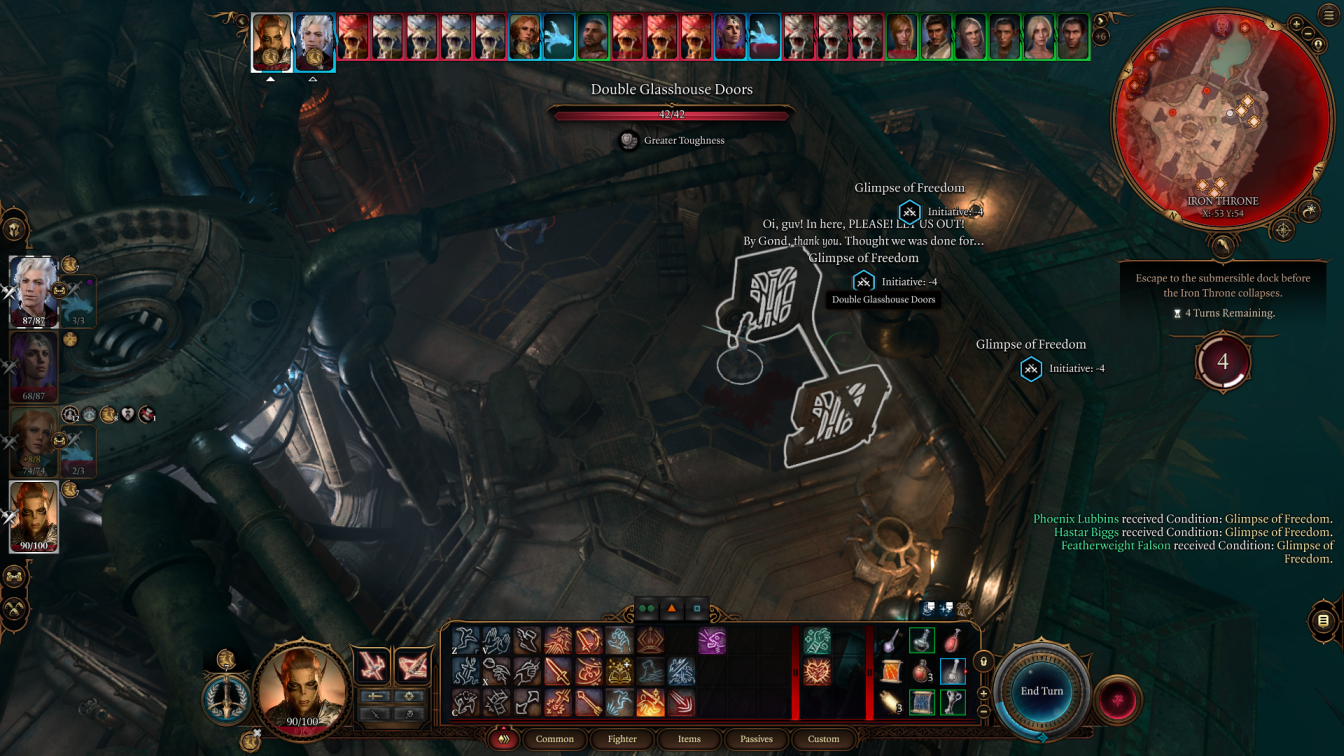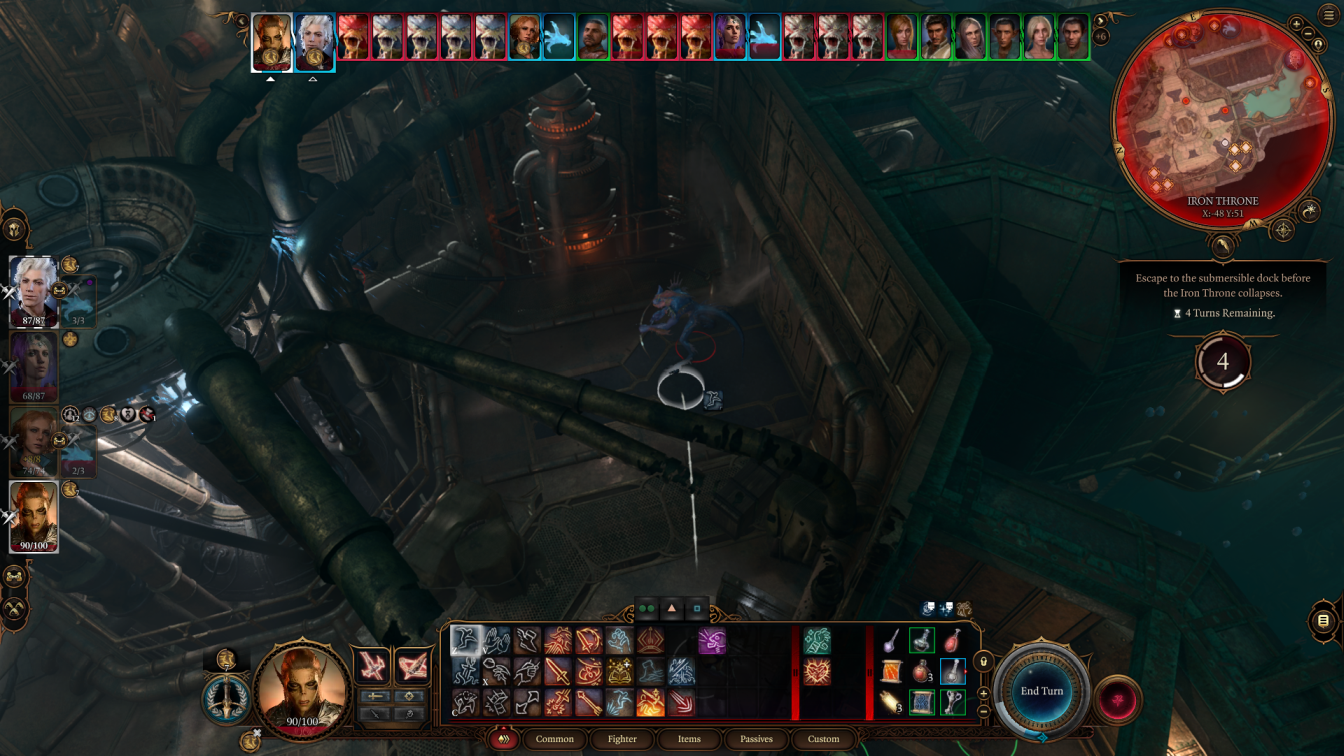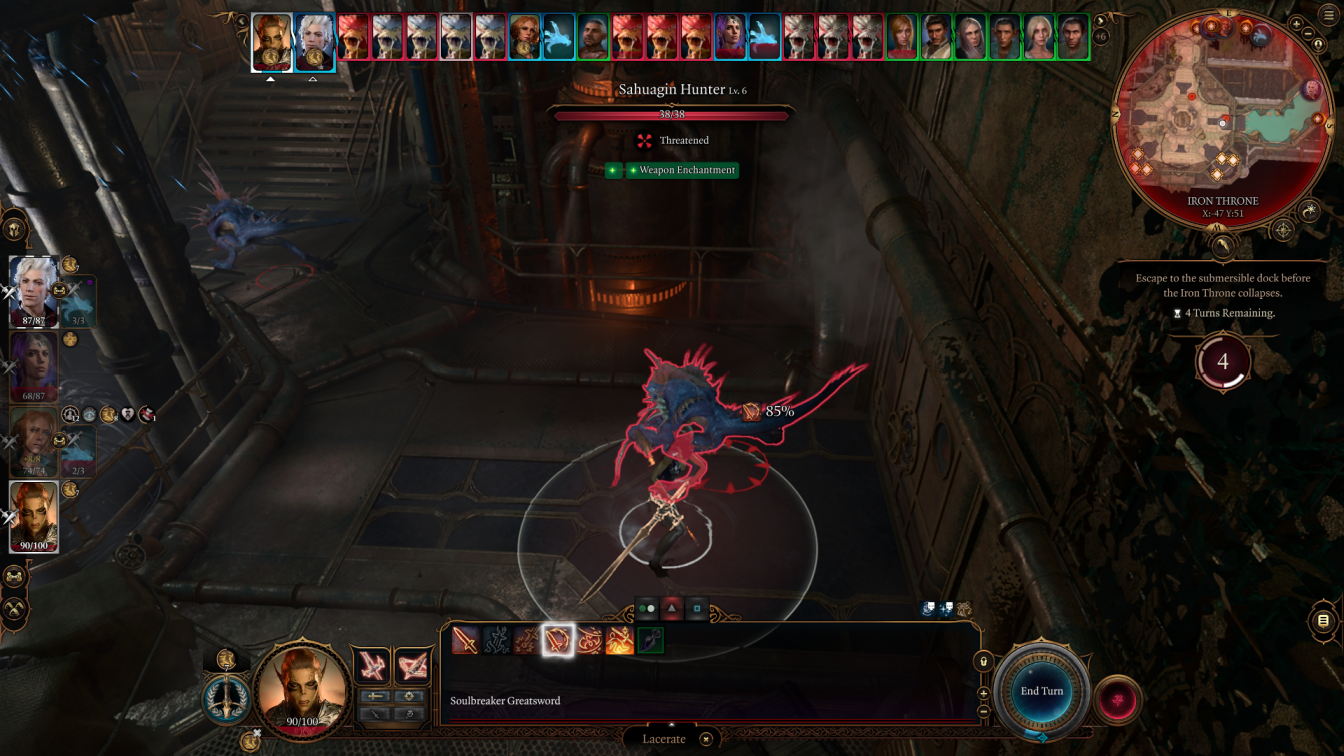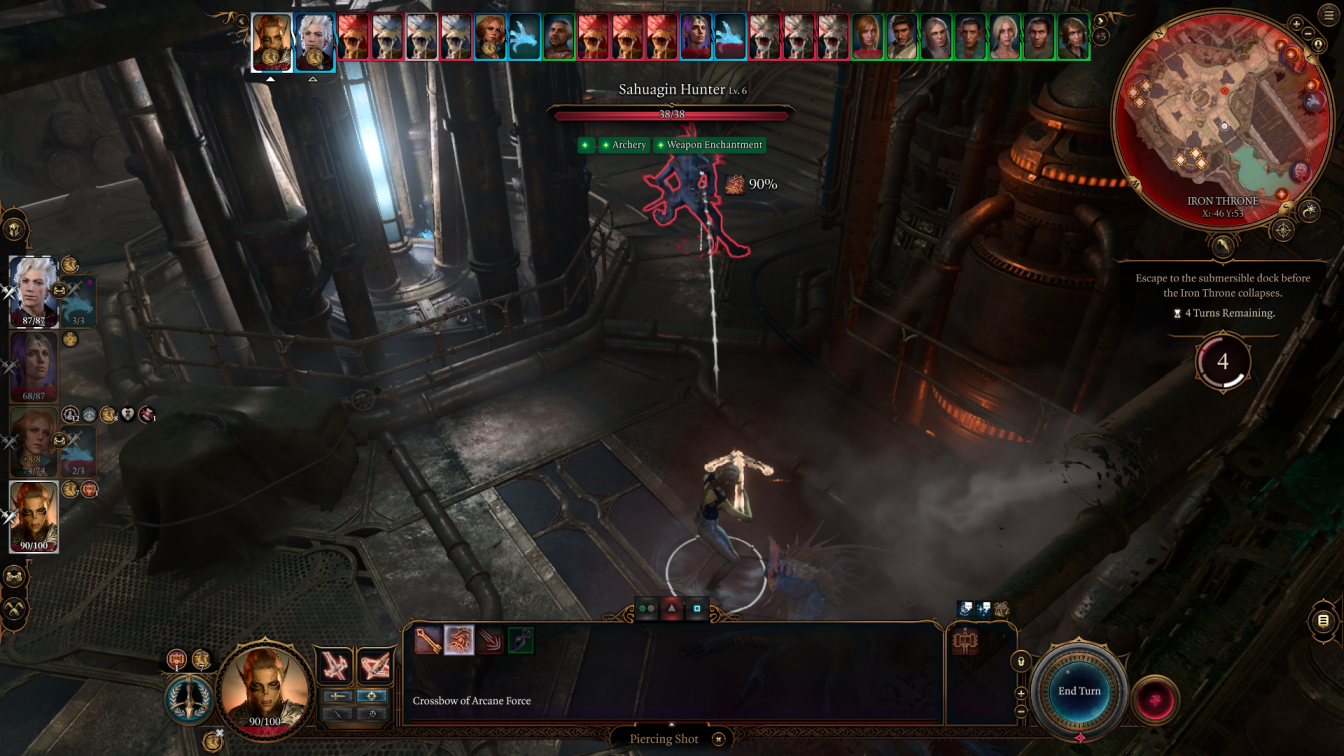 Astarion:
Astarion should now be in Omeluum's room. Loot the chest, grab the specimen, and free Omeluum. It's pretty straightforward.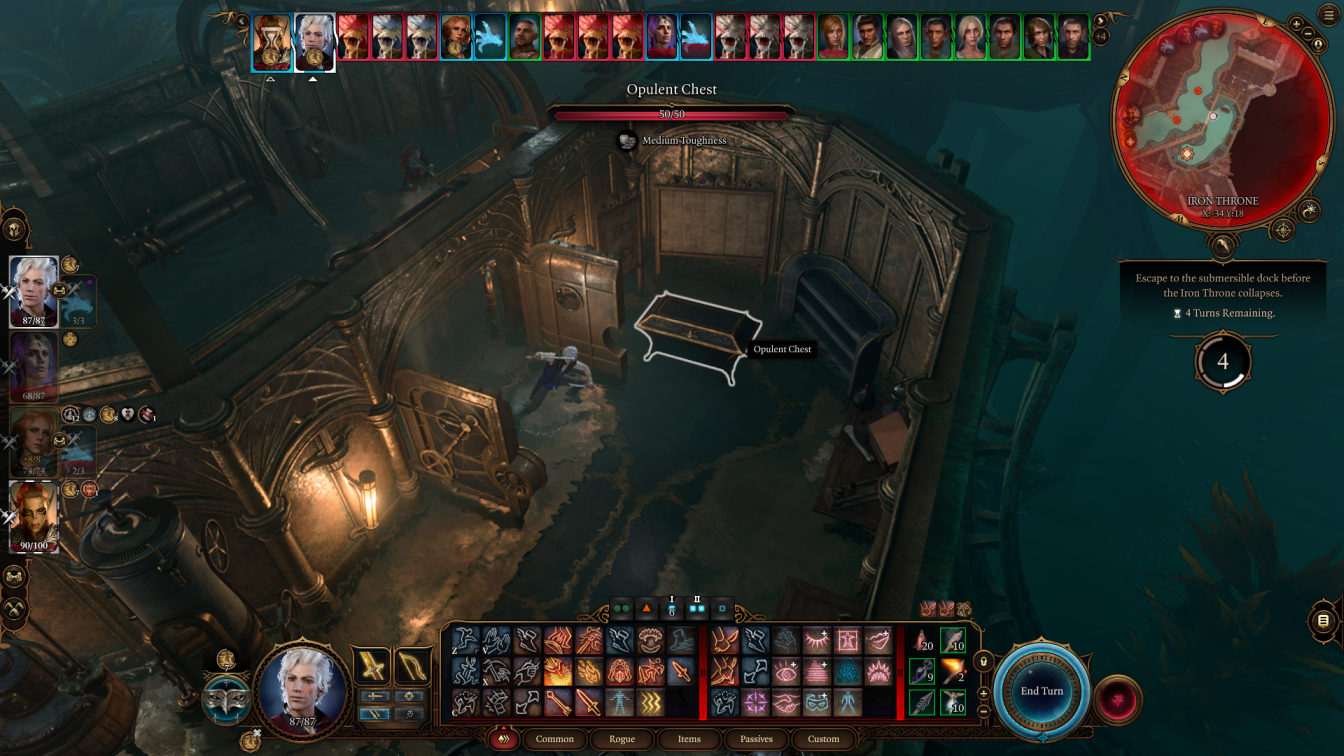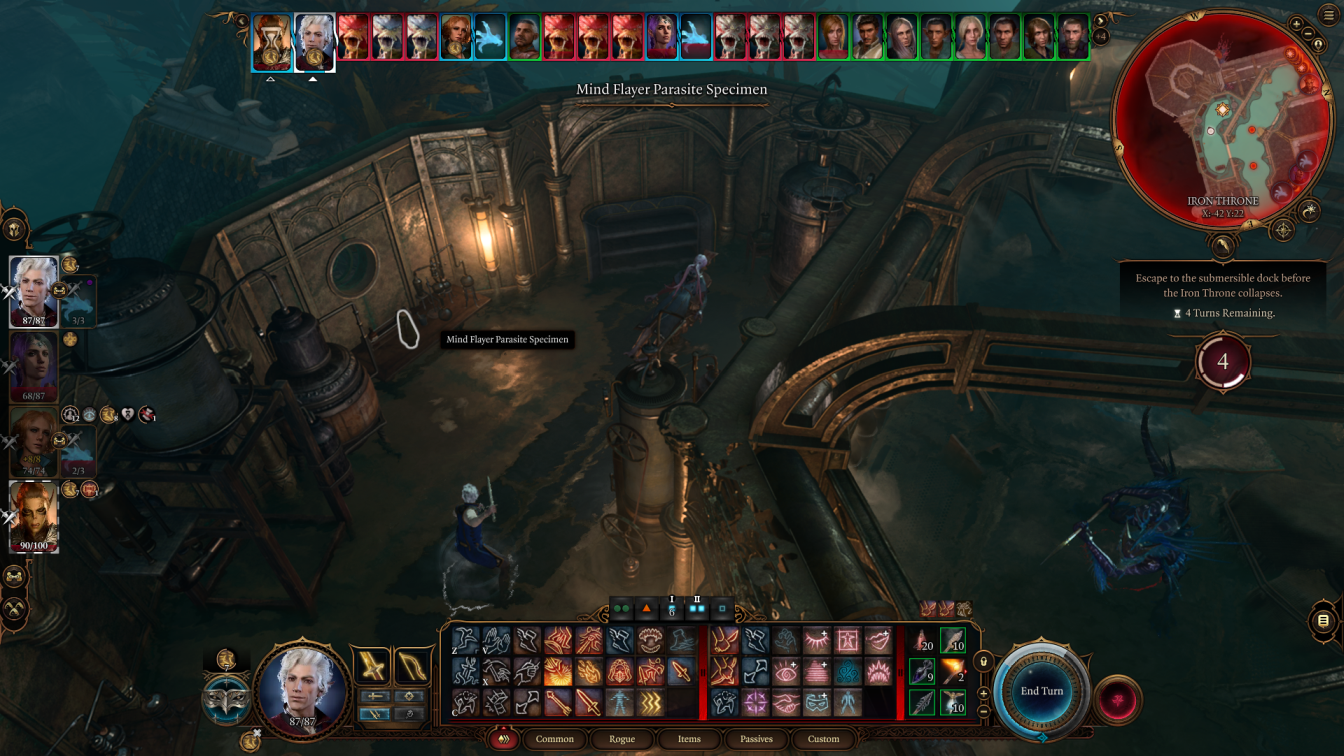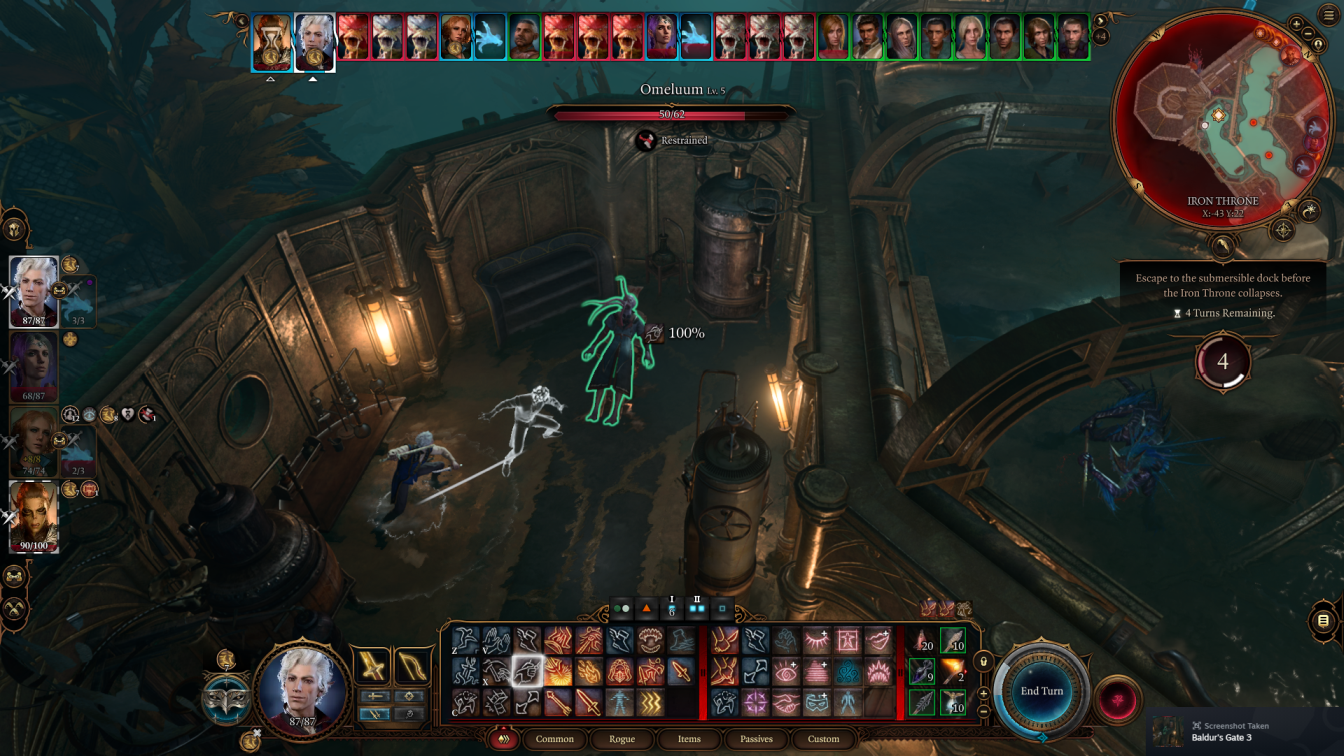 Wizard:
Next up is your Wizard. Open the Duke's cell, grab the note, and loot the chest.
After that, take a Superior Healing potion and throw it at the Duke. Position yourself roughly in the middle of the room, and end your turn.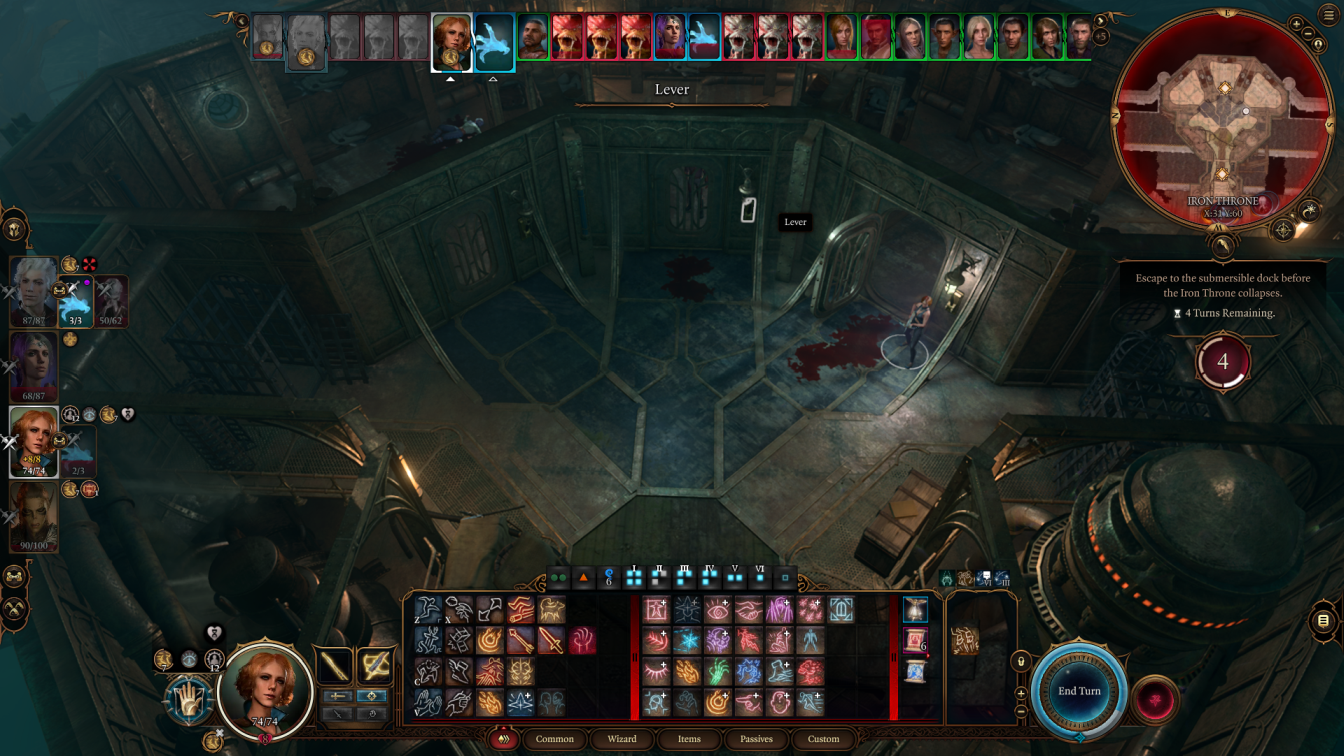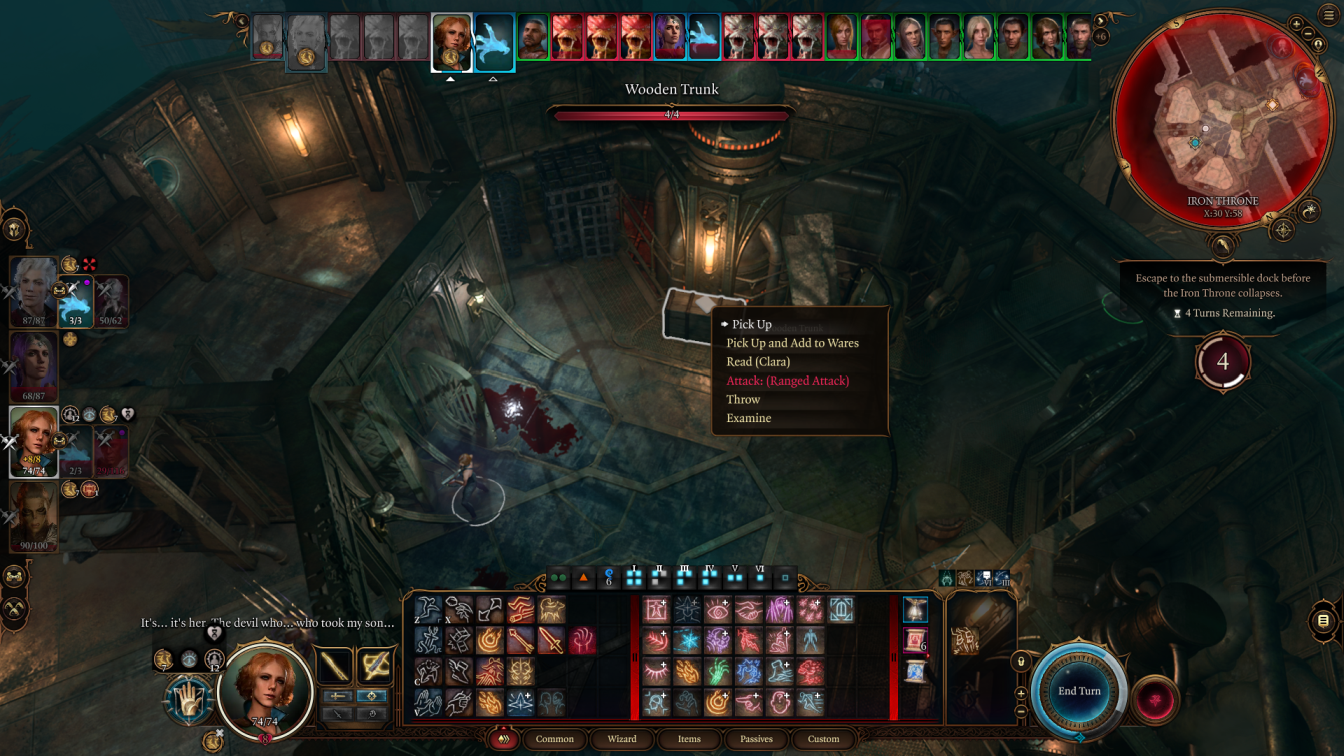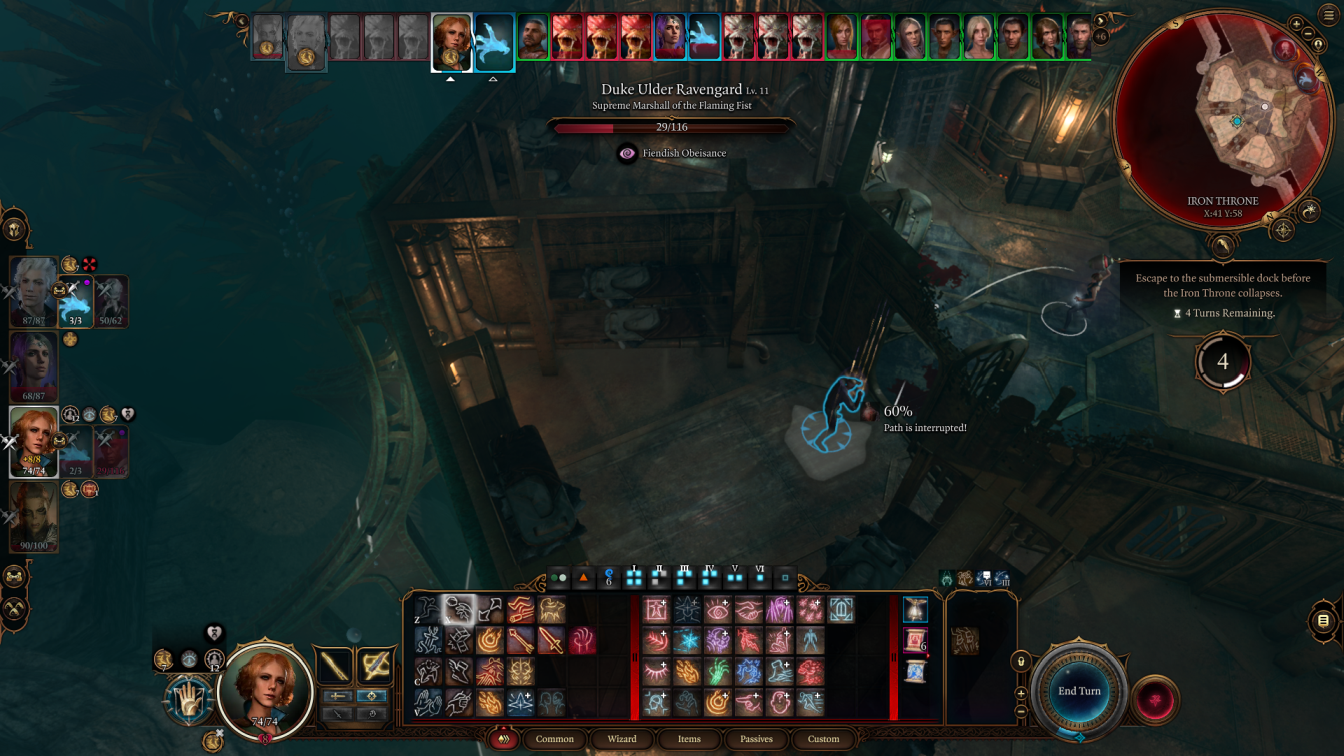 Mage Hand:
Now, Astarion's Mage Hand comes in very handy!
The prisoners Astarion rescued should now be out of the room. Use the Mage Hand to pull the lever, closing the door and trapping a couple of monsters inside. This prevents more monsters from reaching the central area in later turns.
You're done with this Mage Hand for now, but you can send it back to the central area just in case.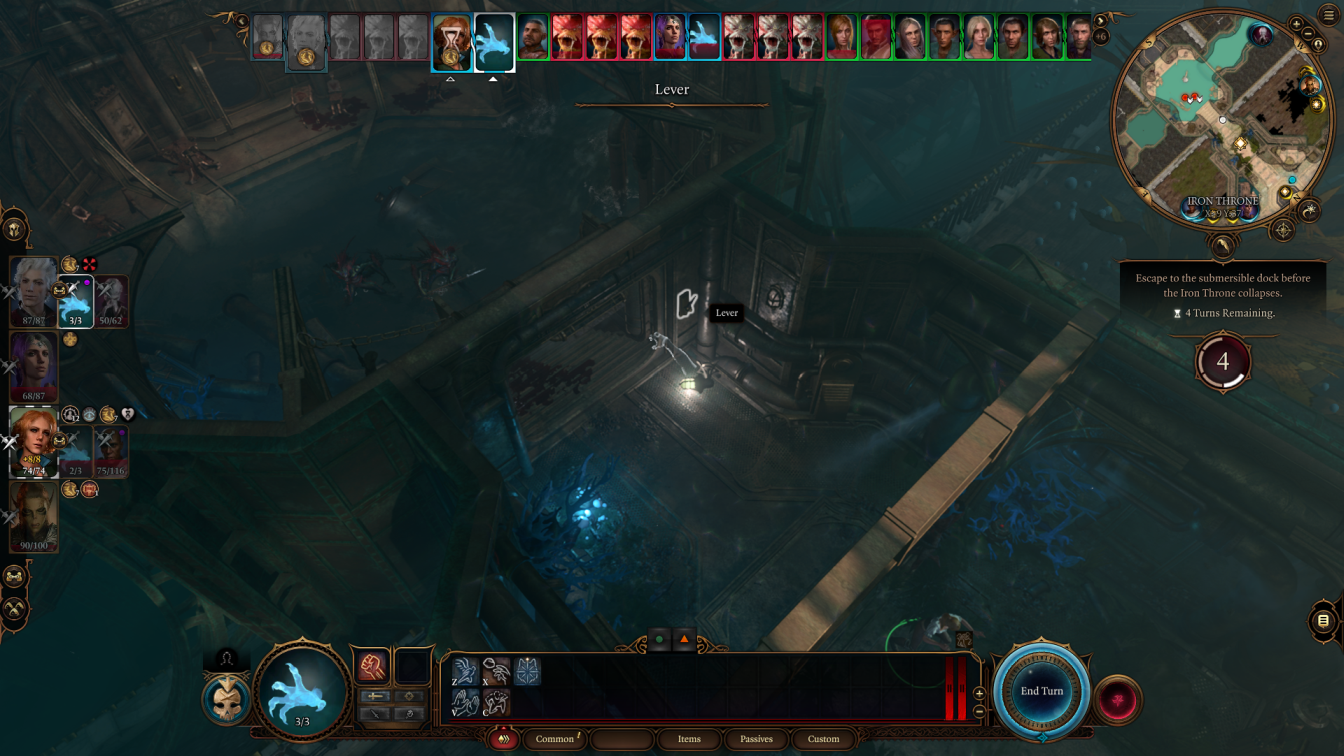 Shadowheart:
Shadowheart is up. If you're lucky and two of the monsters are close together, you can deal a lot of damage with a flame strike. If not, do your best. If any prisoners have been hurt, use mass healing word.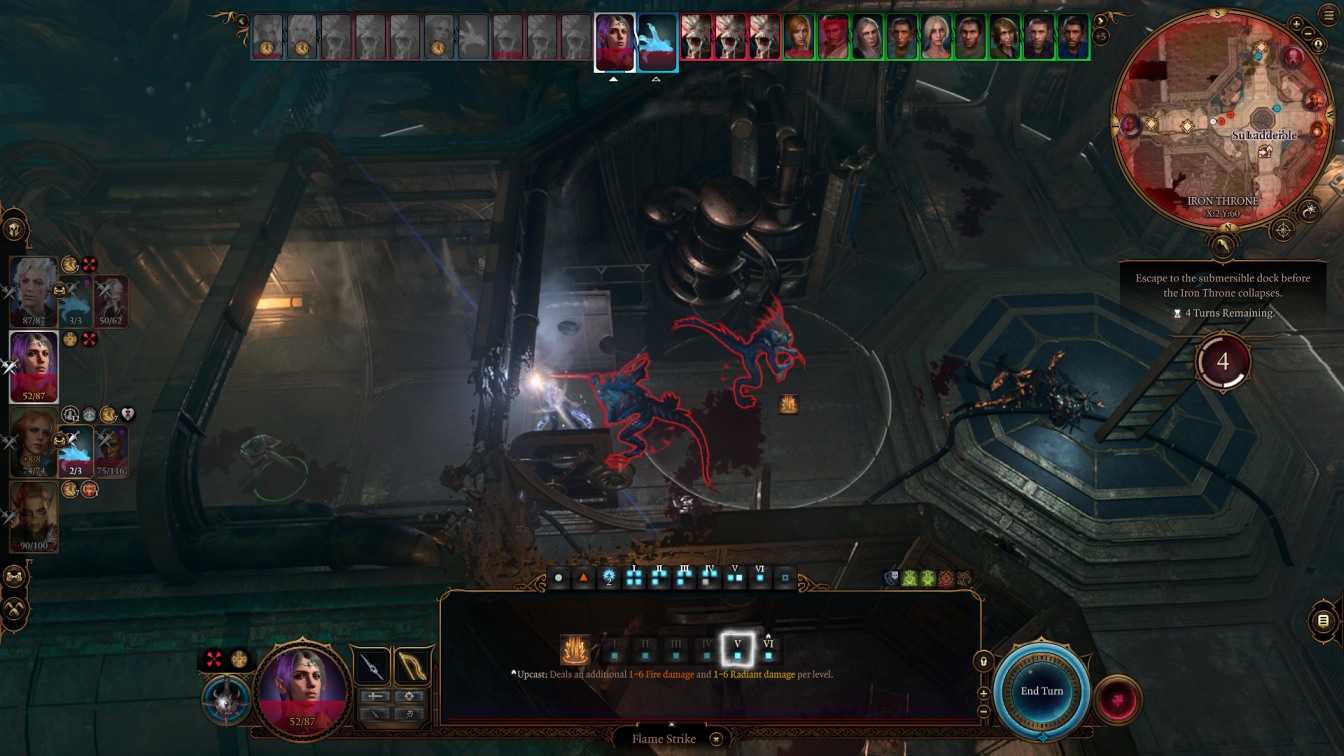 Omeluum:
Omeluum is now free. Use his teleport spell to send him and Astarion back to the submarine.
Duke:
The Duke can now leave his cell and should have fairly good health. Send him out. Don't worry too much about the monsters; he should be able to handle them.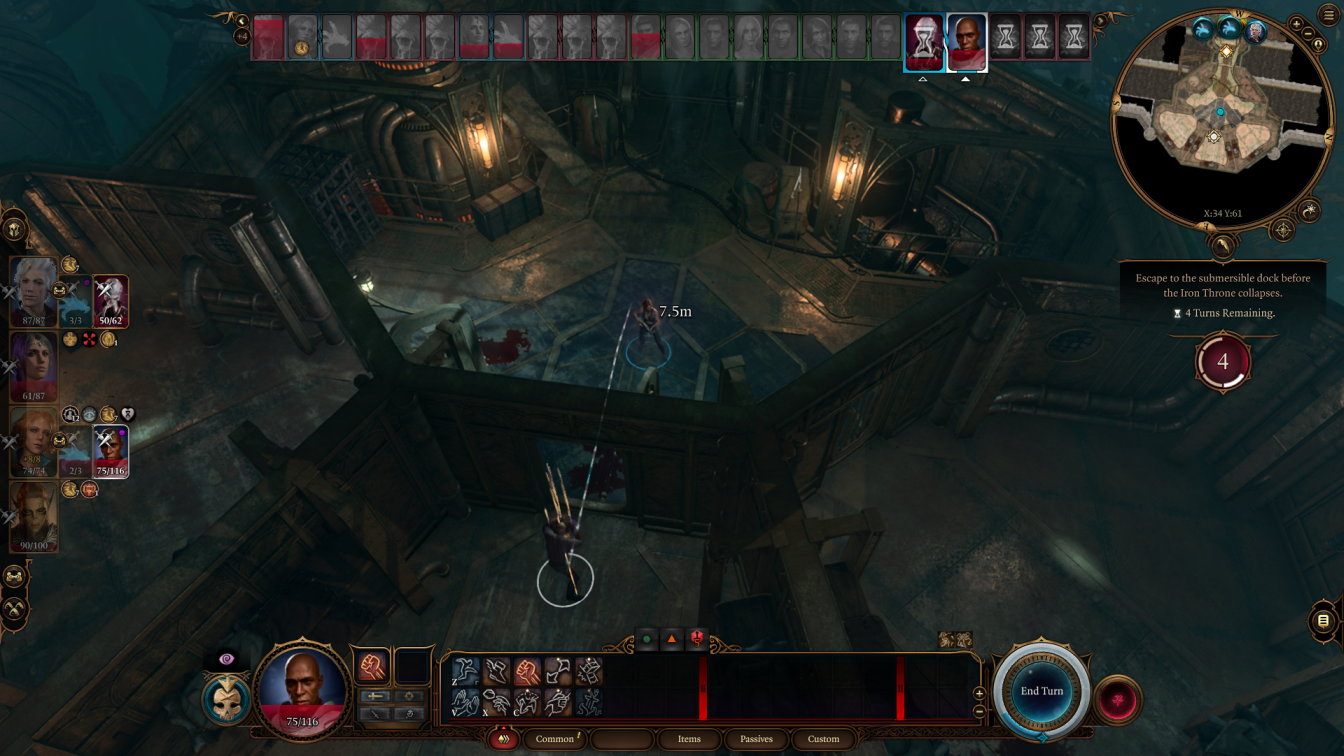 Turn 4
Now things are pretty straightforward.
Lae'zel:
Run Lae'zel into the middle of the map and eliminate any remaining monsters.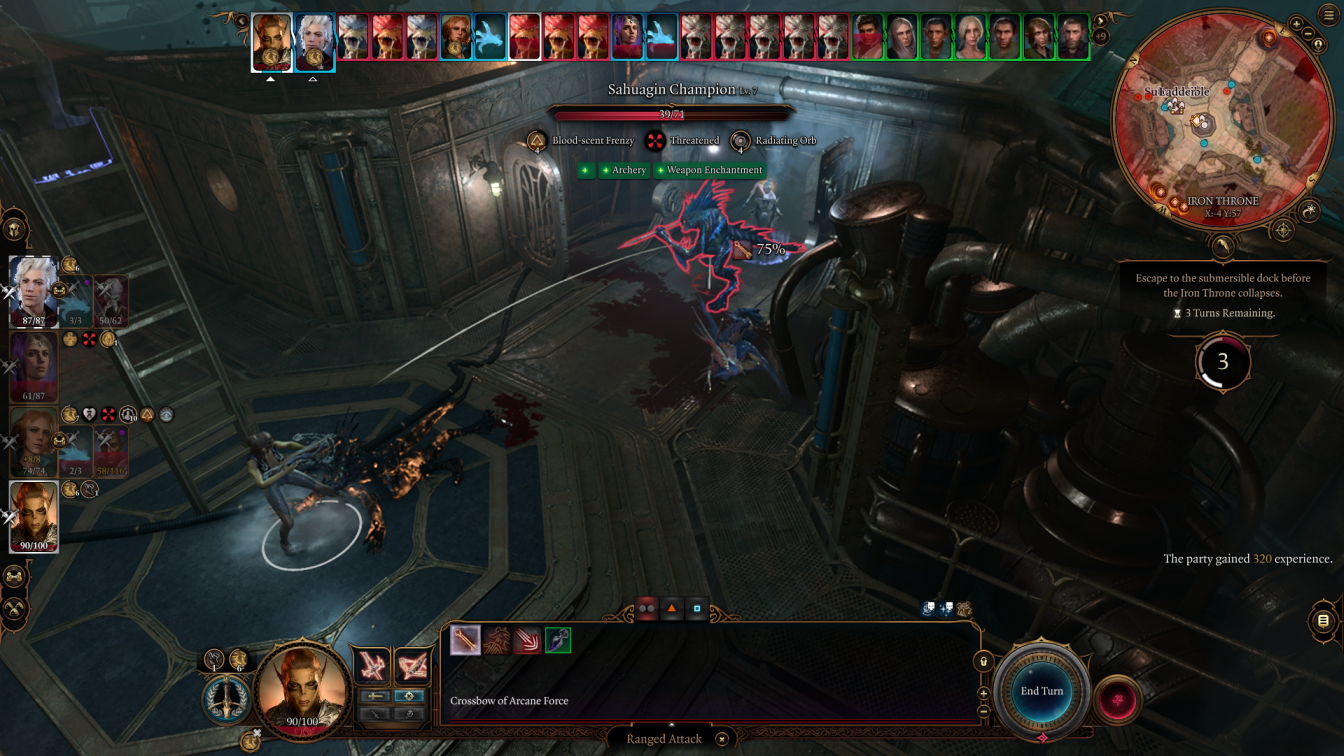 Astarion:
Have a seat in the submarine and take a breather.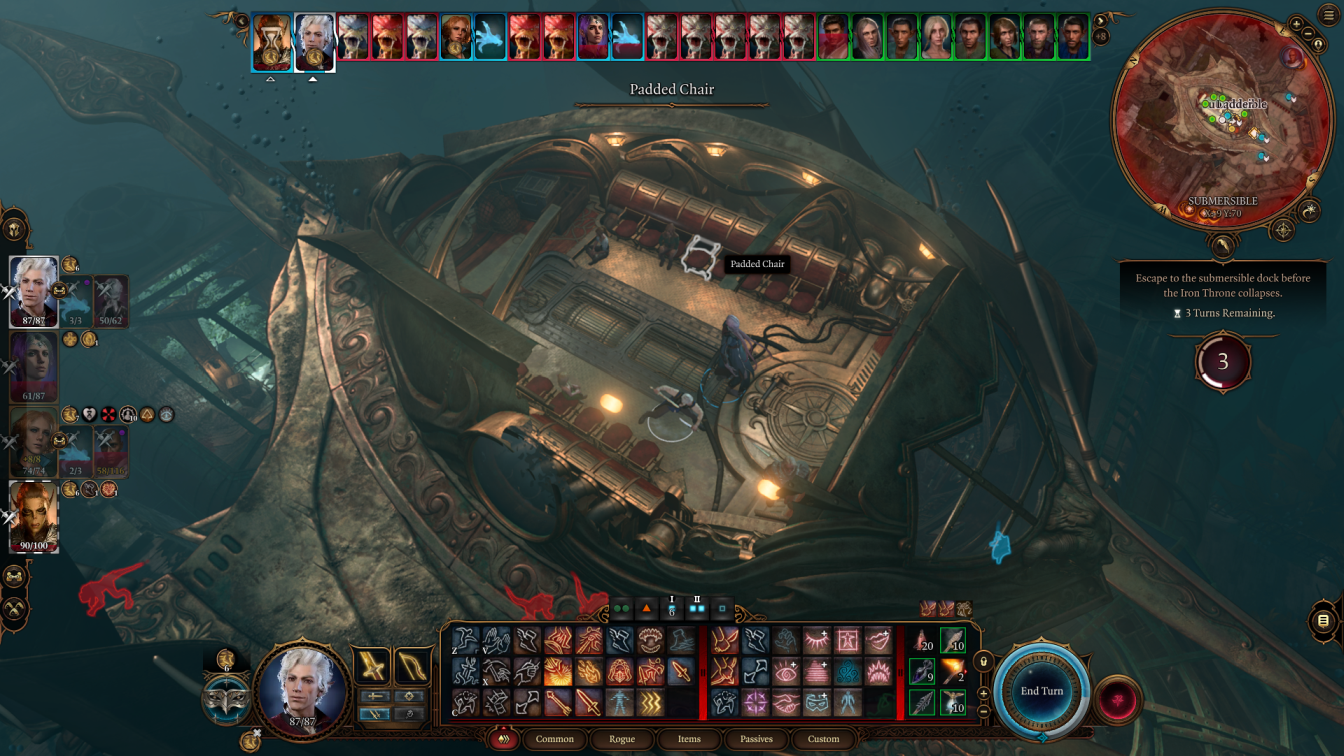 Wizard:
Use a scroll of dimension door to teleport yourself and the Duke out of the room.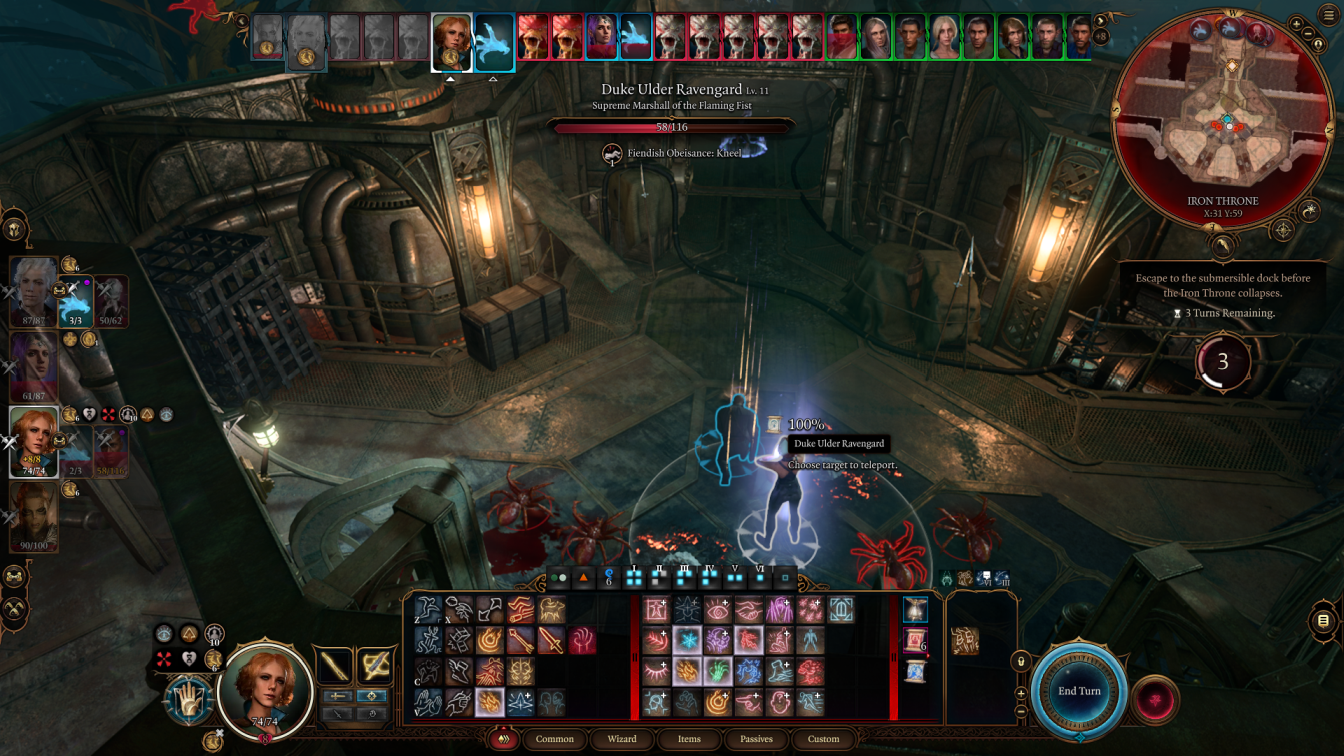 Pull the lever, trapping the exploding spiders behind you.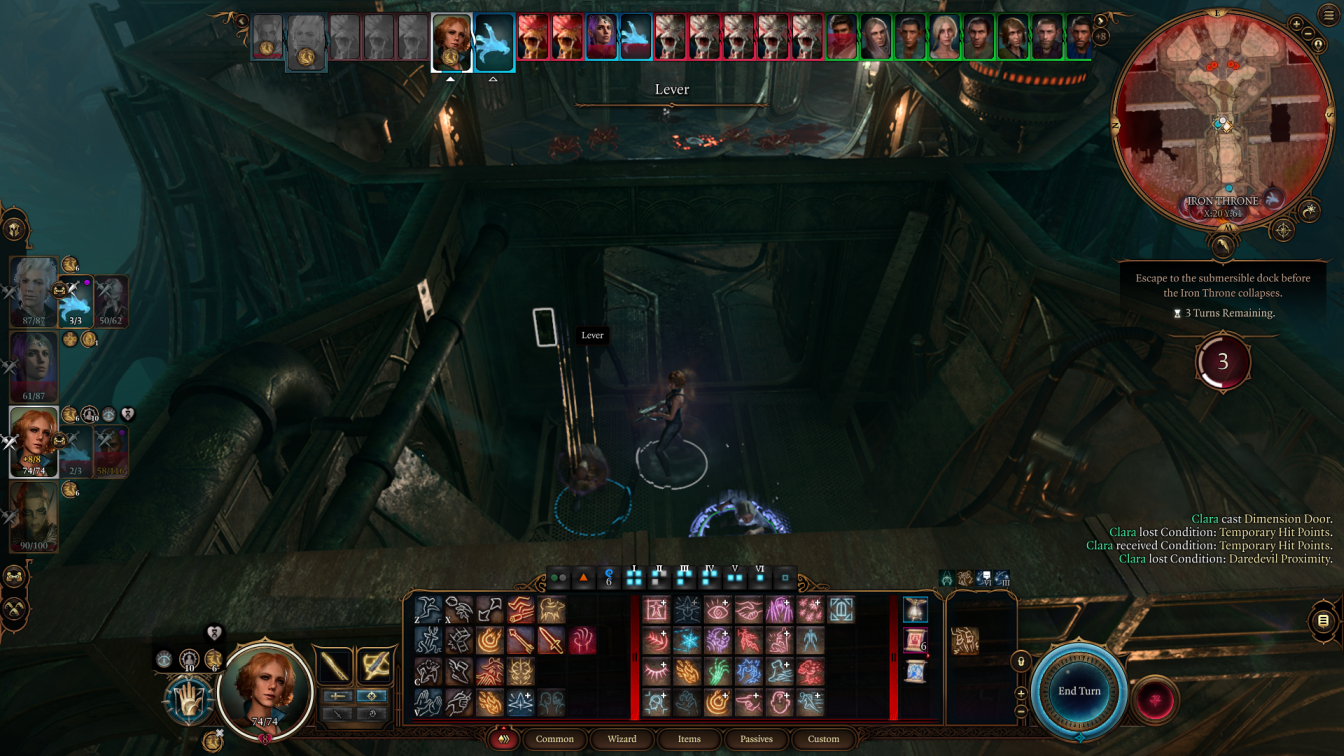 If you want, you can use a second scroll of dimension door to move the Duke further along.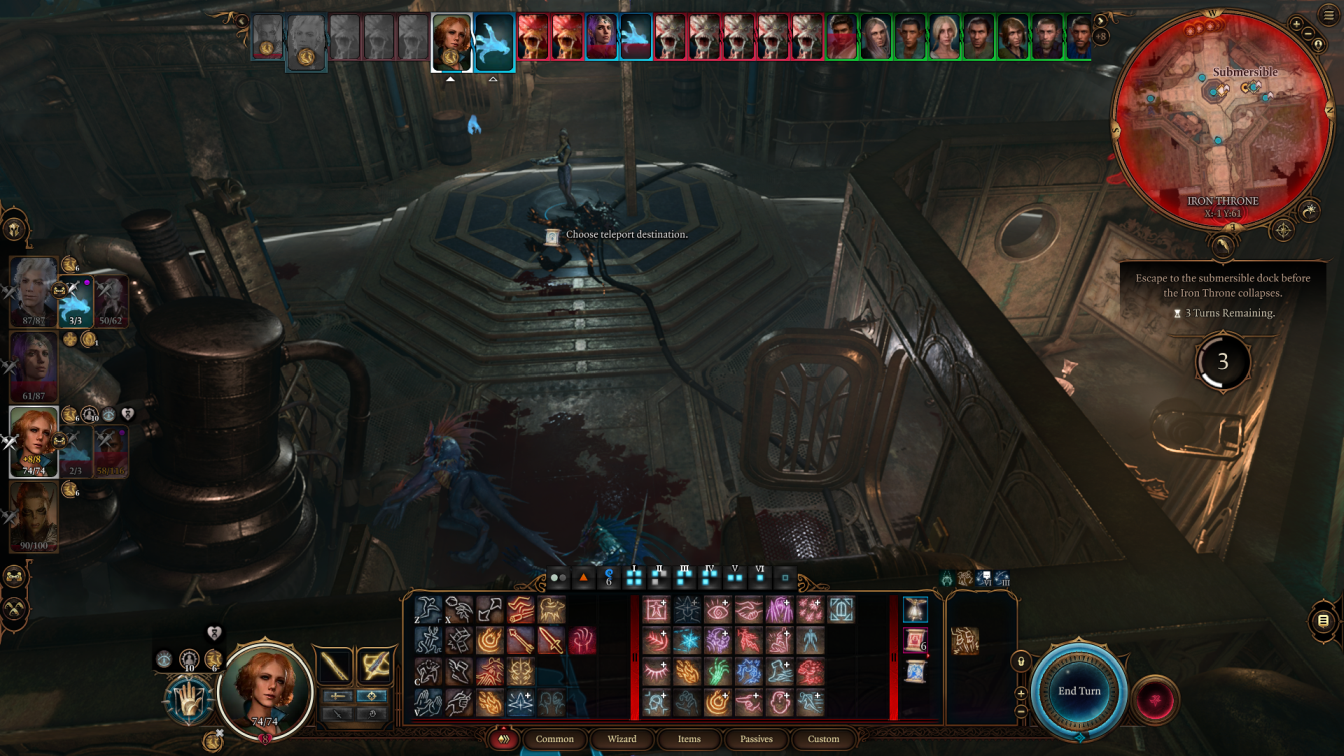 Avoid using arcane gate as it requires concentration, which will break your haste concentration and trigger fatigue.
Shadowheart:
Shadowheart can also relax in the submarine now.
Turn 5
We're almost there.
Lae'zel:
Send Lae'zel up the first ladder, loot the book and infernal iron, and then send her into the submarine.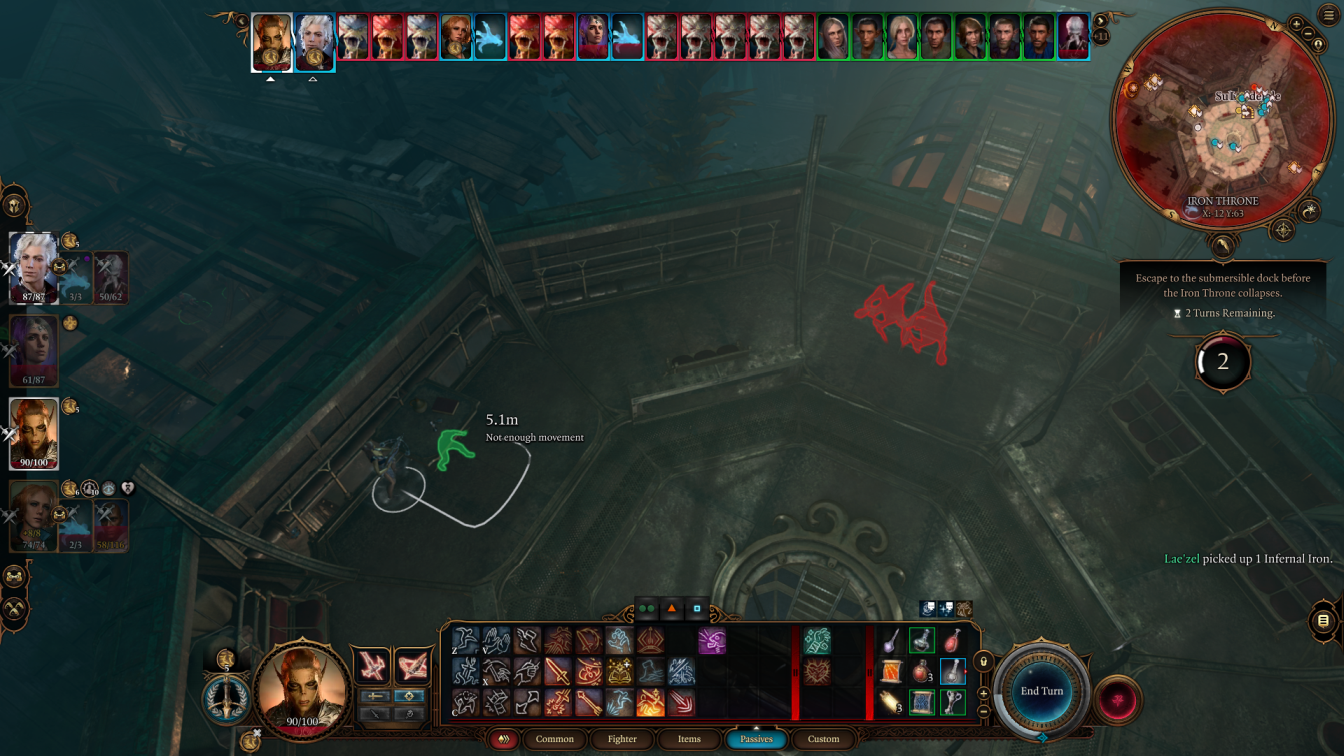 Wizard:
You can send the wizard to help the last prisoners get in, or you can just wait. They should make it there in time.
Don't send them into the submarine, though, as they are your last party member, and it will trigger the evacuation.
Instead, wait by the ladder to the submarine.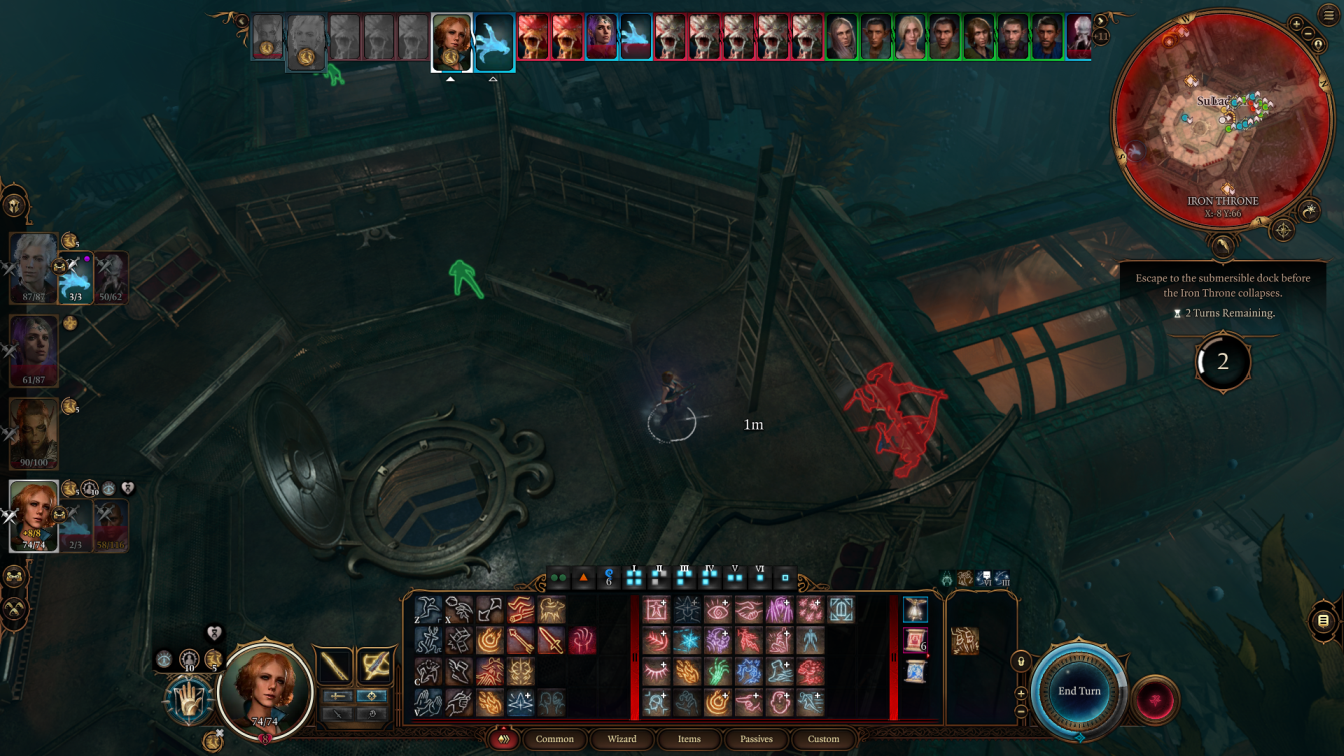 Omeluum:
Send Omeluum outside the submarine, next to your Wizard. Since his turn order is last, we'll use him to give the prisoners enough time to get to safety.
Turn 6
Once all the prisoners are safely inside, use Omeluum's teleportation ability to send him and your Wizard inside the submarine. Job well done, and your party is barely scratched. Great work!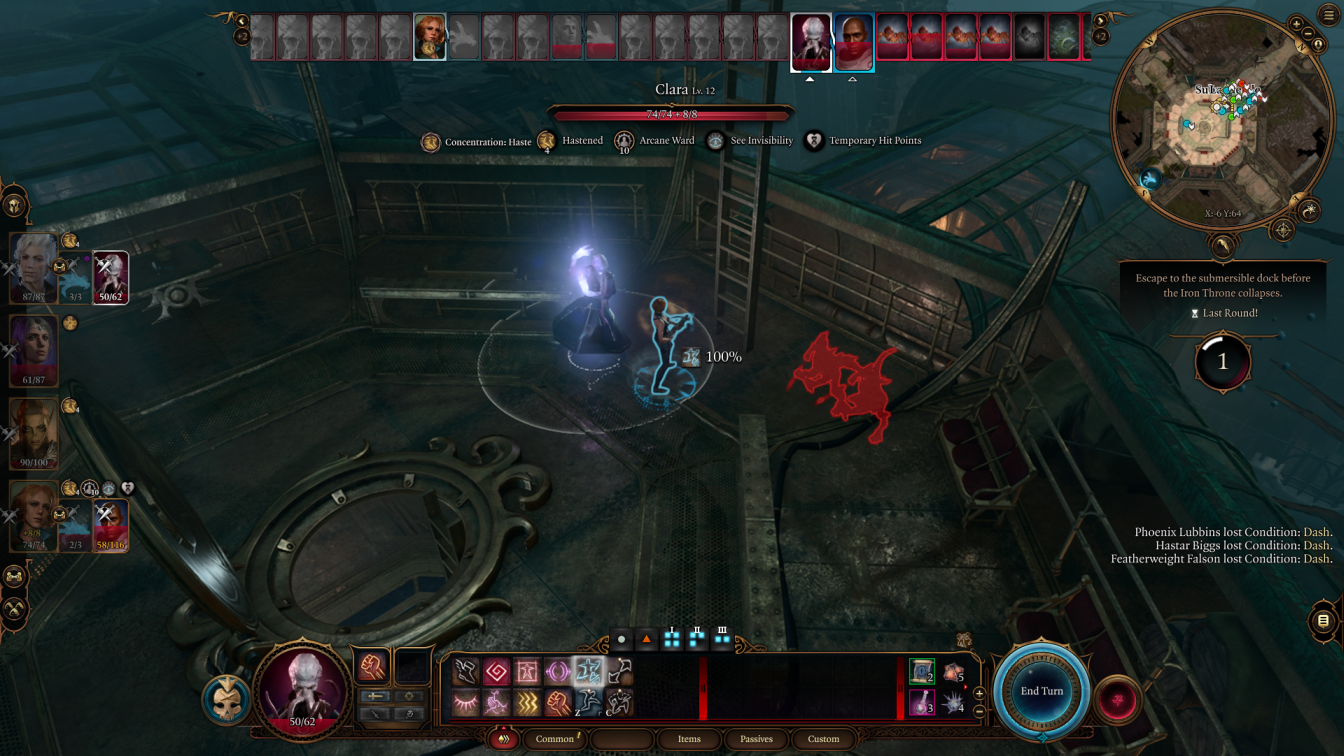 Escape!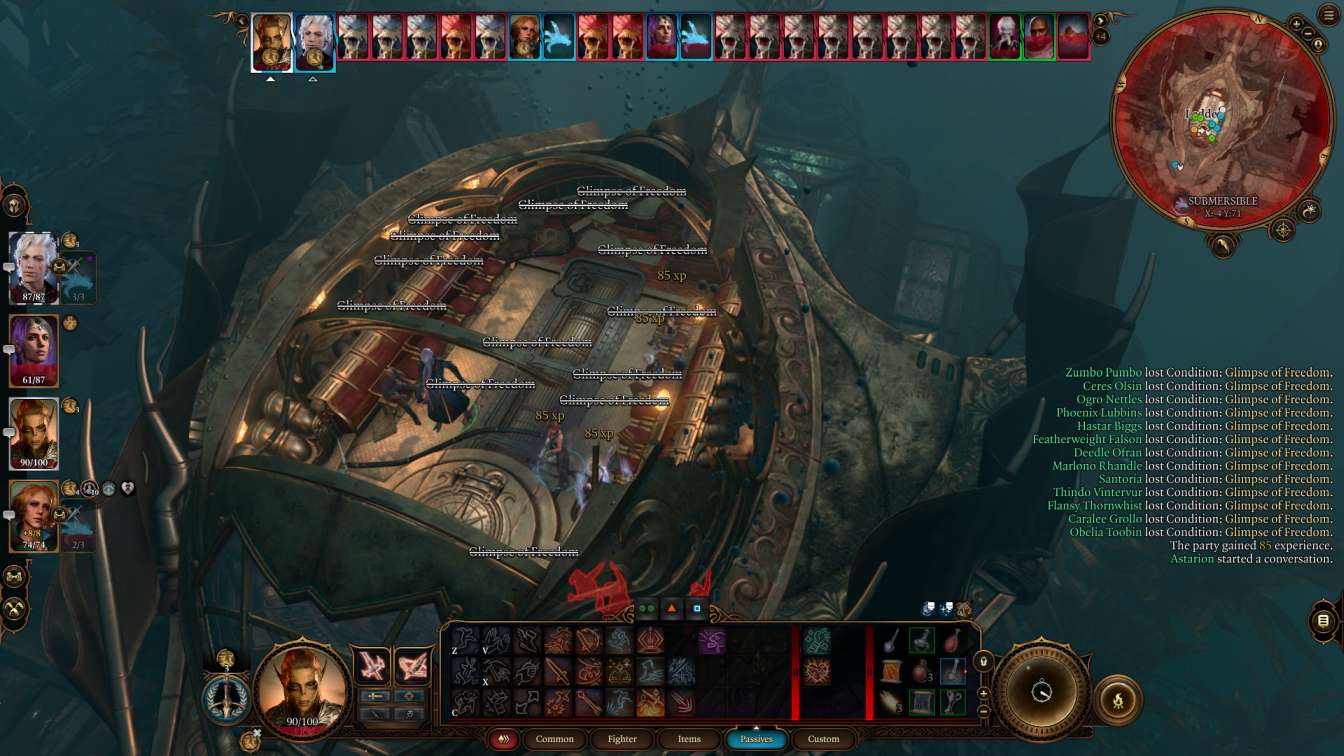 That's everything we are sharing today for this Baldur's Gate 3 guide. This guide was originally created and written by Greyscale. In case we fail to update this guide, you can find the latest update by following this link.
If you believe that any of the content on this site violates your rights, including your intellectual property rights, please contact us immediately using our contact form.