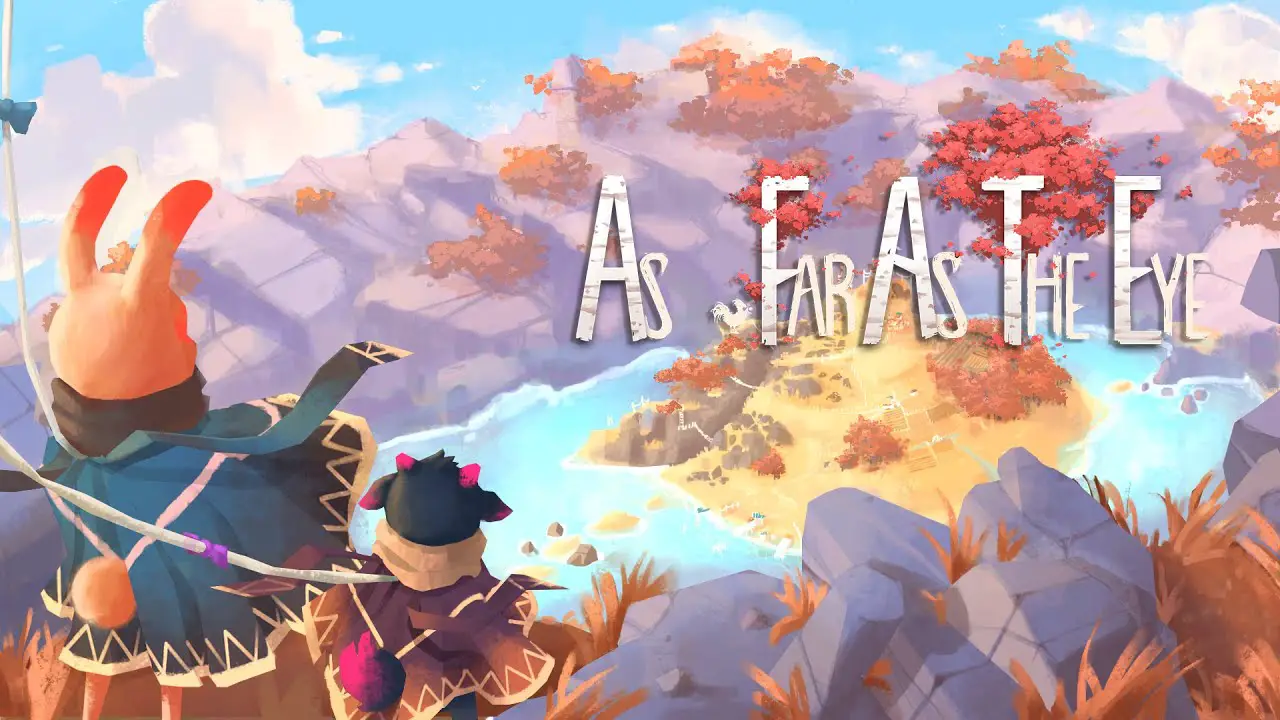 Here are some of the tips and strategies that you can use to survive in the world of As Far As The Eye game. Due to the current status of the game, you may also find some exploits included in this guide. Make sure to use it wisely.
The Beginning: Rolling Your Tribe Members
This game is a LOT of RNG. As a result, you can get some pretty terrible traits on your characters that will make it extremely difficult to win. Unless you're trying to build a sizable win streak, there isn't much of a penalty for simply quitting the current campaign and rerolling.
You can go here to look for the full chart, but I'll point out some of the best traits to look for and some that will make it extremely difficult:
Agile: This Pupil takes 1 less turn to harvest. Less time harvesting EVERYTHING means faster resources. This one will easily increase production by 33% or more.
Expert: Randomly picks a specialized trade, and you can get both traits when you reach those tiers.
Regenerating: Regen 5 hp a turn. Makes the character immune to most negative effects.
Surveyor: Build 1 turns faster. Will reduce the amount of time you need to reach the high levels of construction.
Visionary: Warns of Minor Vagaries 1 turn earlier. This guy will help on longer campaigns if you have high exp gain and plan to use the council to remove really troublesome vagaries. Removing vagaries can be extremely helpful on the long campaigns as they will come hard and fast towards the end, and some can delay your departure immensely or make it impossible to leave.
Clumsy: -5 hp per harvest. A pupil with this trait can only build or cook without killing themselves slowly. Avoid.
Eternal Beginner: One specialized trade. Not a problem at the start but you may want to reroll this guy later on. Jack of All Trades is bad in this game.
Invading: needs 2 housing when working. Housing is not easy to come by, so more housing is not good.
Glutton: eats +50% rations. -9 food a turn is quite troublesome until you get a high level cook, which will likely take you around 500 turns or more of cooking. (3+ halts).
Puny: loses 1 hp a turn. Avoid pupils that require constant healing unless you have a healer or similar
You will also get a bonus from the second game onwards. You get to pick from 3, and they can be relatively useless (such as revealing all ruins on the current map: if they are all negative, you probably won't have a druid to change them to positive, never mind if it's worth spending 5+ turns rolling the gacha for a good effect), to borderline OP (such as a free mobile bakery/cookhouse on turn 1. That is a 300 resource building + 5 turns that your builder doesn't need to spend).
Jobs are not as important, as you can pretty much train for everything, even druid. That being said, a level 3 cook-off the bat is great because it levels so slowly and will help immensely with your food drain.
Basic Gameplay Tips
Starting off on your journey, take a look at your initial destinations and then see how you can fit your guys into that. See a lot of demand for stone? Better train a specialized stonecutter, and a mobile quarry might be a good idea.
You will typically get around 200 turns per halt. Don't feel like you need to rush through each one, especially at the start. Preparation is the key. Later on, you may encounter some rather unpleasant halts. Personal experience, I ran into one that spawned no wood. Luckily, I brought enough mobile buildings and wood to get by, but that could have been a dead-end for me otherwise.
Your first major choice in the game will be to decide how to feed your people. Do you want to use farms and pepkins, or meat and fish? Bakeries need grain to operate but can combine grain with basically any other ingredient to make food, including meat and fish. A cookhouse, on the other hand, will mostly combine fish and game with either pepkins or spices.
Ideally, you will want to gather enough materials to construct a mobile bakery or cookhouse, because each permanent one will cost you 100 wood and 50 stone or ore. Very expensive to leave behind, and you don't want to have to spend time gathering resources to put one up if you leave your previous halt with very little food and resources. In addition, if you get the "unlock recipes" upgrade on it, you won't need to wait till your cook is high level to use some of the more efficient recipes.
Following that, some basic tips:
The caravan has a multifunctional upgrade, which allows you to gather either stone, ore, wool, meat, fish, or spices without the corresponding building. Even better, there is no limit on the number of workers that can do so, unlike a normal building (without the workshop upgrade). 750 parchments to upgrade one type of resource. I HIGHLY recommend you decide which buildings you will carry with you and which ones you will mostly rely on this to save you time and space.
Fully exploring a halt will give you 500 or more parchments. As a result, two caravan upgrades: Flying Beast (caravan ignores movement penalties except for mountains) and Vision (+1 caravan vision) will allow you to fully explore even a large halt in around 8-10 turns or so and will pay for themselves very quickly.
The camp can be upgraded to house 3 additional workers, so you only need a second camp if you plan to have more pupils.
Each mobile building will roughly take up a 3×4 space with some gaps. It could be cheaper to simply bring the resources, but each building can be upgraded twice, and high-level architects and engineers can build or deploy buildings in one turn. Mobile buildings are especially nice in that you can move them to new resource deposits once you've exhausted the previous ones. For example, if you plan to go to bakeries, a mobile farm can save you a lot of wood down the line. That wood is also time spent by a worker that could be doing something else and eats food while collecting said resources. On the flipside, I wouldn't bother with a mobile lumber mill because they're so cheap (only 40 wood to build).
Workshops can be upgraded to allow two workers to work out of the same building. This is useful for a variety of reasons, but most importantly, it allows two workers to work in the SAME hex.
If you see a lot of protected halts, investing heavily in a druid may save your butt. The council has a 350 parchment upgrade "Kindness", which is effectively the same as the druid lvl 2 skill that allows you to soothe without channeling. Permanent soothing and a council can effectively neuter a protected halt's negative effects. The caravan upgrade soothing beast is also an option, but because there are vagaries that will reset auras, they will reset the aura that was soothed by the beast, and then you'll have no recourse but to use a worker every 20 turns again anyway. In addition, you will lose one space to put your camps, councils, or workshops in.
If you get the hill adaptation upgrade, you can use councils, workshops, camps, and markets to turn them into plains by constructing on them and then canceling the construction. It seems to be a bug because reloading the game will turn them back into hills.
Fire is very buggy in the game. If a building gets caught on fire if at all possible, avoid leaving the halt with it still on fire, or potentially consider leaving the building behind. If you leave, it will tick all the fire until it goes out, and the building's HP can potentially go negative. This will make the building unworkable and unrepairable, but it will still take up a cell, hurt anyone walking through, and potentially make your worker bug out. Reloading will make it worse.
If you see amnesia as a vagary coming up, using the workshop to save your parchments is an option. Build it the turn before, then cancel construction to get your parchments back.
Council Upgrades
The Council is an exceptionally powerful tool for smoothing out the RNG on your journey. However, upgrades are not cheap, so be judicious in your purchases.
Make-over (500) is completely random, so you may or may not get a better roll.
Kindness (350) at level one basically removes the channeling cost of soothing auras. It's a fantastic combination with the ever-soothing druids.
Solid Structures (40 ore, 400 parchments) reduce building damage by 50. This trivializes a lot of the building damage vagaries, a great investment.
Ritual (300, 500, 800) deletes the next vagary. This is especially useful for pesky building damage vagaries, vagaries that eat your resources, or worse, ones that add additional resource requirements to leaving. Best combined with,
Prediction (300), which predicts minor vagaries 5 turns earlier than usual. This lets you queue up minor vagaries to see which ones are worth spending Rituals on.
Finally, end game One for All (900, lvl 3) reduces ration requirements by 6, effectively giving you a free worker.
Personally, I have found Fervor (450, lvl 3) to be of very limited use because A) you're not guaranteed to get auras at all in later halts, AND getting a matching aura with lots of that resource spawned in the same place is very RNG.
If you believe that any of the content on this site violates your rights, including your intellectual property rights, please contact us immediately using our contact form.