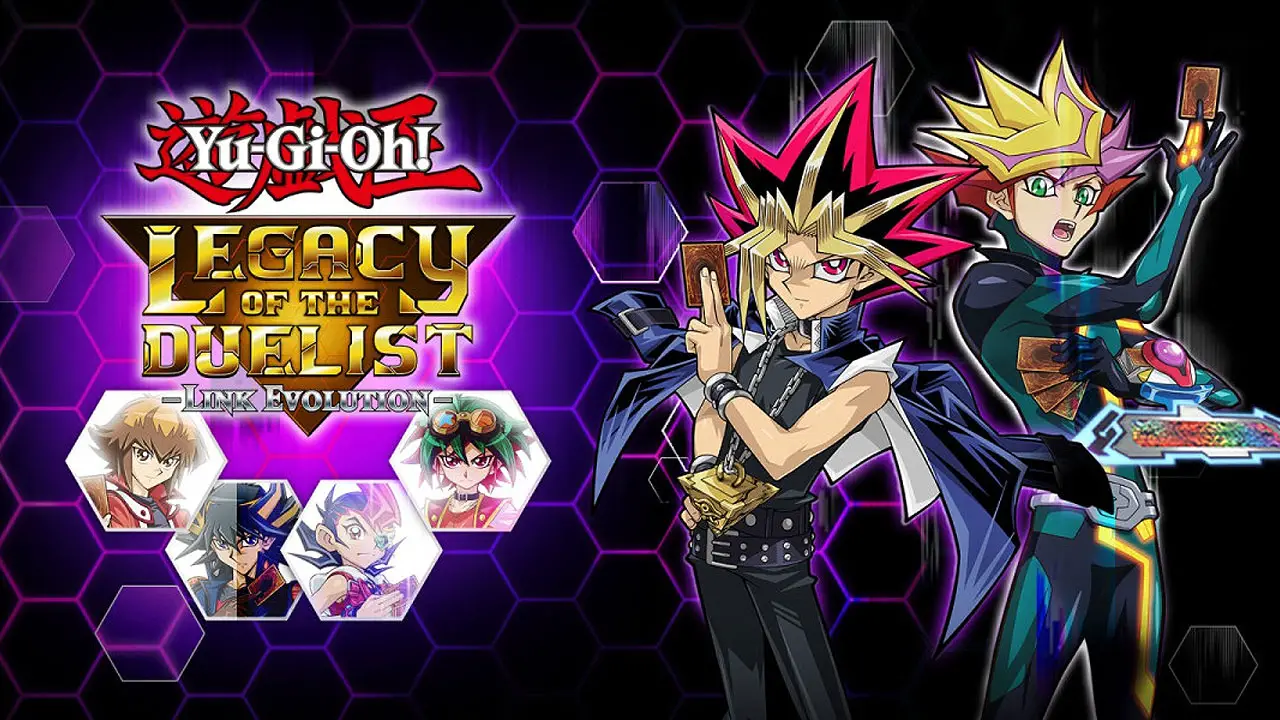 A cheap and easy-to-obtain set of cards that can carry you through most of the game.
This deck will make you some fast and easy money as well as get you familiar with some of the core aspects of Yu-gi-oh!
The Deck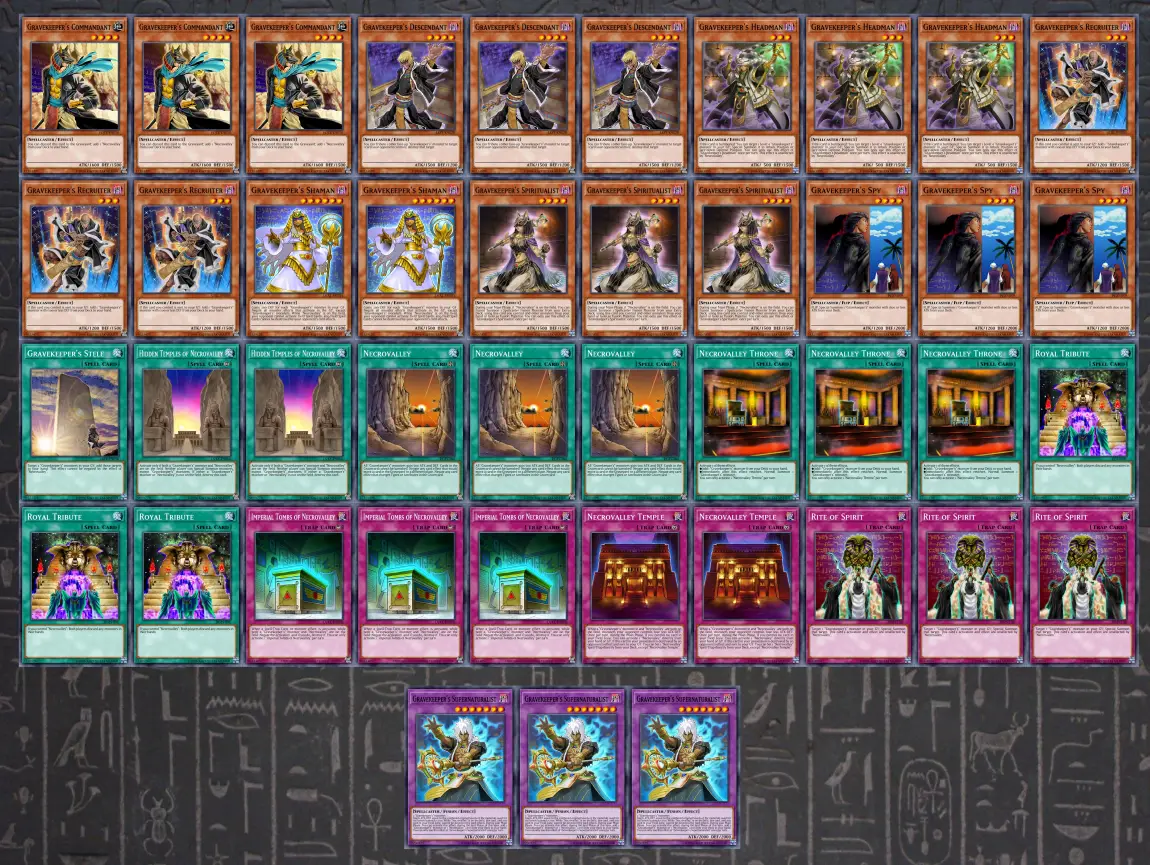 Monster Cards
3x Gravekeeper's Commandant
3x Gravekeeper's Decendant
3x Gravekeeper's Headman
3x Gravekeeper's Recruiter
2x Gravekeeper's Shaman
3x Gravekeeper's Spiritualist
3x Gravekeeper's Spy
Spell Cards
1x Gravekeeper's Stele
2x Hidden Temples of Necrovally
3x Necrovally
3x Necrovally Throne
3x Royal Tribute
Trap Cards
3x Imperial Tombs of Necrovally
2x Necrovally Temple
3x Rite of Spirit
Extra Deck
3x Gravekeeper's Supernaturalist
Obtaining the Cards
All the cards can be found in booster packs in Grandpa Muto's Shop. This is probably the fastest way to obtain them since the card packs only cost 200 and most are common drops.
Alternatively, if you unlocked Odin in Duellist Challenges, you can unlock some of the cards by starting a duel, and then instantly surrendering. You will earn a consolation price witch will be one of the cards in his deck. This reward will always be a card you don't already have 3 copies of.
Playstyle and Combos
This is a Control Deck with Swarming elements. At its core cards manipulate what your opponent can and can't do while simultaneously you will build a board of Monsters and Effect Cards.
Your objective will be to lock the Graveyard and prevent special summoning from it.
With Necrovally, Gravekeeper's Shaman & Hidden Temples of Necrovally on the field you can prevent a wide range of summons.
1. Necrovally
First priority will always be to get Necrovally on the field. It will boost your monsters with 500 ATK/DEF, prevent your opponent to access the Graveyard, but most importantly it is the primary requirement for some key Cards. Necrovally Throne can search for Gravekeeper's Commandant witch can then be discarded to search for Necrovally.

Afterward, there are two options; Summoning the Boss Monster or protecting and expanding control of the field (see: 3. lock-down).
2. Boss Monster
Gravekeeper's Supernaturalist provides a 3000 ATK+ beatstick with build-in protection. Additionally, it can search any card from the deck allowing flexibility when new problems present themselves.

Gravekeeper's Spiritualist is polymerization + fusion material all-in-one. If it is in the Graveyard, Gravekeeper's Headsman can Special Summon it and be used jointly as fusion material.
3. Lock-down
Gravekeeper's Shaman protects Necrovally as well as further restricts your opponent's Graveyard. Hidden Temples of Necrovally can be extremely powerful as it prevents special summons, further locking down your opponent.

Gravekeeper's Spy can search and Special Summon Gravekeeper's Shaman from the deck. It's a slow method but with the 500 DEF boost from Necrovally it's more probable than not to survive your opponent's Battle Phase. Not exceedingly reliable but an option for sure.
Hidden Temples of Necrovally is a powerhouse of a card and should be searched for with Gravekeeper's Supernaturalist effect.
4. Card Removal
Gravekeeper's Descendant should be used to remove any cards that challenge your board control. Continuous Spell/Trap Cards, big beatsticks, Field Cards… It shouldn't be too hard to get material for Gravekeeper's Descendant but I remind you of the following:

Gravekeeper's recruiter is the ideal material for Gravekeeper's Descendant as his effect triggers in the graveyard without a destruction condition. Meaning that if he is tributed you can search your deck and add a Gravekeeper Monster to your hand.
If Gravekeeper's Recruiter is in the graveyard and you have Gravekeeper's Descendant on the field, Gravekeeper's Headsman can Special Summon him. He can then immediately be used as tribute for Gravekeeper's Descendant together with herself (optionally) to remove up to 2 cards.
Gravekeeper's Headman can also special summon Gravekeeper's Descendant from the Graveyard and then sacrifice herself to remove a card from the field.
5. Protection & Support
Royal Tribute and Imperial Tombs of Necrovally are hands down my favorite cards in this deck. If Hidden Temples of Necrovally is already on the field I will 95% of the time search for Imperial tombs of Necrovally with the effect of Gravekeeper Supernaturalist. It offers great spell speed 3 protection at no cost.
Royal Tribute is amazing if you can play it first turn; play all Monster Cards you can from your hand then use Royal Tribute. Remember that your opponent will have a harder time accessing his Graveyard and you, in most cases, will prefer having your Monsters in the Graveyard. (for Gravekeeper's Headsman, Rite of Spirit, and Gravekeeper's Stele)

Necrovally Temple is OK together with Necrovally in creates a 1000 ATK difference witch can make battling much more difficult for your opponent.
Gravekeeper's Stele is there in case you make a mistake or your opponent manages to make an exceptionally good play. It allows you to add 2 Monster Cards to your hand for the price of 1 Card. However, this is not really necessary since monsters in your graveyard are not difficult to cycle through.
6. Swarming
For the most part, the deck possesses quite reliable ways to summon multiple Monsters. A little on the slow side, sometimes not in the same turn it was played, but enough to make ends meet.

These additional Summons can be used as tribute for Gravekeeper's Descendant or as Fusion Material with Gravekeeper's Spiritualist. Get creative, adapt to the situation at hand, and when in doubt, count on your opponent having a Mirror Force or Dark Hole… so you know, maybe hold back on blowing all your cards on the table.
Flowchart
Other Tips
Gravekeeper's Commandant in combination with Necrovally and Necrovally Temple is can serve as a small beatstick with 2100 ATK. He becomes useless relatively quickly after having searched Necrovally.
Necrovally Throne can be used to search any Gravekeeper card if you already have Necrovally on the field. Gravekeeper's Spiritualist, Gravekeeper's Headsman, and Gravekeeper's Recruiter are of note since they can Fusion into Gravekeeper's Supernaturalist or serve as a tribute for Gravekeeper's Descendant.
The additional Summon can also help to get Monsters on the board to tribute for Gravekeeper's Descendant.
Gravekeeper's Headsman can special summon monster face-down defense position. This means Gravekeeper's Spy can be Summoned this way from the graveyard to use her Flip Effect.
All Gravekeeper's Recruiter needs to do is move from the field to the graveyard to trigger his effect. This can be an alternate way to get Gravekeeper's Commandant to your hand and then Necrovally. Otherwise, this is a good effect, get creative.
Be aware that when you play Gravekeeper's Stele you move cards from your graveyard to your hand. This might be counterproductive if you want to play Gravekeeper's Headsman or Rite of Spirit.
Hidden Temples of Necrovally will instantly be destroyed if Necrovally or all Gravekeeper Monsters are removed from the field. Caution when fusion summoning; make sure to have at least one other Gravekeeper Monster on the field. Otherwise, you will lose Hidden Temple of Necrovally due to there being a short interval where no Gravekeeper's Monsters are on the field.
Recommended Changes
To Remove
I suggest removing 1 Necrovally as soon as you feel comfortable. Later on, the additional copies will bother you more than serve as substitutes. Additional Necrovally Temple already adds a recycle mechanic to obtain them from the Graveyard (although unreliably). This brings me to my next point:
Necrovally Temple: It's an OK card and that won't cut it. Remove at least 1, maybe 2 if you are planning on running 3 copies of Necrovally.
Rite of Spirit. It's too slow. Maybe run 1 or 2 when you feel more comfortable with the deck.
Gravekeeper's Spy. Is also too slow but still on the reliable side. Maybe take out 1 or 2.
Gravekeeper's Descendant. You really need only 2. Take 1 out if you can reliably search it when you need it.
Gravekeeper's Stele. Very situational in my opinion. It's really a 50/50 but you won't catch me running 2 copies. Take it out if you feel like it. If in doubt leave it in.
To Add
If you want more reliable protection try adding Field Barrier or:
An additional copy of Gravekeeper's Shaman. However, 3 copies of each are overdoing it.
You can add a Terraforming instead of the 3rd copy of Necrovally. But it becomes more of a gamble since statistically speaking you will draw Necrovally before Terraforming more often. The upside is that your deck will be cleaner since you won't draw as many Necrovallys.
The 3rd copy of Hidden Temples of Necrovally. The only reason I don't run 3 is that I rarely reach a point where they destroy my 2nd copy. If you find yourself in need of a 3rd copy don't doubt it, add it.
Gravekeeper's Heretic. This would be in my top 3 best cards for this deck if it wasn't for the fact that he is also immune to his own support card… Yes, he doesn't receive the 500 ATK/DEF bonus from Necrovally. Never the less don't be fooled by me, 1800ATK is still nice and immunity to all effects is no joke. Seriously consider adding 1, 2, or 3 of him if you struggle with card effects.
Gravekeeper's Chief. It can help with swarming the field but most importantly it will allow you to target the Graveyard for Monsters other than Gravekeepers. A must if you are going to run this deck in tandem with another archetype or other Monster Cards.
Gravekeeper's Servant. Just remember that whatever is in your opponent's Graveyard is extra difficult for him to reach with Necrovally and Gravekeeper's Shaman in play.
Wonder wand. Equipping this to Gravekeeper's Recruiter is very nice. Run 1 or 2 at most. It's also very versatile.
Allure of Darkness. +2 wa can I say.
Gravekeeper's Visionary. Don't recommend him but if you want a thick beatstick for the mid-late game look no further. Discarding Gravekeepers shouldn't be a problem either.
Gagagashield. Excellent protection, however, unlike Imperial Tomb of Necrovally, it cannot be searched for. The ideal target would be Gravekeeper's Shaman.
Dark Renewal. Work very well with Gravekeeper's Recruit. Can search almost any Gravekeeper as well as serve as removal.
Card Destruction. Can be very interesting in combination with Royal Tribune.
That's everything we are sharing today for this Yu-Gi-Oh! Legacy of the Duelist: Link Evolution guide. This guide was originally created and written by Jomami. In case we fail to update this guide, you can find the latest update by following this link.
If you believe that any of the content on this site violates your rights, including your intellectual property rights, please contact us immediately using our contact form.