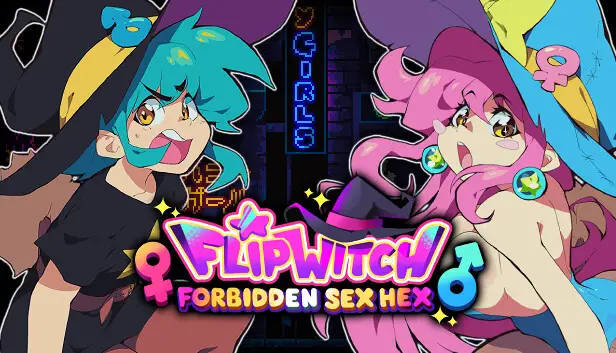 Title: Your Only Move Is HUSTLE – Simple Modding Guide
Release Date:
Developer:
Publisher:
Information about Your Only Move Is HUSTLE – Simple Modding Guide is still incomplete. Please help us fill the details of the game using this contact form.
How to add user-created mods to your only move is hustle. This is not a guide detailing how to create mods for this game. There is information included at the bottom of this guide to help you get started on that front. Live. Laugh. Hustle.
Get Started
The hub for all things YOMI Modding is in this community-run discord server.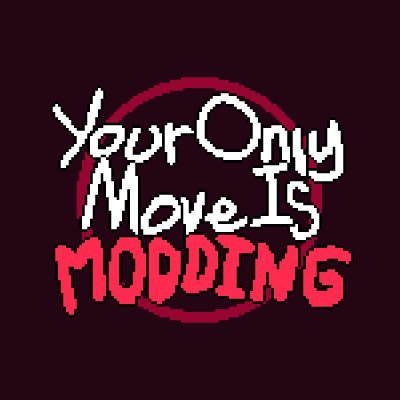 Scrolling around the information here makes this guide slightly redundant, but this should serve as an all-you-need guide that you can come back to if you forget anything.

This will be your main source for finding, downloading, and keeping up-to-date with mods for this game for the indefinite future.
Disclaimer: The modding scene was created before the game was even fully released on Steam, meaning that the prospect of Steam Workshop integration being released may change where/how you download mods. The developer Ivy Sly has stated they are working on making this a reality.
Downloading a character.
Give a quick scroll to find a character that interests you. There are no wrong choices here.
There are more being added every day, and existing ones are being updated. This means new moves, different properties, and overall more gameplay.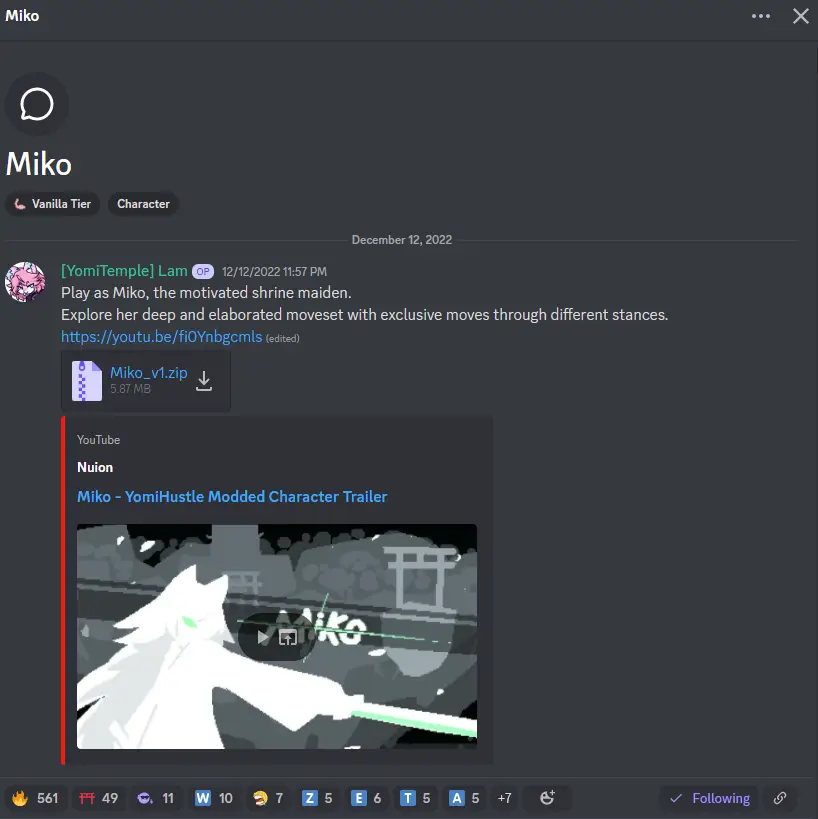 After choosing a mod, it will automatically direct you to the top of the page, or the oldest post in the release. This usually means you will find basic information and a video showing off the character.
Before you download anything, scroll all the way to the bottom and try to find the most recent release.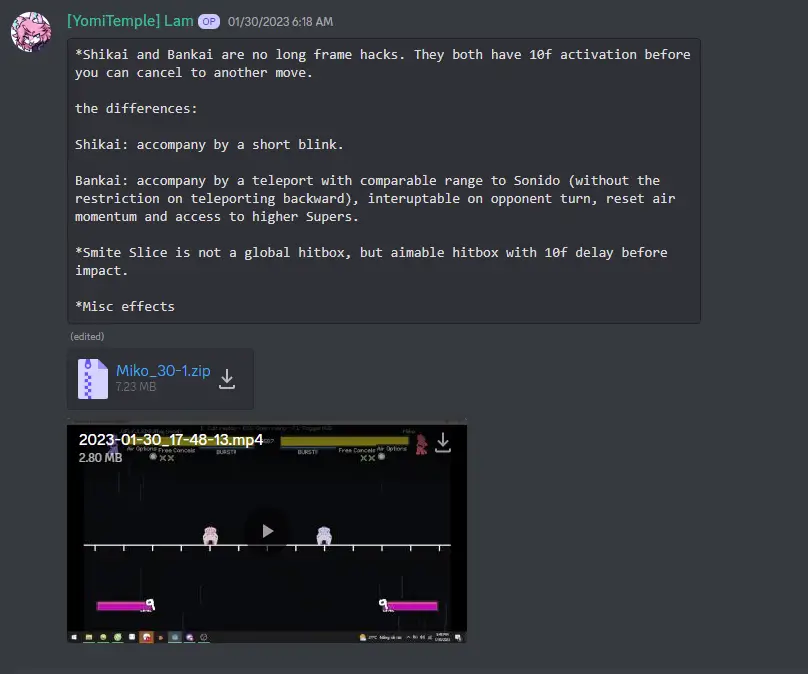 This mod author shows their updates in this format. Not all authors do the same, and it is up to you to find the most recent (or desired) version.
TIME TO DOWNLOAD
Click on that silly stinky button that shows the file to the mod.

This will automatically redirect you to your computer's preferred browser. You will see a couple different methods of hosting mods.
Discord is the most common, but it has a file size limit. When the size of a file is too big, it's often uploaded through a google drive. If you see any method besides these two, exercise caution. I'm not saying anything bad will happen, just give it a little more thought than automatically clicking download.
This mod is hosted through discord, so once I downloaded it, my browser opened and showed me my file.
Next you need to find where the file is located. In most browsers I've used, this is relatively simple. For me, I click on this button and it takes me to the file path.

If for some reason you can't find out how to do this, it is VERY likely that it was sent to your downloads folder. I don't want to sound condescending, but I don't think a tutorial on finding your downloads folder is fitting for this guide.
TIME TO COPY AND PASTE
If you know your way around your steam folder, this should be easy for you. If you don't it will still be easy.
Head over to your library and find your copy of Your Only Move Is Hustle.
Right click it.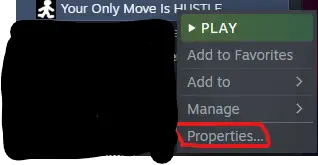 Click 'Properties'

Click 'Local Files' -> 'Browse'

Ignore everything and open the 'mods' folder.
NOW COPY AND PASTE THE DOWNLOADED MOD INTO THIS FOLDER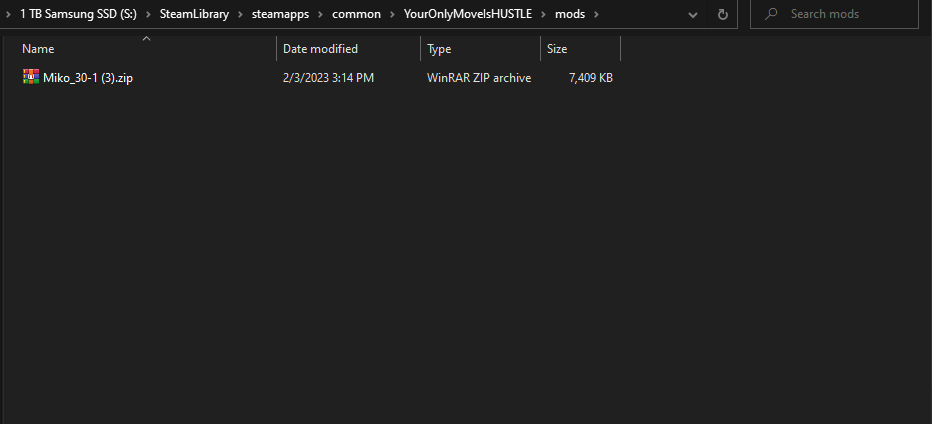 FOR USERS OF WINRAR, 7ZIP, ETC… DO NOT UNZIP THIS FILE, KEEP IT ZIPPED. JUST DRAG AND DROP.
The only NECESSARY mod.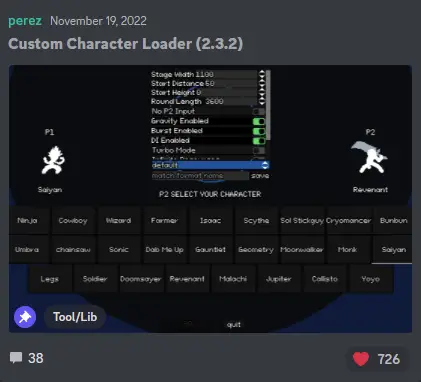 Before you open the game, the pinned mod should be Custom Character Loader.
This mod simply allows for Your Only Move Is Hustle to load and add your custom character into the character select screen.
So far, EVERY modded character you will download requires this to be usable.
(See how many likes it has? That means it's good stuff)
DOWNLOAD THIS MOD THE EXACT SAME WAY AS YOU DID PREVIOUSLY
TIME TO HUSTLE
Start your game and make sure mods are enabled in the settings.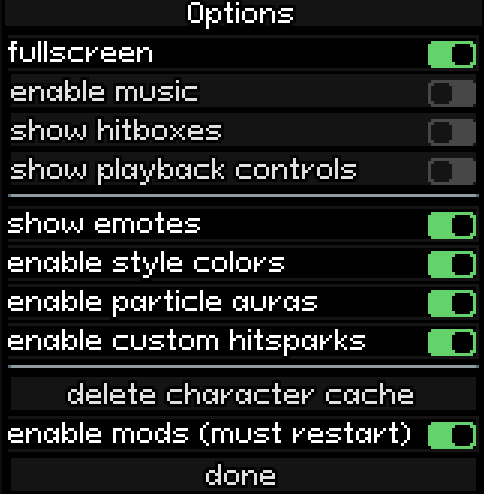 You're ready to Hustle with any modded character.

Information on creating mods.

These two channels in the Modding Discord will give you a wealth of information as to where to start. I don't know enough about modding myself to make an actual guide or else I would. There is other channels in which you can ask for help on anything. Don't be afraid to use that, as everyone there helps each other out.
That's everything we are sharing today for this guide. This guide was originally created and written by shambles. In case we fail to update this guide, you can find the latest update by following this link.
If you believe that any of the content on this site violates your rights, including your intellectual property rights, please contact us immediately using our contact form.