Title: Yakuza Kiwami 2
Release Date: May 19, 2019
Developer: Ryu Ga Gotoku Studio
Publisher: SEGA
This guide aims to provide a simplified approach to mastering Japanese Mahjong. I invested a considerable amount of time in comprehending the intricate rules, and now, I've crafted this condensed tutorial for those who seek to bypass the laborious task of delving into lengthy rulebooks. I must note that I am not a native speaker, and my translations may not align perfectly with the precise terminology. However, it should offer you a sufficient grasp of Mahjong's gameplay after perusal. It's essential to bear in mind that Mahjong involves an element of gambling, and even with a solid understanding of the game, your success hinges on luck. Therefore, exercise patience and consistently save your progress before embarking on a new round.
What tiles do I have?
Before paying our Mahjong game, it's imperative to acquaint ourselves with the types of tiles used.
The initial category comprises 'Number' tiles, as depicted in the accompanying images, each sequentially numbered from 1 to 9.
In the top row, we have the 'Character' tiles, with 萬 representing 'ten thousand.'
The second row features 'Bamboo' tiles, with the number 1 of Bamboo appearing as follows in the game.

In the third row, we encounter the 'Circle' tiles.
Apart from the numbered tiles, there are also 'Wind' tiles and 'Dragon' tiles to consider.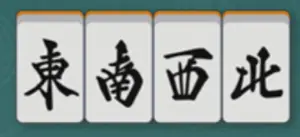 The 'Wind' tiles encompass 東 (East Wind), 西 (West Wind), 南 (South Wind), and 北 (North Wind).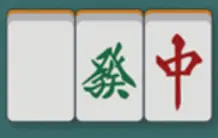 As for the 'Dragon' tiles, they consist of blank (White), 發 (Green), and 中 (Red).
To emerge victorious in the game, you must assemble a total of 4 sets and 1 pair.
A 'set' is either three or four identical tiles or three consecutive tiles, for example, 234, 333, or 4444.
A 'pair' comprises two identical tiles, like 22 or 33.
It's worth noting that you can also create sets and pairs with wind and dragon tiles, provided they are of the same wind color."
How do I Win/Ron the game?
As previously mentioned, the key to winning the game lies in creating sets and pairs, specifically 4 sets and 1 pair in total.
The fundamental game mechanics resemble those of Poker, involving drawing one tile per round and discarding one that you no longer require. In-game, this is executed by pressing 'E' after selecting with your mouse or using the 'A' or 'D' keys on your keyboard.
Once you've assembled 3 sets and 1 pair or achieved 4 sets with 1 single tile, you'll enter a phase where you await either the discarding of the required tile by other players or drawing it yourself.
If you win by claiming a tile discarded by others, it's referred to as a '栄 (Ron)'. Conversely, if you win by drawing the necessary tile yourself, it's termed a '自摸 (Tsumo)'.
When you're in a winning position, the game will present you with the option to choose between Ron or Tsumo, and you can simply press 'E' to execute your decision and secure victory in the round.
However, simply forming sets and pairs isn't adequate to achieve Ron. You must also create an 'Honor (役),' which encompasses five primary types. You are required to form at least one of these Honor combinations to be eligible for Ron.
As demonstrated in the image at the top, this is a successful Ron. You have assembled the following combination: 33-345-111-234-3x East Wind. In this instance, the Honor is formed with the wind tiles. It's crucial to note that even if you have additional sets, you still cannot Ron without the necessary Honor combination.
Prevailing Wind (場風)and Seat Wind (門風)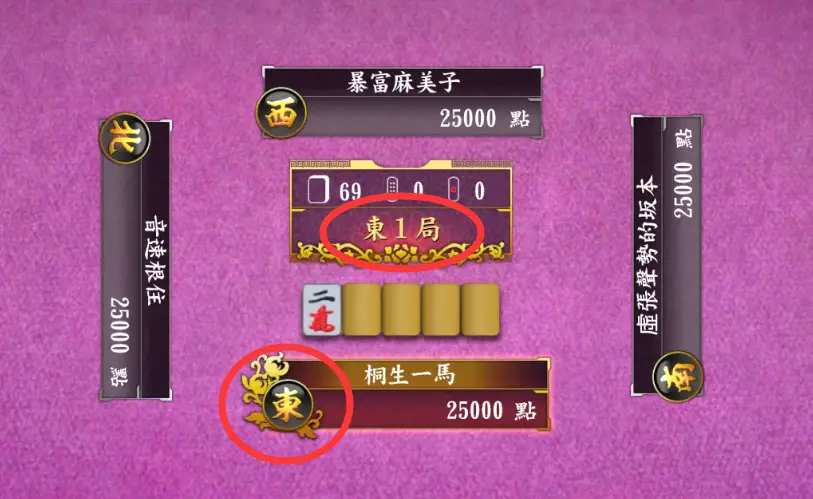 Upon starting the game, direct your attention to the center of the table where you will find information about the current round and your own status.
The wind depicted in the upper red circle is referred to as the 'Prevailing Wind,' which corresponds to the wind of the ongoing round. This wind remains constant for several rounds but may change if you opt to continue playing beyond a single game. It's imperative to keep track of this wind.
In the lower red circle, you'll notice the 'Seat Wind,' which signifies the wind associated with your current position. This wind changes with each round.
One of the simplest methods to form an Honor is by acquiring a set of either the Prevailing Wind or the Seat Wind.
Dragon (三元)
Nothing much to say, having a set of any color of Dragon Tile and you have a Honor
All Simple (断幺九)
There's an alternative method to secure victory using only number tiles, known as 'All Simple.'
The original Japanese term, 断幺九, translates to "no 1 or 9," which is the requirement to achieve this 役 (Yaku). To qualify for this Yaku, you must exclude any 1s or 9s from your sets and pairs, and wind and dragon tiles are also prohibited.
Here's an illustration of the 'All Simple' Yaku:

Riichi (立直)
This represents both the simplest and most challenging method for achieving an Honor in the game. To attain this, you only need to assemble four sets and one pair using tiles of your choice.
It is imperative that you abstain from making any moves to acquire discarded tiles through Chow (吃), Pong (碰), or Kan (杠). Instead, you must procure all tiles by drawing them from the deck.
There is one exception: you can declare a self-Kan when you acquire the fourth tile of a kind entirely through self-drawing. To do this, press the Q key to bring up the action menu and then press E to execute a self-Kan.
Once you are just one tile away from Ron, press Q to access the action menu. As you examine your tiles, a small window will appear, indicating which tile or tiles you need to Ron if you discard the current one. The number displayed represents how many of that specific tile remain in play. You should make your choice based on which tile is more likely to become available to you.
Press E to discard the undesired tile and initiate a Riichi. This action incurs a cost of 1000 points, but unless someone else Ron's, even if you don't Ron when the round concludes, you can still earn points slightly exceeding 1000.
After performing a Riichi, the game will automatically discard any tiles other than the one you've selected to Ron. Now, all you need to do is patiently await the appearance of the required tile. When it does, press E to Ron or Tsumo.
Keep in mind that since the game will automatically discard tiles for you, there's an increased risk of someone else Ronning, so consider this as you become more familiar with the game.
Ron or Draw
After Ron the game you will see an evaluation menu like this: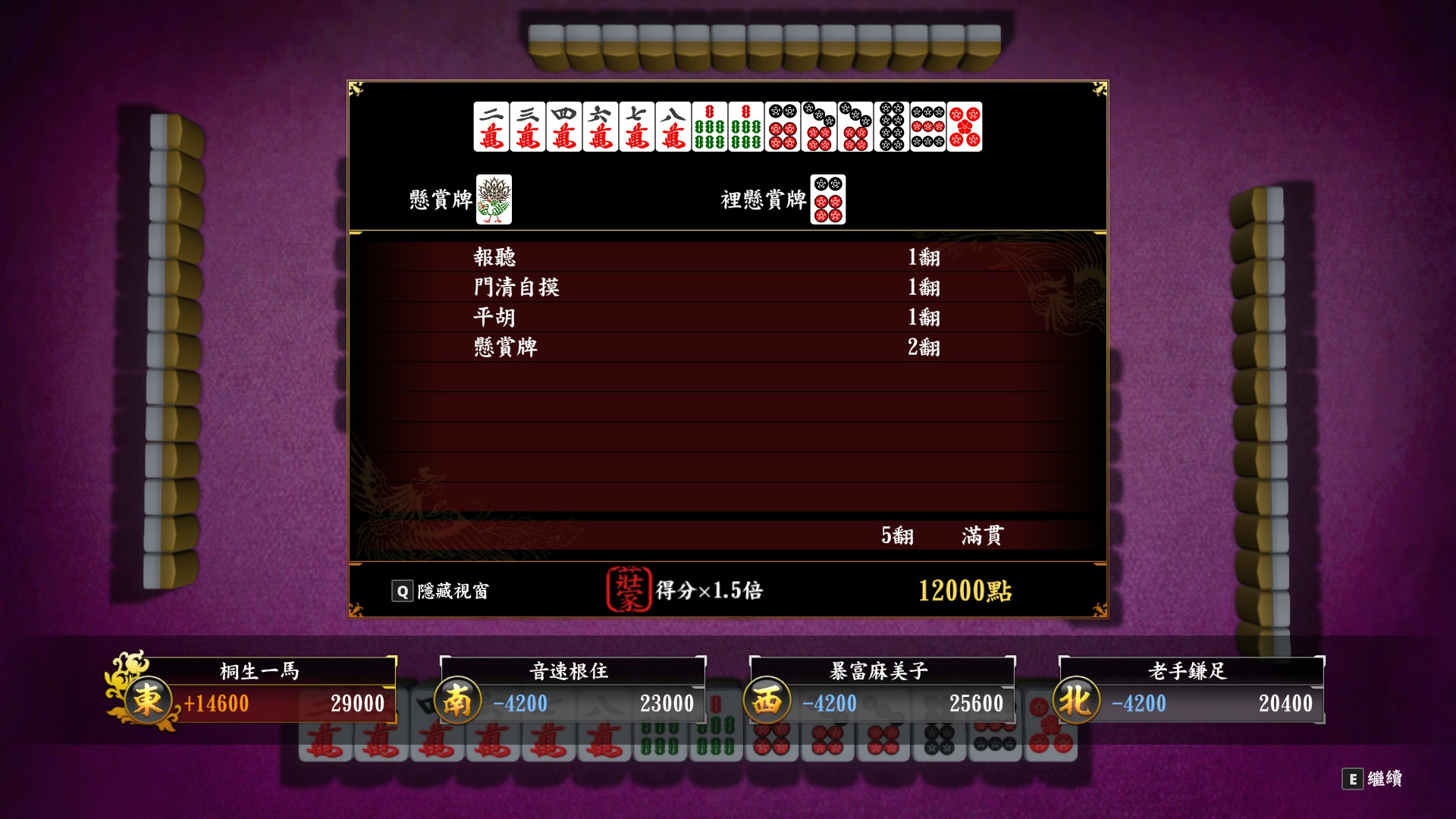 These represent the Scoring (番) you accumulate throughout the game. The more Scoring you achieve, the more points you will earn. Scoring can be obtained by Ronning with specific combinations or using specific types of tiles. If you are committed to mastering Mahjong beyond the fundamentals, you can delve into these details.
When you Ron, you receive points from the player who discarded the tile that allowed you to Ron. Conversely, when you Tsumo, you receive points from all three other players. This reciprocity in scoring is an essential aspect of the game.
At the conclusion of an entire round, victory is yours if you occupy either the first or second position on the scoreboard, as illustrated in the accompanying image: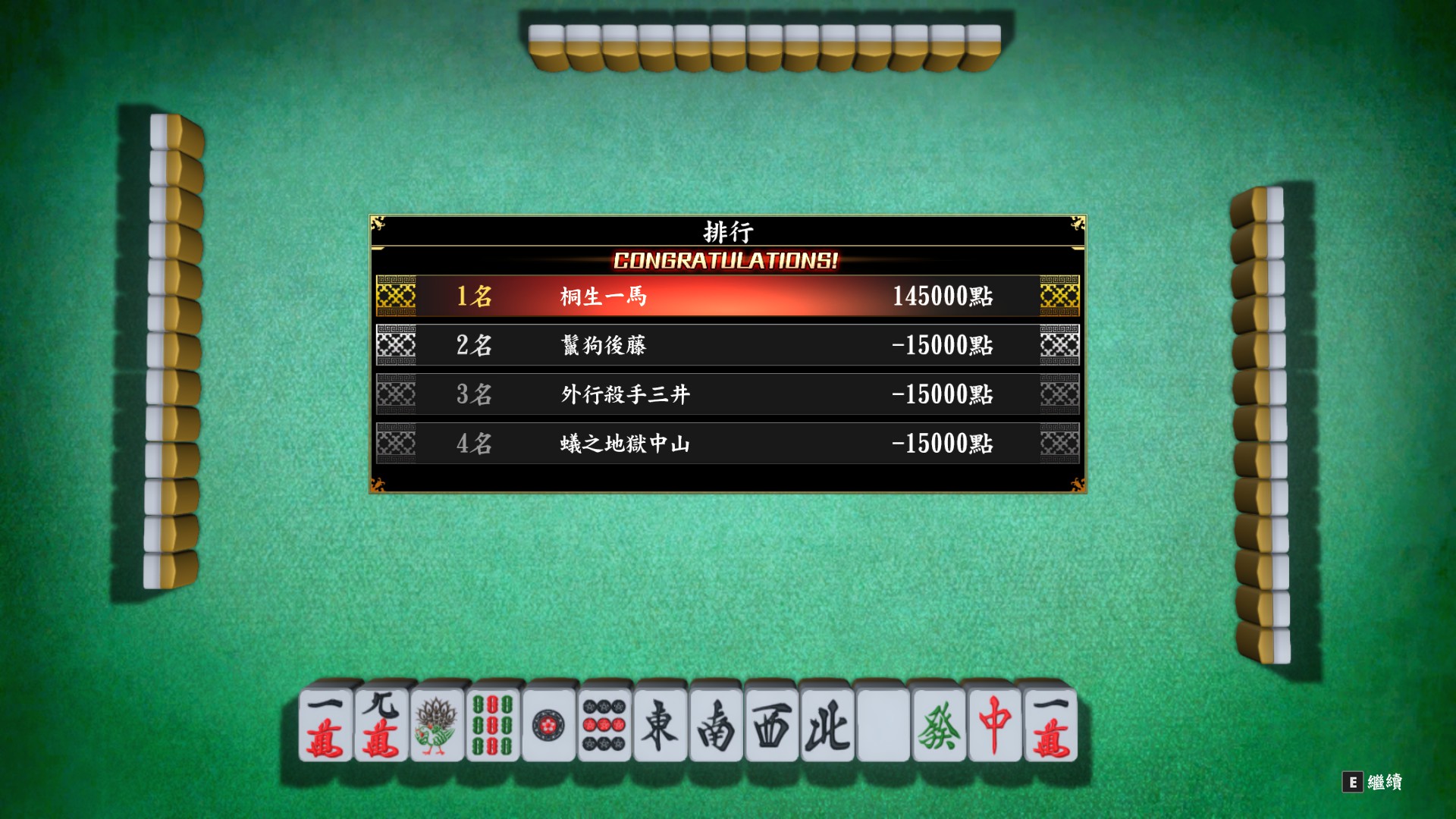 Winning the game grants you additional points, which can be converted into money if you are playing at a regular table.
In the event that no one Ron's after a round concludes, it results in a Draw (流局). Even if you are just one tile away from Ron, you can still earn some points from those who didn't Ron, and vice versa. This adds an interesting dynamic to the game, as players have a chance to gain points even in cases where there isn't a clear winner.
Actions During the Game
In addition to playing Ron the game, you have the option to execute three distinct actions during the game to acquire tiles from other players. The action menu becomes available when you have the opportunity to perform one of these actions. To execute an action, press the 'E' key, or if you wish to decline, press 'Esc'.
The choice of action should be based on your specific needs, so refrain from taking action indiscriminately. For instance, if you lack any wind or dragon tiles and you aim to create a complete simple hand, making a Chow with a 9 tile would be a mistake because you won't be able to discard it as it would be utilized in the action.
Once a player performs an action, it automatically becomes their turn to draw and discard a tile.
Here are the three actions:
Chow (吃): This action involves "eating" a tile to form a consecutive set of three tiles. For instance, if you have bamboo tiles 3 and 4, and another player discards a bamboo 5, you can Chow it to complete the bamboo 345 sequence.
Pong (碰): This action is about "bumping" a tile to create a set of three identical tiles. It might be called Pon in your version, but the concept remains the same. For example, if you possess character tiles 2 and 2, and another player discards a character 2, you can Pong it to form a set of three character 2 tiles.
Kan (杠): The translation of this action may be unclear, but it entails acquiring the fourth tile of the same kind to form a set. For instance, if you already have a set of circle tiles 4 and another player discards the fourth circle 4 tile, you can Kan it to complete a set of four circle 4 tiles.
It's worth noting that after performing Chow and Pong, you are required to discard a tile you do not want. Additionally, you can also declare Kan on your own if you draw the fourth tile of a kind.
Settings Customization
Before commencing a game of Mahjong, navigate to the menu where you will encounter an option to modify the game rules. Although I lack insight into the specifics of the English version, the sequence of options should remain consistent.
Please proceed to configure the settings to match the status depicted in the provided image.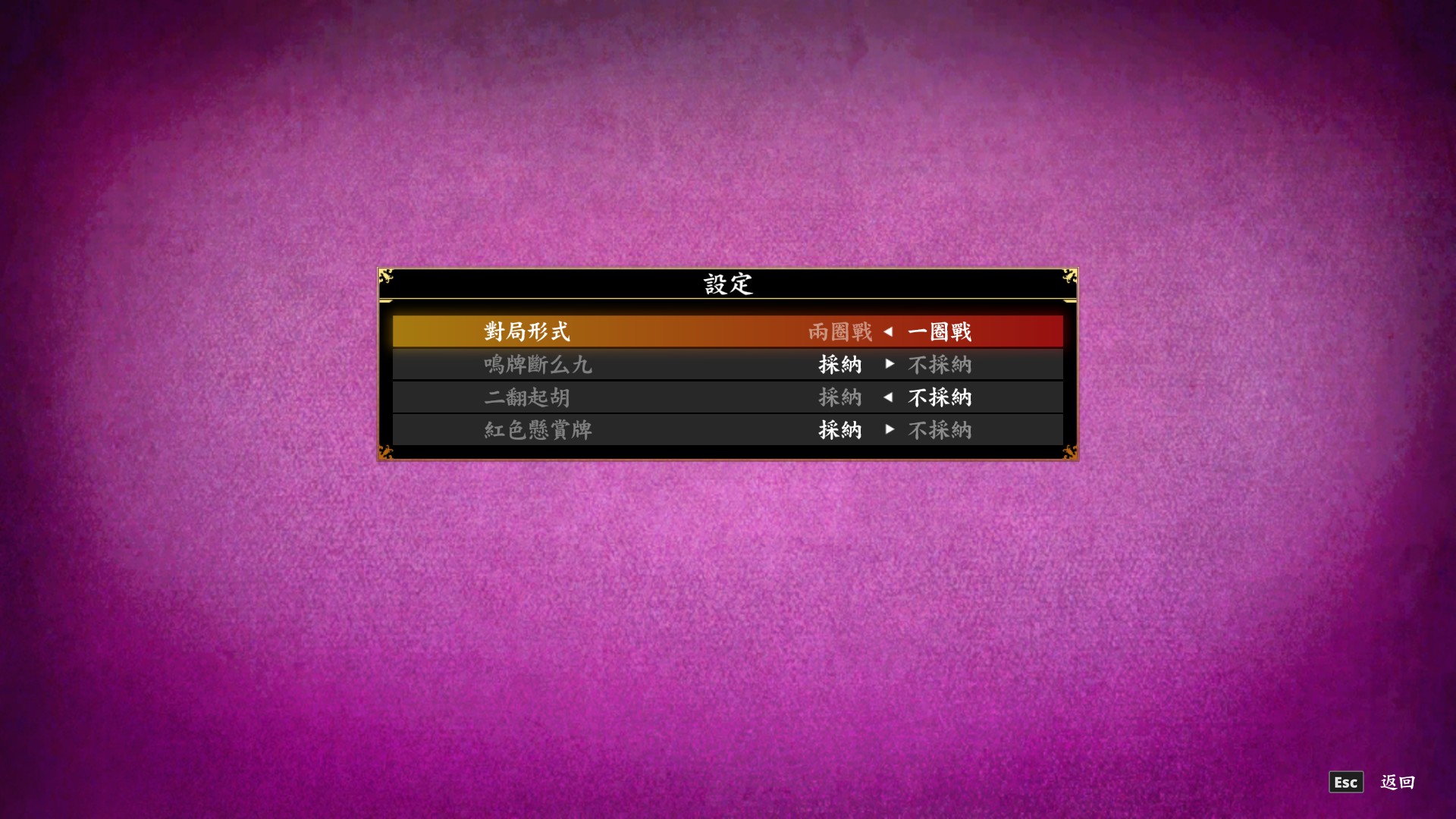 The initial statement suggests that by playing only one complete round of the game, you can minimize the risk of losing points gained in earlier rounds.
Additionally, the second line advises enabling the "All Simple" option after executing actions like Chow, Pong, or Kan to simplify the game.
The third line recommends deactivating the minimum Honor requirement, making the game easier.
Lastly, the fourth line proposes enabling the use of red-colored tiles (excluding the 中 tile), so that collecting these during the game grants extra Scoring points.
In-Game Achievement List
The Mahjong-related achievements in Yakuza Kiwami 2 are notably easier compared to those in Yakuza 0 and Kiwami 1. To obtain these achievements, you only need to:
Achieve first place in all four tables in both Tokyo and Osaka, as well as in the two Mahjong tournaments, which become available at the Mahjong counter.
Achieve Tsumo 50 times. Note that there might be a bug with this achievement, as it appears to count both Ron and Tsumo wins. You can check your achievement progress after winning a few rounds.
Accumulate 100,000 Yen through Mahjong. You can achieve this by continuously playing until you've earned the required amount.
These achievements are comparatively easier because they primarily involve winning rounds, rather than forming specific tile combinations or executing advanced moves like a 1-shot Riichi (Ron after Riichi before your turn comes up again), although accomplishing those advanced moves is possible as well.
Additionally, there is one substory that requires you to win a game starting with only 1000 points. It's advisable to use the cheating tool found in the game to achieve a guaranteed win in such situations.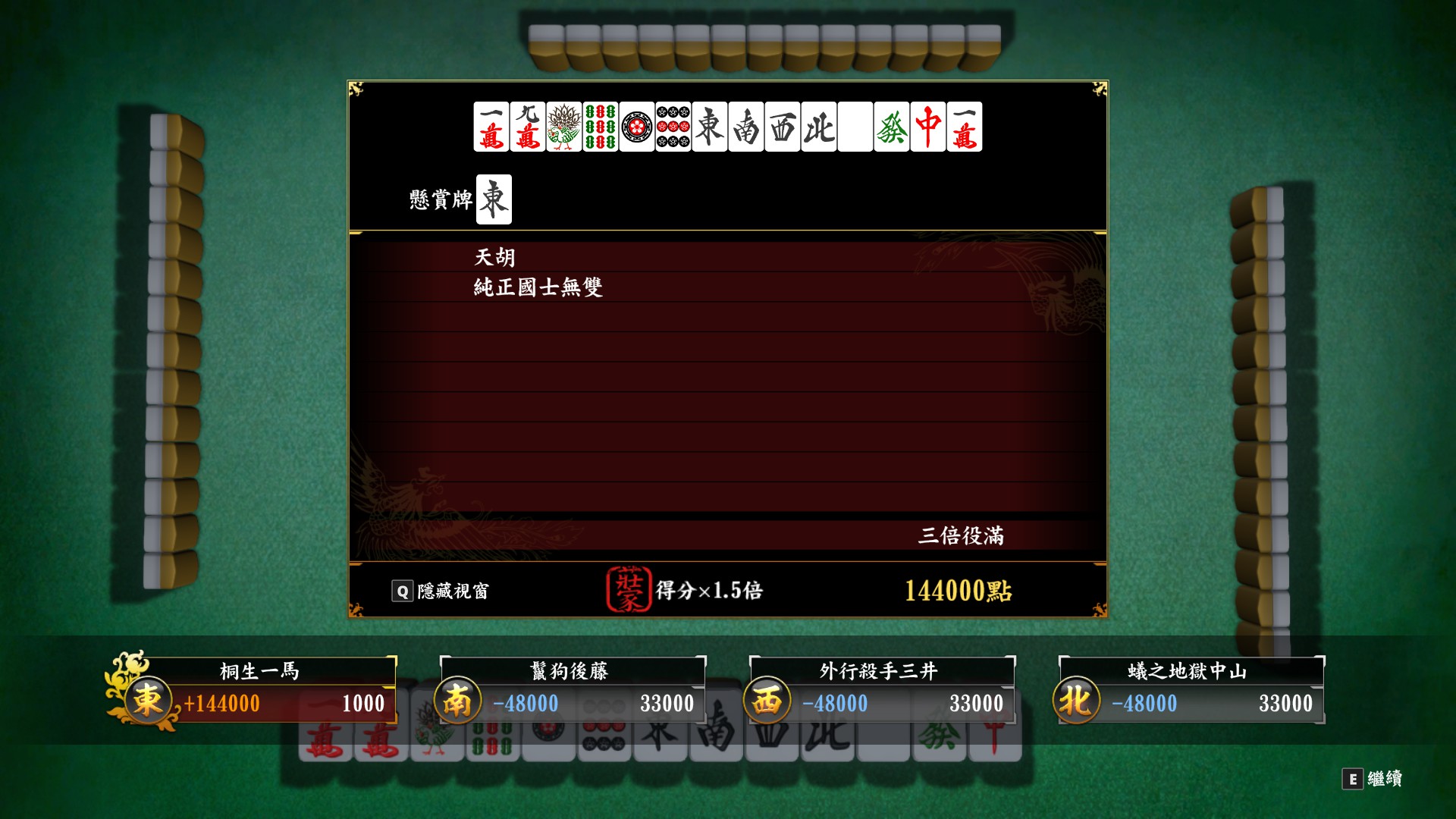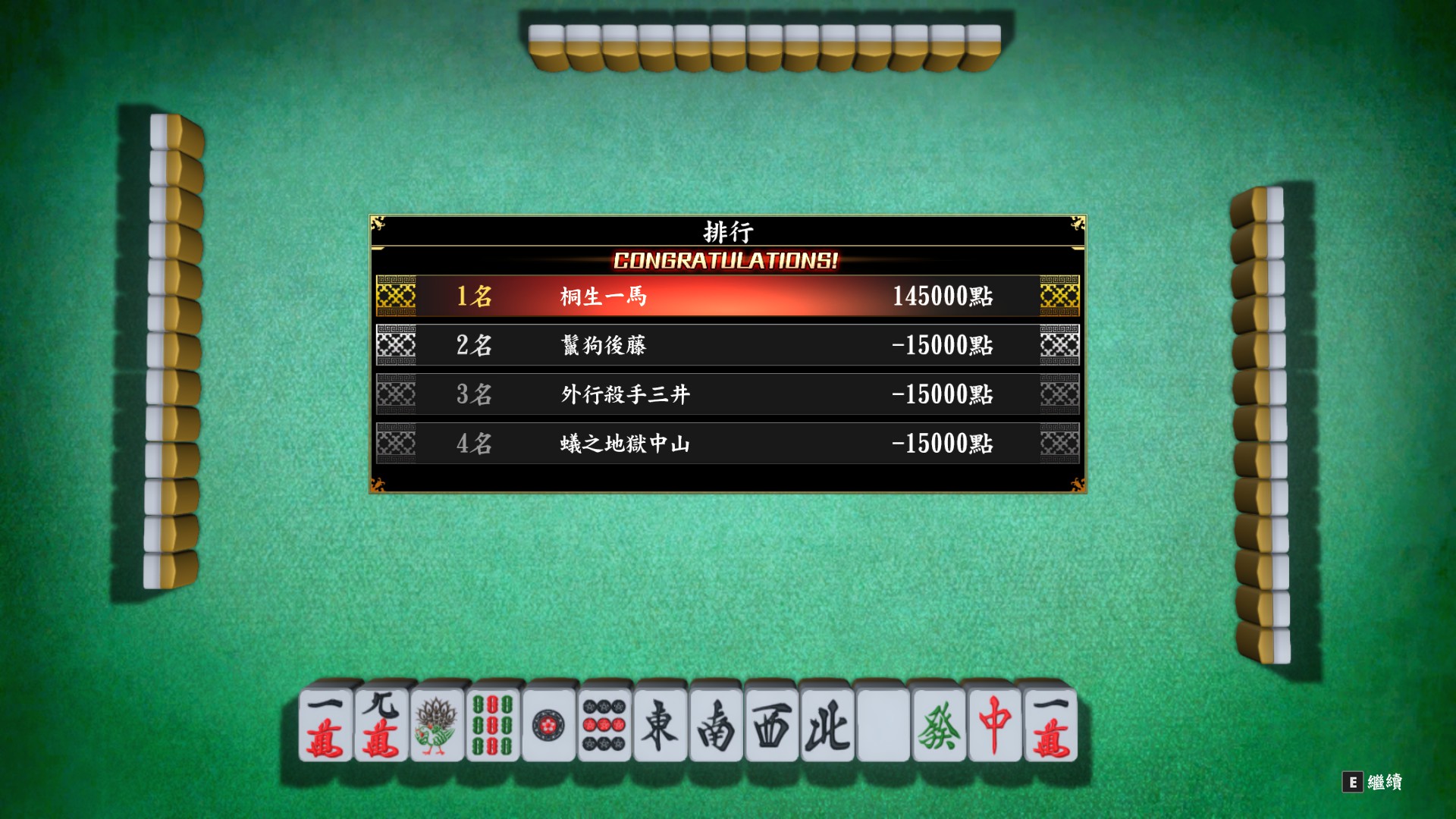 If you decide to master Mahjong on your own, you can also challenge yourself with this particular achievement. Best of luck with your efforts!
This guide marks my first attempt at providing instructions, and I sincerely hope it proves beneficial to help you avoid the challenges I faced while striving to unlock all achievements in Yakuza 0 through Kiwami 2. Remember that Mahjong involves an element of gambling, so luck plays a role in your success. It's wise to save your progress before starting each round and, most importantly, enjoy the game!

That's everything we are sharing today for this Yakuza Kiwami 2 guide. This guide was originally created and written by GIN-0433. In case we fail to update this guide, you can find the latest update by following this link.
If you believe that any of the content on this site violates your rights, including your intellectual property rights, please contact us immediately using our contact form.