This is a guide on how to deal with bears when they attack your den. It works very well for me and since my wolf Shearwater started using it, I have lost 0 pups to bears.
Dealing with bears
If you meet a bear when on your own or with a mate, just go the other way.
If you meet a bear when you have a kill, either give it to the bear or run around and around the bear trying to anger it so that you have time to grab a chunk before running.
If a bear attacks your den it is a different matter. The bear wants to eat your pups so it will carry them anyway instead of killing them on-right, leaving you with enough time to bite the bear and save your pup but pup's health drops very fast when a bear is holding them so just waiting it out isn't a good idea.
What I do when a bear first attacks is to woof all of the pups into the den or grass clump so that the bear cannot grab them. Then I run in front of the bear to anger it and dash off, away from the den. If it worked it will follow me a ways before heading back to the den. Then I do the same thing, running in front of the bear and running off again, making sure to not be hit.
At some point, if the pups stay in the den and be good, the bear will give up and leave.
The worst thing you can do when a bear attacks is to bite it. This lowers health super fast and can kill you even if the bear does't swipe at you. If a pup does come out of the den, woof. If the bear grabs the pup, bite it to make it bite the pup and then, well your mate is biting, woof to make the pup enter the den.
The biggest problem with this whole plan is your mate. If your mate is bold they are very likely to bite the bear and try to drive it away that way, hurting them. Even if your mate isn't bold they still may bite it, worried about the pups. When you run they should follow you but my wolf Shearwater's mate Cottonwood (quite bold) always bites it first before running. The best way to deal with this is to just keep running back and forth. Your mate will hopefully follow you and at some point the bear will give up and decide to run off. Chase it a little ways so that it doesn't stay close but don't follow it far or it may attack when it halts.
Then go back to your den and congratulate your pups for staying hidden. If the bears comes again some other time, do the same thing. I would advise to not choose a den that a bear is near. It may stay near and become a forever threat.
Notes
That's all I have to say about bears. I may put more infomation into this at some point, talking about other dangers as well, but that's all for now. You may say how it went for you in the comments and also put in advice to add.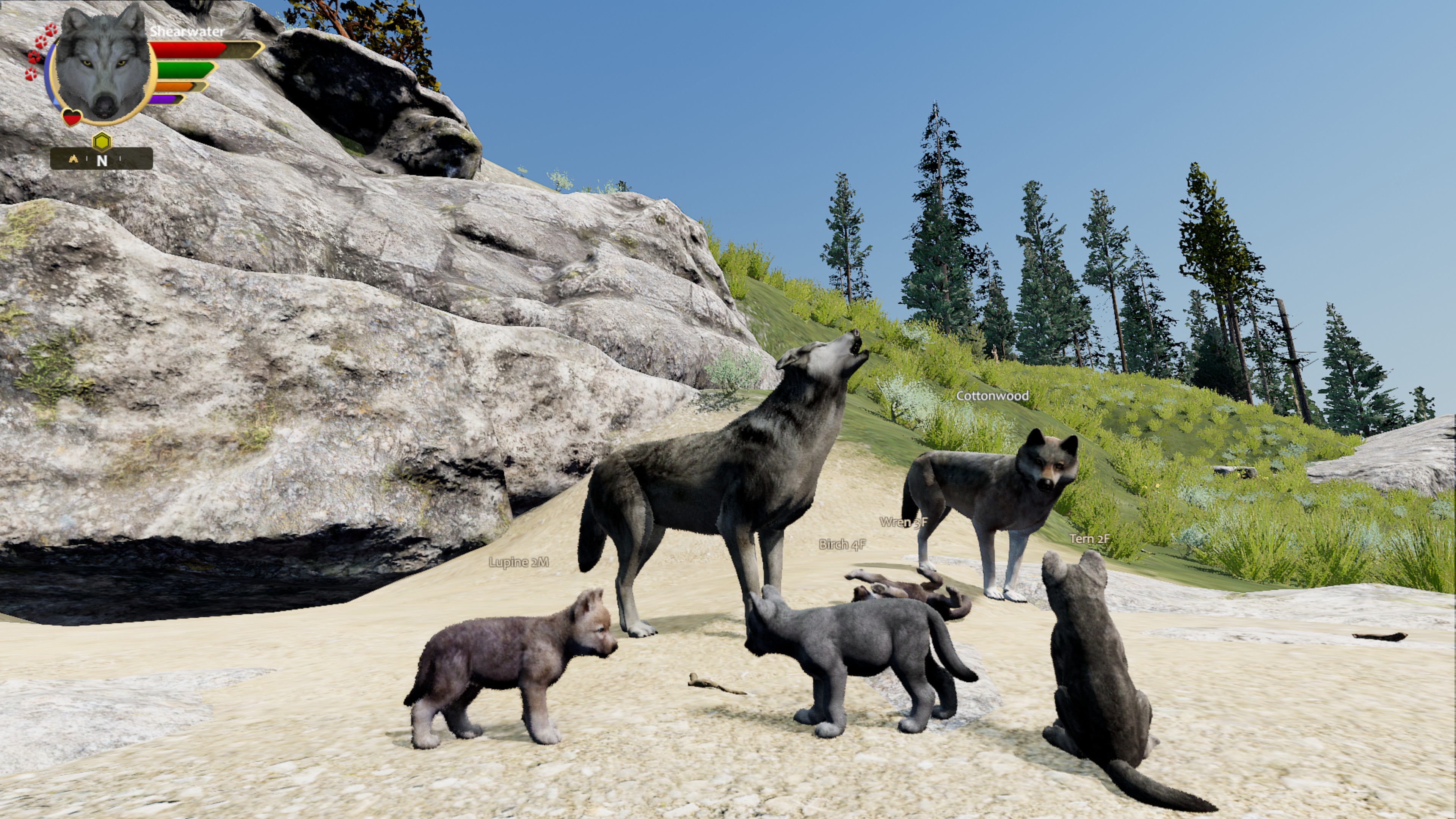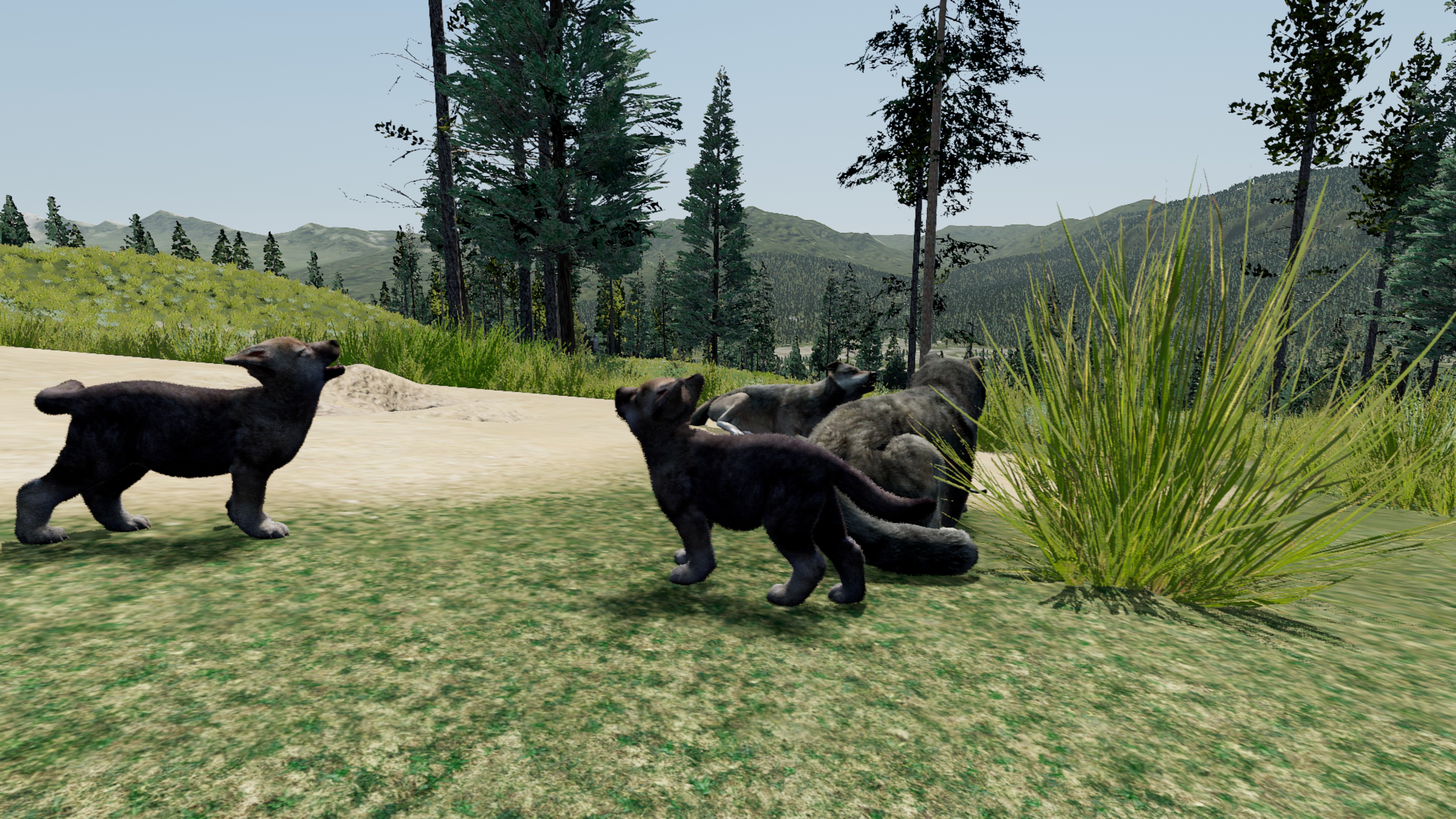 I hope all of your pups survive.
Top left, Shearwater (my wolf) howling with his mate Cottonwood in the background. The pups are Lupine (left), Birch (middle), and Tern (right), with Wren rolling behind them. Lupine is a male and the others are female. Sadly now Lupine was killed by PP wolf pack 3F, and Tern died from sickness.
The Top right is of Shearwater in the den with Wren, Birch, and Tern right after Lupine was killed by 3F. Tern is the sick pup who later died right after I stepped out of the den and howled in grief.
The bottom left is of Wren and Lupine, howling right after I did. Wren and Birch are still living and doing well.
That's everything we are sharing today for this WolfQuest: Anniversary Edition guide. This guide was originally created and written by topp. In case we fail to update this guide, you can find the latest update by following this link.
If you believe that any of the content on this site violates your rights, including your intellectual property rights, please contact us immediately using our contact form.