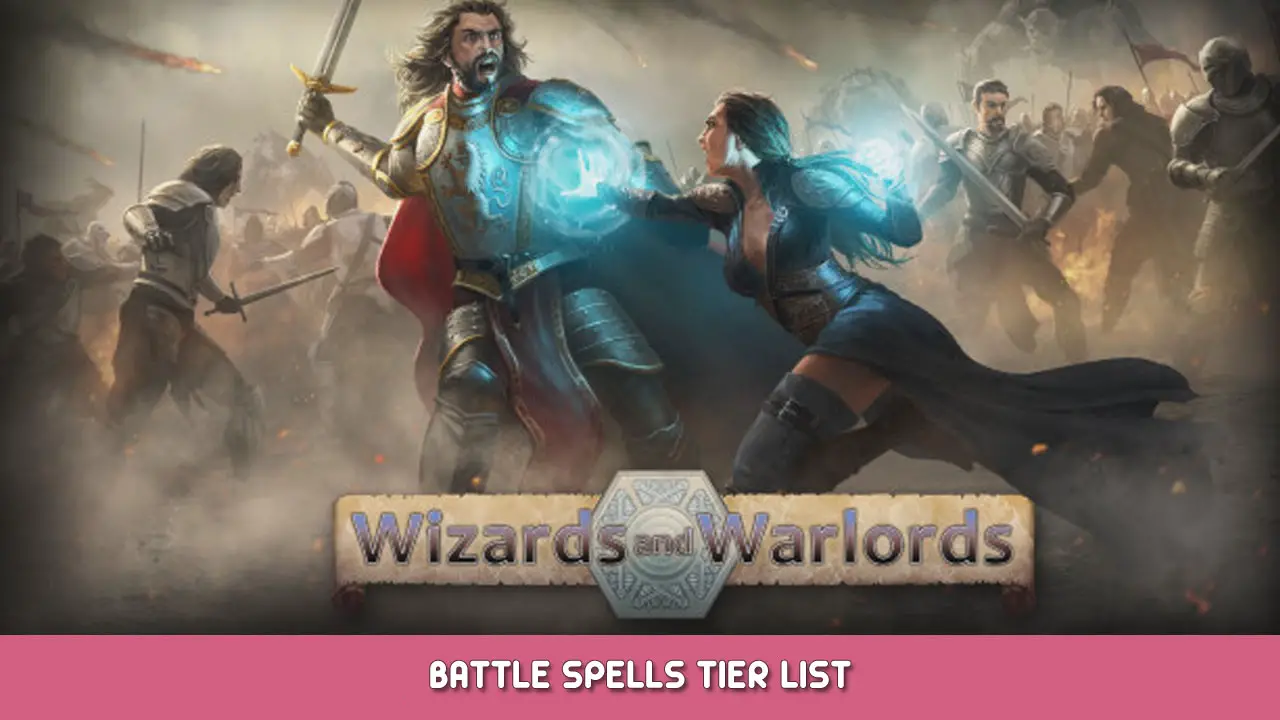 It's my own rating based on my own play-style and criteria. Feel free to disagree, I only guarantee effectiveness.
What this guide is and isn't
Obviously this guide is subjective, imagine that every entry begins with "Personally, I …" or finishes with "in my opinion". It's meant to be an overview of what you need to know in this world of magic. I'm not all-knowing by any means and to be honest, I haven't even tried all the spells yet (see at the bottom for the complete list). As they say, this is a work in progress.
However, this guide also isn't a detailed commentary of each spells. It's made to be a relatively quick read (but there are a lot of spells), so the review of each spell will be somewhere between a joke – there might be a touch of humor here and there – and an analysis of the entire description. For example, I won't be mentioning every damage type and which units have the resistance to that particular damage type. You have to be this tall to ride.
Comments are more than welcome, specially if they're constructive. I'm far from susceptible so you won't hurt my feelings if you completely disagree with me.
Finally, this guide isn't covering the following spells:
All Symbiotes, getting into more details than "it's very circumstantial" would get complicated real quick. I'm not a fan outside of a tall and long game.
Death Mastery, I never got around to use those spells. If you have, please share your comments!
Necromancy Mastery: same as Death Mastery + there are so many battle spells, I don't really feel like spending the time to pump up the Mastery and try them all.
Rune Mastery: those are expensive, target a limited range of units, provide a permanent buff and you can only have one at a time so by default they will be circumstantial or lower tier often for the exact same reason.
Power Word: Unmake, it's a Swiss Army knife damage spell. Would be outright very good if it wasn't for the 15 mana cost, therefore one must think of the situations that justify the spell and I haven't tested it nearly enough to know if it's going in the Circumstantial tier or not.
Illusion Mastery: haven't got around to using those spells and units yet. At first glance, Phantasmal Impedance (could be called "Slow Illusion") seems very good and Majectic Glance seems also very good in some circumstances.
Disclaimer and Nomenclature
This guide is very influenced by the way I see the game, by the way I approach it. In other words, by my playstyle. So far, I've pretty much always played tall during the early game and transitioned to playing large the longer the game goes. This is what I'm referring to with those types of gameplay:
Large game: you play like this was a typical 4X game: you expand as much as possible, get rich, make big armies and bully the AI.
Tall game: this is where you'll stick to your Tower and 1-5 provinces, not necessarily distributed around it. You aim for only the rarest resources and spent your gold primarily on the Tower projects.
Short game: games played on smaller maps or where the intent is to end it quickly by focusing on destruction of the AI Wizards and Warlords.
Long game: you have the time to enjoy a game with a long duration. Whether you want to explore, see late game stuff, test things out or you try to complete something: you're assuredly on your way to a game lasting 200+ turns.
Also, most spells go through different phases of usefulness throughout the game. Those are the stages I refer to during the tier list:
Early game: that's when you don't have access to high level spells (5+) and armies rarely exceed 600 strength.
Mid game: you have a decent number of spells level 5-7 and armies often exceed 1000 strength.
Late game: by that time you should have nearly all the spells you were trying to get, you should be strong enough to easily dispose of 200-400 army strength only with spellcasting. Armies/Lairs of nearly 2000 strength are common.
Endgame: you're either exploring the game (including game mechanics) or you've been trying to finish, but you were in late game a while ago for some reason or another.
The number of turns those correspond to heavily depend on the game settings and your playstyle. With defaults, I'd say early game transitions to mid game around turn 50-70, mid game transitions to late game roughly during turns 120-150 and if you're not in engame by turn 200, there's something wrong with you.
Needs to be nerfed
Baleful Strength [Darkness]: I must be under-rating the toughness and discipline values of this spell because it seems like one of the best buffs in the entire game, and it comes at level 1?? …At a cost of 5????
Frost Imbued Missiles [Frost]: the spell may be expensive, but it's the same cost whether you have 100 or 24 units in the stack (ie. +600 or +156 damage cap). Be careful this weapon of mass destruction doesn't do collateral damage to your own army. (it doesn't, feel free to nuke the world)
Greater Magic Missiles [Arcane]: it's pretty good on its own, but combined with the Lesser/Greater Vulnerability spells, GMM can dish A LOT of damage.
Iron Skin [Metal]: you know what's twice as good as +1 armor? Yes, I went with that joke… But seriously though, +2 armor for no mana upkeep, low cost AND you get the Hardy ability? There's the real joke.
Get those ASAP
Battlesight, [all levels] [Divination]: one of the best buffs in the game. The +skill buff is equal to +damage (physical) IMO and the spell is very cheap in mana cost for what it provides.
Diamondskin [Earth]: so good, it can turn rabble into tanky units. Would be a contender for the best buff in the game if it wasn't for the high mana cost and the 1 mana upkeep.
Feral Strength [Beasts]: +damage buff with non-battle mana, need I say more?
Magic Missiles [Arcane]: good damage output against units with low armor, which means almost everything early game.
Rangers Gift [Life]: I find properly used and buffed ranged units to be nearly the best in the game, until endgame at least. Rangers Gift is a big portion why as it alleviates one of their flaw: slow world movement if not paying extra for mounted units.
Rapid reload [Artifice]: the only reason why this isn't outright game breaking (specially with the Arbalest weapon) is that you can't buff more than one unit at a time.
Resurrect [Light]: no need to take out your calculator to find out how many units you will resurrect. The only reasons why you wouldn't use this spell a lot is if you use the "Evil" units, if you enjoy having cannon fodder or you can't be bothered to micro-manage at all.
Shrapnel [Metal]: the king of early game damage spells. Just check the details of the target unit before usage and use only on 0-1 armor, non-hardy/ethereal units. Carries well in the mid game if there aren't fast units, giving you time to use Vulnerability beforehand.
Stoneskin [Earth]: +armor is a direct damage reduction and it's another cheap buff that uses non-battle mana and has no upkeep. The only reasons it's not in the highest tier is because Stoneskin doesn't work on every unit and the mana cost is pretty balanced.
Swiftness [Air]: if you think this isn't a battle spell, it's because you missed/forgot it also gives +1 battle movement speed.
Vulnerability [all levels] [Destruction]: armor is one of the most critical survivability factor of any unit in the game and this spell reduces that. It would be circumstantial if not for the fact that it also makes the target vulnerable to certain types of damage so it synergizes very well with spells featuring a lot of hits of those types, primarily Magic Missile and Shrapnel, against all low-mid tier units.
Circumstantial
Animate Weapons [War]: the description is a little complicated, but I'll break it down for you: the more units have died in the battle the better the spell is, so the damage output ranges from very low (there's a lower bound) to WTF-level. At least you don't have to rely on RNJesus.
Arcane conduit [Arcane]: good spell in late game, when you have enough battle mana available that you would otherwise need 8+ battle turns to deplete it. Keep in mind you spend time and mana to cast this, so it starts to be beneficial only on combat turn 3.
Ball Lightning [Air]: see Lightning Bolt.
Banish Outsider [Order]: this spell is not quite good enough to deserve nerfing and there's no reason to rush mastery to get it as it's good only against units related to portals, ie. late/endgame.
Berserker Rage [Blood]: anyone has had issues with good units running away out of fear? I haven't, but at least this spell comes with +damage, it's True!
Blur [Air]: great if you face strong ranged units compared to yours.
Boulderstorm [Earth]: the less ♥♥♥♥♥♥ version of Shardstorm. It might actually manage to kill decent units and apply the debuffs, but at 12 mana cost there's often better alternatives.
Brave the Darkness [Darkness]: nice little buff/protection spell if you can find the situation where you can stack some of its buffs.
Cloak of Shadows [Shadow]: this spell isn't higher on the list simply because the AI rarely fields potent ranged threats.
Cold Blood [Frost]: holy molly is this spell expensive! You better have a real cold/frost-based threat on your doorstep to justify this thing.
Coldsnap [Frost]: a generally much better damage spell than Fireball, but it comes at level 2 and that's the sole reason it's not higher.
Curse of Rust [Metal]: -7 armor is great in theory. But in practice, with its cost of 25 battle mana, your mileage will vary.
Demonbane [Celestial]: the few demons that scare me usually laugh in the face of 5-7 damage, but at least it's True damage.
Disintegrate [Destruction]: big units need to be met with big spells. Good thing those big units are rather rare because you won't be casting Disintegrate more than 2x per battle.
Dispel Magic [Arcane]: right now the AI doesn't seem to be using spells. Useful only if you messed up somewhere, like you de-buffed your own unit.
Fear [Shadow]: this spell would be great if you could target multiple units, but since you have to dish the damage before the -3 courage becomes useful, only the outcome of the closest of battles will be affected by this spell. Otherwise, it serves only to sustain fewer casualties, but that's also the role of many spells costing more than 4 mana.
Frost Armor [Frost]: the spell is very similar to Stoneskin, but it's 3x the mana cost so you really need to have a use for the additional resistance or the stacking of armor buffs to be worth it.
Gotterdammerung [Celestial]: this spell could also have been called Ragnarok! (in case you haven't read the description yet, this spell is the definition of circumstantial)
Hellfire [Abyssal]: the high mana cost only justifies this spell if you're using demons.
Life Leach [Blood]: this would be borderline game breaking if it wasn't for the fact that only late game units have the high durability to justify the 20 battle mana cost.
Lightning Bolt [Air]: this is a great spell when the enemy unit has relatively low armor AND metal armor (trial and error required if you didn't True Sight the army)…
Lunar Blessing [Celestial]: it's good 20% of the time!
Mass Resurrect [Light]: often a game-breaking spell where it's featured, in this case the hard limit on mana you can spend in battle and the 32 mana cost makes you question your life choices…Until the fight is over and then casting MR is likely a no brainer at that point in the game.
Shadow Encumbrance [Shadow]: what's not to like about -3 battle movement for 4 mana? Well, for starters it often doesn't matter at all and there's an opportunity cost to casting this instead of another spell. However, when you need to slow down a big threat, you REALLY need this spell.
Shatter [Destruction]: the spell description makes it seem more complicated than it is: don't bother with this spell unless the target has low armor AND is one of the following types: Frost, Crystal, Bone, Skeletal, Chariot, Machine.
Shimmershift Weapon [Enchantment]: one of the best buffing spell in the game! Would be higher tier if it wouldn't affect only melee weapons or it affected summoned units or didn't have the high mana cost and 1 mana/turn upkeep or ranged units weren't far superior in this game.
Stalagmite Ambush [Earth]: there are 2 reasons why this spell isn't on the higher tier. First, the number of hits is quite variable and second, melee units with high shock value tend to be pretty sturdy (armor/HP/toughness).
Swift Strike [War]: another spell that would be higher on the list if not for the mana cost.
Wall of Swords [War]: another spell coming out of a fine tuner's mind like me. I'll break it down for you: it's good against units with a mount (cavalry, etc.) AND low armor (3 or less). Otherwise, you have better options if you followed this guide.
Warrior Bond [War]: at first glance it's a poor man's version of Swift Strike, but that's mistaken. It's actually a great buff for 5 mana, but it can only target trained units.
Flavor / You work with the tools you have
Acid Spray [Water]: it's like a 50% stronger Fireball at 2x the mana cost… The only reason this spell isn't lower tier is because there are so many units with decent or better armor value that in some situations, it will be on par with or better than Fireball in mana cost-effectiveness. The problem is that Fireball isn't good at all…
Arcane Ward [all levels] [Warding]: it's a general purpose magic damage reduction. There are so many other spells providing better level of protection, they are going to be far superior in nearly every situation. Arcane Ward is there if you don't have the superior spell…
Boost Constructs [Artifice]: would be great if the mana cost wasn't so high.
Celestial Cynosure [Celestial]: get an army of Celestial units and this spell will dish a lot of damage. Don't, and it won't.
Chaos Bolt [Chaos]: a fitting name for this spell because the damage output is chaotic.
Drain Soul [Darkness]: mediocre damage for the mana cost. Please let me know what's the purpose of souls in the game, I'm dying to find out!
Fireball [Fire]: this spell fills a very odd niche. It doesn't target enough units to be good at clearing the very first units of the game and when you eventually face units with more than 5-6HP, you usually have better damage spells.
Greater Drain Soul [Darkness]: the damage is nice, but the damage/mana cost is awful. For everything else, there's Drain Soul.
Hurricane [Air]: it feels great when you have Hurricane and you're facing low-armor flying units. FYI you can't cast it twice even just for the damage.
Mend Constructs [Artifice]: it's better than resurrect, but only for constructs. Which I haven't been impressed with considering how much mastery you need to make them good.
Photosynthesis [Light]: great spell if you have plant-tag units and the masteries to stack all the buffs. However, I find that spell necessary to bring plant-tag units on par with the other units of the same tier.
Power Word: Pain [Abyssal]: meh, could be worse for a level 1 spell.
Quicken [Time]: this spell would be awesome if not for one thing: you can't cast it outside of battle. Perhaps if we could cast it on multiple units at once?
Radiant Heal [Light]: most useful with high HP units that can take a hit without dying. Least useful with strong units that kill enemy units without dying or healing. I find that units from the first category are generally also in the latter.
Shardstorm [Earth]: the spell looks strong on paper, but the few units where I managed to inflict casualties on were so bad, it didn't matter if they were debuffed or not.
Solar Blast [Celestial]: that would be one of the best damage dealing spells in the game if it cost quite a bit less than 12 mana.
Spellwomen Armor [Enchantment]: nearly the same as Stoneskin, but the unit needs actual armor to be eligible. However, the mana cost is doubled and there's even a 1 mana/turn upkeep cost! This would be at the lowest tier if not for its most redeeming feature: it can stack with other buffs.
Stampede [Beast]: I'm sure there's a viable Beast playstyle in there somewhere that would justify just letting your units run amok.
Voltaic Blitz [Air]: awesome buffs if you have sturdy melee units and plenty of casts available. The very low 4 turns duration means you want to cast this when the melee units are 1 or 2 turns away from charging.
Wind Warrior [Air]: would be one of the best buffs in the game if it wasn't for the high mana cost.
So bad I must be missing something
Archaen Wings [Air]: I stil haven't found a serious use to flight in pre-endgame battles, if even that. Perhaps if/when there will be obstacles on the battlemap?
Barkskin [Life]: +2 toughness is something. Perhaps the plant tag synergizes well with huh… *checks* Photosynthesize? I mean, if you don't already have units with the plant tag, and they have enough HP to make it worth the healing… and you also have level 3 Earth+Water mastery levels… then it's pretty good. [insert Joe Scott face]
Battle Gate [Arcane]: if you have to retreat quickly, you either messed up, you have some kind of crazy hit and run tactics that doesn't involve much mana OR you want to play ironman and not reload a saved game when you get outmatched in battle.
Demonic Strength [Abyssal]: there must be something special in the taint. Personally, I don't even want to look at a Demonic taint.
Disassemble [Artifice]: I'm sure I'll face constructs made by the AI someday.
Explode Person [Destruction]: that spell would be top tier if it wasn't limited by the fact you can't use it on any unit with 7+ HP. In a best case scenario, unless there's a coding error, AFAIK this spell has *a chance* of doing 15 damage. In theory, this spell scales up with the armor value of the target, but the final damage also scales down with… The armor value of the target. I suspect it's a case of "it was well designed until I made some other changes and I forgot about this".
Hailstorm [Frost]: the damage output is so low, I don't see how the 3 frost damage makes any difference compared to Boulderstorm – a similar spell with the same mana cost. However, contrary to Boulderstorm, the Hailstorm will get negated by some tags/abilities on top of having very whelming damage.
Iron Discipline [Order]: in theory this is a great spell for the mana cost. In practice, you kind of have to try to get a strong unit with low discipline AND that low discipline would mess up your battle tactics.
Intractable Infection [Pestilence]: to be honest, I never used this spell. However, the -2 battle movement tells me this is useful mostly on stay-at-home units and those generally tend to already be sturdy enough for their role.
Poison Cloud [Darkness]: I must be blissfully unaware of what stat reduced the damage done by this spell because it's been very underwhelming the 2-3 times I used it.
Predators [Beasts]: AFAIK Feast isn't a battle ability and Relentless Pursuit is circumstantial enough to fit that category… at a cost of 40 mana? NEXT!!!
Reek [Life]: Noxious ability stinks.
Terrible Visage [Abyssal]: you'll be great at bullying ♥♥♥♥♥♥ units!
Final Words
I'm aware this tier list is highly subjective, you'll get different results with many spells if you play a different game than I do so please factor that in your response. I've tried to point out all the differences/variations I know, I'm asking you do the same.
Also, I'm planning on starting a thread with recommendations to balance/fix/improve/flavour these spells. I hope I'll get some feedback on this guide before then…
That's everything we are sharing today for this Wizards and Warlords guide. This guide was originally created and written by Paps. In case we fail to update this guide, you can find the latest update by following this link.
If you believe that any of the content on this site violates your rights, including your intellectual property rights, please contact us immediately using our contact form.