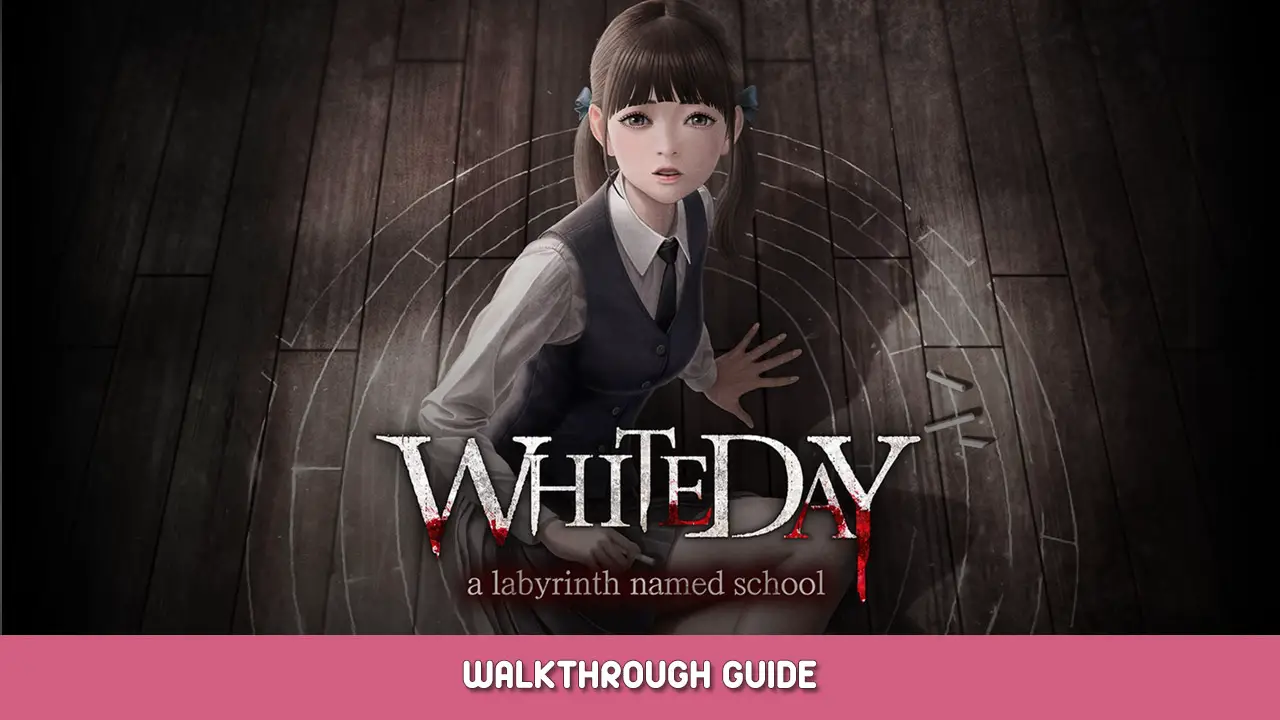 Title: White Day: A Labyrinth Named School
Release Date:
Developer:
Publisher:
Information about White Day: A Labyrinth Named School is still incomplete. Please help us fill the details of the game using this contact form.
A detailed guide on how to earn/find every achievement, ending, collectible, resources for survival + a complete walkthough. This guide is not spoiler firendly.
Overview
Estimated difficulty: 5/10. (Skill dependent)
Estimated 100% time: ~50-60+ hours if you make strategic saves. Much more if you don't.
Offline/online achievements: 42 offline / 0 online.
Number of playthroughs: 25 full + clean up if you make strategic saves. ~45+ if you don't.
Glitched achievements: None.
Missable Achievements: None, technically. Your progress is saved between runs.
Step 1a:
Complete the game on Normal, following the White Chrysanthemum route, and collecting every ghost story.
Starting on Normal is very doable and will give us access to a couple of things. Namely, access to all ghost stories and access to Ji-Min's endings. While going through, be sure to pay attention to where you want to make extra saves in order to reduce the amount of playthroughs needed.
Step 1b
Complete all 10 endings on Very Easy, Easy, and Normal.
Now that you've completed the game and earned the 3 White Chrysanthemum endings, it's time to go back through for the 4 Tuberose endings, and 2 Ji-Min endings. Make sure that by the next step you have all 10 endings on each of the 3 lower difficulties.
Step 2
Complete all 10 endings on Hard + find every ghost
Moving up to the higher difficulties now, you should know this game inside and out. You should be aware of where to go, why you're going there, and how to effectively deal with your best friend, The Janitor. We also finally gain access to every ghost in the game, so make sure to find them all before moving on to Hell mode.
Step 3
Complete all 10 endings on Hell.
Same as the previous step, except this time we can simply focus on progressing the story and staying alive. Don't worry about anything that isn't mandatory.
Story Related Achievements
Uninvited Guest
Enter Main Building 1
The School in Darkness
Arrive at Main Building 2
The Secret Deepens
Arrive at the New Building
Calm Before the Storm
Arrive at the Auditorium

Area Ruled by Vengeful Ghosts
Visit the Labyrinth

Towards the Light
Arrive at the Bottomless Pit
All 6 of these achievements will unlock simply by playing through and completing the game. Do note, however, that the Labyrinth and Bottomless Pit are only accessible on White Chrysanthemum routes.
Difficulty Related Achievements

Piece of Cake
Clear Very Easy Mode

Tougher than Before
Clear Easy Mode

Worthy Challenge
Clear Normal Mode

No Pain, No Gain
Clear Hard Mode

Hell's Gate
Clear Hell Mode

Conqueror of Hell
Clear Hell Mode 10 Times
You must complete each difficulty individually, as the achievements do not stack. In my personal opinion, the game is rather easy and straightforward once you know where to go. Outside of the initial learning curve, even Hell difficulty didn't pose much threat, and I was pretty sloppy in some runs. I personally feel Hell is more a lesson in tedium than difficulty. The main difference between the difficulties is you take more damage, have less stamina, there are no save points (on Hell), and (I believe) Janitors ran faster
General Tips
Bathrooms are your best friend. As long as a Janitor doesn't see you enter a stall they'll never check them.
While their vision is pretty good, especially on Hell, you can easily hide behind a piece of furniture in the dark so long as they didn't see you go behind it. Just be sure to always keep it between you and them.
If you can hear their keys loud and clear there's a good chance they can hear you walking (not crouching) or opening doors. Wait until the sounds are very distant or non-existent.
Learn which cutscenes reset Janitors and where they get reset to. This can help you easily set up paths to objectives.
If you need to run, close doors behind you to slow them down ever so slightly.
When playing on Hell you use a Pen every time you die or load an autosave for any reason. Rough, huh? If you're unsure of your ability to finish in a single go, use the downtime in MB1 to gather as many Pens as you can, then backing up your save. If you run out of Pens, you can simply restore the save. Repeat this whenever you come to a section you think you might struggle with.
Speaking of downtime, there are specific times when the Janitors despawn. Use that time to safely stock up.
When running Ji-Min's routes, I highly recommend leaving as many resources as you can for her. Anything Hee-Min collects doesn't transfer over to her.
Janitors can hit you in level and cutscene transitions. They also do not reset completely when you change areas and could end up being right at the door when loading in. Be careful!
New Building
When you need to run upstairs to the generator and the Library, you can sprint into 3-12 to trigger the spider ghost cutscene and reset the Janitor. This makes stealthing the last floor a breeze.
After acquiring the Yin-Yang Token, you can alert the Janitor, loop him through a room, then trigger the Faceless Girl boss fight to despawn him.
Finally, if you die during the Faceless Girl boss fight, you'll respawn at the front of the room and the Janitor will be despawned until you trigger a cutscene. You can use this time to easily set up the power puzzle, switch the generator over to the alarm, and set up any rooms/items you may need.
QTEs
You can preemptively guess the direction you need to push by looking at the position the circle appears on screen. IE. if the circle is up top you'll push up. If it's left you'll push left. This is especially helpful when doing Ji-Min's routes.
When working towards the 10 Hell clears, you can make a back up of your save when you're about to complete your 9th run, assuming you have all other endings. This way you can eliminate a 10th playthrough and keep all your endings.
Collections Achievements

Exorcist
Encounter All the Ghosts in Yeondu High School

Occult Club President
Collect All the Ghost Stories of Yeondu High School

Voice of a Ghost
Complete the Ghost Collection
To complete the Ghost Collection, you need to collect all 20 Ghost Stories and encounter all 20 Ghosts. Many stories are not possible unless playing on Normal or higher, and many Ghosts won't spawn unless playing on Hard or higher.

Memory of White Day
Complete the Ending Collection
Completing the Ending Collection is the hardest achievement in the game and will require some dedication. 25-45 playthroughs worth of it. There are 10 endings you can earn across 3 routes. So-Young (3 endings), Seong-A & Ji-Hyeon (4 endings) and Ji-Min (2 endings). The 10th ending is simply for dying by any means. On any difficulty below Hell you can save at certain points to reload and choose a different ending per route. The only exception is Ji-Min which requires a nearly full playthrough. So, using strategic saves, you need to do 4 runs on Very Easy, Easy, Normal, and Hard + 9 runs on Hell due to no save points.
Misc. Achievements

Hide and Seek
Each Encounter is a Surprise
Almost every classroom in the game has a set of lockers inside. Enter any room that does, shut the lights off, and continuously open and close a locker until the locker ghost spawns. Repeat this process 9 more times.

Faint Hello
She Approaches from Afar
This is one of the more annoying achievements in the game. The Floating Head ghost will randomly appear any time you load into a zone on Normal difficulty or higher. She won't come to you immediately, but when she does she'll let you know by whispering in your ear before a humming of sorts starts to play. Once that happens, you need to wait for her to jumpscare you. You'll need this to happen 30 times. An easy way to farm this out is to save when you hear her spawn. Once she scares you, reload and repeat.

Wait for Her
The Scent of the Bathroom is Becoming Heavenly
While playing on Hard or higher, enter a bathroom and hide in the very last stall. A moment later you'll hear a ghost girl start checking stalls. You'll have to wait while she checks each one until she plops her head on the floor in front of you. You'll need to re-enter the stall for each attempt.

Do you know Soy Milk?
Hee-min, Still a Growing Boy?
The easiest way to earn this is to gather up at least 10+ Soy Milk. You can purchase a bunch through vending machines. Once you've done that, make a save, drink all of your milk, then reload and repeat.

In a State of Nirvana
Nothing Fazes Me Now
Same process as the Soy Milk achievement, except you'll need to manually find these around the game. I recommend waiting until the last area to maximize the amount in your bag.
Unwelcomed Advance
Flirt with the Girls
You will need to piss off one of the girls while walking with them on 10 different occasions. This means you can't do it back to back. It needs to be separate spots. To do so, keep clicking on their legs until they get pissed off and kick you. I found the fastest way to do this was to walk with Seong-A to the bathroom. Once there, touch her leg until she says "That's it! One more time and I'll…". Once you see that go save, touch her leg one more time, and reload after she kicks you.
Transcendent Death
Experience Death 100 Times
Simply die 100 times. I found the fastest way to do this was to continuously run off the collapsing bridge at the end of the game.
Resources
This likely isn't everything in the game, but it should be more than enough to get you through Hard/Hell difficulties.
Pens
Building
Location
Description
MB1
1F Hallway
Sink outside 1F bathrooms.
MB1
1F Boy's Bath
On top of radiator.
MB1
2F Gym Storage Room
Next to medals cabinet.
MB1
1F 2-1
Right-most locker.
MB1
2F 2-7
On top of desk.
MB1
2F 2-11
Right-most locker.
MB1
2F Photography Club
On top of table.
MB2
1F Hall
Sink outside bathrooms.
MB2
2F Student Department Office
On top of desk.
MB2
2F Lost & Found
Left corner.
MB2
3F Science Lab
Between 1st and 2nd desks by windows.
MB2
4F Art Room
Between 2 desks near Supply Room door.
NB
1F History Room
In corner near display cabinet.
NB
2F Language Lab
Between 1st and 2nd row of desks.
NB
2F Computer Lab
On white board.
NB
4F Library 1
On floor near bookshelf.
Coins
Building
Location
Description
MB1
1F Girl's Bath
Middle sink.
MB1
1F Hall
Behind vending machine outside Workshop.
MB1
2F Hall
Window outside 2-7.
MB1
2F Hall
Window outside 2-12.
MB1
2F Hall
Left of White Chrysanthemum.
MB2
1F Hall
Window outside Counselor's Office.
MB2
1F Faculty Office
Near a trash can by the windows.
MB2
4F Hallway
Sink outside bathrooms.
MB2
4F Art Room
On top of cabinet by windows.
NB
2F Faculty Lounge
Inside AC cover.
NB
1F Hallway
Under window near stairs.
NB
1F Chairman's Office
Under AC cover.
NB
1F School Store
Under AC cover.
NB
3F Hallway
On the little bridge.
Heals
Building
Location
Description
MB1
1F 2-6
On top of desk.
MB1
1F Main Office
On top of desk.
MB1
1F 2-3
On top of desk.
MB2
3F Hallway
Sink outside bathrooms.
MB2
4F Hallway
Window outside Biology Lab.
NB
2F Faculty Lounge
On bookshelf.
NB
2F Art Studio
Between 2 busts.
NB
2F Earth Science Lab
Under a desk near back of room.
NB
1F Atrium
Under large staircase.
NB
1F School Store
On counter.
NB
4F Reading Room
Between 2 stands by the window.
Auditorium
Girl's Locker Room
In the shower.
Tranquilizer
Building
Location
Description
MB1
2F Recording Room
Under sound mixer.
MB2
2F Counselor's Officw.
Near AC.
MB2
3F Music Room
Behind piano.
NB
Small Stairwell
On landing under window.
NB
1F Chairman's Office
Between table and couch.
NB
1F Music Appreciation Room
Left side between 2 rows of chairs.
NB
4F Reading Room
On table.
That's everything we are sharing today for this White Day: A Labyrinth Named School guide. This guide was originally created and written by Stef. In case we fail to update this guide, you can find the latest update by following this link.
If you believe that any of the content on this site violates your rights, including your intellectual property rights, please contact us immediately using our contact form.