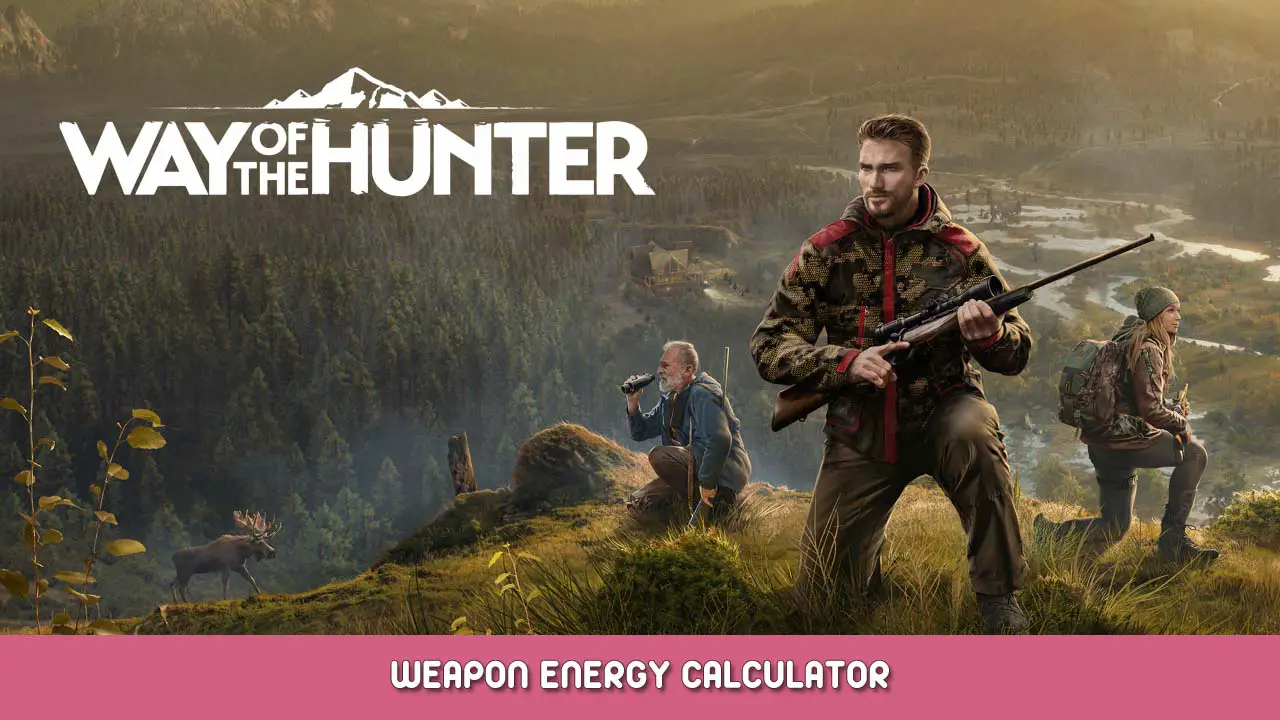 A web application that allows you to pick weapons that are most appropriate for the animals you want to hunt.
About
This interactive web application helps you choose the most appropriate weapons when hunting animals in the Way Of The Hunter game by highlighting those that fall within the recommended hit energy range (RHE) for each animal.
Please access the application by visiting this link.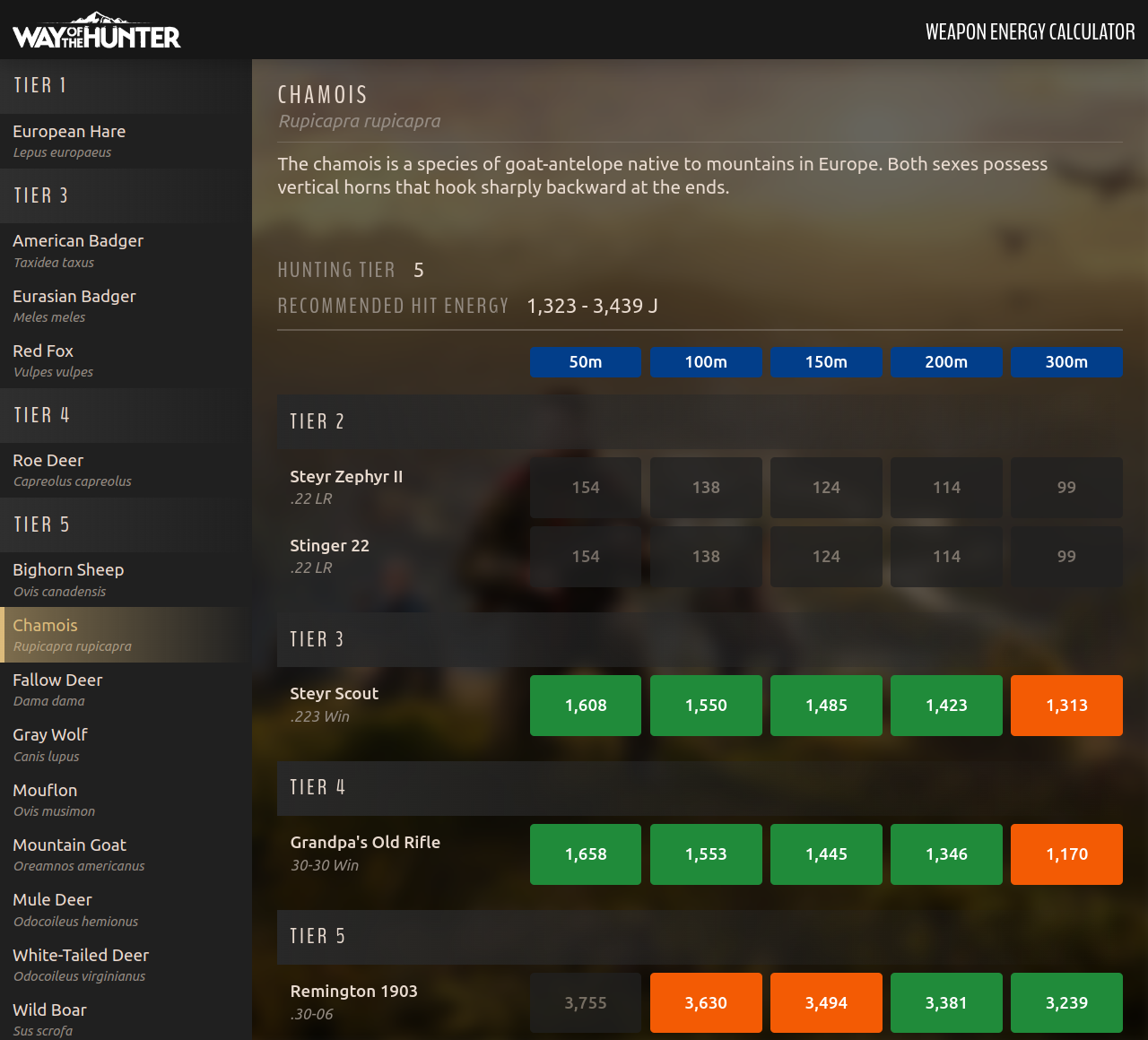 Usage
To start choose an animal that you are planning to hunt from the sidebar on the left. Once an animal is selected the right side of the page will be populated with information about the animal such as its English and Latin names, a short description, its tier and the recommended hit energy (RHE) in joules that should be used when hunting it.
Under this information you will find a table listing all available rifles and their hit energy ratings at various distances in meters (50, 100, 150, 200 and 300).
Refer to the instructions below on how to read values displayed in this table.
Reading results
Values highlighted in green indicate the most optimal (ethical) hit energy values for the currently selected animal at the respective distance.
Values highlighted in orange indicate hit energy values that fall within 10% of the RHE range (i.e. values that are suboptimal but still mostly applicable to the currently selected animal).
RHE range is the difference between the minimum RHE value and the maximum one. E.g. for chamois (also shown in the screenshot above) the RHE is between 1,323 and 3,439 joules, which means that the range is 2,116 joules (3,439 – 1,323 = 2,116).
10% of this value is 212 (due to rounding up or down to the nearest whole number). That means that anything that is…
between 1,111 (1,323 – 212) and 1,323
OR
between 3,439 and 3,651 (3,439 + 212)
…will be highlighted in orange and considered to be a suboptimal hit energy (yet still acceptable).
All other values that are neither optimal nor suboptimal will be grayed out to indicate that they are not ethical for the current animal at those distances.
Names of weapons that are ethical at ALL listed distances will be highlighted to make it easier to find them at a glance.
Example
Let's take fallow deer as an example.
To find weapons that are the most ethical when hunting these animals up to 300 meters first select "Fallow Deer" from the sidebar on the left. Once done so, you will see that the recommended hit energy values are between 1,462 and 3,510 joules:

Now let's look at the weapon results:

You will instantly notice that none of the weapons in tier 2 are applicable as all their values are grayed out due to having insufficient hit energy at all distances.

Steyr Scout in tier 3, however, is perfectly usable up to 150 meters, albeit the values are rather close to the lower end of the RHE range. Values at 200 and 300 meters are just outside the recommended hit energy for fallow deer but should still yield a successful harvest granted you land a hit on vital organs.

Going further down in the list you will see that Grandpa's Old Rifle is similar in its hit energy to Steyr Scout but is slightly weaker and no longer optimal at 150 meters. Still usable at 0-100 meters though.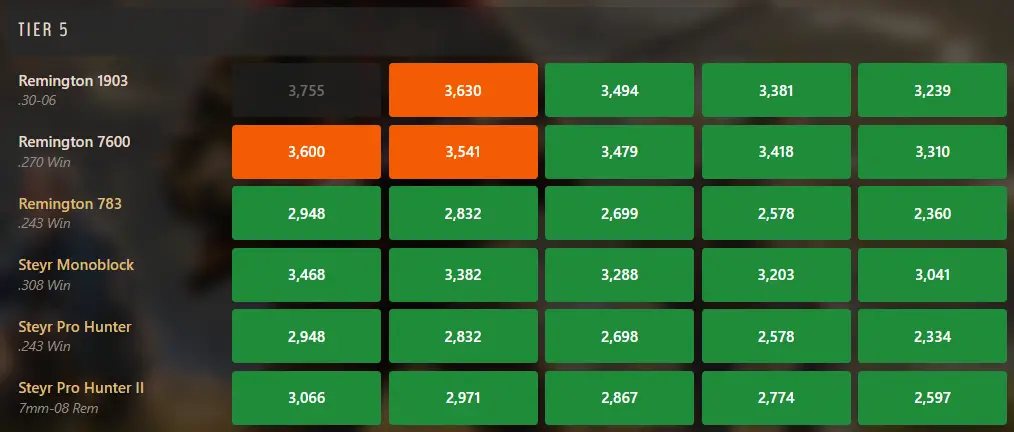 Now, tier 5, being the same tier as the animal itself (as displayed at the top of the page), expectedly contains quite a few rifles that we can use. You can see that four weapons are fully optimal at all ranges (Remington 783, Steyr Monoblock, Steyr Pro Hunter and Steyr Pro Hunter II) and are perfect for hunting fallow deer. Remington 1903 is a complete overkill up to 50 meters but is mostly alright at 100 meters. Distances further than that are optimal.

Finally, as you can see none of the tier 6 weapons should be used for hunting fallow deer as their hit energy values far exceed the recommended ones. Remington 673 Guide Rifle could be used at 300 meters but is unethical at anything less than that, which makes it a bad choice.
Notes
This application was primarily designed to be used on desktop browsers. It is, however, a responsive web application, which means that the layout and page elements are dynamically adapted and resized to fit all screens. As a result the application also works perfectly well on tablets, which is my personal choice when using it.
It is an open-source application so anyone willing to contribute new features is more than welcome to do so on GitHub. Those that are more technically inclined will know how to find the repository by just looking at the project URL.
Hope you enjoy using the application and please share your thoughts and ideas below in the comments!
That's everything we are sharing today for this Way of the Hunter guide. This guide was originally created and written by Nekhebu. In case we fail to update this guide, you can find the latest update by following this link.
If you believe that any of the content on this site violates your rights, including your intellectual property rights, please contact us immediately using our contact form.