Title: Warhammer 40000: Chaos Gate - Daemonhunters
Release Date:
Developer:
Publisher:
The Purifier is supposed to be a flamethrower-wielding force of destruction. In reality, though, it may be the single worst class, with a skill tree that makes less sense than Tzeentch's labyrinth. But in a game of absurd items and combinations, can you still make the Purifier work? Yes. Yes, you can. Oh and how you can. Let's get fryin'!
The Purifier Conundrum
In theory, burning everything to a crisp should be incredibly satisfying, right? Right. However, if like me you excitedly picked the Purifier as your first special class, then you've been disappointed by his lackluster performance and discombobulated by his absolutely daft skill tree – I mean, you have to spec into the flame thrower to get to Astral Aim, an ability which cannot be used with flame throwers; likewise, half of his skills pertain to melee, which he cannot use at the same time as the Flamethrower, as this is a two-handed weapon; and those melee skills he can get are focused around applying damage over time, which is silly in a game where you want to kill everything immediately.
But what if I told you that there was a way (cue the doom slayer music) to inflict upwards of 20 damage in a huge AOE, with the option of nuking entire endgame pods with one or two grenades in an AOE that makes Vakir's ego seem small? Read on, brothers.
The Build
What we're going for would look something like this:
The most important parts in terms of skills are everything flamer-related on the center and bottom right side. Your normal flamer attack is alright, but it's too short range and too low in damage and too hard to use efficiently with cover to be worth getting in the face of an enemy group in most situations.
For that reason, your bread and butter to butter the enemies' bread will be Flames of Purity. Normally, this is also a mediocre ability: It deals base damage plus 1 damage for each ammo spent, and uses all ammo plus 2 willpower. Not a worthwhile trade. What absolutely breaks it though, are two particular items listed below. Oh, and it ignores cover.
The most important skill in this build will be the one upgrading your Flames of Purity damage to +1 per ammo instead of +1 for every 2 ammo. Grab that asap!
The applying blindness-skill is somewhat useless, as the goal of this build isn't to leave anything alive to, you know, be blind, so feel free to grab the extra willpower instead. Knocking people off ledges is however very fun, and you haven't lived until you've literally swept a battlefield with your flamer.
The second part of your build will be grenades – this is pretty self explanatory, but do get yourself some armor to improve grenades, and ideally the Tier 3 Krak Grenades, which will shred armor and anything else. With Tier 2 armor (I never found the Tier 3 version), my Purifier did 7 damage plus 5 armor shredding over an absolutely massive area of 4. This is sufficient to kill most late game pods in two grenades when things get overwhelming, and especially potent in the new technophage missions with their doubled enemy counts – for an example, see here: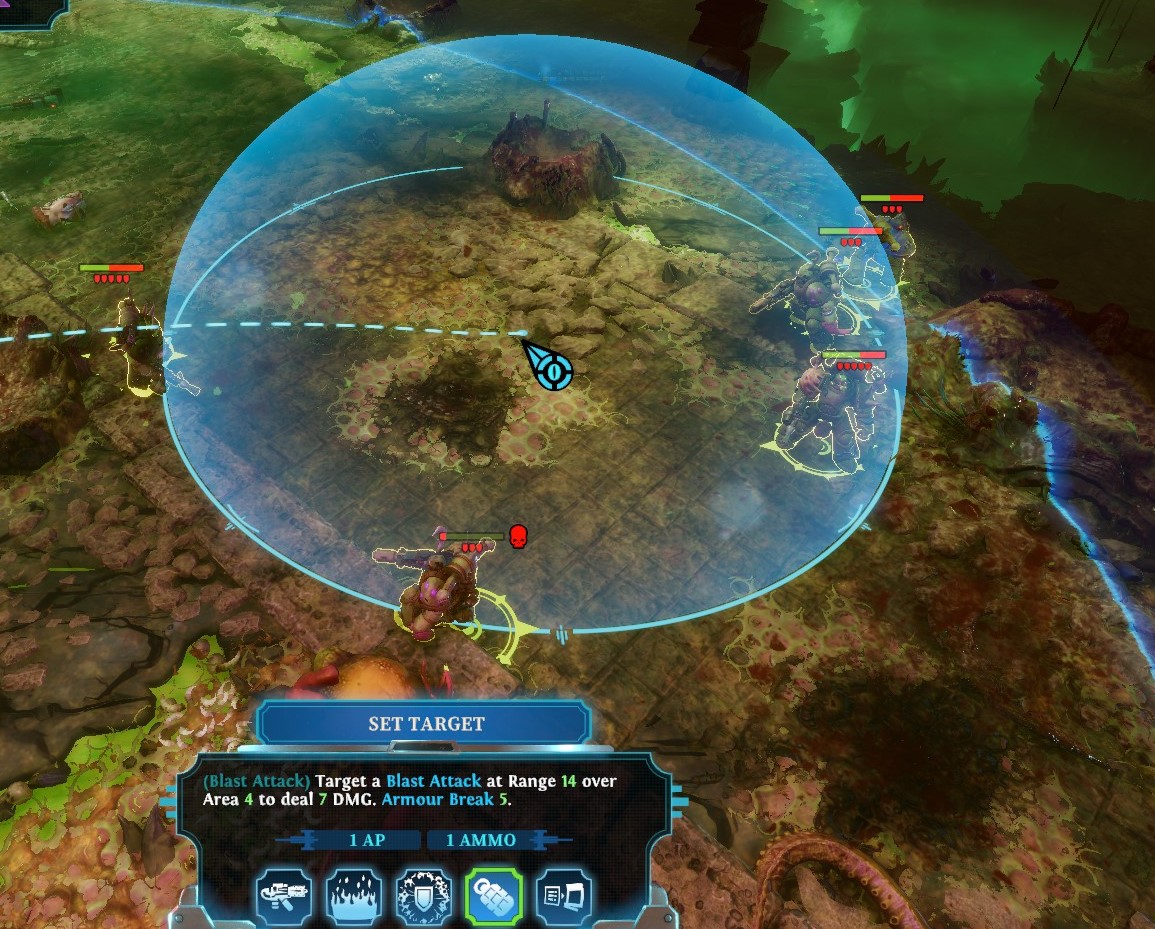 Now, you could go with this plus, for example, the Psyk-Out Grenades, which have even higher base damage and more area, but lack the potential to destroy cover and shred armor. Also, then your flamer would be useless again, as you couldn't equip a very essential item. But in a pinch, or until you find the required equipment, go for it.
The third part of the tree revolves around Unstoppable Conflagration in the bottom left corner, hidden away behind the useless melee skills. It is somewhat optional and only really shines in combination with a Justicar's Honor the Chapter, as this will allow you to really maximize the bonus damage you get through activating Willpower-abilities. Theoretically though, you could get your Flames of Purity up to 26 damage – Emperor have mercy.
Equipment
First, the most important part that turns your Flames of Purity from 1st degree burn into a holy inferno:
The extended magazine, ideally Tier 3. 3 extra ammo doubles your ammo count, and suddenly you get 6 extra damage instead of 3! Even with the base flamer, that's suddenly 11 instead of 5 damage. We're getting there, but it's not sufficiently broken yet. To fully break the game, we also need the right weapon:
Piety's Ashes. This thing has a base damage of 7 and can inflict stun, not that you'll ever need or notice that. What really makes it shine is its ability to give +1 additional damage for every ammo spent on Flames of Purity – combined with the skill which also gives +1 damage per 1 ammo, you end up with this: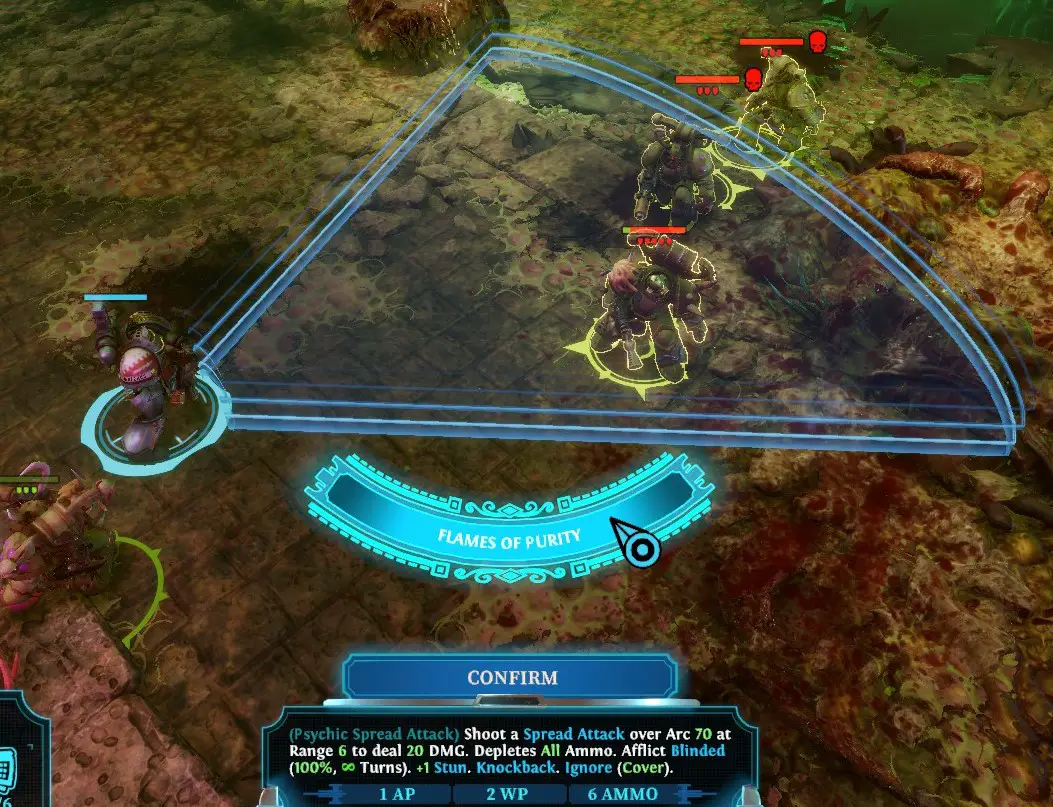 Yeaaah. That's pretty broken, right? However, I was being lazy when taking that screenshot – that's base damage without any bonus from Unstoppable Conflagration. With the aid of a Justicar or the AP Strategem, you could easily go above 20 damage.
As for armor, I went with a Tier 2 Power Armor which improves grenade ammo, area, and damage. There is a Tier 3 version, I just never got lucky. Alternatively, you could see if you can find one that improves your ammo count, although I can't say for sure whether that exists. But every additional ammo will exponentially increase your Flames of Purity damage further. You do you!
Burn, heretic! Burn!
…and that's how you learn to love the Purifier despite his mind-boggling skill tree design and underwhelming weapon.
Just remember that this is a very aggressive build – you will have to rush right up into the enemy's face and murder everything before they get a chance to brutalize your very squishy Purifier. To that end, a Justicar with Honor the Chapter helps to always get your boy into the right spot. And if, miraculously, you fail to kill everything immediately, the Justicar can always lend his Aegis to the Purifier.
As for the other members, I'd suggest someone who's good at finishing off the rare enemies surviving on one HP, like a rangy Purgator. You could also throw in an Apothecary to give the Purifier increased movement range and disrupt overwatching enemies with his Servo Skulls, just so the Brother Purifier can get to where he needs to go unmolested.
And that's pretty much it!
Enjoy the smell of burning demons in the morning, and remember do the Emperor proud!
That's everything we are sharing today for this Warhammer 40000: Chaos Gate - Daemonhunters guide. This guide was originally created and written by RB Staff. In case we fail to update this guide, you can find the latest update by following this link.
If you believe that any of the content on this site violates your rights, including your intellectual property rights, please contact us immediately using our contact form.