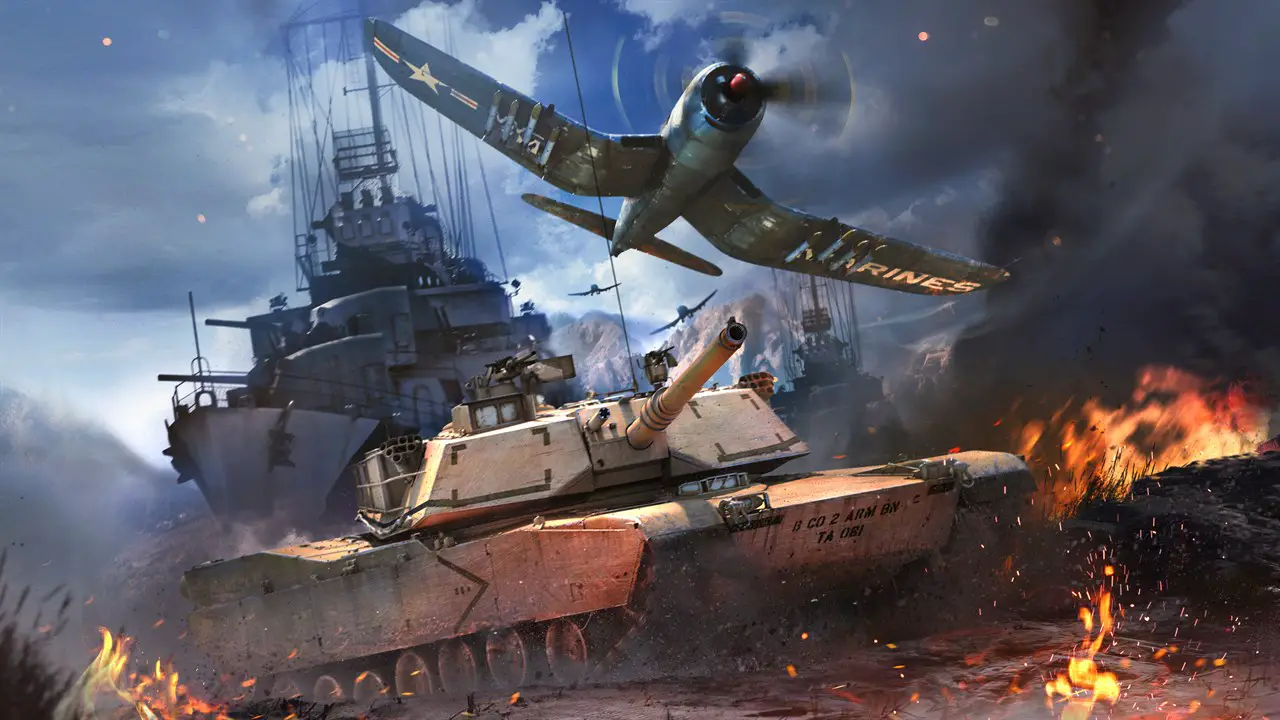 The most optimum way of obtaining air stars for operation summer landing. Fastest way into an S1. The reason for the creation of this guide is because time is precious and if you're like me you want certain vehicles for certain personal reasons but don't want to spend 12 hours grinding every day.
This is the optimum way of bashing out these missions that I have personally found and can do in roughly 1-3 hours depending on my matchmaking luck.
Challenges Available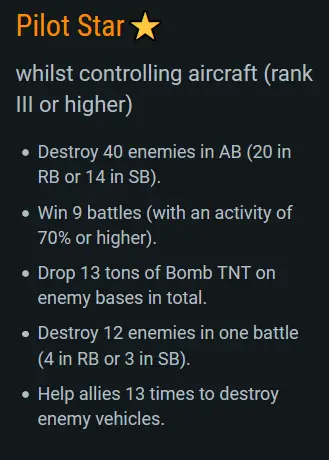 Recommended Challenges
Green – Most recommended
Yellow – Semi-recommended
Red – Least recommended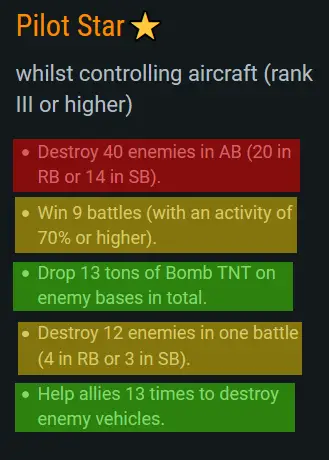 Bombing Star
The easiest star in my opinion. Take a heavy bomber and head to the arcade. Climb to an insane altitude and drop on bases until you hit 13k or die. The best part of this is that you can be done in 1 game. While the worst part is that there is always a hoard of German sweaty virgins who want to stat pad by bomber hunting in AB.
Unfortunately, these sorry no-lifers will turn a 1 game process into 5 or 6 games. I recommend playing late at night to avoid the no-lifers. I do not recommend playing during the day as they don't have jobs and will likely be playing during these hours.
Planes like the Canberra, B-57 are the best option here as they can be in and out with their heavy bombloads fast. The other problem is Gaijin seems to throw in the capture point objective much more in these events. You'll have to Kamikaze and take the repair cost hit as leaving will crew lock and waste more time.
While writing this guide I've noticed there's a massive influx of virgins camping their own base areas waiting for players farming this star. It might be better to play RB with Canberra etc to get this challenge done as these players want to make your grind longer.
If you do this challenge in RB watch out for Canberra Mk6 and B-57 players who will use their bomber spawn for bomber hunting.
Assist Star
The second easiest task in my opinion. Head into arcade mode and shoot enemy players. Once you score a critical hit break off from that player and find another, once a teammate finishes them off you will have 1/13 assists. The challenge doesn't scale for RB and SB so do it in the arcade for time efficiency.
Multi-Kill Star
Somewhat recommended for its potentially very fast acquisition. Air arcade battles tend to be too short for this objective. Unless you're lucky and the game is held hostage for a while I wouldn't recommend this approach.
Air realistic is the best option here. Certain powerful planes such as the Hunter F6 with SRAAMS can obtain this very easily. I recommend playing jets as the games are fast and you could work on the 9 battles challenge in this way.
Unfortunately, this one is mostly down to luck. If you're a great player you'll have no issue however if you're sub-par like me it may take a while.
9 Battle Star
Fast games win this star. I recommend jet planes as you can get into combat fast. End the game quickly and consequently the star quickly. Make sure you get stuck in, don't camp corners or you won't meet the activity requirement.
40 Kill Star
The last star I don't recommend as it has the longer outcome IMO.
40 kills in the arcade are doable in 5-6 games of T3 aircraft.
20 kills in realistic are unreliable and may take hours.
I'd recommend doing this in synergy with the challenge of the battles if you have neither and see which pops first.
Having the right aircraft helps a lot. For me, I use the Canberra MkII for bombing stars. A British T3 line-up for assist stars and my trust Hunter F.6 SRAAM build for 4 kill games/9 victories. Gaijin makes these events a grind so you can't expect to finish these objectives fast every day and if the reward is not worth it to you; don't bother.
This type of event is getting harder every time with longer challenges each time they host one and at some point we folk with real-world jobs, hobbies, and family will be better off finding something else to play.
That's everything we are sharing today for this War Thunder guide. This guide was originally created and written by Dust. In case we fail to update this guide, you can find the latest update by following this link.
If you believe that any of the content on this site violates your rights, including your intellectual property rights, please contact us immediately using our contact form.