Title: War Thunder
Release Date:
Developer:
Publisher:
This Map Strategy Guide is for Abandoned Factory in realistic mode, designed for solo players. This guide also works well with groups of two.
Getting Started
1. Patience.
2. Patience and trigger discipline will save your life
3. Turn your engine volume down to minimum and other players engine volume to maximum.
4. Learn engine and track sounds. This will help you identify an unseen enemy as a Heavy/Medium/Light tank.
5. Head always on a swivel. Don't tunnel vision even if you're in a sneaky spot. shoot and move.
Map layout 1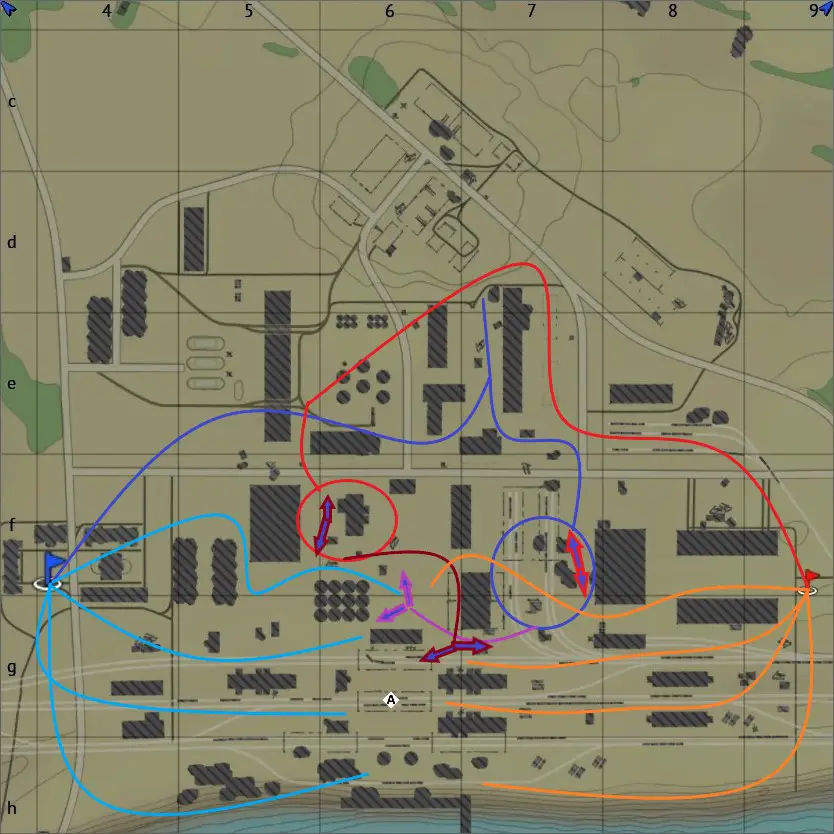 This is the only Version of this map where your team will fight over the bottom of the map.
When following the Strategic path make sure your turret is looking left/right. keep you ears open and listen for engines or tacks. if you think you hear something stop and listen. Always check your corners with the free camera (C button). While traveling if you hear two or more enemies, hide if possible and destroy them in reverse order.
Upon arriving at the S.A.P. DON'T just start blasting. Look for targets of opportunity that are near guaranteed kill shots (cause gajin, nothing is 100%) with the least chance of retaliation from the target or wise enemies. Destroy targets in a left to right/right to left pattern respectively. keeping an eye out for other tanks that may have noticed where your shots are coming from.
If there are targets you can't destroy, don't shoot them. if your team is advancing enough, cripple the hard target with barrel shots then displace.
If you hold the S.A.P. long enough you'll demoralize the enemy and they will quit advancing or quit the match. If the multiple enemies advance on your position and you can retreat do so. if not go down fighting don't J out with the enemy focused on your position it takes pressure off your team.
If you are still alive and your team begins losing fall back along the dark routes. Again looking for targets of opportunity. this will allow a decently competent team to get back in the fight.
Number of Enemies likely to encounter along strategic route = 2-4
Map layout 2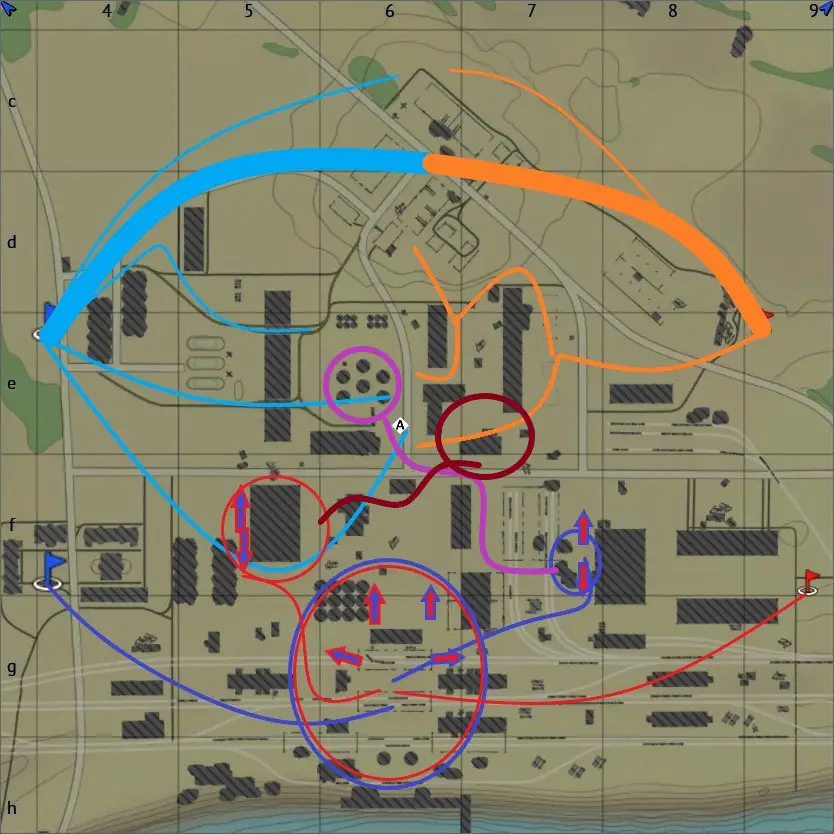 Yes those paths for your team are correct they will ignore the point and attack the top of the map.
The strategy for layout one still applies. The major change is the bottom S.A.P. this point will most likely be your main fighting area in order cut off the enemy. Only advancing to the next point when the opportunity arises.
Enemies encountered along strategic route as well as in the S.A.P. = 2-5
Map Layout 3
Funny enough, in this layout you will encounter more enemies in the center S.A.P.
This layout really requires you to be on your toes and keeping an escape route in mind. Once you take position and begin your assault, the enemy will advance on you.
Enemies expected to encounter = 3-8
Map Layout 4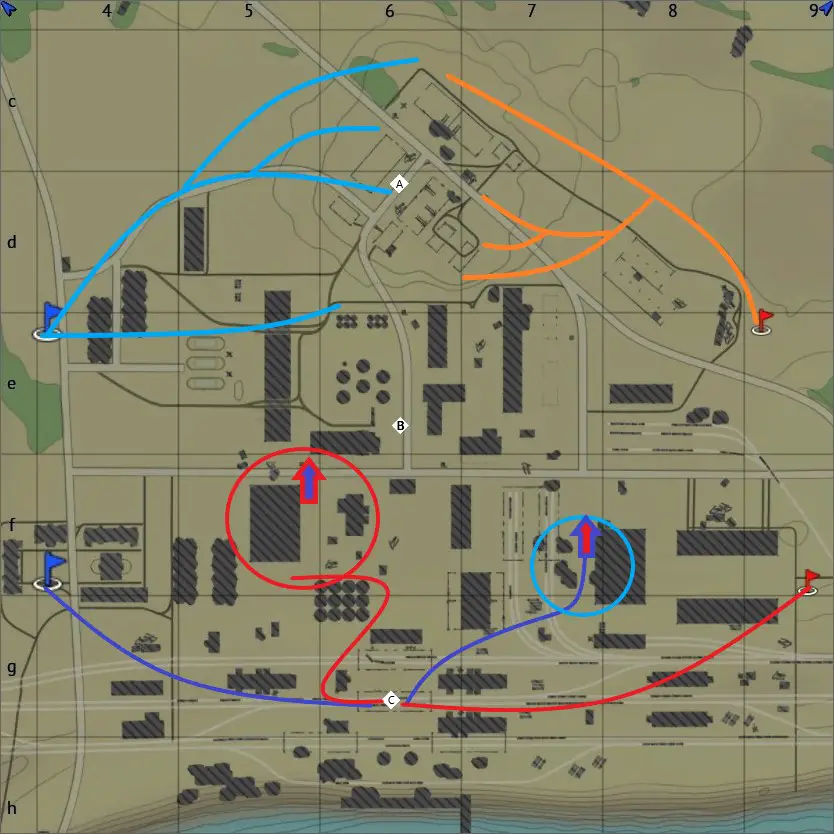 By far the best layout for this strategy.
In this layout you have a seventy percent chance of your teammates and the enemy attacking B with only a five to ten percent chance of your team and enemy attacking C.
When you get to the S.A.P. in this layout you can just start blasting. Most enemies that you catch off guard on their way to A or less likely B will rage quit. If they don't, respect them by sending them back to the spawn screen. By the time they have spawned again you will more than likely have killed 2 more enemies, so they won't have any back up and you know they are coming.
If they spawn at the lower spawn next to the S.A.P. use your ears to tell which direction they are coming from and wait patiently.
Enemies to encounter on the Strategic route 0-4
That's everything we are sharing today for this War Thunder guide. This guide was originally created and written by Metal Grave. In case we fail to update this guide, you can find the latest update by following this link.
If you believe that any of the content on this site violates your rights, including your intellectual property rights, please contact us immediately using our contact form.