Title: Void Sols: Prologue
Release Date:
Developer:
Publisher:
This is a guide in order to help you in your play-through in Void Sols with some tips, explanations and tricks. This guide is useful for all levels, and will surely help you or at least entertain you.
Stats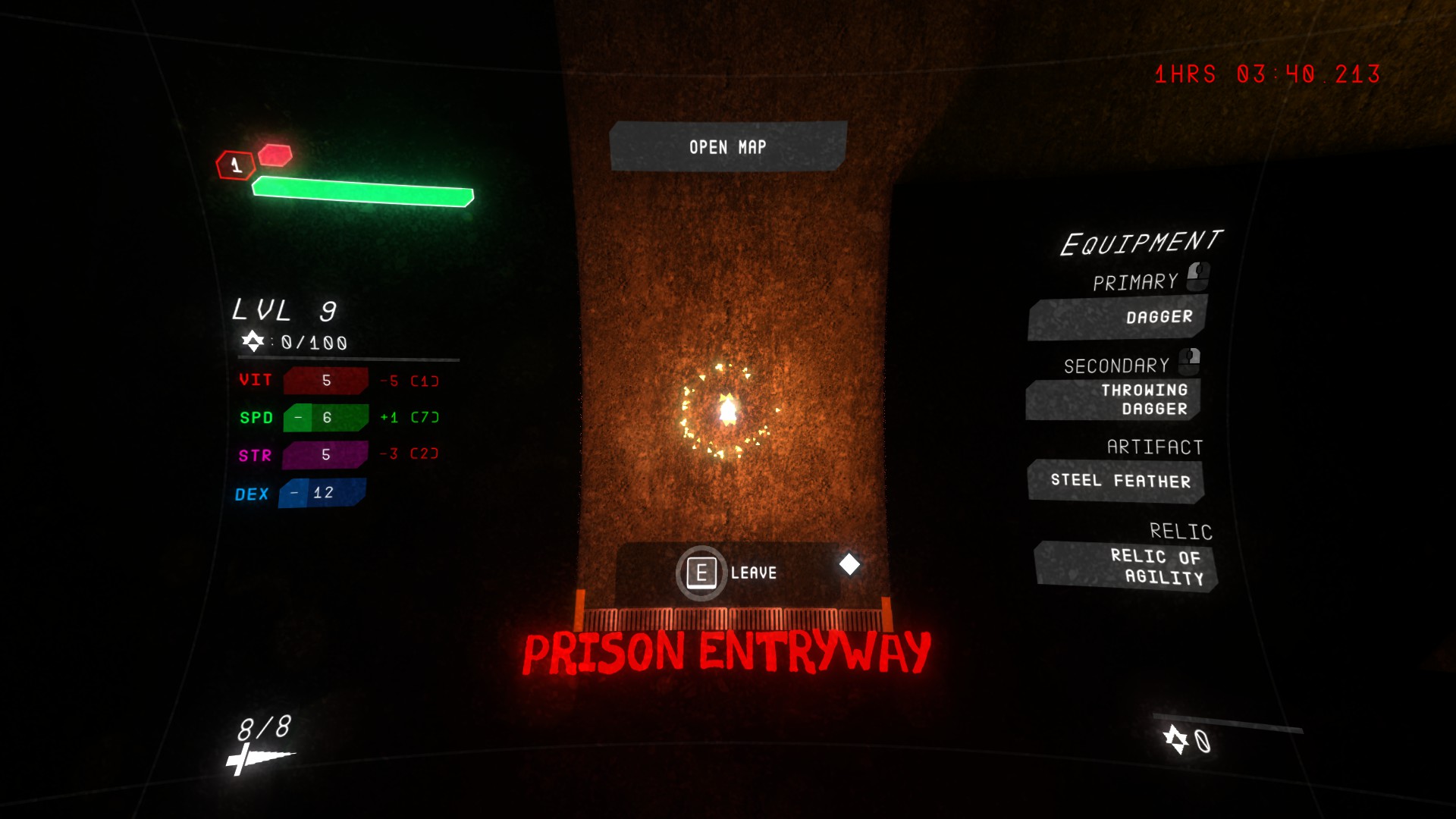 And so the git-guddening begins.
– First off, stats. You can respec at ANY time, so if you want to have fun with your build (character construction), the possibilities are yours. Vitality (VIT) increases health, Speed (SPD) increases stamina and, well, movement speed, Dexterity (DEX) slightly increases stamina (far less than SPD) and helps with dealing damage with certain weapons (ex: Dagger) and the last stat is Strength (STR), which almost does the same thing as DEX , except it buffs VIT instead of SPD.
– Keep in mind weapon damage scaling (ex: The basic sword has a 1x on DEX and 1x on STR. The dagger has a 1.5x scaling only on DEX) and debuffs (again, the dagger has a "-2 VIT" debuff, which reduces your health), since it can make the difference between a good and a bad build.
Combat and Settings

The main activity in this game, besides exploring and editing character things, COMBAT is the most omnipresent and important thing, making a combat victory a must in order to advance.
– Can't stress this enough, but seriously, don't button mash. The dev's said it too, and you really shouldn't, unless you want to tank everything, which is not the wisest.
– Dodging is cool, yes, but it isn't 100% fool proof and you don't get IV's ( Invincibility Frames) the whole dodge. Consider taking some distance or even fleeing if necessary, or attempting to attack from a different angle.
– Healing. I didn't know healing even existed in this game until I accidentally pressed "X" (on controller) (on pc, it is "Q").
– Do(nt) you need a secondary weapon?
– Use the environment. Let them get stuck in walls, bug or just use it to slow them down. Go at the end of a short hall, wait at the corner and let the archers walk right at you, so you can get a good hit.
– Patience.
Settings are your friends and can be changed at will. Make use of that advantage.
– Consider changing controls. Trust me, it works like a charm sometimes. If you already have played a game with similar abilities (dodge, heal, primary attack, charged attack, secondary attack), then try mimicking the controls so you have an easier time. (I have the following, which are close to "Elden Ring"'s ones (on controller!): B for roll, X for heal, RB for primary attack, LB for secondary attack.)
– Tweaking damage and stamina. If you go to "Settings" in the pause menu and then in the "Accessibility", you can increase/decrease the damage taken and dealt, same goes for stamina usage. Keep it in mind when you're having a hard time or are looking for a challenge.
– While in combat (also works on the boss), if you time it correctly, by opening the settings menu when an enemy is going to attack, will skip the animation and/or completely null the attack.
Don't tell the dev's!
– The grainy effect can be removed if it makes you nauseous or don't like it. Go to the menu, settings, video and untoggle the "film grain" checkbox.
All items and where to find them
There are multiple kinds of items in this game, adding up to a total of 11 (excluding the Kindlings). Here's how to find ALL of them.
Primary Weapons (Hammer, Dagger, Sword)
Secondary Weapons (Throwing Dagger, Shield, Greatbow)
Artifacts (Steel Feather, Obsidian Arrowhead)
Relics (Relic of Power, Agility, of the Colossus)
Kindling's (2 of them)
Prim. We.
The Dagger is found in a room at the "Sanitation" spot on the map, not too far from the "Security Block". The hammer, although, is a little bit trickier. From where you found the knife, head up into the wall, and then hit it. It should reveal a secret pathway, which if you go left and follow the corridor, you will find it. The sword is the base weapon, and requires nothing in order to get and use.
Sec. We.
The throwing daggers are found in a cramped passage-way on the left right after the "Cell Block C" exit, from which you start the game. You will also find a kindling there. The Greatbow is in "Cell Block B", behind a guard. Lastly, the shield is found closely to the Sanitation. Defeat the 3 enemies there, go left and follow the curved corridor. You will find it there.
Art.
The Steel Feather and the Obsidian Arrowhead are hidden in a fairly big hidden zone, deffended by multiple enemies. From the "Prison Entryway" light spark (the one before the boss), head up, and next to the "Entry Hall" entrance, hit the wall. It will reveal a hidden passage, which you shall follow to it's dead end, where the two Artifacts will be. Watch out for the enemies!
Rel.
Just like the Artifacts, all of the Relics are in the same room. It isn't hidden behind a passageway, but not easy to reach nonetheless. Right over the place where "Security Office" is written, there will be a long corridor. Go straight ahead until you hit a wall. After that, pass next to it, up or down, and enter the "Armory". The room is full of enemies, but you will find all 3 of the items:
Relic of Power, Relic of Agility and the Relic of the Colossus.
Build examples
Frankly, there aren't a lot of choices, when it comes to builds. That's why I will be trying to offer you about 5 builds that I played with and thought were fun, as well as a possibility to upgrade them as you level up.
GlassCannon Boy build:
Weapons: Dagger, Throwing Dagger
Artifact: Steel Feather
Relic: Relic of Agility
Recommended LVL: 1
This build can be used at ALL levels, but remains the most interesting (my opinion) at LVL 1.
If you aren't using this build at LVL 1, you should dump all your points into DEX until LVL 12 and then in SPD.
If you want a real challenge, put the taken damage to 2X. It's a build for those who like PAIN.
Stronk Bonk build:
Weapons: Greathammer (and shield, but it's optional)
Artifact: NONE
Relic: Relic of the Colossus
Recommended LVL: 10+
Haha, hammer go bonkkkk
Get to VIT 10 and then invest the rest of the points into STR. Use only charged attacks and you are basically unstoppable against most enemies, killing them in 1 or 2 shots. Try to keep some distance, since the lack of SPD and stamina can (and probably will) get you killed. I used it to beat the game.
Regular_Joe build:
Weapons: Sword, Shield
Artifact: NONE
Relic: Relic of Power
Recommended LVL: 5+
Dump the lvl 1 to 5 points into SPD and the rest into VIT and whatever else you want. This is a casual, classic build, that knows it's worth.
Aerosmith build:
Weapons: Bow (and sword, but once again, optional)
Artifact: Obsidian ArrowHead
Relic: Relic of Power
Recommended LVL: 15 +
If you want an excuse to play some more, this is a fancy alternative. It deals monstrous damage, and is one of the funnest builds I've played with. It's fairly easy, since it's mainly ranged.
I brought this build to LVL 30 and man it deals MASSIVE damage with the bow, finishing the boss in less than 30S.
How to take on every enemy
I do not know ANY of the names of the enemies in-game, and so I have interpretated them as such.
Sentinels:
Sentinels are the strongest non-boss enemies in the game. They pierce and slash with a pretty long sword, and have a pretty large HP bar.
You can try ranged attacks on them, or if you have a melee build, simply wait for them to try and poke you, dodge to the side and get behind. You should get an opening and be able to strike. Repeat until dead. DONT FORGET TO USE THE ENVIRONMENT TO YOUR FAVOR!
Archer:
Archers are fairly easy to deal with. Make them move to you, by hiding behind a wall or obstacle, and then charge-attack them. Repeat until dead, or simply dodge the arrow and strike, before taking some distance and repeating.
Foot Soldiers:
Foot Soldiers are the ones with a sword that slash once. Wait for them to attack first and then retaliate. If you're feeling "extra", I'd reccomend trying to parry them with the shield.
Thieves:
Thieves are the polygon shaped enemies with knives. Again, use ranged attacks if possible. If not, hit and run always works. Back-stepping is quite good against them.
The Warden:
The Warden is the only boss in the game (so far). He has a rather big health-bar, and can seem intimidating at first. Although, you will see that his attack pattern is predictable, and will be easy to read. You only need to focus. The first three attacks are: Double Cleaver, which can be dodged by backstepping with high precision, or simply dodging to the side (less preferable when the "Obsidian Arrowhead" is equipped.), 360 Cleave, which forces the player to take some distance (just bonk with the hammer or use a ranged weapon). Backstepping doesn't really work for me, and I prefer running away. And lastly, Double Cleaver with Haste Cleaver. This one catches me off-guard very often, and isn't easy to dodge. Keep distance, don't retaliate and wait for him to finish the combo if not sure.
After releasing the minions, two strategies exist:
– If you are using a ranged weapon and aren't using the Obsidian Arrowhead artifact, try to kill as many as you need to refill your gauge, starting with the Archers, and then use them on the boss. Repeat until no more enemies and simply fight.
– If you are NOT using a ranged weapon or have enough ammo, there are 2 options again:
– If you are confident, you can try and defeat the boss without killing the minions.
– If you don't have high damage and don't think it is a good idea, kill them all and then focus on
the boss.
In the second phase, take note that he will throw a meat cleaver right at you, that will stop in place and start spinning. Avoid the corners and walls, try staying in the middle of the map, to keep as much mobility as possible. Remember the unexpected 3rd cleave in the double cleave combo from phase 1? Well, here it is- again- but in a combo on it's own, striking twice. You can bug his AI into getting stuck in an obstacle, or try dodging around in order to get behind him. Don't try to hit him when he isn't done with the strikes- you WILL get hit.
That's everything we are sharing today for this Void Sols: Prologue guide. This guide was originally created and written by Kaarmaa. In case we fail to update this guide, you can find the latest update by following this link.
If you believe that any of the content on this site violates your rights, including your intellectual property rights, please contact us immediately using our contact form.