Here's the list of working Trove promo codes that you can redeem to get free in-game rewards
Trove Promo Codes
FQDY-WQYC-WPN6-9LLT-RY9G – Hot Dog Mount
MPJ7-LFWP-P7FF-Y9QW-GF6Q – Hexflame Harrier Mount
2DDK-2EYP-HLGX-9HWL-EXQN – Class Coin for players under mastery 20
6Q6X-DD3Z-3MWN-6LWL-66XE – Salt Sower Mount
7XRG-FPHE-Y7XZ-NL7E-NYN9 – Sanctuary Shuttle Mag Rider
THXANDSEEYOUINTROVE – Chubby bunny
TREDFOODLIAKH – Mapphew ally
How to Redeem Trove Codes
Redeeming Trove codes for the PC or Mac is very easy. Follow the instructions below:
Navigate to the Trove Code Redemption page.
Enter the code to be redeemed into the box.
To complete redemption, follow the prompt to log in to your Trion Worlds account!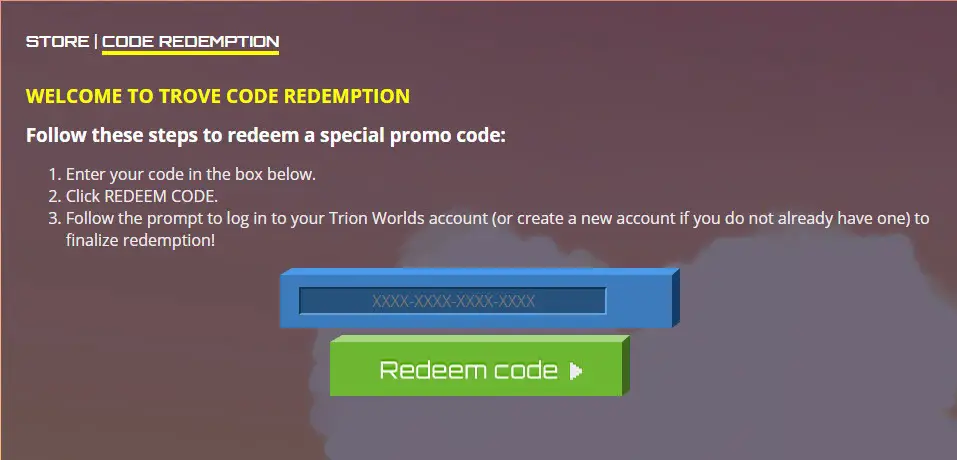 And that concludes this Trove guide. Do you have any suggestions to improve this guide? Please let us know by leaving a comment below. For any other concerns, please reach us using the contact details found on the contact page.